Are you looking for a beautiful Queensland island getaway next weekend?
If so then the Bribie Island Beach Camping may be what you have been looking for!
Our team finally got the chance to explore the Ocean Beach camping area and other interesting attractions on Bribie.
Find out everything below and get packing for an adventure.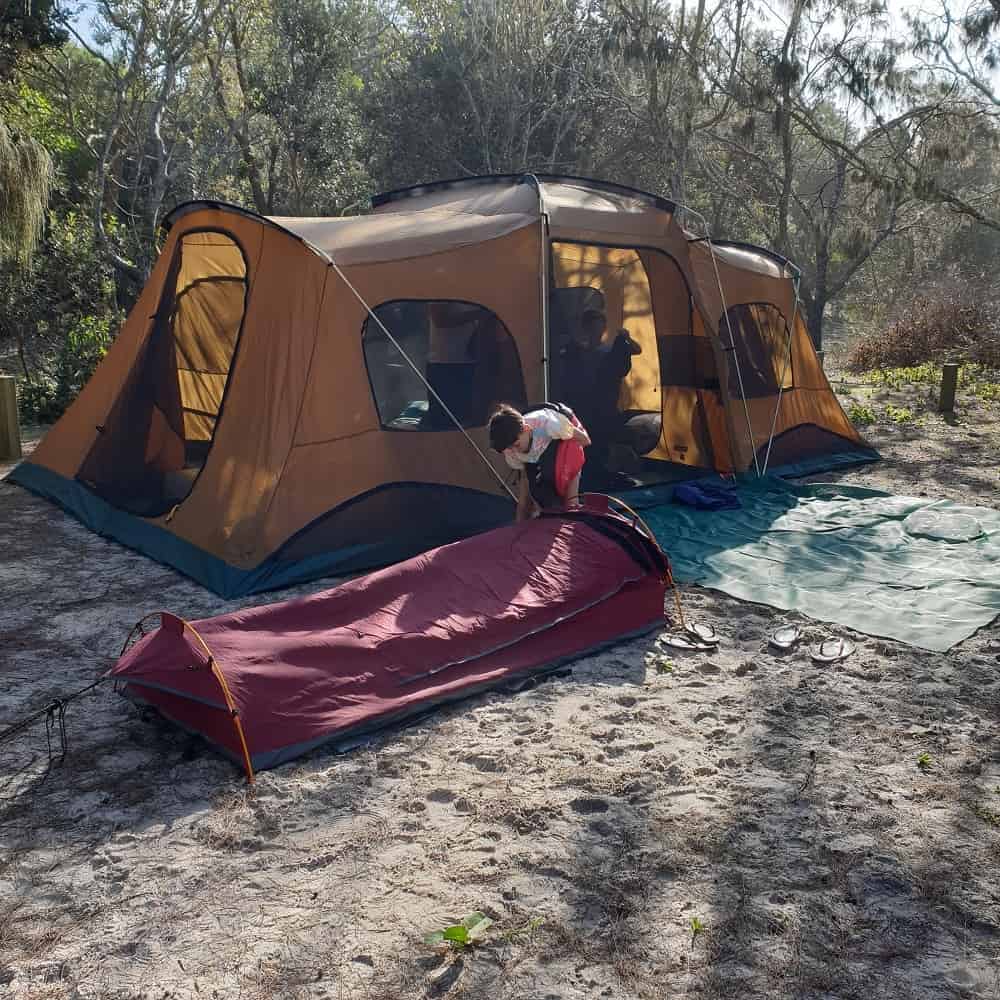 Where is Bribie Island Beach Camping Area?
Situated on the magical Bribie Island in Southeast Queensland just 50 km north of Brisbane. And 50 km south of the Sunshine Coast.
Here is the Bribie Island Map below.
How Do You Get to Ocean Beach Bribie Island?
It can be a little tricky at first. You need to navigate off the mighty Bruce Highway and head to Bribie Island.
To get over to the island you will need to cross the long old bridge and enter Bribie.
Once on the island follow the signs to Woorim Beach. Now you will pass through the tourist area (township) and just keep driving until you come to the beach access sign.
The beach access road starts at a large bitumen carpark. Here you must lower the pressure on your tyres down to approx 20 psi.
It is all beach, sand driving which takes you to the Ocean Beach Camping area. Do not attempt this drive with zero beach driving experience. Drive to the conditions, follow the speed limit and be aware that normal road rules apply. We got stopped by the authorities more than once.
Once you are on the beautiful beach drive for another 16 km until you reach the sign for Ocean Beach camping area.
See map for directions once on the island.
Do You Need a Beach Permit For Bribie Island?
We travelled here just after COVID restrictions for camping were lifted. So we needed an extra 'COVID permit' thanks to the limits on numbers.
In normal times, you need a vehicle permit which you can get for 1 week or 1 year. If you are camping, you need to also pre-book a site.
How Much is a Beach Permit For Bribie Island?
1-week: $50.60
1-year: $158.00
It makes sense to get the annual pass if you are planning on visiting regularly.
Your beach permit is available here.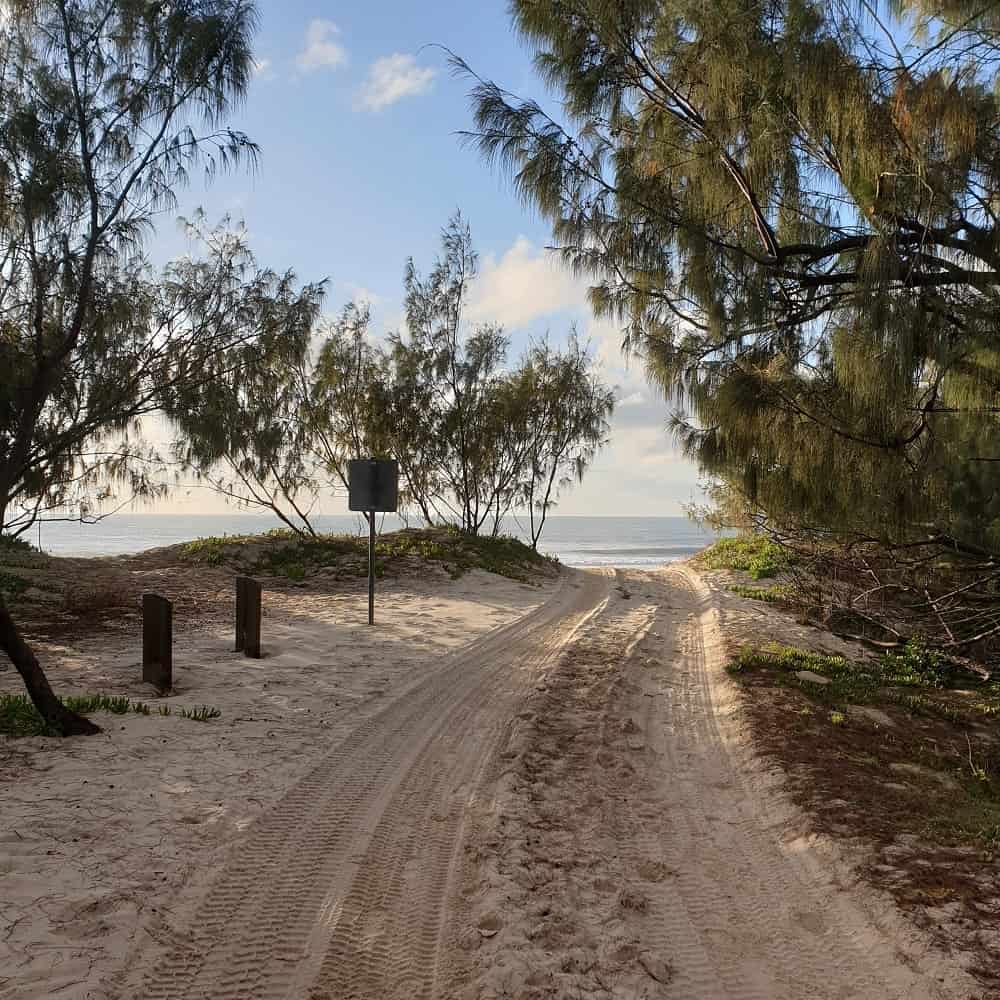 Can You Drive on Bribie Island Beach at High Tide?
We arrived right on high tide. It just happened that was mid-morning, so we timed it perfectly after our 1-hour trip from our home on the Sunshine Coast.
After letting our tyres down for the softer sand, we approached the beach with caution. But although the beach is quite narrow compared to places such as Double Island Point, driving at high tide is completely fine.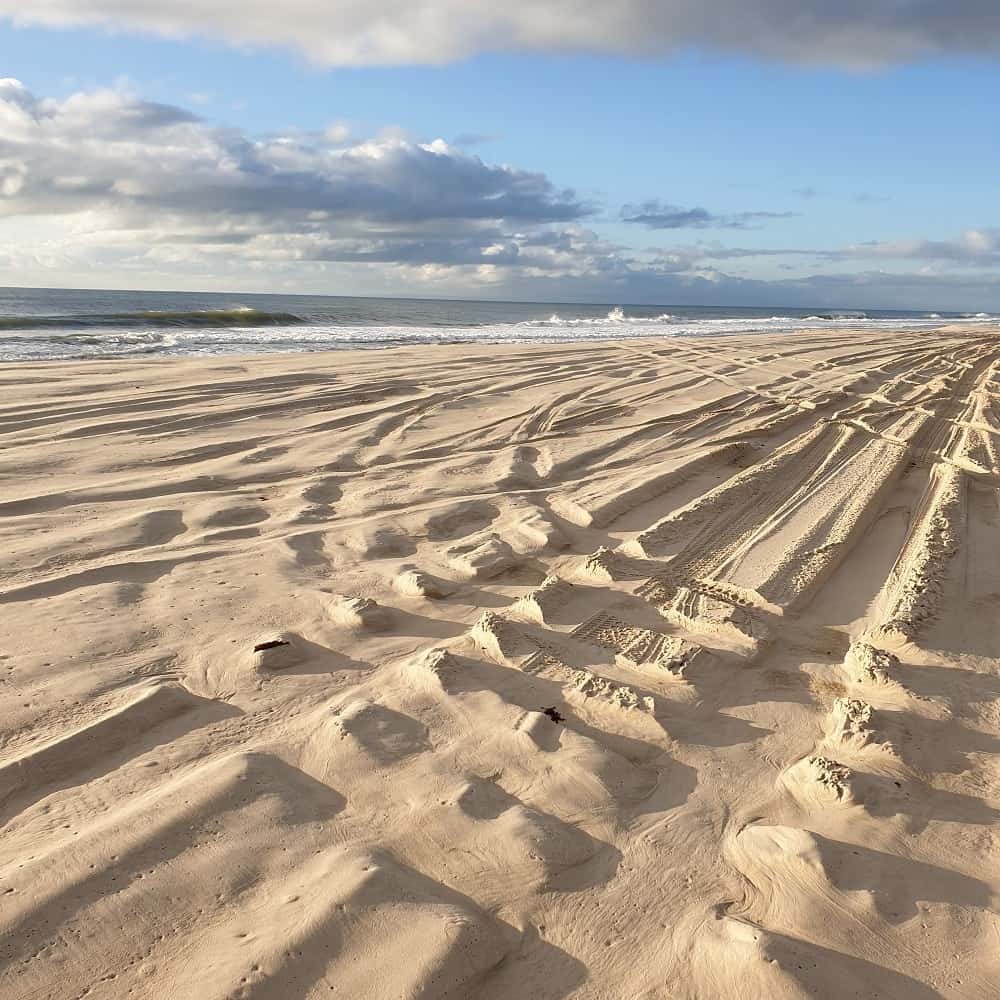 How Much Does It Cost To Camp On Bribie Island?
Normal Queensland National Park Fees apply when camping at Bribie Island. There are a number of other campsites on the western side of the island too.
$6.65 per person per night, or $26.60 per family per night;
$3.65 per person per night for students and accompanying adults on approved educational excursions.
Family rate
A family is 1 or 2 adults and accompanying children under 18 years.
The family rate applies to a maximum of 8 people in total.
Free of charge for children under 5 years.
Book your campsite online, in advance at QLD National Parks Booking Service.
You can even get phone service here!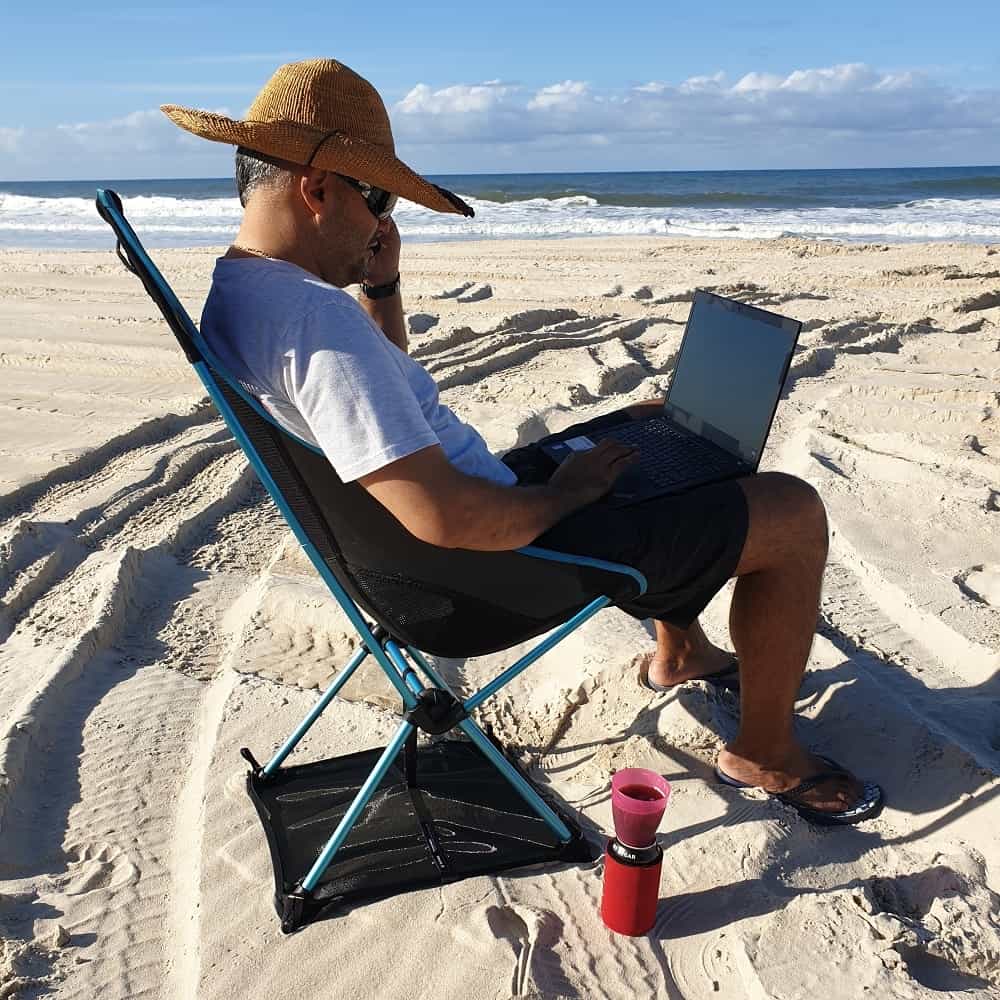 Can You Take Dogs Camping at Bribie Island?
Nope. Because it is a National Park, dogs and other pets are not permitted in the campground.
Is The Bribie Island Beach Camping Area Safe For Kids?
For sure! Our kids loved playing in the trees atop the dunes, swimming, building sandcastles and more. You just have to keep an eye out for cars as the beach can be a bit of a highway, especially at high tide.
However, the speed limit is a cruisy 30km/hr and drivers should have ample visibility.
We saw some goannas, and a couple of big kangaroos, as well as some wild pigs on the island while we were camping there.
So just be aware that you are camping in the bush, and there is wildlife about.
Can You Swim at Bribie Island?
Swimming to the conditions is great. There are no patrolled beaches here, so no flags.
The water drops off into the shipping channel so gets pretty deep and there can be strong currents, rips and side sweeps.
There are a number of creeks and freshwater swimming holes throughout the National Park if you want to get wet safely.
Fishing on Bribie Island
Bream, flathead, whiting, trevally and more can be found in the fertile waters off Ocean Beach. You will need surf gear to cast past the breakers. Alternatively, you can catch mud crabs and mangrove jack on the western shore near the mangroves.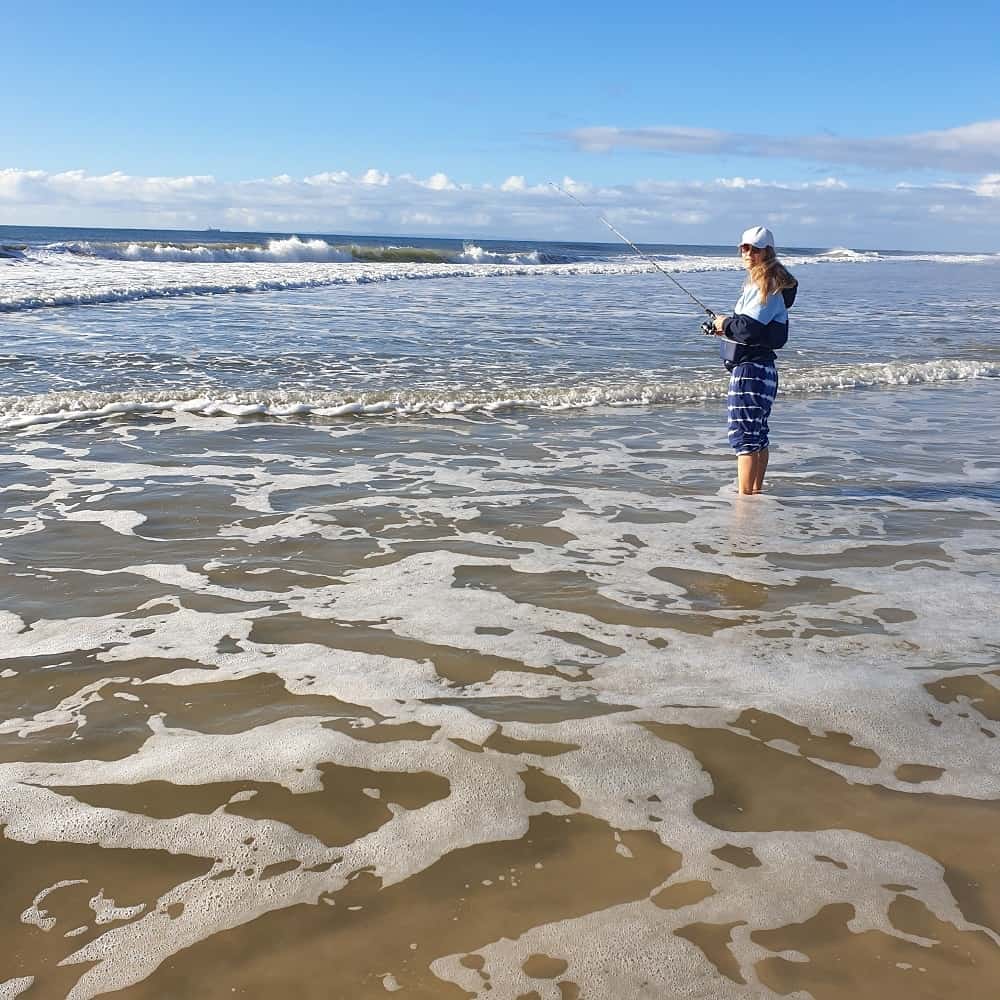 National Park Rules & Regulations
No pets
Campfires permitted in provided rings (1 per campsite)
Bring your own firewood – don't collect it from the bush
There are no rubbish bins provided, you must take out your rubbish
Be considerate to other campers
Generators are not permitted
Obey road rules when beach driving
Bribie Island Second World War Fortifications
The gun towers, observation posts and various huts that form Fort Bribie were constructed in 1942 and were the most important post in the defence of Moreton Bay during WWII.
These days they are mostly ruins, but they do provide an atmospheric backdrop to your beach photographs.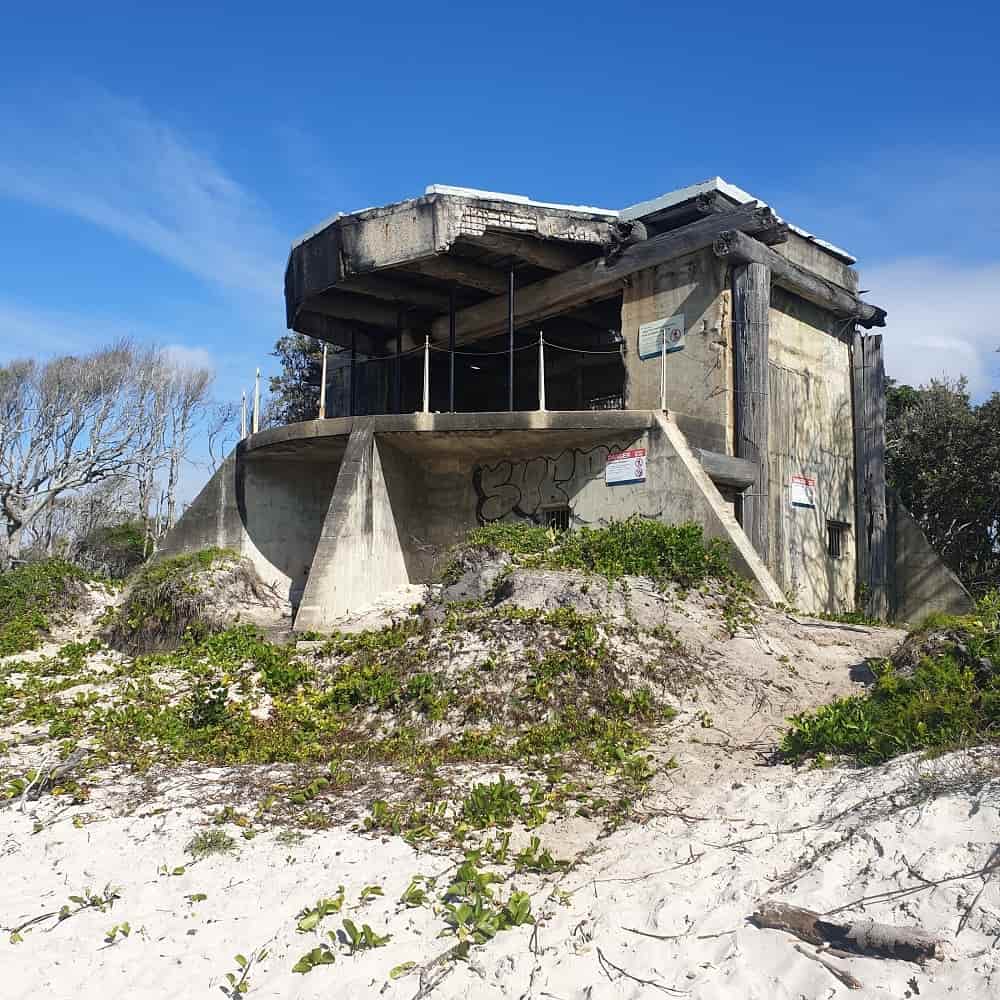 Bribie Island Camping Experience
For an epic, low-key and simple beach driving adventure, you have to check out Ocean Beach, Bribie Island.
It turns out the beach is beautiful. White soft sand stretches as far as the eye can see. And the campground is spectacularly sheltered at the top of the dunes with amazing views.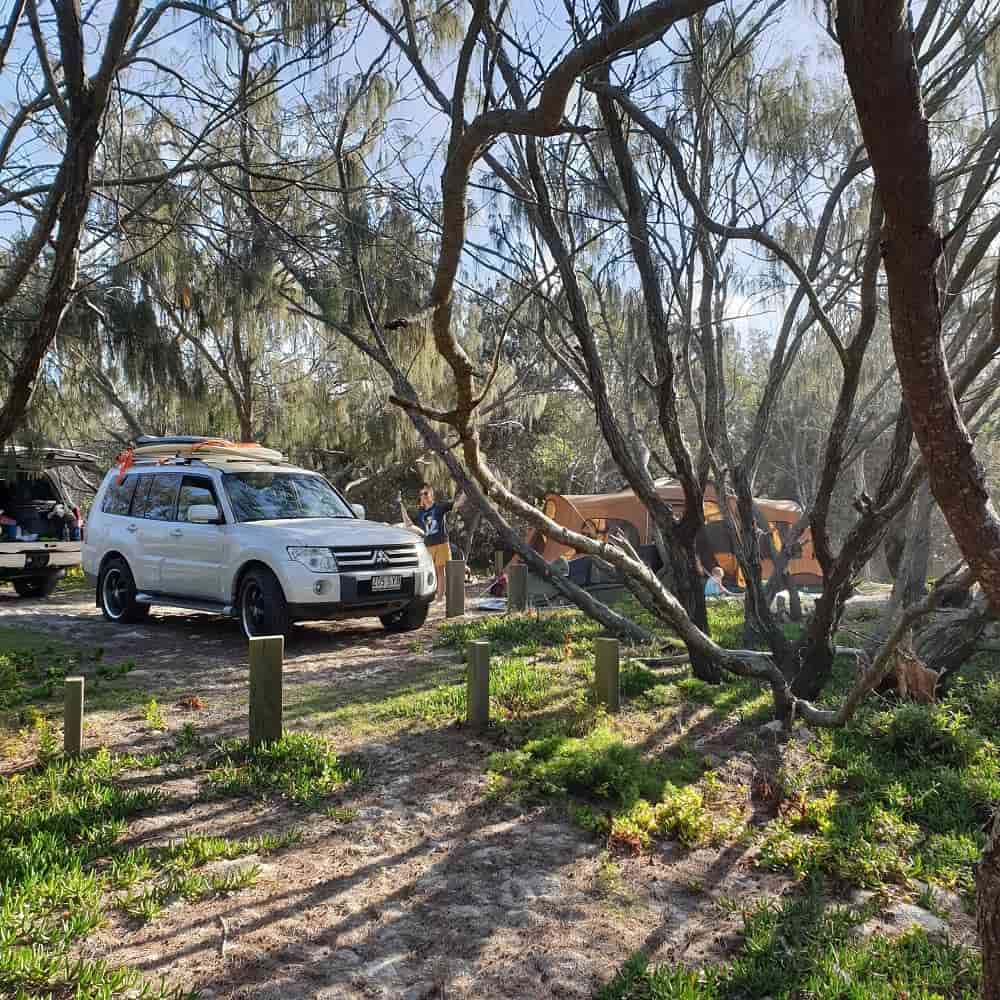 Native bushland covers the National Park offering shady spots to park up and enjoy the day.
There are 4 freshwater creeks along the beach that are cool to swim/paddle in. (Water is tannin-stained and brackish, but the kids love it.)
Everything is easily accessible and not too far to drive around. We had plenty to do for a couple of days so heaps of fun!
The mosquitoes can get pretty bad at times so be warned. This is especially true on the western side of the island and the creek campsites. Ocean Beach camping is not too extreme.
There is only one amenities block in the Ocean Beach campground. If you want to be close to this, stay on sites 37 – 53 as these have direct access. Check out the map to pick your campsite here.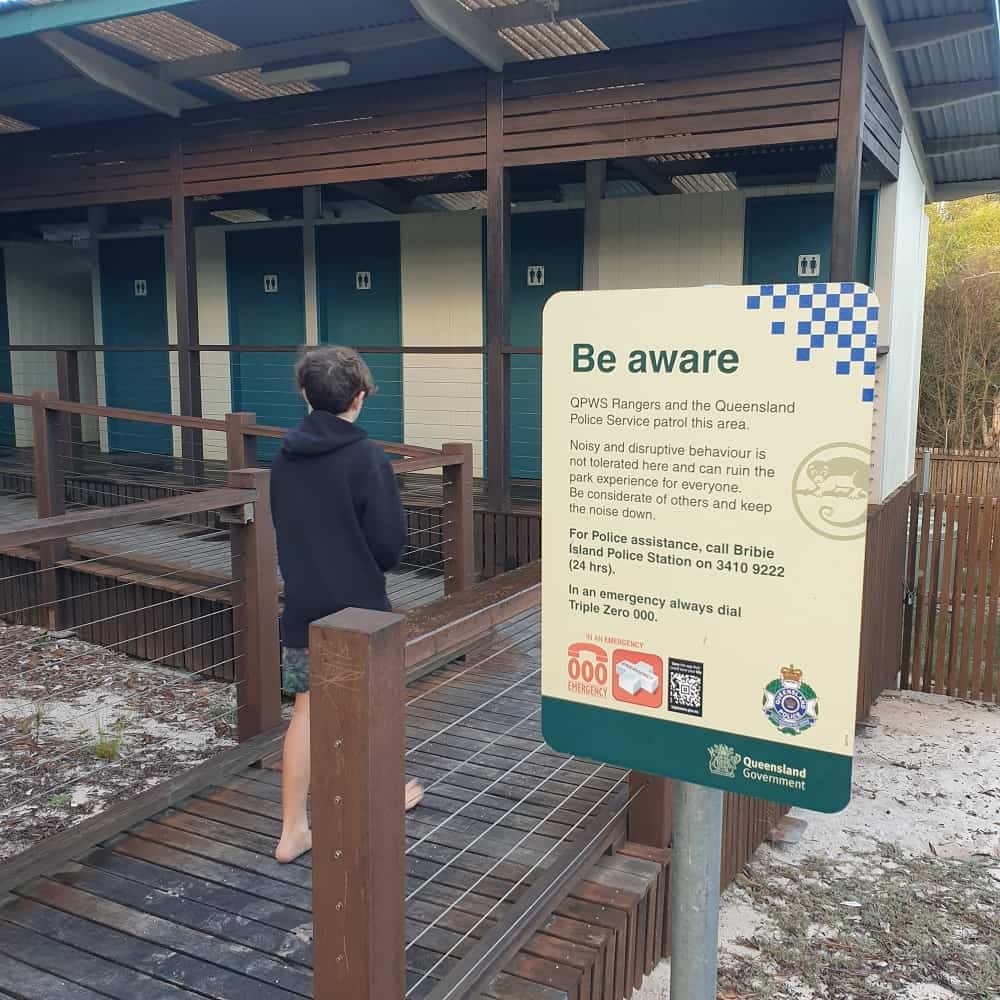 Being a surfer I couldn't really see any decent waves. They were quite dumpy so not an epic surfers destination.
Everything was well spread out so that campers have plenty of space. Firepits are included – just bring your own wood.
We had a wonderful experience on Bribie Island and would recommend a weekend getaway with family and friends.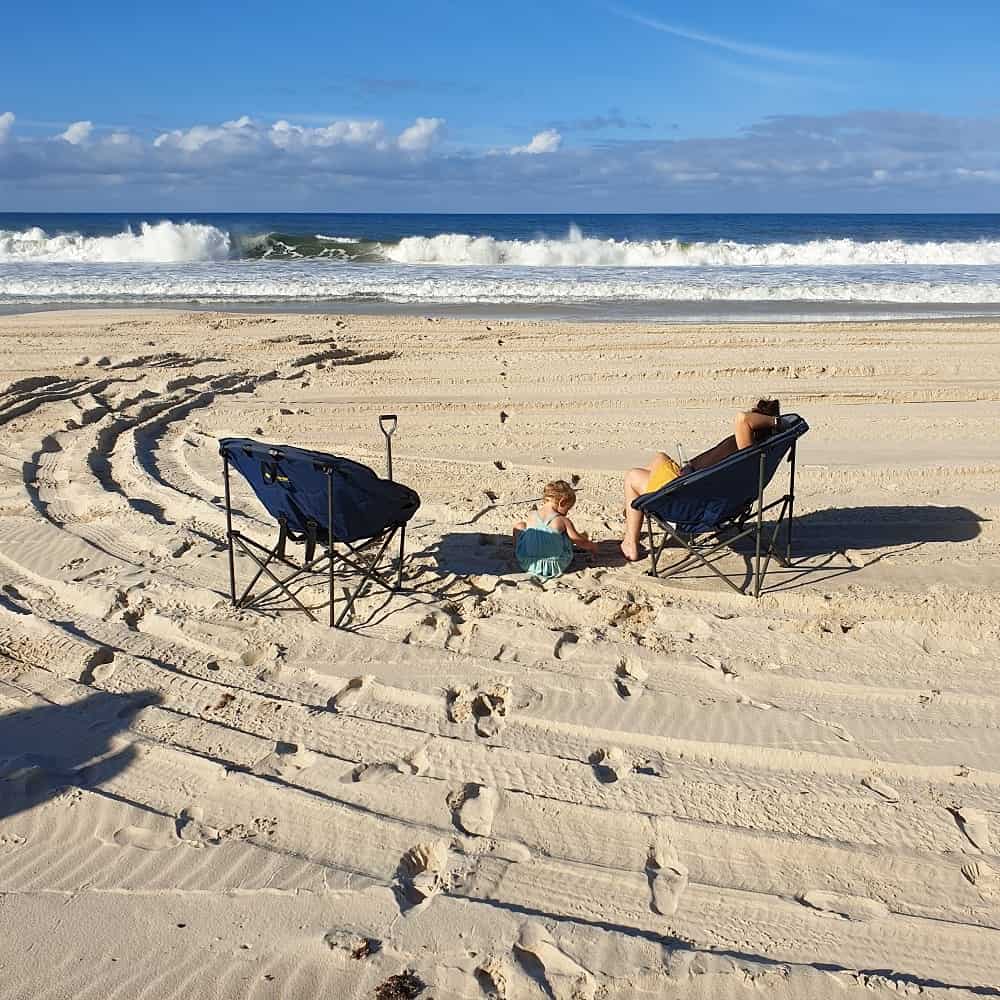 Camping On Bribie Island Ocean Beach Verdict
The main advantages of Bribie Beach camping are:
Close and easy to get to
Short beach drive
Safe & secluded campsites
Flushable toilets
Cold showers
Dump point and hose
Beautiful well kept sites
Firepits
The main disadvantages were:
Expensive car driving permit for 4WD unless you go for an entire week
Mosquitoes
Narrow beach
Amenities hard to get to
Apart from that, it was awesome fun and we fully recommend a visit for 1 to 2 nights.
Other amazing Australian campsites you may like to check out are: