We love Skyscanner. There you have it. It is gold. So if you are looking for a blog that is going to pull Skyscanner apart, this is not it. Out of all the cheap flight directories we have tried over our many years of travelling, using Skyscanner for flights has been the most successful. You know we have 4 kids right? So for us, finding cheap flights is at the heart of affordable travel.
---
---
Below I will show you how to get the most out of using Skyscanner for flights. Whether you are just jumping on there for pure research, dreaming and searching for inspiration or actually parting with cash and laying down a real booking. This article is for you!
Search the best rates in flights with Skyscanner
---
What Exactly is Skyscanner?
Simply put, Skyscanner is like an online travel agent which searches hundreds of airlines and booking agencies across the world to rank the flights for you. The flights are then listed in order of Best, Cheapest and Fastest depending on your preference. Finding flights with Skyscanner is so easy because it stops you from checking out all the competitor's websites one at a time, instead, seeing all the flights at a glance.
Once you decide on the right flight for you, it is advisable to check the price against booking directly with the airline. Skyscanner is usually the winning price, meaning you should follow through. Occasionally you may find the cheapest flight through a 3rd party flight booking company such as Expedia. We have had nothing but great results using Skyscanner and have racked up heaps of miles using this fantastic research and booking system. It is definitely not a scam, and if anything can save you money, it's a winner in my book.
They also have tools which can find your cheap hotel and bargain car hire at your destination too, but this article is just focussing on the cheap flight section.
Using Filters and Sorting Results on Skyscanner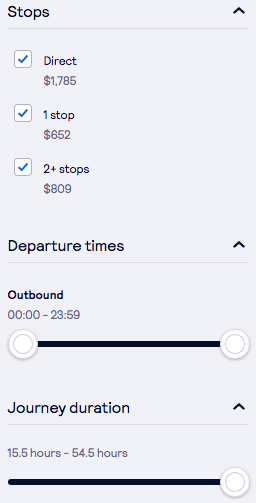 We love the search that allows you to sort your results depending on what is most important to you (price, duration, stops). The filters you can select to help you search for cheap flights are very helpful too.
Filter your Skyscanner flight results using:
Number of stops
Time of departure
Hours of travel
Specific airlines
Greener results
How to Save Money using Skyscanner for Flights
Tip 1 – Be Flexible with your Dates
This is the number one tip when searching for flights on any engine of course. But Skyscanner really makes this easy. If you can be flexible with your departure date, you can save big. When searching on Skyscanner for flights, finding the cheapest day and even the cheapest month is super simple.
In a flight search, you will enter your origin and departure cities, selecting return or one-way, and enter the number of travellers and class.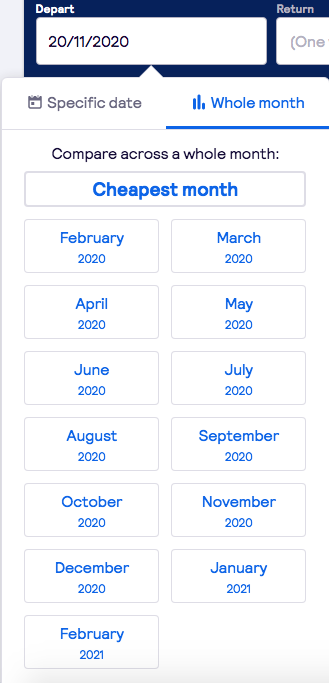 Then, when it comes to the dates, click on the 'Depart Date' box to see a drop-down menu. Here you will select 'Whole Month' to view the cheapest day within your selected month for travel. Go even deeper and click on 'Cheapest Month' which will show you a calendar or bar graph which you can easily scroll around find the cheapest month of the year, and then pick the cheapest day inside this month.
Many factors affect the price of flights. School Holidays, local holidays, festivals, events, far enough in advance dates, even weekends vs weekday flights. So having this tool on hand makes it so much cheaper when you use Skyscanner for flights.
If you are booking your own holiday and not using a travel agent (which everybody should be doing thanks to the online services such as these), I always recommend finding your flights first, having researched your hotel, and then following that up with booking your accommodation. This will allow you to save money on flights, which will often be your biggest expense.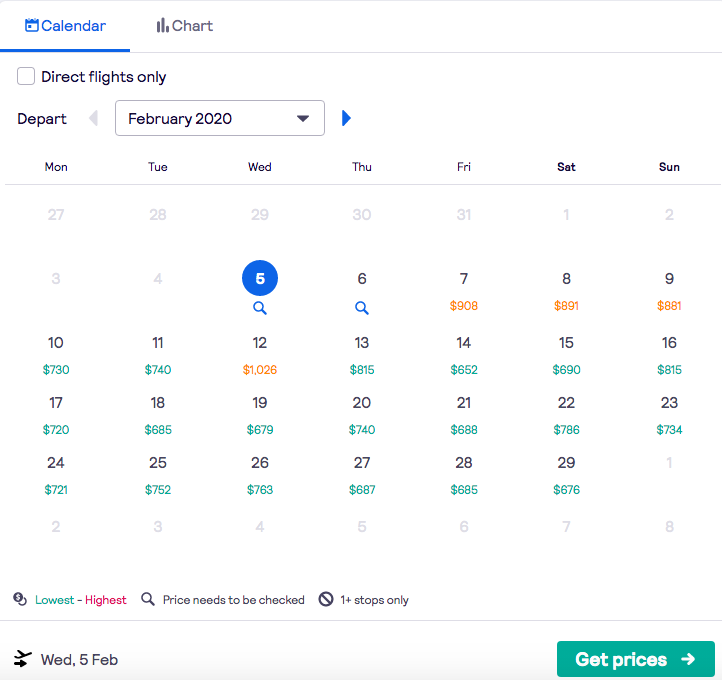 Tip 2 – Be Flexible with Your Destination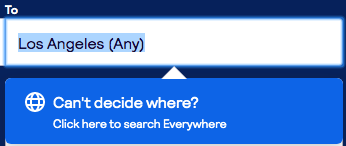 So, you want to go on holiday and you have a budget in mind, but are not entirely sure where you want to go, the best thing to do is to be flexible with your destination. Skyscanner lets you select 'Everywhere' as a destination, and then lists all the available flights from your departure city in order of price.
This 'Everywhere' tool is a great way to find inspiration, not only to save money on flights using Skyscanner.
Using the 'Map' also allows you to see the cost of flights around the world in a more visual way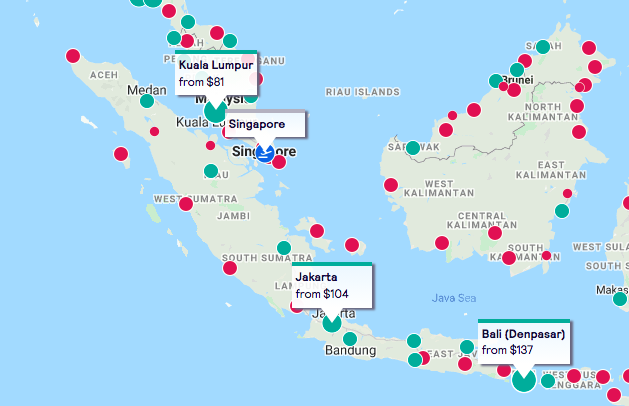 Tip 3 – Be Flexible with your Departure City/Airport
Flight prices can vary greatly depending on which airport you fly out of. This is usually thanks to the difference in airport taxes which are included in the price of the ticket. If you want to fly out of Melbourne, Australia for example, there are a few different airports here, so we select 'Melbourne (Any)' to show the prices coming out of each airport.
Another tip is to select the box 'Add Nearby Airports' which will show other flights. In Australia, our distances are vast. So when we lived somewhere without an International Airport of our own, we searched the cities that were 400 km or 800 km to the north, and 1000 km away to the south to find the best deal. Then our holidays would start with a bit of a drive, before the flights and the fun began.
With a family of 6, you really have to search long and hard to find affordable flights sometimes, but I assure you, it is worth booking your flights with Skyscanner!
Tip 4 – Find a Different Way
If the flights just aren't lining up for you, try to find an alternate route into a country. For example, if you are trying to get from Sydney to London, re-routing your flight so you can have a stopover in Kuala Lumpur or Doha might just work out cheaper. It might just make for a more interesting holiday too!
Tip 5 – Get Price Alerts

This is one of Skyscanner's most valuable buttons. Enter the details of your trip and then click on 'Get Price Alerts' with the little bell. This means Skyscanner will then email you details of the price as it increases and decreases! Wait for the best deal, and then book! It is a bit nerve-wracking though!
Tip 6 – Use an Incognito Window
Do you ever get that feeling when you are searching for flights that the price goes up and up every time you look at it? Well, it does. This is the website using cookies to track your searches and bumping the price so that you panic and hit the 'BOOK NOW' button before another price rise!
A great way to get around this is to use an incognito window. This is a browsing window with no history so the website thinks you are a new user.
On a PC press Ctrl+Shift+N to open a new window and on Mac press command+Shift+N.
Search the best rates in flights with Skyscanner
Tip 7 – One More Tip for Bigger Groups
This is a bonus tip for you and only comes from our experience booking flights for a family of 7 when Grandma joined us on a trip recently. When you have a bigger group booking, airlines tend to throw in a surcharge somewhere along the line. This is not really about specifically using Skyscanner for flights, but really for when you book flights in any shape or form.
Go ahead and try to book 7 seats first, and then try again booking 3 seats and 4 seats separately. Not always, but often you will find the 2 separate bookings to save you money!
Should You Book your Flights with Skyscanner or Direct with the Airline?
Gadsventure advises researching the crap out of your flights. Even if you only use Skyscanner for finding the cheapest day for travel and then book direct with the airline, that will be money saved right there.
Money saved on flights means you can travel more, for longer and further too or splurge a little at your destination.
If you need any help with using Skyscanner for flights or if you are just daydreaming about flying somewhere new, drop us a comment below, we would love to connect.
I hope you have enjoyed this article, I have enjoyed writing it actually. If it resonates with you, I would love it if you could share it with just one person who needs a nudge to book that flight.
You know I just found super cheap flights from Brisbane to LA while researching Skyscanner for my blog post, maybe I will look a little deeper now. Haha.
See if you can find your own cheap flight right here:
Want advice on travelling the world with 4 kids?
Check out some of our favourite posts below, or explore the blog using the Destinations tab above.
Happy travels!!!
Remember if you love to save money then book your flights with Skyscanner Today.