Need a day of excitement and education? Then get yourself to the Top Komtar?
Do you enjoy heart-pumping heights from the tallest building in Penang? The Top Komtar is for you.
A day spent here is a must when visiting Penang or Georgetown in Malaysia.
What Do You Do at the Top Komtar?
On the top floor of the Komtar building, you can experience luxury dining, amazing 360-degree views of Georgetown and Penang city.
Walk the sky bridge which is a walkway with a glass floor, so I hope you are not scared of heights because it is high at 69 stories high.
What is there to do at The Top Komtar?
The Top Komtar comprises of 69 floors with floor 6 to 3 dedicated to Top Komtar entertainment zone.
Once you enter you have an exciting day ahead of you, here is what's included with your ticket:
Tech Dome Penang
Jurassic Research Center
Magic Mirror Maze
Zombie Outbreak
Durian world (King of the fruits)
Penang State Museum
Penang Boutique Aquarium
7D Discovery Motion Theater
Dodgem cars (Jelly cars)
Musical Carousel
Entry to the Top Penang – Rainbow Skywalk
Entry to Gravityz floor
The Top Komtar Tickets
You need to buy tickets to enter the Top Komtar on level 5-6, so here are your options.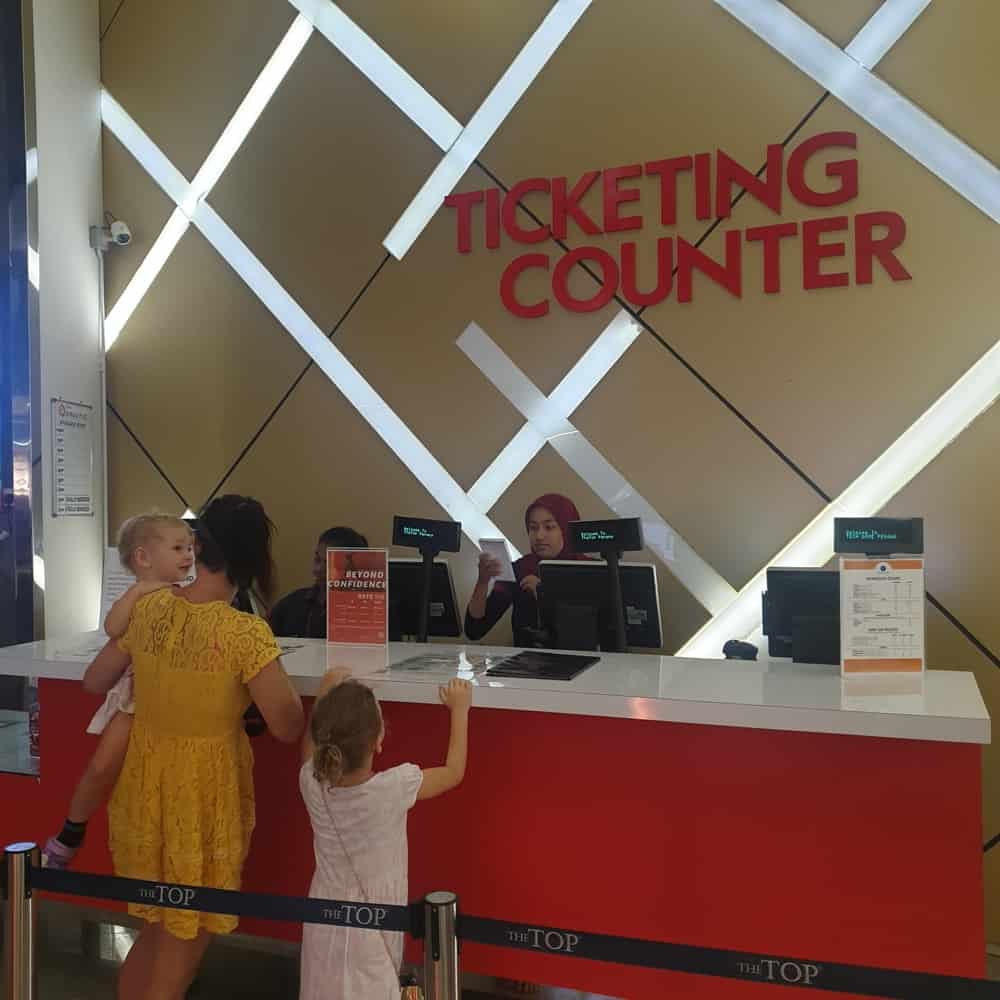 Option 1. The Top Fun Pass
Single Adult Entry for non local = 99 RM / Mykad Holder Price = 78 RM
Child 90cm to Age 12 = 48 RM / Mykad Holder Price = 28 RM
Under 90cm is Free
Option 2. The Top Rainbow Skywalk
If you don't want to participate in the fun pass you can just go to the top of Komtar for less. Here are the prices:
Single Adult Entry for non local = 68 RM / Mykad Holder Price = 48 RM
Child 90cm to Age 12 = 48 RM / Mykad Holder Price = 28 RM
Under 90cm is Free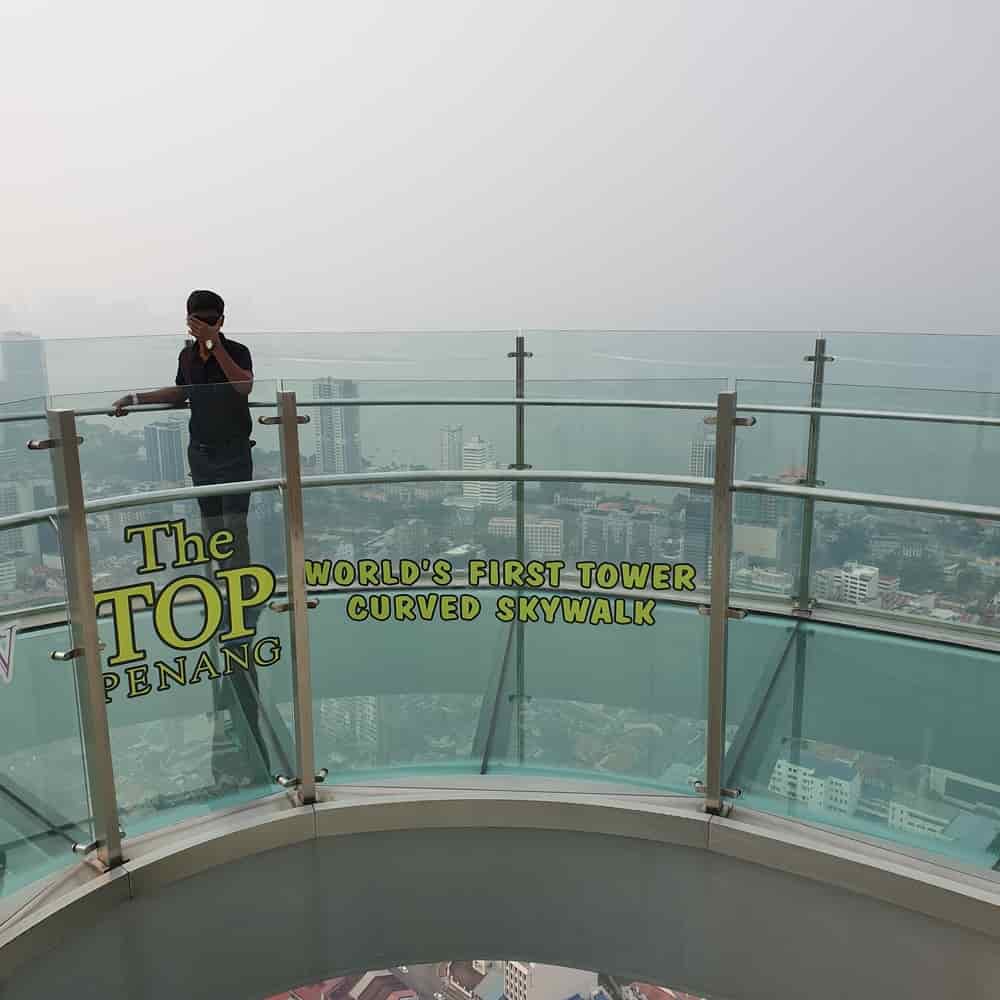 The Top Komtar Opening Times
Nothing worse than arriving at an attraction to find out it is closed, so here are the opening times for the various activities:
Rainbow Skywalk 11 am to 10 pm (Monday to Friday) – 11 am to 9 pm (Saturday to Sunday)
Public Holiday's and School Holiday's 10 am to 10 pm
Tech Dome open times 10 am to 6 pm every day
Avenue of Adventures (all attractions) 11 am to 8 pm (Monday to Friday) and 11 am to 9 pm (Saturday to Sunday)
What is Not Included in the Top Komtar Tickets
Rides and activities that are not included in the entry price are:
Ocean Explorer
Most rides such as VR games and shooting games
Food and drink
Science activities such as the climbing wall, gravity drop, Gforce ride
The Gravityz experience
Dino Gym
ARV
Dance OKI
These must be paid separately, but there is so much to do you will be busy for the whole day.
The Food at the Top Komtar
There are quite a few excellent restaurants in Komtar, we recommend eating on floor 5 at Japan food street, they had excellent Ramen noodles.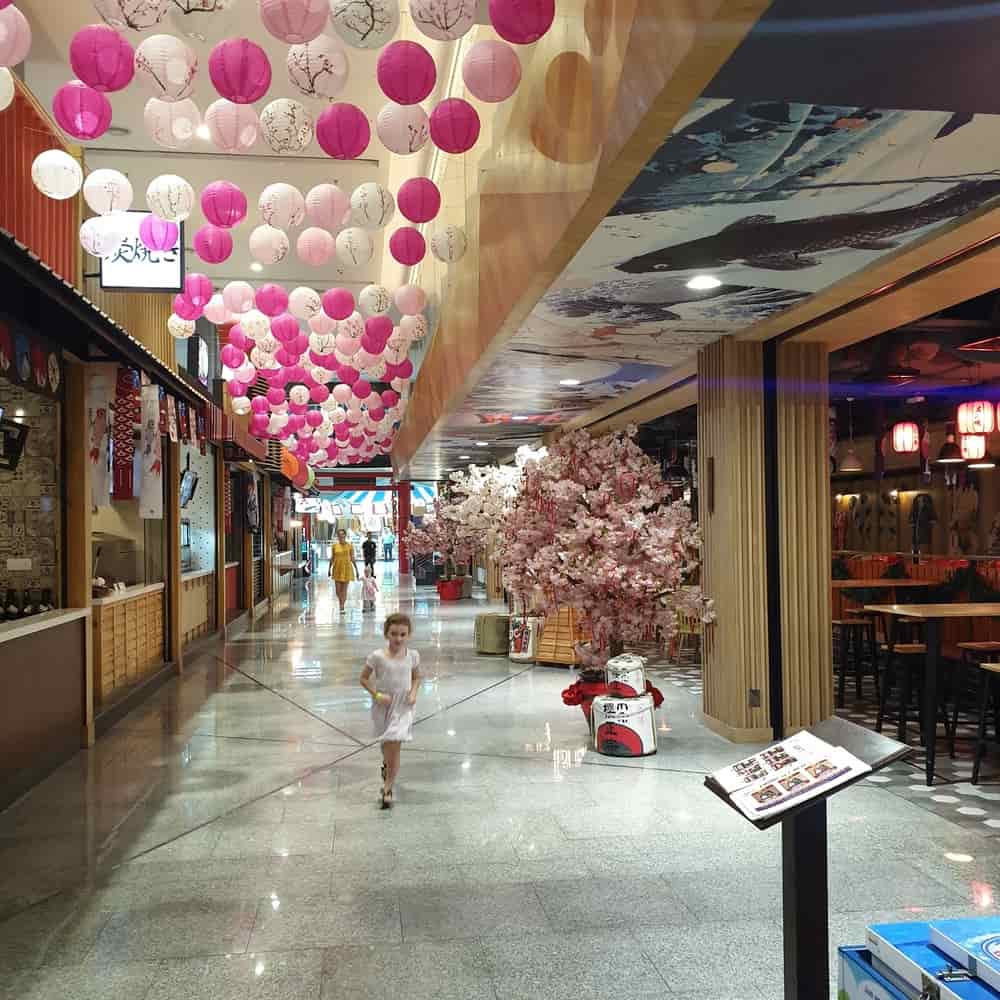 If this doesn't excite you there is Malaysian food, fast food such as burgers and chips or fancy dining on the top floor. (More expensive but amazing views)
Restaurants on the 5th floor include:
Only Mee
UMI
Italian Job Pizzeria
Rich Dad
Market Food Street
Japan Food Street
Marry Brown
U Pop I Scream
Restaurants on the Top floors include:
Top View Restaurant and lounge
Coco Cabana Bar and Bistro
Imperial Court Restaurant (Level 6)
The prices for the last 3 restaurants are quite expensive compared with dining on level 5 if you like saving money eat on level 5.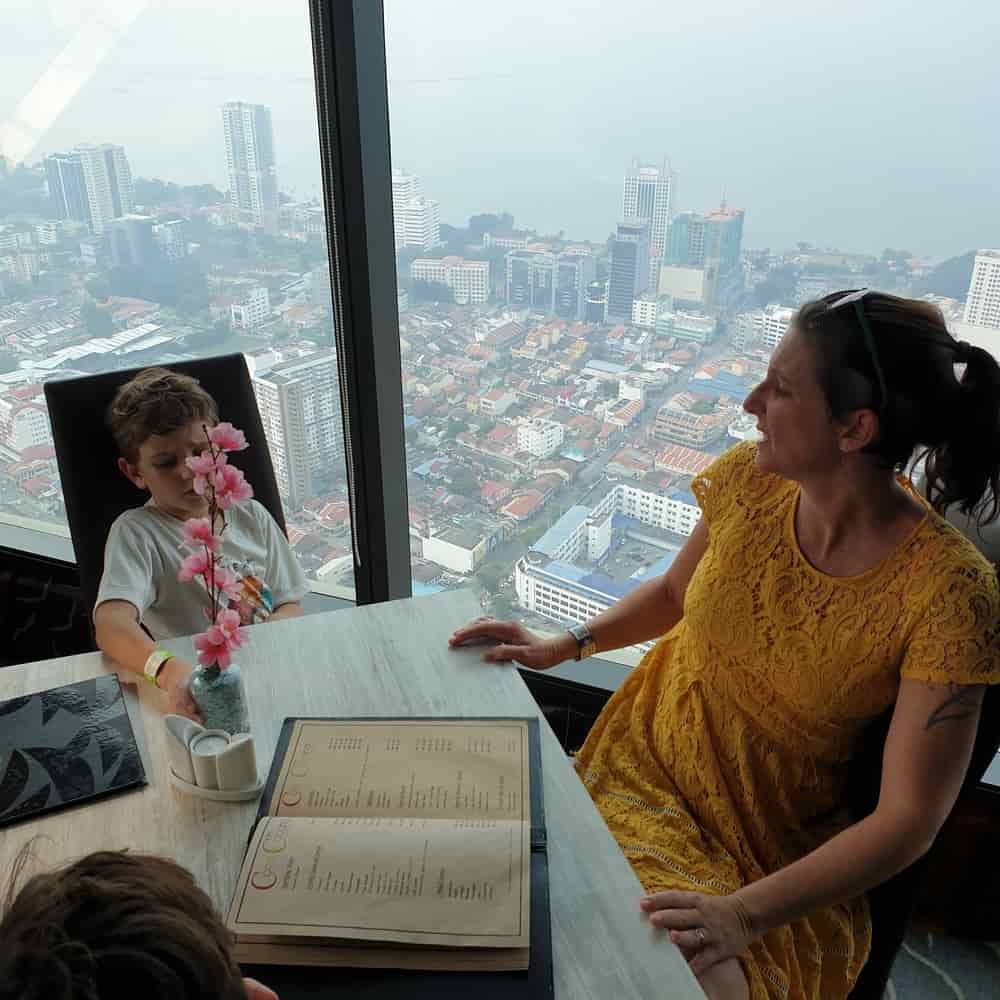 The Top Komtar Review
We strongly advise to visit Komtar during the weekdays and preferably during school hours to avoid large groups.
On our particular visit, we had the Komtar almost to ourselves.
First things first you have to get yourself to Level 5 to purchase tickets, grab your armband and your away.
Jurassic Discovery Centre
After entering you can visit any part first but we choose to visit Jurrasic discovery centre first.
Our kids loved the lifelike robotic dinosaurs roaming through their natural habitats (well just moving).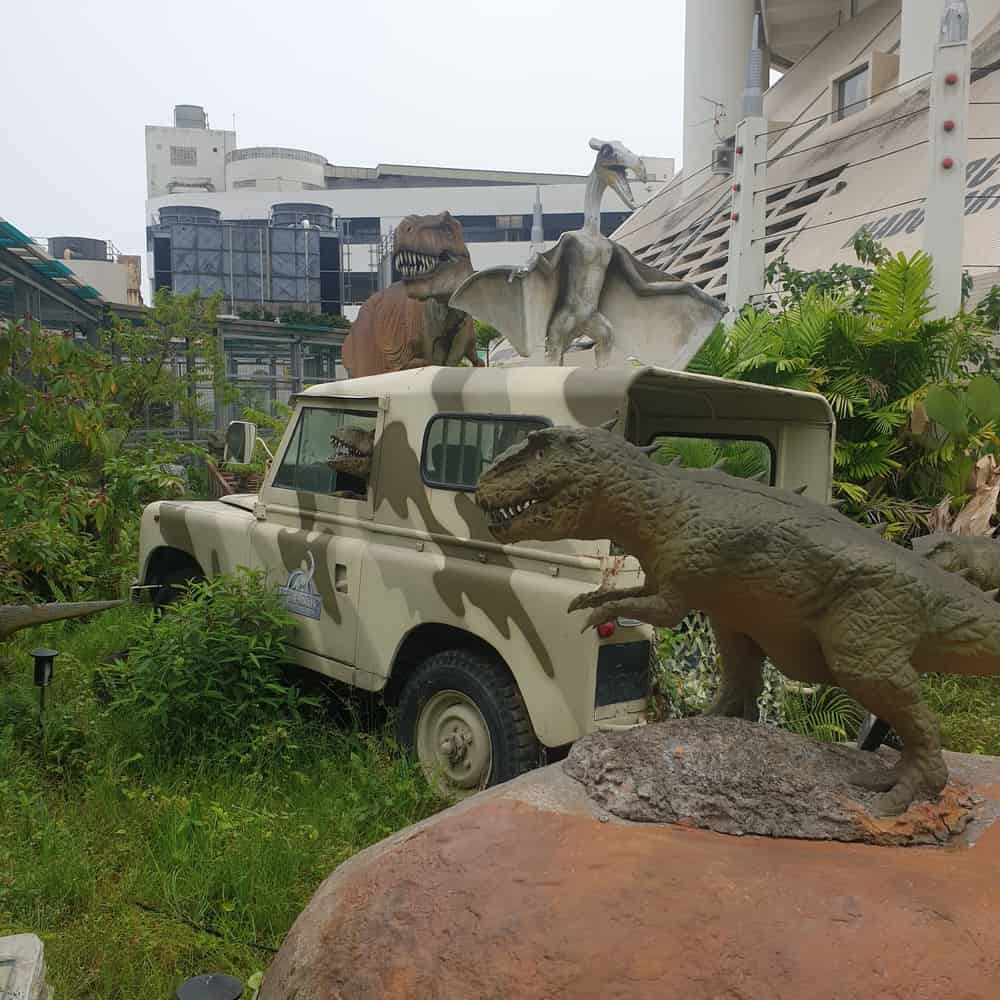 Follow the signs through the Jurassic world and be taken on a journey. They have built this very well and feels like the real thing using great props and effects. This leads to the Mirror Maze world.
Mirror Maze
What can I say? after entering the mirror maze you instantly lose your sense of direction. If with friends and family they will multiply due to the mirror maze angles.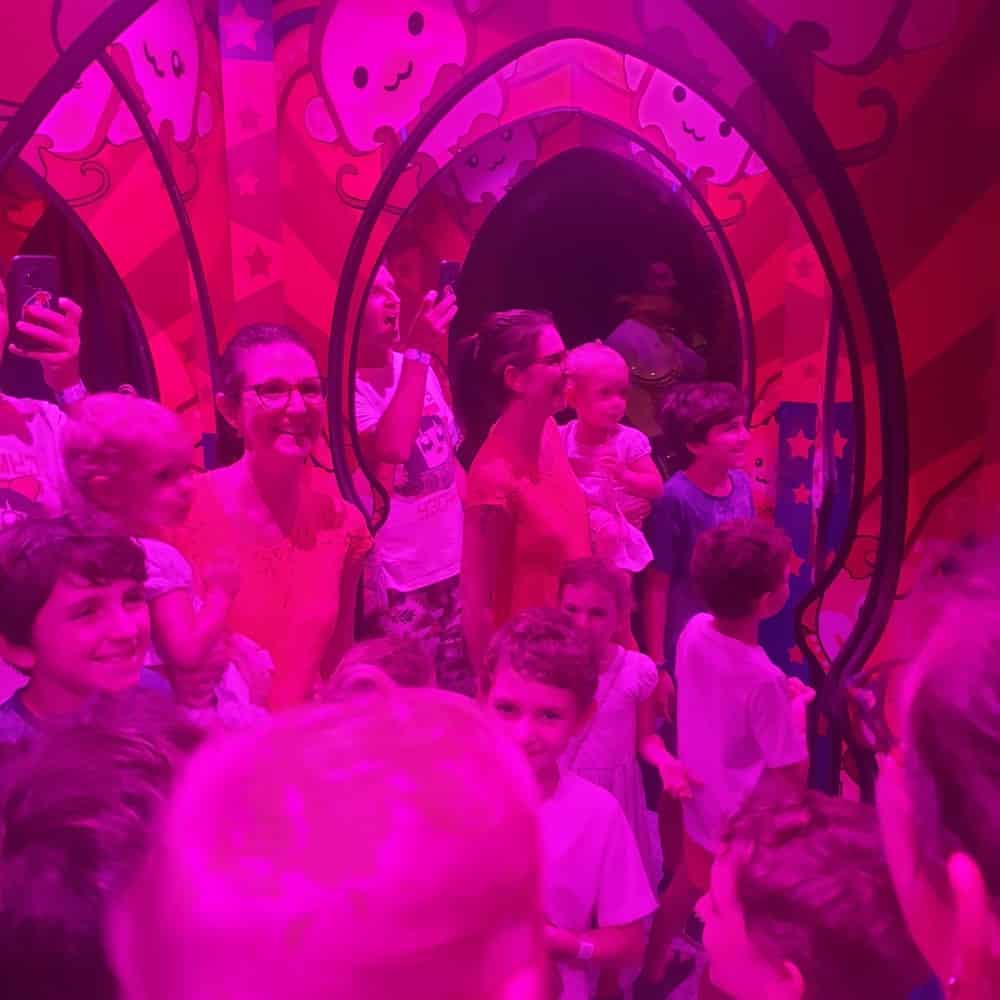 Here you must find the exit while navigating through a maze of mirrors, very trippy and don't lose your little ones because it will be hard working out which is your real kid.
If you succeed in getting out take the kids to Dino club for a play (Costs extra) or you can ride the merry go round (Free), Dance OKI (Extra) or enter the Zombie Outbreak room (Free).
Zombie Outbreak
My kids were a little scared inside this dark horror house. So not suitable for little ones. Very dark and a little disappointing if you are an adult.
After here head to the 7D cinema, and be part of the movie with virtual reality and simulators creating new dimensions (Closed on our visit). Head straight into the Tech Dome from here.
Tech Dome
Tech Dome is the best! You can literally spend the whole day here learning about science, biology, technology and participating in the adrenalian science activities they provide.
For an extra price of 5 RM per activity or 12 RM for 3 you can try the climbing walls, Gravity free fall or the Gforce spiral.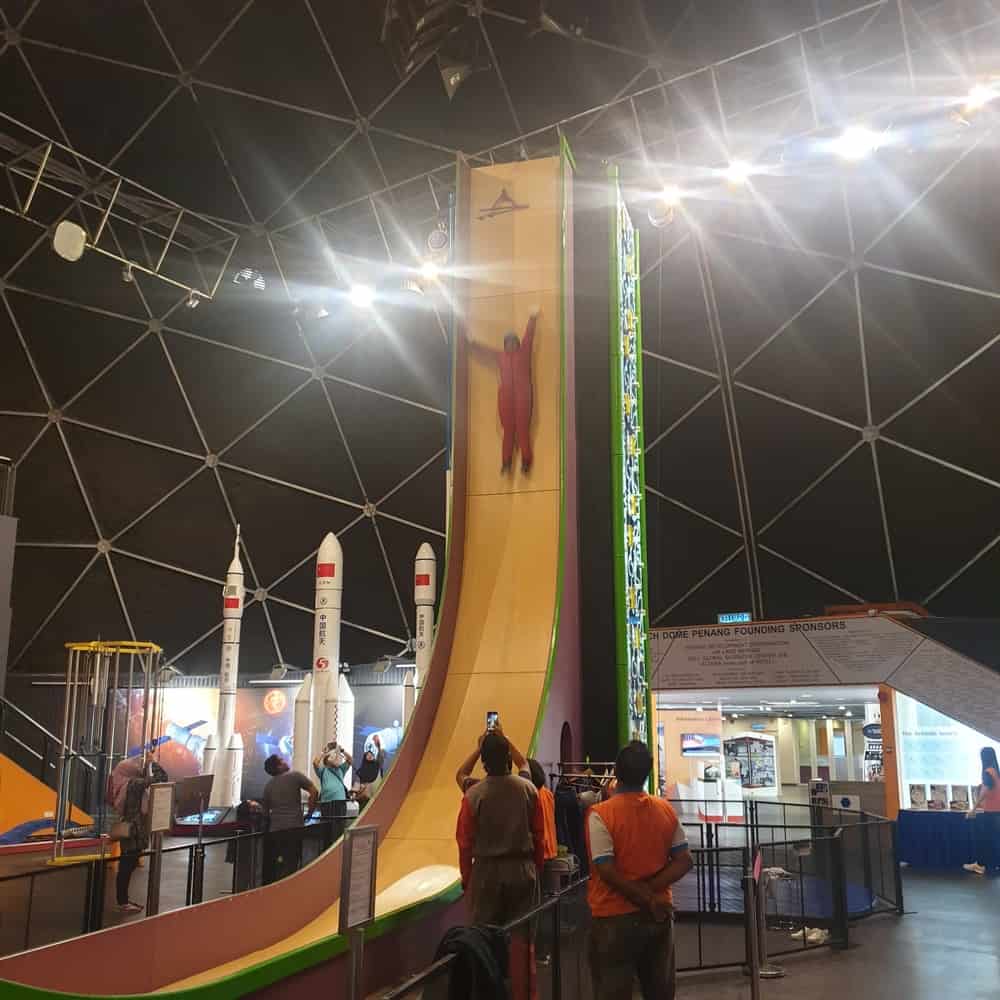 The best thrill was the Gravity Freefall, try holding onto a handle and lifting up into the air 10 meters then letting go and sliding down a giant ramp. Wow! Gravity plus.
Heart pumping fun!
We could not get our kids away from here, they learnt so much because of the interactive learning stations Komtar provides. It was quite amazing.
Learn how the muscles, bones work, try science experiments using magnets, solar, and everything else related to human anatomy.
Tech Dome includes:
Robotics activities
Sensors, lasers
Gravity
Illusions
History of Robotics
How the body works, muscles, bones
3D imagery
And so much more!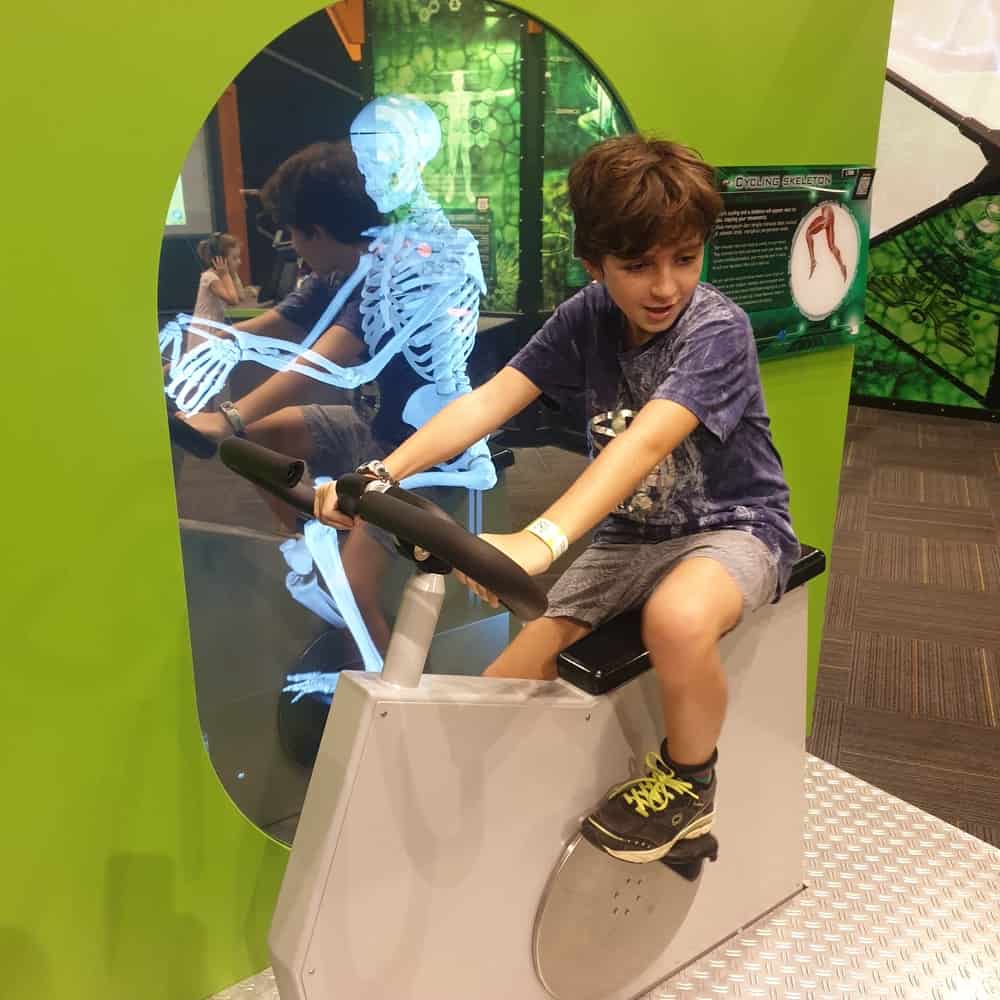 Once you have dragged your self away from here make your way down through Japan food street and pay to enter the Ocean Explorer (We did not try this one).
Children's Play area
At the back of the centre is a little cafe and a little children's activity area suitable for under 3's. Our 2 year old would not leave because of all the cool stuff she could play with.
Damn you Komtar!
Ocean Explorer
This immersive experience brings the sea to life with high resolution surrounding projectors. This creates a seamless reality show of the underwater world without getting wet.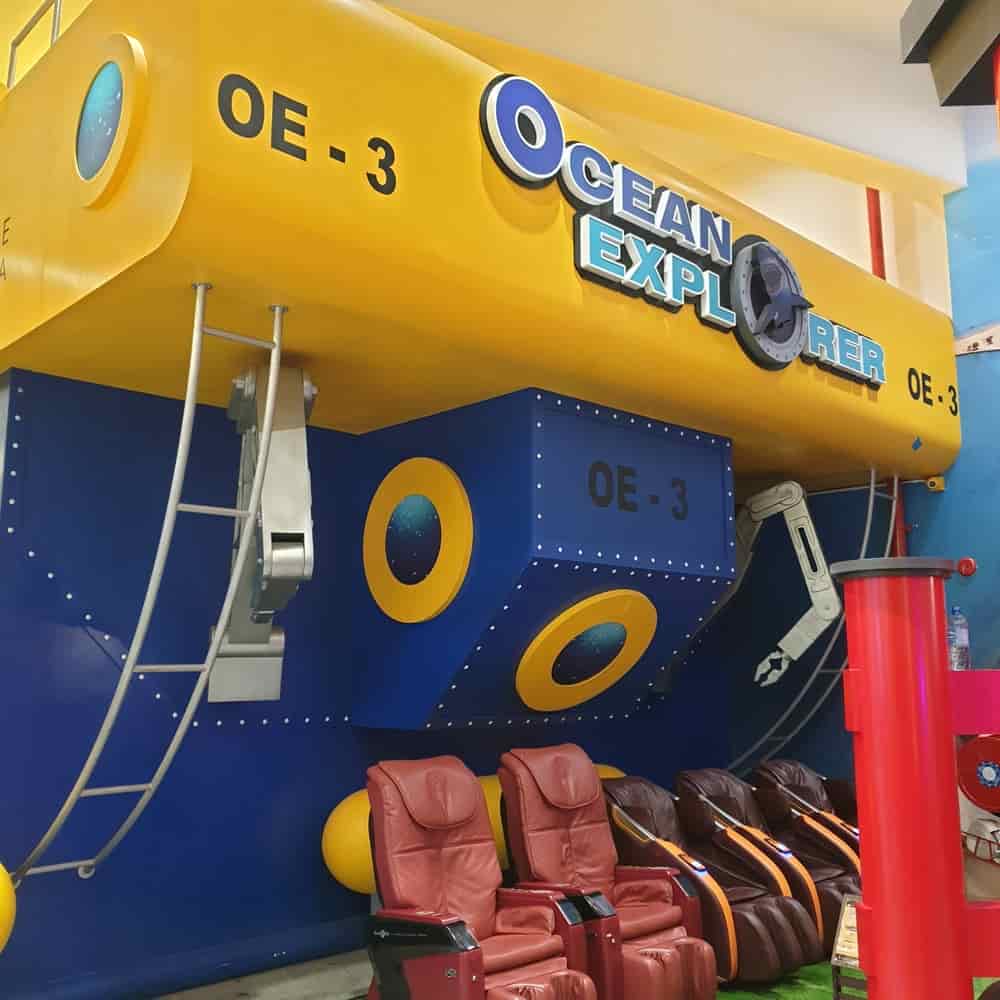 Penang Aquatic Boutique
Next amazing place is the Aquarium Boutique, here you will find hundreds of sea life species in tanks displayed throughout the centre.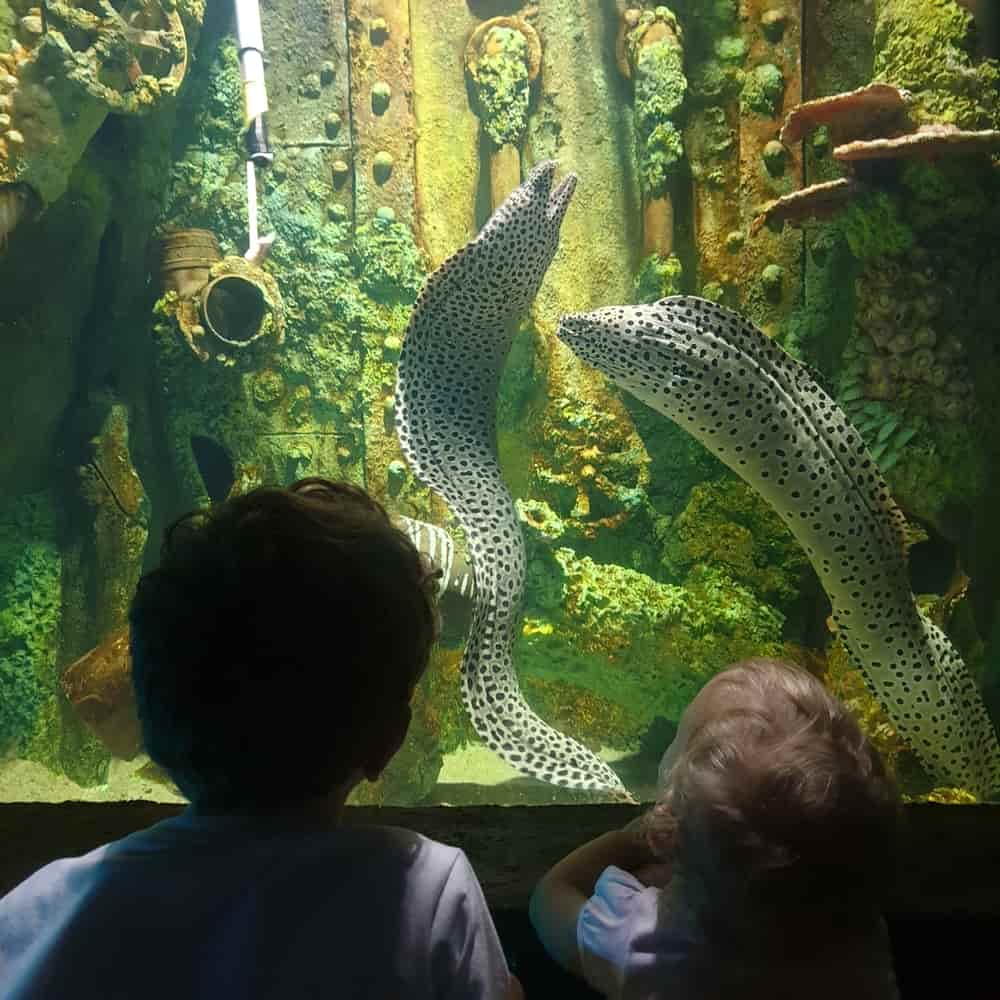 Follow the dim-lit tunnel and discover Asia's colourful underwater world, see species such as seahorses, moray eels, sharks, Clownfish, stingrays and much more. If you time it right you will see the feeding of the eels and get to touch a shark and it's eggs!
The kids loved it.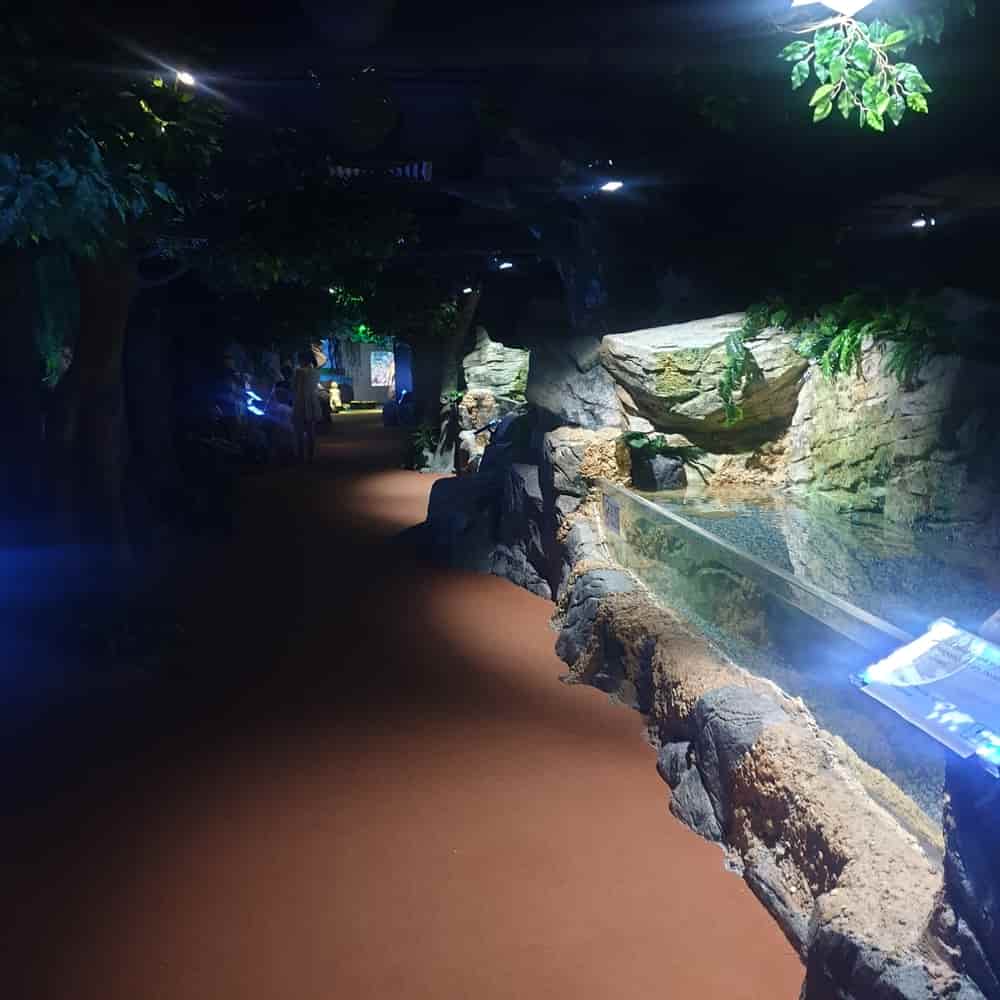 Dodgem Cars
Once finished here try out the dodgem cars, we loved this it was just like going to the show. All included in your ticket price. They have a young children car area and an older child dodgem area.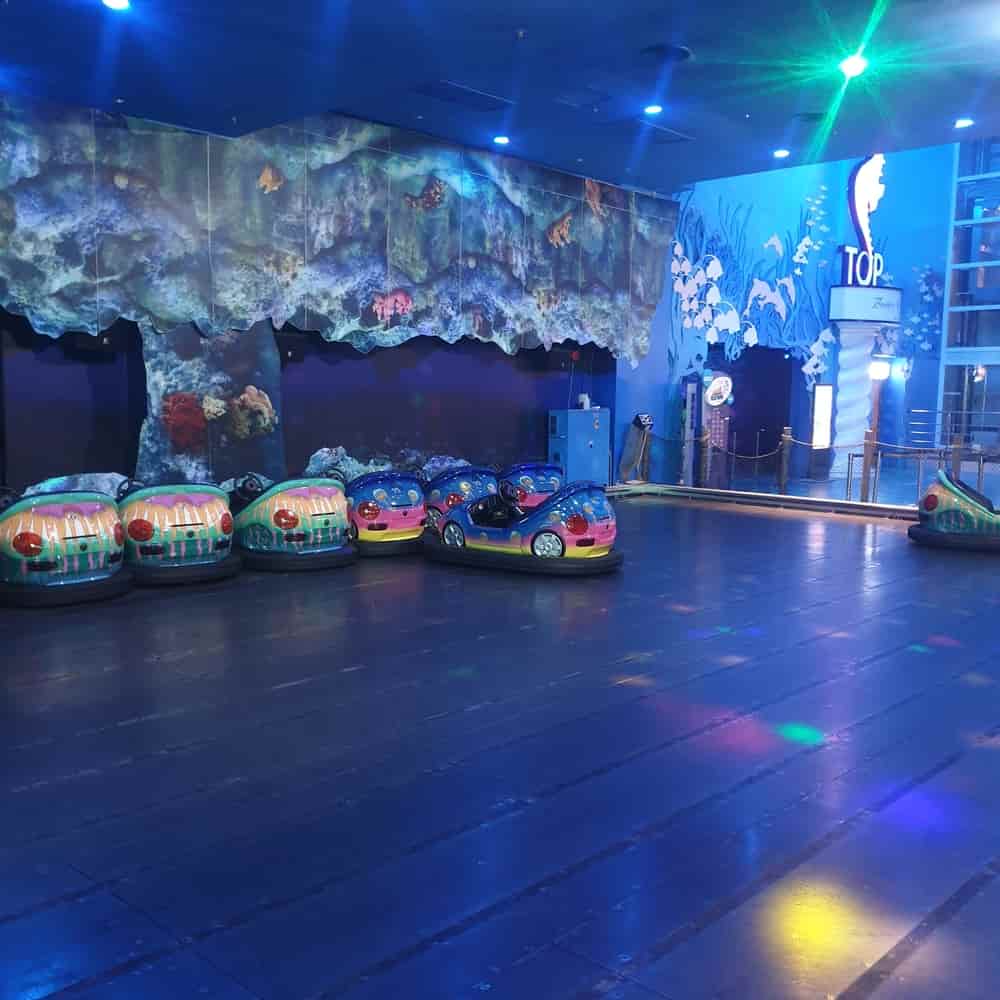 Now make your way down to Penang State Museum and Durian World. (All on level 3).
Penang State Museum
Penang State Museum is worth the visit, so much history and the displays are really well done. Here you can learn everything about Penang and it's rich diverse past.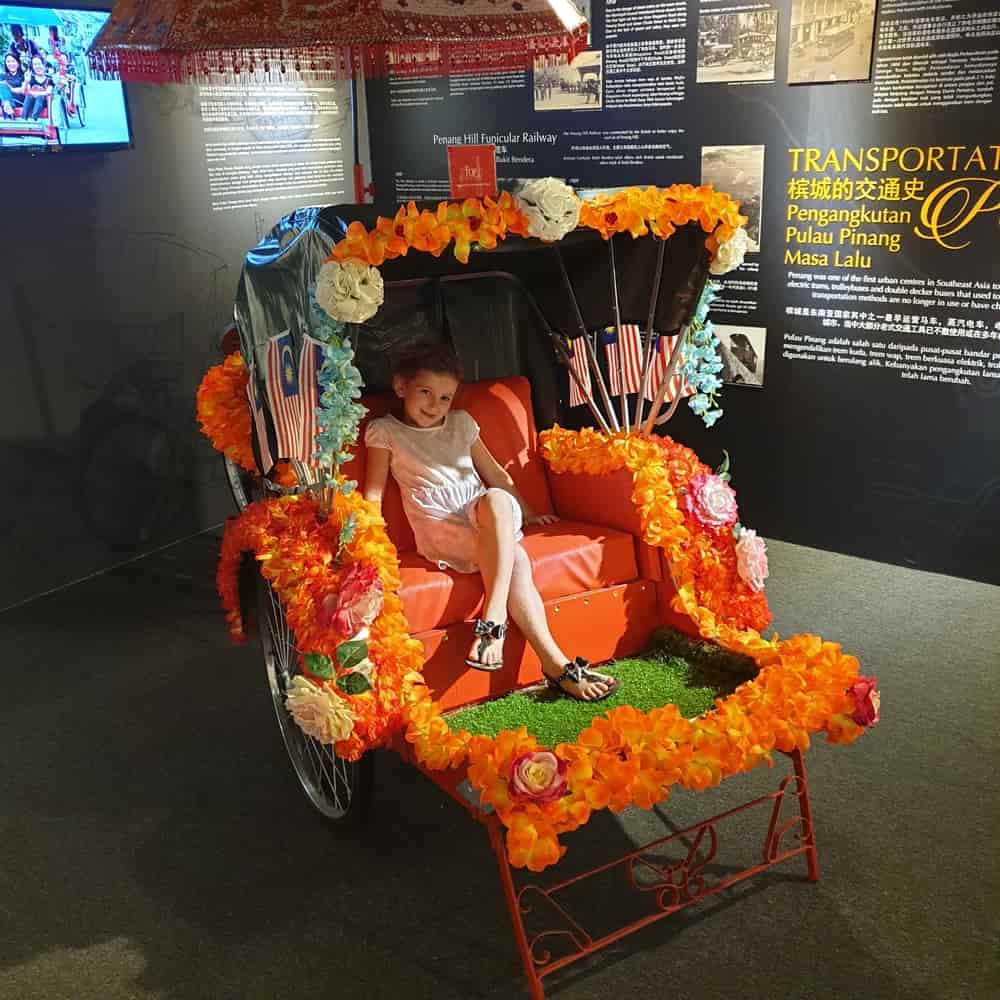 Durian Museum
A visit to Malaysia or Asia would not be complete without visiting the king of fruit museum of the Durian.
Find out all the facts and useful information about Asia's most famous fruit here. A very interesting little walk with some fun 3D trick displays at the end. Kids loved it and we loved it.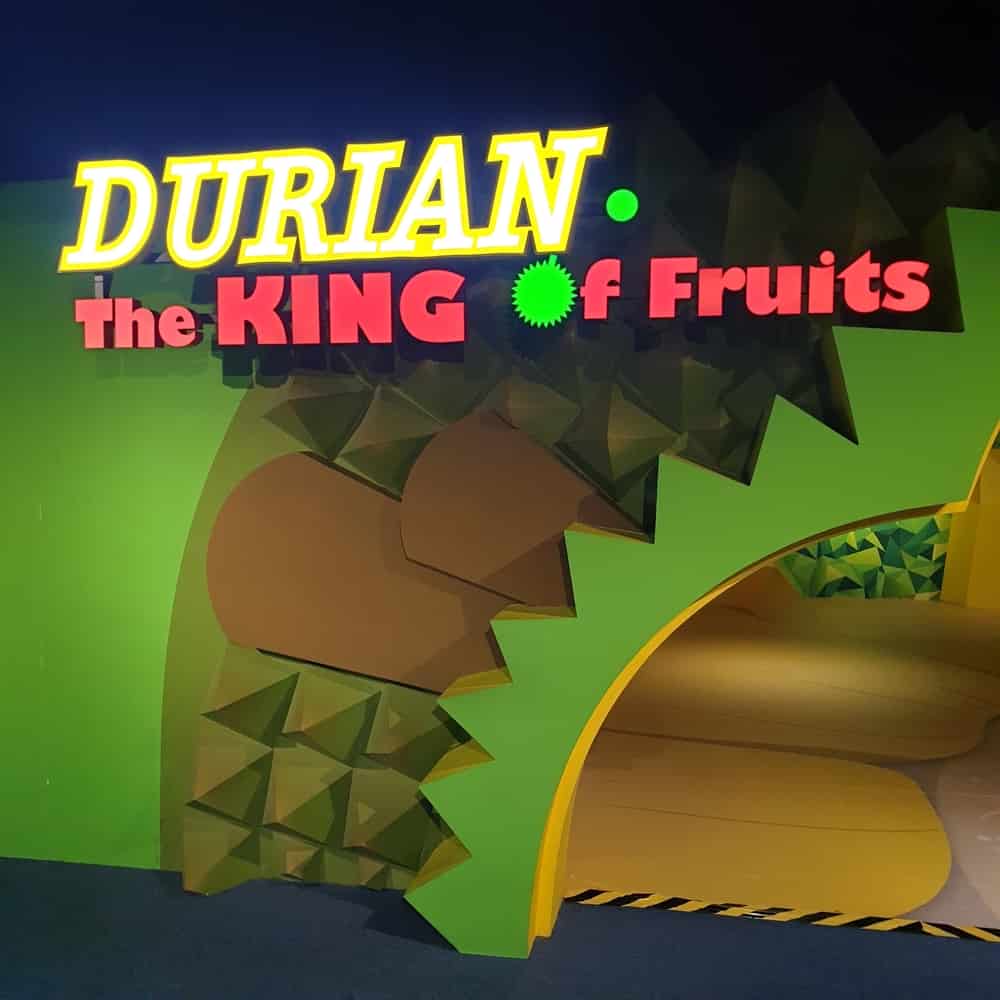 Such a smelly, expensive fruit, but Asia loves it.
After all this, you will want to go home but you still have to visit the top of the building and experience the Rainbow Skywalk.
Gravityz Experience
But first you will go to floor 67 and watch a little video about Komtar and then you will walk past the Gravityz centre. Here you can participate in a ropes/obstacle course around the outside of the building 65 floors high, pretty crazy.
This is not for faint-hearted.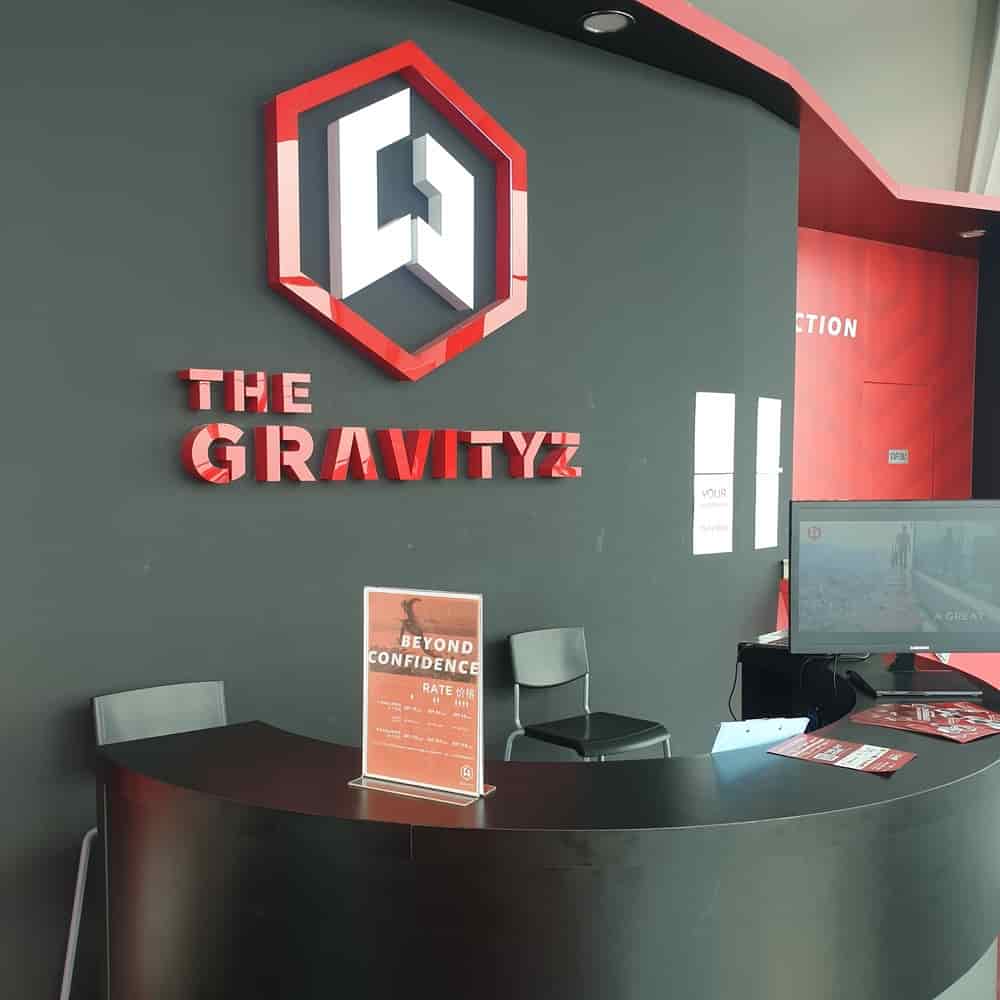 We did not participate but it would be such an adrenalin rush. If this is not your style then they have a glass floor to walk on and amazing views of the city.
Cost is 149 RM for an adult.
For more information visit this site.
Rainbow Skywalk
Last but not least you catch the lift to the Top of Komtar. This is where you get to walk the rainbow skywalk 68 floors up and look down through the glass to the street below. (Not recommended if you hate heights)
They have a great looking restaurant up here called Coco Cabana Bar and Bistro serving great food and cocktails, you can hire it out for private functions also.
The Top provides 360-degree views of Penang and Georgetown and is totally worth the effort.
While you're here try to hit the golden bell with a coin for good luck!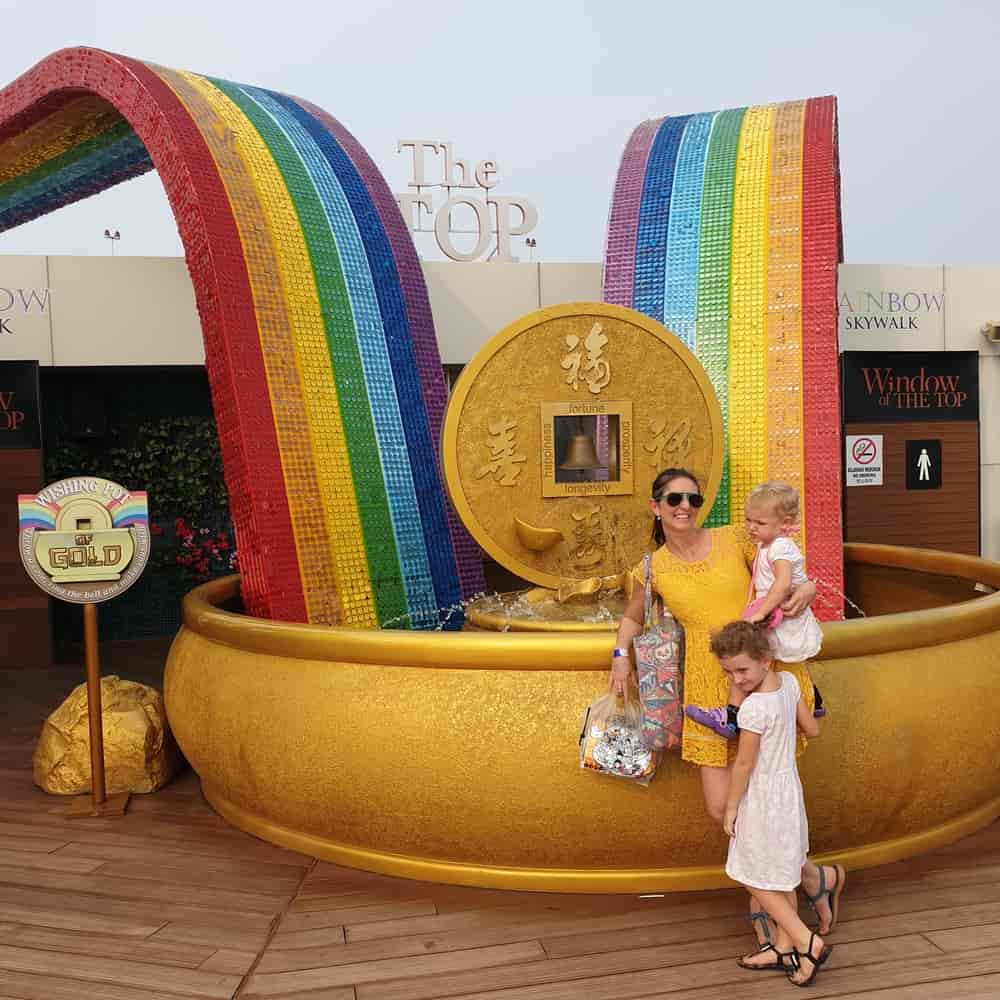 The Top Komtar Conclusion
Our family had an absolute blast at The Top Komtar. We did not expect to be there for around 7 hours because there is so much to do.
No one really liked the Zombie outbreak because it was scary and our eldest is not fond of heights, so skywalk was not his favourite place.
On the whole, the price of admission is terrific for a whole day of fun for the family and we fully recommend visiting The Top Penang on your next holiday to Penang in Malaysia.
More Exciting Activities in Penang
For more things to do in Penang and in Georgetown visit our other reviews below: