Getting sick of the cities? Then why not stay at Batu Ferringhi for a couple of nights and get some beach action!
Batu Ferringhi is the first major beach you come to when circumnavigating the island of Penang. There are a couple of other beaches such as Moonlightbay and crab beach but Batu Ferringhi has the most to see and do.
Where is Batu Ferringhi Located?
This white sandy beach is located only 15 kilometers from the famous George Town and is a great escape from the old historical town.
See Map for details:
How To Get To Batu Ferringhi Beach
There are a couple of options you can take to get yourself to the popular beach area.
Here are your options:
Taxi (Hire by the hour or Meter)
Grab Taxi – Get the App Here
Rent a car – Hire a car from the airport
Hire a Scooter (Rental bikes at many local establishments in George Town, 25 RM a day)
Transfer via Klook with a van from Airport
Local Bus – Take the 101 Bus from George Town Jetty that passes Komtar and heads along the coast takes 30 – 40 minutes
The distance is not too far away so it won't be very expensive.
Where to Stay at Batu Ferringhi?
We find that checking prices on Booking.com or Airbnb is the best and will generally save you money. We found that when it comes to staying at this beach your options are limited if you love nice accommodation.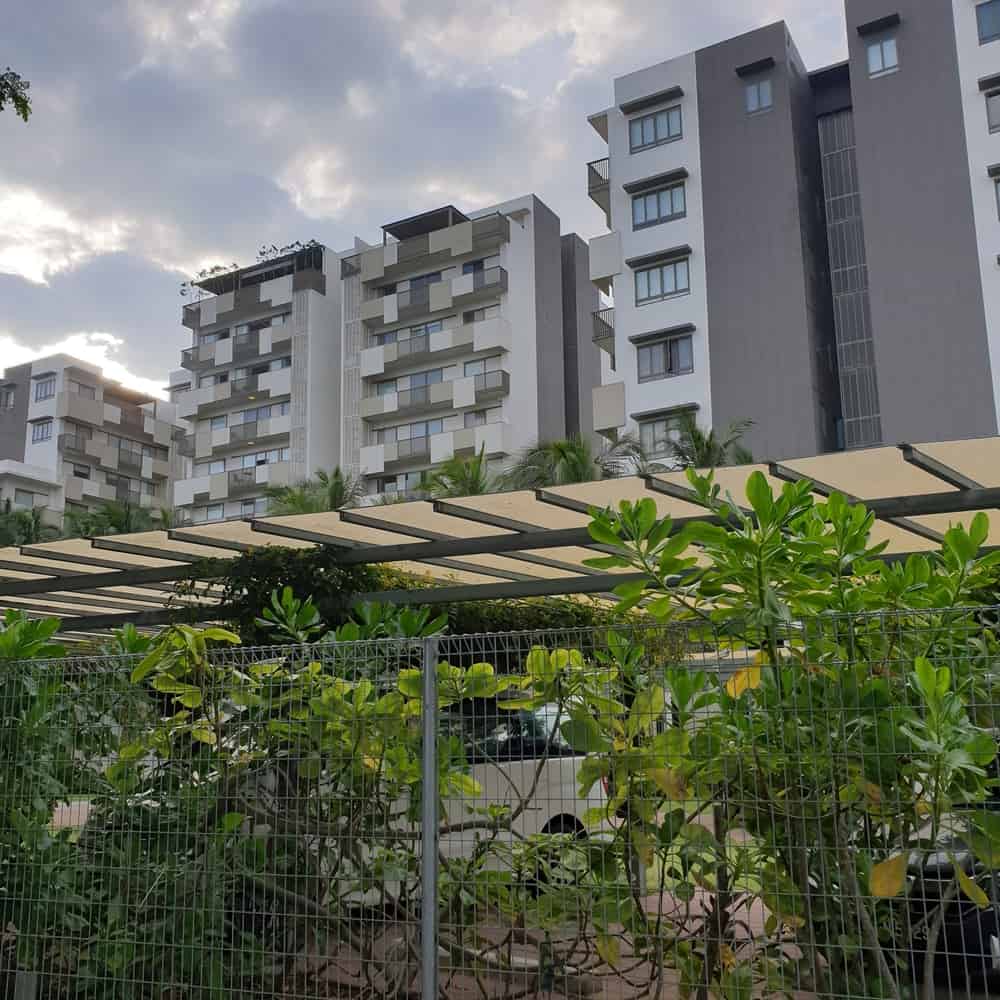 Here are our recommendations for a awesome few nights at the beach in Penang:
Each accommodation at the homestay offers balconies, outdoor pool, fully equipped kitchen, washing machine and dryer, flat-screen TV, playground and Free WiFi.
Located on the beach in the heart of town this one is a winner that suits couple and families.
If this sounds like you, click below.
Check prices and availability here >>
Lone Pine Boutique is also only steps away from the beach and is centrally located. Features an outdoor swimming pool, hammocks, an in house restaurant, bar and fitness centre.
Rooms feature flat-screen TVs, plenty of room and WiFi making it the perfect place for your stay.
Sound great? Click below:
Check prices and availability here >>
Overlooking Bat Ferringhi beach this resort features lush tropical gardens, spacious rooms, 3 outdoor swimming pools, 9 hole golf course, play area for kids, gym, massage centre, Free WiFi and more.
The resort also offers a free shuttle bus to George Town (UNESCO Heritage site)
This is such a gorgeous property. Click here for more details:
Check prices and availability here >>
What to Do In Batu Ferringhi?
There are heaps of sandy beaches along this part of the coastline making it perfect for watersport activities and sunbathing.
A few companies offer activities for water lovers so here is your list of fun things to do on the beach.
Hire a Jetski
Try Parasailing
Deep-sea fishing
Beach Buggy Riding
Horseback Riding on the beach
Beach Volleyball
If this doesn't excite you then just relax, soak up some rays on the white sand and take a swim.
Can You Swim in Batu Ferringhi?
Yes, of course, you can. The beach is safe, clean and breezy making it a relaxing spot. If you don't fancy swimming just take a leisurely walk along its shores.
Nearby Activities and Attractions
Massage
You can also enjoy some relaxing activities such as foot reflexology, massage and Fish Spas. You can find these around Batu Ferringhi, they are not hard to miss.
Monkey Beach
Visit Monkey Beach or locally known as Teluk Duyung via boat or hiking.
Known as the best beach on Penang is located in the Penang National Park.
Boats can be hired near the Penang National Parks office on the beach for around 50 RM return.
Or usually, a tour can be organised through your hotel or agency.
Entopia by Penang Butterfly Farm
Take the kids and visit Entopia, Penang's education and discovery centre.
Home to hundreds of butterflies and insects roaming free inside the nature centre. Entopia has over 150 fauna species and 200 flora varieties.
For more information on the center click here.
Penang Hill
Explore the adventurous Penang hill and ride the funicular to the top. It is the steepest tunnel track in the world.
They have hiking trails, nature trails, cultural heritage areas, wildlife and places to dine.
Find out more here in detail by visiting their website.
Standard Ticket Prices from:
30 RM Adult ticket
15 RM Children (4 – 12 years)
30 RM Senior Ticket (60+)
Tropical Spice Garden
Visit here for a bio-diverse living museum of spices and tropical plants that have shaped earth.
Recognised as the best flower garden in Penang showcasing six landscaped areas with over 500 living species of plants. Visit their website here for details.
Tickets cost:
48 RM for Adults (13 – 59 years)
25 RM for Children (4 – 12 years)
38 RM for Seniors (60 + years)
Kek Lok Si Temple
The best temple in Malaysia and a must-visit if staying in Penang. You could literally spend hours here because it is so beautiful. Find out more here about the temple.
Here are a few restaurants and cafes for you to try out when visiting the beach area. Whether you like fancy or cheap food, there is plenty on offer to satisfy your taste buds.
For Western Food Lovers try:
Hard Rock Cafe Penang
Visit the site here and check out their menu. Offering more of a western flavour they offer juicy burgers, steaks and delicious sides. The Setting is in their iconic rock n roll theme.
Starbucks
We don't need to describe this place, you know what it's about, Frappuccinos, coffee and treats.
Ferringhi Garden
A lovely romantic restaurant featuring a nice garden area and Meditteranean decor. They serve Asian food such as curry laksa as well as western options such as Waggu steak and other delicious meals.
Restorante Bella Italia Pizzeria
Need Pizza for dinner? Then try out this Italian classic restaurant that serves fresh wood-fired pizzas and all your favourite pasta dishes. They use an island shack theme to give it a beach feel.
Long Beach Food Court
Just want to eat hawker favourites? Then this food court is the most popular place to eat.
Find all your Malaysian classics here like satay chicken sticks, steamed chicken and rice, bean sprouts, seafood, Char Kway Teow and many more.
They also have western options such as pizza, hamburgers, Japanese food and much, much more all at reasonable prices.
Lebanon Restaurant
Lebanese food in Malaysia is amazing so make sure you try it out here when visiting Batu Ferringhi. It is always good to mix it up and with so many cultures in Malaysia, you can pretty much try the worlds finest.
Living Room Cafe Bar and Gallery
Serving Malaysian specialties with a casual atmosphere, you should like this place if you like local food.
Enca Cafe
Try out this cafe for Indian food and other varieties. In Malaysia, Indian food is amazing so check this place out for a yummy curry.
Batu Ferringhi the Verdict
If you really want a little bit of beach time when visiting Penang I recommend staying here for a few nights and relaxing on the white sandy beach.
Calm waters for swimming, action water sports for adrenalin junkies and some delicious restaurants for food lovers. You will have plenty to do at Batu Ferringhi.
Don't come here expecting Honolulu Hawaii because the area is a little rough looking but very safe it just has that Asian beach vibe that you get throughout Asia.
For visiting more of Penang Island and it's attractions have a read of these articles:
Georgetown places to stay
Things to do in Georgetown
Best Cafes in Georgetown
Street Art Georgetown
Visiting the Blue Mansion (Cheong Fatt Tze House)
Best Resturants in Georgetown
Best street hawker streets in Georgetown
Pier
Chinatown
India town
Upside down world
Visiting Malaysia With Kids
Out of our 8 month trip through SE Asia with our 4 kids, they actually enjoyed Malaysia the best. Maybe it was the fun theme parks, the awesome food, or the excellent malls. Or perhaps it was due to the friendly people and the incredible value for money condo accommodation. Whatever the reason, Malaysia really did exceed our expectations for family travel. Read more about some of the cool places we visited here: