After visiting Legoland in Malaysia we also took our 4 kids to the Legoland Waterpark. Read on for our latest Legoland Waterpark Review. Our children are aged 2, 6, 8 and 10 so here you have the best overview for each age.
Did you know that the waterpark is right next to Legoland Malaysia? Check out our video of our day!
Read our full review of Legoland Themepark here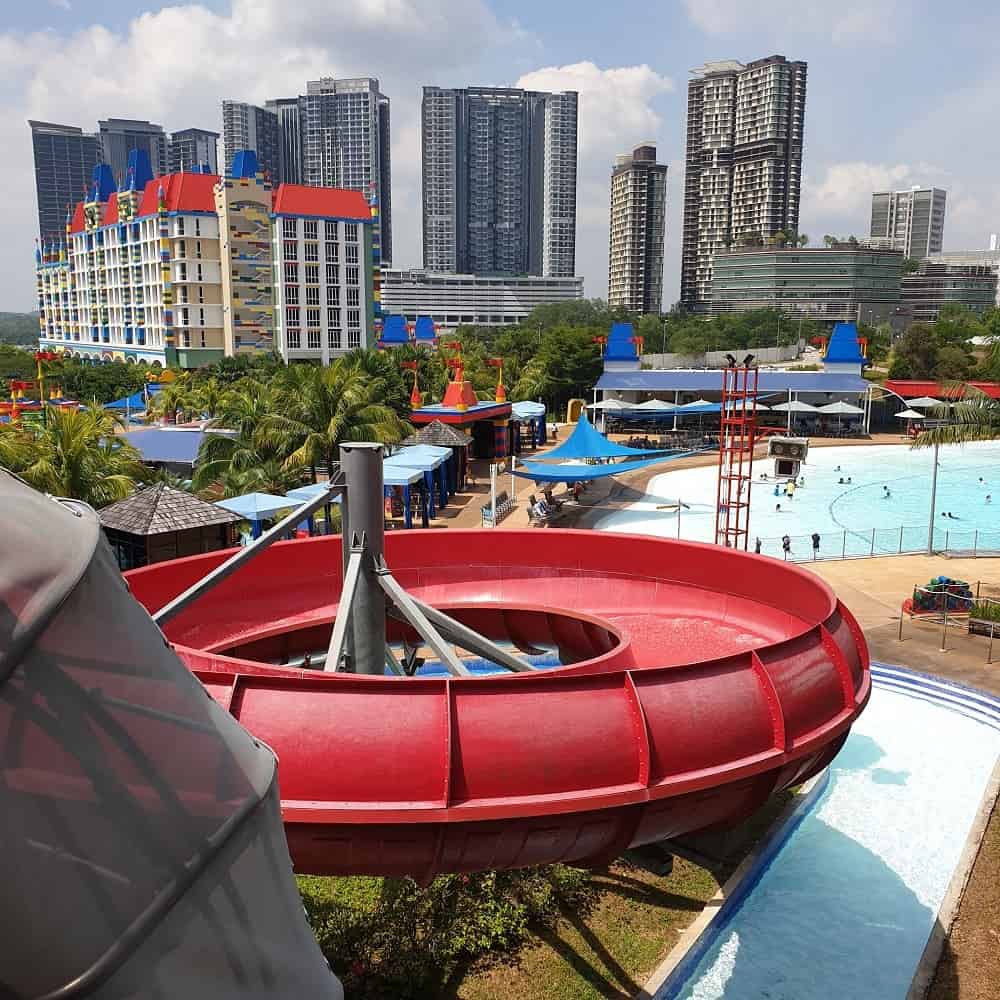 Where is the Legoland Waterpark in Malaysia?
We always thought that the Legoland Waterpark was close to Kuala Lumpur. But it isn't. It is actually closer to Singapore in the southern province of Malaysia, Johor Bahru.
See Map for location.
Can You Just Go to Legoland Waterpark?
Of course, you can! We did! Our family spent 5 days in the area exploring Legoland Malaysia and Legoland Waterpark.
We bought our tickets separately because we only wanted to go to the theme park and the waterpark at our leisure as our kids are still little.
You also have the option of visiting SEALife Aquarium and can even get a combo ticket for all 3.
Click Here to Book your Legoland Waterpark Ticket >>
Check out combo tickets here >>
Is Legoland Water Park Part of Legoland?
The waterpark is separate to Legoland Malaysia theme park because they have separate entry gates. You can visit either whenever you like.
To Book Legoland Malaysia Theme park Click Here >>
To Book Legoland Waterpark Click Here >>
If you buy the combo ticket, you have to visit both parks over 2 concurrent days only. For us, separate tickets were better as we spent an amazing 5 days staying in the area and wanted the flexibility to go whenever we wanted.
Can You Do Legoland Waterpark in One Day?
Easily. You only really need 4-6 hours to enjoy all the park has to offer. Your children will tire pretty quickly thanks to all the running around and the hot sun.
There is enough to entertain the most active of children, with movies, slides and pools in abundance to cater to every age.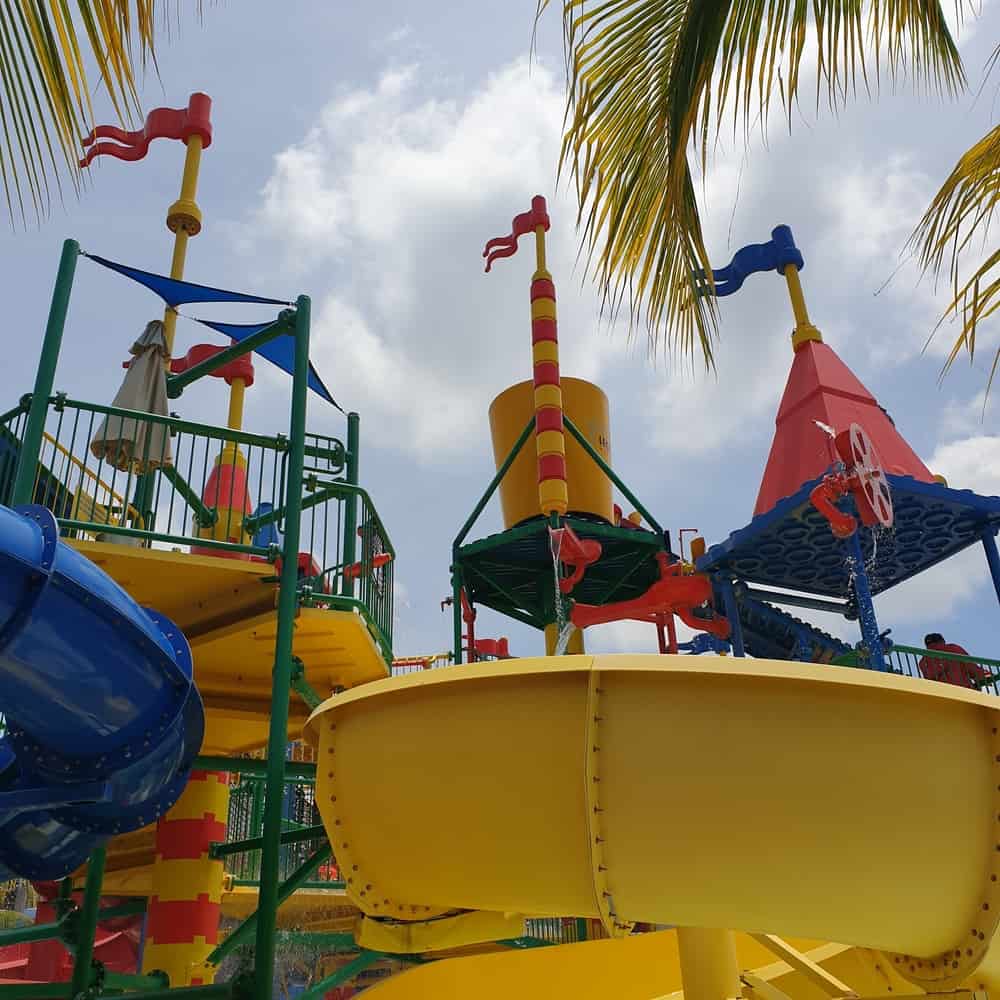 Can you Bring Water into Legoland Malaysia?
The signs say no food or drink at the entrance but no one picked on our bottles of water we brought into the park, so yes.
So go for it bring your own water, just don't bring beer or soft drinks.
How to Get to the Legoland Waterpark in Malaysia
A day trip from Singapore to Legoland is easy enough, but with little children, we found that staying for a few nights was easier. We stayed across the road from Legoland in an epic condo with views over the theme parks.
Catching the Bus in Malaysia to Johor Bahru
From Kuala Lumpur, catch the bus down to Malacca, change buses, then hop onto another bus for a further 3 hours to get to Johor Bahru. (We spent a wonderful 2 weeks in Malacca to break this trip up.) You need to book tickets in advance.
The TBS Bus Terminal in Kuala Lumpur is very easy to navigate. This bus got us into the Larkin Terminal in central Johor Bahru. Grab a Grab taxi, (get the App for the cheapest cashless taxi fares in SE Asia) drive for 20 km to your hotel in Nusajaya, which is opposite Legoland and super easy walking distance to the waterpark.
Booking buses on 12GoAsia is a convenient way to find transport around Southeast Asia. 12GoAsia allows you to compare prices and timetables across the whole range of transport options on that route. Find a ride that suits your budget and times and book and pay securely online.
Check bus prices and timetables here
The buses in Malaysia are so comfortable with full recliners but no toilets. On trips of 3 hours or more, they will stop for a break.
Check prices of Kuala Lumpur to Johor Bahru here.
Renting a Car in Malaysia
If catching a bus doesn't sound great then rent a car, we rented a car and drove all the way up to George Town, visiting Ipoh, Cameron Highlands and Penang. Find out all about renting a car in Malaysia here. It is extremely easy to drive around Malaysia, the roads are well maintained and safe and the drivers are civilised!
Legoland Waterpark Malaysia Review
We visited the waterpark the day after a big day at Legoland theme park. So we were a little tired. But what better way to spend a hot sunny day than at a waterpark.
The kids were pumped and so were we to get wet!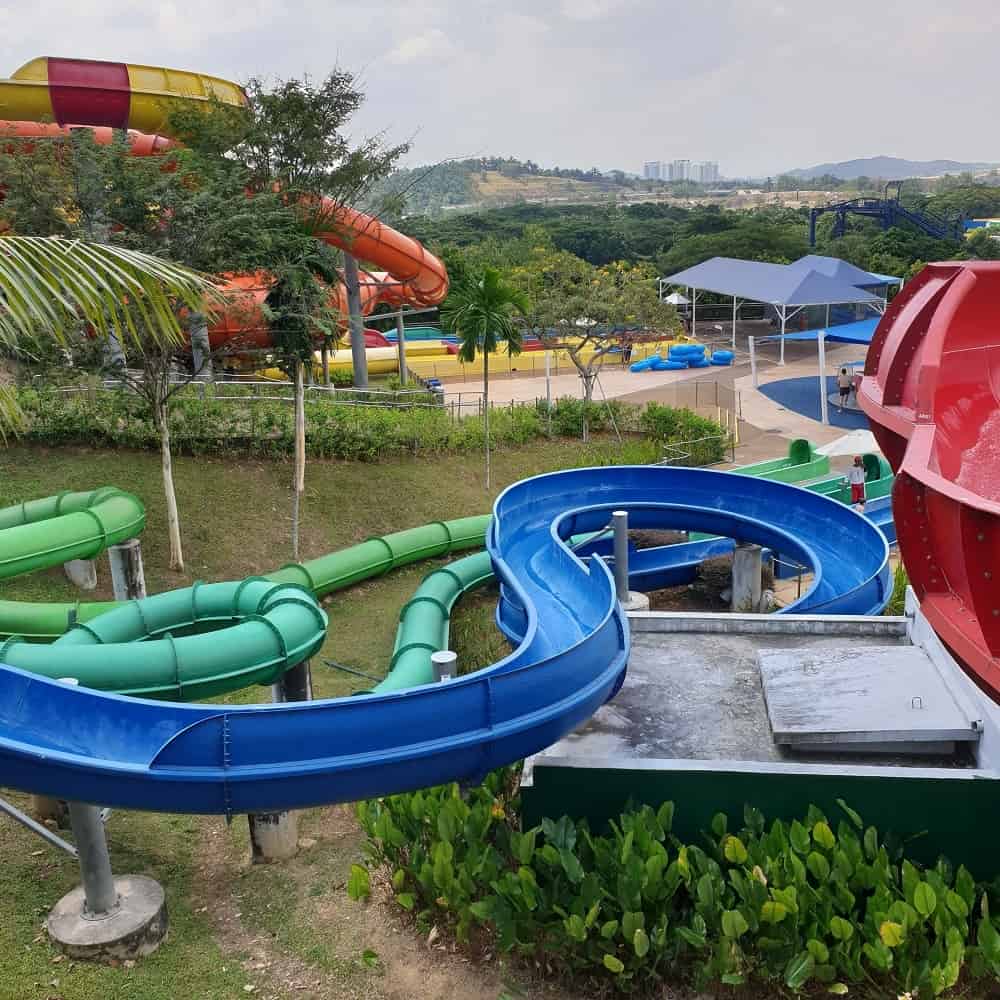 Tickets for Legoland Waterpark in Malaysia
We purchased our tickets online at Klook before the big day out. This was the cheapest way to do it! There are a few different options for visiting Legoland Malaysia Parks.
Our 1-day waterpark entrance ticket cost 180 RM per adult and 145 RM for kids. Under 3 years old are free. By booking with Klook online, we saved about 51 RM per adult and 20 RM on a child. For our large family, that's a saving of 162 RM!

What should I wear to Legoland Water Park?
Swimmers must be worn and not just clothing like jeans and T-shirts. So boardshorts, bikinis, wet shirts are all ok.
Make sure you bring a towel and small children under 3 must wear a waterproof nappy. (These can be purchased at the admin booth of Legoland Malaysia, not at the waterpark entrance.)
Bring Sunscreen, Zinc, Hats, and Bottled Water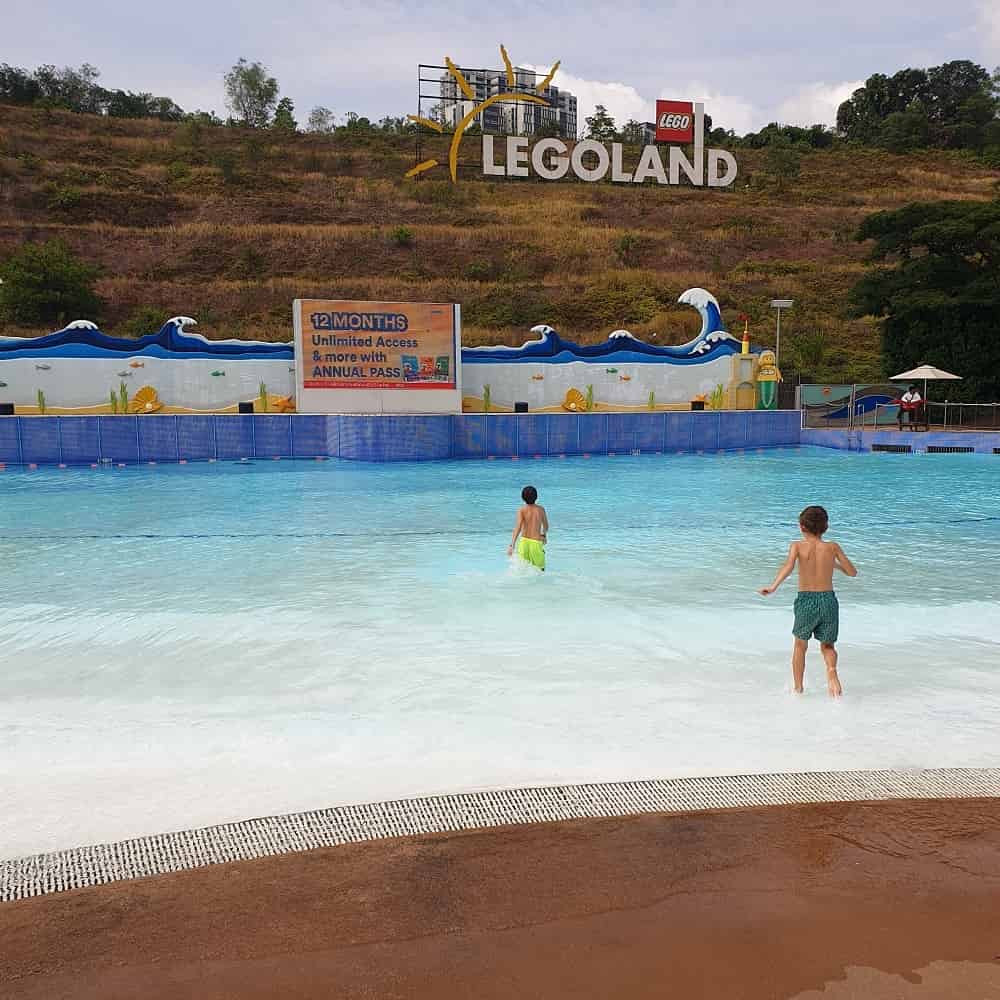 Locker Hire
There are lockers for hire near the entry to the Legoland waterpark if you want security for your valuables.
Lockers cost:
Small Locker – RM20 All Day
Large Locker – RM40 All Day
We felt it was safe enough and didn't carry too many expensive items so just placed our bag on a seat near the canteen.
The Slides, Interactive Water Activities and Facilities at Legoland waterpark
Legoland waterpark has plenty on offer to keep the young ones happy, with over 20 slides such as:
Slide Racers
Wave Rider
Brick Blaster
Splash 'N' Swirl
Tidal Tube
Twin Chasers
Splash Out
Red Rush
Joker Soaker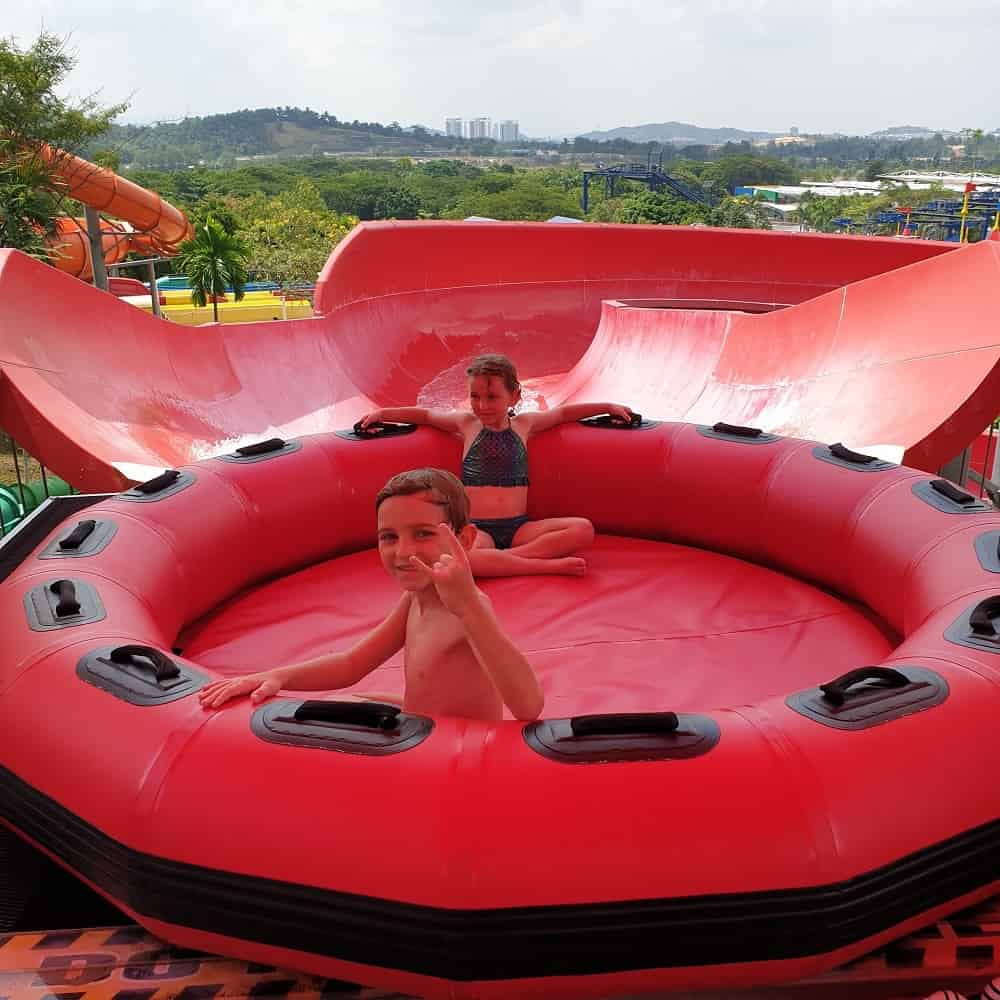 Are there Slides for the Little Ones?
Sure is our youngest is 2 and we could not get her off the small toddler slides which consist of 3 fun, safe and gentle slides.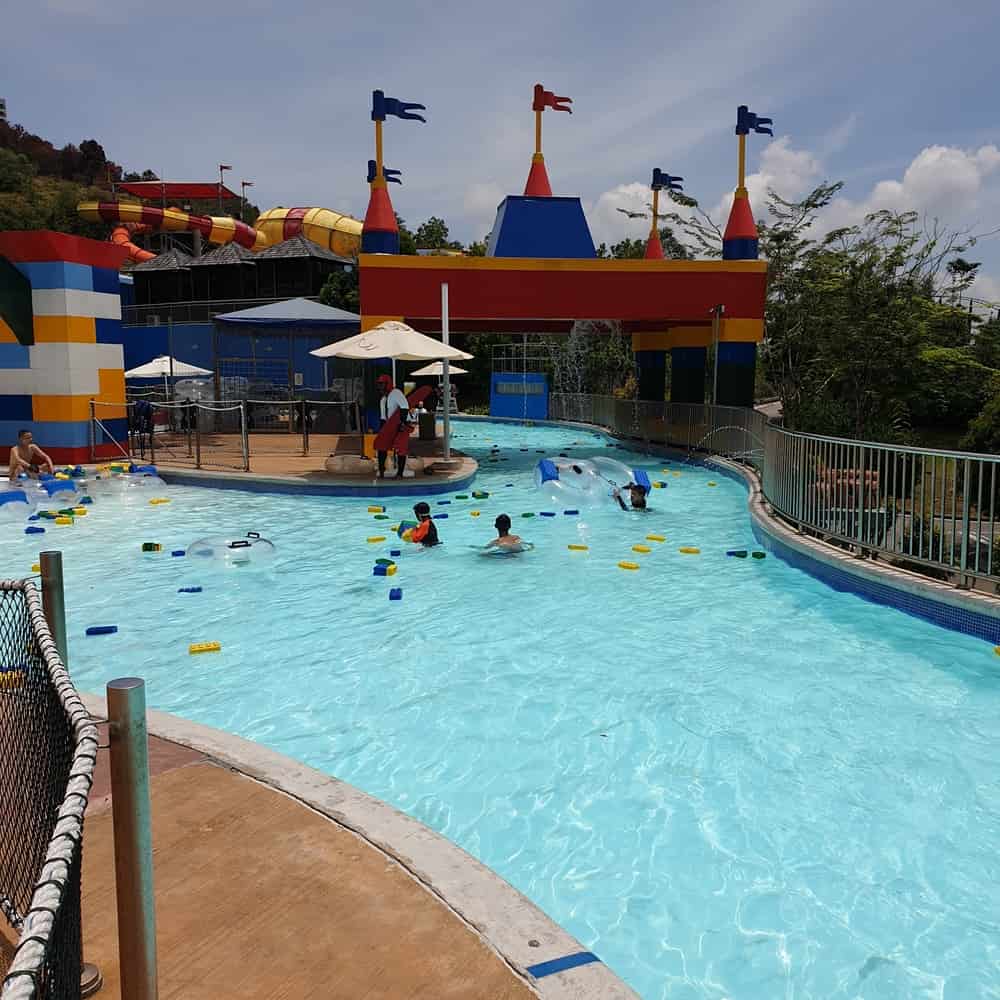 Water Fun such as pools and rivers include:
Build-A-Raft River
Imagination Station
Lego Wave Pool
Duplo Splash Safari
Build a boat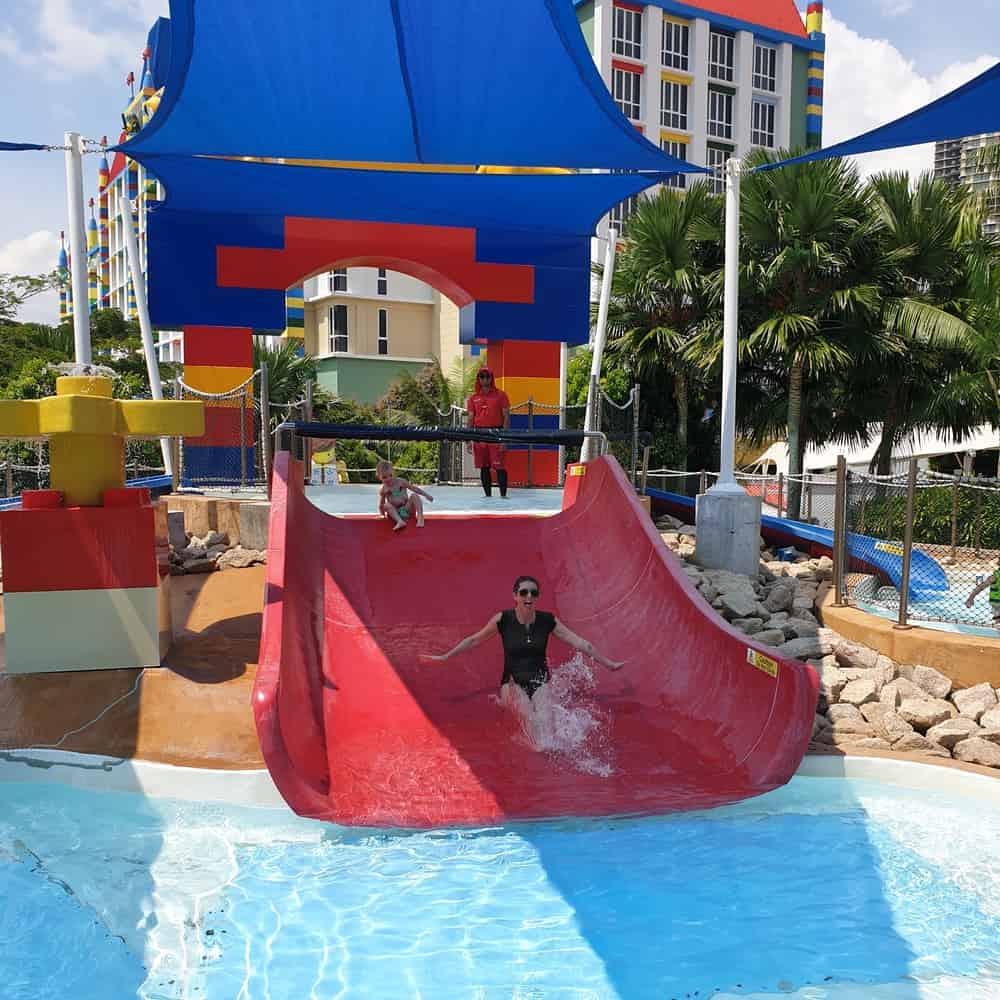 Cafes at the Waterpark
Brick Cafe is the main cafe serving hot and cold drinks and all kinds of food at reasonable prices. (Meals around RM30)
Facilities at Park
Here are the following facilities provided to make your visit a fun and safe one:
First Aid
Restrooms
Lockers
Prayer Room
Baby Care
Lost Parents
Guest Services Counter
Cabana and Gazebo Rental (Prices from RM250 per Day)
Lost and Found
Shower Room
Changing room
Splash Down Photo
Lego Gift Shop
Drying Booths (RM10)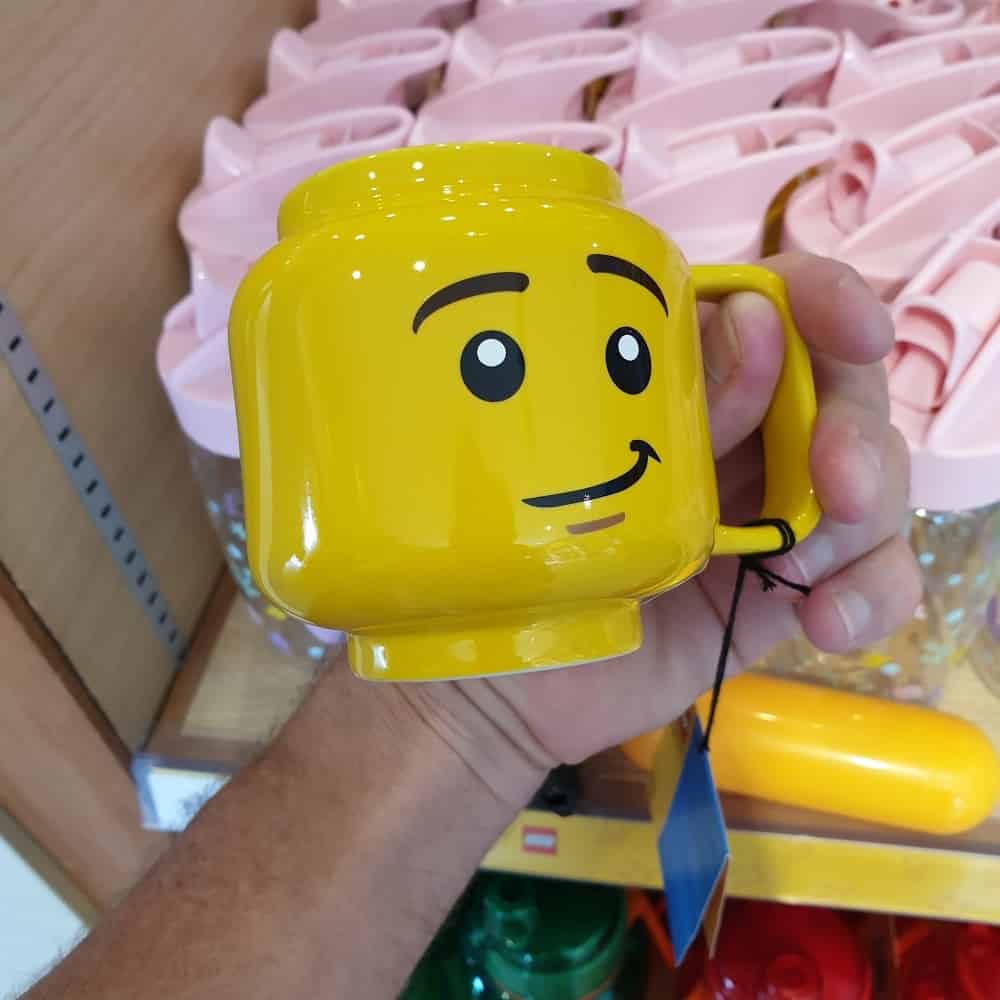 What to Eat at the Legoland Waterpark
You can bring in your own water, but food and other drinks are not allowed.
Inside the waterpark, there are a couple of little eateries. Prices are around 30 RM for a meal or 10 RM for snacks. You can get ice-creams, fish and chips, deep-fried everything, drinks etc. The food here isn't 5 star but our kids loved it!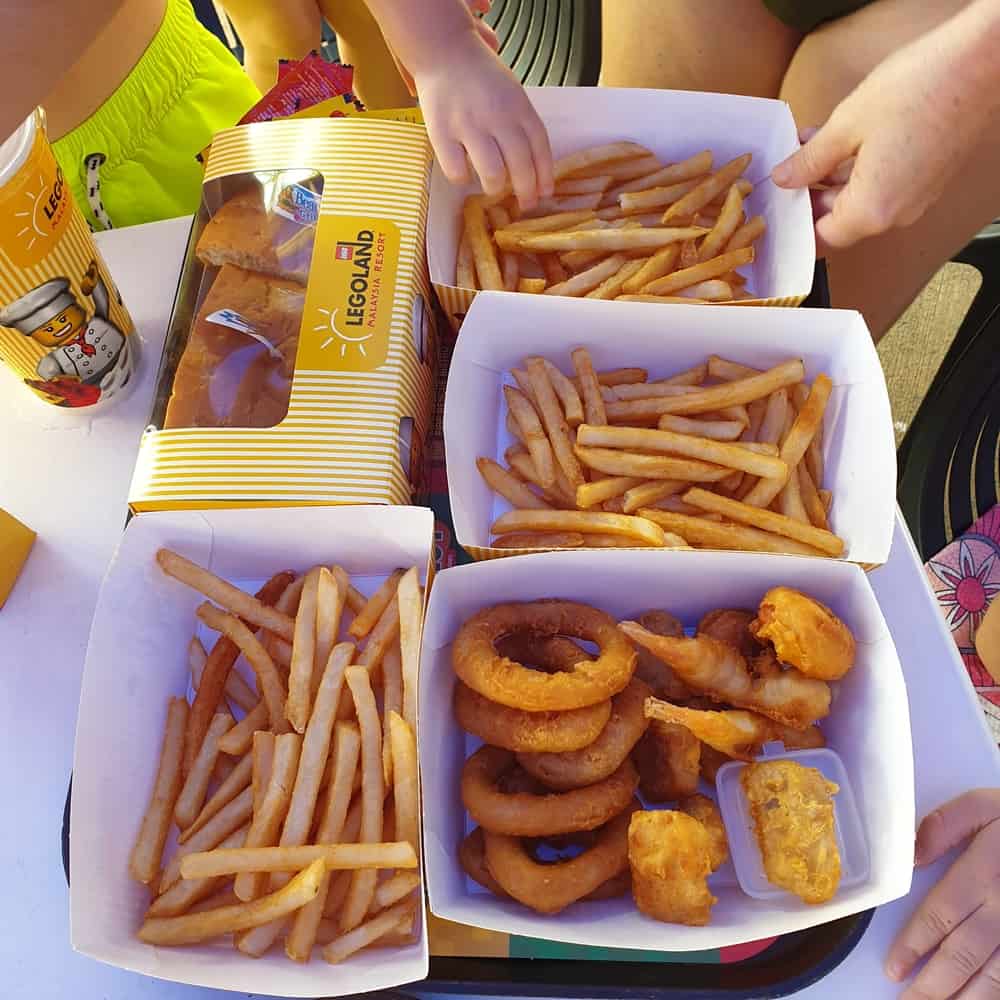 Legoland Waterpark Review – Things to Know Before Visiting
Opening hours are 10 am to 6 pm every day of the year
Visit on a weekday to avoid crowds
Bring swimwear
No camera's on slides like GoPro's
Under 3 must wear a swim nappy (purchase before entering)
Bring sunscreen, hats, zinc and protective clothing
Shop for Lego gifts at the entry/exit with a range of unique Lego products
Have money or card for purchases
Best Hotels Near the Legoland Waterpark
You could stay at the Legoland Malaysia Hotel which is located right at the entrance to Legoland. Room rates are pricy but include breakfast.
Check prices for their awesome themed rooms here.
We stayed across the road in an apartment at D'Pristine Condos which we found for a fraction of the cost. The infinity pool had views of the theme park and waterpark, and the condo was beautifully furnished had just been built. It only took a few minutes to walk to Legoland Malaysia.
Check prices on Booking.com for D'Pristine
Afiniti Residences is another perfect place to stay, only a couple of hundred metres from the Legoland entrance. They also have lovely apartments. With cute themed suites perfect for families of all sizes.
Check prices for Afiniti Residences Here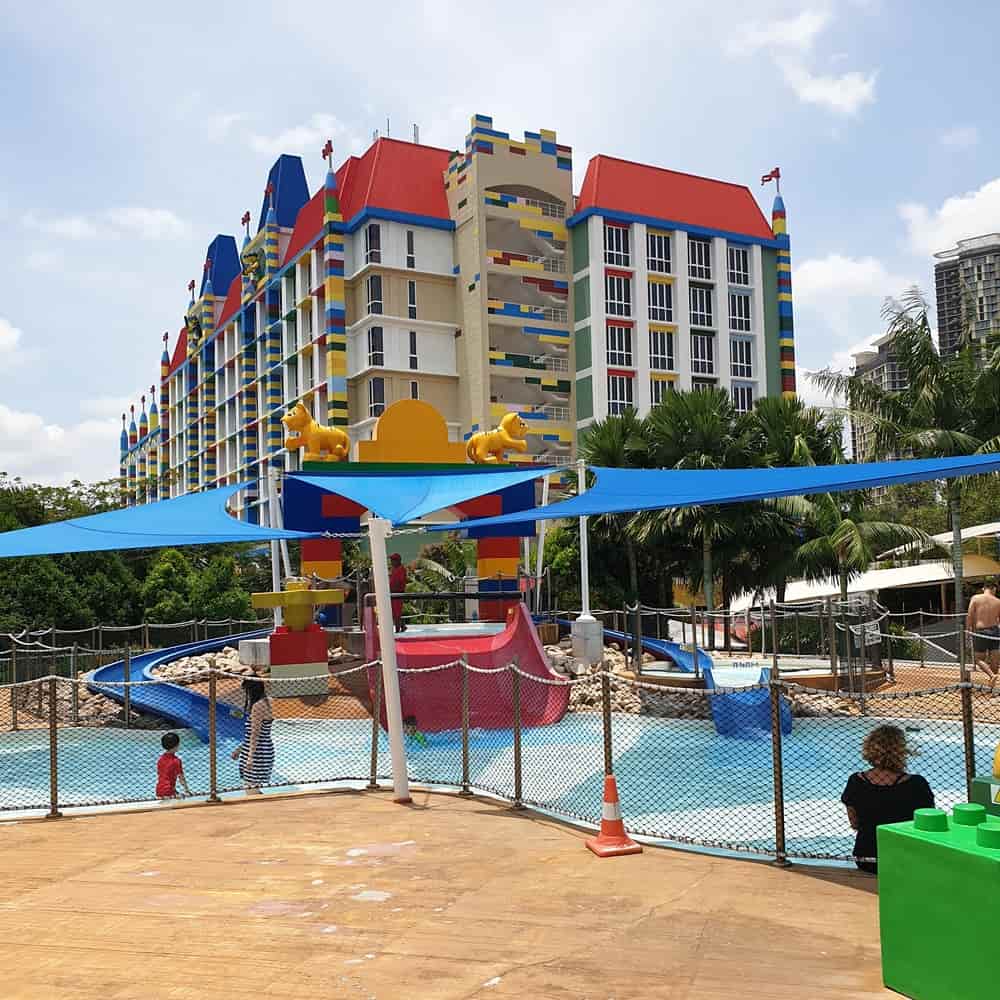 Visiting the Medini Mall
Before entering Legoland you will need to pass through the Medini Mall where you can find convenience stores and a number of dining options including great coffee shops, Burger King, Taiwanese food, Korean specialities, Chinese, Thai and even a new Starbucks. This shopping area is rapidly changing and new shops are opening all the time.
Your kids will love the brand new VR centre that has just opened there. Check it out for another amazing blow your mind experience.
From Medini Mall you can catch the Causeway Link Express Bus all the way to exciting Singapore. Try taking a day trip to visit the spectacular Gardens by the Bay this was awesome fun.
Legoland Waterpark Malaysia Review – Our Verdict
Our kids had an amazing time at the waterpark and rode on every ride several times. But we only really needed 5 hours at most to enjoy the park.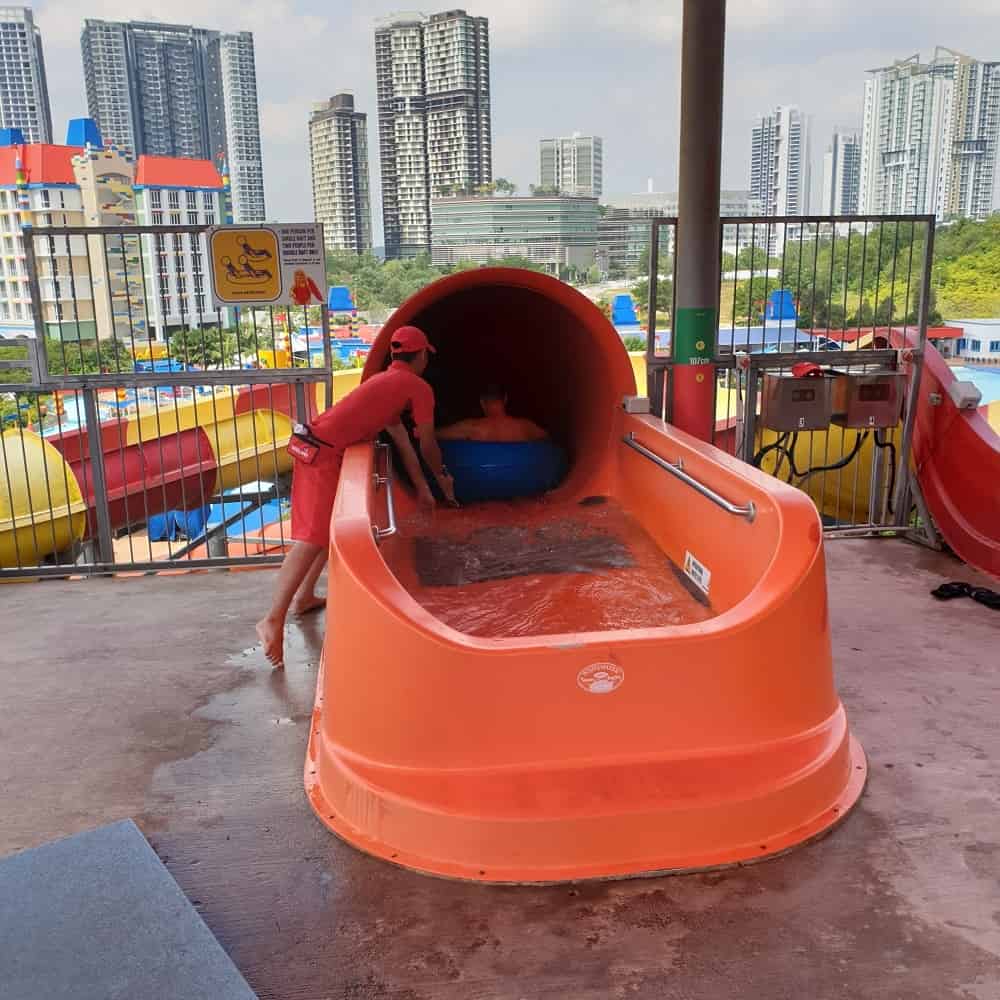 The older kids will tire after about 4 hours or so of sliding and playing around. It may get a little boring for kids over 10-12 after they have ridden everything.
I wouldn't take older kids over 13 years old because they will get bored quickly, especially if they are looking for a huge adrenaline rush.
I recommend staying close to the waterpark so you can save money and time. You will enjoy more of what Legoland Malaysia has to offer because you have more time.
Get wet and have as much fun as you can!!!