Travelling through Malaysia is relatively easy, and pretty cheap too.  We even rented a car to drive all the way from Johor Bahru in the South, past Malacca, Ipoh and the Cameron Highlands, up to George Town on Penang Island (yes there is a bridge, in fact, there are 2).  Your next stop on a Malaysia tour is usually Langkawi.  If you are wondering how to get from George Town to Langkawi, you have come to the right place.  Did you know there are quite a number of different options?
Where to Stay in George Town
We stayed in George Town on Malaysia's Penang Island for 2 wonderful weeks, splitting our accommodation between a gorgeous high-rise condo and a vintage restored shopfront in the heart of old town.  This gave us a great chance to explore this city and of course sample the amazing and varied food on offer.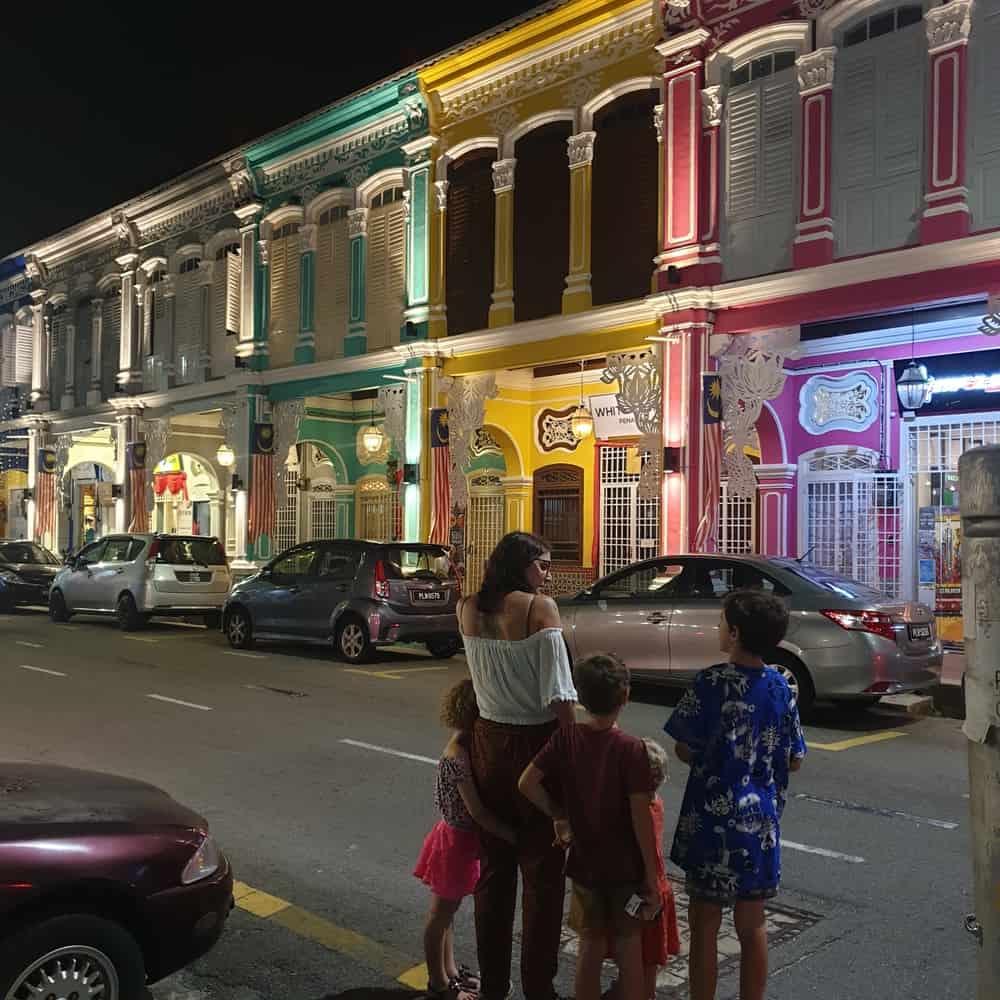 Check out our epic high-rise here. There are heaps of different condos listed at the Tropicana building, 218 Macalister. Check them out and find one to suit your needs perfectly!
This is the atmospheric old terrace house we stayed in here. The location is absolutely perfect and right beside Love Lane, and
While in George Town you definitely will want to check out some of these fantastic attractions:
Penang Peranakan Museum
Upside Down World
Where is Langkawi?
Check out the map below to see the distances between George Town and Langkawi.
Travel from Georgetown to Langkawi
Option 1  – The fast ferry
This seems like a great option for those who enjoy a boat cruise.  The ferry usually takes 3 hours to pass through the open ocean and can, unfortunately, be very rough.  Also, being a speedboat, the vessel flies through the water, while you are strapped into aeroplane-like seats (with just as much legroom). 
There is no opportunity to sit outside, or, even see outside as the windows are painted.  After reading the reviews on Trip Advisor about this service, we opted against taking the boat.  "1-star" "I feared for my life" These are not the sort of customer reviews that instil confidence in me. If it is rough, apparently there is a lot of vomiting going on.
Langkawi ferry services depart Penang here on the northeast point of the island.  On arrival onto Langkawi Island, you are in Kuah which is about a 17 km taxi ride from the most popular beach and accommodation Pantai Cenang.  
Kuah to Pantai Cenang.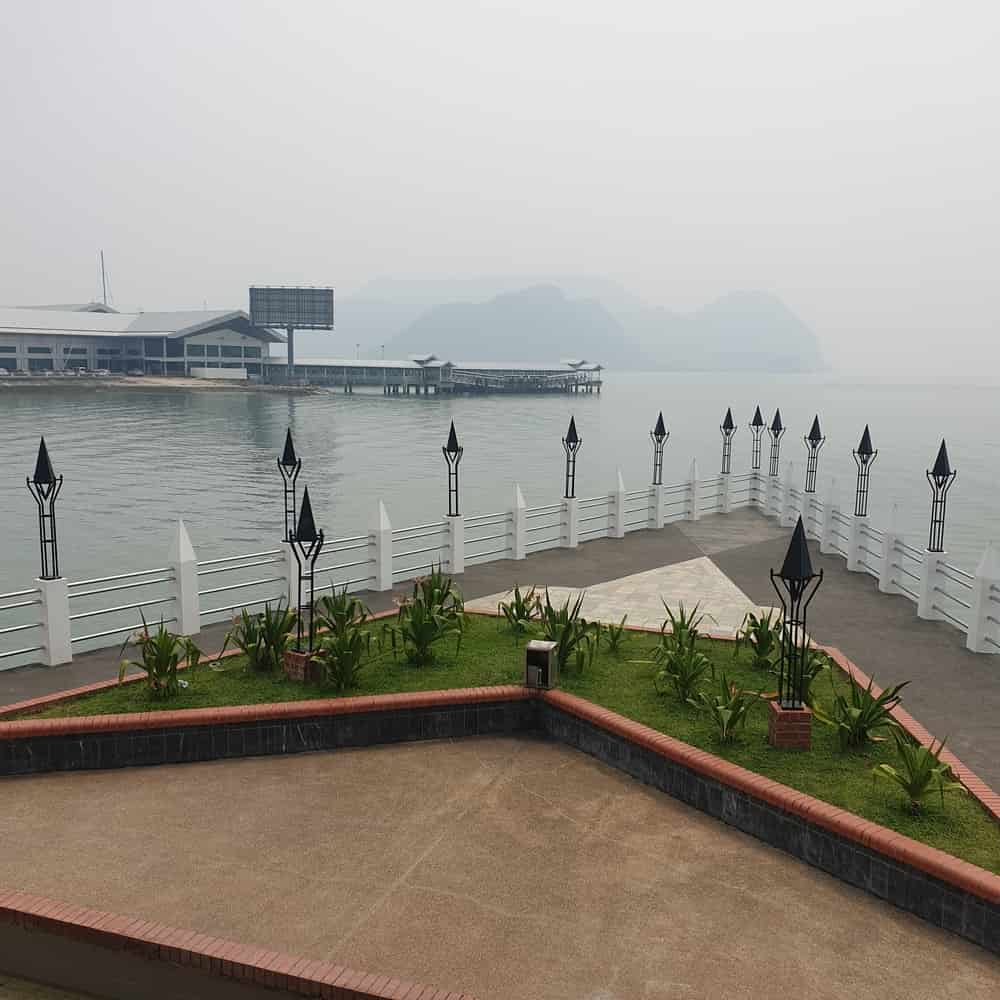 Where to Stay on Langkawi
Check out where we stayed at Pantai Cenang.  Just to the south of the main busy beach, but within easy walking distance of everything, and we had our own beautiful private stretch of palm-lined sand! It was a simple low-cost resort, and very secluded. We loved it!
To see the latest prices for Sunset Beach Resort, click here.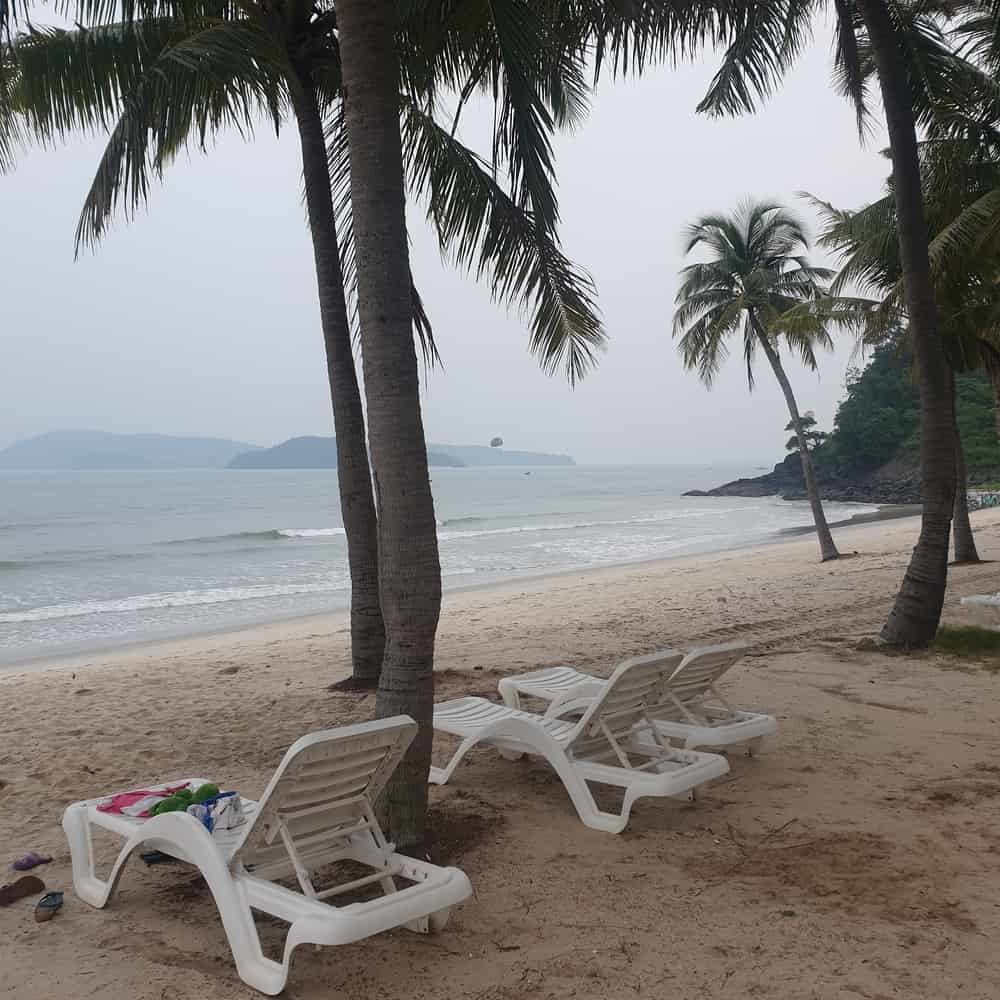 How to take the fast ferry
Langkawi Ferry Ticket: Available for advance purchase from the ferry terminal ticket office or online. Compare prices on 12GoAsia to make sure you are getting the best price for your Langkawi ferry ticket.
Cost: 86 MYR per adult
Langkawi Ferry Schedule: Departs George Town Jetty at 8.30 am and 2 pm
Duration: Approximately 3 hours and 5 minutes on the ferry, then 25 minutes by taxi to get to Pantai Cenang
Logistics: taxi-ferry-taxi
Verdict: No, unless it is a flat day or you have a strong stomach
Option 2 – Fly
You can grab an Air Asia flight for as little as 88 MYR each not including luggage.  The 40-minute flight was the best option for us, especially with the kids. 
George Town International Airport was an easy 30-minute drive from our hotel in the old quarter.  With 4 kids and plenty of luggage, we chose a comfortable airport transfer.  It only cost 83MYR for 6 of us all to arrive in comfort and style.  
Upon landing in Langkawi, we also booked our airport transfer with GetYourGuide.  I love these private airport vans, as they really take the hassle out of arriving at a new place.  All you need to do is book online at least a day in advance, advise the number of people travelling, and then look for the driver holding a sign with your name on it at the arrivals hall.  Easy peasy.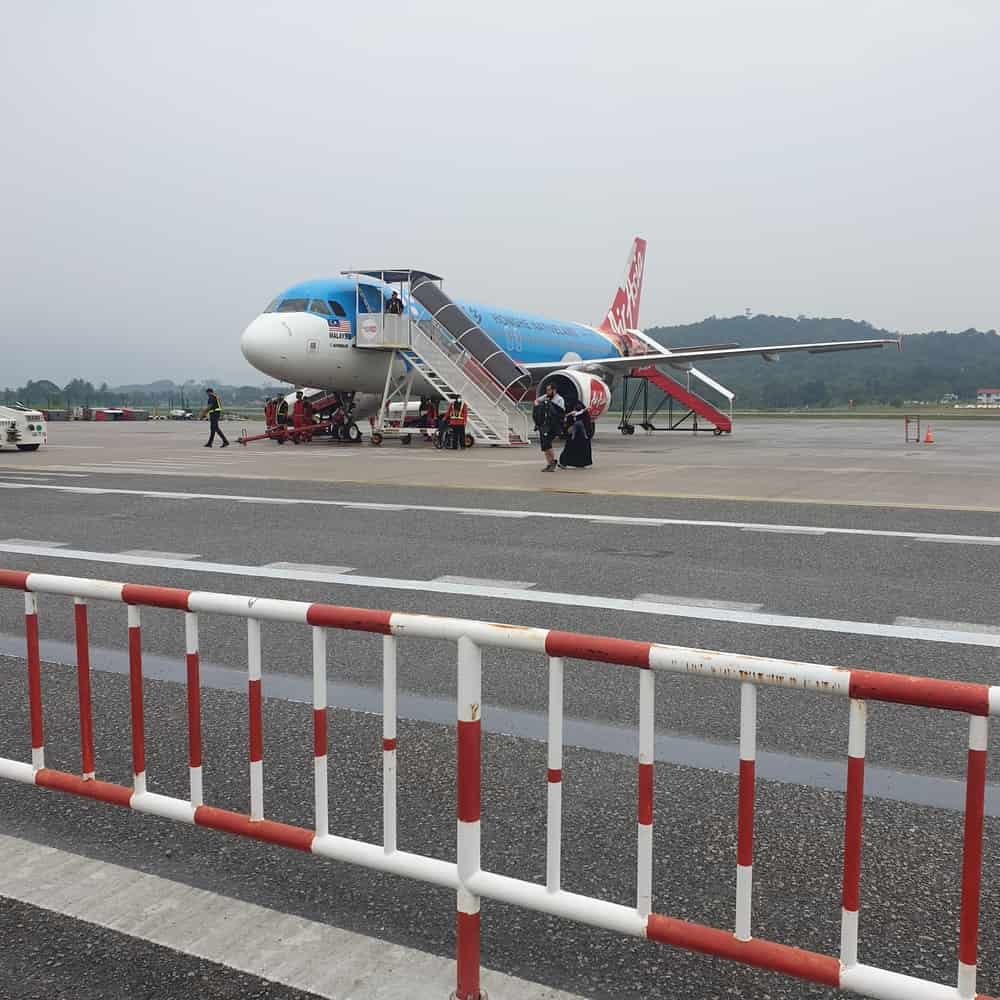 The Langkawi International Airport is situated 7 km from Pantai Cenang which is the most popular place to stay on Langkawi Island.  The beach here is soft white sand and lined with hotels and restaurants.  Don't forget, Langkawi is a duty-free zone which means things such as alcohol are noticeably cheaper.
How to take a flight
Cost: From 88 MYR per person via Air Asia, airport transfers totalled $70. Compare tickets on 12GoAsia to make sure you get the best price.
Timetable: 4 flights depart George Town daily at 12:25, 15:35, 16:45 and 17:40
Duration: Flight time of 40 minutes, plus a 20-minute taxi ride if staying at Pantai Cenang
Logistics: private van-short flight-private van
Verdict: Yes!
Option 3 – Driver plus ferry
In order to avoid a 3-hour boat trip, I tried to find other imaginative methods for how to get from George Town to Langkawi.  Another way to do it was to book a private driver to collect us from our hotel in old town and to drive us the 3 hours up to Kuala Kedah or Kuala Perlis.  From here, there is a short ferry of only 1 hour 15 minutes duration to take you across the strait to Kuah on Langkawi.
Private van charter for 4 hours costs 220 MYR. The driver will easily pick you up from your hotel in George Town and drive the 2 hours up to Kuala Perlis or 1 hour 45 minutes to Kuala Kedah ferry terminals. Book your private van here.
There is usually no need to book these ferry tickets in advance as the boats run fairly frequently with extra services added in busy periods.
How to take a driver plus ferry
Ferry from Kuala Perlis
Cost: 18 MYR
Timetable: Anytime departure from George Town with your private driver. Ferries from Kuala Perlis usually depart at the following times, but can vary depending on the season/holiday.
07:00
    08:30
    09:30
    10:30
    11:30
    13:00
    14:30
    16:00
    17:30   
19:00
For all the ferry timetables for the route between Langkawi and the mainland, and to book tickets online, here is the website: http://langkawiferryline.com/
Duration: 1 hour 15 minutes
Logistics: private van-short ferry-taxi to hotel
Ferry from Kuala Kedah
Cost: 23 MYR
Timetable:
07:00
    08:30
    09:30
    10:00
    11:30
    13:00
    14:30
    16:00
    17:30   
19:00
Option 5 – Take your own car
With your own car or a rental, driving from George Town, across the bridge, and then up to Langkawi is another viable option.  There is a roloo-on roll-off car ferry that departs from Kuala Perlis and you must book your tickets well in advance via the ferry company websites. The convenience of having your own car on the island of Langkawi is just awesome.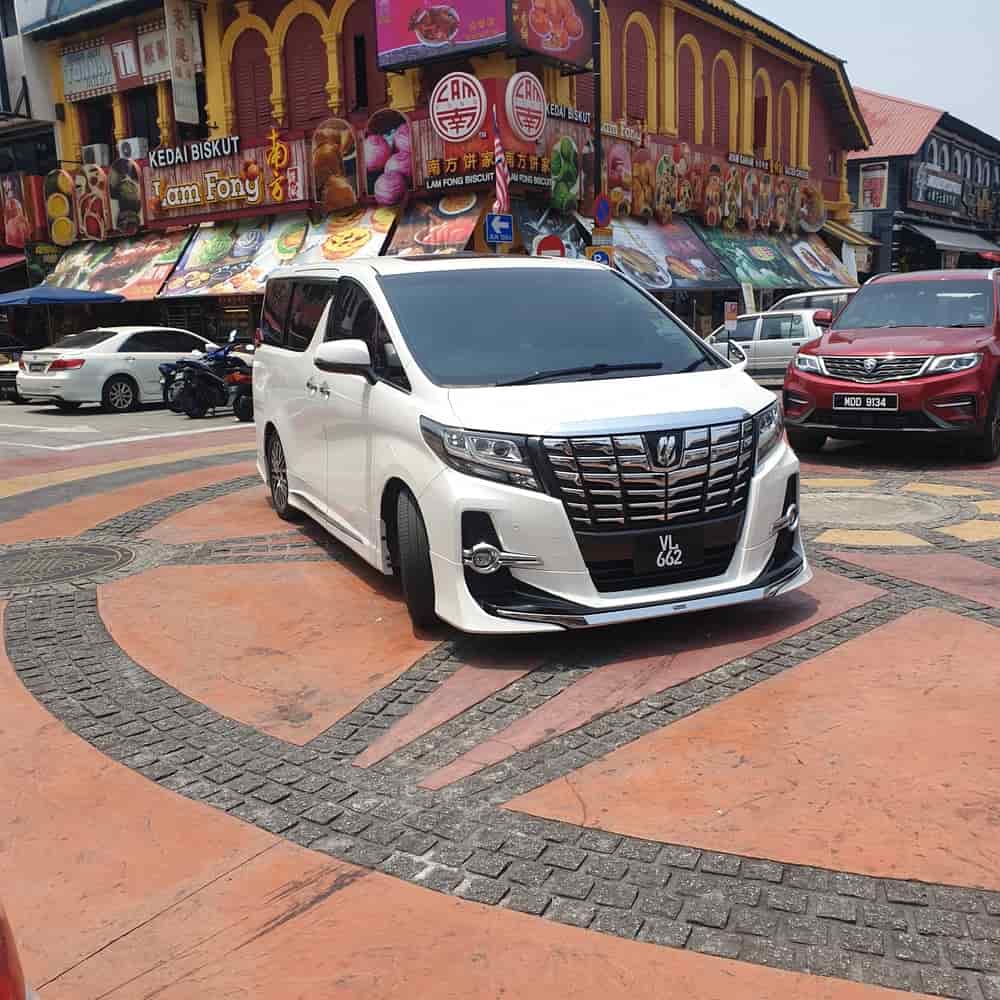 Langkawi Auto Express Ferry – 1 or 2 daily departures depending on the season.
Langkawi RO-RO Ferry Service – 1 daily departure from Kuala Perlis around 2 pm but departure times vary depending on the time of year.
Note that these car ferries arrive into Langkawi Tanjung Lembung Port rather than Kuah. This terminal is about half way between Kuah and Pantai Cenang. See map.
We rented a car from Europcar but then had to return back at George Town.  We couldn't find a major rental company that would do a one way to Langkawi.
How to take your own car
Cost: A 7 seater car rental cost $80AUD per day and the car ferry prices start at 130 MYR for a small car and vary depending on the size of the car and the number of passengers.
Timetable: See the ferry company websites for daily sailing times.
Duration: The 180 km drive to Kuala Perlis takes around 2 hours and 20 minutes. The ferry takes 2 hours.
Logistics: car
Verdict: A simple option for a return trip
I hope we have covered how to get from George Town to Langkawi in this post and you can make a more educated decision.