One of the easiest and cheapest activities to do with the kids on Langkawi is to visit Underwater World Langkawi.
Voted as the best attraction on the island, Underwater World has a lot to live up to. The center is home to some really amazing wildlife.
Read on to find out how you can save money on your visit and receive some super helpful information because we have just been there.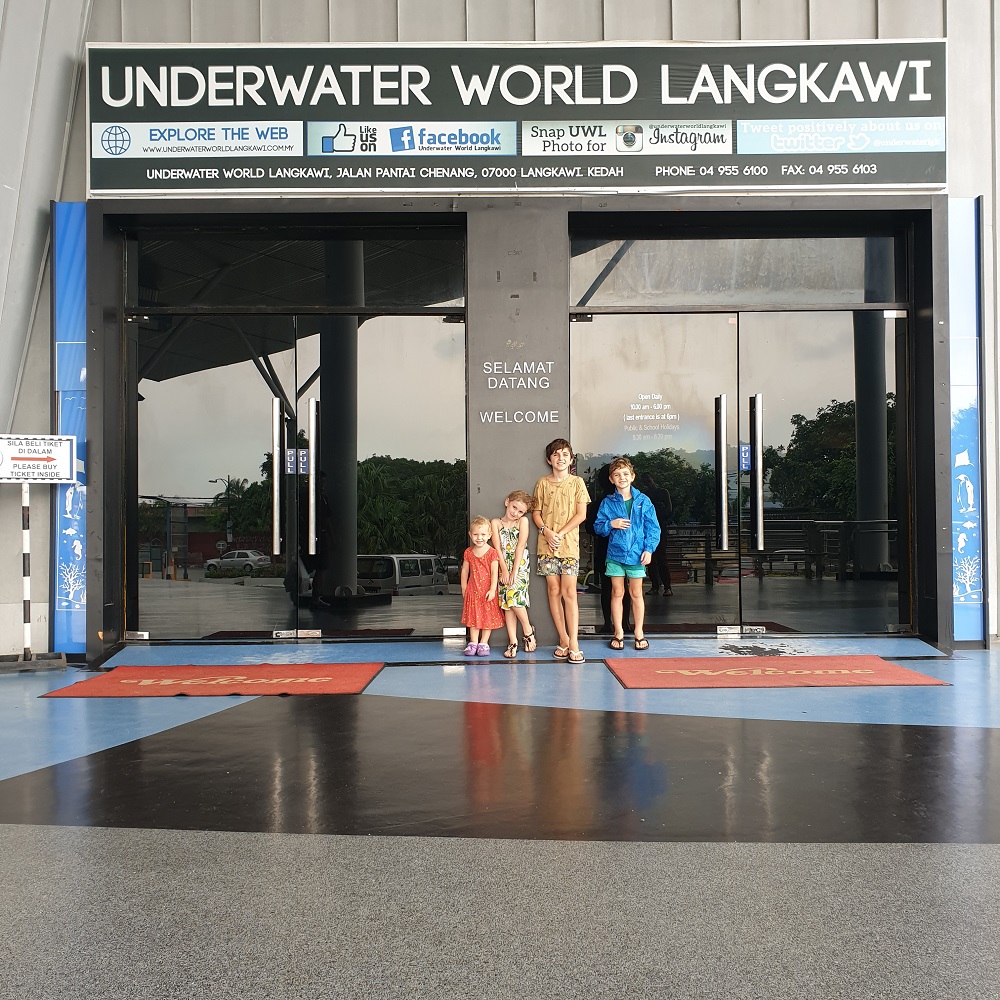 What is at Underwater World Langkawi?
I am glad you asked!  Here is the list of the exhibits and activities at Underwater World Langkawi that will keep you and your family entertained.
The Preview Tanks at the Entrance
When entering this amazing world you will first come across the preview tanks which hold some interesting species such as:
The largest freshwater fish in Asia the Arqpaima or Jurassic fish
Many other freshwater species from all over the world such as the Tropical Garfish, Albino Patin, Bala Shark, and the Redtailed Catfish
Other species held in the tanks include reptiles such as the Leopard Gecko, Chinese Water Dragon, Indonesian Blue Tongued Skink, snake species, and Gecko's
After entering this area you will continue onto the tropical rainforest area through a chain curtain which keeps the animals in and others out.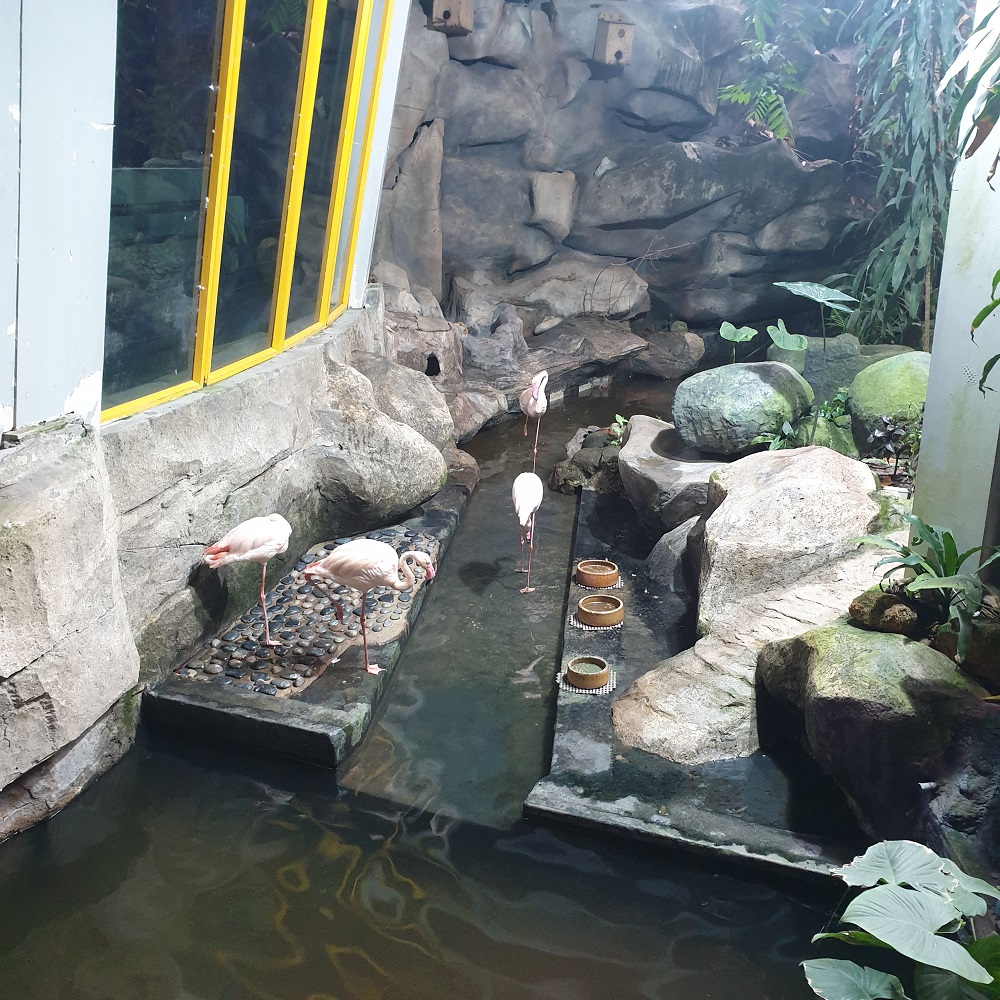 Tropical Rainforest Exhibit
This is where the Underwater World really begins. Follow the winding track through the man-made tropical rainforest and see species such as:
Flamingoes
Ruddy Shelduck
Pheasant and Cockatoo's
Doves and Macaws
Fish species such as Giant Gourami, Knife fish, and Arowana
Also turtles and the little cute Marmoset
Temperate Section of Underwater World Langkawi
You know leave the outside world behind when you enter the main building. This is where it really begins to get interesting. (For me anyway)
See the playful fur seals frolic in the glass enclosure. You can watch them play underwater and above on the rocks. We loved the seals.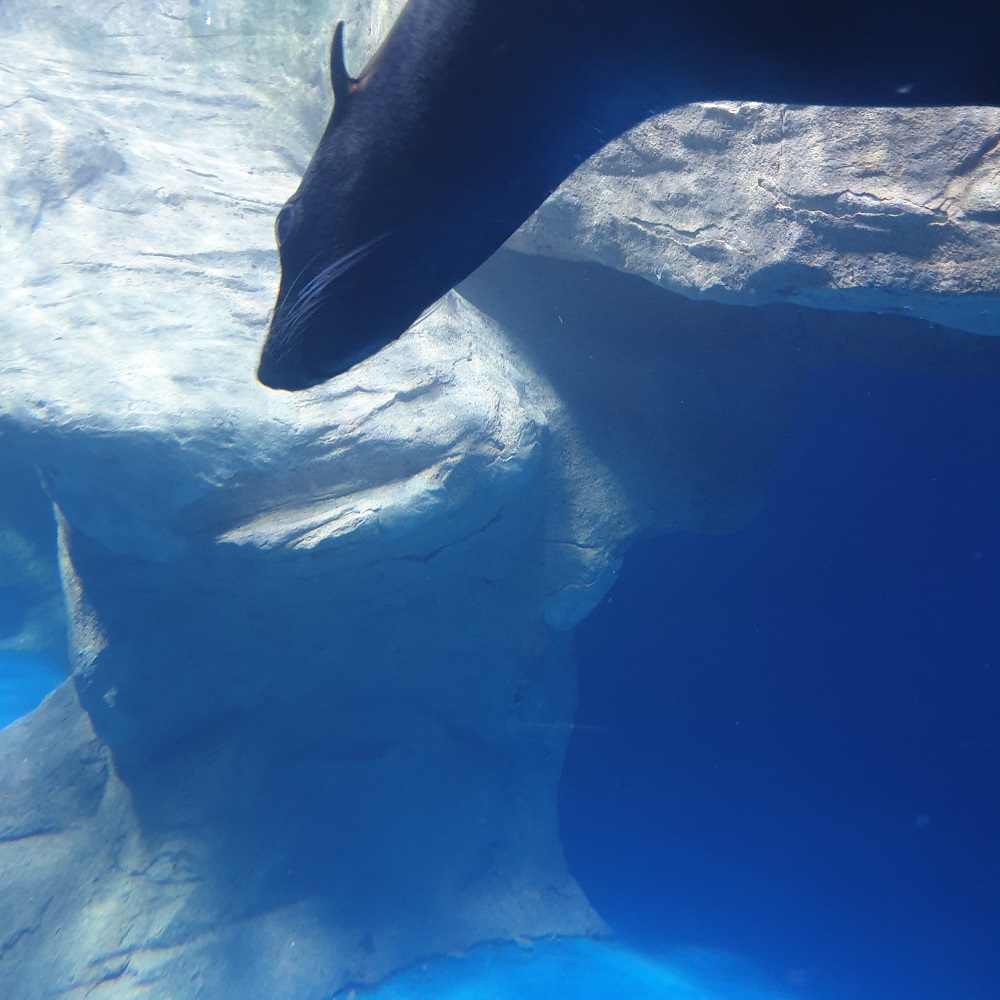 After here you can walk through an 8-meter tunnel underwater and see the amazing African Penguins. The exhibit lets you see them in their natural habitat and has feeding time shows on at certain times.
Feeding times for African penguins are 11 am and 2.45 pm.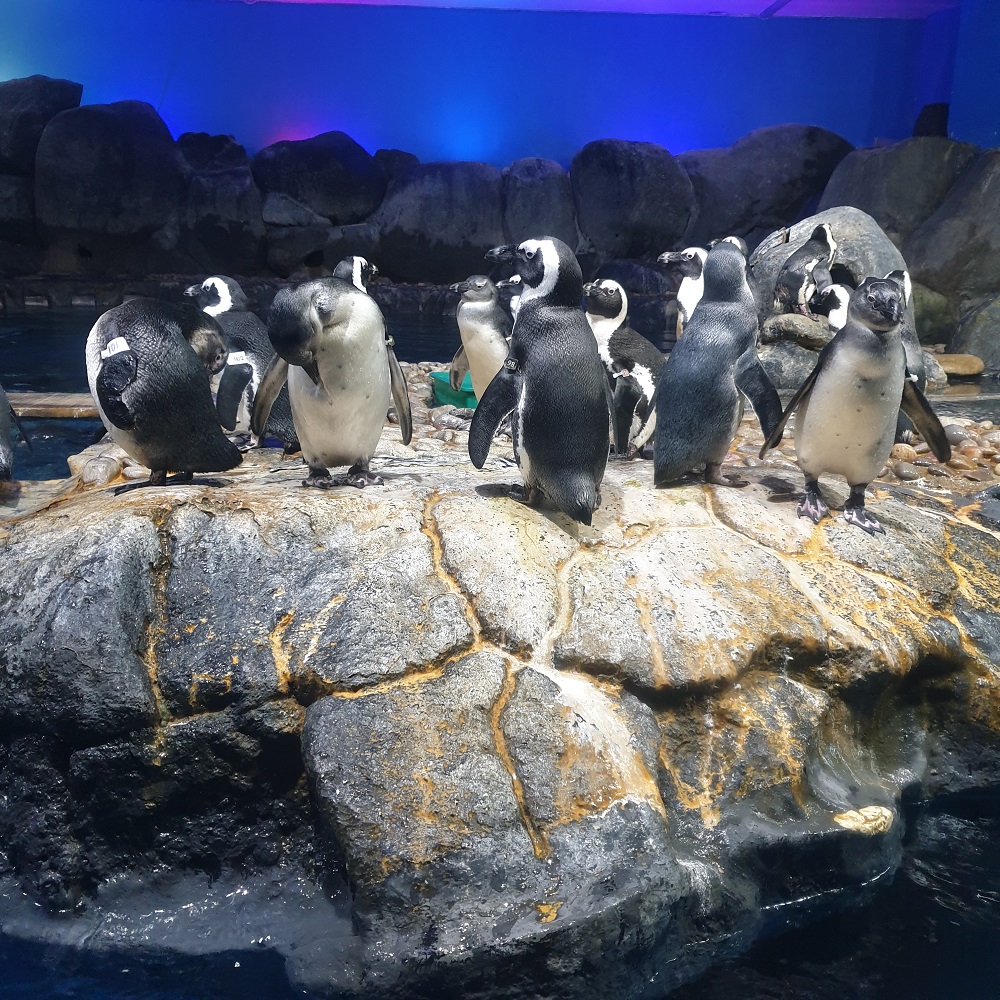 Sub-Antarctic Section
After catching the feeding time of the African Penguins (highly recommended) you will head to the Rock Hopper Penguins area.
Rockhopper Penguins are odd-looking characters and they jump from rock to rock. They are also the smallest of the crested penguins.
All the animals here look well looked after and seem happy.
Feeding times for the Rockhopper are 11.15 am and 3.00 pm.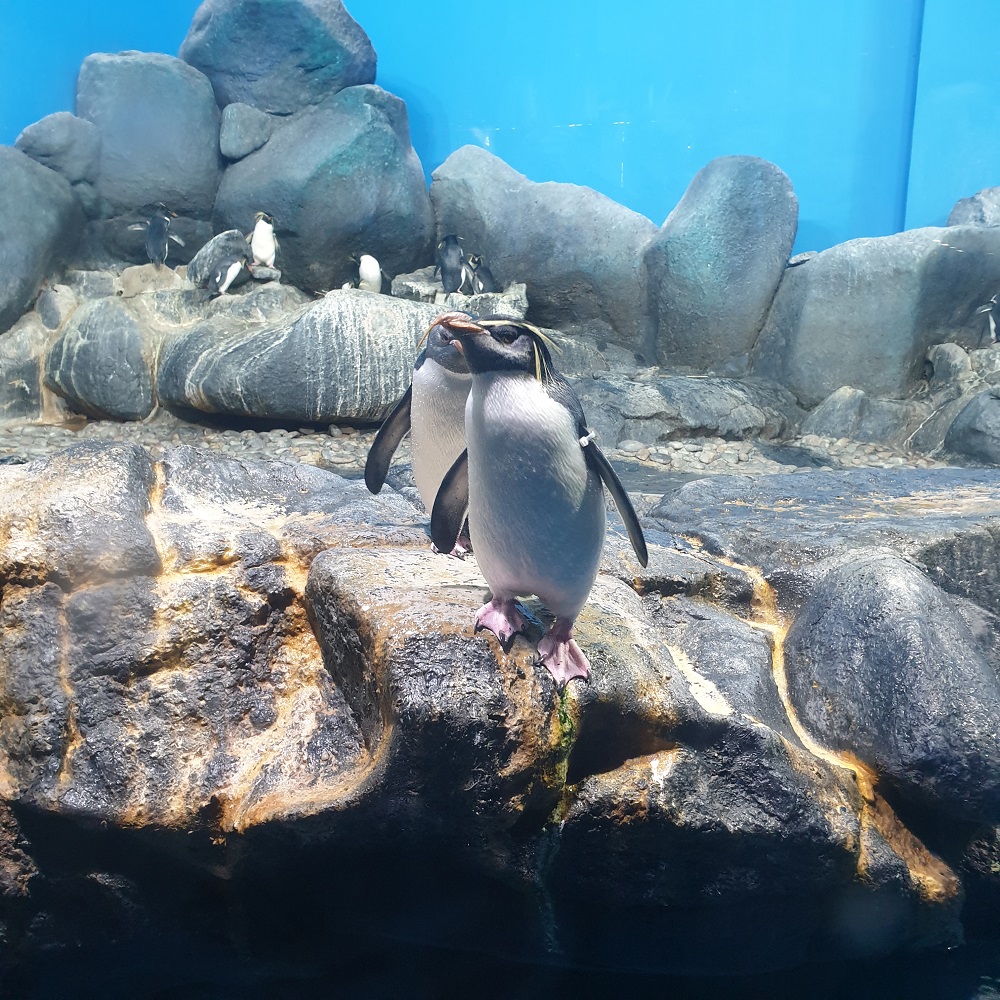 Sunken Ship Tank (Hexagon Tank)
Here you will find the Blacktip reef shark and the Whitetip reef shark swimming constantly amongst other species of fish in a huge 70,000 L tank.
This section leads into the huge tunnel tank.
Tunnel Tank Exhibit
This section will see you going deep into a 15-meter long tunnel surrounded by many species of fish such as:
The Giant Grouper (Could easily fit a small child into its mouth)
Giant Stingrays
Giant Trevally
The Olive Ridley Turtle and many other species that look really cool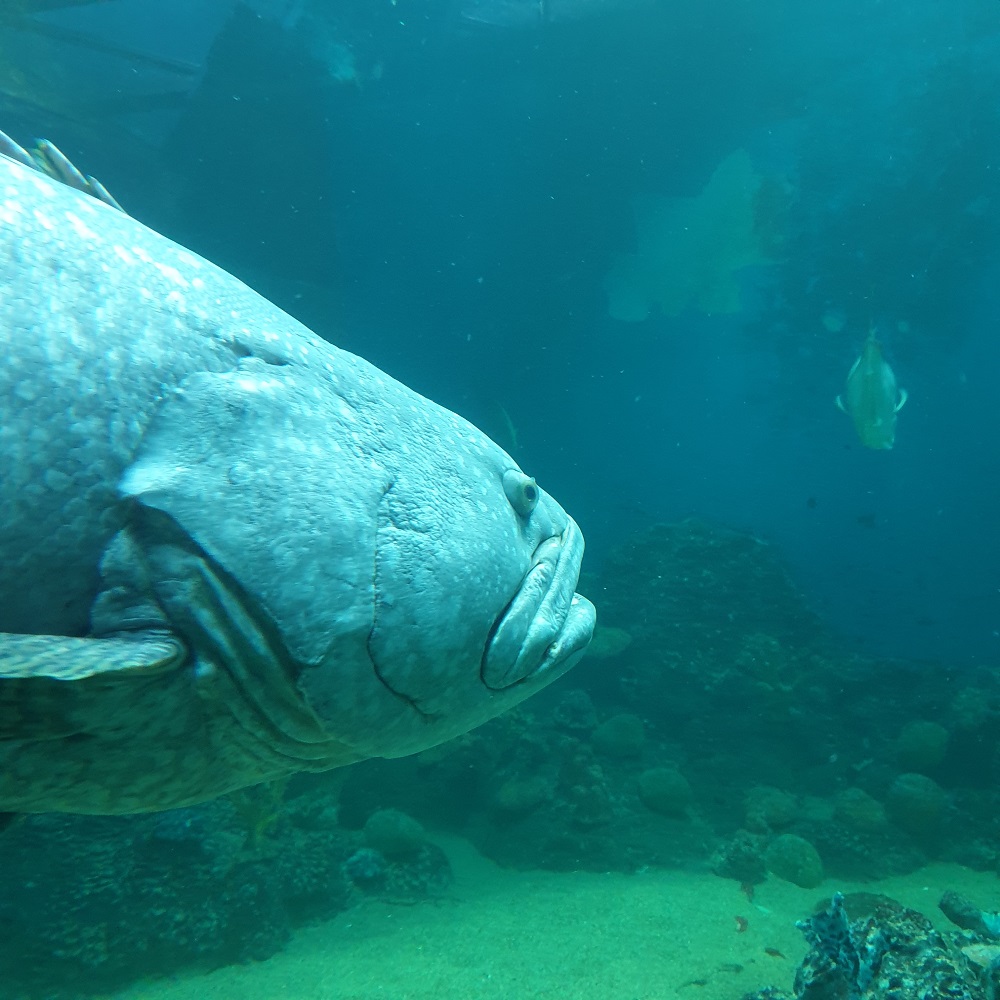 The Koi Pond Area
Here the walkway will take you into the sunlight once more and into a beautiful tropical setting.
A waterfall flowing into a freshwater pond will greet you while you pass over a little wooden bridge. In the pond, you will see the Japanese Carp, some Sultan fish, and Cichlids.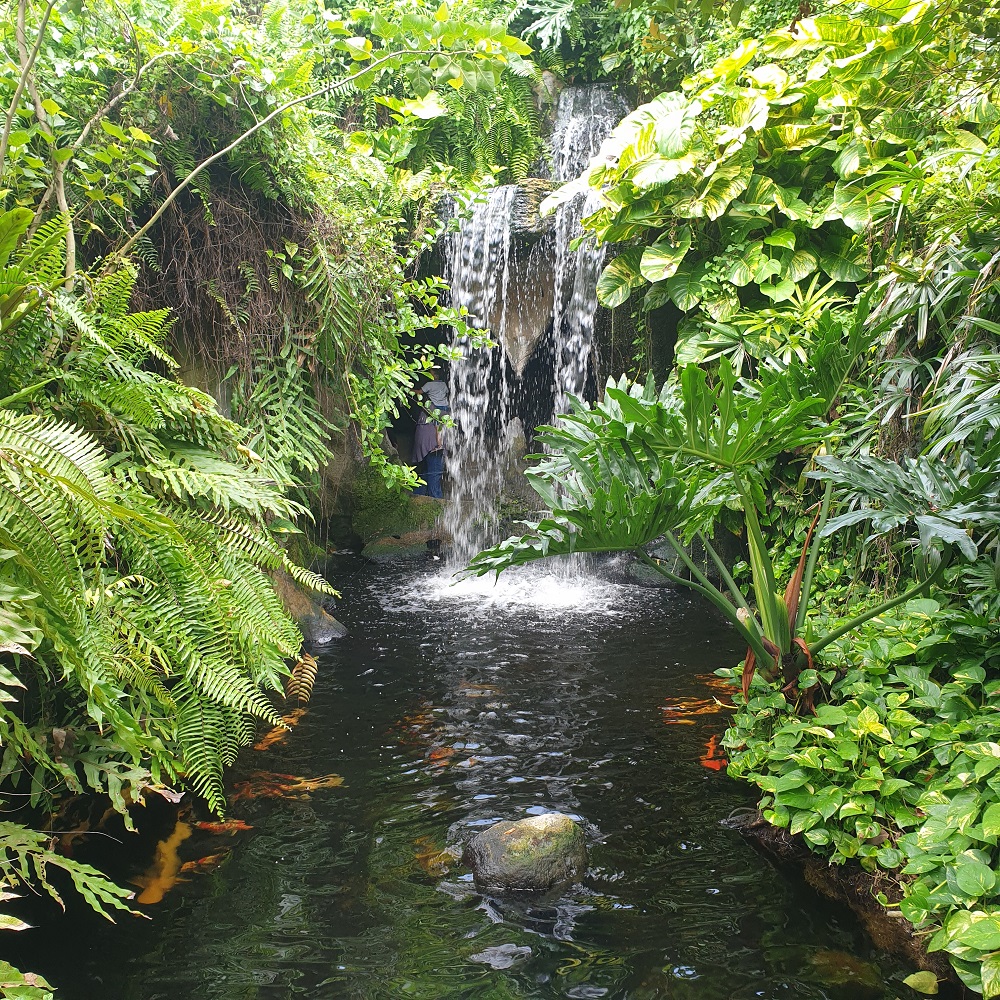 The Invertebrate Area
There are some amazing creatures in this exhibit. Wierd and wonderful underwater creatures from all around Southeast Asia such as:
Giant Octopus
Japanese Mitten Lobsters
Moray Eels
Amazing Jellyfish that glow (Awesome!)
Knight Goby
Blue Devil damsels
Green Carpet Anemone
The disappearing Garden Eel (Love these creatures)
Mudskippers and many others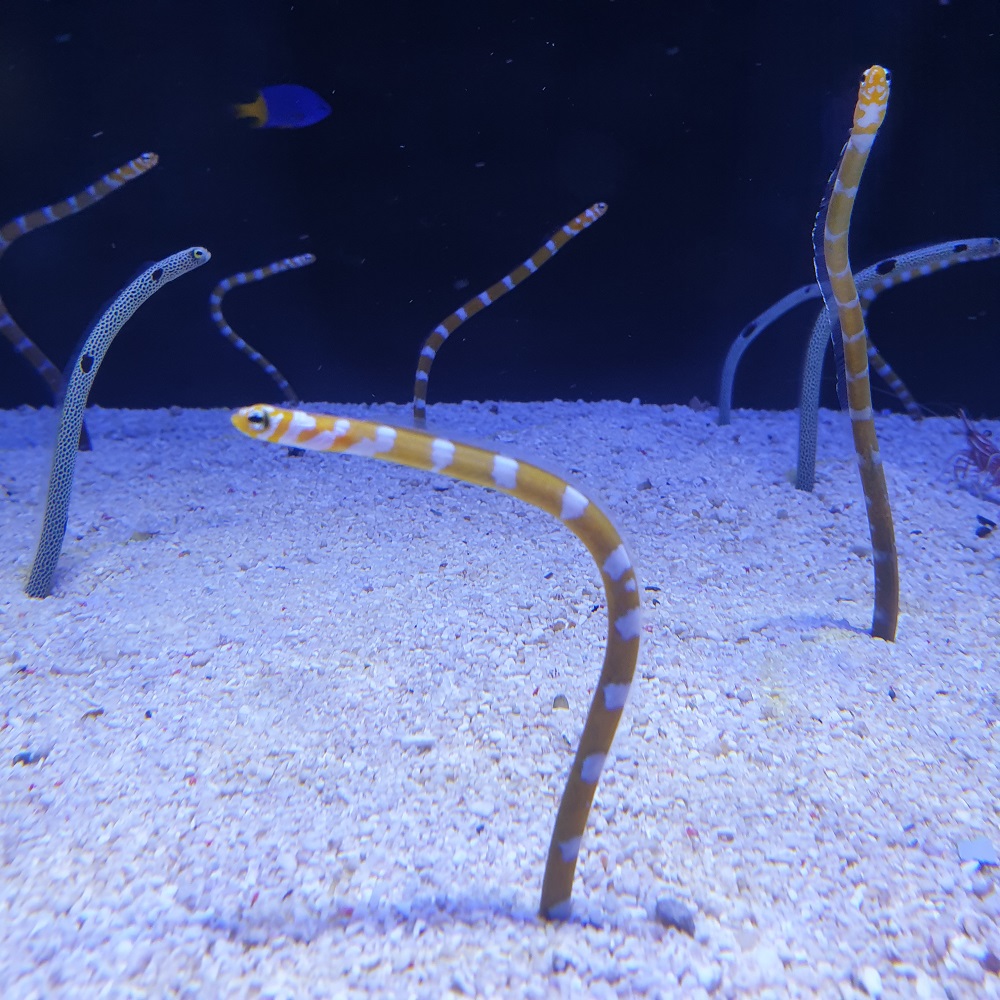 There is much, much more at Underwater world, plenty of animals to keep you and your kids entertained for a couple of hours.
Coral Reef Section
Visit the underwater coral gardens and experience the colours of a unique ecosystem. The creatures that call these beautiful reefs their home are creatures such as:
Clownfish
Wrasse
Damsels and many, many more.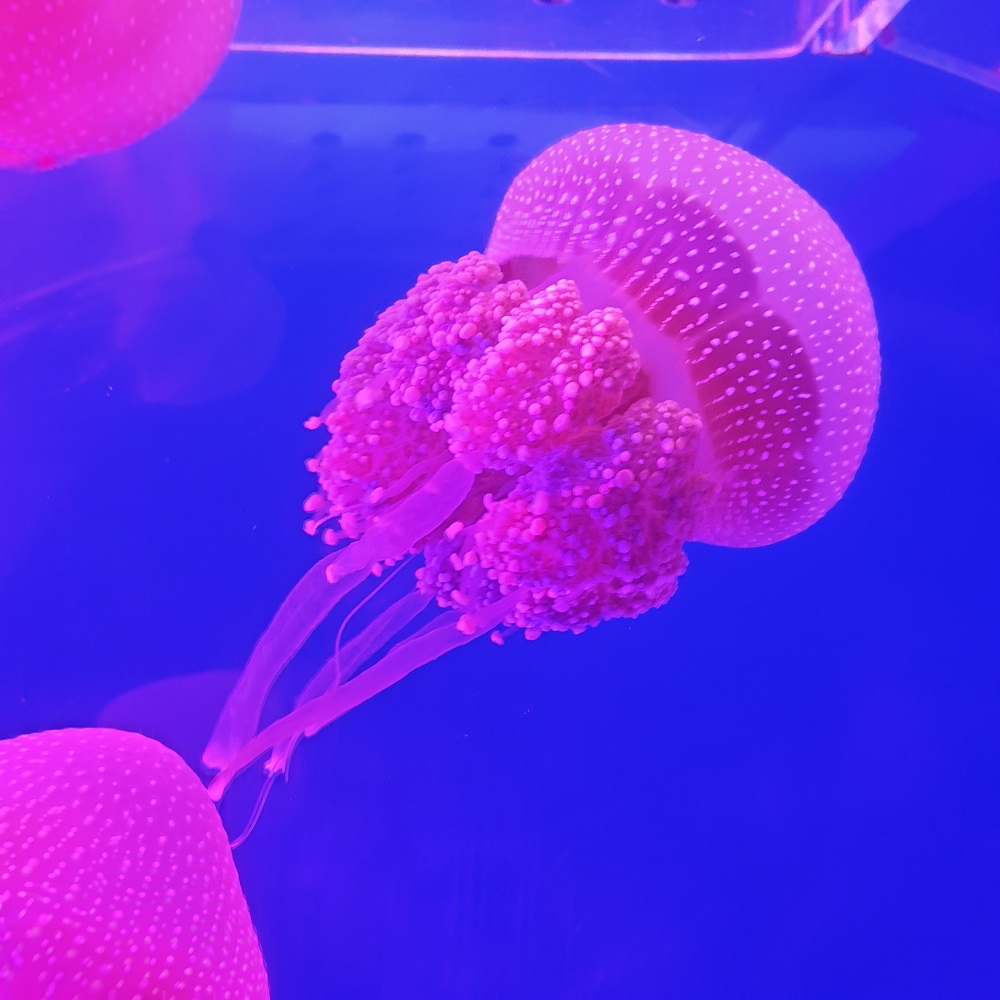 Venomous and Poisonous Creatures Area
This area is home to some deadly underwater creatures. You do not want to touch these guys unless you want to visit the emergency ward.
Fish species such as Lionfish, Rockfish, and sea snakes are just some of the critters found here.
Underwater World Langkawi Ticket Price
Malaysian Visitor Prices
Adults 33 RM (Valid for single use within 3 months)
Child 23 RM (Proof of Id required)
Non – Malaysian Visitor Prices
Adults 43 RM (Valid for single use within 3 months)
Child 33 RM (No Id required)
We booked our tickets through GetYourGuide and saved at least $40 AUS for 5 people.  
But when we arrived the admission center had no record of our booking.
Reviews on trip advisor mentioned this so be aware.  Hopefully, they fix this soon because we had to buy tickets again at local prices which are very cheap.
GetYourGuide fully reimbursed us anyway the next day.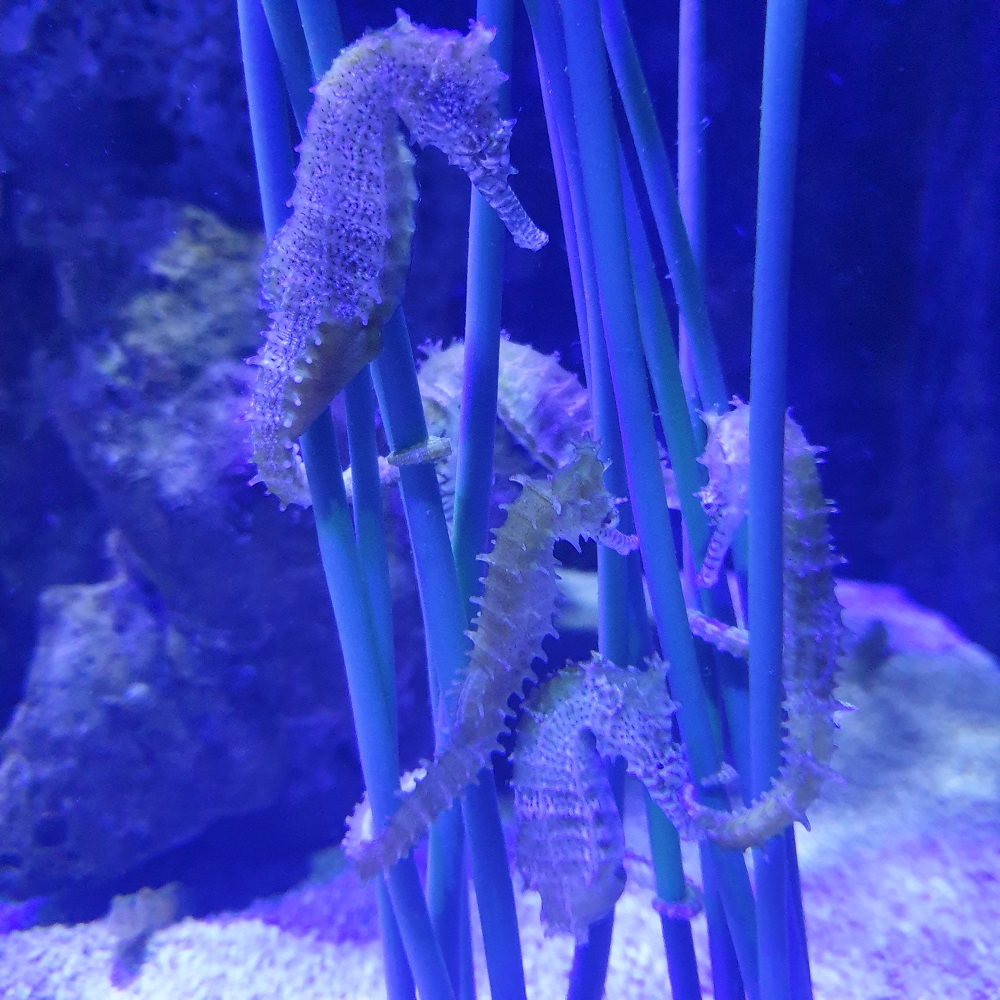 Underwater World Opening Times
The attraction is open 365 days a year and here are the operating times below:
Normal days – 10 am to 6 pm
Public Holidays – 9.30 am to 6.30 pm
School Holidays – 9.30 am to 6.30 pm
Feeding Times at Underwater World
You don't want to miss out on these amazing experiences, that's for sure! So here are the times:
African Penguin feeding – 11 am to 2.45 am
Rockhopper Penguins feeding – 11.15 am to 3 pm
Tunnel Tank feeding – 3.30 pm
Where is Underwater World Located?
The water world is located at the southern end of Pantai Cenang and is situated next to the Zon Duty-Free Shop. This is approximately 15 km from the airport.
See map for details:
Contact Information for Underwater World
If you would like to speak to a person at Underwater world Langkawi here is their contact information:
Phone number – +604 955 6100 or email info_uwl@edenzil.com
How to get to Underwater World?
Getting here is easy but depends on your transport.
Options include:
Rental car
Motorbike rental
Grab Taxi
Meter Taxi
Walk
The Zone Duty-Free Zone has paid parking which includes Underwater World Langkawi.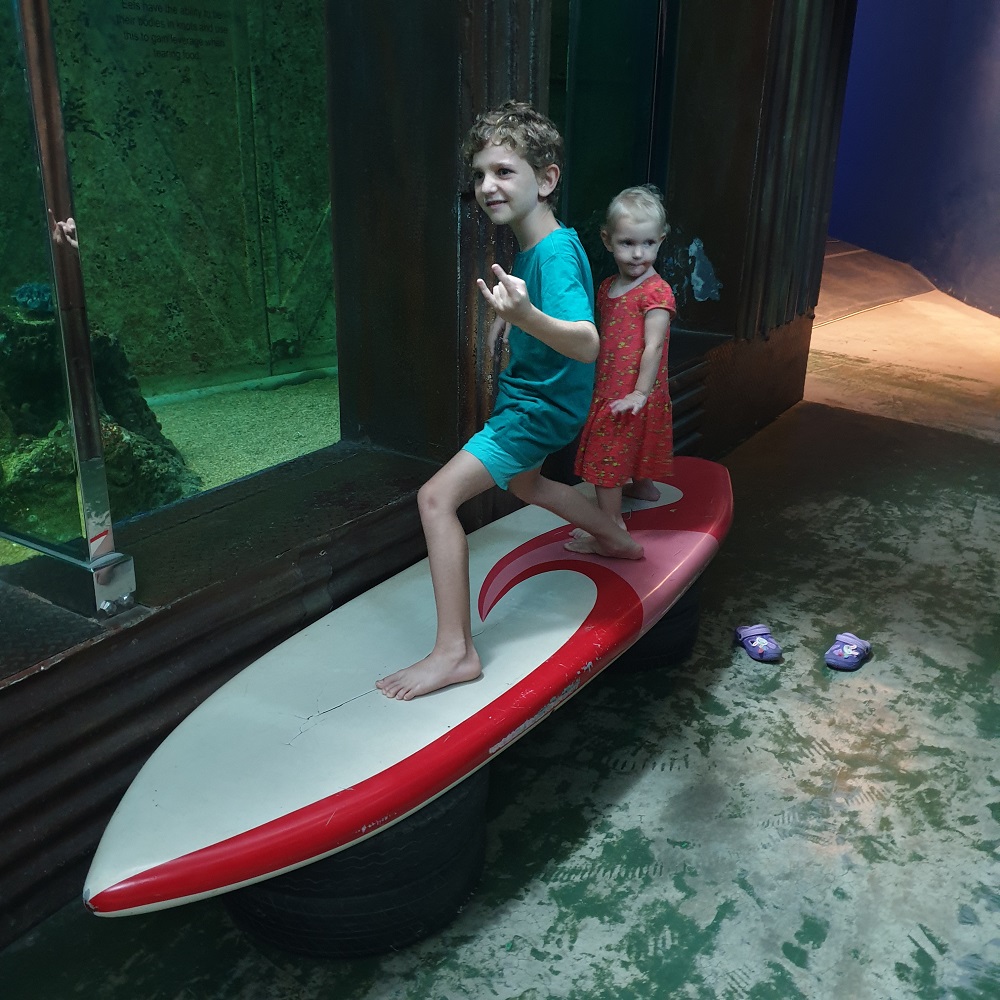 The Underwater World Experience
We fully recommend spending some time here on your next holiday, maybe choose a rainy day that is perfect.
The center is well laid out with great displays and impressive clean tanks.
Each living area for the animals looks very clean and well looked after.
Our favourite exhibits were the meat-eating turtles, marmosets, and fur seals. They could have a bigger tank but you can watch them swim and play underwater and above.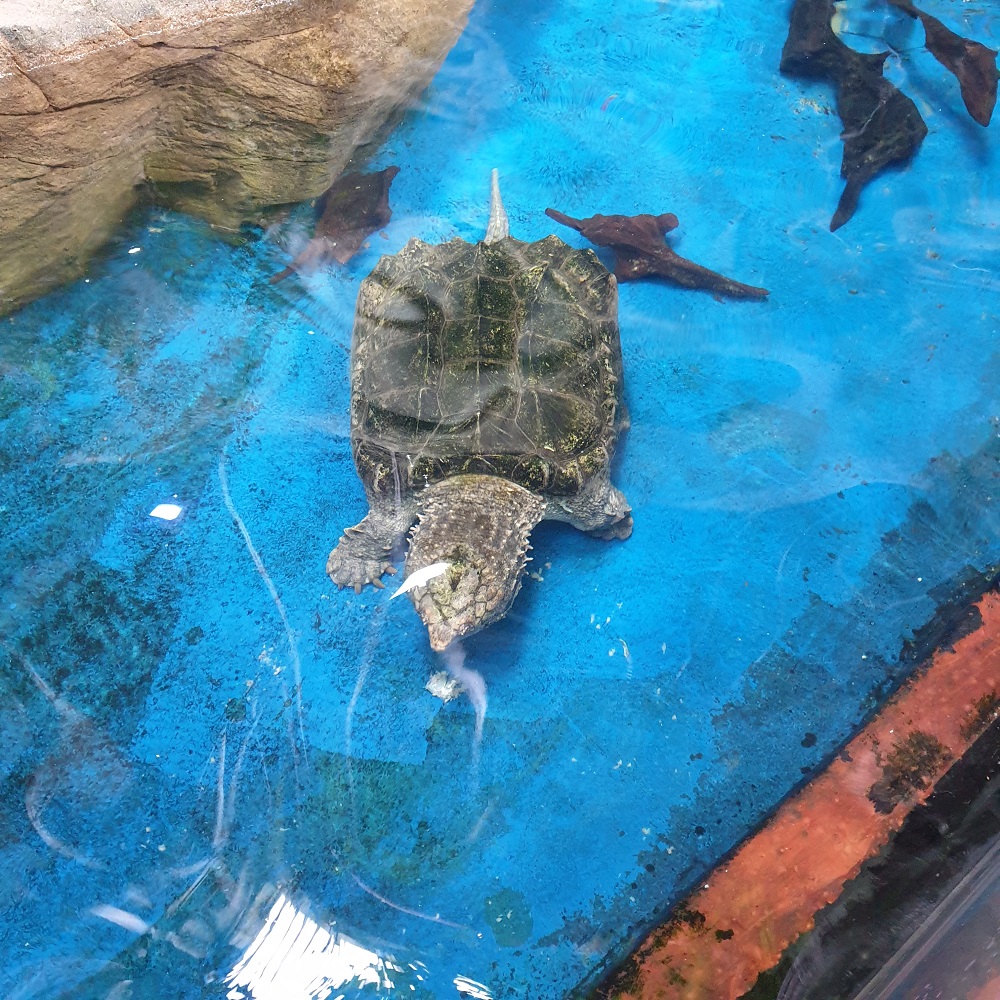 Penguin area was super cool you can go into the underwater tunnel or watch them from above.
The shark tank was awesome as well as the giant gropers. They are massive!
Jellyfish display will blow you away and the size of the giant spider crab.
They even had a big octopus, but he looked like he needed a more interesting tank.
Strolling through the exhibits only takes an hour or more, so I thought it felt a bit short and ended too quickly.
Watch Out!
Watch out as you exit because you have to navigate through the duty-free area and souvenir shops. (Little ones want to touch everything and you break you buy.)
Conclusion on Underwater World Langkawi
Definitely put this attraction on your list of things to do in Langkawi.
It is well worth the admission, won't take up your whole day, very relaxing and you will get to see some animals that you have never seen before.
Hope this little review helps you plan your holiday to Langkawi.
Please share with other friends and family who plan on visiting Langkawi island.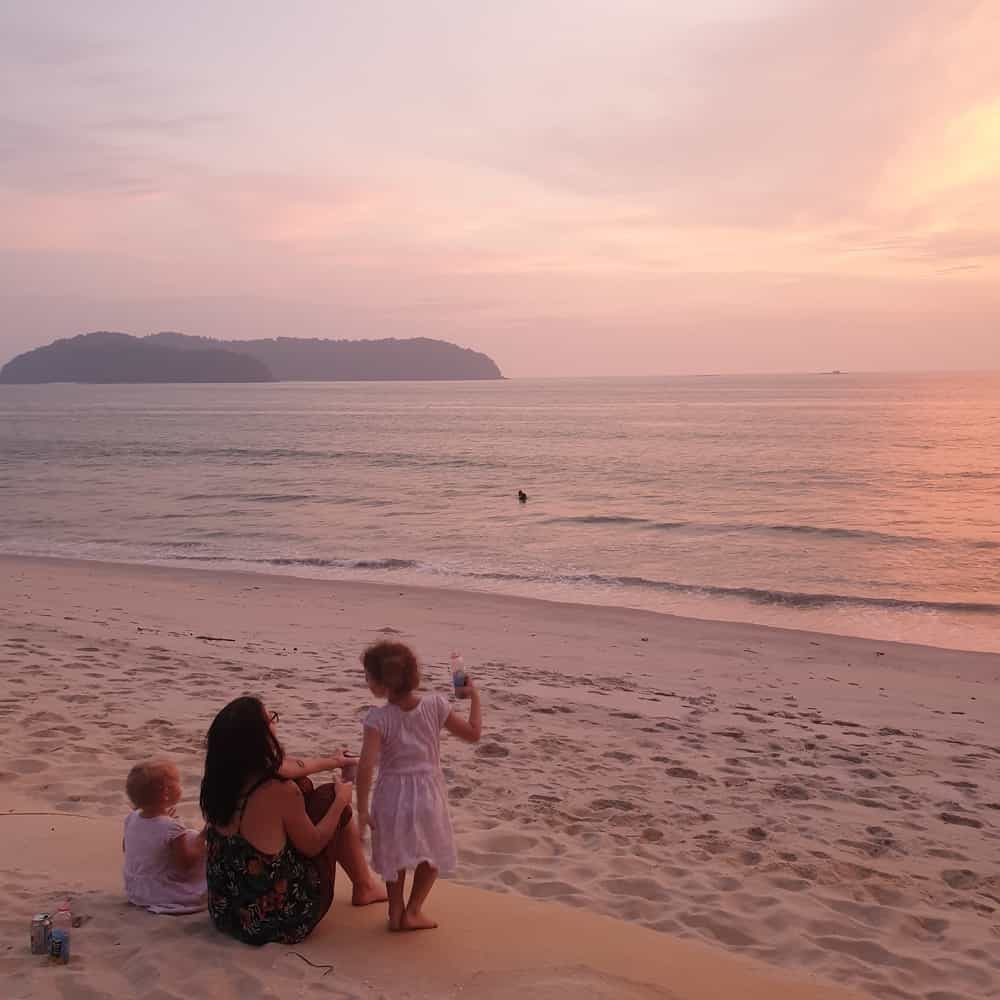 Where to Stay in Langkawi
It is tricky to know where the best place to stay on Langkawi actually is. We loved the area around Pantai Cenang. White sand beaches and heaps of things to keep you busy, including Underwater World Langkawi.
Definitely recommend staying at Sunset Beach resort for a great budget option right on your own private beach. They even have a family room with 5 beds. This great value resort is a 2-minute walk to Underwater World.
Check the latest prices and book now
Getting to Langkawi
We came over from George Town on Penang. Find out the best ways to get to Langkawi here:
Visiting Malaysia
Bringing our family to Malaysia for an extended holiday gave us a chance to explore this beautiful country and really experience it. Malaysia is a brilliant place to take the kids! The people are so friendly, the culture is vibrant, the food is amazing and it is super easy to get around. Oh, and there are theme parks literally everywhere. For some of our fave spots, check out our recent articles below:
We could get a 90 day stay on arrival in Malaysia visa-free. This meant we had plenty of time to settle in and enjoy every corner.
Learn more BEFORE you plan your Malaysia trip: