This is week 3 in our blogger series which aims to make planning a fun family vacation easy for you! Each week we are focussing on a different stage of the holiday plan and we ask a group of experienced travelling parents to share their top tips on finding family-friendly accommodation.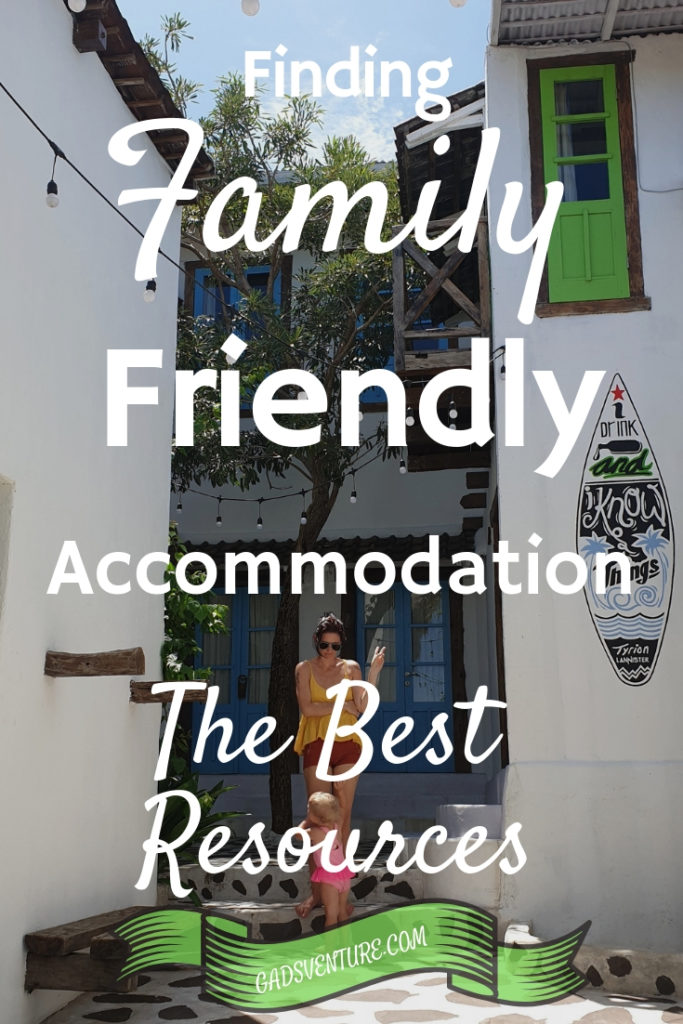 Some of the best resources we love to use when researching different options for family holidays are here:
Finding Hotels
We rarely stay at hotels thanks to having a large family and the added cost of having to get adjoining rooms. But if hotels are your style, here are some fantastic tips to reduce the cost and make hotel stays affordable for all:
1 – When planning, search incognito or use a search engine that focuses on privacy like DuckDuckGo. That way your searches, and thereby rates, are not stored in your cookies.
2 – Take advantage of hotel reward programs. Credit card sign-up bonuses add up to huge savings.
3 – Be flexible with your dates. You may get a better rate staying on a Sunday night, during the week, or a certain number of nights.
4 – Only stay in hotels that offer free breakfast and have a mini fridge. Free breakfast means one-third of our food is free. Mini-Fridge means we can pack our own lunches and save money. And while it's usually against the rules, I've been known to bring a crockpot on vacation to prepare dinners.
5 – When using hotel booking platforms use the search functions to really narrow down the options. For example, if you use Booking.com on a PC you can use the search bar on the left to select only apartments or only places with swimming pools. 
6 – Here are my tips for staying in a hotel with kids! The best arrangement are adjoining rooms. If you have older kids they have their own space, but more importantly, with younger kids, you can maintain their bedtimes. You can settle them into bed and keep the room quiet, without having to sit in the dark yourself while they fall asleep! If you can't afford adjoining rooms (and it does make it very expensive) then try and get a room with a balcony. Then at least you can sit with a book and a glass of wine on your balcony while the kids fall asleep! 
7 – If staying in a hotel: join rewards programs, look for places you can cook (with a kitchen) or has food provided (such as breakfast and/or evening receptions), sign up for their email alerts, and be flexible on dates such as traveling during the week.
8 – When booking accommodation, our family usually prefer staying at 4-5 star hotels that we could get for the price of a lower tier hotel or maybe even "free". We saved hundreds of dollars with hotels through the use of mileage and points accrued from a travel credit card.
One such credit card available to travelers in the USA is the Chase Sapphire Reserve card. When I applied for it, I received a sign-up bonus of 100,000 points and an annual credit of $300 towards travel expenses. On top of that, I also earn bonus triple points for using it towards any dining and travel related expenses. Everyday expenses such as groceries, eating out or even filling up the gas can turn into a free vacation once you accumulate enough points.
These credit card companies have online travel portals where you can book your hotels on a discounted rate. Otherwise, you can easily transfer your accrued points to their hotel partners in a 1:1 ratio. The points are not exclusive to a certain loyalty program.
Airbnb
When choosing accommodation for our family holiday, I just can't go past Airbnb. We have had a series of wonderful bookings worldwide and totally think it is the best way to go.
It's free to join and you can get a bonus $55 off your first stay if you join using this link.
A family of 6 has little options with hotel rooms, often having to pay double for interconnecting rooms. However with Airbnb we have so many beautiful homes to choose from, and the prices give you so much better value for money. Our kids are still little and don't mind sharing beds or sleeping on couches too.

Having little kids, I value the inclusions that you get from Airbnb such as a kitchen and laundry. It's also the personal touches to a place that really make you feel you are at home away from home. Sometimes the owners fill the fridge with enough food for breakfast! Or I have seen welcome baskets of fruit too. Hosts are the best point of contact if you need to organise an airport transfer, or local ground transport too.
The most important thing when booking through Airbnb is to make sure you read the reviews, and if anything is unclear, ask questions of your host before you book. Hosts respond within 24 hours in most cases.
We had a recent unfortunate experience with a villa we booked in Bali, find out more about what happened, and how we handled it here. Airbnb was exemplary in the way they handled everything and we got a refund immediately.
With trips focused more on history and culture – in more urban areas – we find an apartment, bungalow or guesthouse through Airbnb or Booking.com. Homestays are great to get to know the locals and culture. Scanning the website photos helps us identify simple, rustic accommodation that matches our style and needs. We use the mapping feature to choose a quiet neighborhood, within walking distance to sites and stores.
Traveling mostly in the off-season, and avoiding the beaten track, we decide on a day-to-day basis where we will stay, rather than booking in advance. The trip is a spontaneous adventure!
Choosing accommodations is different for us than it is for some families. We don't always want to be in the middle of all the action. We crave downtime to decompress after exploring, so busy hotels aren't our thing. A relaxing "home away from home" is perfect. I'm reframing that old adage, "If mama's happy, everyone's happy" to "A well rested child makes for an easy vacation!"
Moreover, with food allergies, we need a rental home with a full kitchen so we can have home-cooked meals. Fortunately, Airbnb and VRBO, and some of their lesser-known international counterparts let us "tour" potential accommodations before we go. If the place looks good for