How to travel Bali both cheaply and cheerfully is what every traveller needs to know. Travelling with a big family to Bali is also an added challenge that we handle well.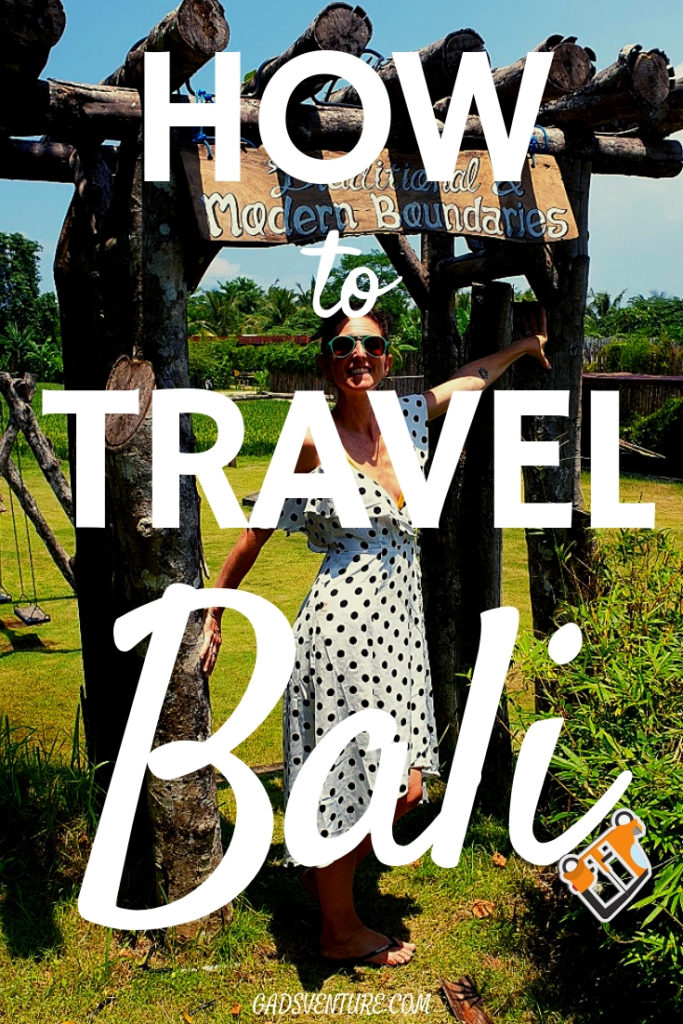 Let us share our tips on how to travel Bali in our new Bali Travel Guide to make your next trip so much easier!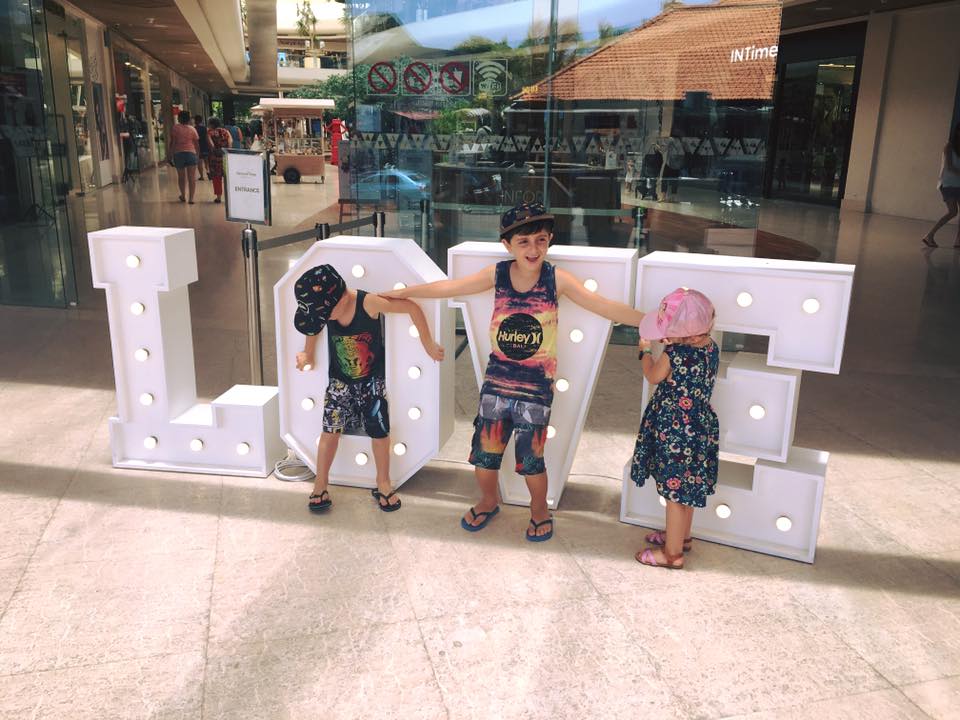 How to Travel Bali – Knowing When to Go
Bali is a tiny island in Indonesia. Being so close to the Equator ensures it is tropical and warm and the ocean is a beautiful temperature all year round. The peak seasons are December and January, July and August, and Easter. This is when Bali is absolutely heaving and you will find the accommodation prices spike.
For more info on when to go to Bali, and when not to go, read this right now: The Weather in Bali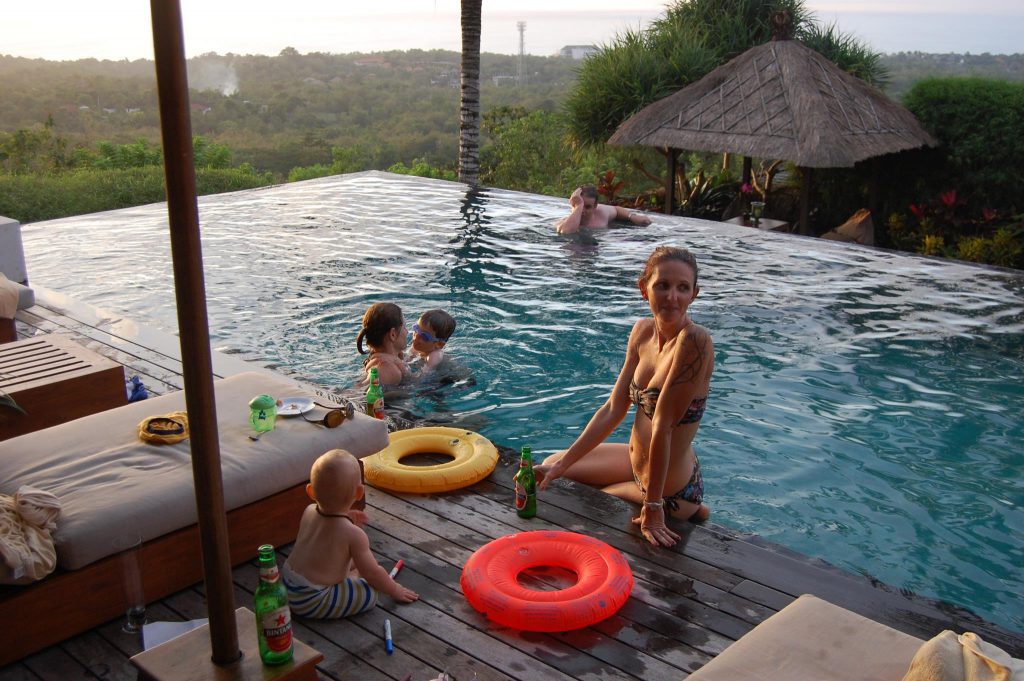 All of the summer you can risk rainy monsoonal weather too which is between the months of November to March. And if it's not raining on these days, you can bet the humidity is high and it is pretty steamy instead. Great days for sitting in the pool drinking ice cold Bintangs, but not for strolling around Seminyak shopping.
The best months to go are April, May, June and September when the weather is milder (still hot, but less humid) and the prices are in off-peak season.
If you are a surfer, May to September generally is best on the West Coast, while the summer rainy months will give you surf on the East Coast. To find out where the best surf breaks are on Bali, Read This Now.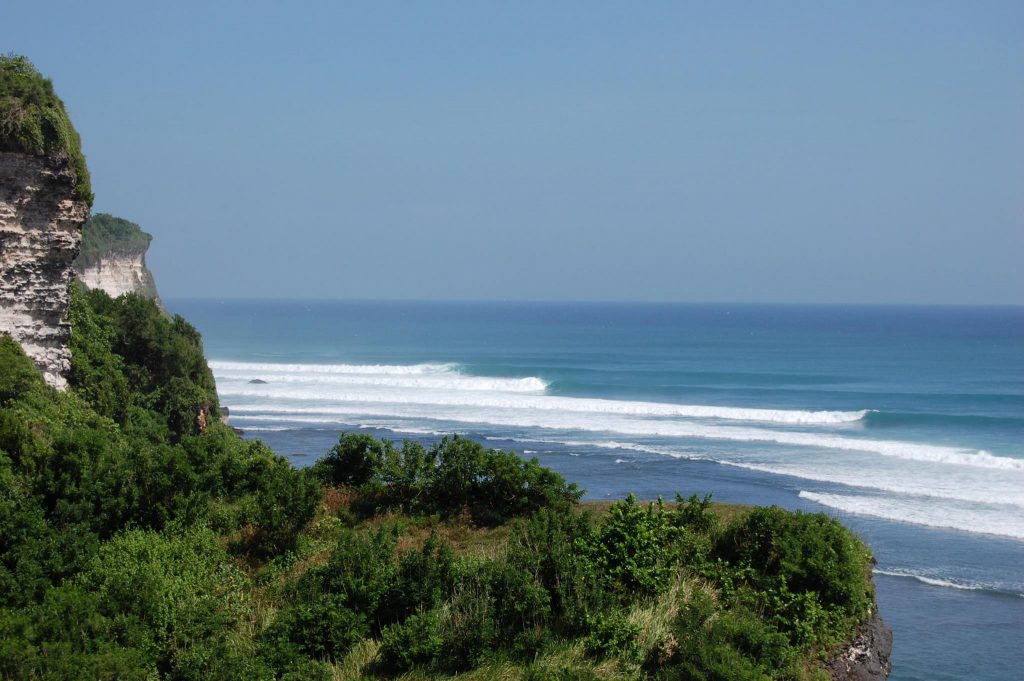 Money in Bali
The currency in Bali is the Indonesian Rupiah, or IDR. Australians get roughly 10,000IDR per Aussie Dollar. That makes your currency converting easy! Check out XE for the latest exchange rates.
Cash is king in Bali and you can withdraw it from the thousands of ATMs across the island. Read this to find out what your withdrawal limits are, and where to find a transaction free bankcard before you leave home.
How to Travel Bali – Where to Stay
Kuta
Backpackers, nightclubs, massages on the beach, stray dogs, shopping, Waterbom Waterpark, surf lessons. Kuta is the closest to Denpasar.
Legian
Just outside bustling Seminyak, Legian has some great family villas and resorts and is just a short trip away from the action of Seminyak and Kuta.
Seminyak
A bit more upper class with cool bars, nice villas, great shopping and nightlife. Action packed and the most expensive.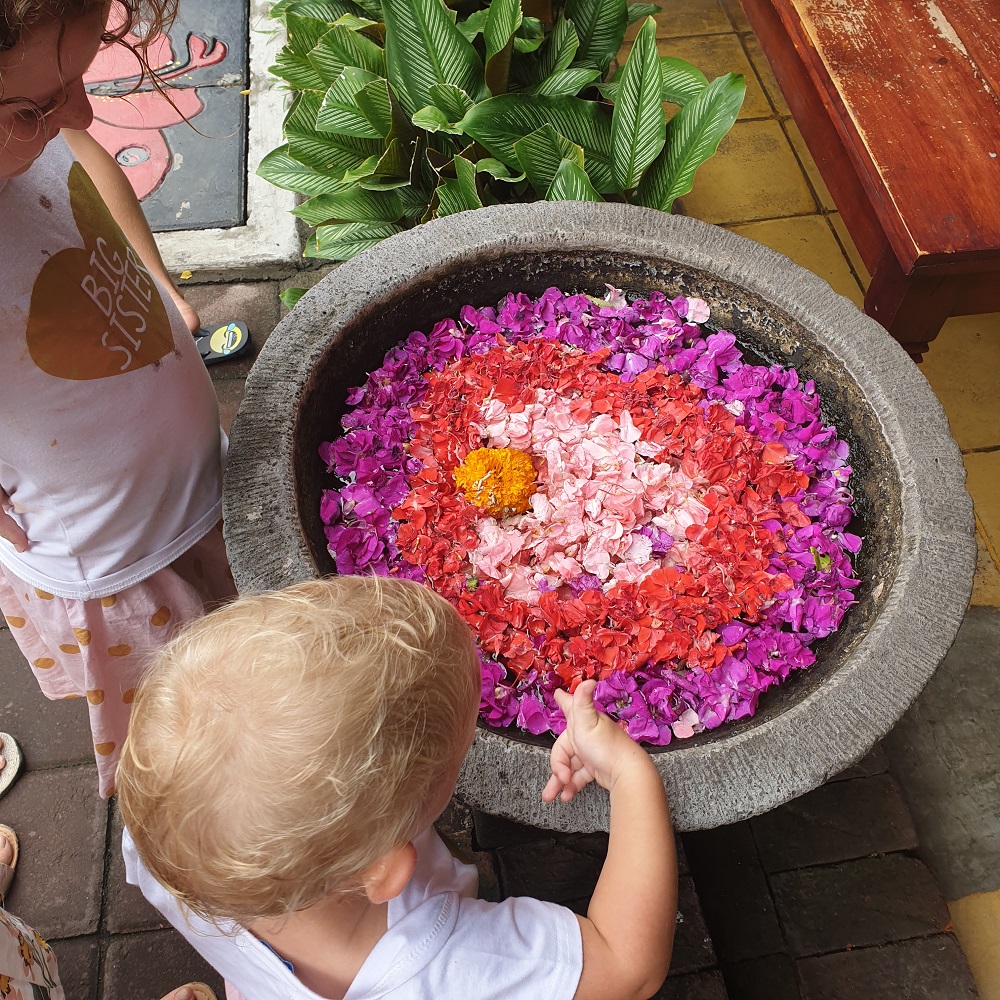 Canggu
Read more in our Ultimate Canggu Travel Guide
This is where we like to stay, Canggu is very family friendly with heaps of beautiful villas to choose from and much more affordable than its busier neighbours. The beaches are heaps quieter, and the surf is great. About 40 minutes to the airport, and 20 minutes to Seminyak, depending on traffic.
These locations are all along the beach to the West of Denpasar which is where you land at the International Airport. The beach isn't particularly nice or clean here. There is dark volcanic sand with big stormwater drains.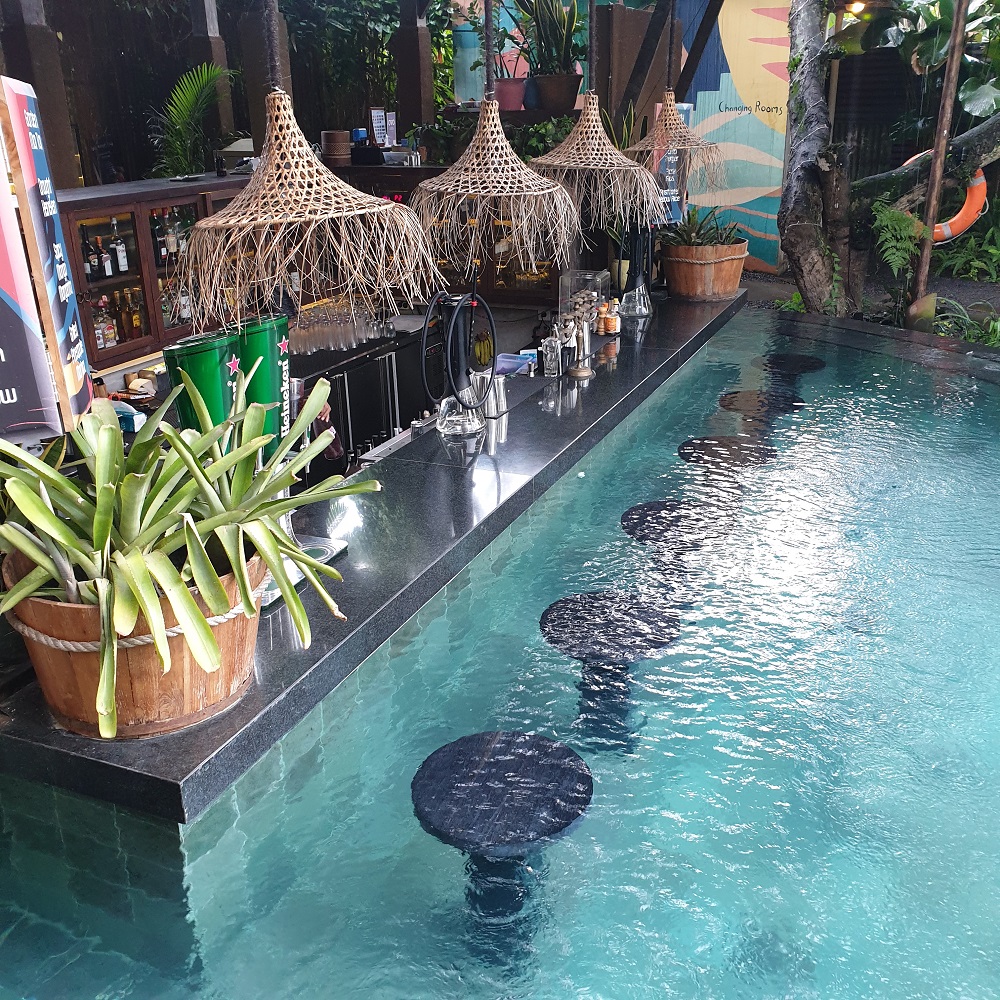 Ubud
16 Amazing Things to do in Ubud
Ubud is a beautiful inland mountain retreat surrounded by jungle and rice paddies. You can get great value for money with your villas here and you are close to things like yoga retreats, forests, temples and monkeys. Ubud has a super peaceful vibe. I love it!
Jimbaran
To the East of Denpasar, the beaches get a lot better and the crowds thin out along the beautiful Bukit Peninsula.
Whiter sands on the seafood restaurant laden beach make this a nice choice for food lovers.
The beaches here have amazing white sand and clean water, in the dry season at least, and the surf is perfect. There is less hustle and bustle, and it is a quiet and relaxing place to stay. If you want to while away your days with sand and surf, this is the place.
Uluwatu
Read our detailed Post on visiting Uluwatu here.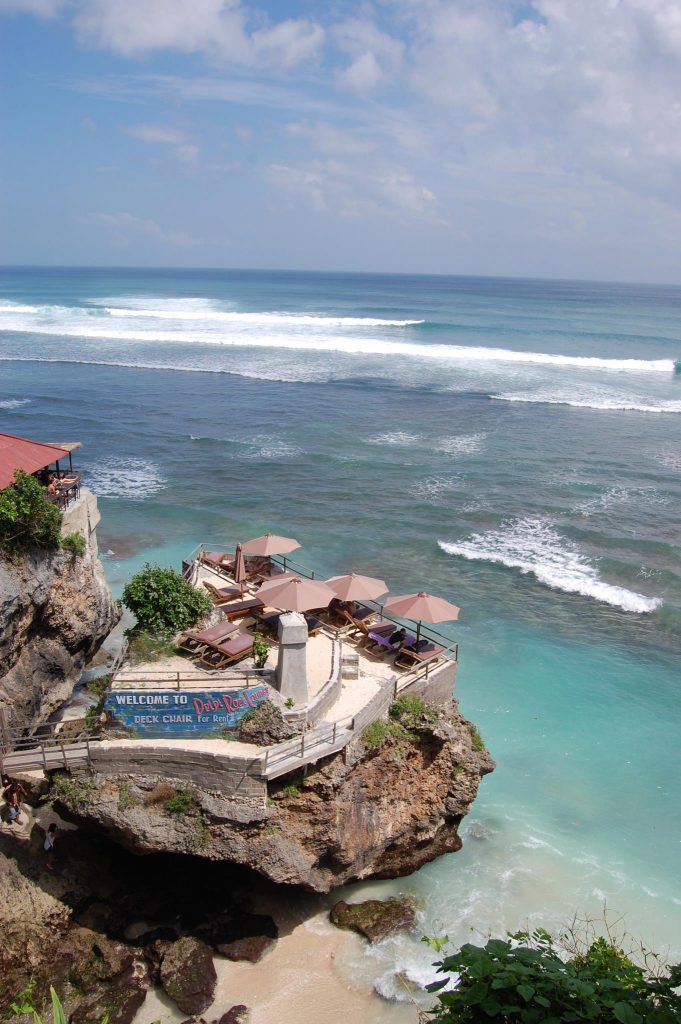 If you don't stay here, you have to at least visit this town which clings to the cliffside. It hosts some of the best waves in Bali, but they are big heavy reef breaks, not for beginners.
There are some fantastic villas around Uluwatu and you can save heaps of money by opting to not have your own pool. The sand is white, the water is clear. Beach access is through caves and up ladders. It's the sort of place that the kids adore.
Like something out of a storybook. Just watch that your villa isn't too far up in the hills – you might have great views, but it's a mission to get anywhere!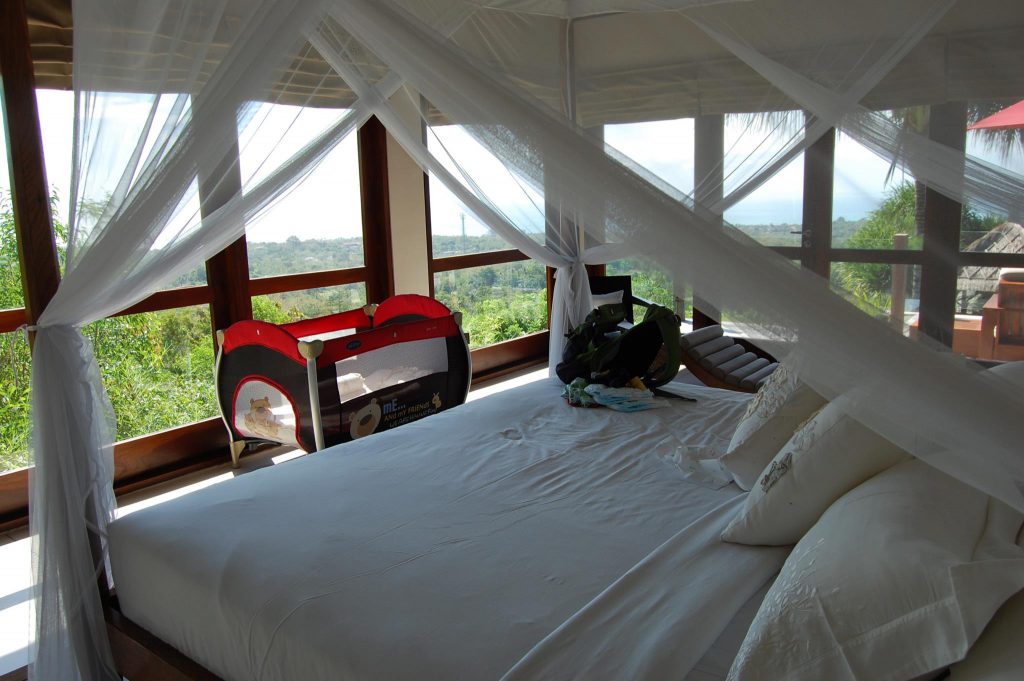 Nusa Dua
This is a gorgeous palm-lined beach where you find all the massive resort chains. The resorts usually have all-inclusive deals where you don't even have to leave the place. NMS TBH (not my style to be honest!).
Amed
This was a recent discovery of ours far up on the North East coast. Amed sits on a beautiful coastline perfectly framed by the stunning Mount Agung volcano. A great place for snorkelling and diving, read more about Amed, including where to stay, right here.
Sidemen
For a super quiet and secluded stay amongst farms and rice paddies, you have to check out Sidemen.
How to Travel Bali – Villas
Whenever we go to Bali, we like to stay in a self-contained and staffed villa with your own pool.
Check out how to book a family friendly Bali villa using Airbnb here.
Villas have the benefits of:
Airport transfers. These are usually included, if not you can negotiate it. It's so great arriving in a foreign country and be met with a guy with your name on a sign.

Lots of bedrooms so you can bring friends. We usually bring another family or two to help share the villa cost.
Your own pool. Note that pool fences are not a thing in Bali. You are able to rent a temporary bamboo pool fence for a daily fee, just ask the villa manager for a quote.

Housekeeper, gardener and chef. Very often, the villa is staffed by a family who takes care of your stay. They are your concierge, they arrange to have the fridge fully stocked with Bintangs for your arrival and will do grocery runs for you at any time, for a small fee.
Car and driver. For around $40 US per day plus fuel, you can have your own driver and car to take you wherever your heart desires. Try a girls shopping trip through Seminyak, the driver waits out the front in the car with your bags and drives you to the door of the boutiques. Taxis are fine for shorter periods or one-way trips but you can negotiate with a driver to take your family for tours the whole day long.

Motorbike rental can be arranged by your hosts. It's about $6 per day for a scooter with a surfboard rack. Just be aware that motorbike crash injuries are not covered by travel insurance unless you have motorbike licence in your home country.

Massage? Facial? Manicure/Pedicure? Whatever you need, just choose a service from the menu and your host will arrange them to come to you for in-villa treatments.

Laundry Service. My favourite thing ever!!!
Kitchen. When travelling with kids, having a fridge in your apartment saves you so much money. My kids always need drinks of milk, or constant snacks. And you can save money by preparing and eating some meals at home. For a fee, the hosts will organise a chef to cook a Balinese feast for you in your villa. It's definitely worth doing at least one night of your stay!
Free Breakfast. Who doesn't love an in house breakfast while on holidays? Check in the fine print or negotiate to get your breakfast included. Choose from a selection of Indonesian and Western fare and your hosts prepare a sumptuous feast of nasi goreng, bacon and eggs, fresh pastries and fresh fruit platters. The perfect fuel for a day of living it up in Bali.
Free Water. You can't drink the water out of the tap in Bali so each villa includes unlimited filtered water for your stay.
Finding Accommodation
We like to use Booking.com and Airbnb to research and reserve our accommodation in Asia. These 2 resources consistently have the best prices.
How to Book a Villa
For an in-depth look at how to book your Villa, have a read of this helpful article:
When travelling anywhere, we book flights first, and try to be flexible with dates to lock in a great deal.
Most of the time, we book our accommodation through Airbnb. It's free to join, just click here to sign up, then start browsing and you will be inspired! I have heard some interesting stories about Airbnb properties, but as long as you do your research, ask your host a lot of questions, and read the reviews there should be no surprises.
Ask me anything about Airbnb below in the comments below. I have been booking family holidays through them for years now and have only had good times.
When Airbnb Doesn't Work
Edited to add: we have had a recent Airbnb failure! It was terrible! Read all about it here.
If you are planning a trip overseas soon, or know someone who is, you definitely need to read and share our best International Travel Tips and Advice! Now you know how to travel in Bali…..
See you in Bali! x