Have you tried the Hello Fresh food delivery service out yet? If not, don't worry because we have tried it for you and described it in detail below!
We are all trying our best to save money on food and make eating well easier. Time is precious to parents so any service that saves time or money is definitely worth a try.
Our family consists of 6 people which costs a decent of cash to feed every week. So we just recently tried out Hello Fresh Foods to see how it would pan out.
Here are our findings below.
How Much Does Hello Fresh Food Delivery Cost?
The pricing structure is pretty confusing on the Hello Fresh website. But the price structure works on a per-serving deal.
Once you select a plan you will be taken to your plan details. Here your weekly price can be altered depending on what you are after.
The price can be altered by serving size (2-4 people) and recipes (3-5 Recipes per week)
Prices range from $29.95 – $149.88 for a box and FREE delivery on your first box.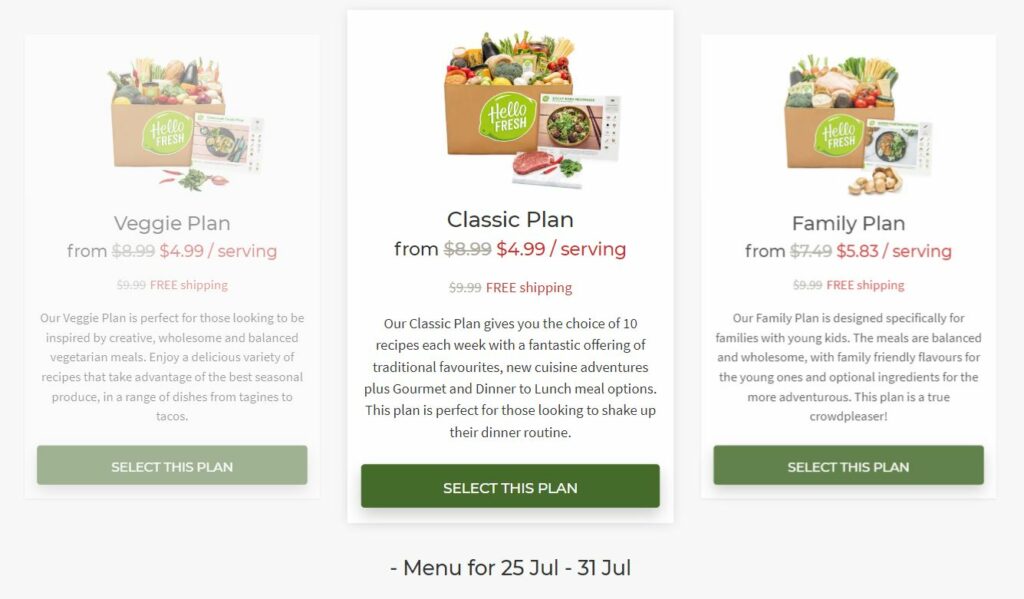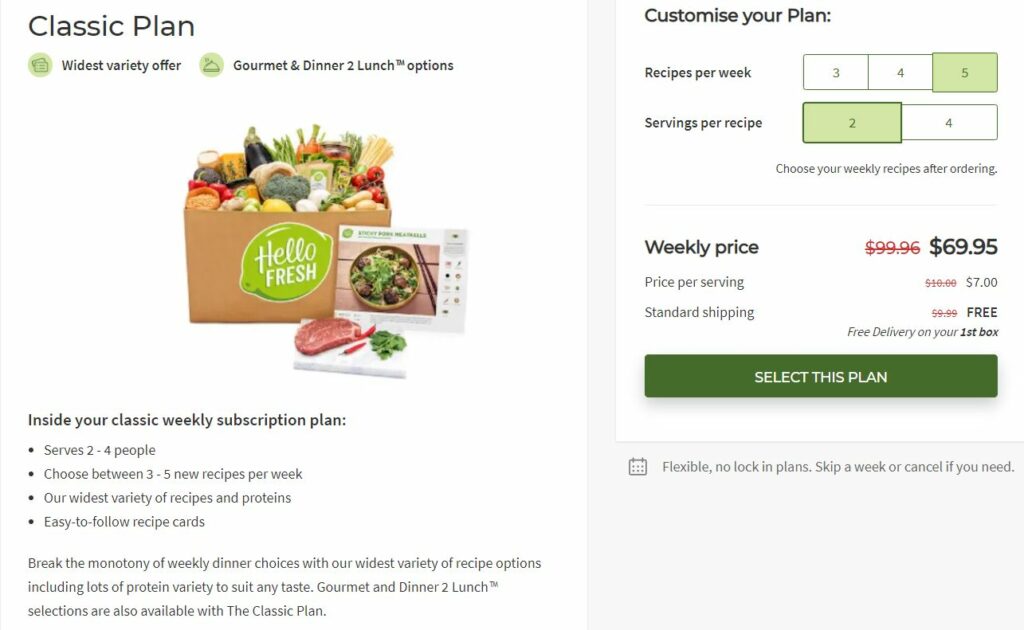 Does Hello Fresh Save You Money?
This is a hard question to answer because it really depends on the size of your household and what your members love to eat.
Our family consists of 6 hungry mouths to feed, and some of them can be fussy. We really love the simplicity of Hello Fresh and how the recipes are pre-planned for you.
You don't have to decide what you are going to eat, it is already done for you.
But the plans don't include breakfast meals or lunches unless you choose the option. And you still have to have regular staple items in your fridge or pantry such as butter, eggs, milk and oils.
So to say that saves you money really depends on the size of your family and lifestyle.
It definitely saves you money and time if there were just the two of you. When it comes to a family, my young kids preferred to have a deconstructed version of the flavour-full food.
Try it out first if you want to see the savings. They generally have $90.00 off the first order and free shipping.
Or, if you have a mate that receives Hello Fresh, ask them if they have a discount code or a free box you can sign up with!
How Does Hello Fresh Food Delivery Work?
First of all, visit the Hello Fresh website and choose a plan that suits your needs. There is the:
Veggie Plan
Classic Plan
Family Plan
Select the best plan that suits your dietary requirements, then you can customise your plan a little further.
Customize via Servings and recipes per week via the interactive buttons. This will adjust your price up or down. Try it out here.
Once happy with your plan and the cost per serving, select the plan.
From here Hello Fresh will ask for you details, such as an address, checkout information and which type of meals you would like to include for the week. Remember your first delivery is FREE!
Once everything is settled your box of fresh produce will arrive on your doorstep. The cold stuff is insulated with ice packs so you don't necessarily need to be home to receive the delivery.
Get convenient weekly deliveries
Scheduling is made super easy, with drop-offs right at your doorstep. Their delivery process has been flawless and you don't even have to be home.
How Is Hello Fresh Packaged?
They really package their product well. Cold items such as meats and perishables are placed in a bubble wrap insulated silver cold bag with ice packs.
The other meals are in individual paper bags which are colour coded depending on the recipe. Every ingredient for the particular recipe you choose is in the bag and corresponds with the recipe sheet.
We are very impressed with Hello Fresh packaging. And best of all they are extremely eco-friendly!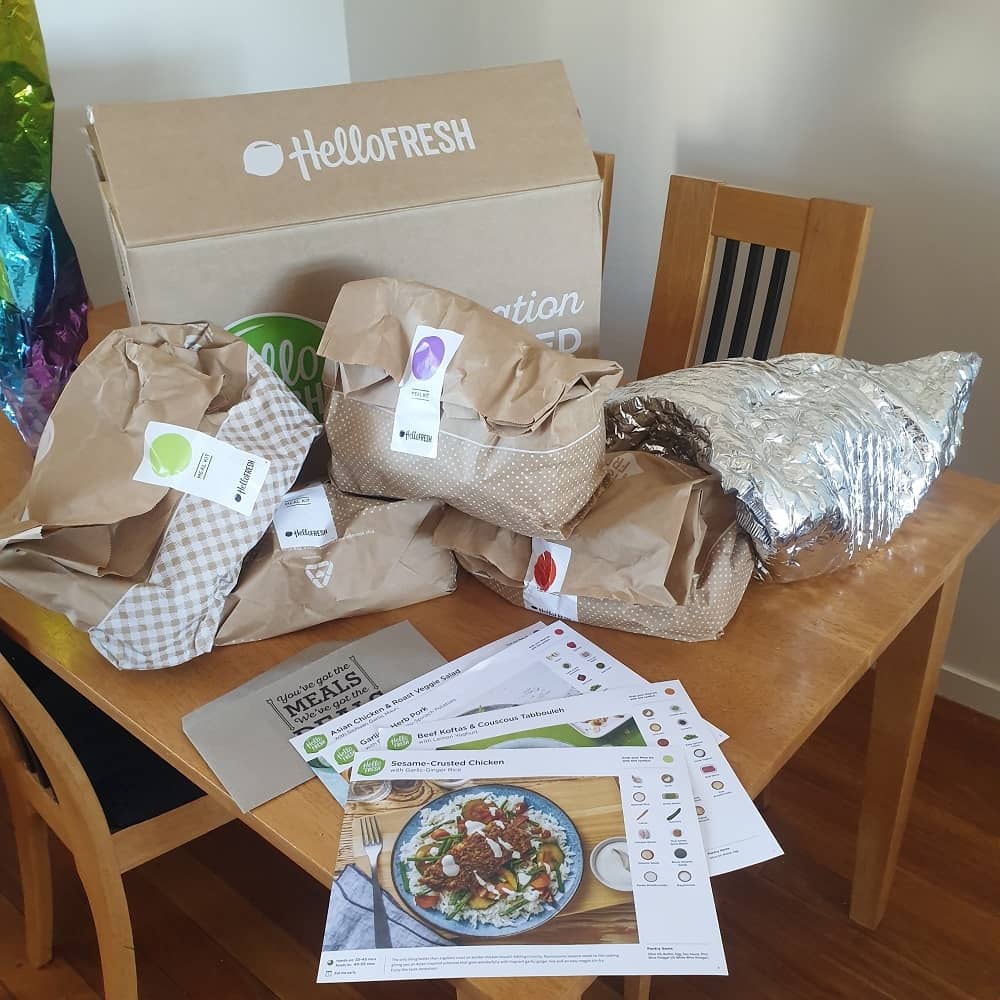 Hello Fresh Meals
Here are some recent examples of the gourmet foods available at Hello Fresh this week. I don't know about you, but these sort of meals are definitely outside our normal scope for dinner.
Creole chicken and roast veggies with charred corn rice and aioli
Jerk pork rissoles and wedges with rainbow salad and mango mayo
Truffle and mushroom risotto with pear salad and roasted hazelnuts
Garlic and oregano halloumi tacos with lemon aioli and caramelised onion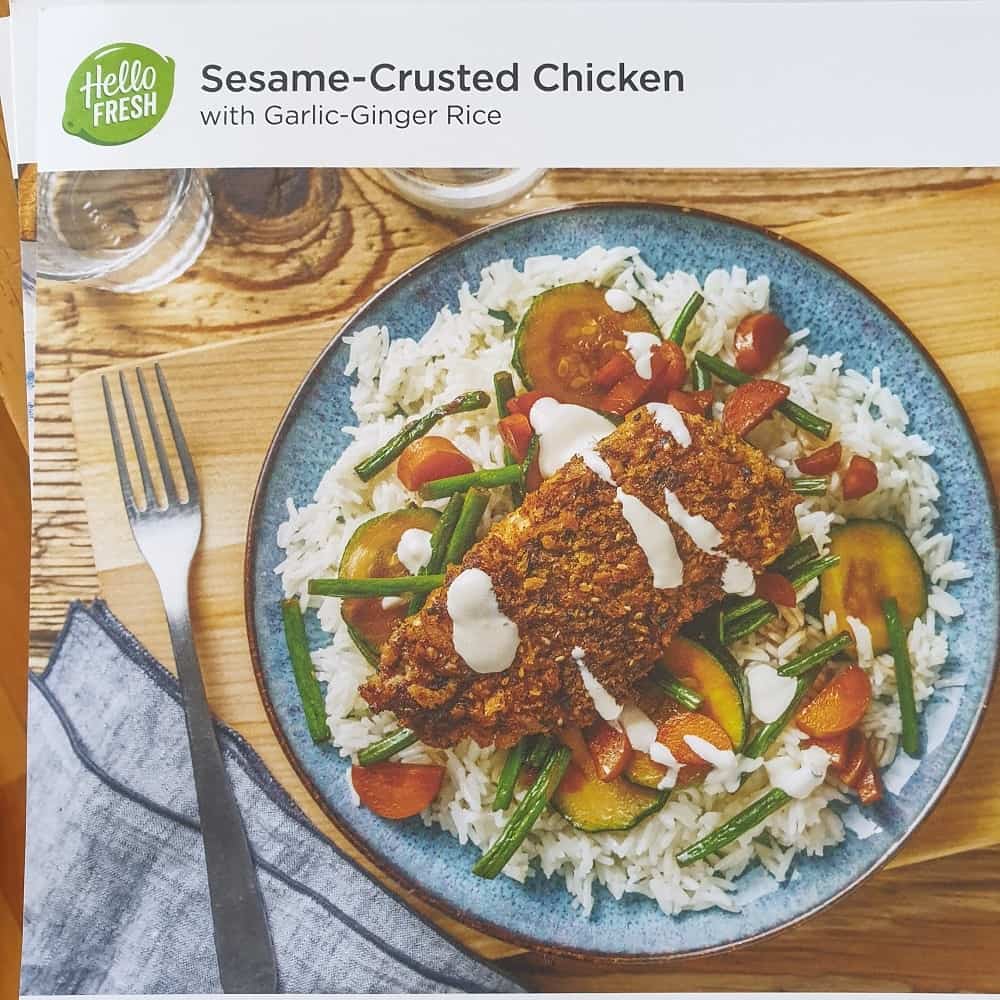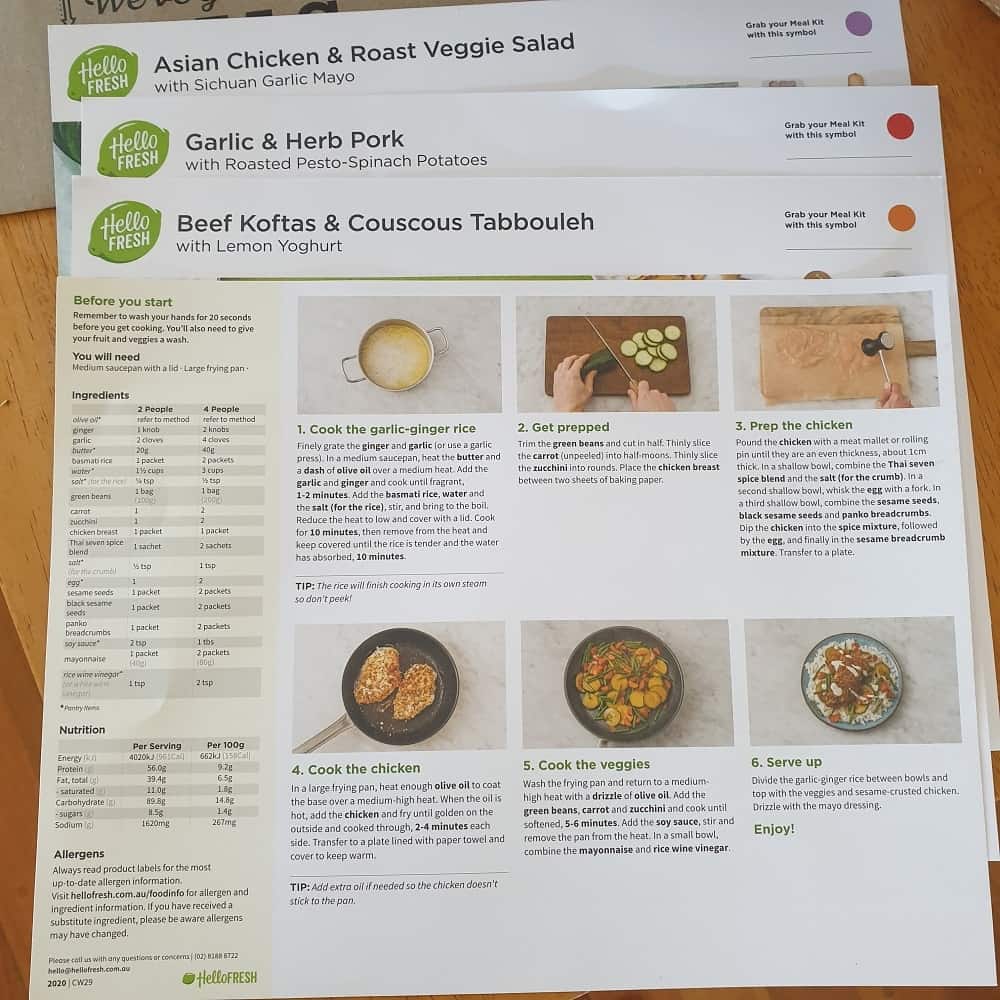 Is Hello Fresh Food Delivery Worth It For a Family?
With 4 young kids with varying degrees of fussiness, I always find it tricky to satisfy everyone. For them, the awesome flavours of the dinners here are sometimes a little too good. But I can make them a deconstructed version of the dish and still gain the benefit of the ingredients. For example, they love the creole chicken and roast veggies above.
But I hold back on the chicken seasoning, add some roast potatoes and steamed broccoli. Straight away the family meal that is supposed to feed 4 adults can easily feed my 2 adults and 4 small kids.
How Can I Get A FREE Hello Fresh Box?
Hello Fresh has a new deal for new subscribers! Use coupon code GET3MEALS to get three FREE meals in your first Hello Fresh order!
It is totally worth it. Who would not take this amazing offer? We did and it is worth every penny.
Thanks, Hello Fresh!
Can You Cancel Hello Fresh After Free Box?
Yes, you can! But most people, including us, always forget, so most people pay for their second box either accidentally or because they loved it so much.
These recipes will impress your family. We could never come up with half of these delicious recipes ourselves.
If you use a free box offer please note the following cancellation times.
To receive a free box only, you must cancel your subscription after the weekly cut-off date in the week that you order your free box, and before the following weekly cut-off date.
Is Hello Fresh Cheaper Than Grocery Shopping?
Not really, it is cheaper to buy your own ingredients from your local supermarket and prepare your own. But Hello Fresh makes it so easy, you don't have to think about what you are going to cook. What it does save you overwhelmingly is the time spent shopping for food and planning your meals. Perfect for busy working adults.
If you want to look like you are a pro chef then Hello Fresh meals will help you achieve master chef status.
Hello Fresh Review
I think it's clear from the comments throughout this article, that Hello Fresh is definitely a winner. We played with the box size, serving numbers and cost until we have found the set up that works for our family with 2 busy working parents and 4 kids, balancing time with extra-curricular activities for us all too.
I love the ease of not having to think about that nightly "ah what's for dinner" moment after a busy day at work. And we keep it to 4 dinners a week to keep costs down, simply adding a few veggies here and there to keep the kids happy too.
Our 10 year old loves to follow the simple visual recipe cards and cook meals for us too.
Watch this video to see more!
Hello Fresh Food Delivery Verdict
Give it a try and see what you think. It just may be the salvation you are looking for! As busy parents, anything that contributes to a smooth day is definitely worth a try. The reasonable cost, fast delivery and quality of the ingredients along with the fabulous variation of delicious meals makes Hello Fresh a winner in our house.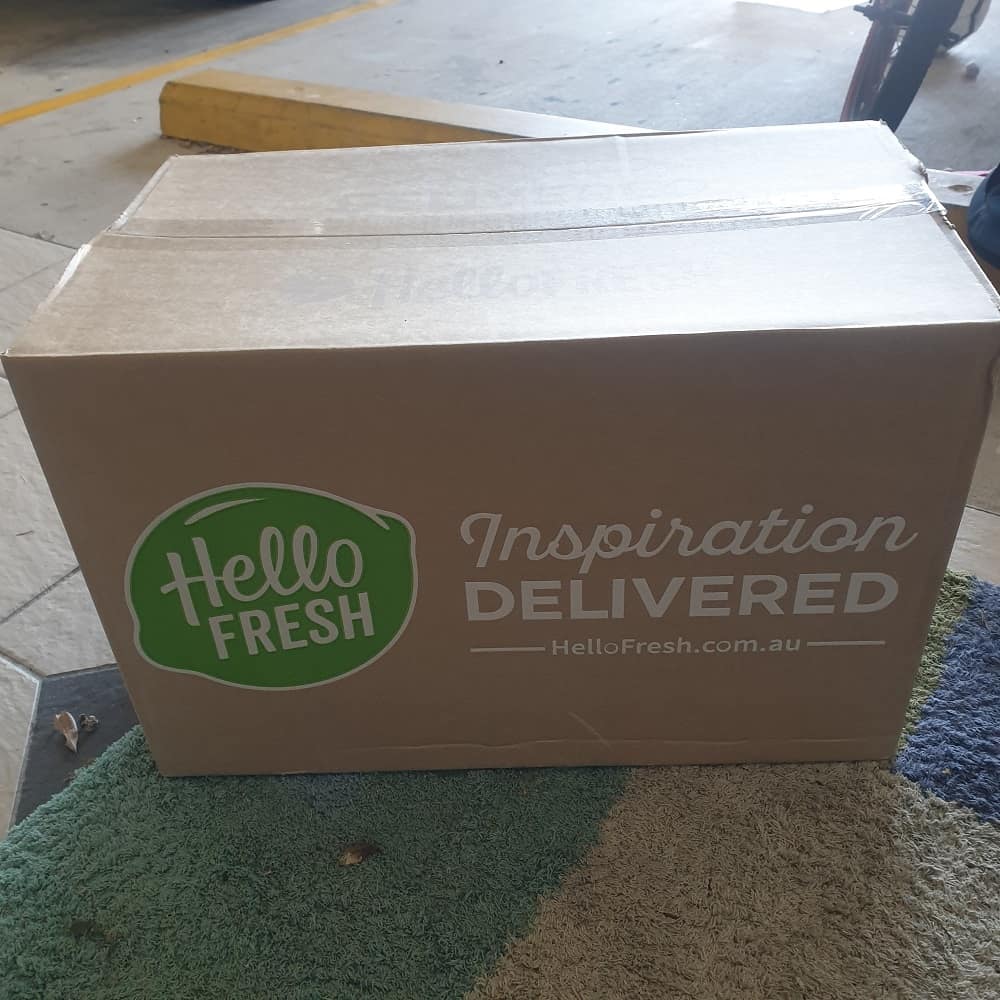 We will be reviewing all the online food service providers over the next couple of months. But until then check out these other amazing product reviews: