We just got our hands on the all-new Camps 10 Australia Wide Guide and here are our Camps 10 Review.
This book is built for savvy campers and travellers by THE MOST experienced travellers with over 20 years of knowledge.
Let's just say "Wow!" This amazingly detailed guide has the lot! I don't know where to start.
I will start with WHY you need this book for your camping in Australia toolkit.
Simple, it saves you money and time! The guide prominently lists free and budget-friendly camping areas, National Parks, State Forests, Rest Areas, Station Stays, and Showgrounds to camp at.
The book is intended as a guide only. We all know circumstances can change so make sure to check for updates on the 'Updates' Tab at Camps Australia Wide website if you have any doubts.
==>Click Here, To Grab your discounted copy of Camps 10 Australia Wide Today!<==
Camps 10 Review of Guide
Our family of 6 has been camping heavily for the past 10 years. Which lead us to an unforgettable 1 year of travelling around Australia with a Jayco Eagle.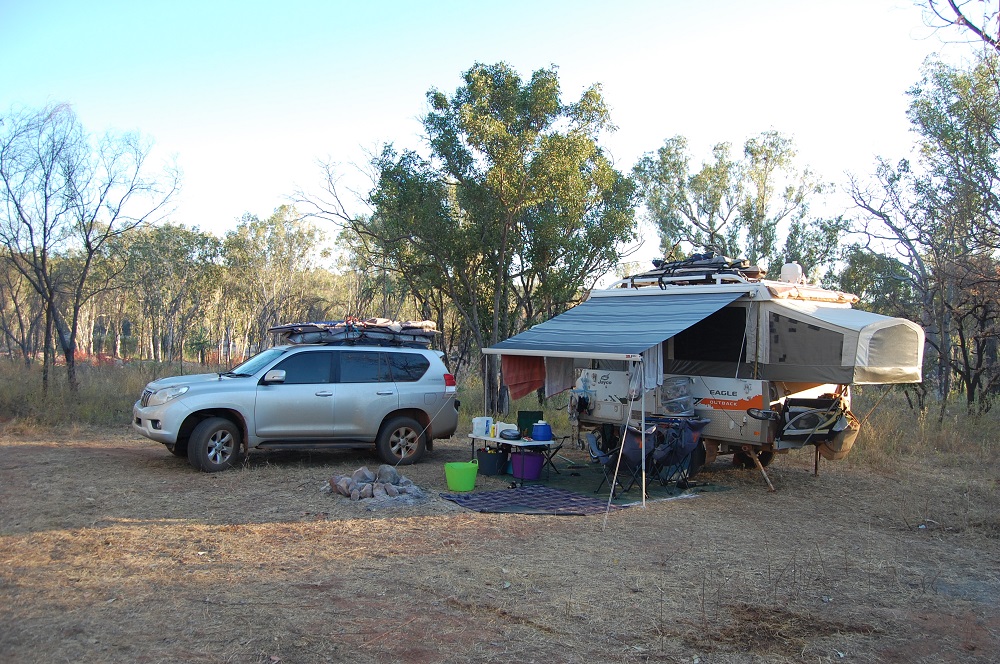 ==>Download our "Travel Australia on a Budget Spreadsheet" <==
This was the best travel experience of our lives and it wouldn't have been possible without the Camps Australia Wide Guides. Finding cheap and amazing destinations around Australia on your own is so hard because of the massive size of our beautiful country.
At the time of our big lap of Australia, we had the Camps 5 Australia Wide Guide. It was so helpful and allowed us to camp for free or cheap and within our budget everywhere around Australia. The new guide is basically the same but totally updated with some extra helpful content.
Now we have the new Camps 10 Guide which looks and feels amazing!
We saved thousands using this book. If you think spending a few dollars on the best guide in Australia isn't worth it, just consider that one night where you have to spend $80 dollars a night for an unpowered site all because you don't know where the cheap camping is located.
With Camps 10 you will know where the cheap campsites are. This guide will make you the expert, the local, and give you life experiences you can only dream of.
Don't just take our word for it, ask anybody who loves camping which is the best guide and they will all recite the words 'Camps Australia Wide 10'!
==>Grab a Copy Here and Save 15% off the regular price because you read our article.<==
The Camps Australia Wide Range of Products
Here are the Camps 10 extensive range of professional products available for your camping pleasure.
Camps Australia Wide 10 B4 Including Camps Snaps
This guide is the easy to read version with camp snaps, larger maps and larger text.
Camps Australia Wide 10 A4
This is the most popular edition and is very compact but it does not have any pictures of the sites.
Caravan Parks 5 Australia Wide A4
An easy to use and comprehensive caravan park guide for all you RV travellers.
The Camps Australia Wide Community Cookbook
This book is packed full of tried and tested recipes from Aussie Campers. It also contains awesome recipes from other fellow travellers.
This book will make your mouth water!
Camps Australia Wide POI – A Digital Download of Camps 10 & Parks 5 for your GPS
Get the latest Points of Interest (POIs) from Camps Australia Wide suitable, partnered with GPSOZ for a large variety of GPS units.
Camps Australia Wide Gift Cards
The perfect gift for the camping and caravaning addict in your circle. Available in $10, $25, $50 and $100.
Camps Australia Wide App
Camp Australia with the No.1 Campsite, RV & Caravan Parks Guide – 100% verified on your phone.
Download now for a FREE 3-day trial! Very compact and great for tech lovers.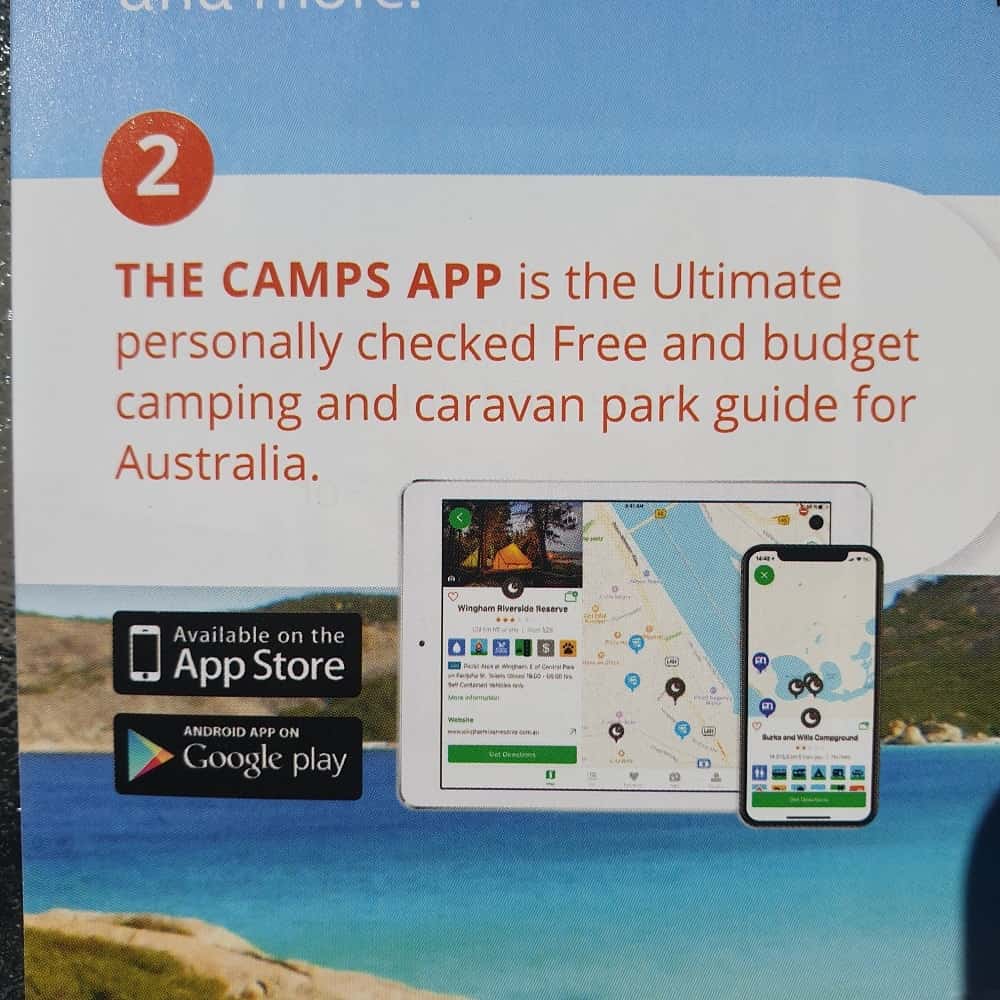 Why is Camps 10 Australia Wide So Good?
This is going to be the most detailed review of the guide that you have ever seen.
There are over 20 years of travel, research, and knowledge transferred into these exceptional books. And with so much helpful content you wonder how the creators kept the guide simple and super easy to navigate.
Some say it's like a bible to them and they don't know what they would do without it! I agree.
What's New With Camps 10?
Finding your perfect camping spot has never been easier with the new guide.
New and improved easy to read edition includes:
Better Camp Snaps
Larger Maps
Over 5000 Personally checked Free & Budget Campsites
Summary of all site facilities
Over 950 NEW campsite listings
3935 Pet Friendly Sites
A complete list of public dump points
Sites overlaid onto the latest Hema Maps
GPS Co-ordinates provided for every listing
Information About the Camps 10 Guide
At the beginning of the book, they cover some important features including:
The GPS co-ordinates used (degrees, minutes, and seconds)
Feedback contact details so they can maintain the accuracy of information
Dump Point List – Protecting our environment is a top priority so each point has GPS co-ordinates
Free & low-cost camping areas around Australia
The book also covers a set of seven principles of leaving no trace to help keep Australia beautiful. These include:
Plan ahead and prepare
Dispose of waste properly
Leave what you find
Travel and camp on durable surfaces
Minimise campfire impact and damage
Respect all flora and fauna
Be considerate and respective to your hosts and other visitors
We love these principles and live by them whenever we camp. All campers and travellers should follow these guidelines so that we can keep camping great for the future.
How to Use Camps 10 Australia Wide Guide Like a Champion!
Layout of Guide
The book has been divided into different coloured sections for each State or Territory for super easy navigation.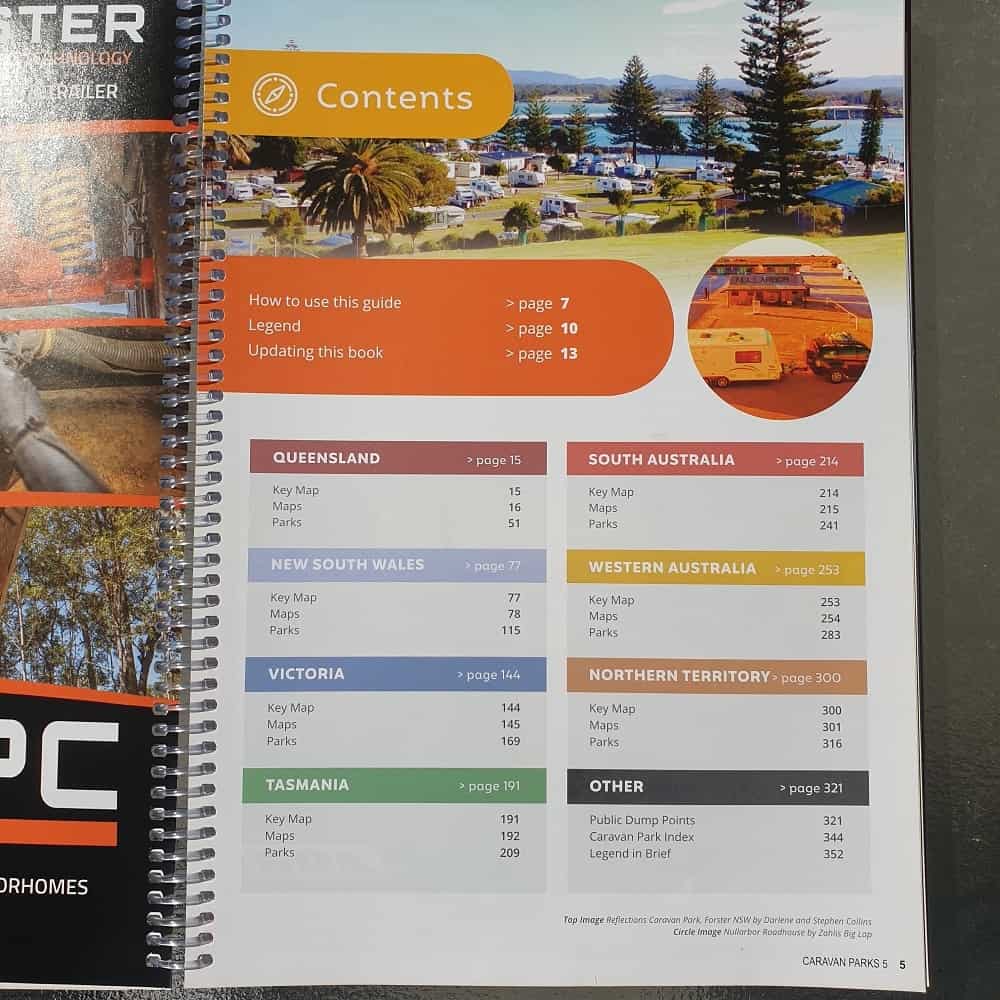 All listings are in linear order along highways and roads.
Use of Abbreviations in Camps 10
Here is a list of some main abbreviations used in the book:
Dr – Drive
Rd – Road
Ave – Avenue
Hwy – Highway
St – Street
Map References
All maps have been made by Hema with sites and site numbers from Camps Australia Wide 10 overlaid.
Below is an example of the maps used, in such great detail.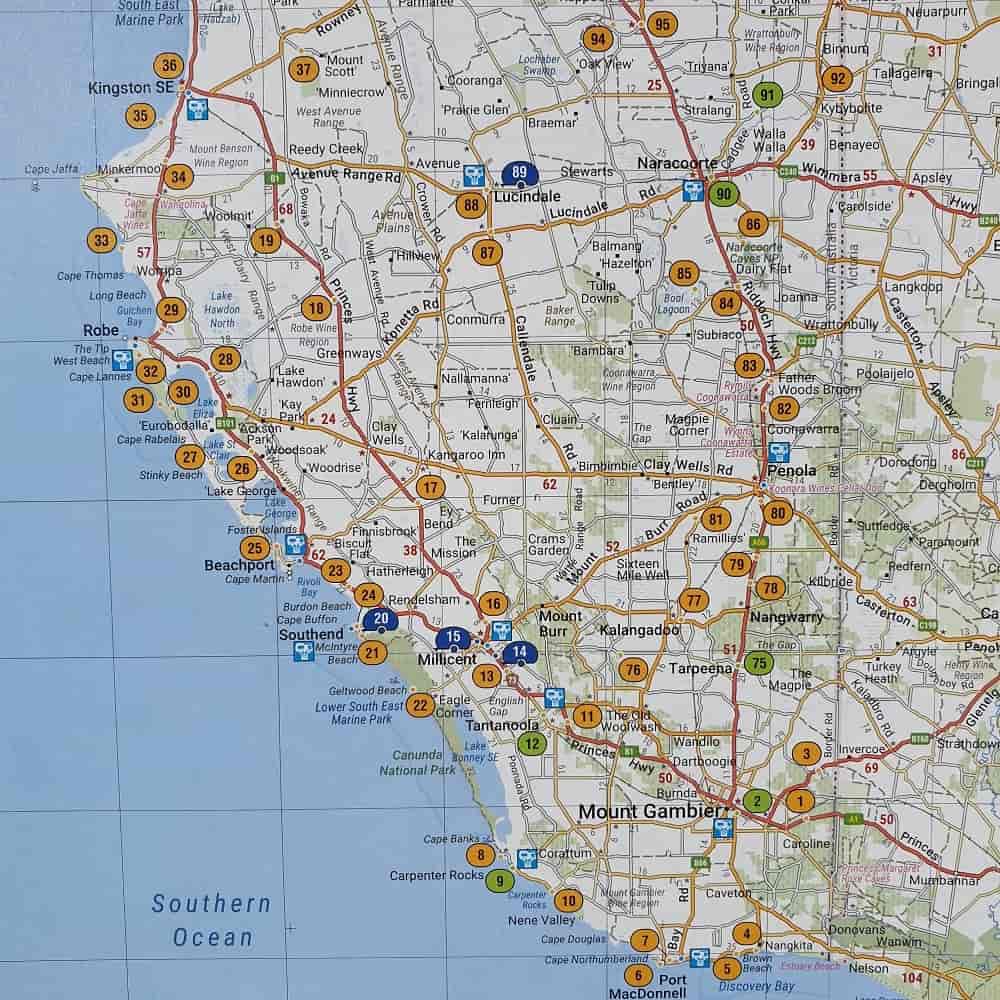 Site Classification Symbols and Map Symbols in Camps 10
They include great explanations and descriptions of site symbols which are placed as close as possible to the exact position.
Major Terms Used in Guide
Just as an example, REST AREA – An area usually located close to the highway to enable a traveller to take a break.
How to Locate a Campsite?
Knowing the name of a campsite helps, so go to the site index at the back of the book (alphabetically listed) and this will give you the site number and the relevant page number to match.
Need to find a site in a particular area? Then just look at the relevant map for site numbers in the region, then look up those sites in the numerical listing.
It is as easy as that! If we can do it you can too.
Here is an example of a camp listing for Queensland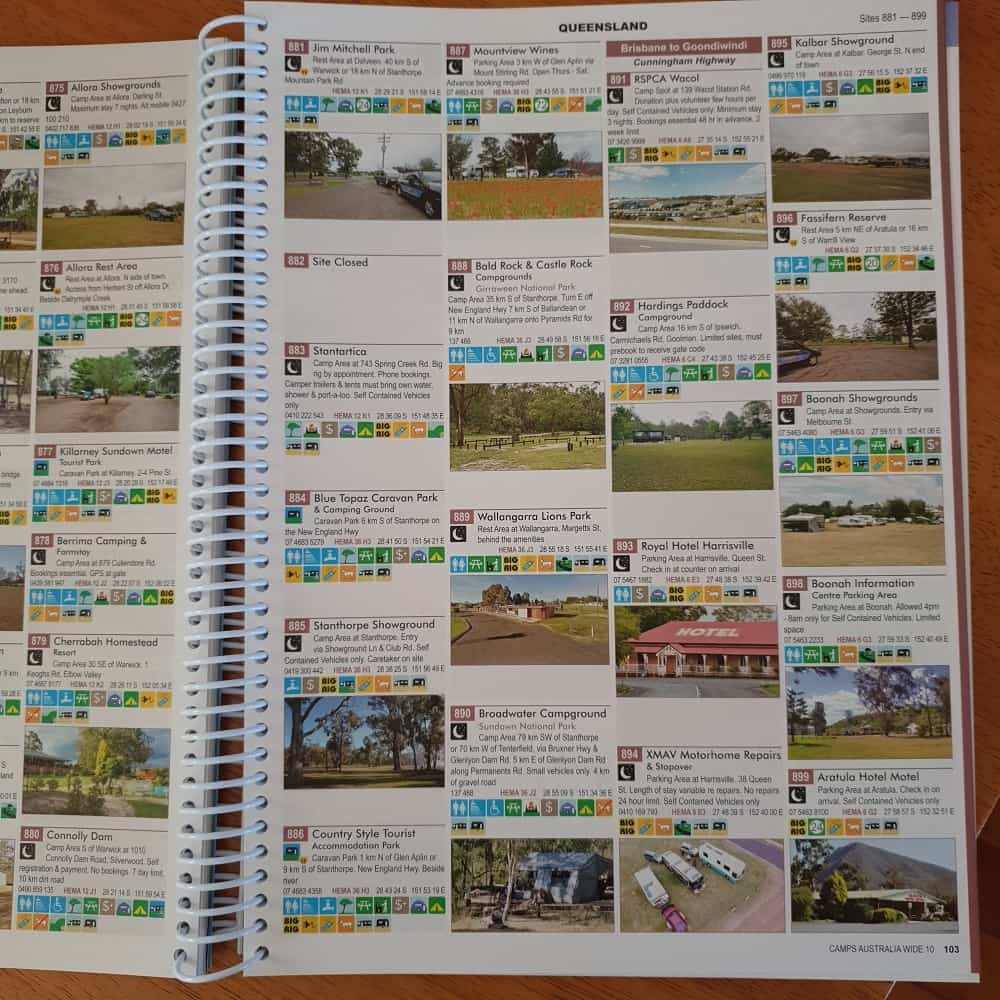 Amazing Legend for Campsites
Each site is laid out for easy interpretation making it foolproof!
Example below of the legends used.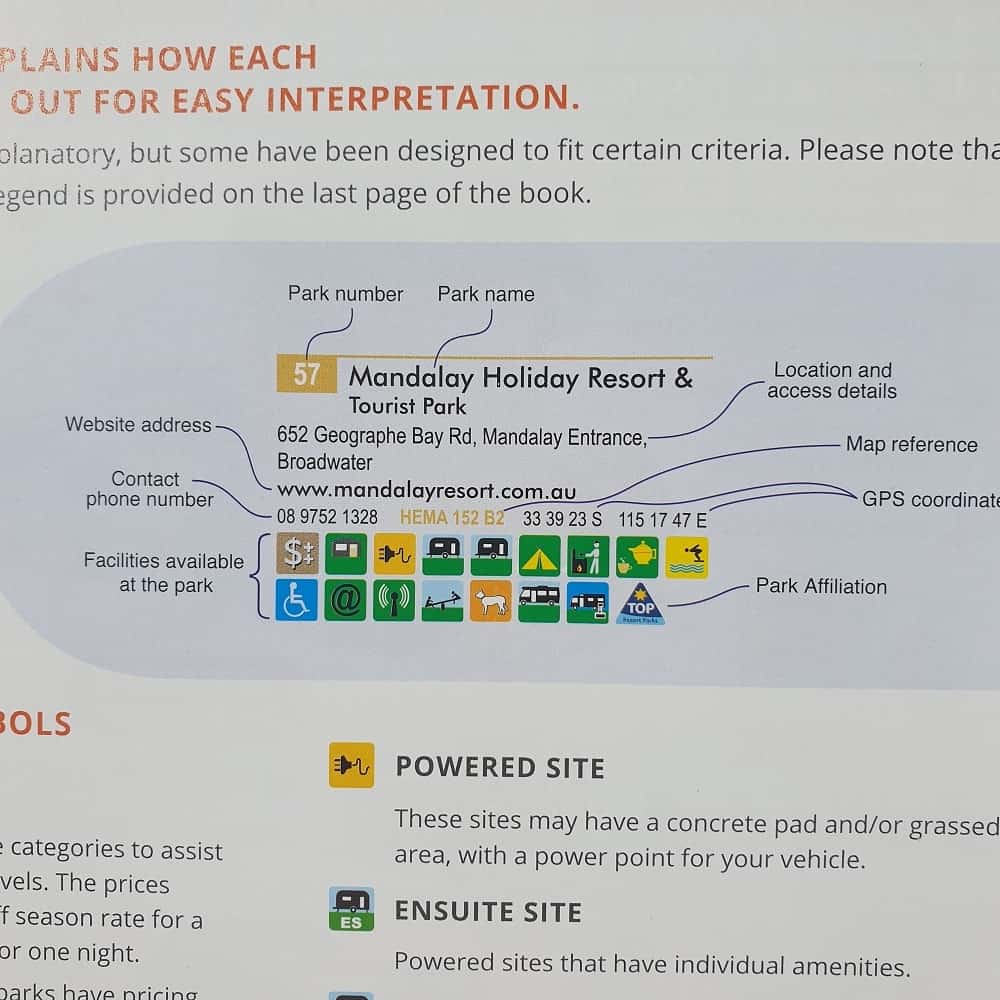 General Comments in Camps 10
Here the guide explains to the reader some important information regarding:
Road Conditions
Travelling with Pets
Generator Use
Rubbish Protocol
Toilet Waste
Firewood
Water
Hotels
Donation Areas
Maps & State Regulations to do with overnight camping
This is so helpful for all, from the nomad to the weekend warriors!
Important Contacts – Safety First!
Australia Camps 10 also includes all the important contact numbers for the following emergency services so you don't need to worry.
These include:
National Parks and Wildlife Services in all States
Aboriginal Land Permit contacts for WA, NT, and SA
Road Condition contacts for all states and territories
Vehicle Assistance numbers all states
Royal Flying Doctor Service Numbers all states and territories
Weather Information
Fruit and Quarantine Zones
I hope you have a better understanding of the power of this book and what it will do for you.
We have our copy and use it to get away from the crowds and save a ton of money. You can do the same.
Over the years you will save thousands on accommodation using this book trust me because I have!
For a limited time only and because you have come this far, we want to give you 15% OFF your first Camps 10 Australia Wide Guide!
You deserve to know about the secret camp spots in Australia.
Camps 10 Experience
Using the Australian guide is pretty easy. But with anything new, it takes a little time to get your head around the layout and legends.
Probably the hardest thing when you first pick up the Camps 10 guides is working out the maps section.
At the front of the book, they include a whole map of Australia. Here take note of the map number that surrounds the area you are looking for.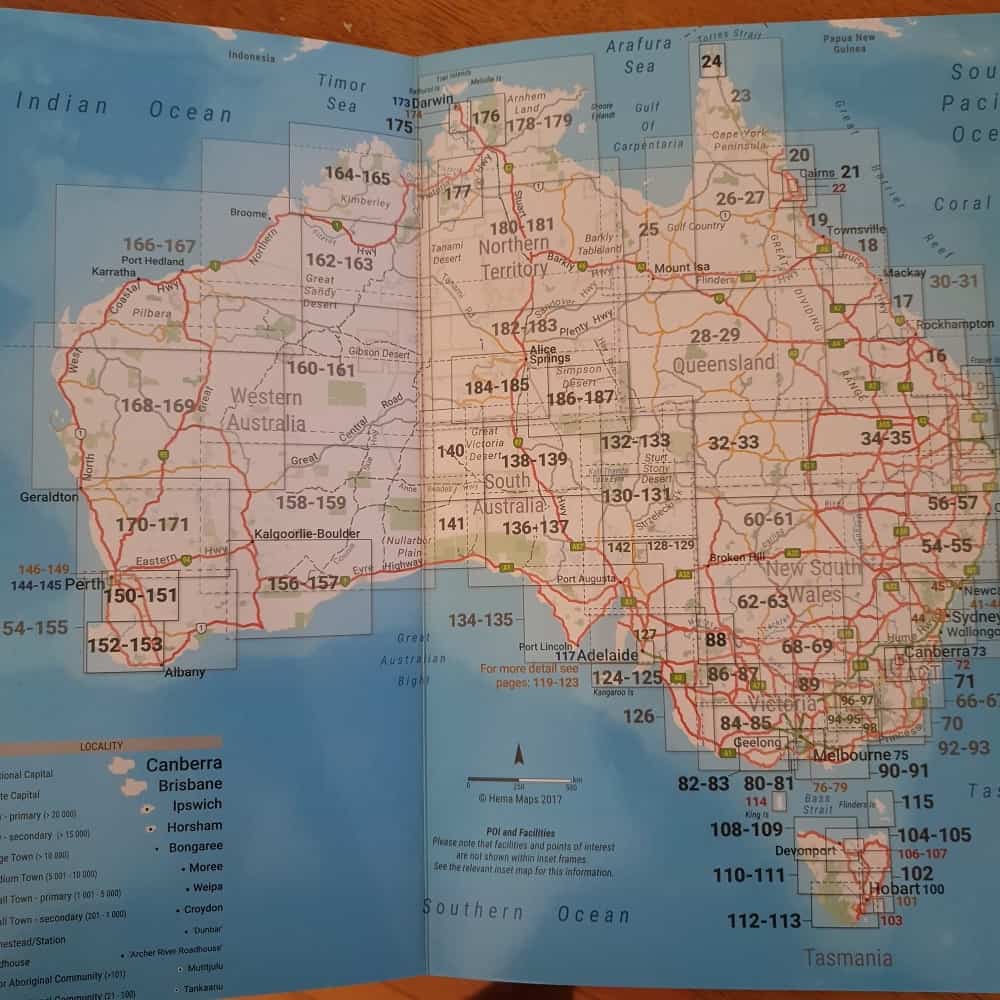 Map Numbers
Now you are looking for the map number page of your required area. Maps are at the beginning of each state and are colour coded.
Find your map number then look for the numbers near a camp you may like.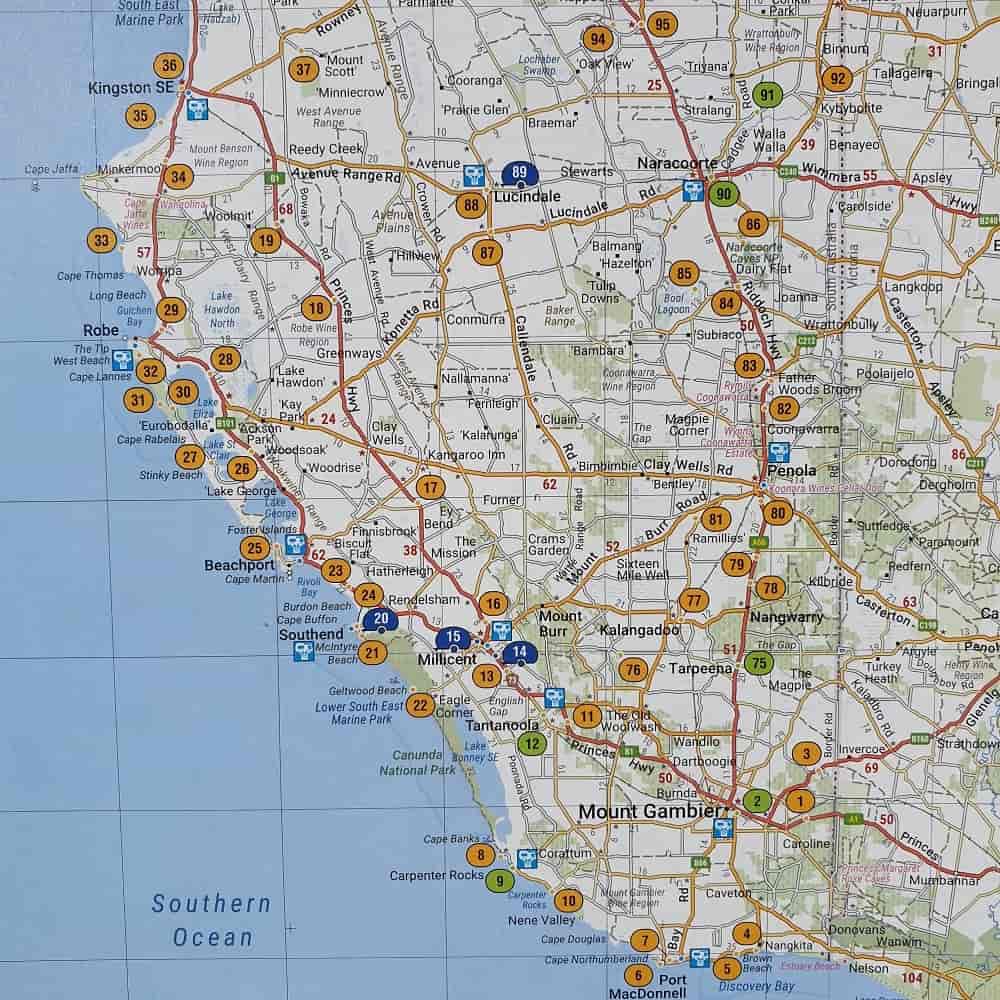 Camp Numbers
Take note of the camp area number and now go to the next section and find your number.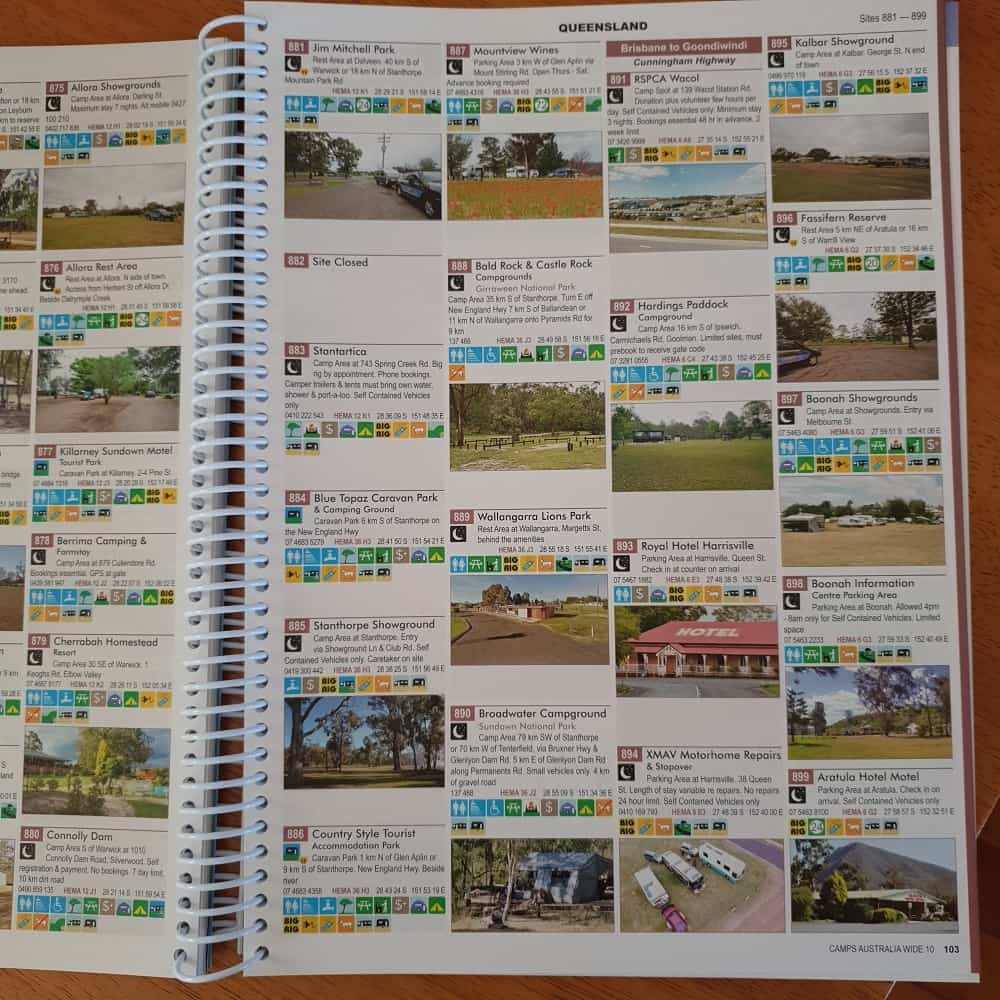 Once found follow the legend at front of the book to see what the campsite includes.
That is basically how easy it is. And each state of Australia is colour coded so do the same for any area.
Site Index For Campsites
The guides include a site index at the back of the guide if you already know the name of your campsite which makes it even quicker.
Camps 10 includes so many awesome camp areas that you would never find on your own. So many are free or really cheap compared to normal caravan parks.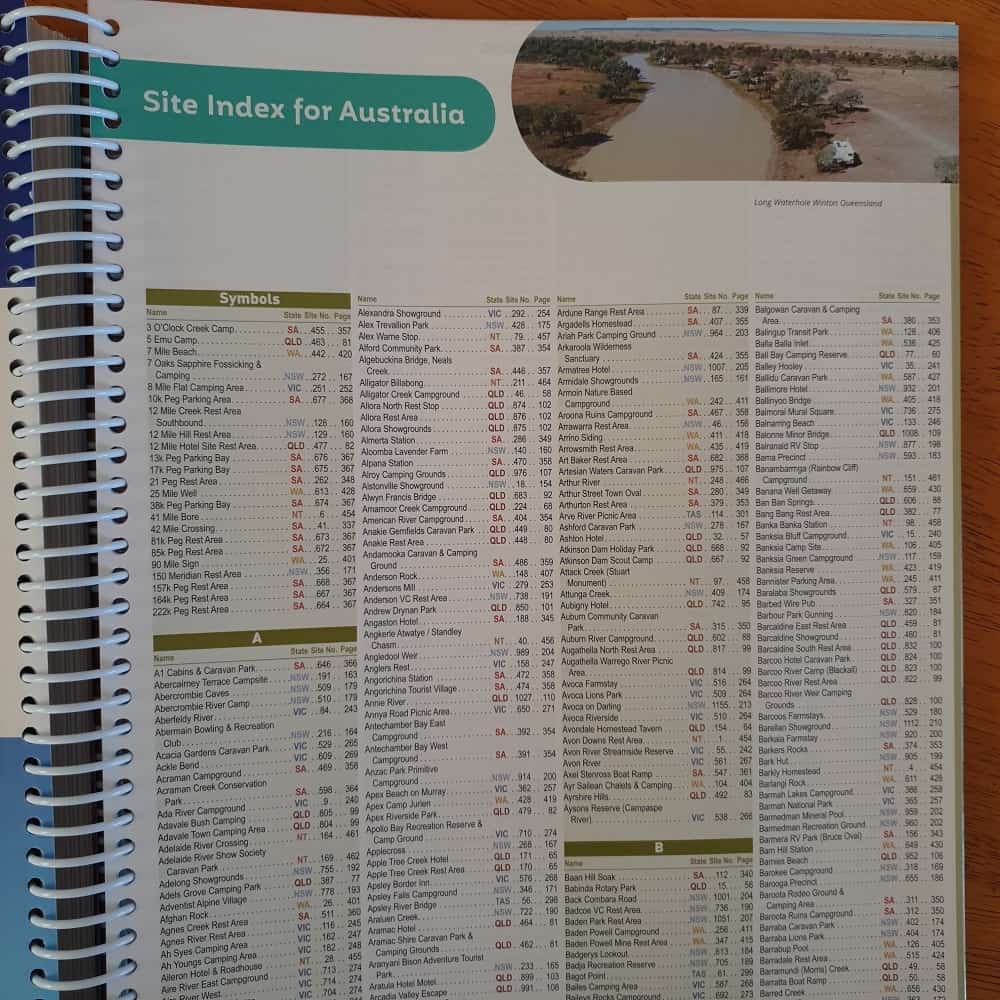 Save Money – A lot of Money!
You will save so much money, don't wait! Just get the ultimate guide for Australian travellers.
==>Grab Your Copy Now! Click Here.<==
Below for your information, we will cover some questions you may have regarding camping and caravanning in Australia. Let's go!
Camping in Australia
This is on everybody's bucket list. The big lap is one of the most amazing travel experiences you will ever have in your life.
We have travelled all around the world and seen some awesome places but nothing compares to camping in Australia.
Finding free and good quality campsites in Australia isn't always easy. There can be annoyances, dangers, and weird unexplained things happening at certain camps.
This is why you need to have the ultimate guide for camping in Australia so that you know before you go.
Camps Australia Wide App
Did you know that Camps Australia Wide has an awesome app also!
If you are the kind who loves tech and can't be bothered with a bulky guide, then just grab the app here!
It has the entire guide packed in there so you can carry it anywhere.
Enjoying a coffee in a small town and want to look for your next exciting campground and haven't got your book under your arm? Then use the compact app and search for what you are looking for.
It's that easy!
If you want to save money even more, and travel further and wider just download the easiest to use, low-cost camping and caravan park app today!
When is the Best Time to Go Camping in Australia?
If you don't know much about Australia you probably think that the whole country is just hot all the time. Well, it's not! It can be bloody freezing in winter and that is even way out West.
Australia is a country of extremes depending on where you go, so make sure you are informed before going too remote and always carry safety gear.
Best Season To Go Camping in Australia
Australia is a massive country and remember everything is opposite to the northern hemisphere. So winter in Australia is summer in Europe and America.
Everything is opposite to what you think with Australia. The general rule of thumb is:
Head north in the winter – spring months
Travel south in the summer and Autum months
If you can get this roughly right you will experience the best of our sunburnt country.
Summertime in Australia
Summer can get really hot in all parts of Australia but tends to be unbearable in the north of Queensland, Northern Territory, and northern parts of West Australia.
This is also the wet season in the north which can see cyclones and floods. Most areas are closed in the very north at this time of year. Places that close in the summertime are:
The Kimberley region – WA
Cape York – QLD
Gulf of Carpenteria – NT
Heading to the outback is not advised also during this time because the temperatures can reach high into the 40-50 Degrees Celcius. This is not pleasant and can be dangerous for your health.
Summertime in the South is better because you will have low humidity and less rain. Saying this they do experience heat waves which can get really hot, up to 45 degrees Celcius. This is a dry heat.
Avoid School Holidays
Camping in Australia is hugely popular with local Australians. So make sure you try to coordinate your trip out of school holiday periods.
If you don't you will find most campgrounds will be packed and you will be forced to camp in the worst areas.
During these times prices rise so make sure to avoid these key Australian dates below:
| State: | Dates For Australian School Holidays: | Year: |
| --- | --- | --- |
| 1. QLD | 11 DEC-28 JAN / 4 APR-19APR / 26 JUN – 13 JUL / 18 SEP – 6 OCT | 2020 |
| 2. NSW | 18 DEC-4 FEB / 9 APR-27APR / 3 JUL-20 JUL / 25 SEP-12 OCT | 2020 |
| 3. VIC | 18 DEC-28 JAN / 27 MAR-14APR / 26 JUN – 13 JUL / 18 SEP – 5 OCT | 2020 |
| 4. SA | 11 DEC-28 JAN / 9 APR-27APR / 3 JUL – 20 JUL / 25 SEP – 12 OCT | 2020 |
| 5. WA | 17 DEC-3 FEB / 9 APR-28APR / 3 JUL – 20 JUL / 25 SEP – 12 OCT | 2020 |
| 6. NT | 17 DEC-28 JAN / 9 APR-20APR / 26 JUN – 21 JUL / 25 SEP – 12 OCT | 2020 |
| 7. ACT | 18 DEC-3 FEB / 9 APR-27APR / 3 JUL – 20 JUL / 25 SEP – 12 OCT | 2020 |
| 8. TAS | 17 DEC-5 FEB / 9 APR-27APR / 3 JUL – 20 JUL / 25 SEP – 12 OCT | 2020 |
What is the Best Caravan Park in Australia?
This is really a personal preference and depends on what you love about the great outdoors.
Here is the hotlist from Escape voted by who knows!
Big4 Deniliquin Holiday Park, NSW
Rac Cervanes Holiday Park, WA
Marengo Holiday Park, VIC
Sea Vu Caravan Park, SA
Big4 Gold Coast Holiday Park, QLD
Tathra Beachside, NSW
North Star Holiday Resort, NSW
Big4 Macdonnell Range Holiday Park, NT
Big4 West Beach Parks (ADELAIDE SHORES), SA
Best Camping Areas Around Australia
We have stayed in a lot and here is our top list of affordable camping grounds in Australia that we loved:
Queensland
Cape Tribulation Camping – Daintree QLD
Ellis Beach Oceanfront Bungalows & Camping
NRMA Palm Cove Holiday Park
BIG4 Rowes Bay Beachfront Holiday Park
Horseshoe Bay Resort
Discovery Parks – Airlie Beach
Notch Point Campground (Yarrawonga Park Reserve)
Eungella Dam Campground
Discovery Parks – Tannum Sands
Agnes Water Beach Holidays
Fraser Island Seventy Five Mile Beach Camping
Inskip Camping
Double Island National Park Campground
Ocean Beach camping area Bribie Island
New South Wales
Broken Head Holiday Park Byron Bay
Calypso Yamba Holiday Park
Yuraygir National Park Campground
Darlington Beach Holiday Park
Kangaroo Valley
Trial Bay Gaol Campground
Point Plomer Campground
Kylies Beach Campground
Mungo Brush Campground
Reflections Holiday Parks Seal Rocks
Kendalls On The Beach Holiday Park
Bristol Point Camping Ground
Depot Beach Views Holiday Accommodation
Gillards Campground
NRMA Merimbula Beach Holiday Park
Victoria
Wilsons Promontory Camping Area
Borough Huts Campground, Grampians
Princess Margaret Rose Cave Campgrounds
South Australia
Tenbury Hunter Reserve, Murray River
Deep Creek National Park
BIG4 Port Willunga Tourist Park
Wilpena Park Caravan Park
Pondalowie Bay Campground6, Innes National Park
WoodCutters Campground, Lincoln National Park
Yangie Bay Campground
Perlubie Beach Camp, Streaky Bay
Point Sinclair Campground
Western Australia
Le Grand Beach Campground, Esperance
East Bay Camping Ground
Parry Beach Campsite
Banksia Campground
Roundtu-it Eco Caravan Park
Pemberton Caravan Park
Conto Campground
Margret River Eco Lodge
Yallingup Beach Holiday Park
The Cut Campground, Leschenault Peninsula
Sandy Cape Recreation Park
BIG4 Sunset Beach Holiday Park
Coronation Beach Campground
Denham Seaside Caravan Park
Red Bluff Campsite
Ningaloo Coral Bay – Bayview
Elles Beach Campground
Osprey Bay Campground
Yardie Creek Campground
Dales Campground
Eighty Mile Beach
Windjana Gorge Campground, Kimberly
Silent Grove Campground, Kimberly
Manning Gorge Campground, Kimberly
Ellenbrae Station, Kimberly
Home Valley Station, Kimberly
El Questro Station, Kimberly
Northern Territory
Litchfield National Park
Kakadu National Park
West MacDonnell National Park Campgrounds
Ayers Rock Campground
Now that is a list! We enjoyed staying at all these but that was our big family.
There are so many more we never even visited. To check them out before wasting precious time just go into the Camps 10 Australia Wide guide and find out some helpful information first.
How Much are Campsites in Australia?
Campsite costs will depend on a few factors. First of all, it will depend on:
Whether you choose a powered or unpowered site
Number of People Travelling in family or group
Ages of children (Under 2-3 is usually free)
Season of travel (Off-peak / Peak)
Location of Camp area (Beachfront / City etc)
Size of the rig (Some sites charge extra for larger caravans or trailers)
As a rough guide prices start from around $35 to $80 a night in most major camping areas.
The more remote you go expect to pay less. Camping has really seen a boom over the last few years which has drastically affected prices everywhere.
Usually, you can visit most site's websites to find out how much you are going to have to pay.
Hot tip! Make sure you book in advance in popular spots because you will miss out!
Where Can you Camp for Free in Australia?
There are a million camp areas in Australia that are free.
But the only real way to find them is to get your hands on the Camps 10 Australia Wide Guide that will show you where to find them.
==>Grab your copy here and find where you can camp for FREE!<==
Camps 10 Review Verdict
There isn't really any major competition for the Camps 10 guides, they are just the best.
I wouldn't recommend any other guide apart from Camps 10. It just has everything you need and is made in Australia by real travelling Australian's.
The guides are made tough with durable paper, binding, and covers. Information in these guides will blow you away, once you have one of the Camps 10 guides you will wonder how on earth you got around before!
We wouldn't travel with anything else and we have done the big lap so get the guide and travel forever!
Thank you for reading the Camps 10 review!
==>Click Here, To Grab your discounted copy of Camps 10 Australia Wide Today!<==
Find out more about the guides here: