We just got our hands on the all-new Caravan Parks 5 Australia Wide Guide for RV & Caravan travellers.
This guidebook is the absolute bible when it comes to finding the best spots in Australia while hauling a large rig.
Caravan Parks 5 is an amazingly detailed guide that has the lot! You won't find a better guide on the planet.
I will start with WHY you need this book for your caravan journey. It is an Australian icon and must be a part of your travel toolkit.
It's simple, it saves you money and time! The guide lists different caravan parks divided into states and territories.
The book is intended as a guide only. We all know circumstances can change so make sure to check for updates on the 'Updates' Tab at Camps Australia Wide website if you have any doubts.
If staying in caravan parks isn't your style, then have a read of the Camps 10 Australia Wide Post.
==>Click Here, To Grab your discounted copy of Caravan Parks 5 Australia Wide Today!<==
Caravan Parks 5 Australia Wide Guide
Our family of 6 has been travelling heavily for the past 10 years. We ended up taking an unforgettable 1 year off to travel around Australia with a Jayco Eagle.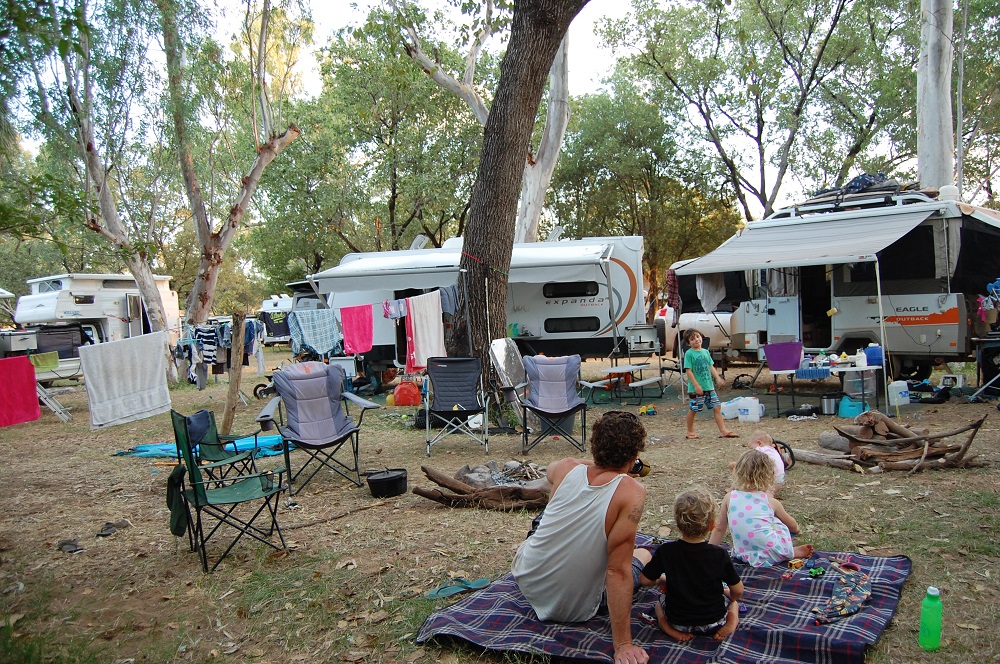 This was the best travel experience of our lives and it wouldn't have been possible without the Caravan Parks 5 Guides. Finding awesome caravan parks around Australia is hard because of the sheer size of our beautiful country.
At the time of our big lap of Australia, we had the Caravan Parks 5 Australia Wide Guide, It was so helpful being able to plan ahead and have all the information at our fingertips. This saved us money and enabled us to make quick smart decisions about our next adventure.
Now we have the new Caravan Parks 5 guide which looks and feels amazing!
We saved thousands using this book. If you think spending a few dollars on the best guide in Australia isn't worth it, just consider that one night where you have to spend $80 dollars a night for an unpowered site all because you don't know where the cheap camping is located.
This will really eat into your budget.
With Caravan Parks 5 you will know and you will know what to expect. This guide will make you the expert, the local, and give you life experiences you can only dream of.
Don't just take our word for it, ask anybody who travels which is the best guide for RV travel and they will all say the words 'Caravan Parks 5 Australia Wide'!
==>Grab a Copy Here and Save 15% off the regular price because you read our article.<==
The Camps Australia Wide Range of Products
Here is the Camps's extensive range of professional products available for your camping pleasure.
Camps Australia Wide 10 B4 Including Camps Snaps
This guide is the easy-to-read version with camp snaps, larger maps, and larger text.
Camps Australia Wide 10 A4
This is the most popular edition and is very compact but it does not have any pictures of the sites.
Caravan Parks 5 Australia Wide A4
An easy-to-use and comprehensive caravan park guide for all you RV travellers.
The Camps Australia Wide Community Cookbook
This book is packed full of tried and proven recipes from Aussie Campers. It also contains awesome recipes from other fellow travellers.
This book will make your mouth water!
Camps Australia Wide POI – A Digital Download of Camps 10 & Parks 5 for your GPS
Get the latest Points of Interest (POI) from Camps Australia Wide suitable, partnered with GPSOZ for a large variety of GPS units.
Camps Australia Wide Gift Cards
The perfect gift for camping, a caravaning addict in your circle. Available in $10, $25, $50 and $100 dollars.
Camps Australia Wide App
Camp Australia with the No.1 Campsite, RV & Caravan Parks Guide – 100% verified on your phone. Watch this video!
Has a FREE 3-day trial! Very compact and great for tech lovers.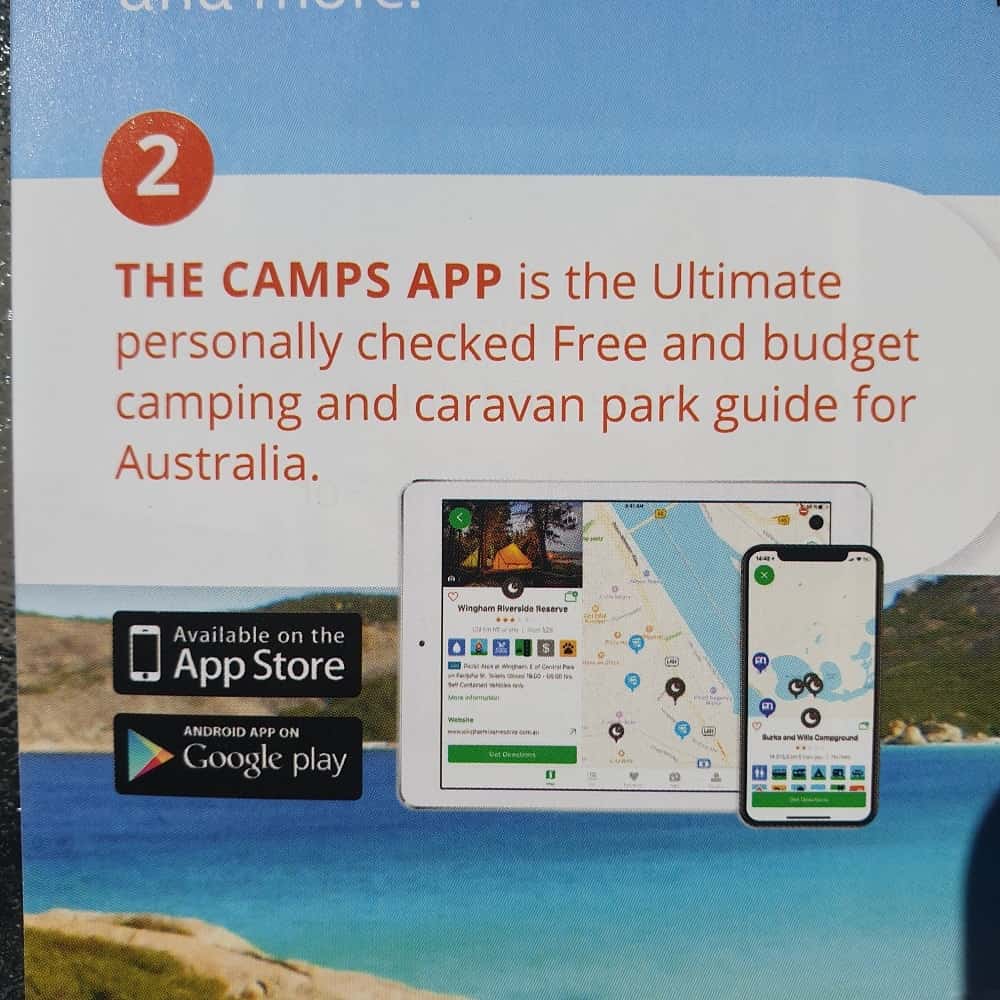 What's In Caravan Parks 5 Australia Wide that Makes It So Good?
Stay with me! This is going to be the most detailed rundown on the guide that you have ever seen.
There are over 20 years of travel, research, and knowledge transferred into these exceptional books. And with so much helpful content you wonder how the creators kept the guide simple and super easy to navigate.
Some say it's like a bible to them and they don't know what they would do without it!
What's New With Caravan Parks 5?
Finding your perfect caravan park has never been easier with the new guide.
New and improved this edition includes:
New Fold Out Map to Plot Your Journey On
Over 2240 Personally Checked Listings
Summary of all site facilities
Over 27 NEW Caravan Park listings
1830 Pet Friendly Caravan Parks
A complete list of public dump points
Sites overlaid onto the latest Hema Maps
Full GPS Co-ordinates provided for every listing
Information About the Caravan Parks 5 Guide
At the beginning of the book they cover some important features including:
The GPS Co-ordinates used, which are all in (Degrees, Minutes, Seconds)
Feedback contact details so they can maintain accuracy of information
Dump Point List – Protecting our environment is top priority so each point has GPS co-ordinates
Caravan Parks around Australia
How to Use Caravan Parks 5 Australia Wide Guide
Layout of Guide
The book has been divided into different coloured sections for each State or Territory for super easy navigation.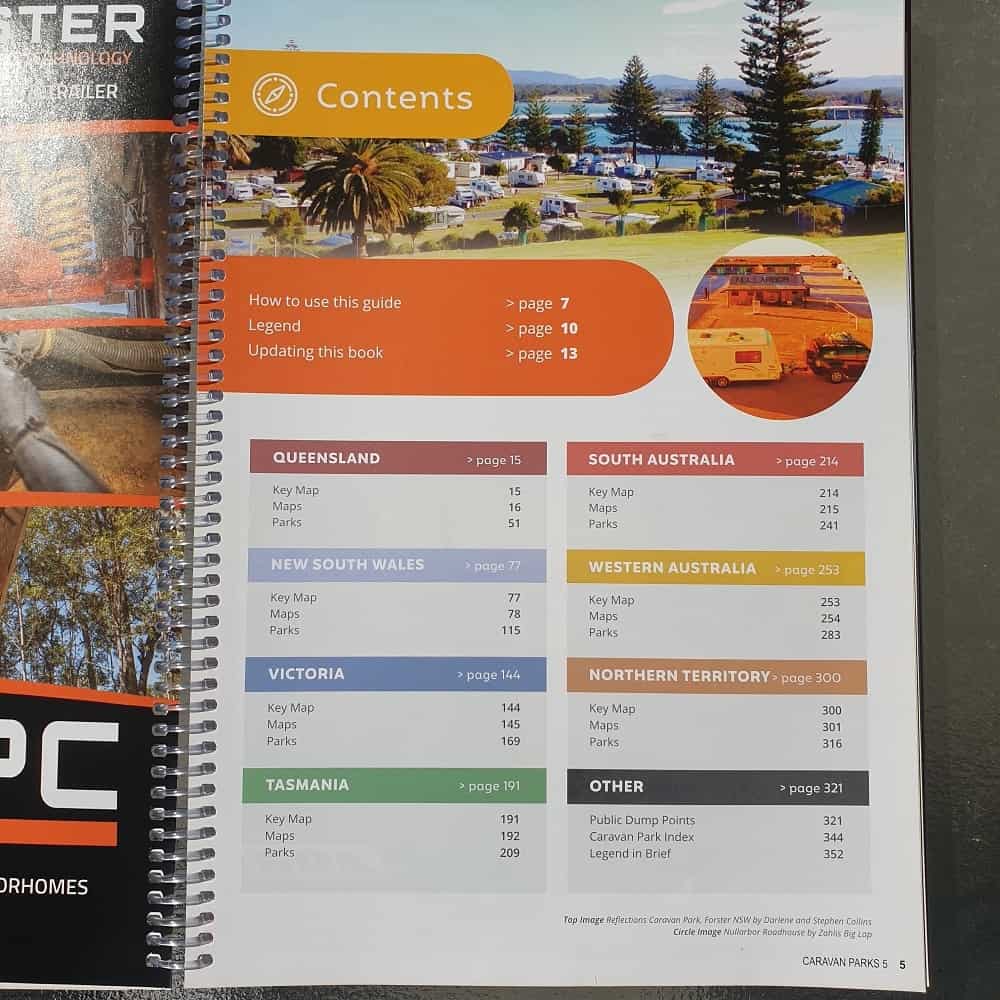 All listings are in linear order along highways and roads.
Use of Abbreviations in Caravan Parks 5
Here is a list of some main abbreviations used in the book:
Dr – Drive
Rd – Road
Ave – Avenue
Hwy – Highway
St – Street
Map References
All maps have been made by Hema with sites and site numbers from Caravan Parks 5 Australia Wide overlaid.
Below is an example of the maps used, such great detail.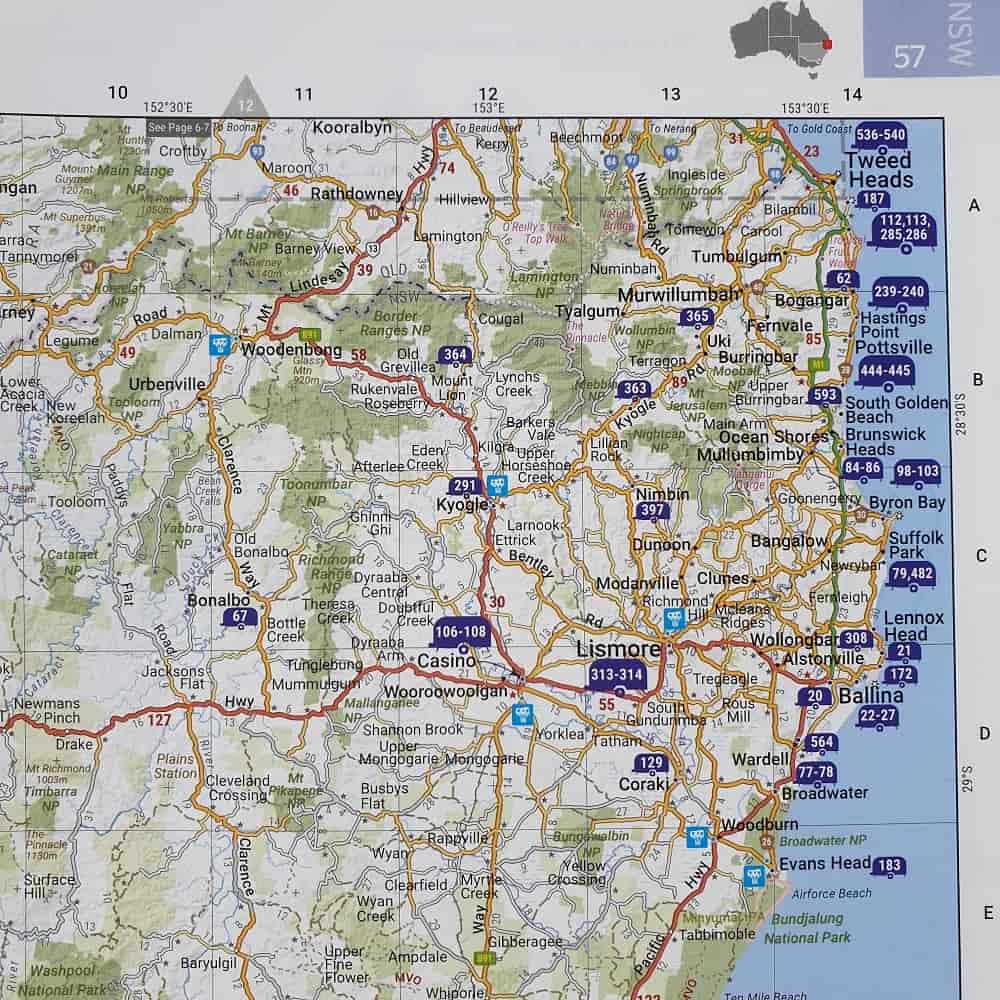 Site Classification Symbols and Map Symbols in Caravan Parks 5 Australia
They include a great explanations and descriptions of site symbols which are placed as close as possible to the exact position.
Major Terms Used in Guide
Just as an example, REST AREA – An area usually located close to the highway to enable a traveller to take a break.
How to Locate a Caravan Park?
Knowing the name of a Park helps, so go to the site index at the back of the book (alphabetically listed) and this will give you the site number and the relevant page number to match.
Need to find a Caravan Park in a particular area? Then just look at the relevant map for site numbers in the region, then look up those sites in the numerical listing.
It is as easy as that! If we can do it you can too.
Here is an example of a Caravan Park listing for Queensland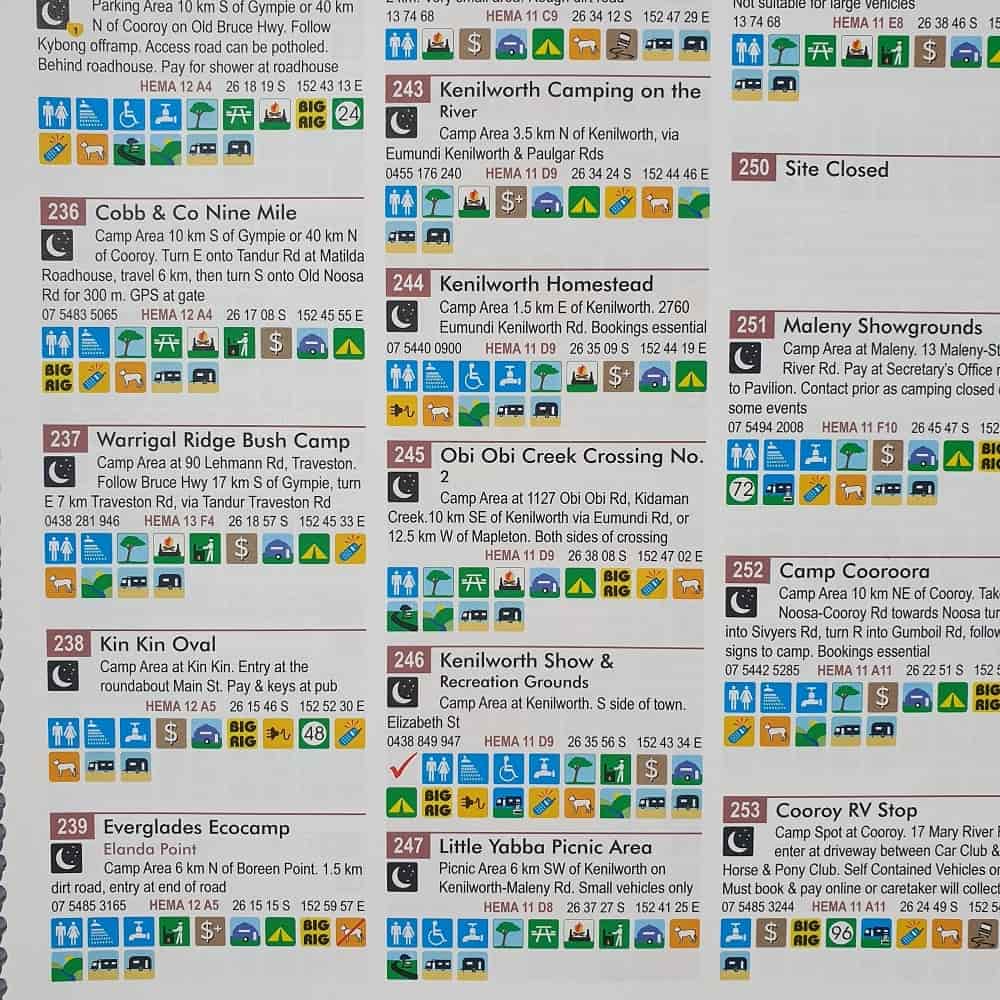 Amazing Legend for Caravan Parks
Each site is laid out for easy interpretation making it foolproof!
The example below of the legends used.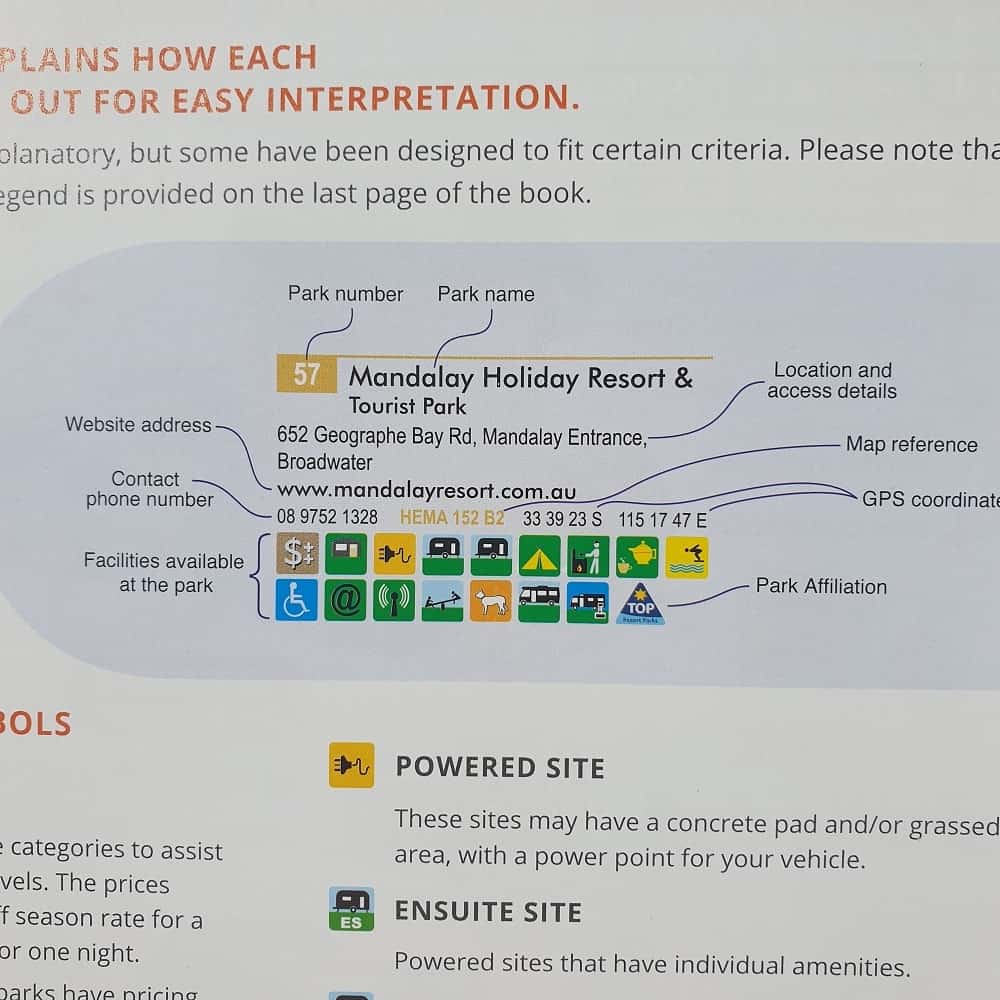 General Comments in Caravan Parks 5
Here the guide explains to the reader some important information regarding:
Road Conditions
Travelling with Pets
Generator Use
Rubbish Protocol
Toilet Waste
Firewood
Water
Hotels
Donation Areas
Maps & State Regulations to do with overnight camping
This is so helpful to the nomad or weekend warriors!
Important Contacts – Safety First!
Caravan Parks 5 also includes all the important contact numbers for the following emergency services so you don't need to worry.
These include:
National Parks and Wildlife Services in all States
Aboriginal Land Permit contacts for WA, NT and SA
Road Condition contacts for all states and territories
Vehicle Assistance numbers all states
Royal Flying Doctor Service Numbers all states and territories
Weather Information
Fruit and Quarantine Zones
I hope you have a better understanding of the power of this book and what it will do for you.
We have our copy and use it to get away from the crowds and save a ton of money. You can do the same.
Over the years you will save thousands on accommodation using this book trust me because I have!
For a limited time only and because you have come this far, we want to give you 15% OFF your first Caravan Parks 5 Australia Wide Guide!
You deserve to know where all the best caravan parks are in Australia.
==>Grab Your Copy Now & Save 15%! Click Here<==
Below for your information, we will cover some questions you may have regarding camping and caravanning in Australia. Let's go!
Camping in Australia
This is one of the most amazing travel experiences you will ever have in your life, trust me!
We have travelled all around the world and seen some awesome places but nothing compares to camping in Australia.
Finding free and good quality campsites in Australia isn't always easy. There can be annoyances, dangers, and weird unexplained things happening at certain camps.
This is why you need to have the ultimate guide for camping in Australia so that you know before you go.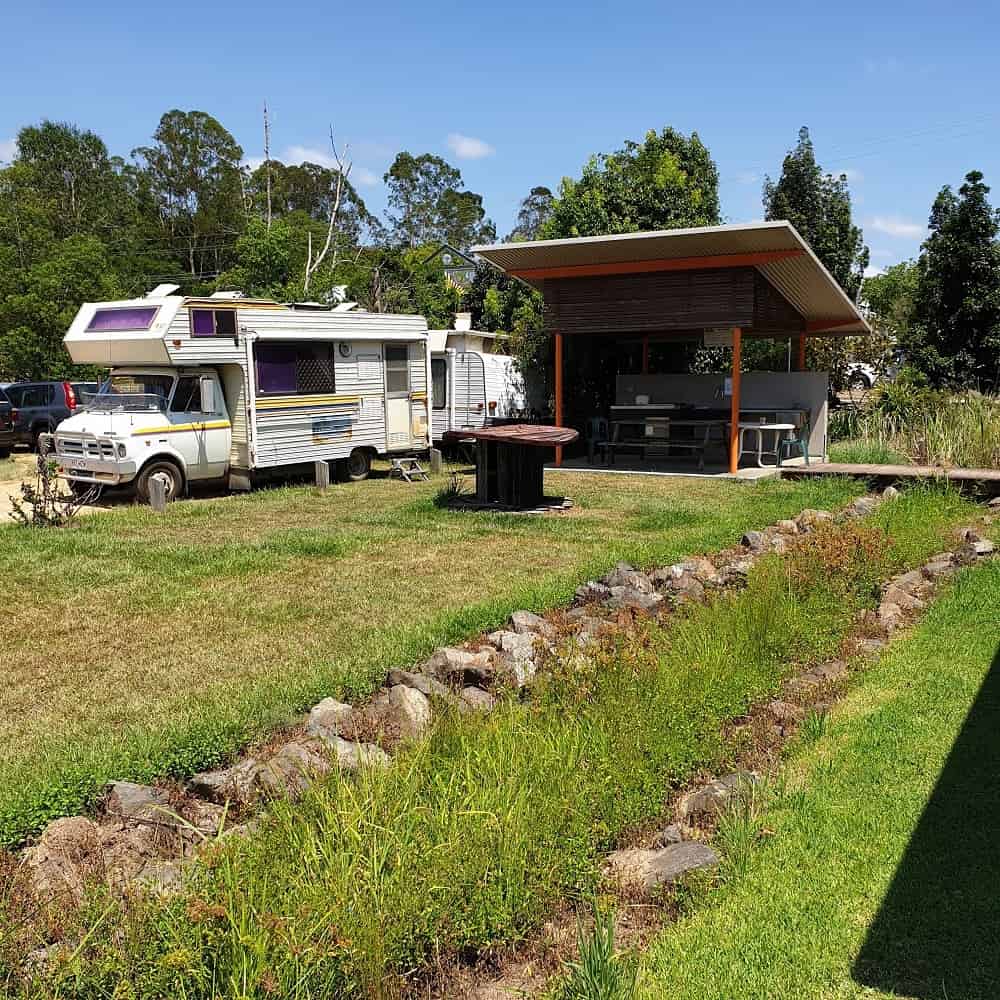 Best Places to See in Australia
We have been all around our beautiful country and discovered so many amazing places.
But we narrowed it down to 26 of the Best Places to See in Australia! See what you think and comment down below.
Camps Australia Wide App
Did you know that Camps Australia Wide has an awesome app also!
If you are the kind who loves tech and can't be bothered with a bulky guide, then just grab the app here!
It has the entire guide packed in there so you can carry it anywhere.
Enjoying a coffee in a small town and want to look for your next exciting campground and haven't got your to book under your arm. Then use the compact app and search for what you are looking for.
It's that easy!
If you want to save money even more and travel further and wider just download the easiest to use, low-cost camping and caravan park app today!
When is the Best Time to Go Camping in Australia?
If you don't know much about Australia you probably think that the whole country is just hot all the time. Well it's not! It can be bloody freezing in winter and that is even way out West.
Australia is a country of extremes depending on where you go, so make sure you are informed before going too remote and always carry safety gear.
Best Season To Go Camping in Australia
Australia is a massive country and remembers everything is opposite to the northern hemisphere. So winter in Australia is summer in Europe and America.
The general rule of thumb is:
Head north in the winter – spring months
Travel south in the summer and Autumn months
If you can get this roughly right you will experience the best of our sunburnt country.
Summertime in Australia
Summer can get really hot in all parts of Australia but tends to be unbearable in the north of Queensland, Northern Territory, and northern parts of West Australia.
This is also the wet season in the north which can see cyclones and floods. Most areas are closed in the very north at this time of year. Places that close in the summertime are:
The Kimberley region – WA
Cape York – QLD
Gulf of Carpenteria – NT
Heading to the outback is not advised also during this time because the temperatures can reach high into the 40-50 Degrees Celcius. This is not pleasant and can be dangerous for your health.
Summertime in the south is better because you will have low humidity and less rain. Saying this they do experience heat waves which can get really hot, up to 45 degrees Celcius. This is a dry heat.
Avoid School Holidays
Camping in Australia is hugely popular with local Australians. So make sure you try to coordinate your trip outside of school holiday periods.
If you don't you will find most campgrounds will be packed and you will be forced to camp in the worst areas.
During these times prices rise so make sure to avoid these key Australian dates below:
| State: | Dates For Australian School Holidays: | Year: |
| --- | --- | --- |
| 1. QLD | 11 DEC-28 JAN / 4 APR-19APR / 26 JUN – 13 JUL / 18 SEP – 6 OCT | 2020 |
| 2. NSW | 18 DEC-4 FEB / 9 APR-27APR / 3 JUL-20 JUL / 25 SEP-12 OCT | 2020 |
| 3. VIC | 18 DEC-28 JAN / 27 MAR-14APR / 26 JUN – 13 JUL / 18 SEP – 5 OCT | 2020 |
| 4. SA | 11 DEC-28 JAN / 9 APR-27APR / 3 JUL – 20 JUL / 25 SEP – 12 OCT | 2020 |
| 5. WA | 17 DEC-3 FEB / 9 APR-28APR / 3 JUL – 20 JUL / 25 SEP – 12 OCT | 2020 |
| 6. NT | 17 DEC-28 JAN / 9 APR-20APR / 26 JUN – 21 JUL / 25 SEP – 12 OCT | 2020 |
| 7. ACT | 18 DEC-3 FEB / 9 APR-27APR / 3 JUL – 20 JUL / 25 SEP – 12 OCT | 2020 |
| 8. TAS | 17 DEC-5 FEB / 9 APR-27APR / 3 JUL – 20 JUL / 25 SEP – 12 OCT | 2020 |
Is Camping popular in Australia?
Oh yeah! Aussies love the great outdoors and camping.
We love BBQs, beers, 4 wheel drives, and sport. Camping is only getting more popular. Especially with COVID-19 stopping all international travel.
Now spots are hard to come by. But this will calm down a bit in the future when Australians can travel again to Bali and New Zealand.
Camping is an Aussie past-time. We have been doing it for years!
What is the Best Caravan Park in Australia?
This is really a personal preference and depends on what you love about the great outdoors.
Here is the hotlist from Escape voted by who knows!
Big4 Deniliquin Holiday Park, NSW
Rac Cervanes Holiday Park, WA
Marengo Holiday Park, VIC
Sea Vu Caravan Park, SA
Big4 Gold Coast Holiday Park, QLD
Tathra Beachside, NSW
North Star Holiday Resort, NSW
Big4 Macdonnell Range Holiday Park, NT
Big4 West Beach Parks (ADELAIDE SHORES), SA
Best Camping Areas Around Australia
We have stayed in a lot and here is our top list of affordable camping grounds in Australia that we loved:
Queensland
Cape Tribulation Camping – Daintree QLD
Ellis Beach Oceanfront Bungalows & Camping
NRMA Palm Cove Holiday Park
BIG4 Rowes Bay Beachfront Holiday Park
Horseshoe Bay Resort
Discovery Parks – Airlie Beach
Notch Point Campground (Yarrawonga Park Reserve)
Eungella Dam Campground
Discovery Parks – Tannum Sands
Agnes Water Beach Holidays
Fraser Island Seventy Five Mile Beach Camping
Inskip Camping
Double Island National Park Campground
Ocean Beach camping area Bribie Island
New South Wales
Broken Head Holiday Park Byron Bay
Calypso Yamba Holiday Park
Yuraygir National Park Campground
Darlington Beach Holiday Park
Kangaroo Valley
Trial Bay Gaol Campground
Point Plomer Campground
Kylies Beach Campground
Mungo Brush Campground
Reflections Holiday Parks Seal Rocks
Kendalls On The Beach Holiday Park
Bristol Point Camping Ground
Depot Beach Views Holiday Accommodation
Gillards Campground
NRMA Merimbula Beach Holiday Park
Victoria
Wilsons Promontory Camping Area
Borough Huts Campground, Grampians
Princess Margaret Rose Cave Campgrounds
South Australia
Tenbury Hunter Reserve, Murray River
Deep Creek National Park
BIG4 Port Willunga Tourist Park
Wilpena Park Caravan Park
Pondalowie Bay Campground6, Innes National Park
WoodCutters Campground, Lincoln National Park
Yangie Bay Campground
Perlubie Beach Camp, Streaky Bay
Point Sinclair Campground
Western Australia
Le Grand Beach Campground, Esperance
East Bay Camping Ground
Parry Beach Campsite
Banksia Campground
Roundtu-it Eco Caravan Park
Pemberton Caravan Park
Conto Campground
Margret River Eco Lodge
Yallingup Beach Holiday Park
The Cut Campground, Leschenault Peninsula
Sandy Cape Recreation Park
BIG4 Sunset Beach Holiday Park
Coronation Beach Campground
Denham Seaside Caravan Park
Red Bluff Campsite
Ningaloo Coral Bay – Bayview
Elles Beach Campground
Osprey Bay Campground
Yardie Creek Campground
Dales Campground
Eighty Mile Beach
Windjana Gorge Campground, Kimberly
Silent Grove Campground, Kimberly
Manning Gorge Campground, Kimberly
Ellenbrae Station, Kimberly
Home Valley Station, Kimberly
El Questro Station, Kimberly
Northern Territory
Litchfield National Park
Kakadu National Park
West MacDonnell National Park Campgrounds
Ayers Rock Campground
Now that is a list! We enjoyed staying at all these but that was our big family.
There are so many more we never even visited. To check them out before wasting precious time just go into the Camps 10 Australia Wide guide and find out some helpful information first.
Is Free Camping Legal in Australia?
Free camping in Australia is available, but you can't just camp everywhere.
In Australia, there are specifically designated areas that you can camp at for free or for a very small fee. There are fewer and fewer of these places due to growth over the years and idiots vandalising free camps or leaving rubbish.
Sometimes great camps have disappeared due to campers destroying the environment and being a nuisance. This forces councils to close camping areas that were once free.
If you decide to camp anywhere without checking first you may be fined for camping in a restricted area. Most areas in Australia have no camping signs in place, so if you see one in place don't bother.
Can you Sleep in Rest Areas Australia?
Australia has some really nice rest areas on the side of our highways.
Some of the bigger rest areas in Australia along the highway are legal to camp overnight and it's generally legal to stay for 24 hours.
In all the other rest areas you are allowed to stay overnight as long as you're not setting up a permanent camp.
Is Camping Safe in Australia?
Camping in Australia is pretty safe most of the time. But saying this thefts do occur.
We have had items taken a few times while camping in Aus. They are generally items that are just laying around like bikes, skateboards, surfboards, solar panels, clothing, food and drinks. Easy to take items.
Here are just a few simple ways to help minimise the chances of you being robbed:
Lock up bikes, boards, BBQ's, Solar Panels
Put clothing away at night
Place Esky's inside car
Lock vehicles and Camper's
Try not to camp near walkways and roads
If you become a victim, report your incident to the police, and make sure your insurance policies cover theft for outdoor camping, etc.
What Makes a Good Caravan Park?
A good park in Australia really depends on your family status. If you are a travelling family with kids, you are going to need entertainment.
But if you are just a couple without kids you are going to want peace and quiet.
Great Caravan Park for Families
Caravan parks that are awesome for kids and families will have the following facilities:
Great playgrounds – Jumping Pillows etc
Waterparks
Mini Golf – Tennis Courts
Family Bathrooms (Bath together all in one)
Games rooms
Outdoor cinema
Room to kick a ball
Great roadways for skating and bike riding
Natural Surrounds
Onsite resturant – Bar for Mum and Dad
Perfect Caravan Parks for Couples include:
Quite and private sites
Amoung nature with bushwalks nearby
Relaxing pools
Nice communal Areas
Tennis and Golfing areas
Upmarket fascilities (Showers and bathrooms)
These are just some of the things we love in a park when on the road travelling. But these types of places will cost you.
Expect to pay more than double compared with a standard basic caravan park, depending on the area.
How Many Caravans are on the Road in Australia?
Roadtrek estimates that at any one time, there are around 120,000 caravans on the road in Australia.
There are 600,000 registered RV owners in Australia with 40 percent of owners having a camper trailer. Interesting!
How Much are Campsites in Australia?
Campsite costs will depend on a few factors. First of all, it will depend on:
Whether you choose a powered or unpowered site
Number of people Travelling in family or group
Ages of children (Under 2-3 is usually free)
Season of travel (Off-peak / Peak)
Location of Camp area (Beachfront / City etc)
Size of rig (Some sites charge extra for larger caravans or trailers)
As a rough guide prices start from around $35 to $80 a night in most major camping areas.
The more remote you go expect to pay less. Camping has really seen a boom over the last few years which has drastically affected prices everywhere.
Usually, you can visit most site's websites to find out how much you are going to have to pay.
Hot tip! Make sure you book in advance in popular spots because you will miss out!
Where Can you Camp for Free in Australia?
There are a million camp areas in Australia that are free.
But the only real way to find them is to get your hands on the Camps 10 Australia Wide Guide that will show you where to find them.
==>Grab your copy here and find where you can camp for FREE!<==
What is the Best Way to Travel around Australia?
Well, you do have a lot of different options, but we all know it comes down to cost and what you can afford.
Hands down the best way to travel around Australia is with a 4×4 vehicle towing a medium-sized caravan or camping trailer.
The reason behind this is simple. You want to be light enough so fuel doesn't send you bankrupt. Big enough so you have comfort and are able to detach so you can explore never before seen places.
Go too big and you won't be able to access certain areas. This will also mean you will need a larger car with a bigger towing capacity.
Other ways to explore our sunburnt country on a budget include:
Vehicle and tent
Vehicle and Swags
Bicycle
Motorbike and Tent
Horse and cart
Hitchhiking (Not that popular anymore!)
Bus or Train
Just use what you like and within your budget, because remember you will have to return home eventually.
Wasting all your hard-earned cash on an overpriced rig will leave you broke, just keep it simple.
How Much Does a Trip Around Australia Cost?
The best rule of thumb used for cost is the $1dollar per kilometer method.
So say you do the normal average distance around Australia then you would just time 35,000 kilometers by $1 dollar!
That is roughly the cost of your trip.
But if you want to budget right down to the wire due to commitments and circumstances then you will need a spreadsheet to input your expenses and income numbers.
==>Download our "Travel Australia on a Budget Spreadsheet" <==
So the average cost of travelling around Australia is the $35,000 dollar mark.
This depends on the number of people in the family, breakdowns, free camps or paid camps, activities – attractions, wineries – breweries, and time on the road.
What is the Cheapest Way to Travel Around Australia?
Definitely, by far the cheapest way to navigate Australia is by car. For most of us who live in Australia, you probably own a vehicle already so all you need is a tent, swag, camping trailer, or caravan, and your away!
This gives you total freedom and then it is up to you and your family's luxury levels while travelling on the road.
Camp free everywhere if you really want to and travel slow.
Hot tips for travelling Australia the cheapest way:
Travel slow and to a fuel budget
Camp in Free camps
Dont drink beer, wine and spirits
Stay away from wineries and cafes
Eat healthy and lean
Dont do any activites or attractions
Avoid Cities and tourist hotspots
Stay clear of expensive caravan parks
Travel when children are young and cheap
Buy second hand vehicle and camper
Use swags and tents
Work online around Australia if you can
What is the Best Vehicle to Travel Around Australia In?
Personal preference again but really depends on what you are towing, how adventurous you are with offroad driving, comfort levels, and budget.
For our family needs, we chose the Toyota Prado GXL 4×4 for our vehicle. It was amazing!
Our home was a Jayco Eagle Pop Top 4×4 Camper trailer. This was light to tow, could go anywhere and fit under trees, had roof racks, and was affordable for our budget. It was a great trailer! We got on average 13 liters per 100 kilometers with this little baby!
So the choice is yours, do your research, work with your budget and get something reliable and safe.
How Far is a Lap Around Australia?
Think about this! Australia is the sixth biggest country in the world and about the same size as mainland USA.
So with that in mind, the great lap around Australia via the coastal route is 14,500 kilometers (9,010miles) in length.
To do this non-stop along Highway 1 would take you 7 days, 13 hours, and 5 minutes. That's some driving!
But when you do the big lap you will have to drive into different areas all the time. So you will have to double the actual distance.
If you love to explore and really get lost the kilometers can climb dramatically.
What are the 10 Essentials for Camping / Caravans?
Essential camping equipment in Australia will largely depend on your setup.
If you are towing a caravan you will probably be able to bring more gear, while just using a tent you will probably have limited room.
Caravan, Camper Trailer Setup
Here is a list of 10 essential items you will need to have to enjoy the best experience in a camper:
Caravan, Camping trailer
Bedding (Sheets, covers)
Cooking equipment (BBQ) pans, pots, cutlery & cups
Water containers, bottles
Refridgeration for Food, cool boxes, fridges
First Aid Kit
Navigation Tools (Caravan Parks 5 Ausralia Wide!)
Firestarters
Flashlight, Lantern or Headlamp
Toilet paper
Tent, Swag Setup
Here is a list of 10 important items you will need to have to enjoy the best experience intent:
Tent, swag
Bedding (Sheets, covers, bed)
Cooking equipment (BBQ) pans, pots, cutlery & cups
Water containers, bottles
Refrigeration for food, cool boxes, fridges
First Aid Kit
Navigation Tools (Camps 10 Australia Wide)
Firestarters
Flashlight, Lantern or Headlamp
Toilet paper
Pretty much the same but with a camper trailer/caravan setup everything is contained in the van.
We recommend buying a caravan or camping trailer so you don't have to carry all these items separately.
Everything is in the caravan ready to go! While camping in a tent will require a little bit of organisation to fit everything into your car.
I hope this will help you get out there and explore our magical country Australia.
Finding the Best Caravan Parks Australia Wide
So if you are looking to save money on caravanning and want to find the best Parks in Australia that suit all your needs, then Caravan Parks 5 Australia Wide is the guide for you and your family!
You will be amazed by what is at your doorstep in Australia. Before you book another flight overseas, explore Australia.
==>Click Here, To Grab your discounted copy of Caravan Parks 5 Australia Wide Today!<==
Read more here about Camps Australia Wide Products: