Eungella Dam Camping has become our favourite local camping spot to take the family near Mackay QLD. 
It is so peaceful and beautiful, and it can be either totally relaxing or super fun and action-packed.  With free camping options gradually dwindling, it is important to look after the ones we've got left! 
Read Brian's article on the Death of Free Camping Here and tell us what you think!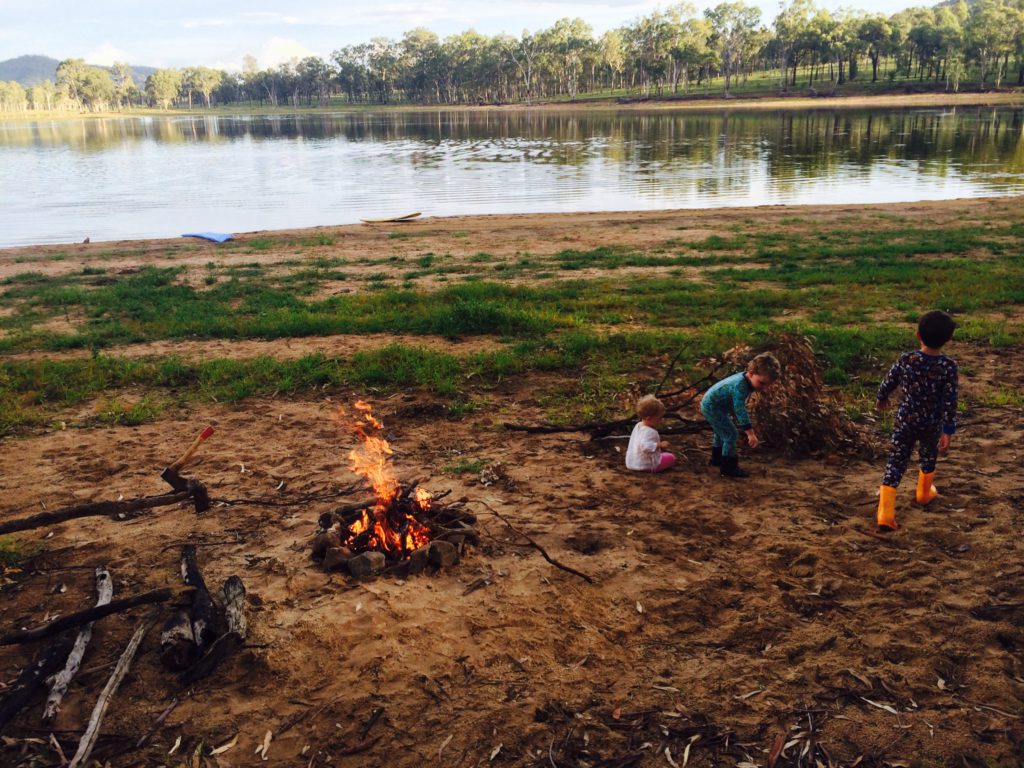 Eungella Dam Camping When To Go?
Eungella Dam gets super cold in the winter with reports of frost, and it can get very hot in summer. 
We tend to avoid the peaks of both and love camping up there in Autumn and Spring. 
We were up there last weekend and the temperature was perfect with the water refreshingly swimmable.  It's a fantastic spot for a weekend or for a week.  

How to Get to Eungella Dam
The dam is about 2 hours drive from Mackay.  During winter you have just enough time to pick the kids up from school Friday afternoon and drive up so you are setting up just before dark. 
In the summertime you have a longer twilight so you have time to set up, build a fire, cook dinner and have a swim before dark. 
Or you could be like us and blow off school on Friday, so you have all day for a leisurely start to the weekend.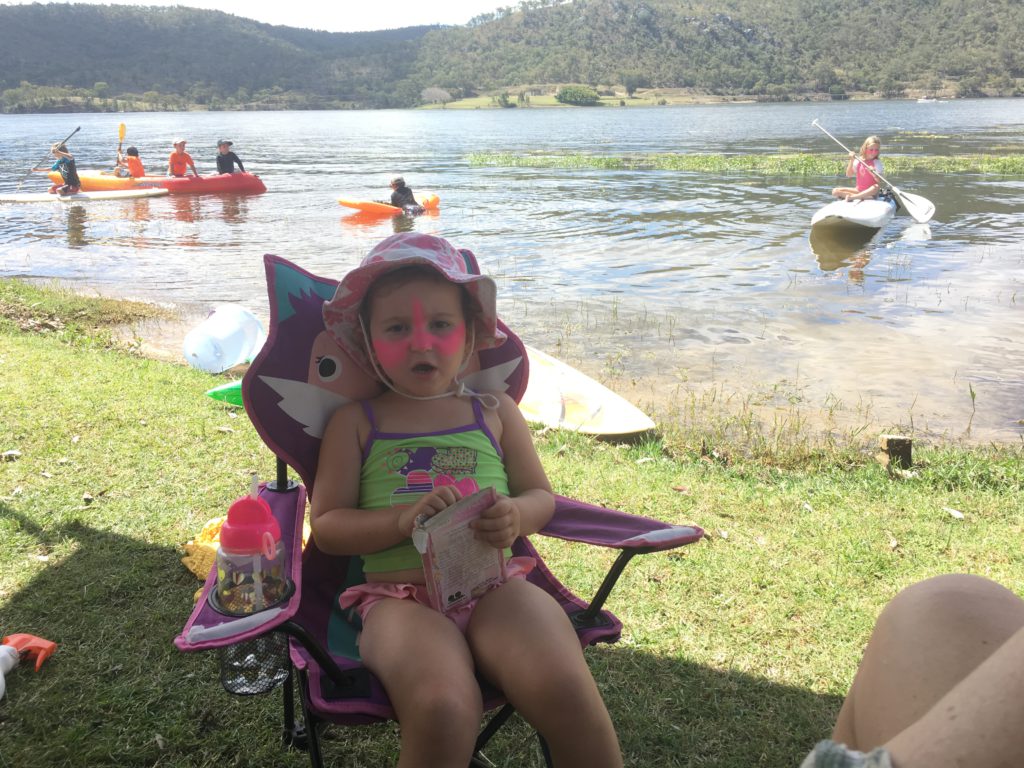 Dam Directions
From Mackay, you drive along Peak Downs Highway and turn off onto Eungella Road. 
This is the Valley Highway which you follow all the way past some loveable gems such as Platypus Beach, Finch Hatton Gorge, and Wesche's Waterhole which are all worth a look if the weather is warm. 
Continue up the range and head on through Eungella township which sits at the very top of the Pioneer Valley.  The Eungella Chalet is a great spot for a pit stop if only for the view! 
Keep following the road towards the National Park, which winds through some beautiful rainforest, and green pastured dairy farms, cross Broken River and stop to look for a Platypus or two if you have time. 
Heading on the road which now meanders through the tall trees of Crediton State Forest. 
There is a nice side trip which will add about 20 minutes to your drive if you turn left onto the Crediton Loop track the road is a beautiful curly green cruise past thick jungles and opening out onto the greenest hills.  It's very pretty and loops you right back onto the Dam Road. 
The road turns to dirt here and then it's another 30km before you reach the camping area. 
Eungella Sawmill
The Eungella Sawmill is on the way, just turn left at the sign down Freegards Road and they have a nice big bag of excellent firewood for just $10. 
Alternatively, bring a chainsaw and collect some yourself.  At present, there are a lot of fallen trees around the campsite that you can cut bits off for a fire if you want. 
The dirt road is pretty scenic and takes you through working cattle properties so please be on the lookout for cows and horses on the road.  The road is usually kept in good condition and you don't need a 4wd to access it.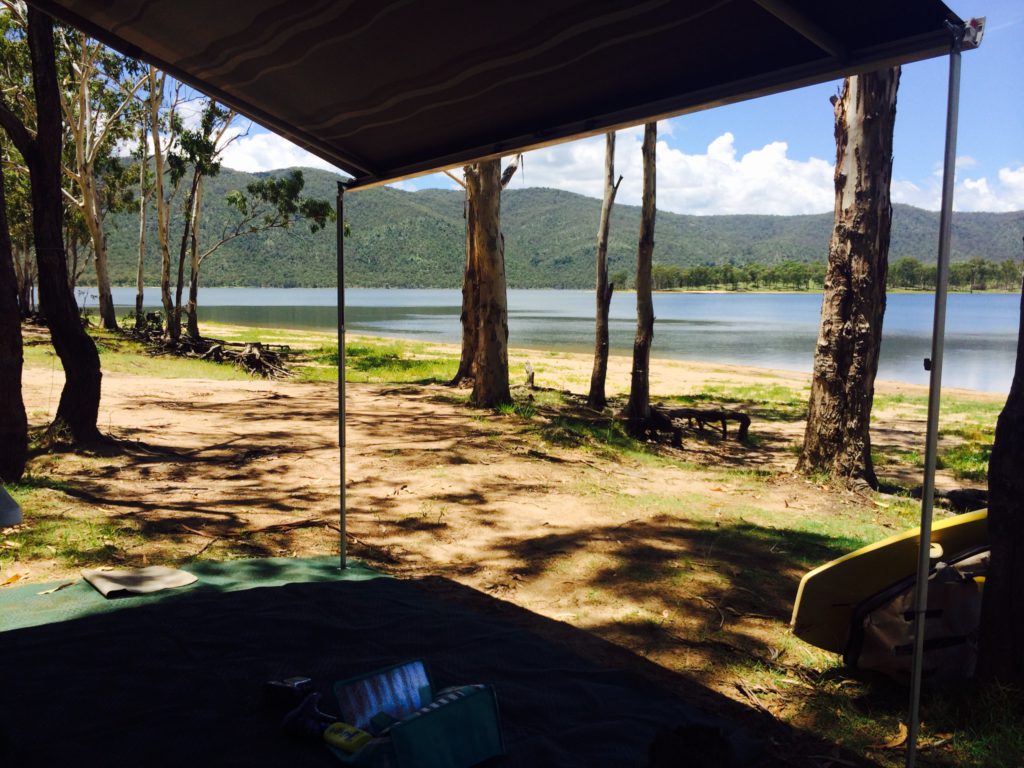 The Eungella Campground
When you turn right into the campground, you will arrive at the top of the hill where the amenities block is. 
Ever since the great fire that burnt down the old wooden drop toilets, they have been replaced by temporary portaloo buildings with real flushing toilets and cold showers. 
Eungella Camping Costs
Here you will also find the rubbish bins and the honesty box for payment.  It costs around $5 per night to camp and you just pop your money in the envelope.  Nobody ever seems to check up on this though.  
There are a lot of signs and rules, and a security detail does the rounds on busy weekends. 
I have even seen police on a long weekend moving people who had camped in the no-camping zone.  But as long as you be considerate of your fellow campers and of the place itself and don't be an idiot, you will have a great time. 
Dogs are Allowed
Dogs are allowed, as long as they are kept in control and don't bother the cows which wander about everywhere.  Motorbikes are not allowed. 
Watercraft are welcome.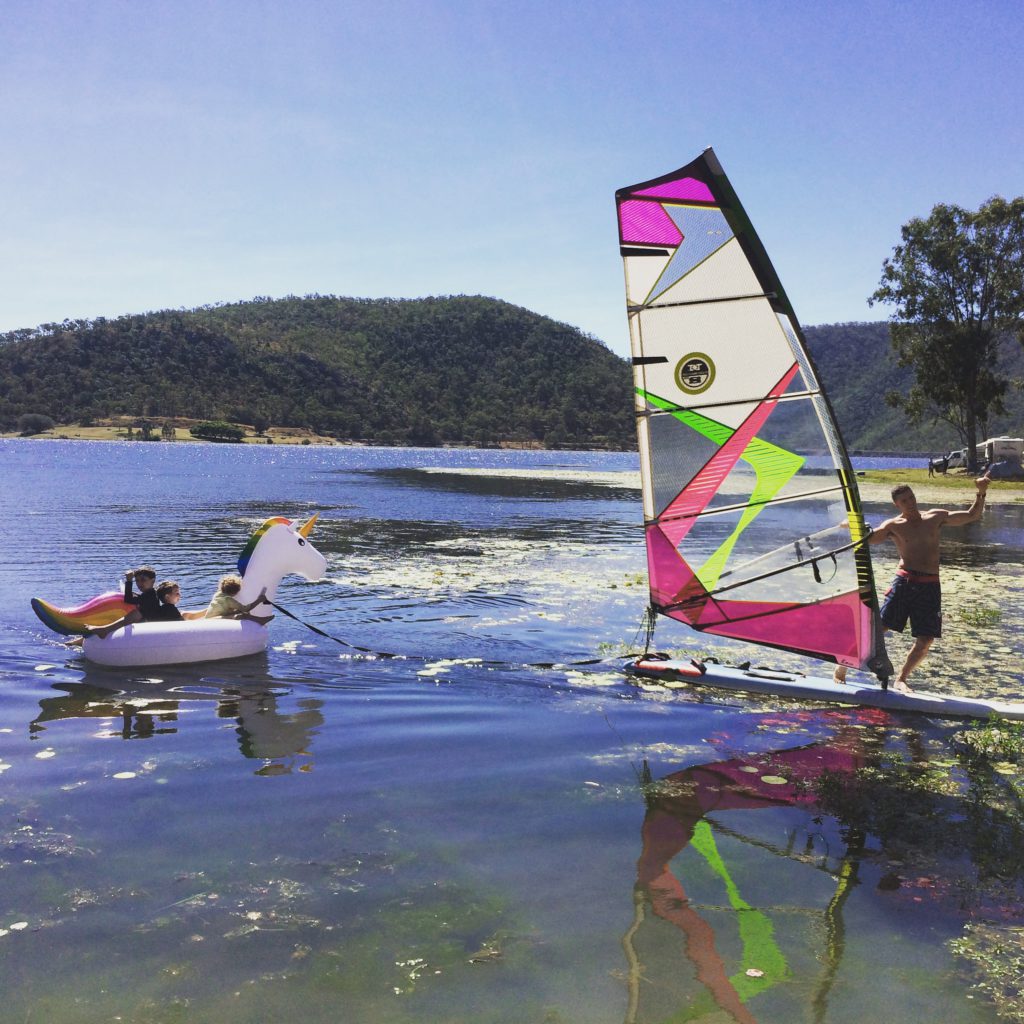 When you arrive at the toilet block you have 3 camping areas to choose from and they are largely weather and water level dependent. 
To the East is a beautiful shady spot with a big beach that is only suitable if there is no wind. 
Straight ahead to the North you can find some great flat sites by the water's edge with a nice sandy beach. 
There is a boat ramp in the middle, then around to the North West shore are really grassy spots, you can find some excellent flat sites here for big groups but there is less shade. 
The North West sites enjoy less wind than the other sides and is a better choice in a howling SE breeze.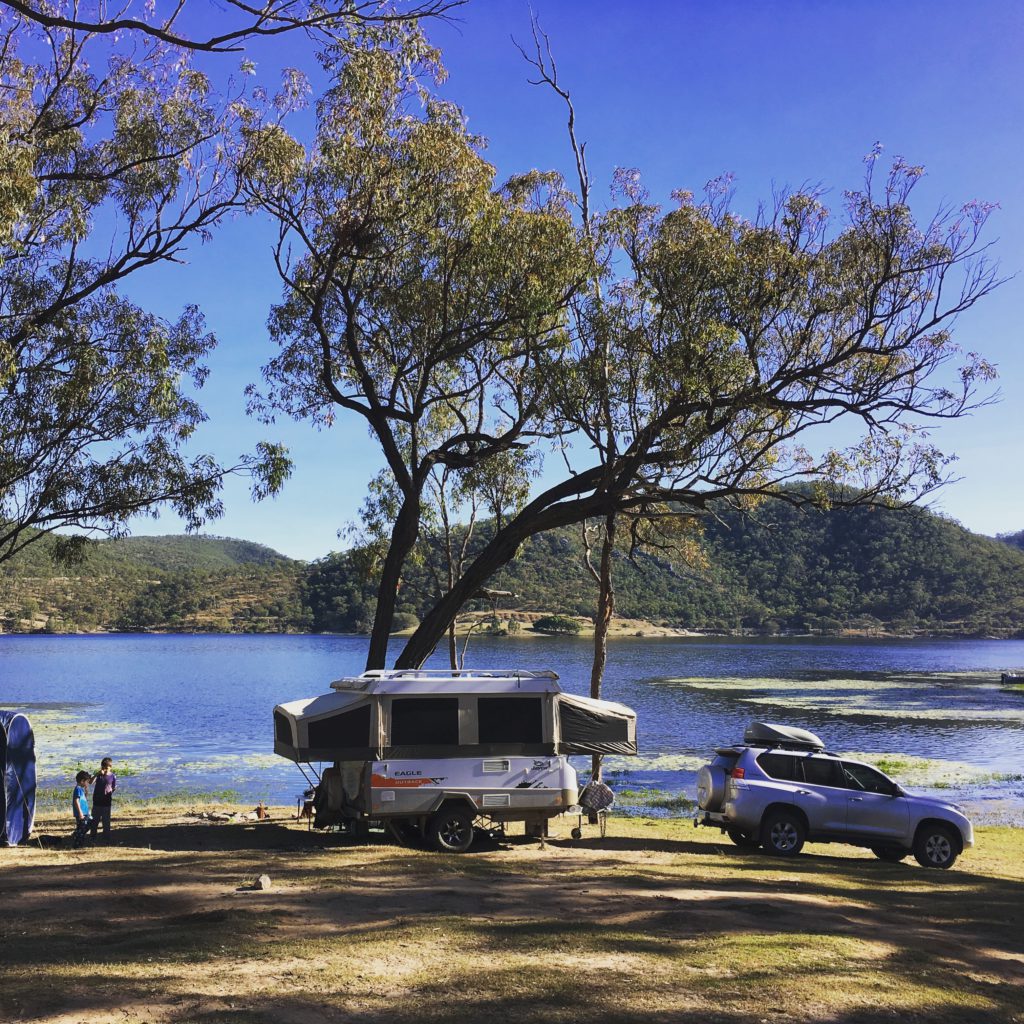 Check the forecast before you go because when it is windy, it is incredibly windy here. 
It often will blow itself out overnight though so if you are staying a few nights if you can put up with one windy one you might be ok. 
Not much fun hunkering down for the night when it is blowing hard.  And with an extreme fire danger current, campfires can be risky.
What to Do

at Eungella Dam Camping Area

You can do heaps, or nothing at all!  Ski boats, paragliders, jet skis, kayaks, sailing cats, windsurfers, stand up paddleboards, canoes, giant flotation devices, drones and more are commonly seen getting around the dam. 

We bring bikes for the kids, a hammock, a tightrope, football, cricket set, Kubb and Finska. 

If you don't know what they are, click on the links.  They are based on Viking lawn games and are great to play with a group of friends.  Kubb and Finska always attract new friends too as people always get intrigued and wander over from other campsites to see what's going on.
Fishing At Eungella Dam
If you are into fishing, Eungella Dam is well stocked with Barra and Sooty Grunter too. 
Just last weekend we witnessed the Fisheries Department deposit 1500 Barramundi fingerlings into the dam which will be the perfect size for next season!
Eungella Dam
Facilities
The facilities are few and far between but that's what we love about camping here.
Toilets and cold shower only up on the hill

Boat ramp

Honesty box payment system

Rubbish skips

Campfires
Note: there is no phone reception past Crediton and none at the dam at all. 
If you drive past the campsite and up to the lookout you can get a couple of bars if you're desperate, but it's so nice to have a break from your phone and your social media for a few days too.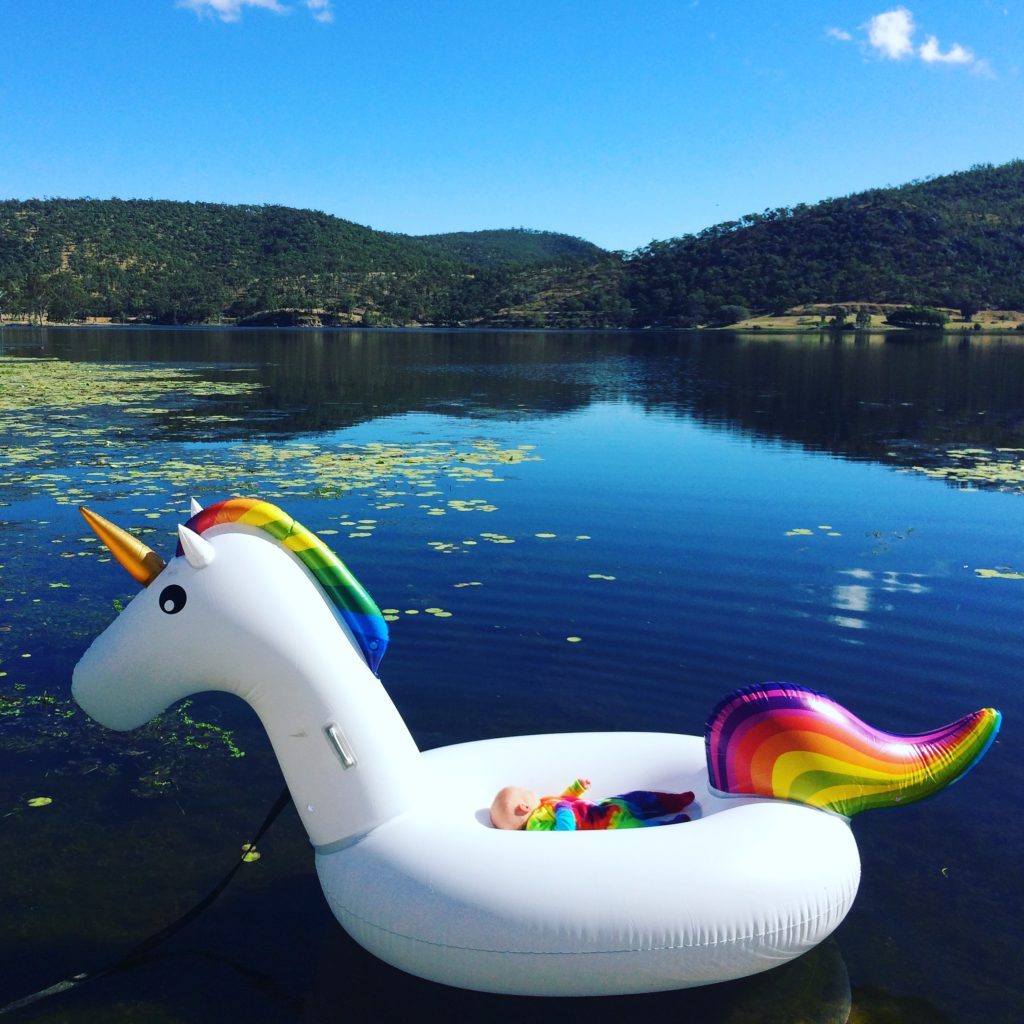 Why we love camping at Eungella Dam
Eungella Dam provides a scenic and enjoyable family fun camping atmosphere only a 2-hour drive from Mackay. 
It is suitable for large groups and heaps of fun for everyone.  You can have a fire which just adds so much more to camping.  And you can bring your dog too which I know is appreciated by many. 
It's a fantastic place to just get away from it all.  The kids paddle and get so worn out playing all day in the water. 
The water temp is so cool and refreshing and very inviting.  
There is wildlife everywhere and the birds are abundant. It really is a beautiful place!
Drawbacks

of Eungella Dam Camping

Nowhere is perfect.
Usually, there is plenty of room for everyone to have a waterfront site without anyone getting on anyone's nerves but if you get there late on a Friday or it's a particularly busy weekend, it can get crowded and the flat sites are all gone with people and boats on top of each other.  

Anti-social behaviour – Sadly, anywhere that is free or cheap to camp ends up with disrespectful people visiting.  The toilet block being burnt down by punks is just a symptom of this dickhead behaviour.  Where you get alcohol, youth, speedboats and fires I am surprised there is not more shit going down actually.  We have heard stories of campsites getting robbed at night of things like solar panels and Webers too so please secure your stuff.

No phone reception.  I think it's a pro, but others might consider this a con.
There's only one set of amenities and its a bit of a hike from every campsite to get there.  We always bring our own chemical toilet and just make the hike for number 2s.
Blue-green algae.  When the water level is particularly low, the warnings are high for blue-green algae.  Mild exposure can cause minor skin irritation and stomach upset.  We remind the kids not to put their heads under the water and never to drink the water, and we try to get them to play in the deeper water away from the shoreline.  With younger kids and toddlers, I tend to give them a bucket of freshwater to play with instead.  My 1-year-old is likely to guzzle it.  They have never had a problem but please seek medical advice if you are concerned or have certain sensitivities.  
Bonus

Fun in Eungella

There is a 4WD track if you turn off after Eungella and onto The Diggings Road which takes you all the way through to the Dam Road. 

It's rocky and there is a creek crossing, but it also gives you an opportunity to check out The Diggings campground on the way through too.  Just don't tow anything past the creek.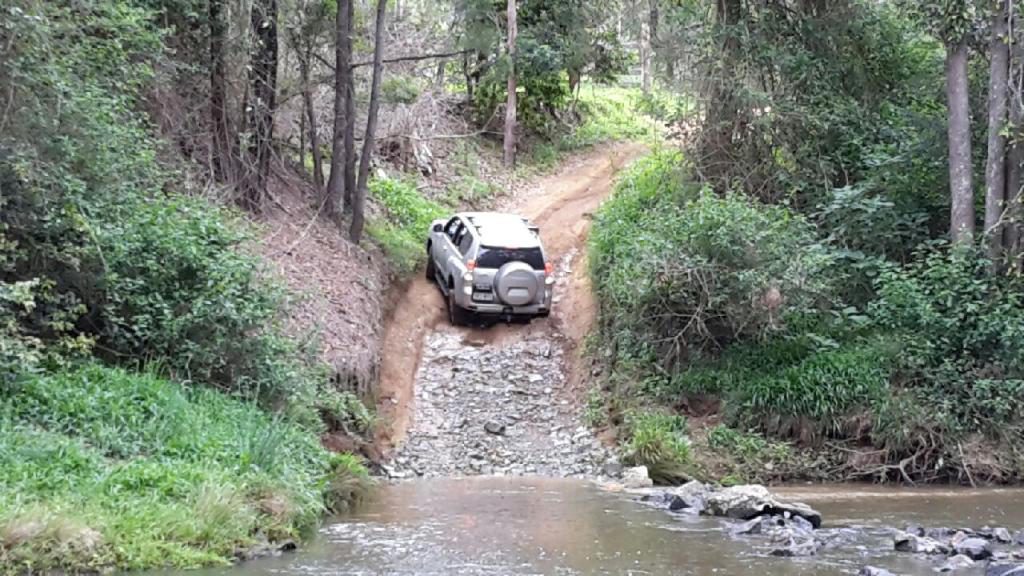 The Drive Home From Eungella Camping
Another big attraction of places like Eungella Dam is the fact that there is no check out time! 
So every weekend becomes a long weekend as you can stay for the whole day on Sunday if you like! 
You can do a decent pub crawl on the way home, with a designated driver, of course, stopping at plenty of pubs on the way:
Eungella Chalet

Criterion at Finch Hatton

Gargett

Pinnacle Pub for lunch

Mirani Hotel

Marian Railway Hotel

via Walkerston for the Duke of Edinburgh
If you enter your email address on this page we can add you to our list of people who already find out the latest stories and advice on our local attractions and worldwide travel with kids. 
Or drop us an email at kris@gadsventure.com and tell us what you want to know more about!  
Don't forget to follow us on Instagram too! 
Read some other awesome post here: