Wat Huay Pla Kang temple, where is that?
We didn't even know of this amazing attraction until we visited beautiful Chiang Rai and were lucky enough to meet some cool expat locals who showed us around.
It is a massive 23 stories tall big white Buddha sitting on top of a green hill overlooking the lands of Thailand.
This is a must-see attraction when visiting north Thailand. Read on to find out more.
Where is Wat Huay Pla Kang
Huay Pla Kang is 6 kilometres out of Chiang Rai and is best visited by car or catch a Grab taxi. It should cost around 150 THB from town to temple.
See Map for location of the Buddha.
What is the Wat Huay Pla Kang Temple?
Often referred to as Chiang Rai's Big Buddha, the large statue is a representation of the God of Mercy or Compassion.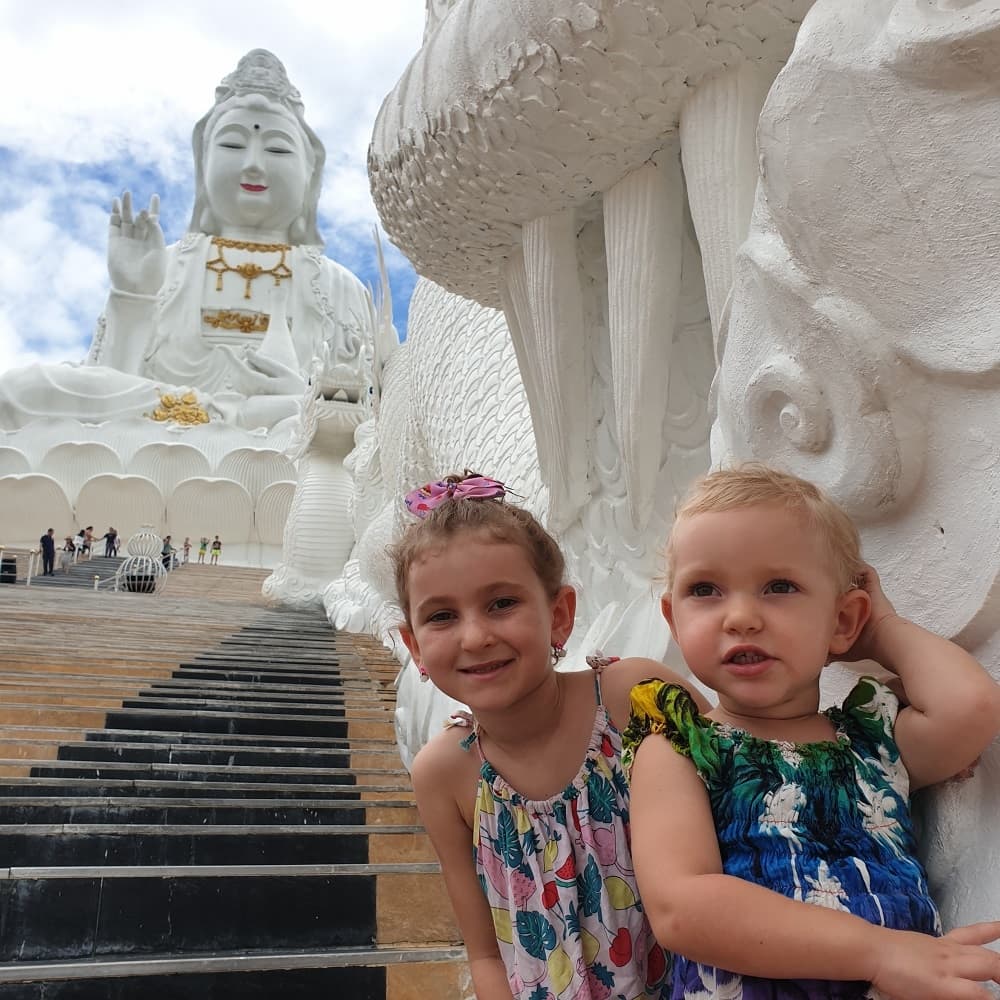 The sitting Buddha statue stands at 90 meters high and can be seen from miles away. A large beautiful pagoda also has been built here called the 9 Tier Pagoda.
Wat Huay Pla Kang Chiang Mai Opening Hours
The temple is open from 7 am to 9.30 am every day. So visiting this Thai wonder has never been easier.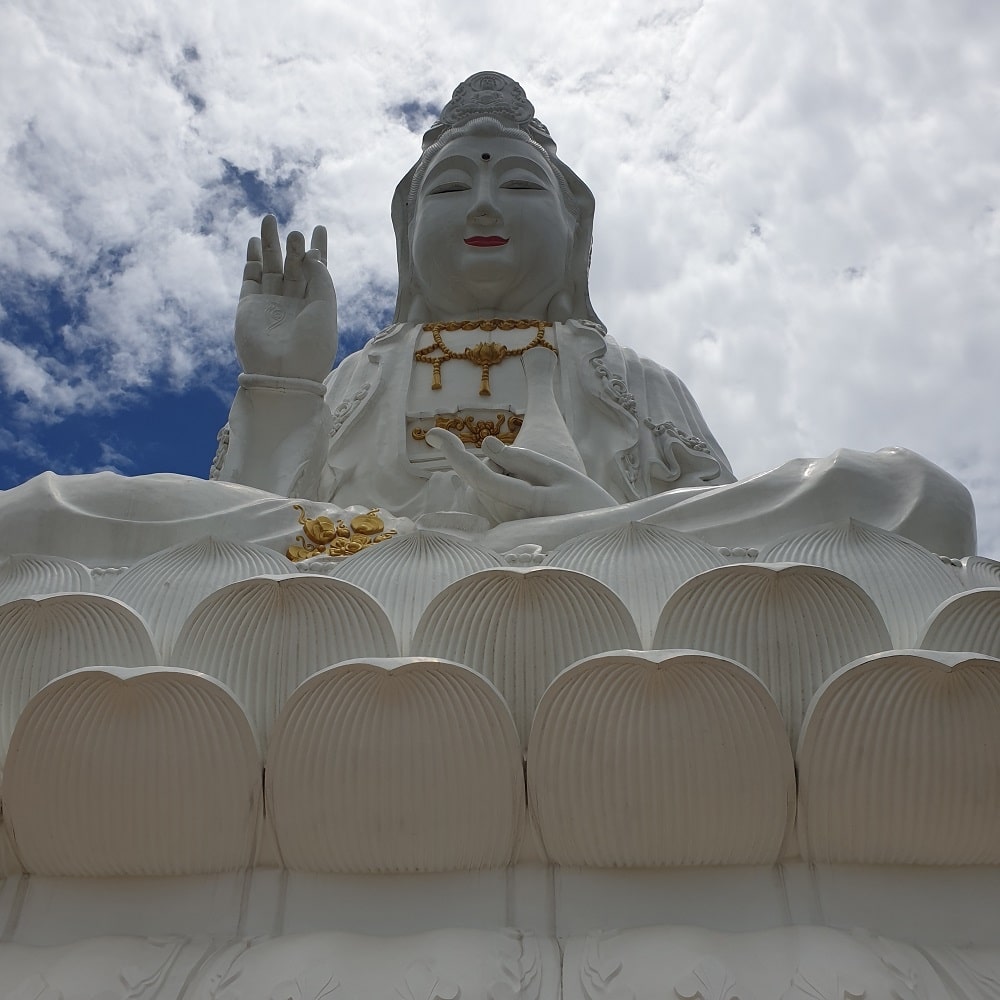 Huay Pla Kang Parking
There are plenty of carparks at the base of the temple grounds to park your vehicle for free.
Huay Pla Kang Entrance Costs
Entrance into the temple grounds is absolutely FREE! So there is no excuse not to visit.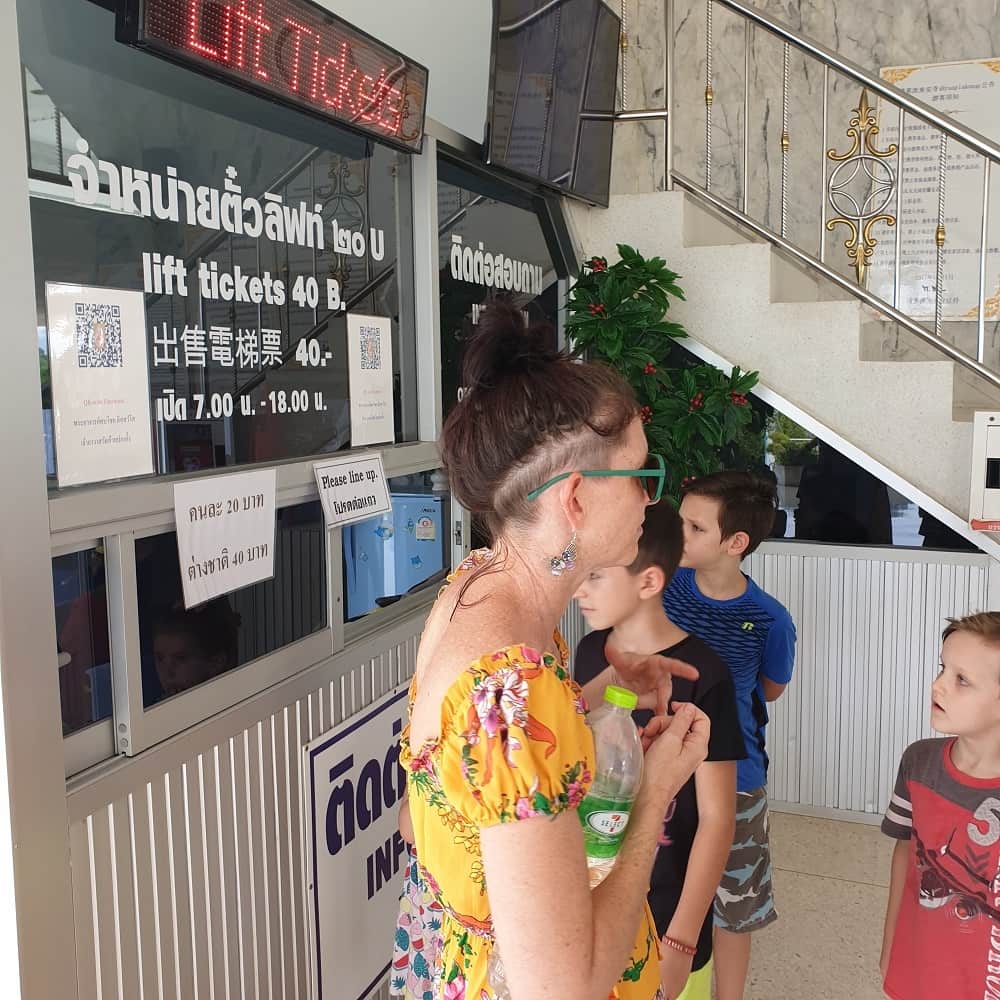 But if you would love to go up the 23 stories and see what is inside the Big Buddha head then that is going to cost 40 THB per person.
You don't need to walk upstairs because they have very new lifts. Just pay at the desk then head up in the lift.
Such a special place, they even have very well dressed lift attendants.
The Big Buddha is also wheelchair accessible with an access ramp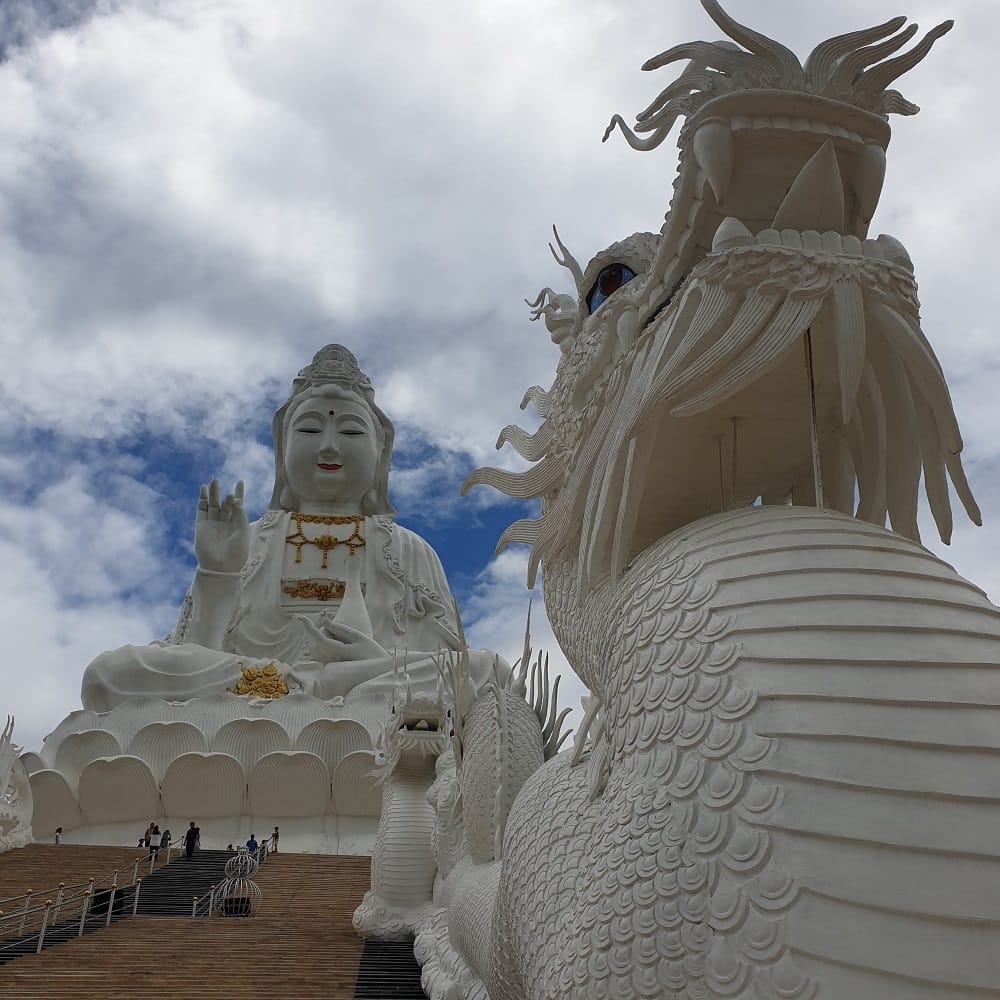 Wat Huay Pla Kang Dress Code
Like all temples in Thailand, you need to follow the codes of conduct.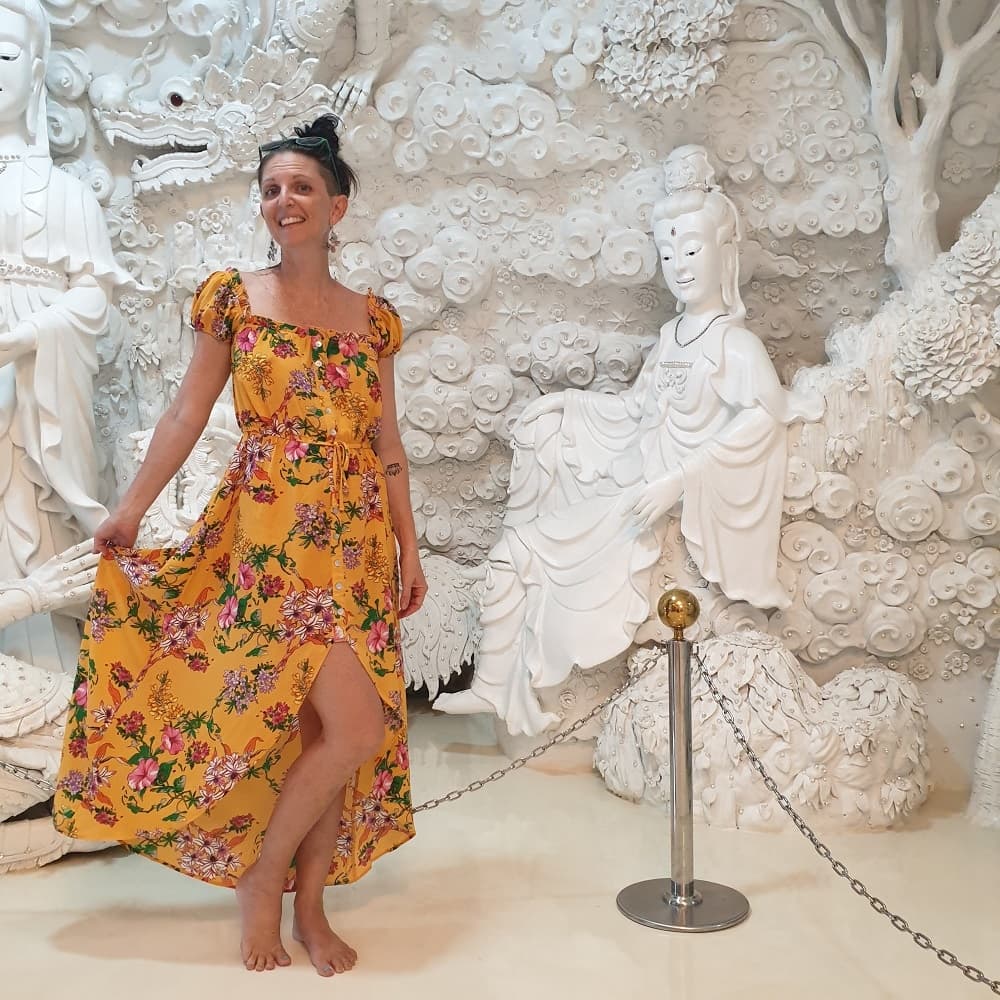 Be respectful and make sure you:
Wat Huay Pla Kang History
This particular temple is very new so it doesn't have too much history attached to it. I just know it is one of the coolest temples I have visited in Thailand.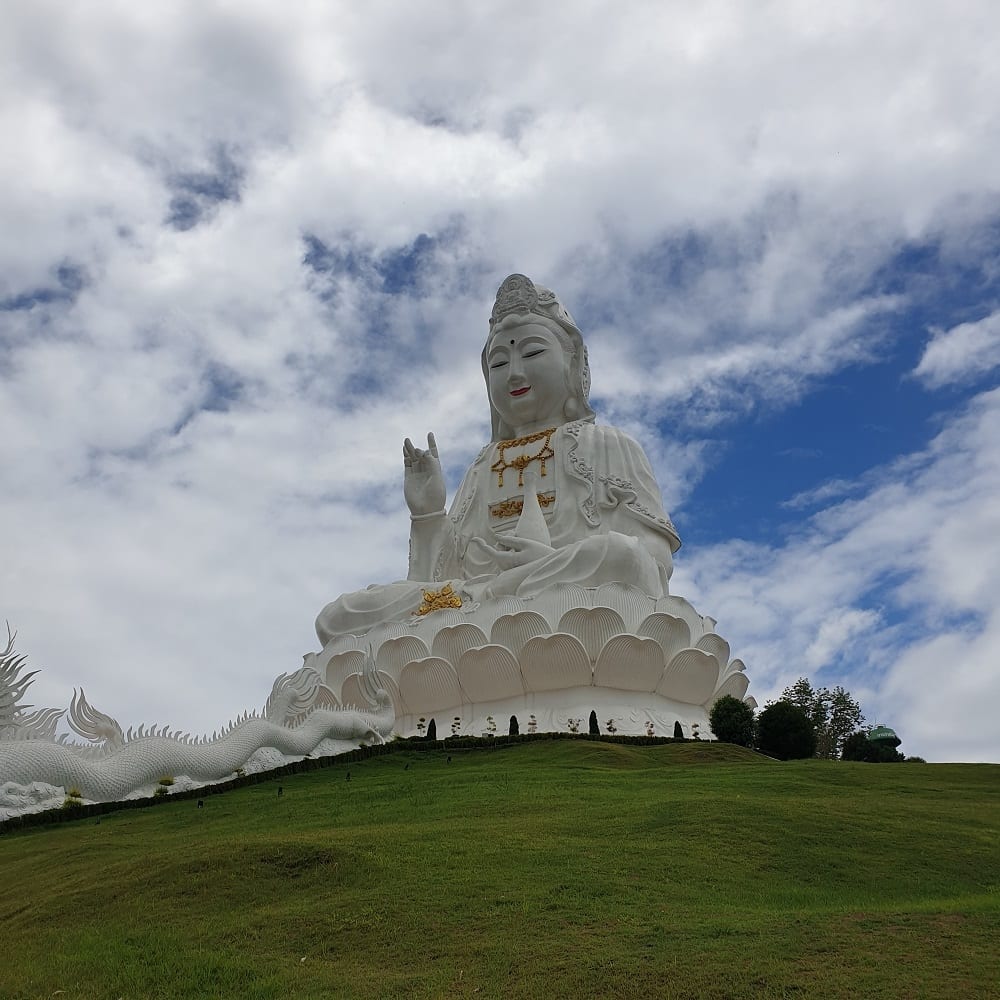 Our Huay Pla Kang Temple Experience
From the moment we laid eyes on this majestic temple I knew it was going to be impressive.
You just can't take your eyes off this mammoth statue. You wonder to yourself, "How on Earth did they build this thing?"
Entrance is free so you are allowed to wander all around the grounds. You climb a series of hundreds of steps guarded by white dragons right up to the base of the statue. The dragons are gilt with inset crystals all the way to the top.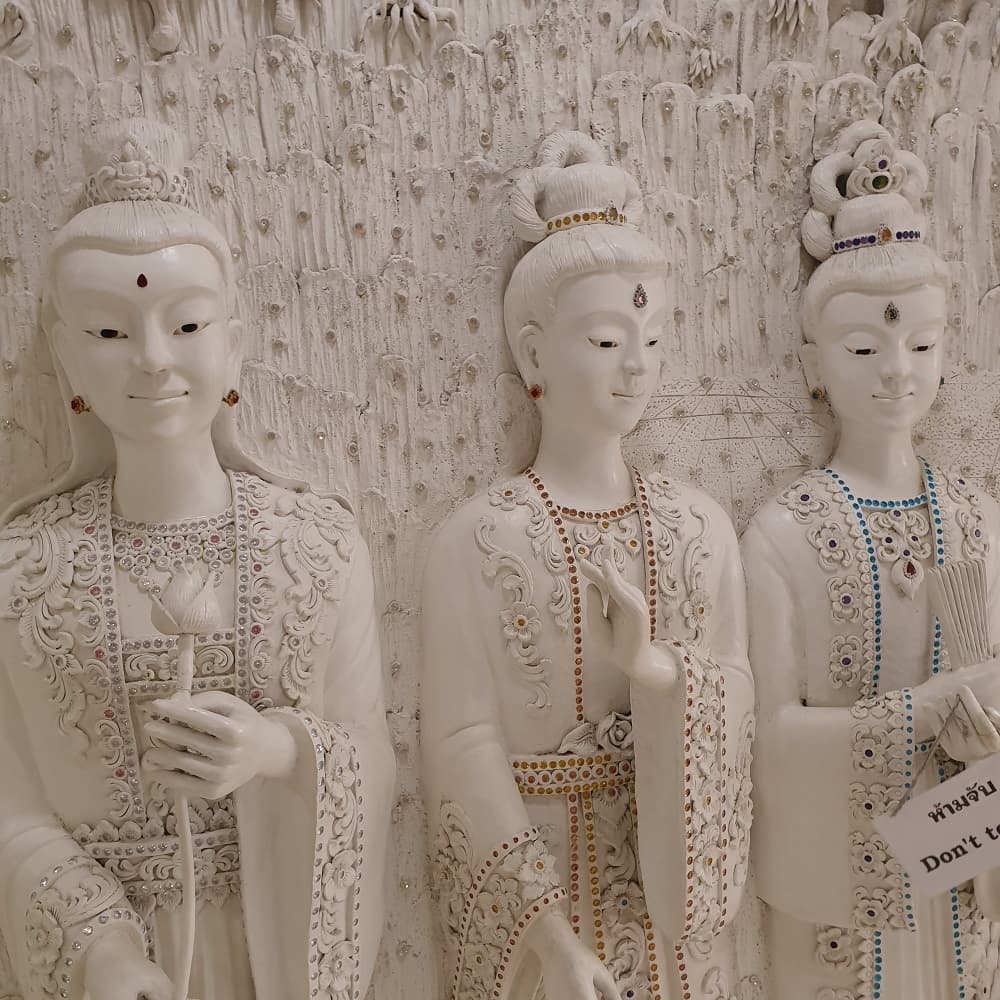 From here you can buy lift tickets and take the lift up into Buddha's head. The lifts appear very safe and modern.
Once you are at the top floor you will be blown away by both the height and the elaborately decorated interior of the temple. White sparkling dragons, trees and Buddha statues built into the walls that are simply stunning to see.
A set of stairs takes you to the third eye of the big Buddha where you will have breathtaking views of Chiang Rai and the temple grounds.
You can even see what Buddha sees himself by gazing out of his eyes.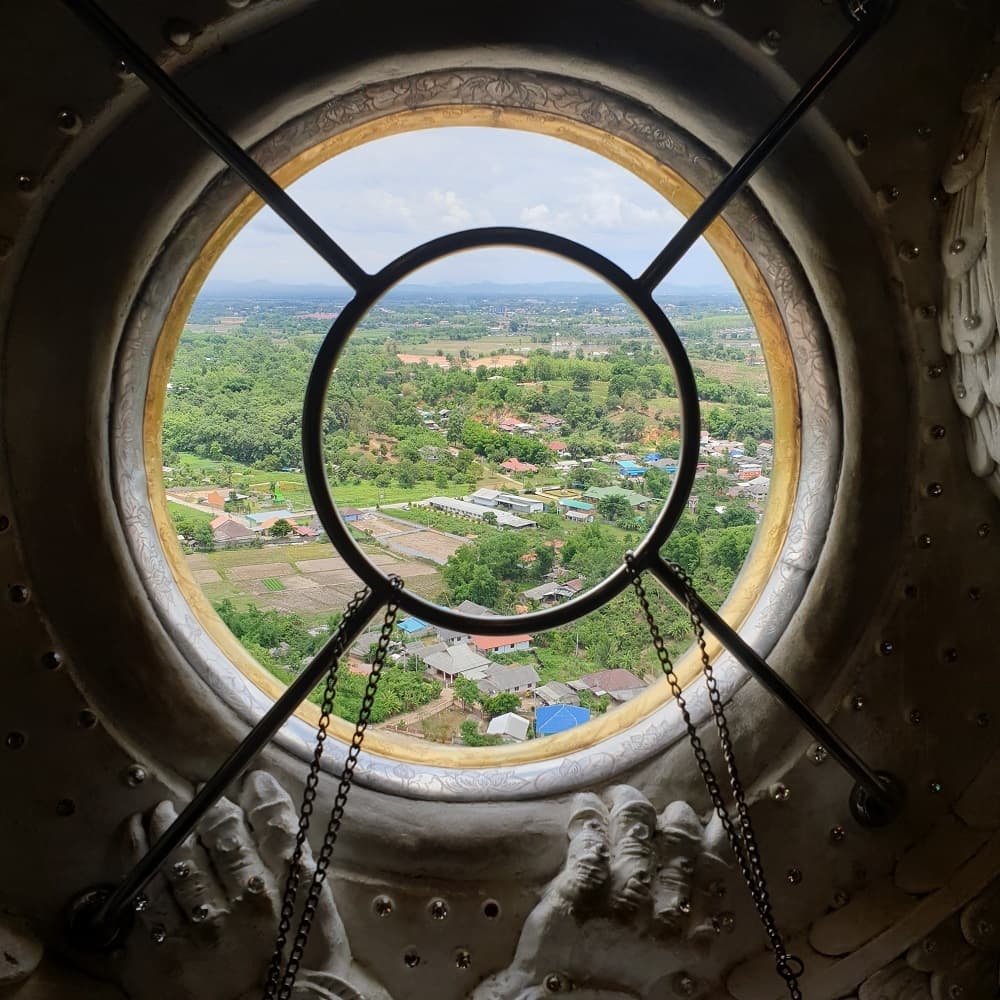 You are up very high, so don't drop your camera.
After taking in the gorgeous view and decorated temple it's time to take the lift back to ground zero. (Check out the lift attendants, very professional)
If you still feel like visiting the 9 tier pagoda next door feel free to check it out also.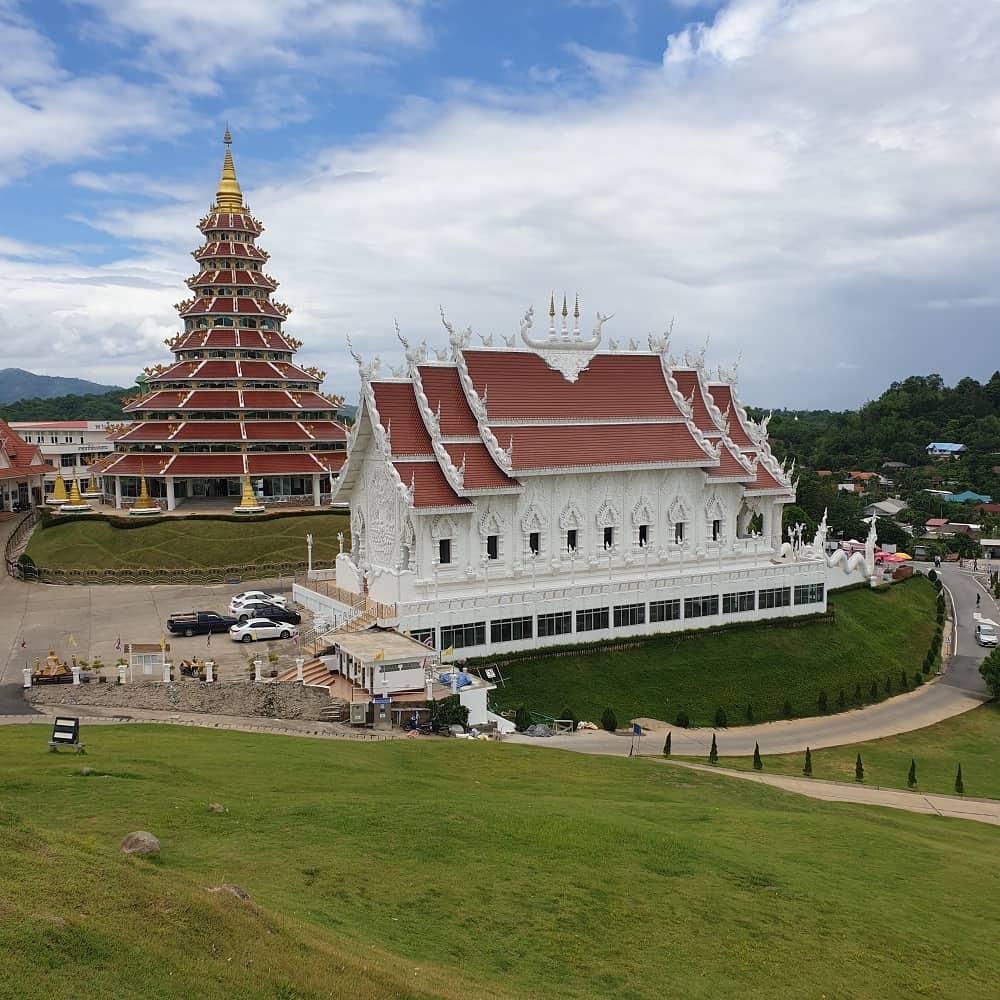 Verdict on Visiting the Big Buddha Chaing Rai
Make sure you put this on your list of must-see things in Chiang Rai.
We absolutely loved it, so did the kids. So glad we got experience Wat Huay Pla Kang, the memories are etched into my mind forever.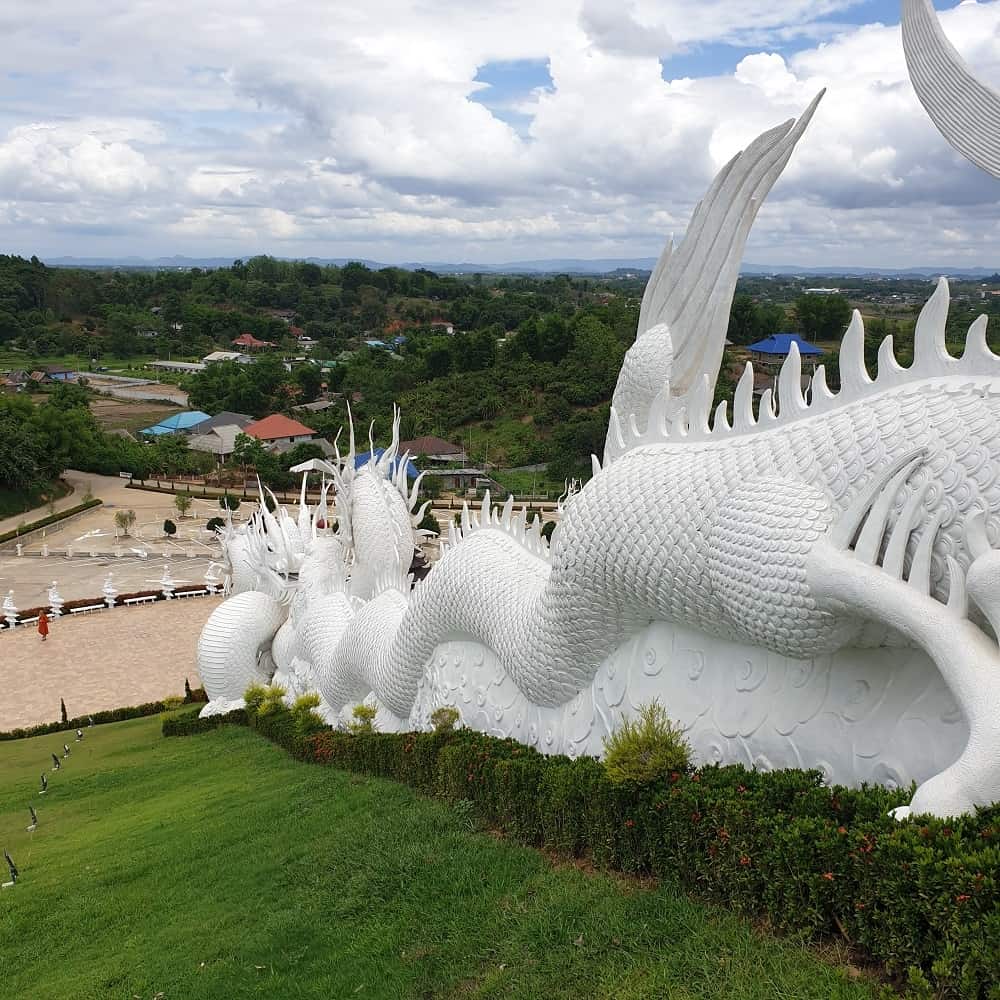 What Hotels are Near Wat Huay Pla Kang
Thinking of sticking around Chiang Rai? Then here are some terrific hotels and guesthouses for you to check out. Remember Chiang Rai is generally cheaper than Chaing Mai, so spend more time up here.
Budget
Bed and Bike Poshtel – Perfectly positioned for everything Chiang Rai city has to offer. Airconditioned double rooms for only $25.
Check the Latest Price and Book Bed and Bike Poshtel Here
Mid-range
Blue Lagoon Hotel – only 5 minutes walk from the centre of town and the bus terminal, this perfectly located hotel boasts 2 gorgeous swimming pools and great value rooms around $50 per double.
Check the Latest Price and Book Blue Lagoon Here
---
Phowadol Resort and Spa – Romantic Thai themed rooms with beauty treatments, hydrotherapy, massage and a fantastic restaurant serving authentic Northern Thai cuisine.
Check the Latest Price and Phowadol Here
Luxury
The Legend Chiang Rai Boutique Resort and Spa – Chiang Rai luxury but still only $140 a night, this beautiful hotel will make you never want to leave.
Check the Latest Price and Book The Legend Here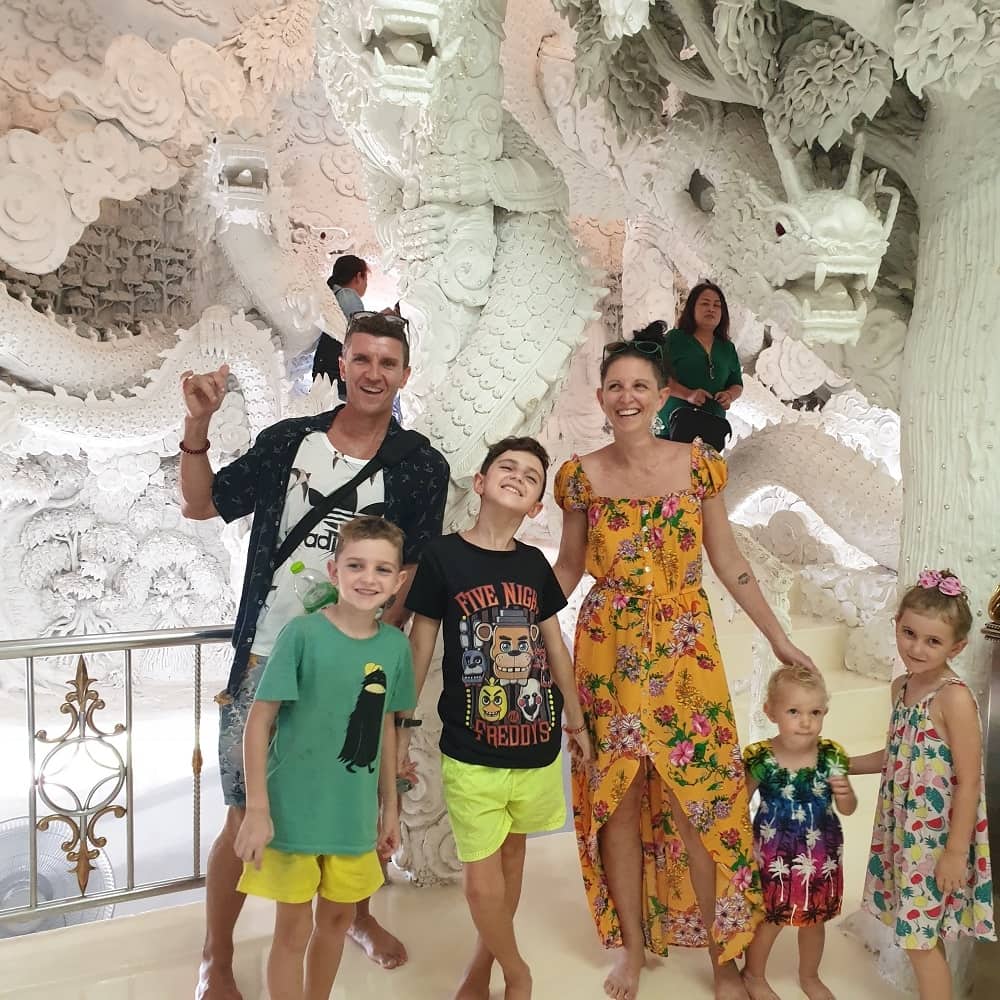 Families
Huan Kawin Lanna Home – Families will love staying at this authentic Thai style house just out of town. It takes 10 minutes to walk to the night market from here and breakfast is included. Awesome quiet, budget, family-friendly choice.
Check the Latest Price and Book Huan Kawin Lanna Here
---
Na Na Doo Homestay – This place is just such an experience. What an excellent homestay and our favourite place to stay in Chiang Rai! With a swimming pool, treehouse, swings, toys and hammocks to relax in after a day of exploring, the homestay also provides amazing food too. Your kids will absolutely love staying here! They also have a daily shuttle bus to the city and free bicycles.
At Na Na Doo you are a mere 2.8 km from The Big Buddha and only about 3.3 km from the Blue Temple.
Check the Latest Price and Book Na Na Doo Here
Other Amazing Temples to Visit in Chiang Rai
Here is a list of all the amazing temples you have to see before leaving amazing Chiang Rai:
How to Get to Chiang Rai
We self drove to Chiang Rai from Chiang Mai. It was such a great way to experience this beautiful part of the world. Find out more here:
Have you Been to Chiang Mai?