Have you been to Boreen Point the gateway to Lake Cootharabah? We have and have been visiting for around 30 years.
My first visit to Boreen Point was back when windsurfing was still cool and nobody had iPhones and the Internet was non-existent.
Back then it was sailing heaven for boats of all sorts and the place to be on Saturdays and Sundays. This is where I learned to windsurf and sail.
The main lake area is called Lake Cootharaba and is approximately 10 km long and 5 km wide of chest-deep water. It is the safest place to sail due to the depth of water and relatively calm waters.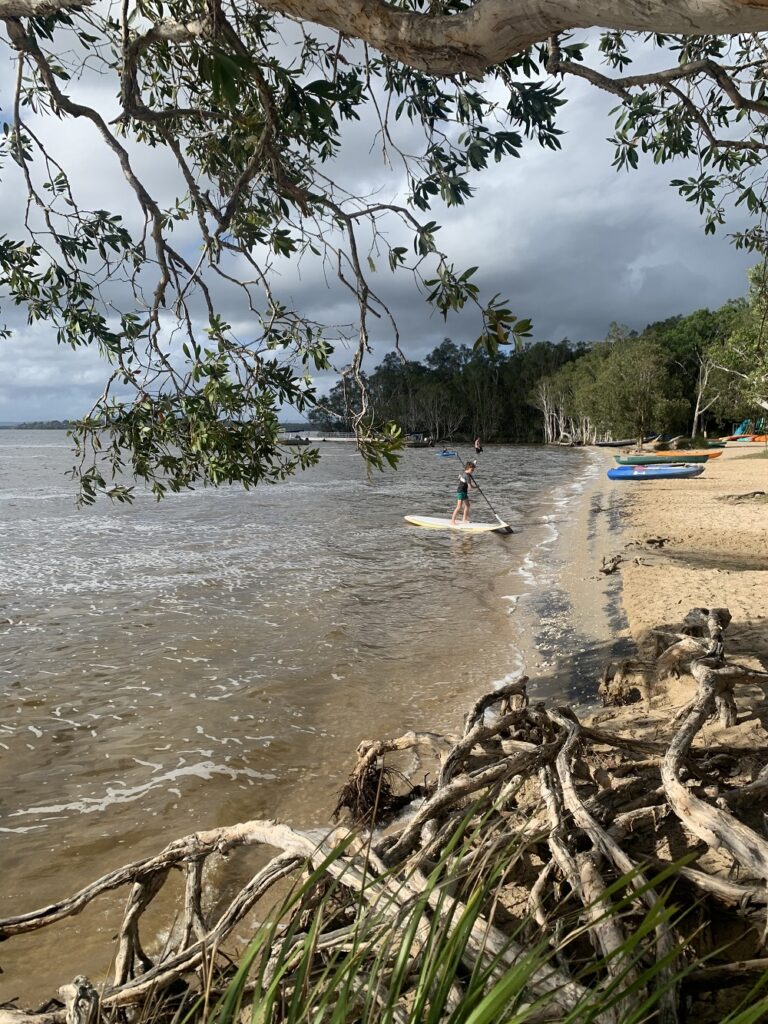 It hasn't changed too much these days apart from the Boreen Point Campground has changed a little and up the road is the Habitat Noosa Everglades Eco Village and Brewery.
Where Is Boreen Point, The Gateway To Lake Cootharabah?
Boreen Point is north of Noosa about 40 kilometers by road or 30 nautical miles via the river system on a boat.
It is pretty hidden from most people but today you will discover all its secrets and why I really do love Boreen Point.
See Boreen Point map for directions on how to get here.
Boreen Point Map
Here is a map of all the good things to see and do at Boreen Point.
Boreen Point Accommodation
Need a place to stay while exploring Lake Cootharabah? There are a ton of options for you to choose from that should satisfy all tastes.
Let's begin with:
Boreen Point Campground
This little beauty is set right on the lake tucked away in the corner and owned by the Noosa Holiday Parks Group.
The Boreen Point Campground is nestled among trees on the white sandy beach of the picturesque Lake Cootharaba and is ideal for people searching for a laid-back, safe, and family-friendly holiday surrounded by nature.
The campground is popular with couples, families, and groups, and offers calm, lakeside tranquillity.
The convenience of being only a 25-minute drive from Noosa and hinterland attractions for any fun day trips.
Large unpowered camping sites are tucked away in natural bushland, with a separate foreshore area dedicated to tent camping. There are powered sites available for tents, caravans, campervans, and recreational vehicles.
The lake is amazing for windsurfing, sailing, kayaking, stand-up paddleboarding, fishing, swimming and it is super safe for all ages.
Did you know dogs are welcome at the Boreen Point Campground?
Amenities At Boreen Point Campground
Don't stress if you forget something before you arrive, because the park has almost everything you will need. Amenities include:
Toilets / Showers & Laundry
Camp kitchen & BBQ's
Dump Points
Kiosk / Water & Charging available
Boreen Point Campground Prices & Bookings
For all your bookings go to their main booking page here!
Unpowered sites cost start about $35.00 dollars per night.
Powered Sites cost start about $40.00 dollars per night.
Our large family, it costs about $70 per night.
Boreen Point Campground Map
Visit the Boreen Point Campground map. This will help you decide where to camp before booking!
Check out the map here!
Just a heads up, This Boreen Point Camping Area is really close to the best pub in the region called the Apollonian Hotel Boreen Point.
Habitat Noosa Eco Campground
Another great campground near Boreen Point is Habitat. It is situated at Elanda Point and has its own eco brewery. Read this article all about Habitat Noosa if you are keen to stay there.
Habitat Noosa Campground has everything, a restaurant, cafe, canoe rental, everglades tours, brewery, and glamping.
Prices to stay here are similar to Boreen Point Campground but they have more options such as:
Glamping Tents –
Wilderness Safari Tent (Sleeps 7) From $269.00 a night
Powered Site (Designated) From $47.50 a night
Mays Grove Unpowered Site (Designated) From $32.50 per night
Mill Point Unpowered (Undesignated) From $33.00 per night
MAYS GROVE EXTRA LARGE UNPOWERED SITE (DESIGNATED) (Sleeps up to 15) From $67.50 per night
Paperbark Glamping Tent (With Ensuite) From $210.00 a night
From here you can go bushwalking, hire a canoe and head up the everglades for a few nights or just hang out at Habitat and enjoy drinking coffee, beer, and playing in the shallow waters.
Apollonian Hotel Accomodation
The accommodation facility for the Apollonian Hotel is a historic railway barracks from Maryborough that was relocated to Boreen Point in the late 1980s.
It was converted into a travellers' hostel in early 2000 after being remodelled to accommodate ten bedrooms.
It has its own particular calm country appeal, nestled in a wonderful bush setting on the west side of the hotel with a spacious front lawn and the native bush outback, set well back from the road.
Staying here is very convenient if you are spending a night at the pub!
They only have budget accommodation which consists of ten rooms:
5 x Queen bed rooms  (1,2,3,4 &5) – $85
2 x Queen + King single (6 & 10) – $130
2 x 3 king single beds (7 & 9) – $120
1 x 2 double beds (8) – $140
Two inter joining family rooms for $200
Rooms have separate shared shower and toilet facsilities as well as a kitchenette area.
Other Options For Boreen Point Accommodation
Beechs Brook Rainforest Retreat
What Can You Do At Boreen Point, The Gateway To Lake Cootharabah?
Love lakes and water activities? Then Lake Cootharaba is the place to be! Here is our top list of awesome things to do at Boreen Point.
Apollonian Hotel Boreen Point
This is my favourite spot to hang out after a long day exploring Lake Cootharaba. The food is amazing at the pub, make sure you try out the Smoke House menu.
The Apollonian Hotel has been under operation since 1987 and holds a lot of character. Big yard, shady trees, and rustic furniture take you back to the good old days.
Such a great range of local beers on tap and your old favourites.
Here is the menu for you to check out. Make sure you get to the Smoke House every Friday night, Saturday lunch/dinner, and Sunday Lunch for the taste of your life!
The bistro has amazing food, our old-time favourite is the local Apollonian Pie, mmm.
Visit the website here. Check out the menu and prices here.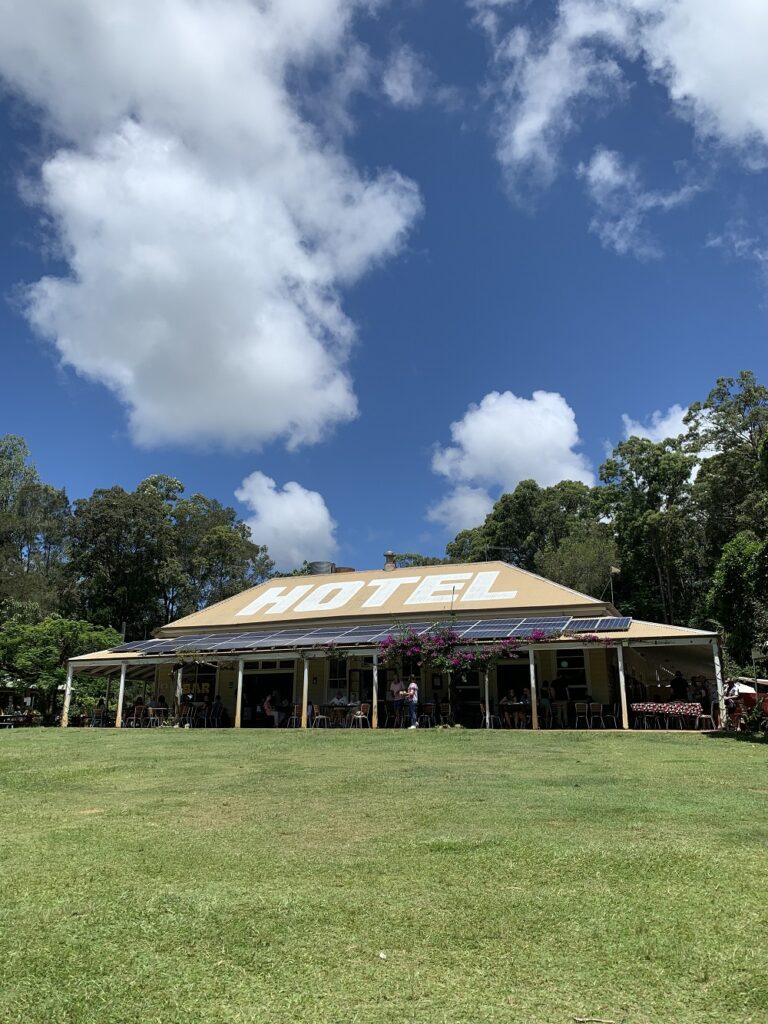 Boreen Point Fishing
Not famous for fishing, but with some luck and patients, a Bream, Bass, or Flathead can be caught. Small jetties near the sailing club are good to fish off.
There have been reports of small bull sharks in the main channel on the other side of the lake. (There is a jaw hanging on the wall in the sailing club)
Everglades Eco Tour
The Noosa Everglades are located in the Cooloola section of the Great Sandy National Park and are a beautiful network of unspoiled waterways and wetlands winding north to Rainbow beach.
There is National Park Camping all along the waterway at certain locations where you can pitch a tent. We did this tour a few years back in a canoe, which took us 4 days up and back.
You will have the best time! Self-guided tours are the best if you aren't that keen on a tour. Click here for tours with Everglades Eco Safaries.
Canoe & Kayak Hire
Head over to Lake Escapades and grab a canoe or kayak for the day. Visit their website here!
Cost are around:
| | | | | |
| --- | --- | --- | --- | --- |
| Craft Type | Maximum Seats | Half Day | Full Day | Extra Days |
| Canoes  | 2-4 adults / kids  | $30 pp  | $35 pp  | $30 pp  |
| Single Kayaks  | 1 person  | $50 pp  | $60 pp  | $50 pp  |
| Double Kayaks  | 2 adults, 1 child  | $30 pp  | $35 pp  | $30 pp  |
| Canoe with 2hp motor  | 2 people  | $50 pp  | $60 pp  | $50 pp  |
Learn To Sail At The Lake Cootharaba Sailing Club
Want to learn how to sail? Just contact the Lake Cootharaba Sailing Club and try one of their training programs, ranging from a basic introduction to sailing to more advanced sail tutoring, race management, and powerboat operation and license.
They hold formal instruction overseen by a recognised Australian Sailing (AS) qualified instructor.
Boreen Point Camping
Just visit the lake and do nothing! Bring your own supplies and relax by the lake. Boreen Point Camping areas are lakeside, that says it all! Boreen Point, The Gateway To Lake Cootharabah is a super fun place to stay at least 2 nights.
Visit Eco Brewing Co At Habitat Noosa
Did you know that the water they use is blended with the finest high gravity wort, the best yeast, and hops from around the world? This creates a 100% natural beer, free of preservatives, additives, or flavours.
Head to Habitat Noosa Campground and here you will find the Bistro which houses the Eco Brews. They have about 11 locally brewed beers that will rock your socks off! Tasty pizzas and other amazing food are available.
See the Beer list here!
Cooloola Berries Farm
This is a secret little gem of a place. They have their own ciders and cold Furphy on tap set amongst beautiful farmland only a short drive from Lake Cootharaba.
Here they serve Piala and other delicious meals most of the time. Depending on the time of year picking strawberries, blueberries, or Sunflowers is achievable for a couple of bucks.
Check it out, you won't be disappointed.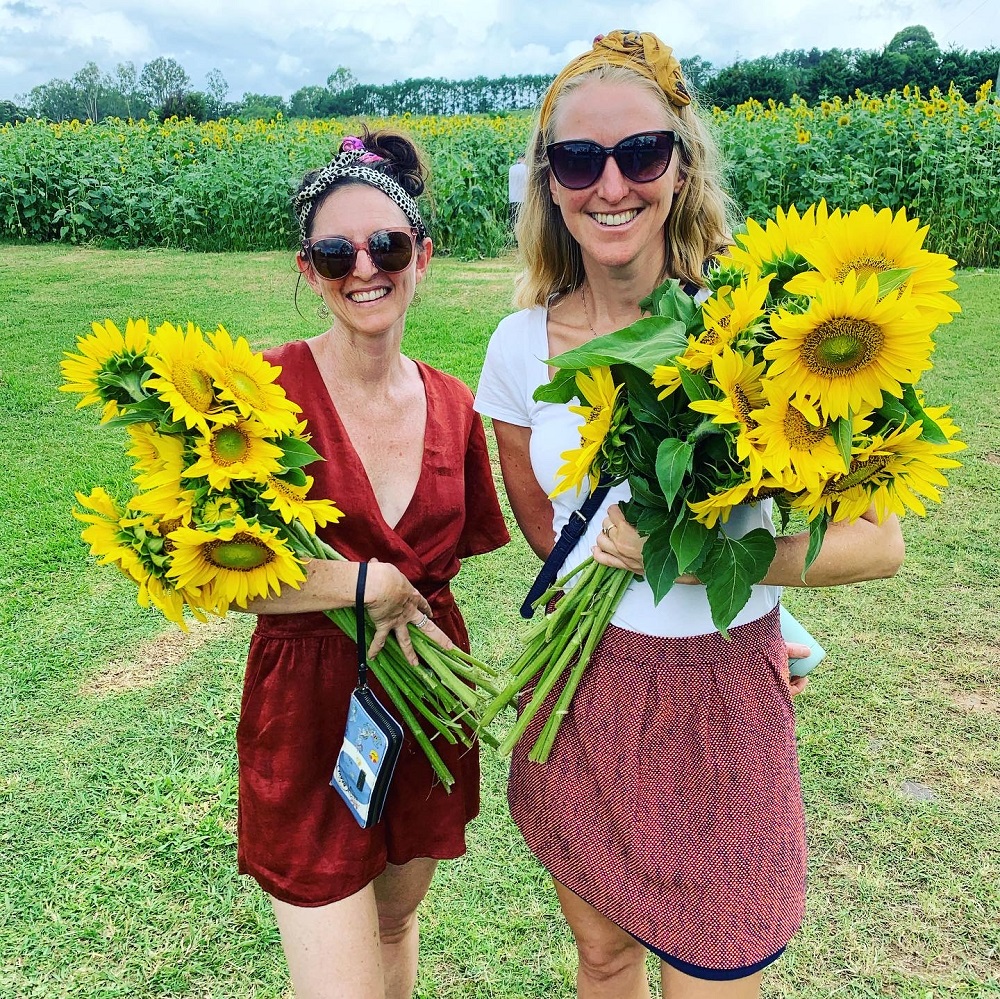 Winsurfing, Kitesurfing, Wing Foiling, Stand-up Paddle Boarding On Lake Cootharaba
The lake is awesome for watersports and probably the safest place to learn all these action-packed activities. There are heaps of nice little beaches with picnic tables around Boreen Point that make it a great day picnic area.
Launch your craft and attack the small choppy waters if the wind is up. The best wind direction is southeast winds.
Picnic With Family On The Lake
Lake Cootharaba has many picnic areas with tables and playgrounds scattered around its shores.
Bring some food, music, and drinks and relax by the lake and have a great day.
Explore North Shore Teewah Beach From Boreen Point
Did you know if you have a boat you can motor over to the other side of the lake and access the main Teewah Beach?
Just head to the North-Eastern side of the lake and you will come to a channel marker with a little jetty onshore.
From here park the boat and walk around 1 kilometer to the open beach where you can go surfing or swimming. (Be careful it is un-patrolled and can be rough!)
Kabi Golf Course
Hit the greens and get a hole in one at the par 3 course just minutes away from Boreen Point.
Questions That Have Been Asked About Boreen Point, The Gateway To Lake Cootharabah
Here are some common questions that we get asked about Boreen Point.
Is It Safe To Swim At Boreen Point?
Yes, it is! The water in the main areas is very shallow. Always supervise young kids.
Are dogs allowed at Boreen Point?
Dogs are permitted upon application at Boreen Point Campground in off-peak periods only. You can not bring a dog to Habitat Noosa Eco Campground at all.
Dogs are allowed in the main township of Boreen Point.
Are Jet Skis Allowed On Lake Cootharaba?
Yes, all watercraft are allowed at Boreen Point, with normal waterway rules applying.
Here are some other amazing places you need to visit when on the Sunshine Coast: