Need amazing craft beer fast? Right now grab your bags and head on down to 10 Toes Brewery on the beautiful Sunshine Coast.
Ten Toes Brewery placed in the top 10 of the GABS in Australia this year with their delicious "PIPELINE" Drop.
The venue is quite hidden but once inside it has a super laid back Sunny Coast vibe with super helpful and friendly staff. This is how real breweries should be like!
Read on to find out just why we love 10 Toes Brewery so much, and why it deserves its place as one of the best Breweries on the coast.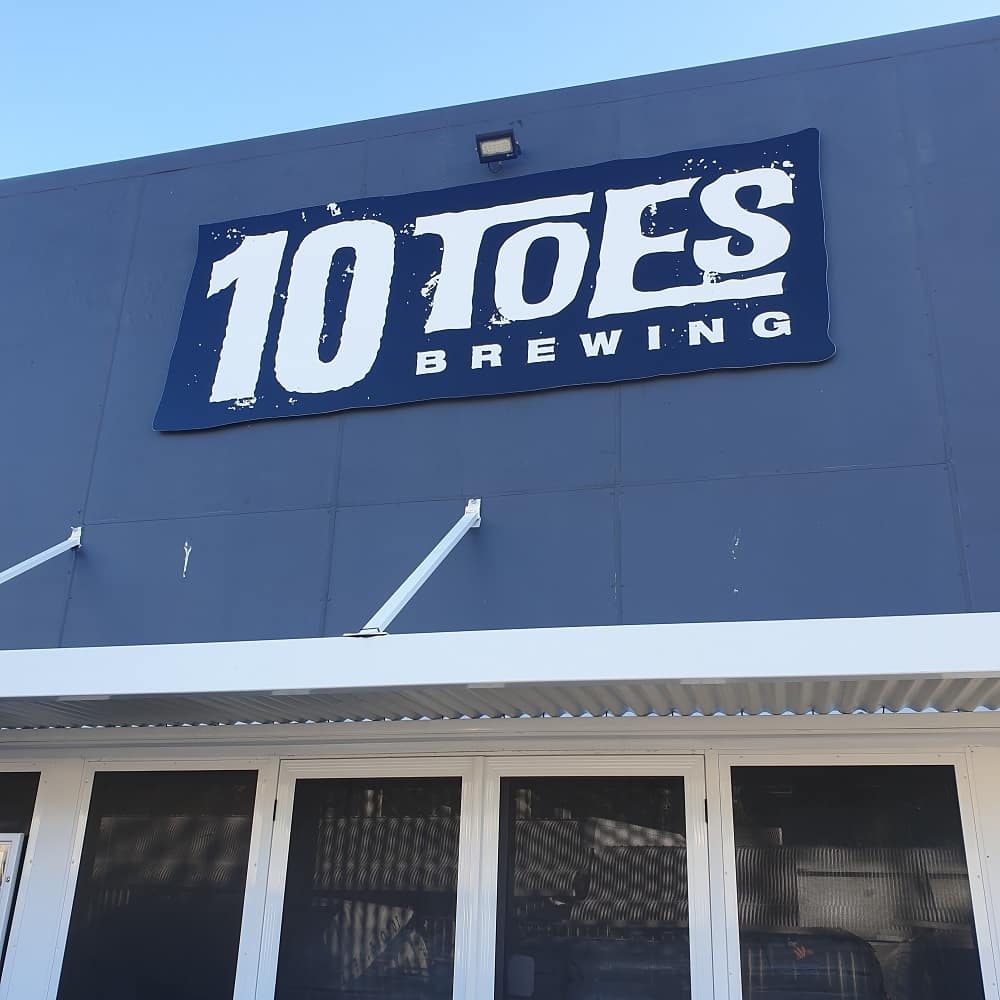 Where is 10 Toes Brewery Located?
You can find this local favourite tucked away in Sugar Road Industrial Estate Maroochydore.
Here is the address:
Unit 4/127a Sugar Road,
Alexandra Headland, QLD 4572
Is off the main drag a little opposite the car yards.
To get here from Brisbane CBD it would take you about an hour drive.
See Map Below.
The Brewery Opening Hours
This cool local brewery is open on from Wednesday to Sunday. (Check for COVID 19 changes)
Wednesday to Thursday from 10.30 am – 6.30 pm
Friday 1am – 9.30pm
Saturday 12pm – 8pm
Sunday 12pm – 6pm
Closed Monday – Tuesday
The brewery is so laid back, the perfect hang out place to take your friends for a drink with flavour. They have a great range of beers.
Is Ten Toes Suitable for Kids?
Not really! They don't have a kids area or really anything for them to do here.
You can play out the back on the concrete but it's not really worth bringing your kids here because they will be bored. Ipads recommended.
If bringing kids grab a pizza and a growler then hit the road.
Is The Brewery Pet-Friendly?
Yes! You can bring your dog into the premises but make sure it is on a leash and well behaved.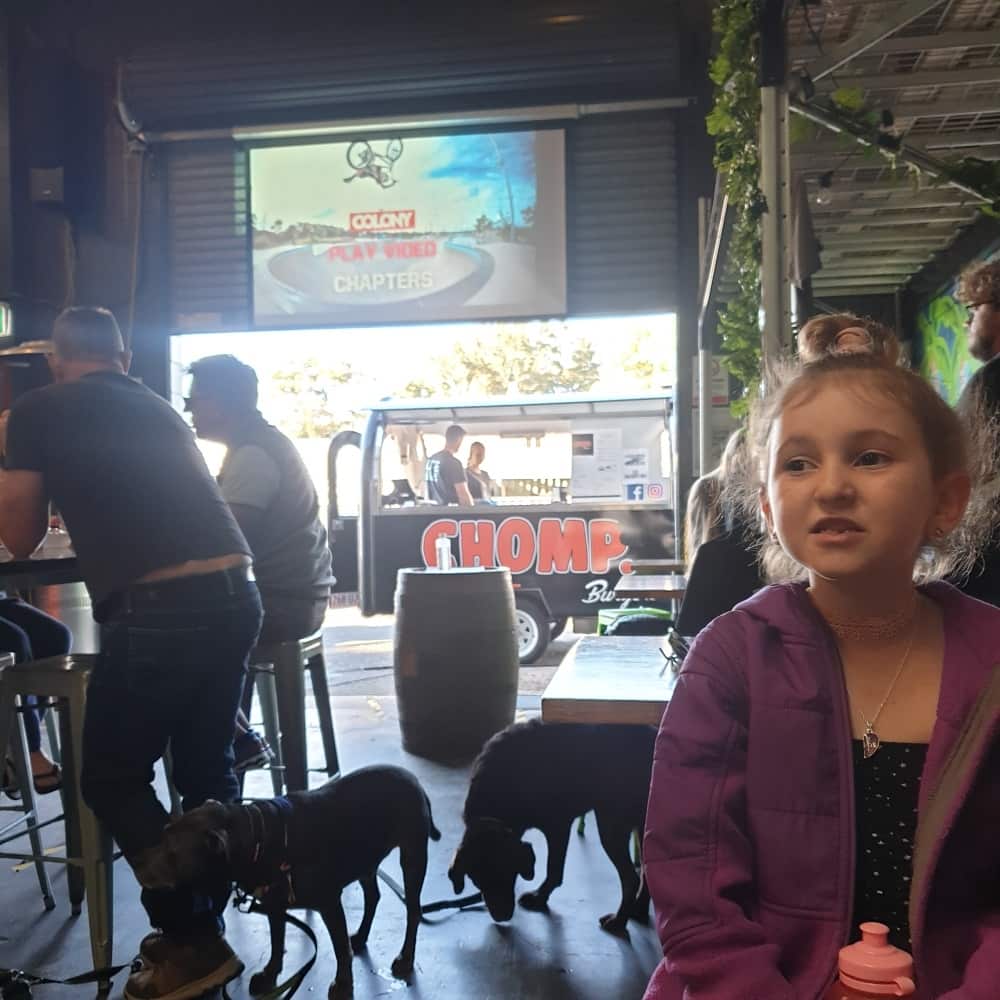 The Beers at 10 Toes Brewery
For the full range of beers they craft check out their website here:
10 TOES BREWERY BEER SELECTION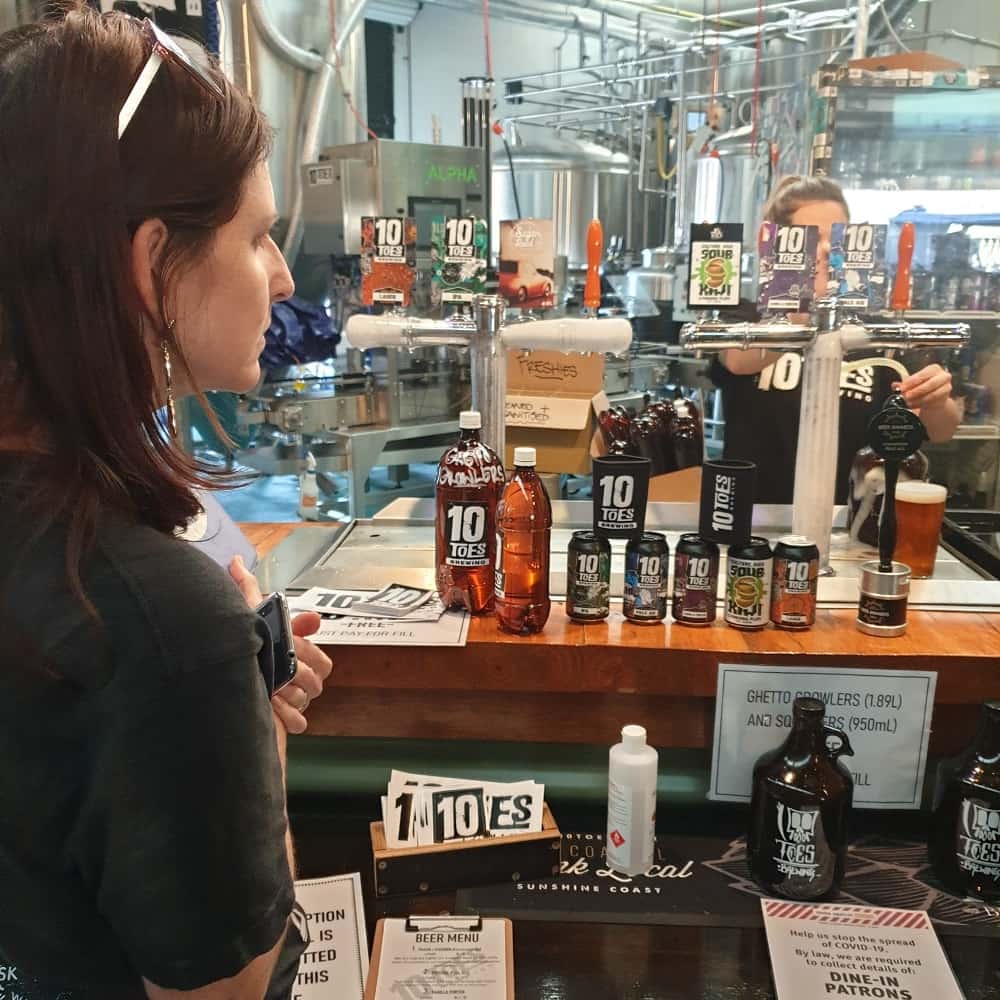 Here is a sneak peek of some of the beers on tap:
HELL YES LAGER – $8.50 SCHOONER
PIPELINE PALE ALE (Our favourite!) – $7.50 SCHOONER
VANILLA PORTER – $8.00 SCHOONER
SUGAR ROAD
PEACH & PASSION ALE
ALL DAY MID PALE ALE – $6.00 SCHOONER
Like all breweries, the list can change so you will just have to visit the brewery to find out more of what is on offer.
Either drink on-site, or you can take the beers home. They come in cartons of 24 cans.
They also can fill growlers onsite for your takeaway needs. But the best thing is if you don't have a growler they sell takeaway bottles in a 1L $10 or 2L $20 dollars.
We constantly pop in and grab a growler. The pipeline is the perfect craft beer to enjoy by the beach in the sun.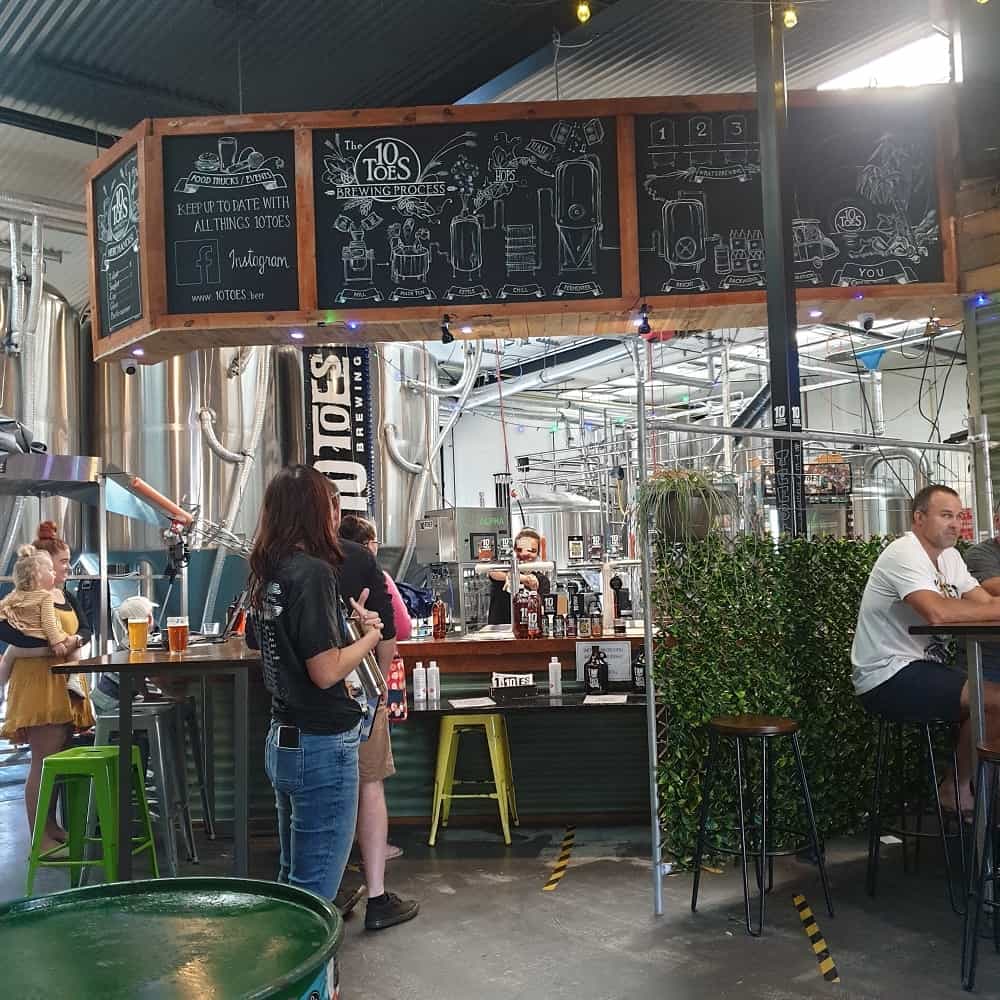 Facilities at Ten Toes Brewery
Ample parking is available off the main street.
The toilets were well looked after full of cool art
EFTPOS
Seating for large groups, singles all indoors
Big Screen TV for sports
Decorated nicely, very surfy and relaxed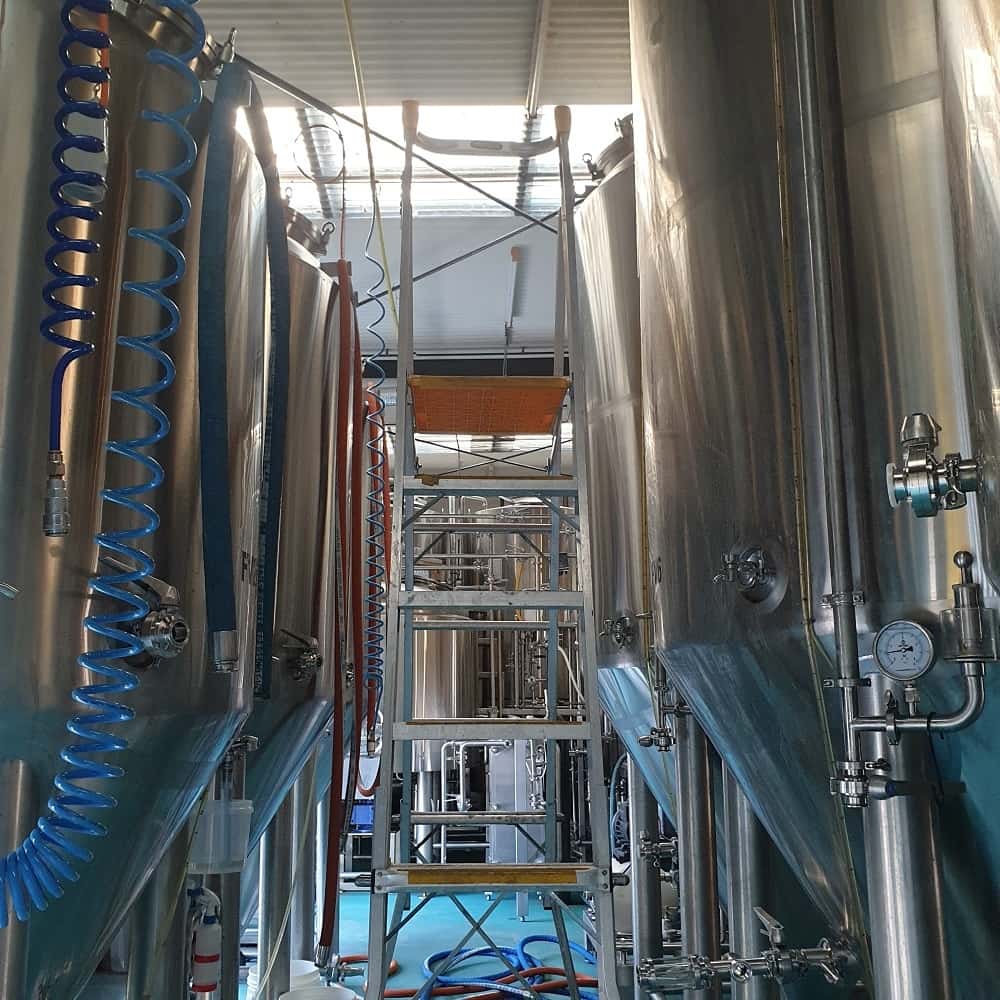 Our 10 Toes Brewery Experience
The brewery is a little hidden, so unless you know where to look you won't just stumble on it.
Because everything is inside the Industrial shed it feels like nothing is happening when you arrive, but once inside it feels really cool.
They have a dark interior with lots of splashes of colour. 10 Toes loves its branding, you can see the stickers everywhere and even take some home. (They do look cool!)
Seating is ample for a reasonable size crowd while you hang out and enjoy a beer. They have a big screen projector TV that plays action sports most of the time for your entertainment.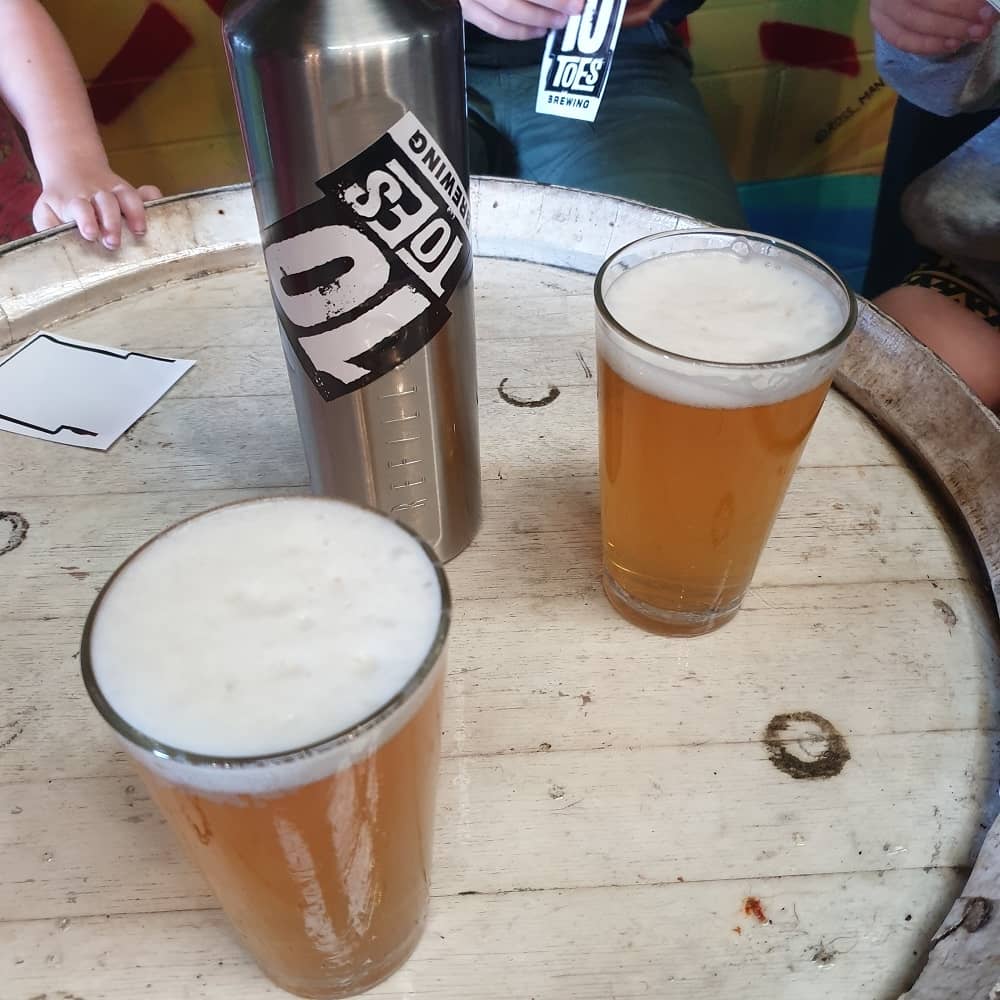 The vibe is chilled with mostly locals. Not really great for kids. Our gang let us have one drink but otherwise they were a bit bored.
All their beers taste great and are super easy drinking. No wonder they placed in the top ten of the Gabs this year.
Beers are cold and on tap, you can buy from over the counter cartons and growlers to take home with you.
Ten Toes is probably my favourite brewery on the coast due to it's easy-going venue and epic tasting Pipeline Pale Ale.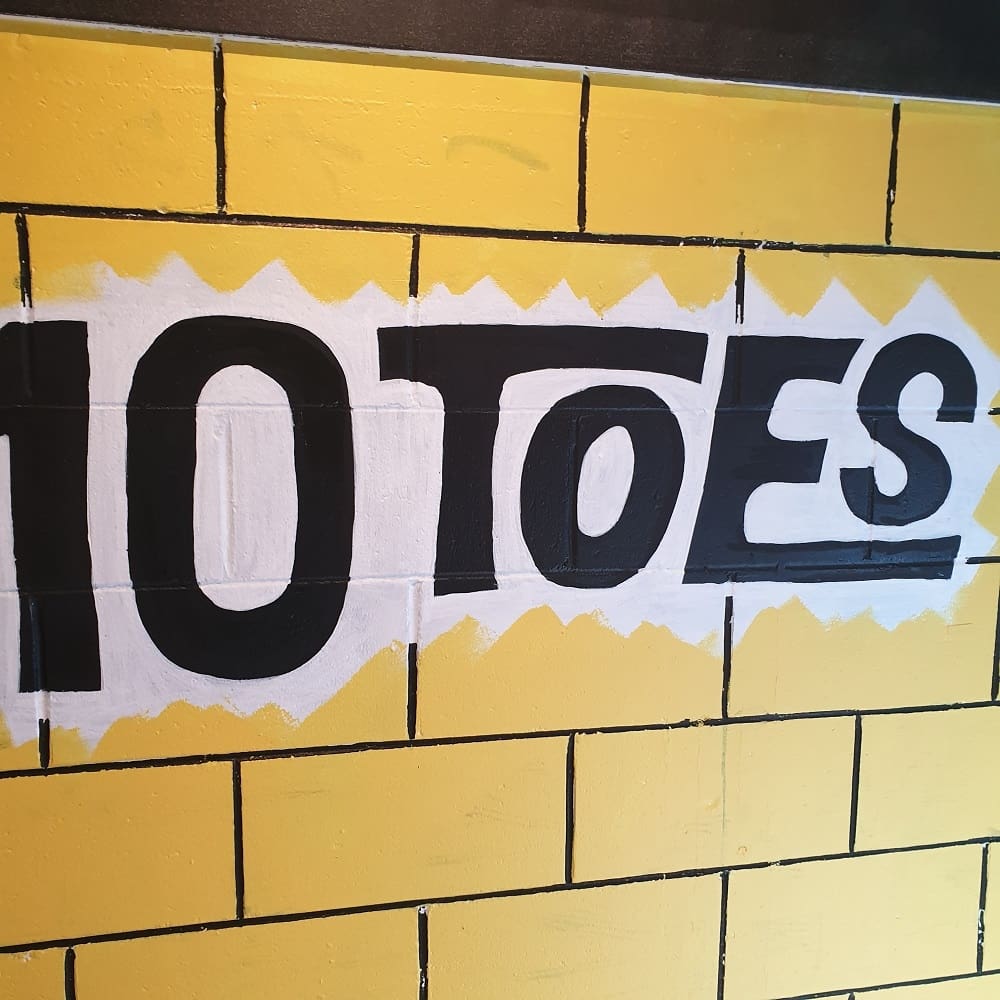 Food Vans at Brewery
The brewery doesn't have an onsite restaurant they cater for local food vans.
They park out the front on weekends to serve food to patrons at affordable prices. Pizzas, Burgers etc to please most tastes.
We felt super welcome at 10 toes and will be back again soon.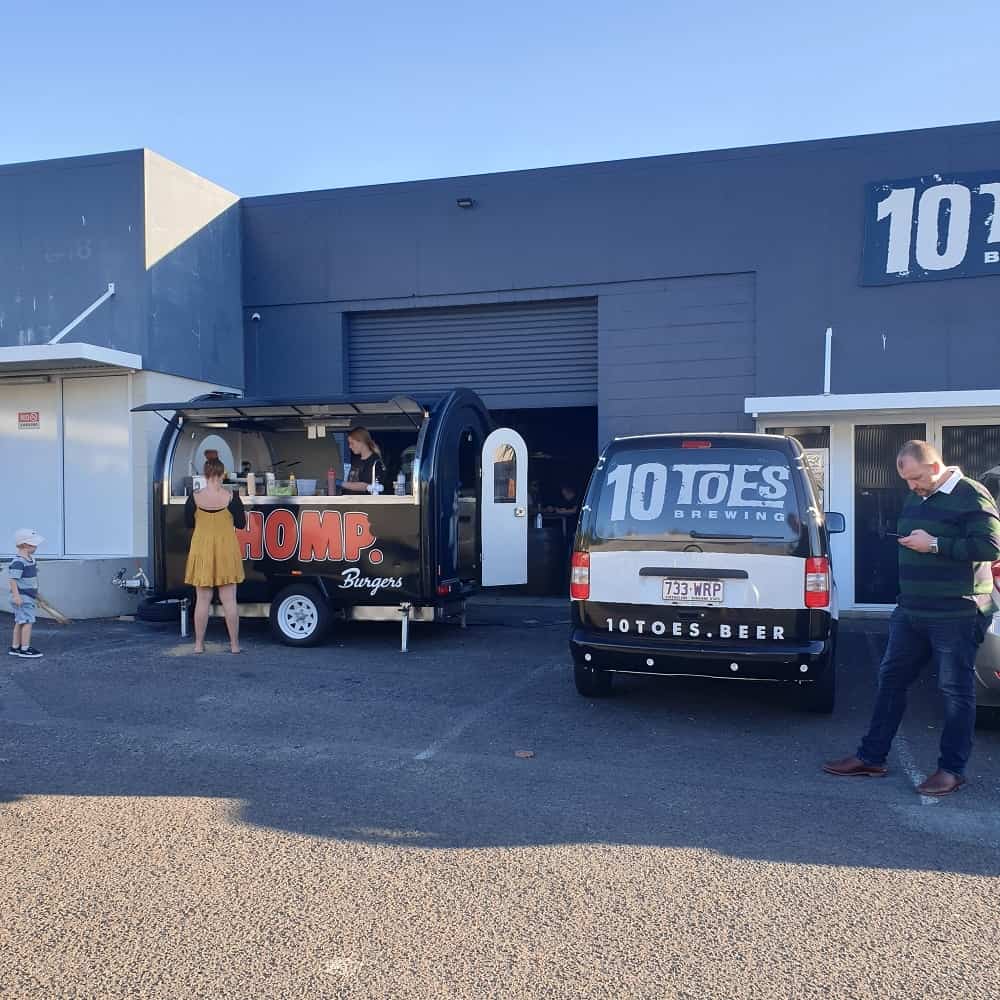 The 10 Toes Brewery Verdict
Definitely my favourite local spot. If you like your beers uniquely crafted, smooth and exciting with a ton of flavour then this will be your go-to spot.
Try and visit all our Sunshine Coast Breweries!
To check out other amazing breweries on the Sunshine Coast click here:
Accommodation Around the Ten Toes Brewery
If you would like to stay for the weekend and explore the Maroochydore region then check out these top places.
Alexandria Apartments
Aquarius Resort
Grand Palais Beachside Resort