The biggest problem we all have when working out is sweat!
Nothing worse than slipping all over the place when you are trying to hold a downward dog in Yoga or pushing weights on a sweat soaked bench.
You don't need to put up with this any longer because the all new funky Tesalate Gym Towel is out and about.
Read on to find out more!
---
---
Name: Tesalate
Website: Tesalate.com
Price Range: $49AUD
Overall Rank: 9.5 out of 10
The New Tesalate Gym Towel Features!
Here are the reasons why this gym towel is so amazing:
Antibacterial – This latest fabric technology kills most harmful bacteria found on equipment or from your body sweat
Compact & Lightweight – Easy to roll it up to a very tiny size, take it anywhere and everywhere you may roam
Odour-Free – Fast-drying, bacteria-killing fabric means your towel remains amazingly fresh even after a hard workout.
Double-sided design – Dedicate one side to drying and one side for everything else you do
A Perfectly designed size – At 100cm x 45cm they really are perfect from gym, yoga to any type of sport you can think of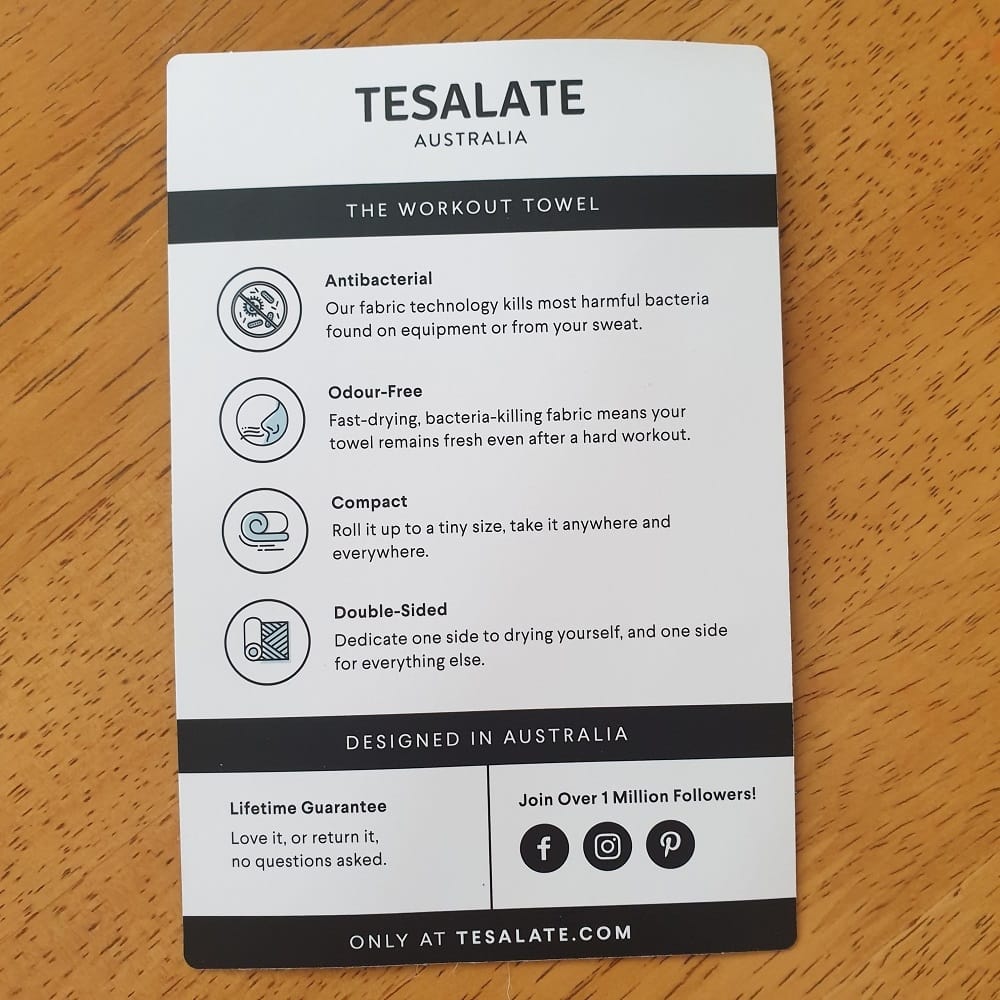 So light, thin, super absorbant, no smell, soft and compact they really have designed an amazing pure gym towel for active people.
When folded the microfibre gym towel just disappears into your gym bag because of the sheer size.
Their unique designs will have you wanting to workout more just to show off your gym towel to the masses.
Everyone will be in envy of your great look and the way the pure Tesalate gym towel performs.
Just like the original Tesalate beach towel but small they can also be used down the beach. The way the sand falls off these towels is nothing short of amazing. 
Our young kids love them, our 3 year old uses it as her personal mini beach towel which is so cute. But with these towels no sand is brought home.
You hardly even have to shake these babies off and the sand just falls away, wet or dry.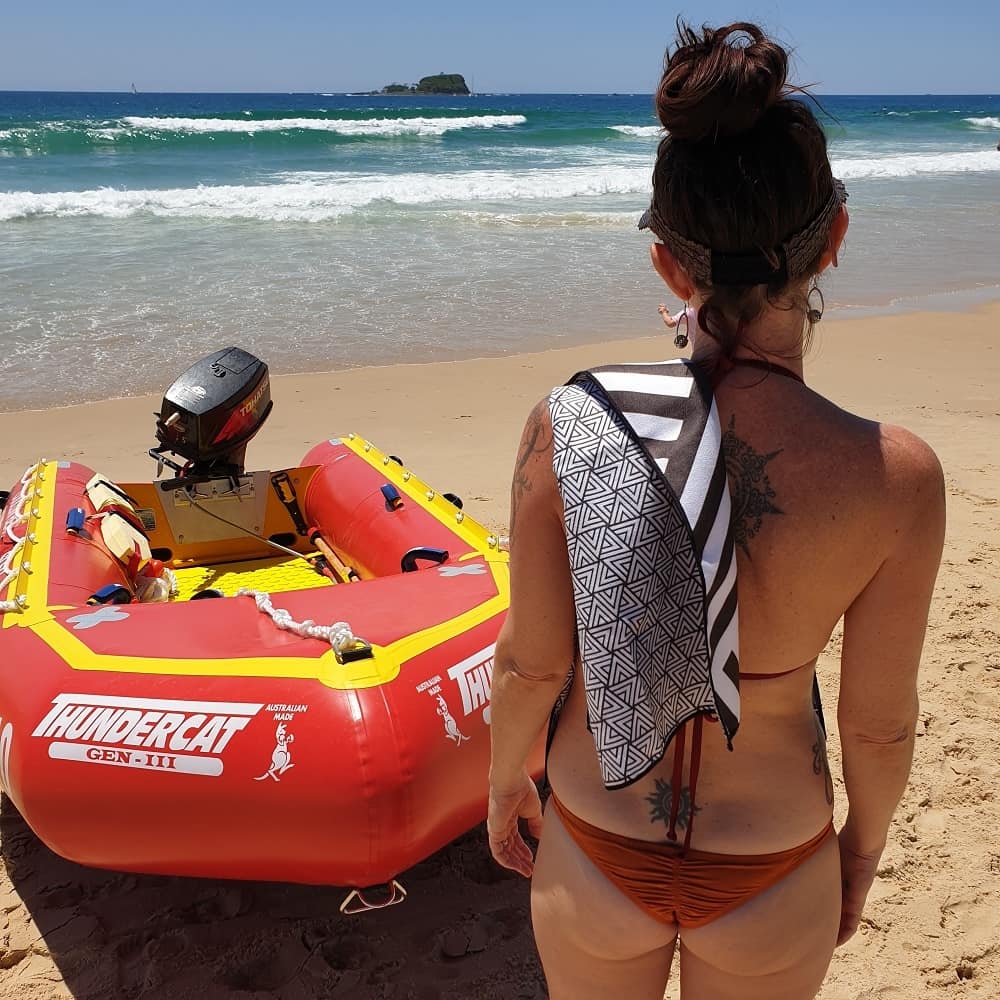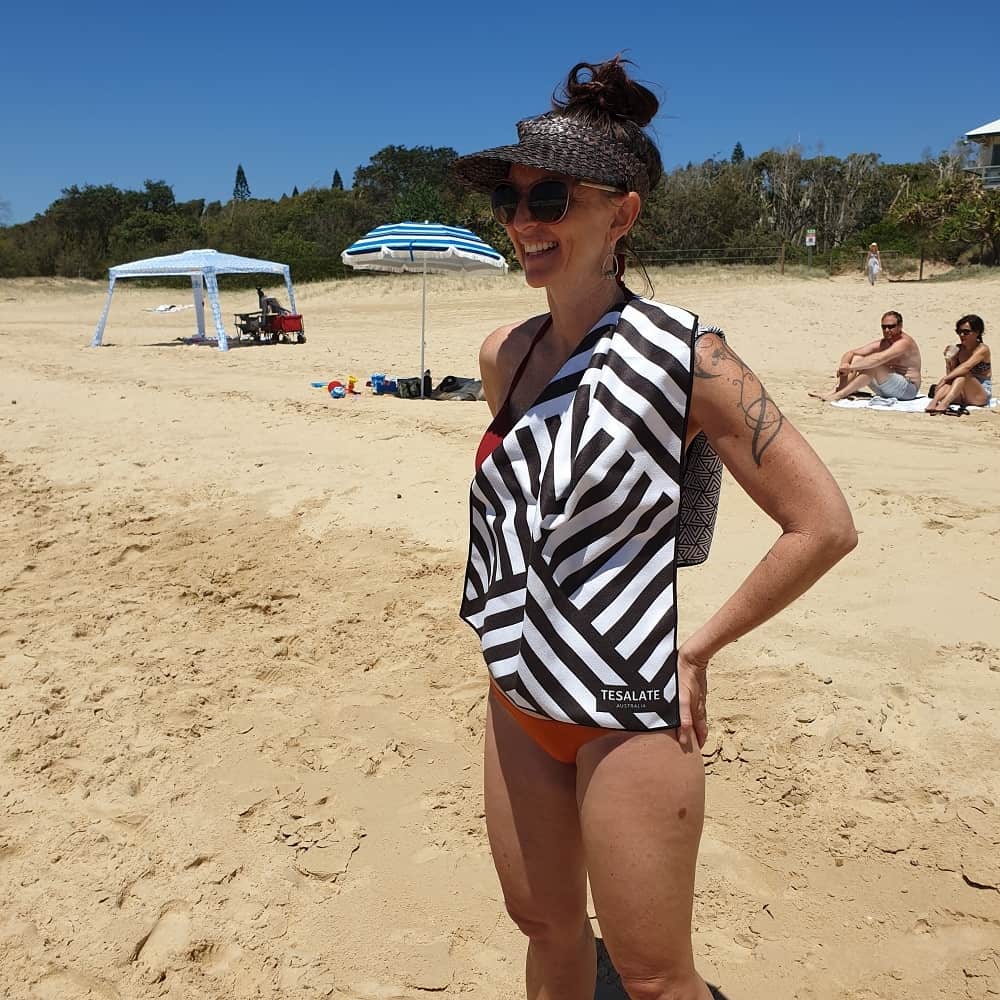 What Is Tesalate?
Tesalate is a Sydney based company created by two friends who had a brilliant idea after a hike to a secluded beach at the Royal National Park in Sydney.
After getting home with a soggy wet, heavy and sandy towel they wondered is they could make a towel much better to solve all these problems.
Then they did a tonne of researching, designing, stressing, crying and laughing, they launched Tesalate at the Bondi Beach Markets.
They had created a sand-free beach towel that is absorbent and completely sand-free.
What Are Tesalate Gym Towels Made Of?
The Tesalate gym towel is made from this innovative AbsorbLite microfibre fabric which is engineered out of polyester and polyamide.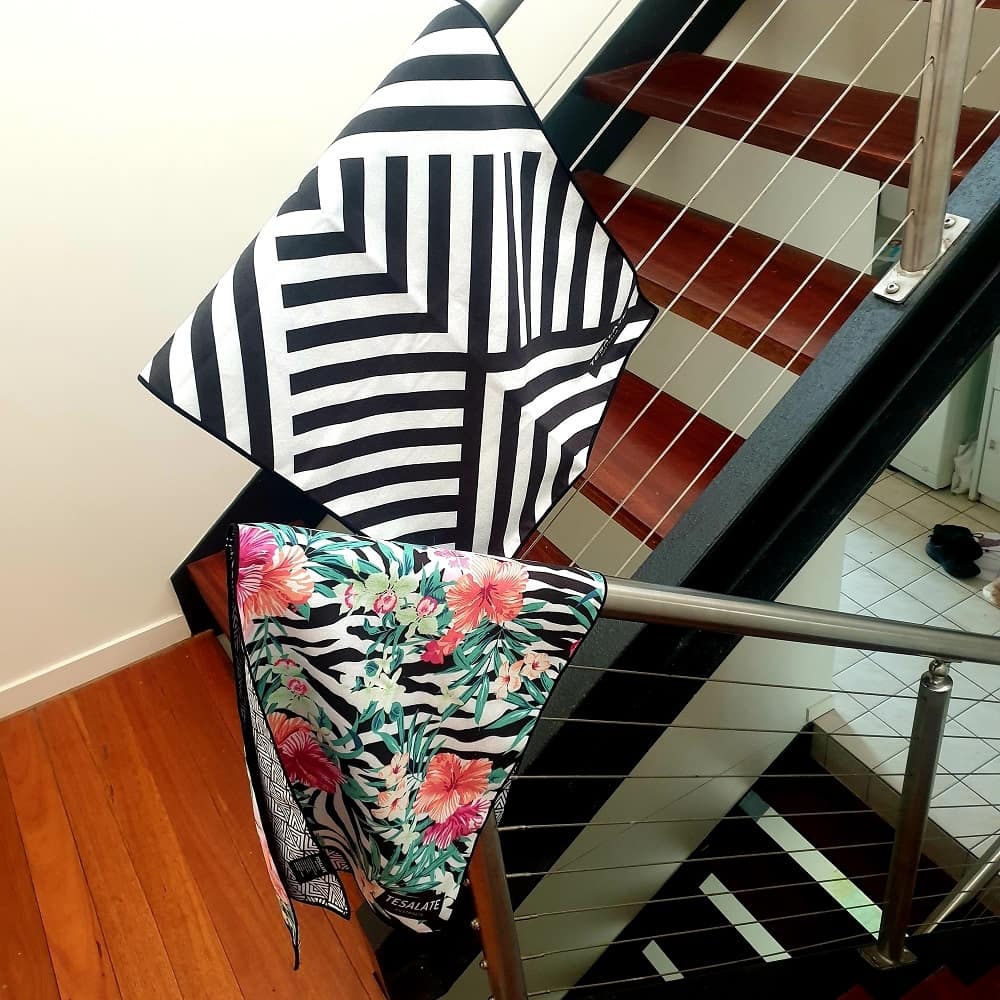 Standard beach towels are usually made of cotton which has been woven into an absorbent looped terrycloth. 
This provides comfort and absorbency sure, but a regular towel gets super heavy when it's been used.  The ability of cotton terry fabric to hold water is the very reason we use this for beach towels however this also means that they take ages to dry. 
Another drawback is the way 'normal' towels hold the sand thanks to the loopy side pressed down onto the beach.  Add some sweaty bodies to this, and you have a wet, heavy, sticky gym towel to take home.  
Microfiber is superior to cotton mainly due to its massive capacity for absorbency, the actual structure of microfibre filament giving it a larger absorptive surface area.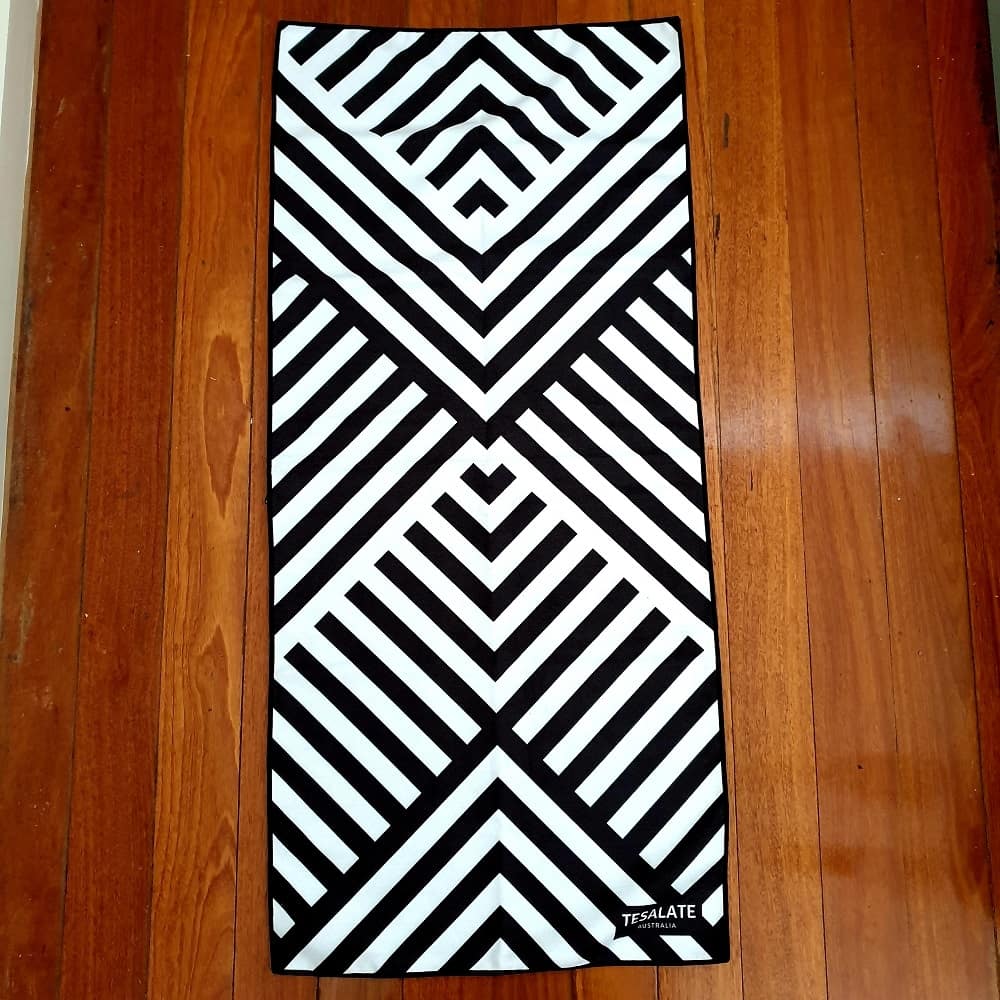 Tesalate gym towels can hold 1000mls of water without being drippy.  We tested this at the beach, gym and yoga studio and it is real!  
There's a lot of cutting edge technology going on with these pure gym towels.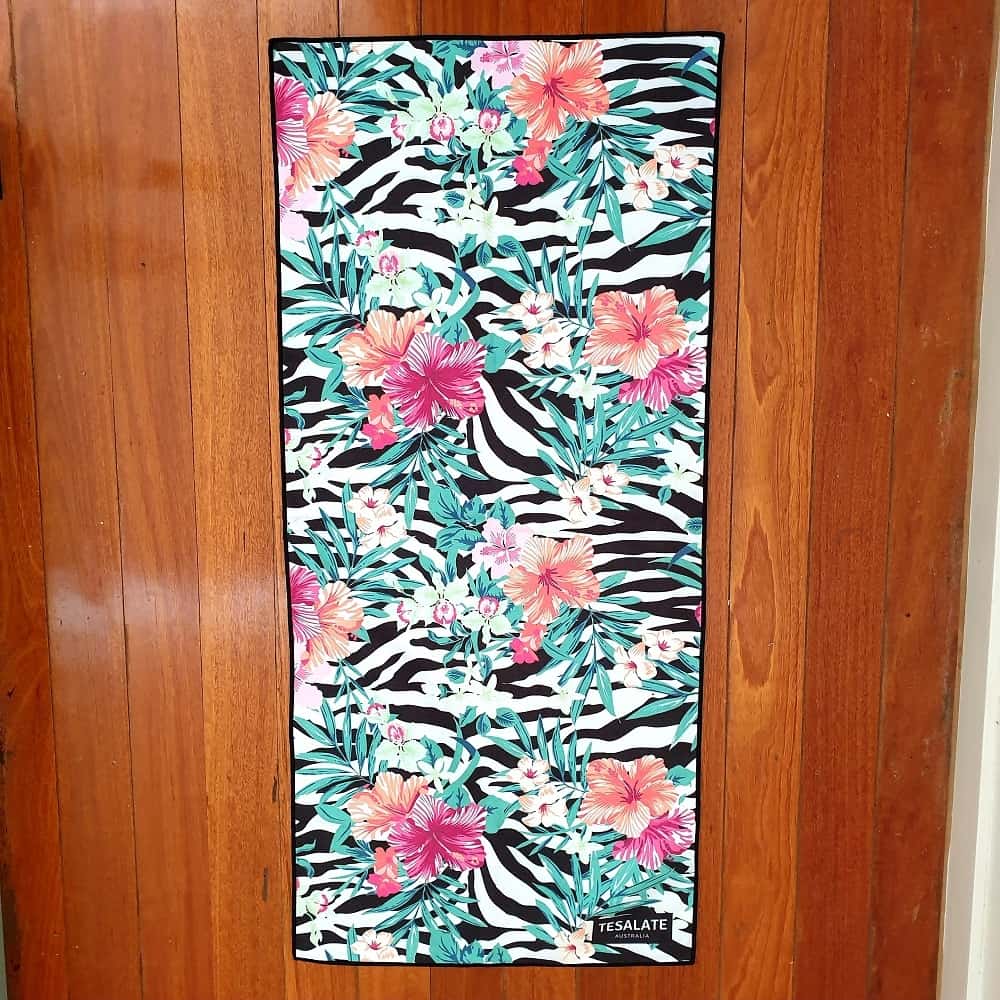 Do Tesalate Gym Towels Work?
Of course, we have tested them and they sure do! Once you discover the amazing benefits of these towels, you will not be going back to regular oversized boring gym towels that smell.
Stop slipping, stop smelling and perform at 100% with these pure gym towels built for amazing people!
They are so much lighter, dry much quicker, odour free and fold away neatly compared with other brands.
Just grab the best gym towel here and join the physical gym towel revolution!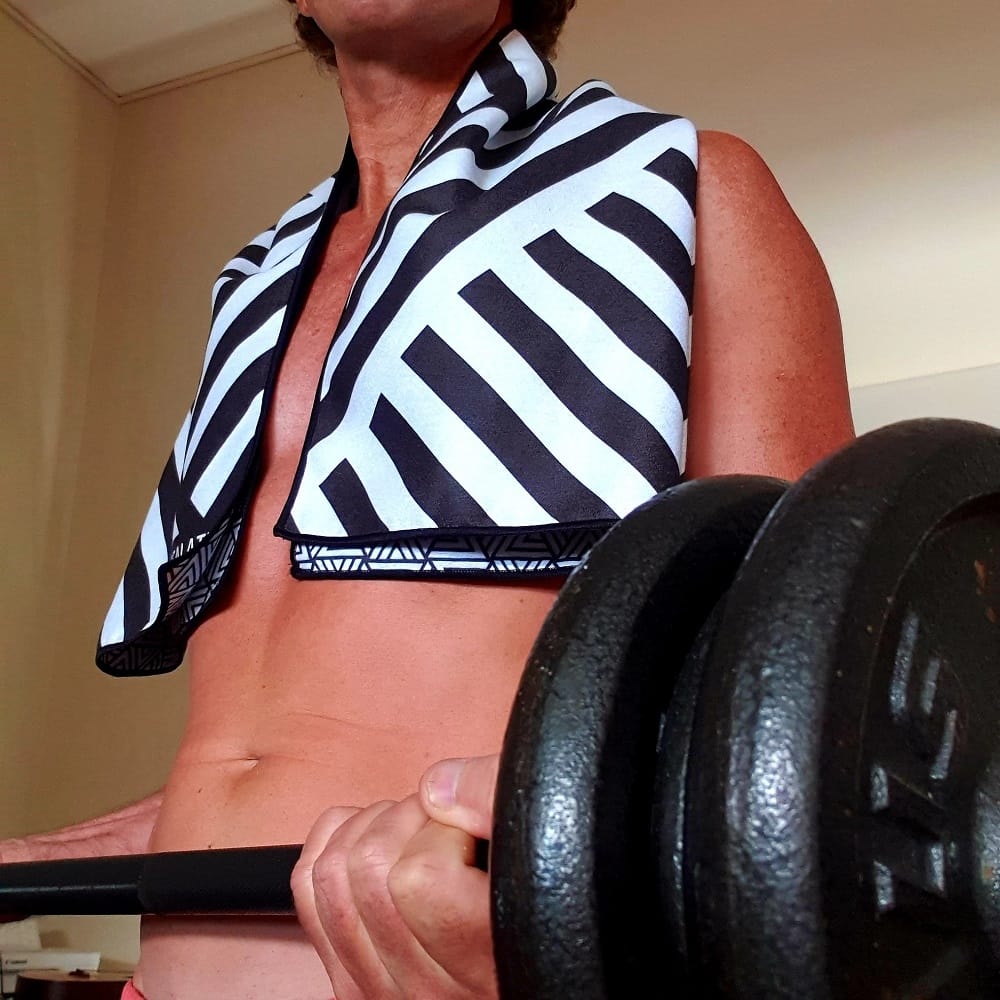 How Do You Wash Tesalate Gym Towels?
Easy! They are very durable and can take a pounding but the easiest way to care for your brightly coloured gym towel is to:
Cold Machine Wash
Hang Out On The Line To Dry
Or If You Have Limited Time Tumble Dry On Low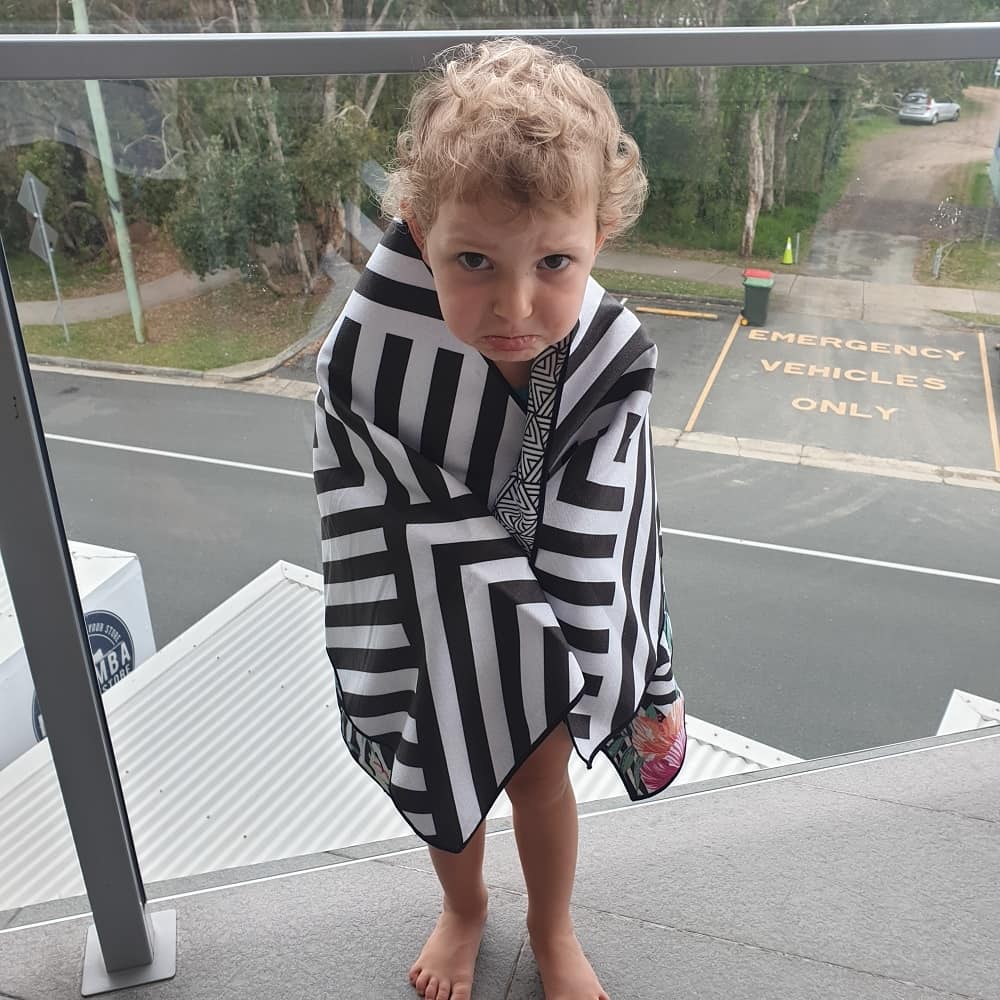 The waffle weave of the Tesalate Towel gives it a nice comfy feel, making it a pleasure to wrap yourself up in.
Also, the unique fabric stops your towel from sliding off the bench table or yoga mat! Awesome.
The Fresh Tesalate Gym Towel Look!
Tesalate has done something even more impressive with their gym towels, not only do they feel soft, absorb a tonne of sweat and water, repel sand, dry quickly and fold up extremely small.
They also have insatiably good looks and are literal head turners at the gym or court. The range is impressive.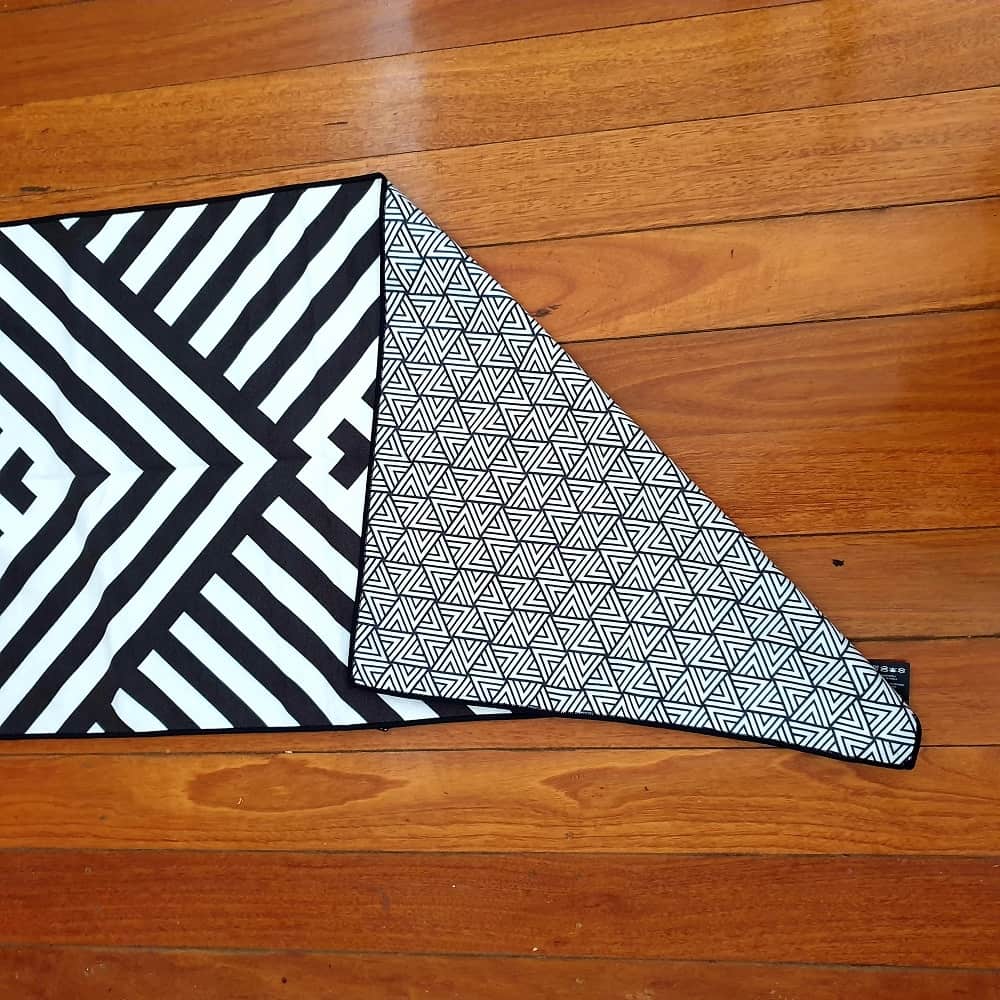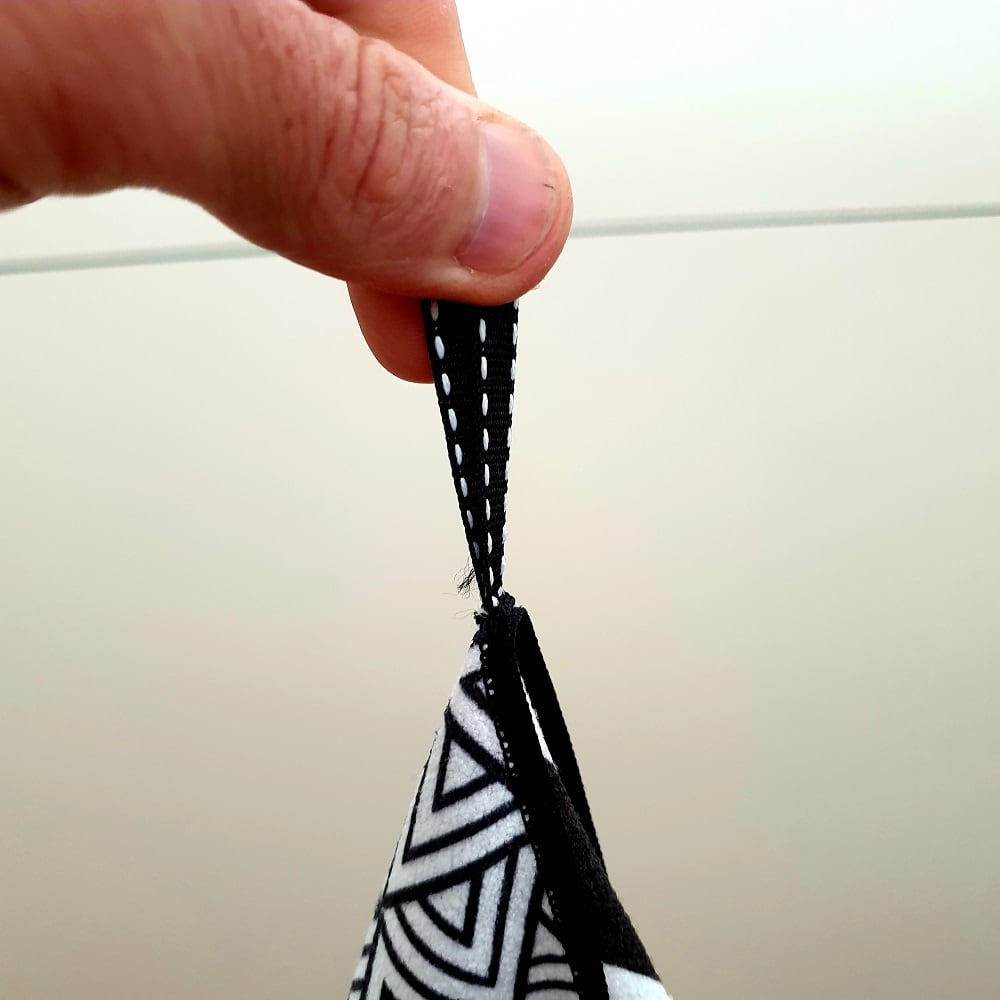 My friend and I recently tested these out at yoga and found that everybody was checking us out (more than usual haha) thanks to the bright gorgeous prints we were laying on. 
But not only this, I found that I usually slip a little on my mat due to sweat. Having the Tesalate Gym towel on my mat I was able to stay put and it didn't get in the way.
Everybody wanted to know where we got these epic gym towels from!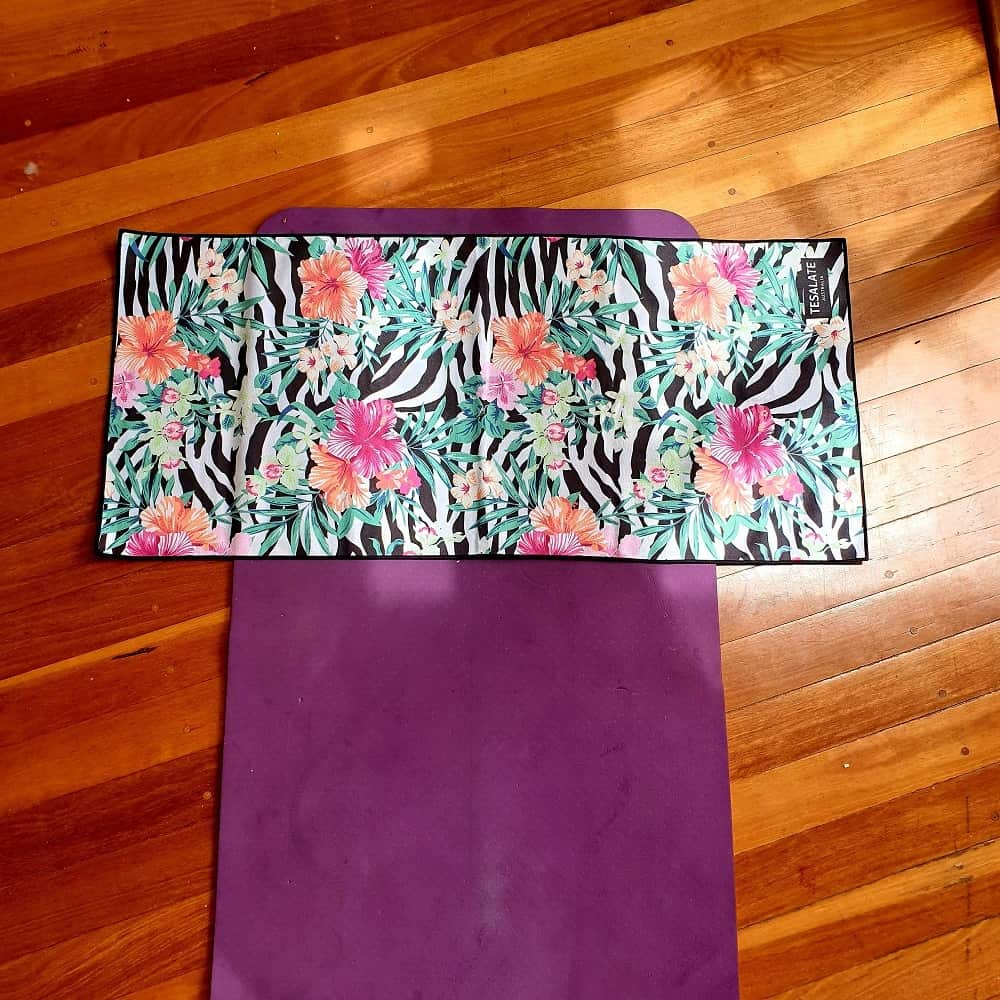 There are right now 28 stunning vibrant designs to choose from which means you can keep everybody happy and match unique personalities with their own very special gym towels. 
Designs are constantly being updated so check the website for current models.
My favourites are the Rainbow road, Born Wild, Cassandra and the Swell, but I luuurve all of them really.  I wouldn't care which one I had because they all look fantastic!
Who wouldn't want to be seen at the gym or court with such stunningly beautiful and technologically advanced gym towels! 
It is not every day you get to do physical exercise on a beautiful engineering wonder.
Out now on the Tesalate website are the Tesalate Gym towel range.
>> Check out the new range of gym towels here!<<
Tesalate Uses and Care
I have been using my pure Tesalate gym towel poolside, on the beach, at the gym, and during yoga too.  These fit in anywhere, handbag, pocket and backpack.
They are easy to wash on a cold cycle and the print has so far not faded.  Because there are no cotton loops to speak of, there are no pulled threads which so often happens to 'normal' towels.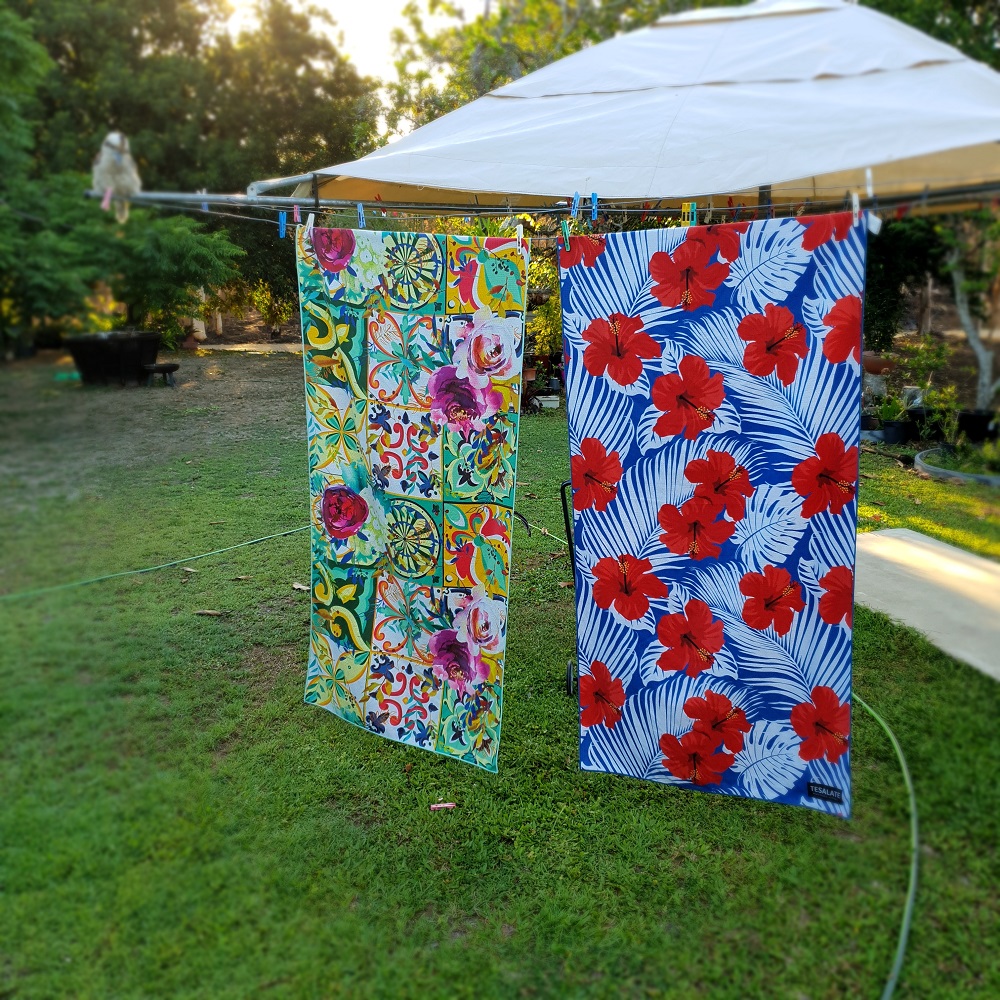 They dry so quickly and have no odour like other gym towels. This is always an issue after a hard class and when you get home everything has to instantly go into the wash due to the disgusting odour.
Not any more, thanks Tesalate!
Did I mention they have FREE shipping also?
How Much Do Tesalate Gym Towels Weigh?
These gym towels weigh around 500grams which makes them great for all sports and activities, taking to the Gym or just for use at home. You don't even notice that they are in your bag.
How Much Are Tesalate Gym Towels?
Tesalate workout towels cost $49 AUD with FREE shipping if you just opt for standard shipping.
That sounds pretty awesome if you tell me! Considering you will never have to buy another gym towel for many years to come. Unless you get bored with the same old look or a fellow gym member steals it.
Tesalate Gym Towels are durable and easy to care for while doing the job they are supposed to do.
You won't regret the investment.  There are other towels out there sure, but none come close to the superior quality feel of Tesalate.  
Go On, Get One and Get the Body You Deserve!
If you go and check out the Tesalate website, you can get an extra 10% off just by signing up for their newsletter.  This brings the price down to a bargain of $44.10 and they offer FREE postage too.  The postage is lightning super fast!
The Power of Using These Gym Towels is Real! 
There are over 30K satisfied reviews on their website from customers all around the world almost all giving an overwhelming 5 stars, mine is there among them too somewhere. 
If you love your body and want to perform at 110% then these gym towels are for you! Don't hesitate to buy one, life is short and lives each day with passion using your Tesalate gym towel.
Thanks for reading champions!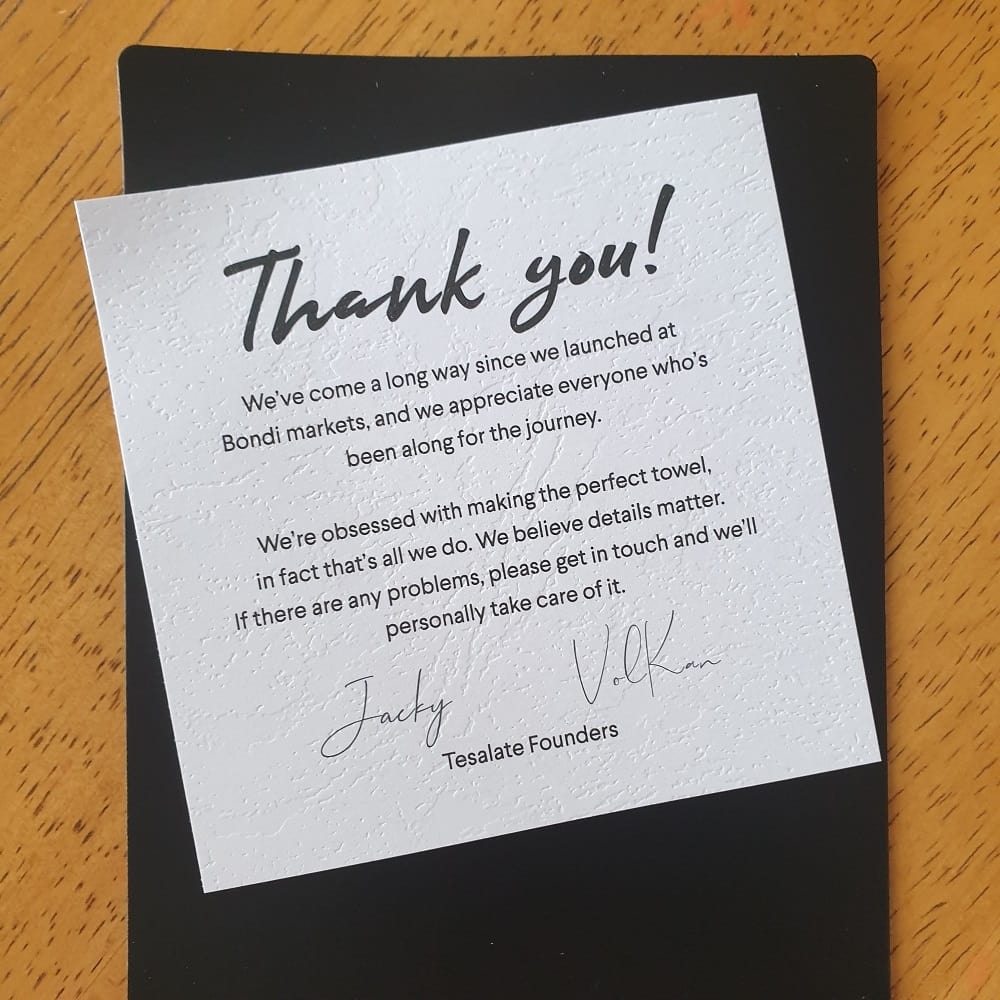 Other Towel Reviews You May Like To Read: