We recently travelled to Japan with our 4 children for a 2 week holiday.
This included Tokyo city, the snow in Hakuba and Kyoto.

While in Tokyo city we heard about this Hedgehog café. That sounds cute!
We thought that this sounded great for the kids to experience and set upon finding the Café!
I don't know about you but I always pictured Hedgehogs to look like Sonic the Hedgehog from the sega games. Big, fast and blue! Ha.
A Little Bit of History About the Famous HedgeHog!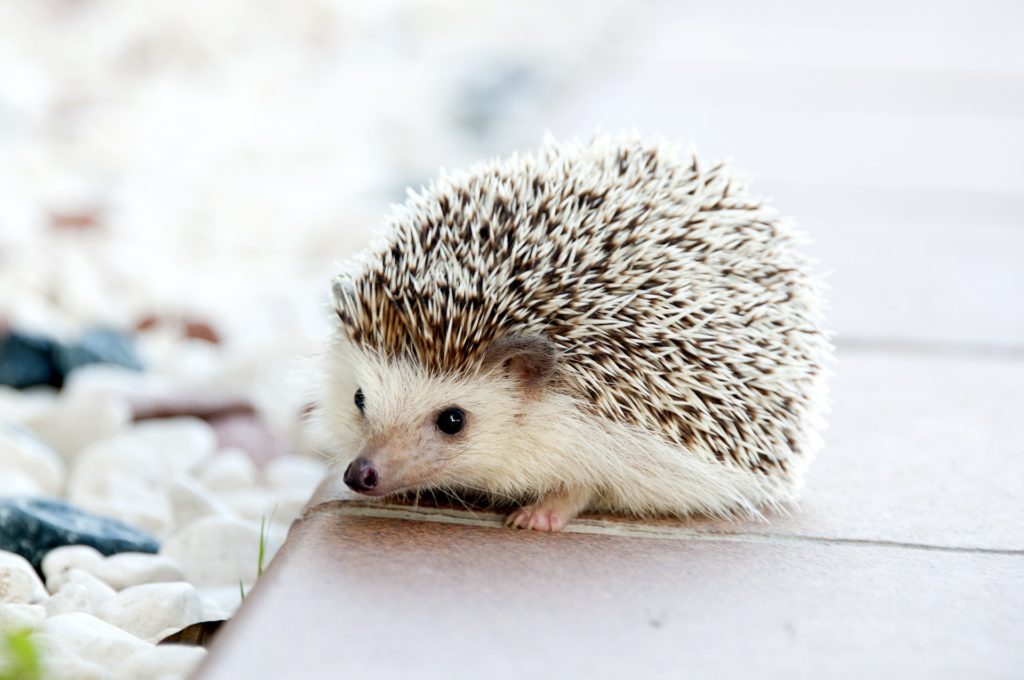 There are seventeen different types of Hedgehog. They are mainly found in parts of Europe, Asia, and Africa, anywhere else they roam is from an introduction.
The name Hedgehog came into use around the 1450's from the Middle English words (Heyg).
Because they used to frequent hedgerows and (hoge) from its pig-like snout.  Hedgehogs are omnivores and generally feed on insects, snails, frogs, small eggs, mushrooms, roots, and berries as such.
They have a lifespan of anywhere between 2-7 years old depending on their size. When threatened they roll into a spiky ball for protection.
Hedgehogs are not native to Japan, but you can purchase them as pets to have at home.
Better still why not just visit them at the hedgehog cafe in Tokyo.
Getting to the Hedgehog Cafe with Your Children!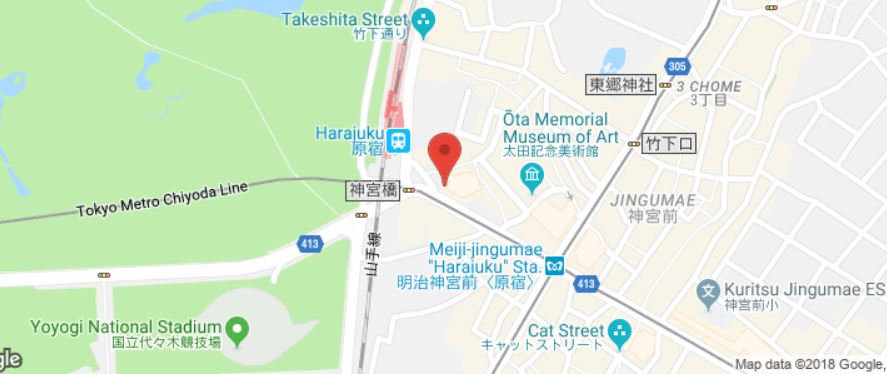 Depending on where you are staying in Tokyo, you need to get on the (Yamanote line) and exit at the Harajuku station.  The cafe is technically called;
Address: 1-13-21 Jingumae, Shibuya-ku Tokyo

Open Times: 12noon – 8

pm Daily

Cost: (For 30minutes without snack

1400

Yen with snack

1650

Yen)
Single Item snack –

540

Yen
*All admissions include a free drink from a vending machine!
Here is Our Personal Review of the Hedgehog Cafe Harry Harajuku:
The cafe was pretty easy to find after our awesome browse of the shops around Harajuku.
The kids loved the toy shop Kiddieland so much and we even saw Kim Kardashian browsing in the same shops!
But enough of that we are talking about the Hedgehog Cafe, and we are really getting hungry!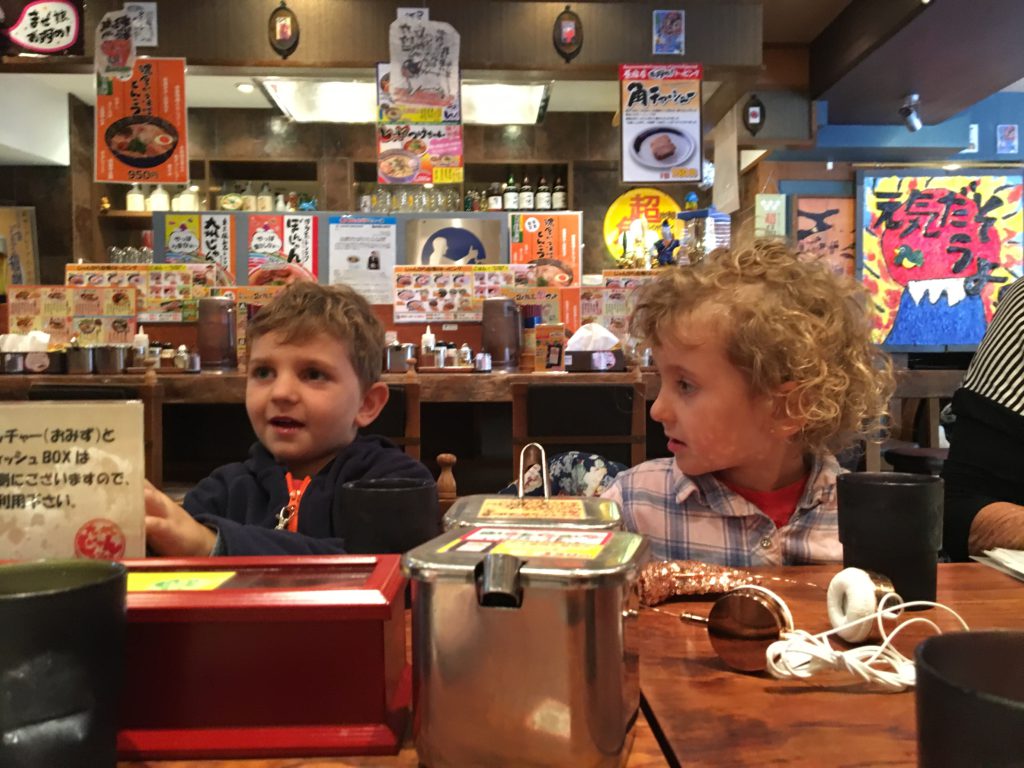 So once at the base of the cafe, there is the smallest lift in the world that takes you up the 3 floors to see the little hedgehogs.
We have 4 kids, 1 in a pram and 3 Adults all together, talk about sardines, but we managed! 
Before we headed up to the top floor there was an awesome looking restaurant. It'sRamen time!
After the best meal in Tokyo yet again we crammed back into the elevator and headed to floor 3. 
As the doors opened we piled out. The kids got really excited and rushed in first to catch a glimpse of the little cute hedgehogs.
You have to pay first, then you can start playing with the cute guys. 
The price for all this is very expensive. A large family cost's about $80 to see the Hedgehogs, EEKK!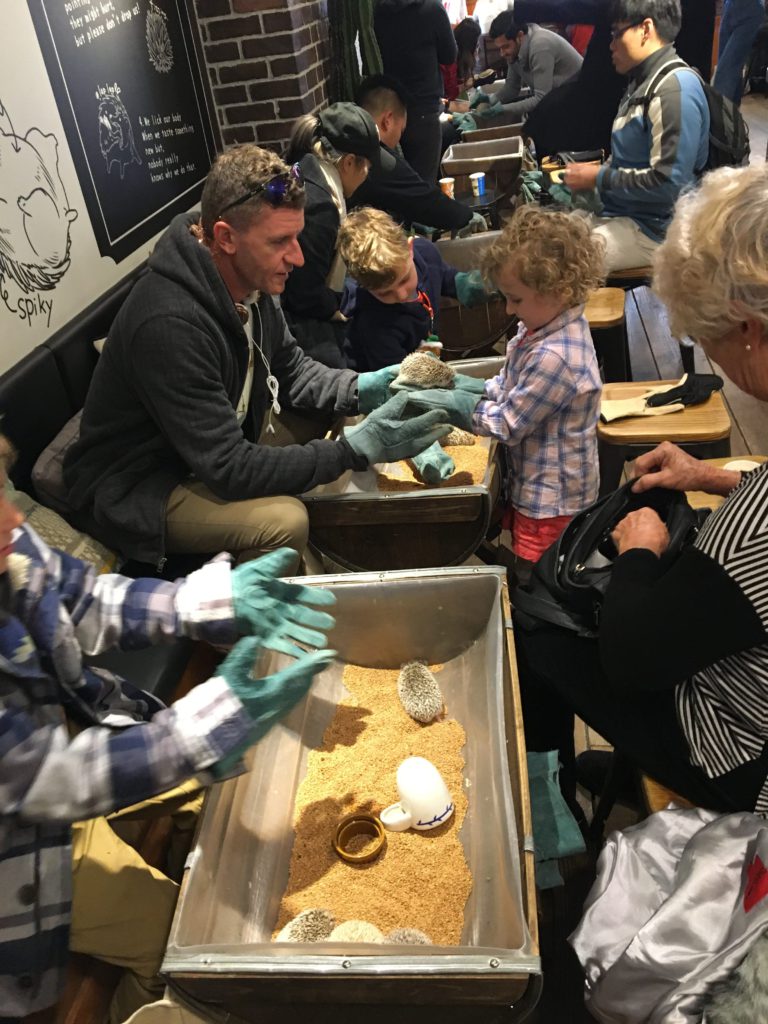 The Hedgehog Experience!
Once you have paid and bought some hedgehog food for the little fellas.(which is a must for the kids!)
You now make your way to one of the hedgehog stations where you can pick up and feed a Kawaii hedgehog (Japanese for cute).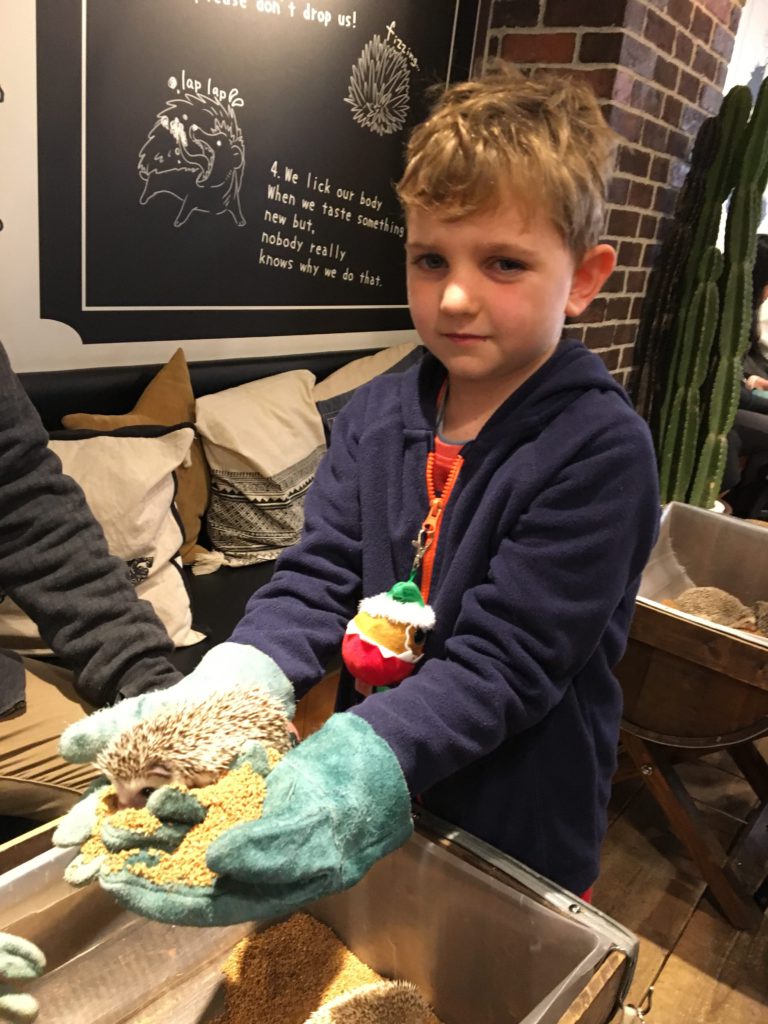 The little containers that the hedgehogs are situated in have a kitty litter base for them to run around on.
Usually they place 3 at a time into your container.  You must wear gloves due to the spiky nature of a hedgehog and handle them with care.
This is because these particular breeds are really small and fragile.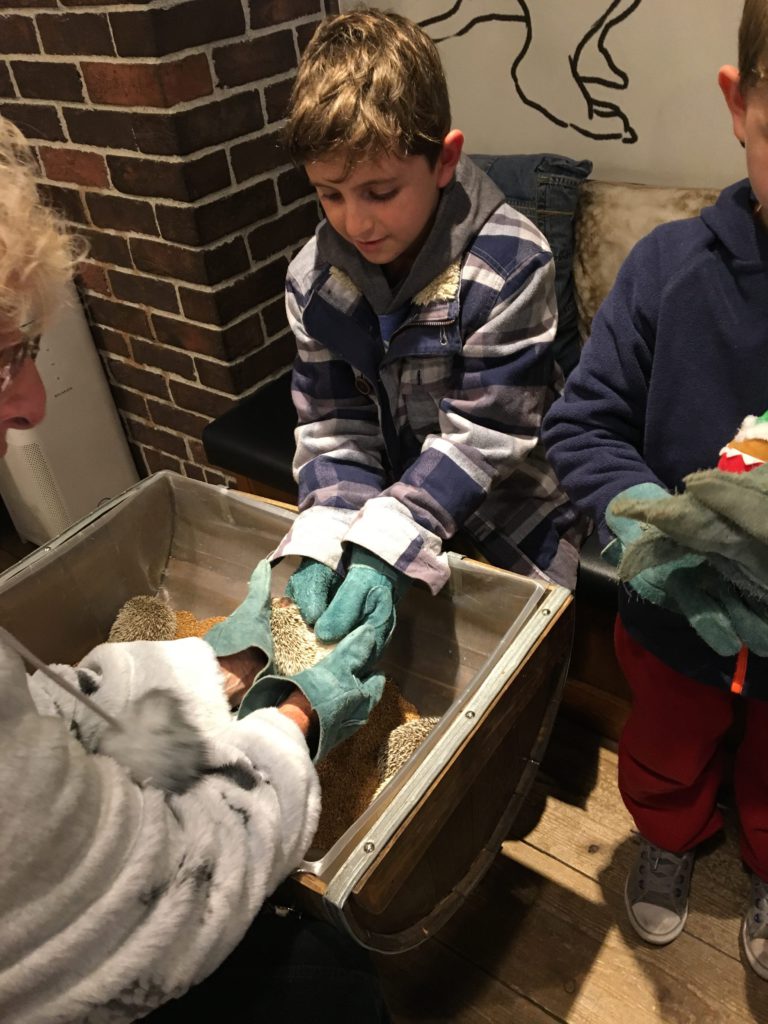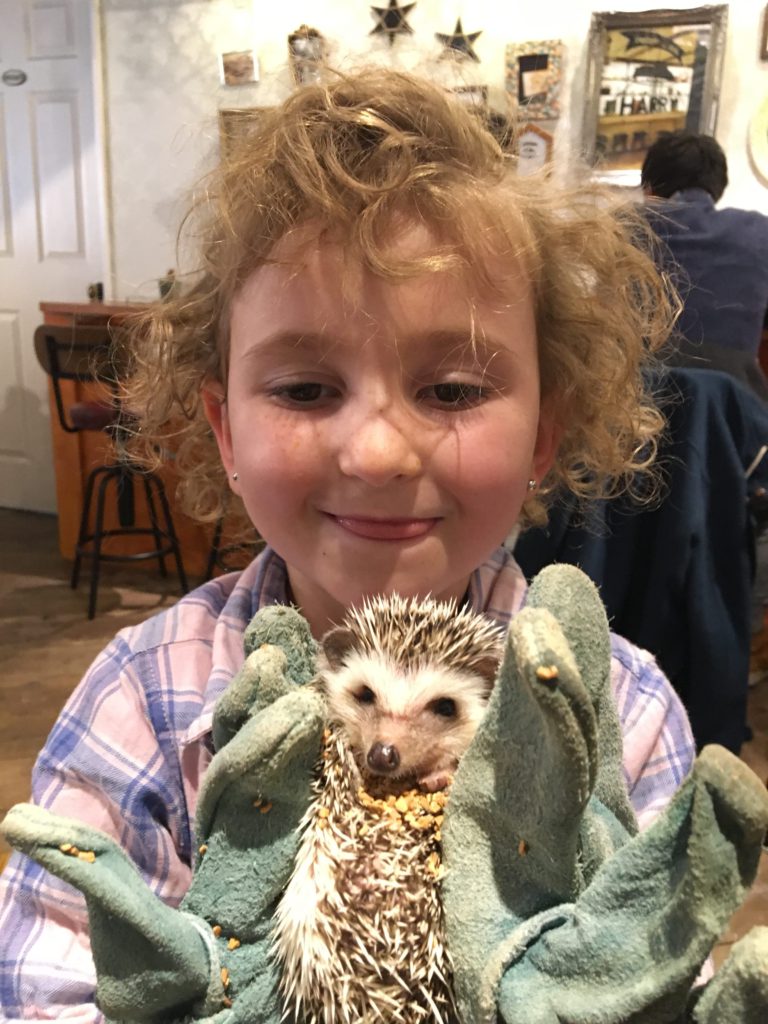 That's easy to say to an adult be gentle, but a childs gentle is another story! 
They are really light and really cute. They generally just lay in your hand, but can get a little moody and edgy. 
Our 2 boys held them for a while and moved them around but soon got a little bored of them. On the other hand, my eldest daughter couldn't get enough of them.
I felt sorry for the little guys.
She kept picking one up moving it to the side, then picking another one up to move it to the side and so on.
The poor little hedgehogs didn't have a clue what was going on.
HOT TIP: KIDS CAN GET A LITTLE ROUGH WITH LITTLE ANIMALS, SO WATCH THEM!!
Cafe, Not Really a Cafe!
Once the whole family had had a play with the cute little hedgehogs it was time to get our free drink.
Well not really free!
You would think a place as popular as this would have a real barista making professional coffee for us all.
All that they provide is 2 vending machines that are stocked with instant coffee, iced coffee, iced tea, water or soft drinks.
When the name suggests Cafe, I automatically assumed real coffee but I was wrong. 
For all you real coffee lovers out there, don't go here for the coffee. Only go here to see and touch the cute little creatures.
Your Kids Will Love it!
Our kids loved it, how often in your life do you get to hold a hedgehog.
I think they are pretty pricey to buy, ranging from approximately 30,000 yen to 70,000 yen per hedgehog.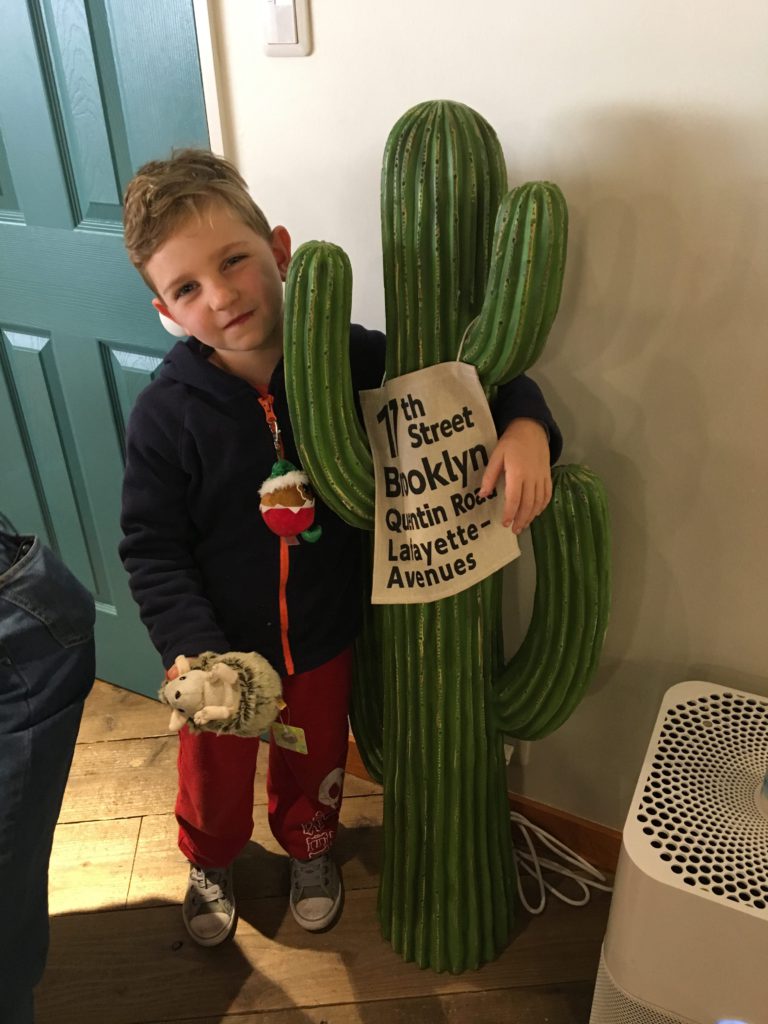 The cafe also sold merchandise such as hedgehog plush toys, souvenirs, and some other little Hedgehog related products.
Life is all about experiences, so if you would like to take your family to experience something totally out of the ordinary.
I would recommend visiting the Hedgehog Cafe Harry Harajuku.
These guys are so cute and small.
I'm surprised none of the kids have accidentally put a hedgehog into their bag and headed home with one without their parents knowing!
Probably has happened, anything you can think has happened probably has happened.
And remember to wash your hands when entering the facility so you don't spread germs all over the hedgehogs.
Wash your hands when leaving, because you don't know where these little creatures have been.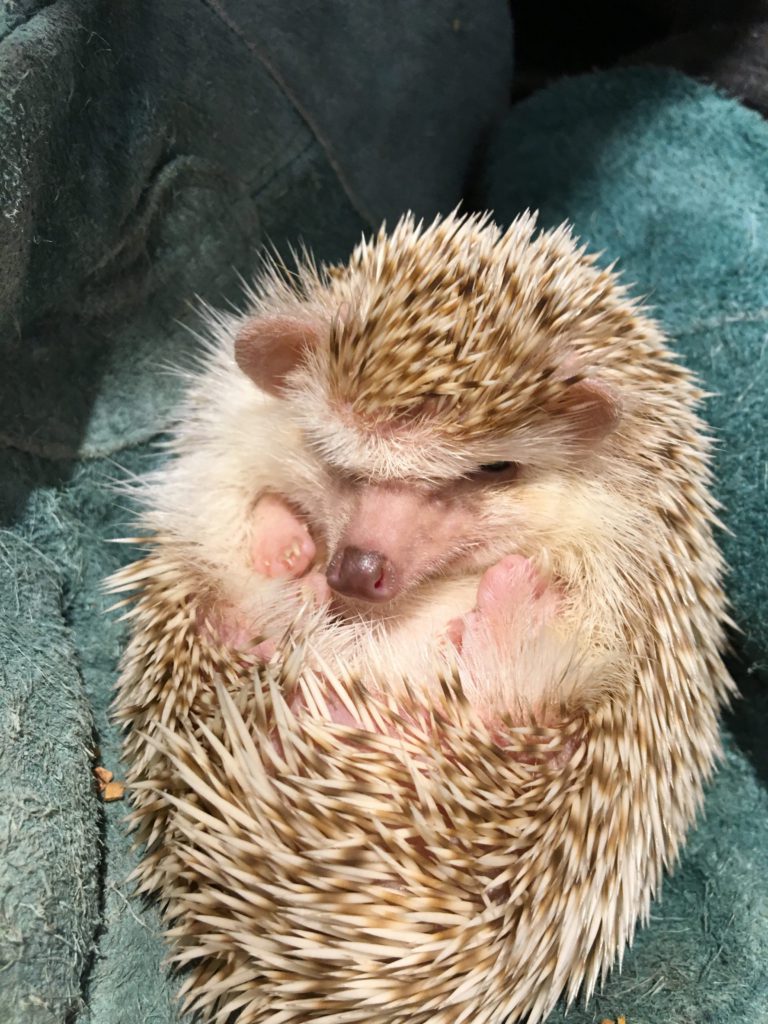 "It's not always easy to hug a hedgehog.
But that doesn't mean you shouldn't"

Quote from www.iwastesomuchtime.com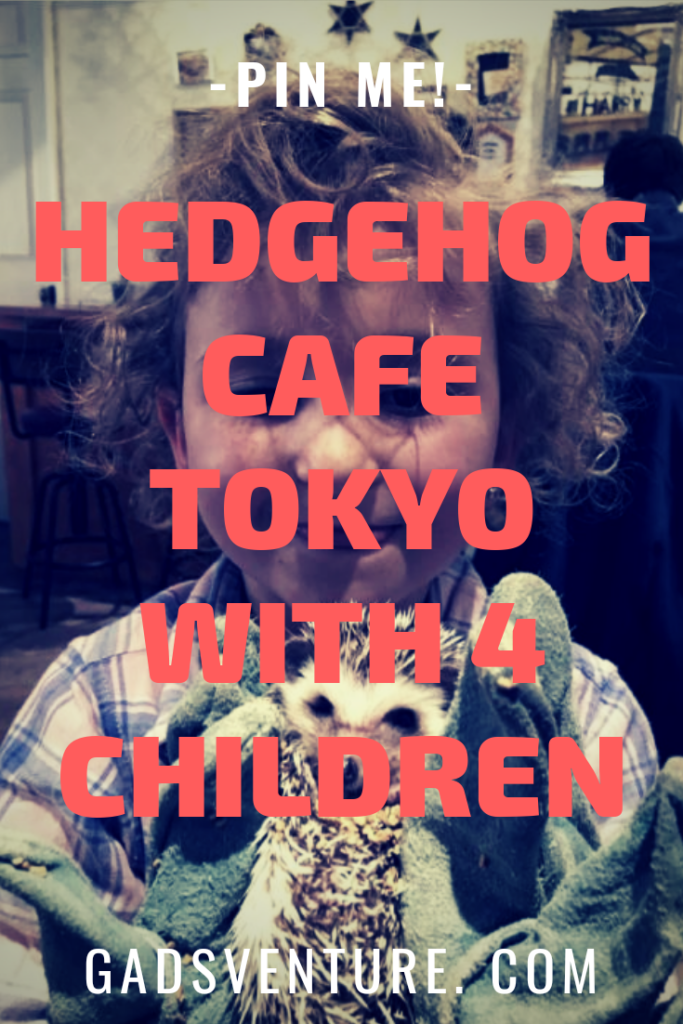 Other great experiences to be had in Japan are: