Thinking of Something Amazing to do in Tokyo with kids?
I have something for you that will blow your mind and challenge the way you think about the future.  Traveling through Japan with kids is a whole new experience, compared with traveling to Japan as a couple like we did 10 years prior.

This page may contain affiliate links.  Please see our Disclosure for all the info.
When you have your kids in Japan you are looking for a totally different experience, we have 2 boys and 2 girls who are into totally different things.  The boys like Transformers and girls like Hello Kitty it's that simple!
Tokyo has so much to offer, amazing toy shops, gimmicky cafes, tiny bars, shows, karaoke, VR and gaming arcades to entertain the kids at any age!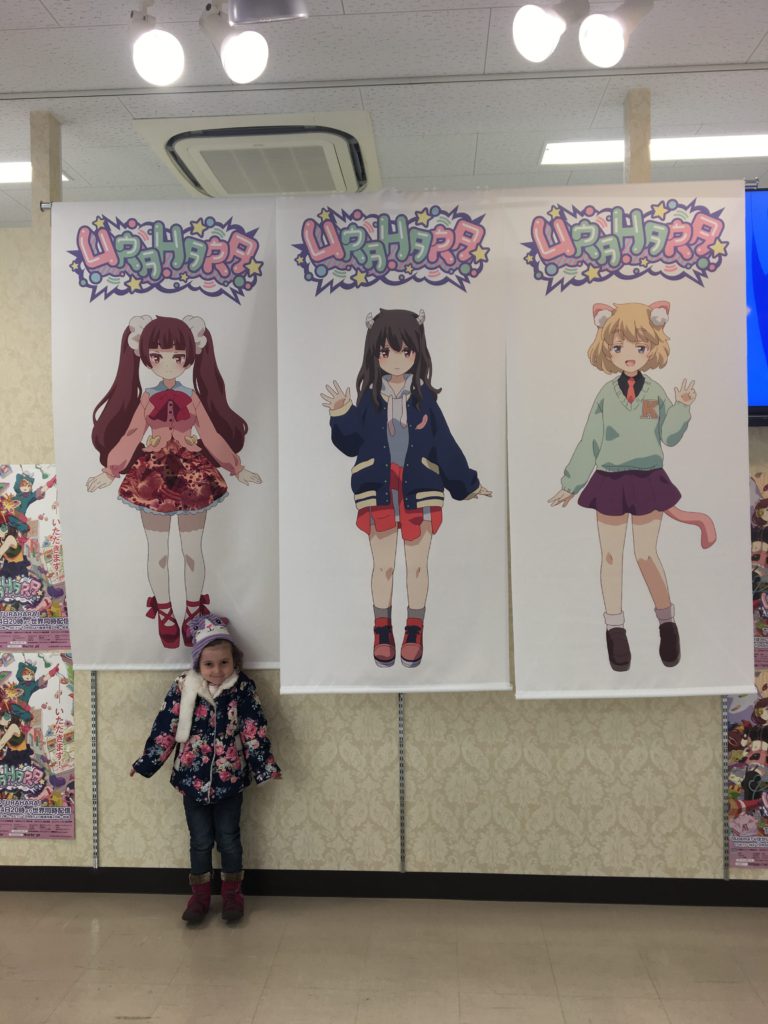 We Promised the Kids they could see Robots!
So visiting the robots was it! The kids were super excited! The only thing was that we had to head from Shinjuku station to Odaiba district via the train network with 4 kids and 1 in a pram.  This is where you definitely need to have the Hyperdia App!  It's FREE, download it before you leave home.  You can check it as you go using the free wifi in the train stations or screen shot your journey before you leave your accommodation. 
The journey was a bit of a mission, changing trains several times, up and down stairs, lifts, and elevators, on and off constantly.  We even had a quick pit stop at Shibuya station to check out the worlds busiest crossing and eat the worlds most expensive strawberries.
Then it was back up 6 flights of stairs carrying a pram to get to the right platform, then on the train, then off the train, stop for some vending machine refreshments then back onto the final train that would take us into the future.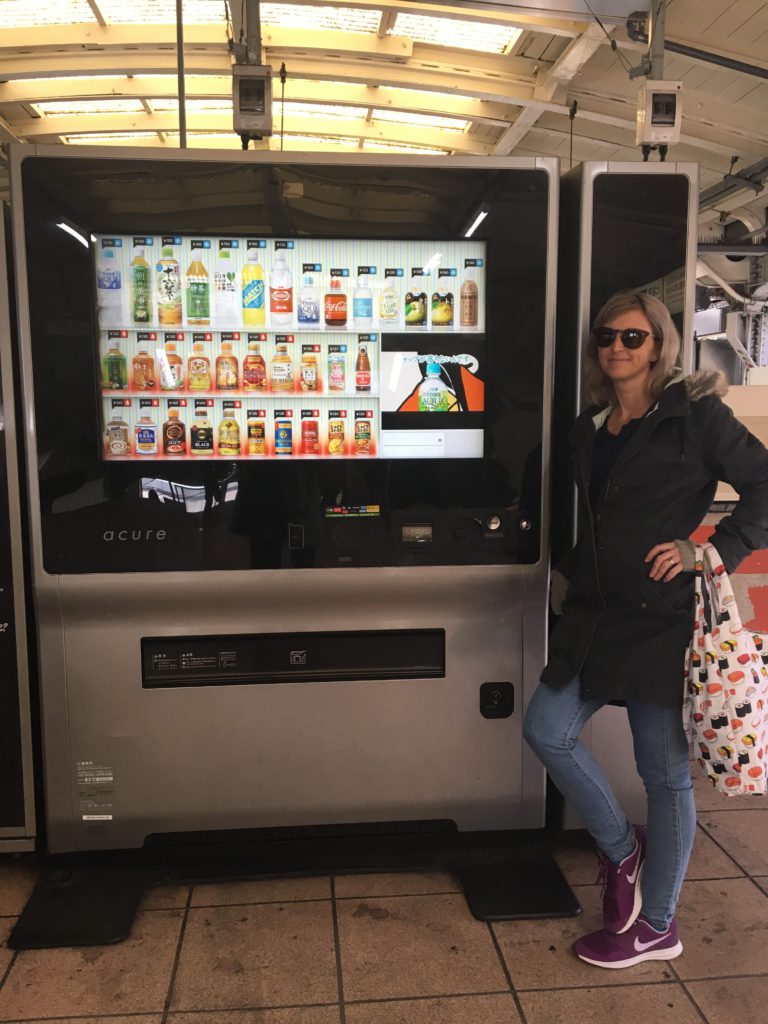 The last train was the best, this particular line travels over the bays and winds itself around the buildings, over picturesque harbours full of big boats, over bridges it really did feel like a rollercoaster ride all the way to the Odaiba station stop.
Finally, we Made it To the Future!
There it was the place we had been looking for "Miraikan" Japan's National Museum of Emerging Science and Innovation.  The building was out of this world and this was the home of the famous Asimo the Humanoid robot, the most advanced robot in the world.  This robot was so cool, he was loved by the whole audience, the robot is so well made, he moves like an ultra cool human.
His capabilities include kicking a soccer ball, hopping on one leg, running, dancing, moving his arms in the air and so much more. You need to see him believe me!
The building is huge if you love your science and are mathematically inclined you will really love this place.
Also at the museum are robots that will interview you, naked robots that you can see all their mechanical parts moving in real time.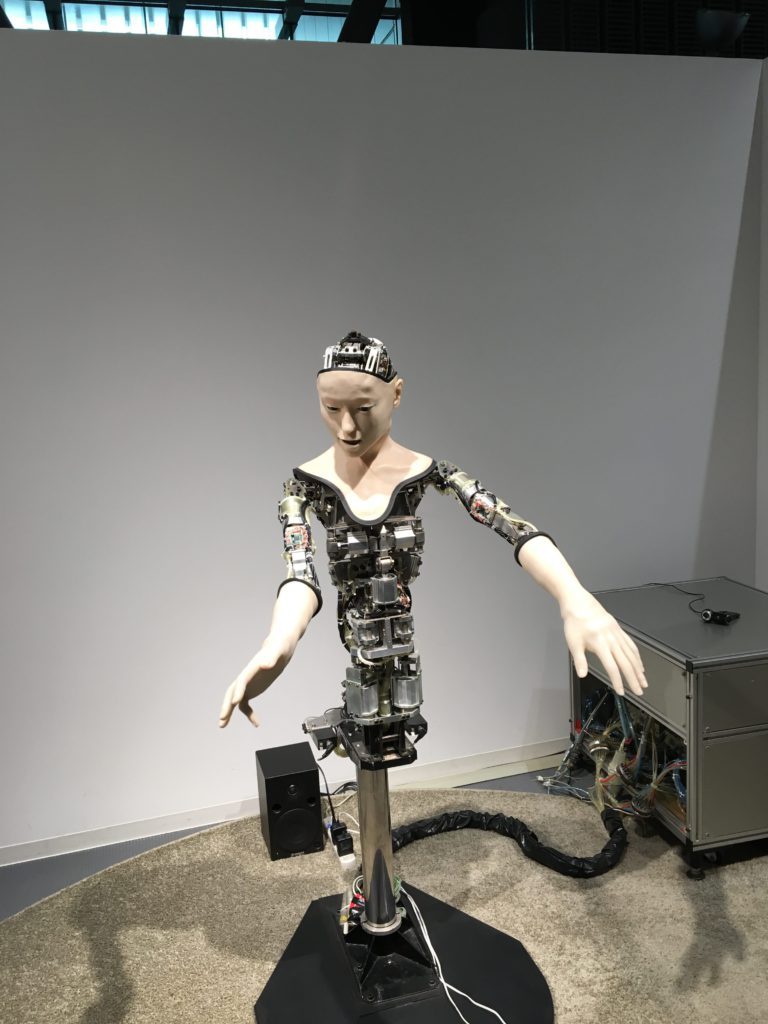 Interactive activities for the kids and adults that demonstrate computer coding, science experiments on smell and sight, space discovery in shuttles with real-life videos of astronauts, try your luck at some open heart surgery and real-life natural disaster demonstrations and how they work scientifically.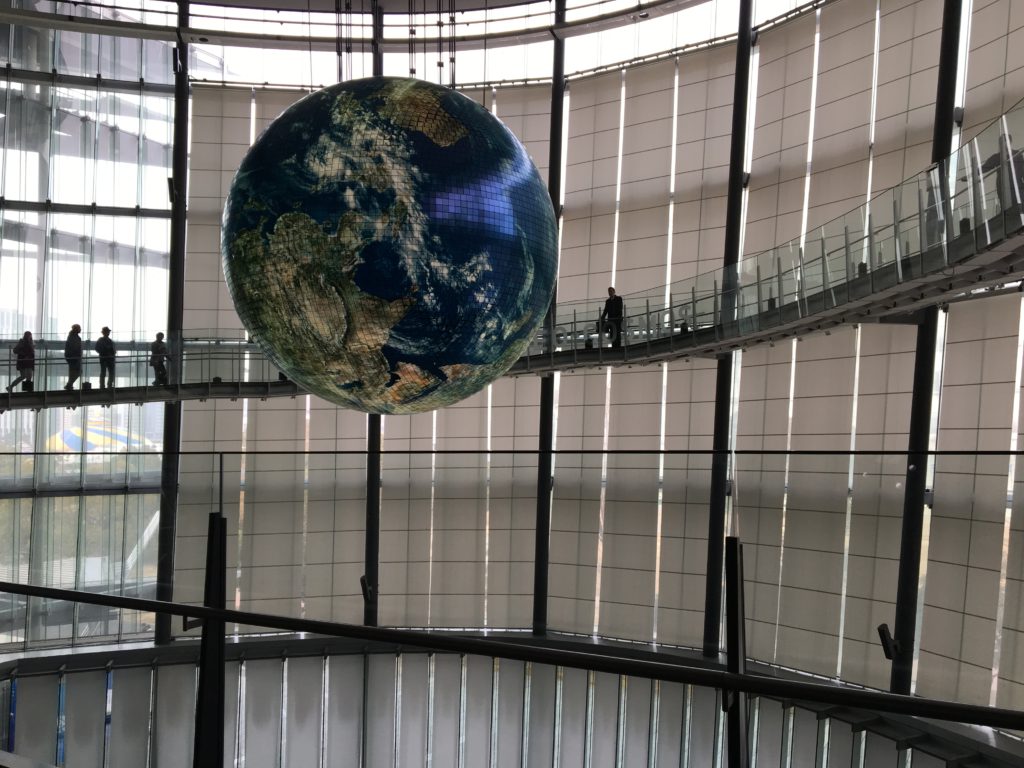 Another great spectacle at the museum is the giant Geo-Cosmos, which is a high definition globe displaying near real-time events of global weather patterns, vegetation coverage, and water temperatures.  There is a massive spiral walkway that goes around the globe taking you up to the next level if you are afraid of heights I would suggest taking the lift.
The kids loved the walkway, running down and up, you know what kids are like, they can find fun in anything.
They also have special exhibits on at different times of the year, ours was the animals of the world where the kids could dress up in there favorite animal and run around different parts of the world, crazy!!
How Much is This Museum? And when is it Open?
Here are the admission prices to enter the Miraikan building:  Buy your tickets outside the main building at the kiosk just by the main door.  There are often special exhibitions on the ground floor too.  Check the website here for up to date details.

The museum is open between 10.00am to 17.00pm every day except Tuesdays, it can be open Tuesdays in summer, spring or holiday seasons.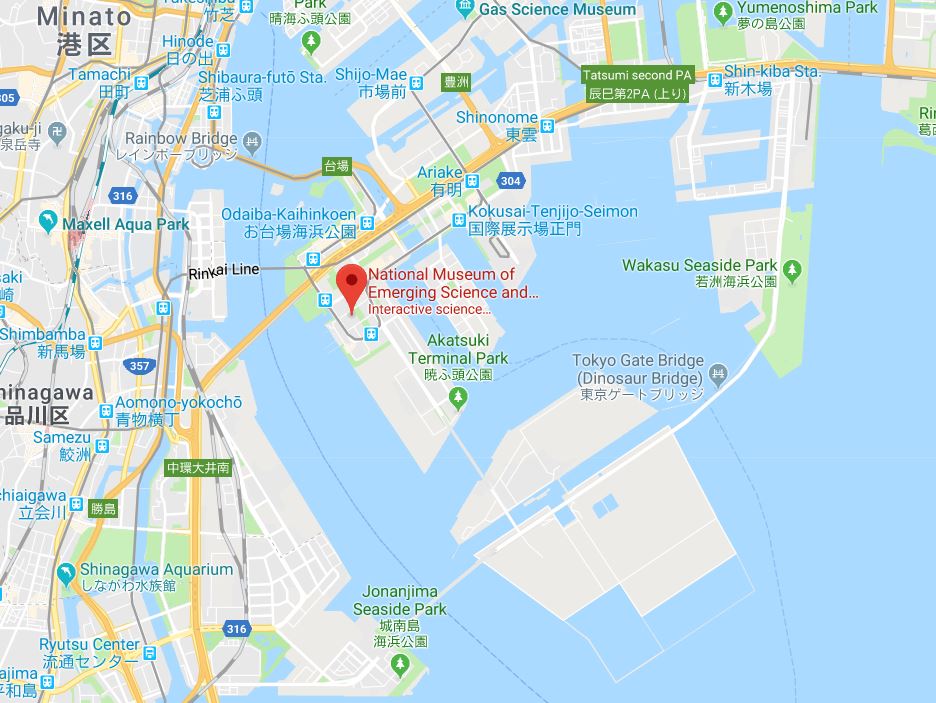 For further information visit the website for the Miraikan Museum.
Is it Worth the Trouble of Visiting the Miraikan Centre?
I definitely think so, it was pretty amazing even though I'm not hugely into science, coding or robotics.  It was really worth it to see Asimo the robot, a once in a lifetime experience, how often can you see the best robot in action in the world? Never, so take a look.
The kids really liked it, even though some of the exhibits were over their heads (even over my head at times!) they got to experience robotics and science at its core.
Every new experience is worth it, you never know where it will take you and you never know where it might lead your young ones.  Who knows it may have inspired their little subconscious part of there brain and may lead to amazing inventions or creations one day.
Do yourself a favour and visit the future at Japan's National Museum of Emerging Science and Innovation.
As with all Experiences in Japan, you Get Hungry, So off to the Diver City Tokyo Plaza for a Ramen!!
We are always hungry in Japan and after walking around the museum for a couple of hours it was time to eat! And what do you know about 5 minutes walk away is the Diver City Tokyo Plaza food court full of delicious local dishes and a massive statue of Gundam!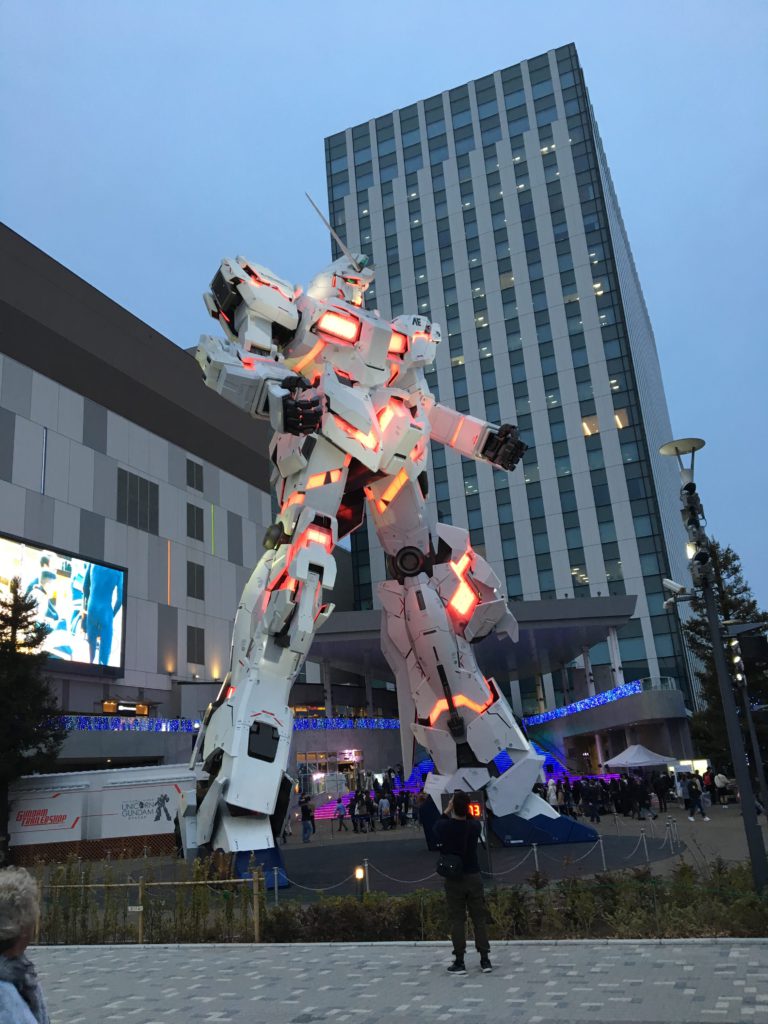 Yes that's right a 20 meter Unicorn Gundam statue stands at the entrance to the plaza in all its glory, It I massive and the kids loved it.
It even transforms at certain times, we were there at about 5 pm and low and behold the Unicorn Gundam was about to transform, hundreds of tourists and locals gather around for the amazing spectacle.
The music begins, the lights are shining and flashing the excitement is there, everyone is ready, then it begins to transform.  Parts are moving what is it going to do? Turn into a plane? Fly away? No, it is just its head turning into a unicorn and some arm parts moving.
I was a bit gutted it didn't do more for the size of it and the hype! But the kids loved it since they love transformers which has nothing really to do with Gundam.
We all ate another perfect Japanese dish and decided it was time to head home, but wait it is peak hour time, everyone is knocking off work and catching the trains, Oh no!
The Ride Home was Packed, I mean Sardine Packed!

Traveling Japan with kids is great and all but heading home at peak hour is not a wise move when you have 4 small children and a pram!
We just had to squeeze in fold up the pram and try to keep tabs on the kids amongst the black coats, we didn't really like it, but the kids loved it, they were having the best time ever.
The worst parts of traveling on a train isn't the standing there, it is the changing of trains, getting on and off and hoping you can keep everyone together in the wolf pack.  We endured this for an hour changing onto multiple trains until we were back to the safety of our own slice of paradise in the big Tokyo city!