Tokyo is one of the most vibrant and fun cities in all of the world. It can also be quite overwhelming. Especially when looking at accommodation options and finding the best suburb to base yourself in. There are so many factors to consider: Who is travelling, the purpose of your trip, how long you have to spend and your budget to name a few! I am going to tell you the best area to stay, Tokyo will be easy then!
My family with 4 young children in tow recently visited Tokyo as part of a 2 week trip to Japan. It was awesome! There are so many things to see and do and for the kids, the entertainment options were endless!
Read more:
Stay Near A Train Station
The main thing when looking at accommodation in Tokyo is basing yourself close to a train station.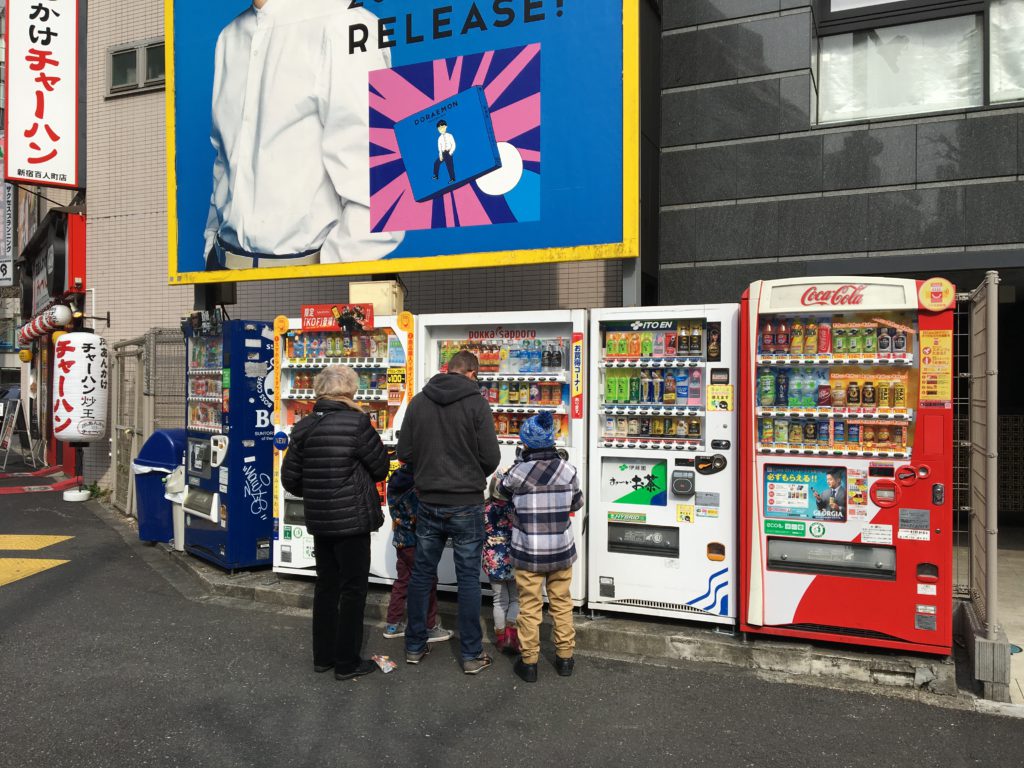 These stations vary in size and convenience. But they are your absolute lifeblood when sightseeing in Tokyo and super easy to navigate. Taxis are expensive so the underground train network is your best bet for getting around.
Get the Suica card on arrival for hassle-free credit top-up and tapping.
The JR Yamanote Line makes a loop around the city of Tokyo. So, although there are so many sights and they are well spread out around the city, placing yourself next to a station on this line can help to cut down transport costs. You will also save money by staying in an area that is an attraction in itself.
Stay in Shinjuku!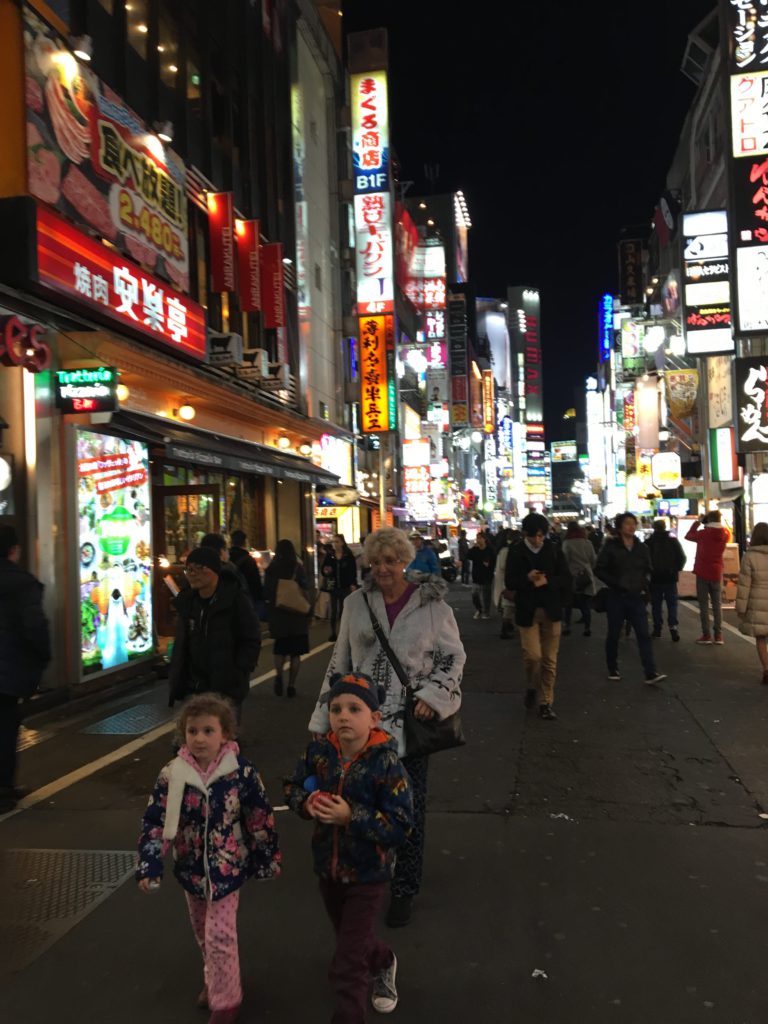 Shinjuku train station is one of not only Tokyo's, but Japan's travel hubs.
It is the world's busiest train station. So definitely avoid it during Tokyo's rush hour (7am to 9am and 5pm to 7pm).
It is a stop on the Narita Express Train directly from Tokyo Narita International Airport, a station on the JR line's bullet train services, and even has a bus station attached where you can catch connections all over the country.
Read all about catching the Narita Express from the airport to Tokyo here.
Why Stay in Shinjuku?
Shinjuku itself is a bright neon-clad district with heaps of attractions for the kids and grown-ups alike.
It is the Tokyo you picture when you imagine what Tokyo might be like. There is polite hustle and bustle everywhere without it feeling too crowded and there are also plenty of quiet places and parks to escape to.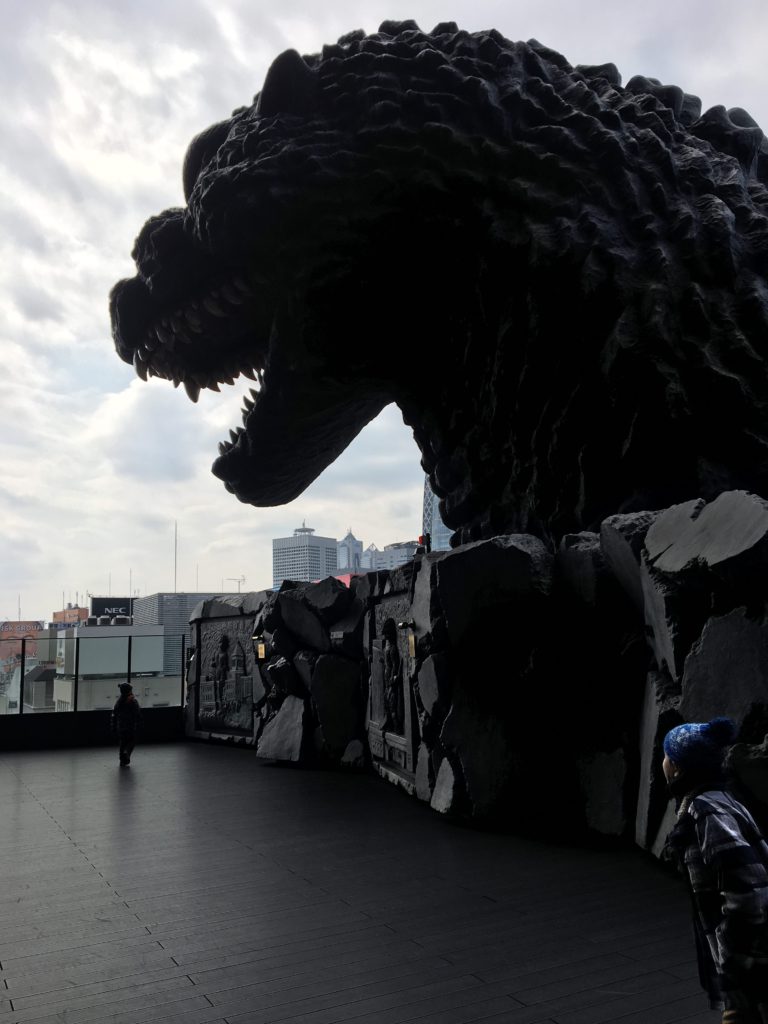 There is a life-size Godzilla head peering down from the top of the Gracery Hotel, the Robot Restaurant, Sega World, beautiful people, massive malls, incredible dining, bars, narrow restaurant alleys and more.
Shinjuku is entertaining both day and night time and is fairly central to the rest of the city so that any sort of day trip is easy.
Old Vs New
Traditional streets stand stoically right below neon lights giving Shinjuku a fabulous dichotomy of old vs new.
Eating and Drinking in Shinjuku
Visit the atmospheric Omoide Yokocho (Memory Lane) for the world's tiniest restaurants. They could fit no more than our party of 7 at a time! Choose your yakitori from a pile and watch as they are grilled in front of you. And you sip a cold glass of Asahi!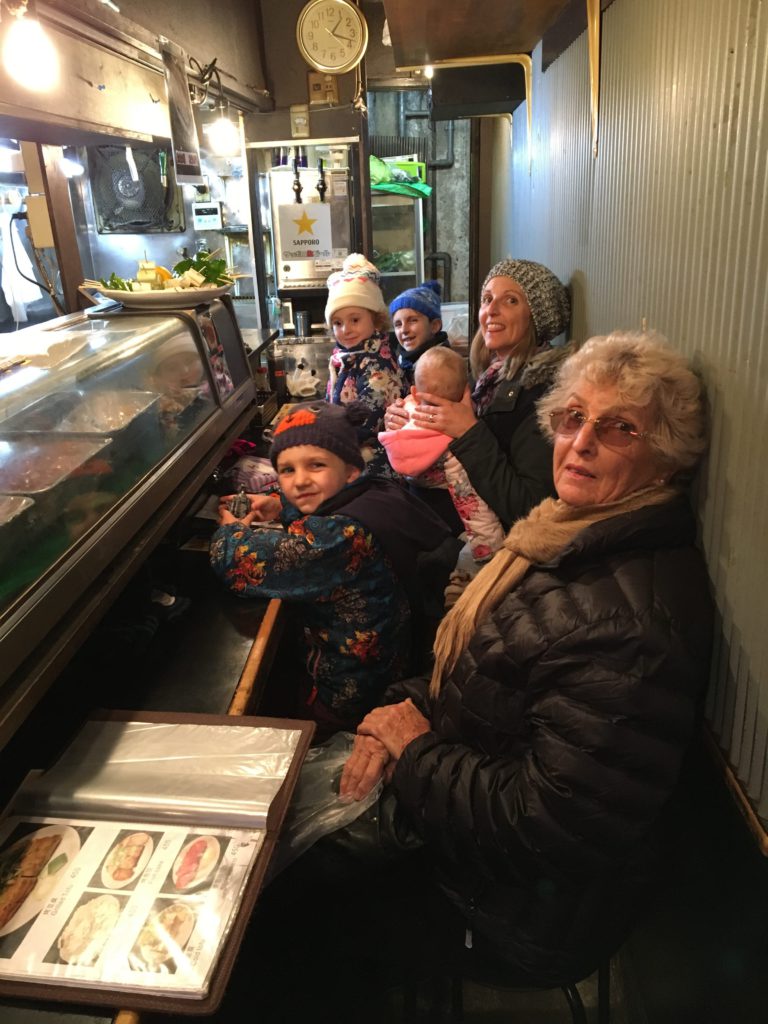 Shinjuku is also home to the famous Golden Gai. This is a similar narrow alley network jam-packed with teeny-tiny bars.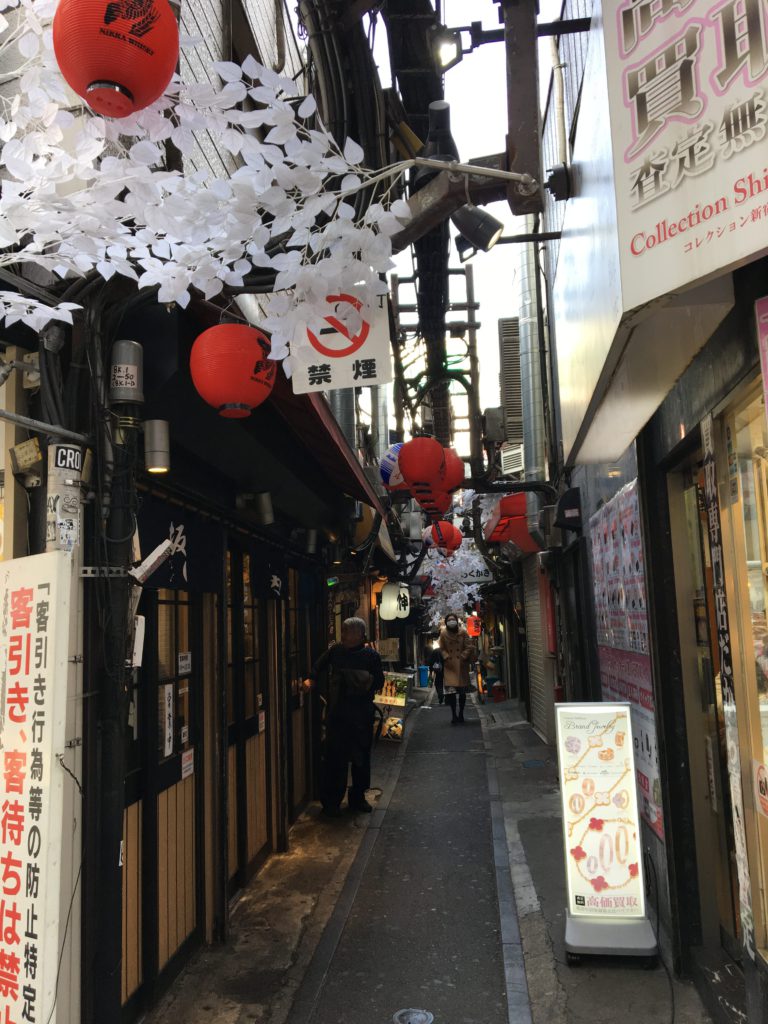 Karaoke in Shinjuku
There are karaoke bars everywhere here. It is simple to roll on in, pay the 30-minute fee (or longer!) and you are guided to your private room with gold microphones and beers for a fantastic session!
KaraokeKan is a big tourist-friendly chain with multiple locations around the place. The only problem is having to to share the microphone with the kids!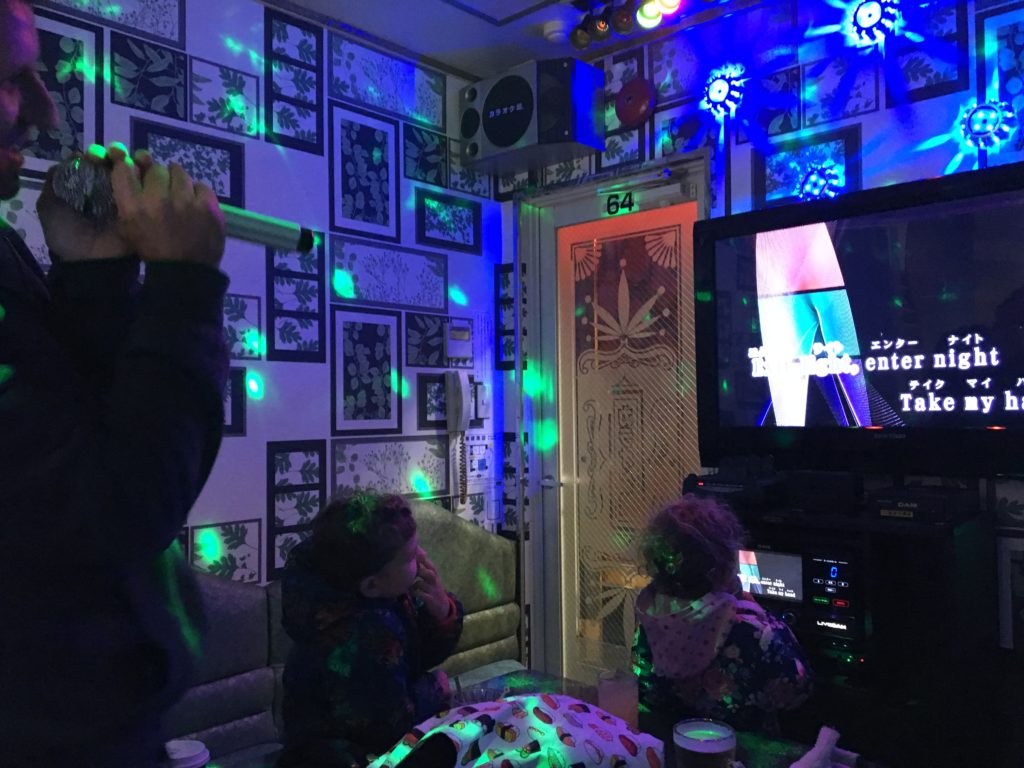 Tokyo Metropolitan Government Building – Best Area to Stay Tokyo
Besides eating and drinking and playing VR at Sega World there are so many things to do in Shinjuku. It is an easy stroll to the Tokyo Metropolitan Government Building. From here enjoy astounding views of the city from the free observation deck on the 45th floor.
This is one of the best free Tokyo attractions.
It is open from 9:30am to 11pm most days. Double check these times if it is a holiday, and is a great view day or night!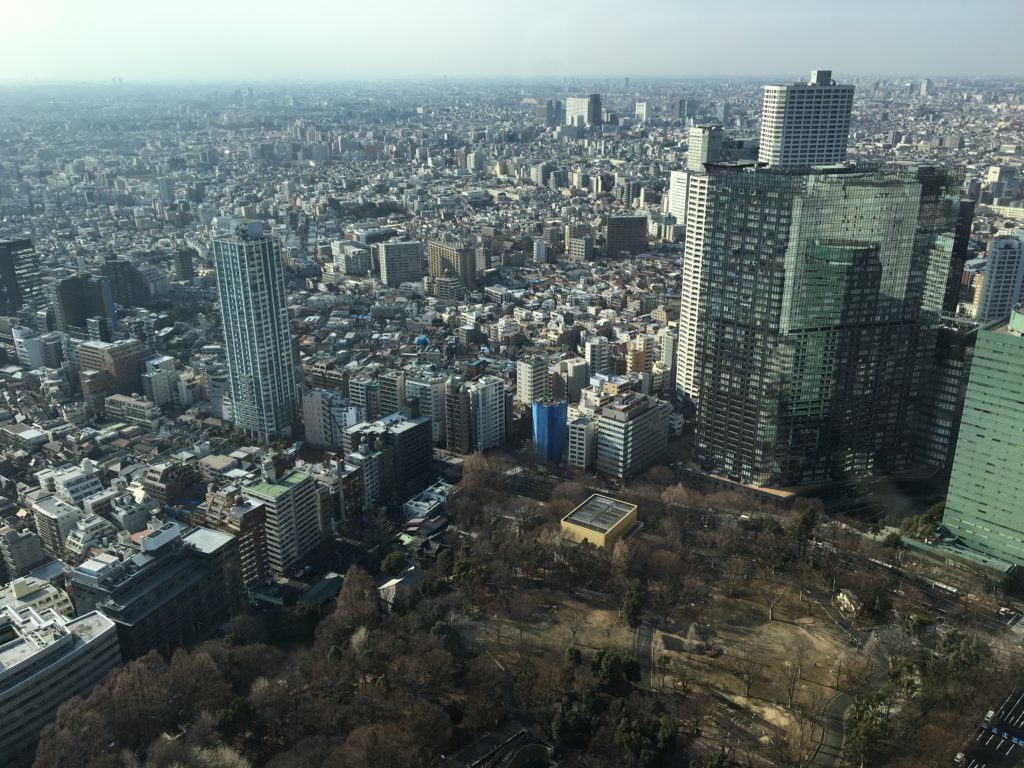 Kabuchiko Red Light District
For another great view, head to the downtown area around Kabuchiko early in the evening. The amazing neon lights will dazzle your senses. This area is known as Tokyo's red-light district. It is best to keep your visits to the busy times rather than the wee hours.
There are love hotels, pay by the hour, or Japan's famous capsule hotels here too! For an amazing experience if you are single, head to one of these! Not an option for a family of 6 unfortunately!
Gyoen National Garden
One of Tokyo's most wonderful parks is located in Shinjuku at Gyoen National Garden. It is well worth a visit for its Tea House and nice green space after pavement-pounding all day.
Where to Stay in Shinjuku
Airbnbs in Shinjuku
The hotels for a family of my size were definitely out of my price range as they wanted me to book 2 adjoining rooms. So I went with Airbnb. See here for why I think Airbnb is the best way to go.
If you haven't joined Airbnb yet, click here. You can claim a free $55 dollar sign up credit to use on your first booking!
Then simply do a search on Shinjuku. Entering your dates and number of people, and then look at the map to work out where you will be in relation to the train station. All of the properties shown here are within walking distance to Shinjuku Station. Prices shown are per night:
When looking at Shinjuku and considering your options, remember that West of the station is more of a business district.
East to North East of the Shinjuku Station is where you will be more likely to want to visit. This is where the exciting action is including the red-light district and bars and neon.
See Hotels in Shinjuku Here:
Airbnb in Tokyo is really the best way to stay, especially if you have a family or a group. You can get a great apartment. Or even a house in a place where most people live in matchboxes. And for much cheaper than a hotel.
Just make sure you read the fine print and the reviews. Do your research before booking a property as their cancellation fees are non-negotiable.
We never felt it was seedy or dangerous by any means. Just lively and interesting, although we were never there late at night.
We stayed just to the North of Shinjuku Station just on the fringes of the busy part. It was on a quieter street so that was perfect for us! It was a large apartment by Tokyo standards and oh so comfortable. Here is the link!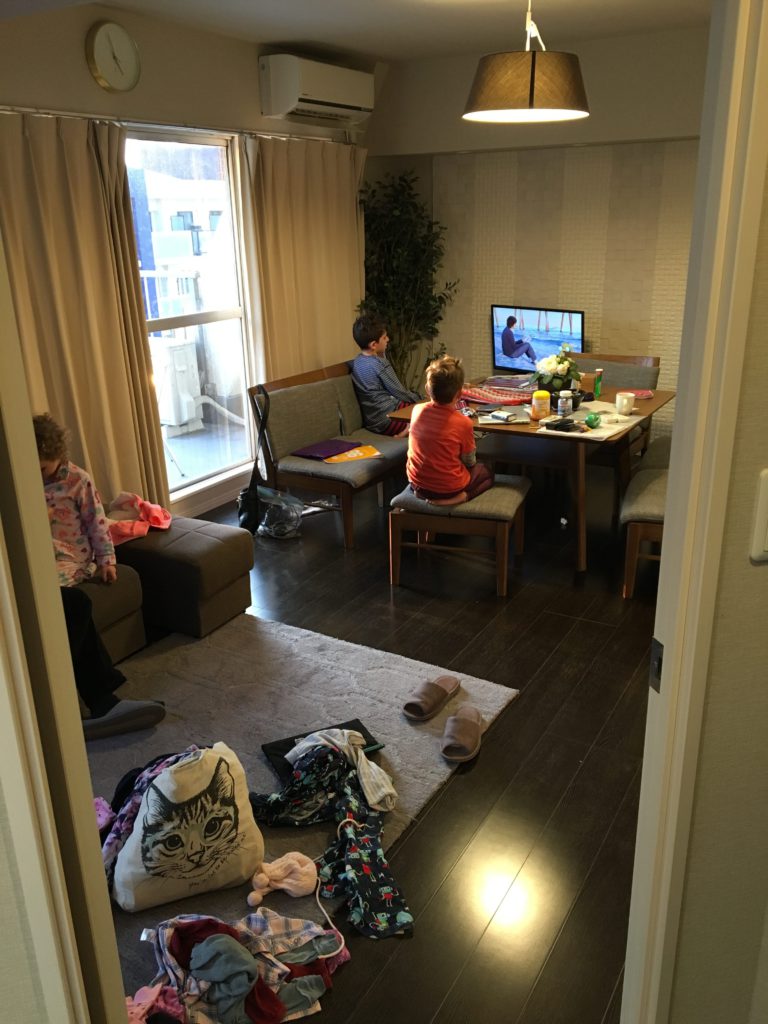 Shopping in Shinjuku – Best Area to Stay Tokyo
Tokyo's department stores are legendary. A great place to get lost in is the incredible basement food courts of Isetan, Odakyu or Keio in Shinjuku.
These places contain row after row of specialised artisan hand crafted treats. Such a pleasure on all of the senses. They are all close to the train station too.
Getting There and Away
We chose Shinjuku for its fun aspect and also for its transport connections.
This enabled us to take an easy one hour trip on the Narita Express directly to Shinjuku Station. Then after our 5-night stay, we could catch an express train from there to take us directly to Hakuba!
The Tokyo Disney Shuttle Bus departs regularly from here too. This is an easy option if you want to visit Disney.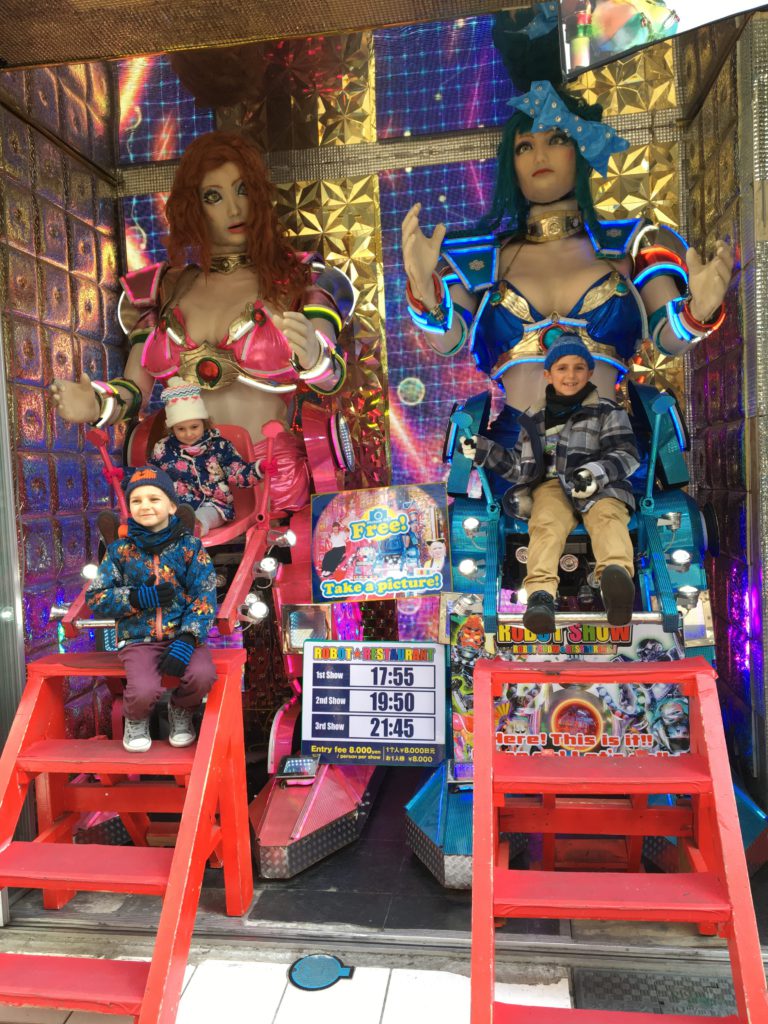 Tokyo has free wifi and also left luggage lockers in all train stations.
This makes it easy to check on your Hyperdia app making sure of your trip itineraries. The app is a route planner for all destinations in Tokyo and works really well to get you where you want to go. It is highly recommended to have this if you go to Japan. The trains run like clockwork too so you never have to worry about missed connections due to late trains either.
Black Cat Courier Service
The left luggage lockers are useful if you don't want to be lugging heavy suitcases around town or if you accidentally run into a peak hour, you will have to leave your bags and come back for them later.
A fantastic option for us was the Black Cat Courier service which has a desk at Narita Airport and we dropped our bag of snow gear off with them, and it met us in Hakuba! This meant one less suitcase to manage on trains and it was totally worth the $30 it cost!
JR Rail Pass
If you are going to be travelling extensively in Japan, the JR Rail pass is a great saving for JR bullet trains and lines around the country. It will give you unlimited travel on Shinkansen Bullet Trains, JR Buses and Ferries for a period of 7, 14 or 21 days at a time. Click on the link below for more details!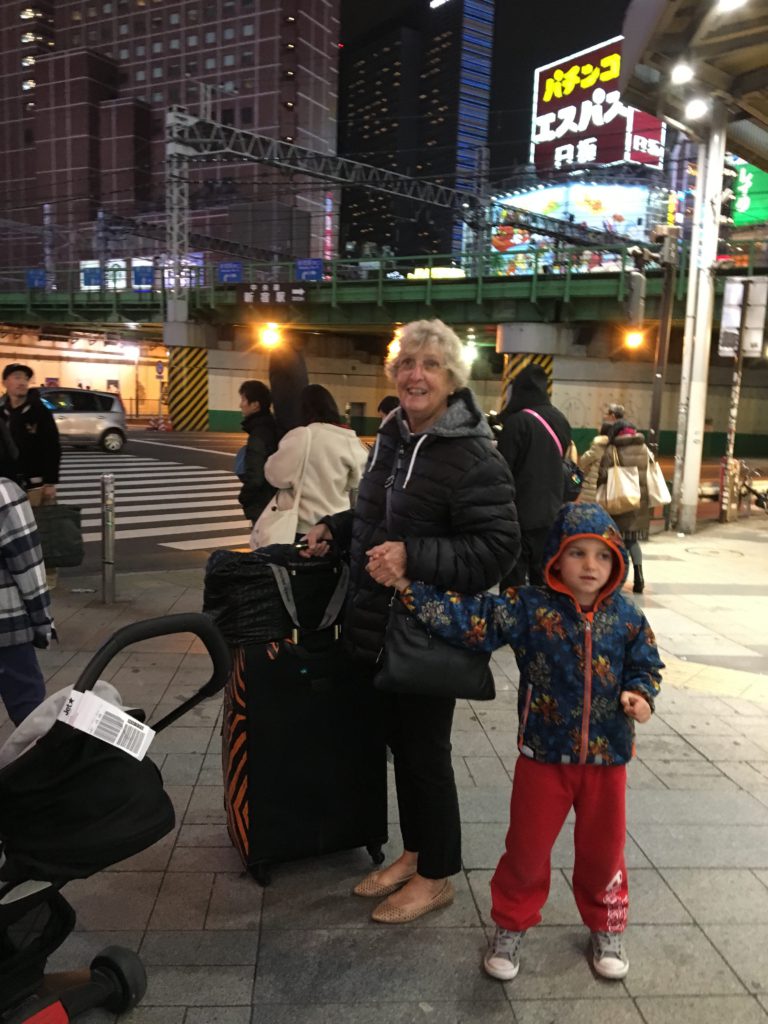 Best Area To Stay Tokyo is Shinjuku
Tokyo is amazing and although it may be daunting when you first arrive, if you come armed with a little bit of knowledge and a great place to stay, Tokyo will be your oyster!
Shinjuku is definitely the best area to stay, Tokyo, and the rest of the country is so accessible from here.
Do you have any questions about staying in Shinjuku?
Comment below and Read more about visiting Japan with Kids here.