Cape Hillsborough Caravan Park sits within the Cape Hillsborough National Park boundary, which is situated an easy 45 minute drive from Mackay, QLD.  It really is the most idyllic setting!  Right on a beautiful bay with the Cape to the North and a lookout to the South, the beach is very picturesque.
This page may contain affiliate links.  Please see our Disclosure
 for full info.

The caravan park has become well known for the kangaroos on the beach at dawn.  This is such an amazing thing to see, especially for overseas visitors for sure!  Maybe it's because I grew up here and kangaroos don't really impress me much any more.  But the kangaroos on the beach unfortunately isn't the drawcard it used to be.  Read on to discover why….
We recently went and camped for a long weekend with friends at Cape Hillsborough Caravan Park or Cape Hillsborough Nature Tourist Park as they like to be known.  As locals, we have been going there about once per year as it is an easy weekend from Mackay.  It is a nice place to camp with groups of friends with kids and it is a great place for them to explore the scrub and ride their bikes around safely.
However, it is not as good as it used to be.  Don't get me wrong, the owners have done a fantastic beginning of a job since taking the park over about 5 years ago.  But, in 5 years, I think the job is far from finished!  They seem so busy in running the reception and tidying the grounds which I am sure is a huge job, that they have stopped with actually doing any improvements. 
The Park is settled at the base of the National Park rainforest hill.  Nicely framed by the beach, forest and a day use area.  It is sheltered so a great place to camp if there is a SE wind as we so often get here and which will rule out many other local camping spots.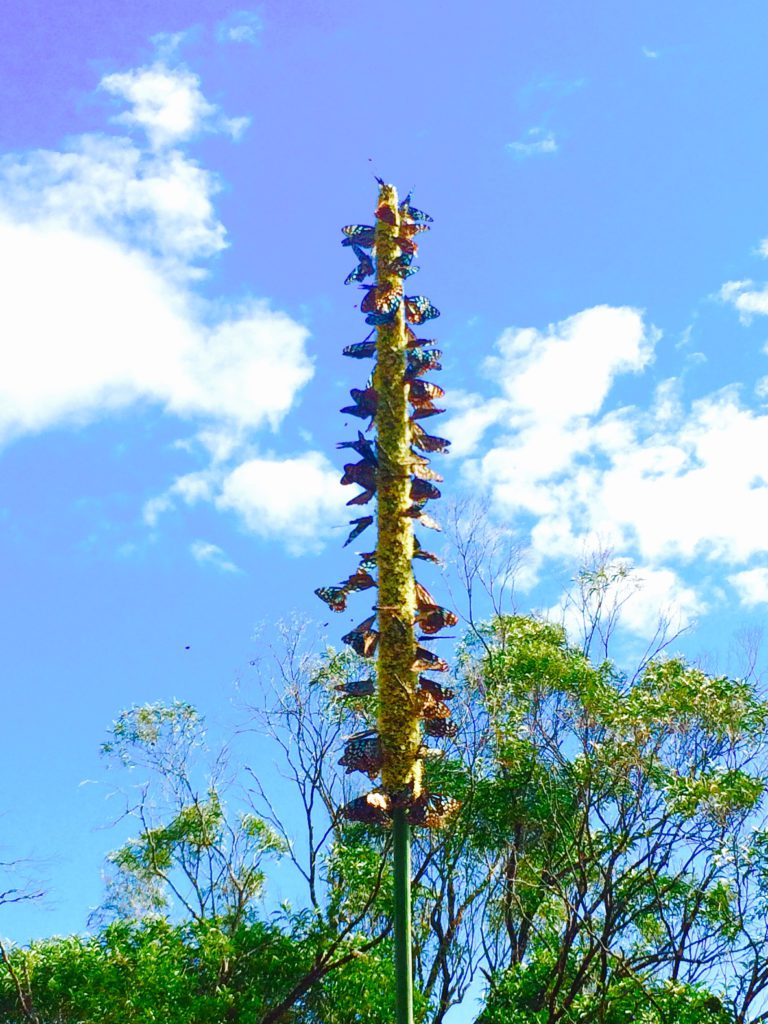 The Sites
The sites range from powered slab and powered grass up on the top level, and this is the best area for caravans and grey nomads.  Down the bottom tier you have more unpowered sites in the dirt/sand with direct access and views to the beach.  This is also where the camp kitchen is located.  There are cabins located in both sections with the main amenities up on the top level.  No fires are allowed which is a bit of a shame.  The grass up on the top sites is nice, and you can see kangaroos and wallabies grazing throughout.  But the bottom area is where you get pretty filthy thanks to the super shady sites with dirt mixed with sand, and no grass.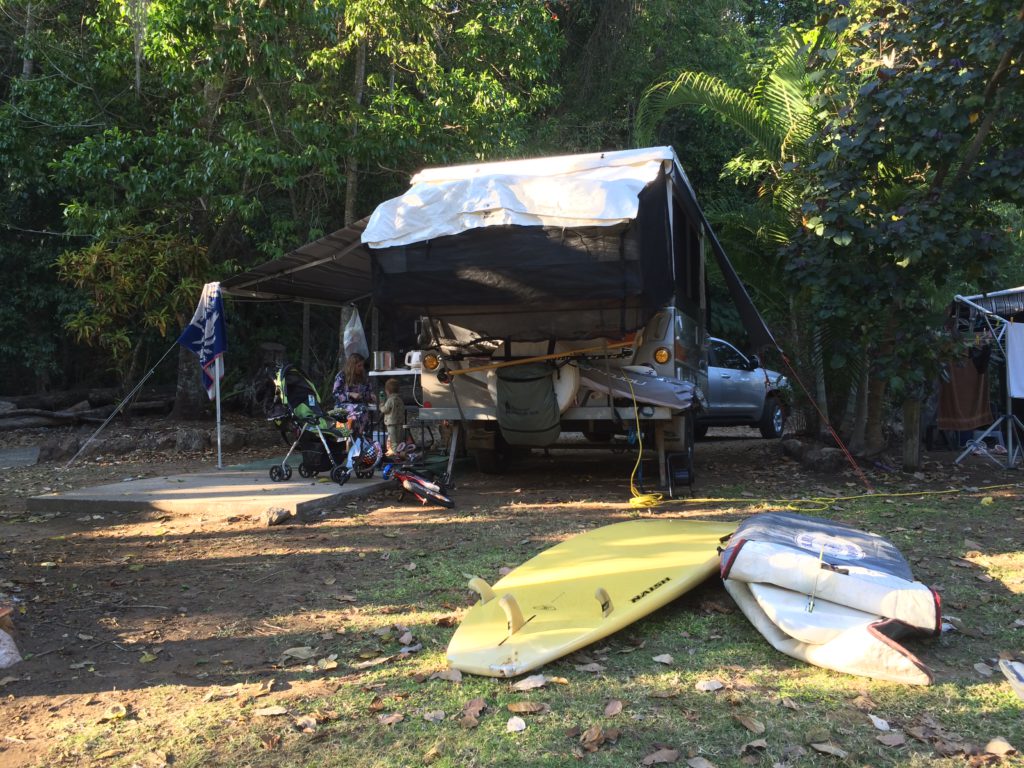 When considering which area to camp, consider this:  If you have kids, it is nice to be in the least dirty sites, so, up the top, but these sites are also favourites of the grey nomads who for some reason are not all that fond of kids enjoying themselves too much or too loudly.  The top level sites are grassy, and powered and great to let younger children ride their bikes around safely.  They are also closest to the main amenities block, the swimming pool and the kiosk area which shows movies from around 7pm on the weekends. 
If you camp on the bottom tier, your kids are free to play in the dune reserve and the beach without fear of them disturbing any other campers too.  Our well-behaved kids got asked to relocate from the public reserve because they were bothering other campers that didn't have children and to whom the sound of happy children was offensive.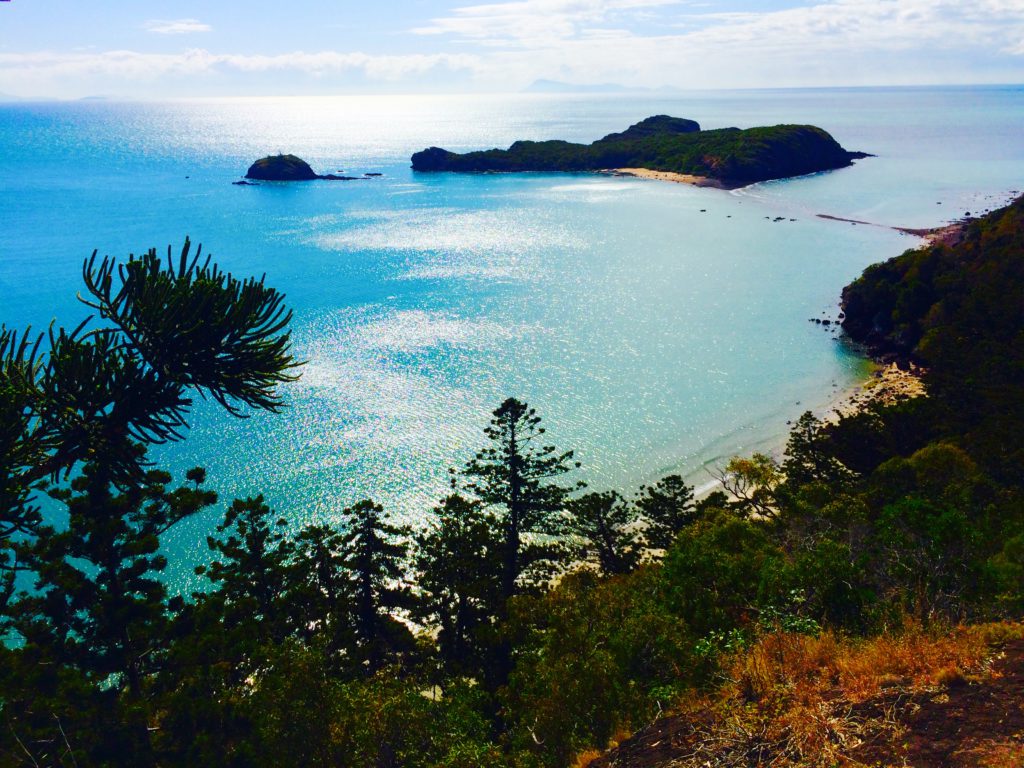 Are you a 'Kid Friendly' park or more of a 'Retiree' park?
I think the managers need to be more pro-active in deciding what they want to be.  Or maybe they could try to separate the different types of campers when they are booking in.  Keep one area reserved for families with kids, and another for 'do not disturb' types.  I mean, they show movies on the weekends, they sell ice blocks and have a shop stocked with goodies, and I know they have a few kids of their own.  But at the same time, the crazy cost of $15 per kid per night on top of your site fees is pretty ridiculous.  There is no playground on the site, but there is one just outside the park gates, and there are a couple of ancient fountains in the pool which has not been updated since the 1980s. 
My kids are still little, but the extra charges are for over 2 year olds!  If my kids have a swim and then a rinse off, they hardly even use the amenities.  What, pray tell are the extra charges actually for?  Are you paying a noise levy?  A disturbance levy?  Because it can't be for extra power or water.  Are they charging this fee to somehow subliminally discourage families with kids from visiting so as not to disturb the poor rich retirees who come up every Winter from the southern states? 
I have 4 kids.  If I were completely honest when booking (and I'm sorry but I'm not completely honest) I would have to pay $60 on top of the $31 powered site fee.  $91 per night just to stay in my own caravan?  Maybe I shouldn't have had so many kids!  But I think this is quite ridiculous.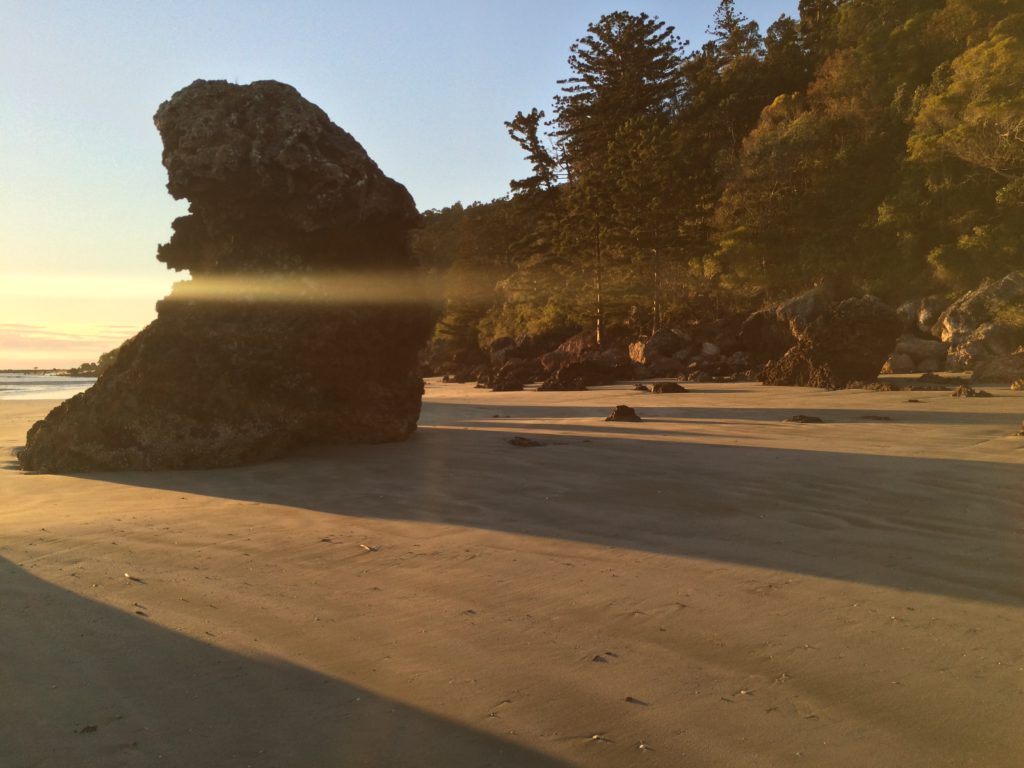 Amenities
The amenities block needs improving.  It's pretty gross let's face it.  I grew up in Queensland, I can appreciate that there are bugs and things, especially when surrounded by rainforest.  But I do not enjoy showering either myself or the kids in these amenities blocks.  They are functional sure, but they are not overly pleasant.
The Wildlife
Where has all the wildlife gone?  When I was younger, a visit to Cape Hillsborough National Park was like visiting a zoo.  A very well populated zoo.  Since the growth in popularity of the Nature Resort, the wildlife has mysteriously dwindled in numbers.  I heard rumours that the kangaroos were relocated to some bushland just outside of Seaforth in the church grounds because they were getting aggressive when the humans wouldn't feed them.  Now, call me crazy, but surely kangaroos would be happier in a NATIONAL PARK than in a church yard close to town???  Also, the possum population has gone.  Not reduced, just gone.  Where have they put the possums?  The thing we loved about coming here, getting up close with nature has gone.  Sure they got into your rubbish bins, but only if you left them out!  What happened to educating the people to live in harmony with the animals instead of removing the animals from the NATIONAL PARK!?  It doesn't make any sense.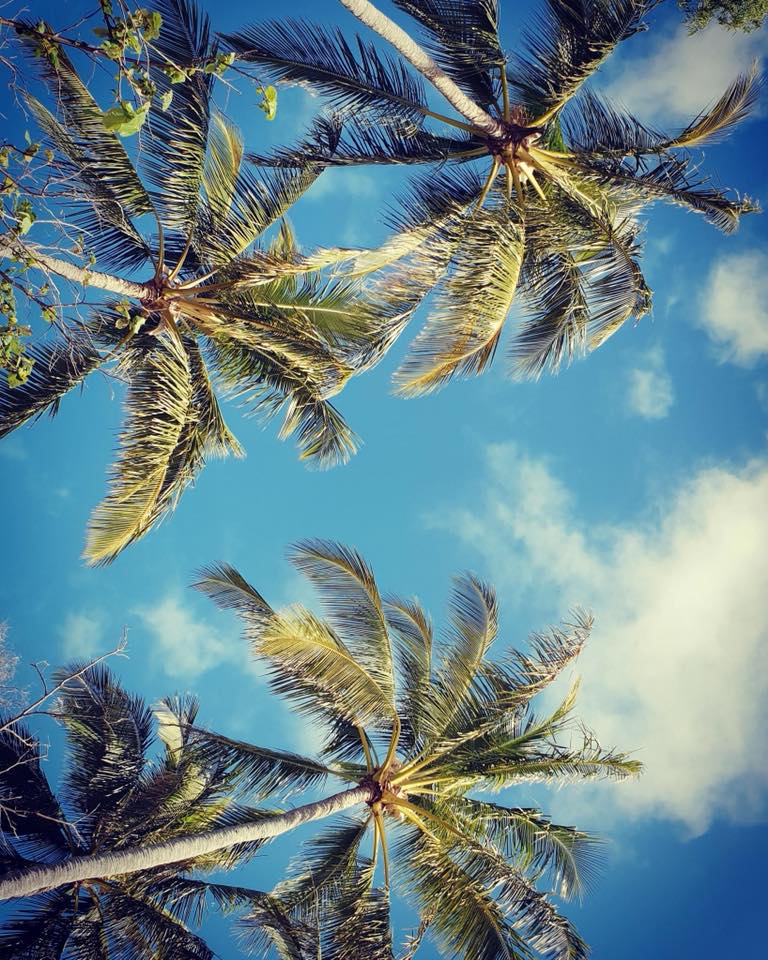 The kangaroos on the beach at dawn is the drawcard of Cape Hillsborough Nature Tourist Park.  It is why they have been featured on television, and been promoted by the instafamous.  BUT, oh how it has changed.  What used to be a natural phenomenon with 50 kangaroos hopping the sand about to get some salt in the mornings has morphed into a spectacle.  See, if the kangaroos on the beach at dawn is their main drawcard, they have to GUARANTEE the kangaroos will be on the beach at dawn.  It is obviously not good enough that you MIGHT see kangaroos on the beach at dawn.  If I am getting up for the sunrise, it had better be worth it!  Right?  So now, they feed the kangaroos on the beach at dawn to make sure they show up.  There is a ranger talk, and the kangaroos are fed in a little coned off area.  There are even talks that they are going to start charging tourists for the privilege of viewing such a spectacle.  This makes me really mad.  They have really messed with and destroyed what used to be a really cool thing.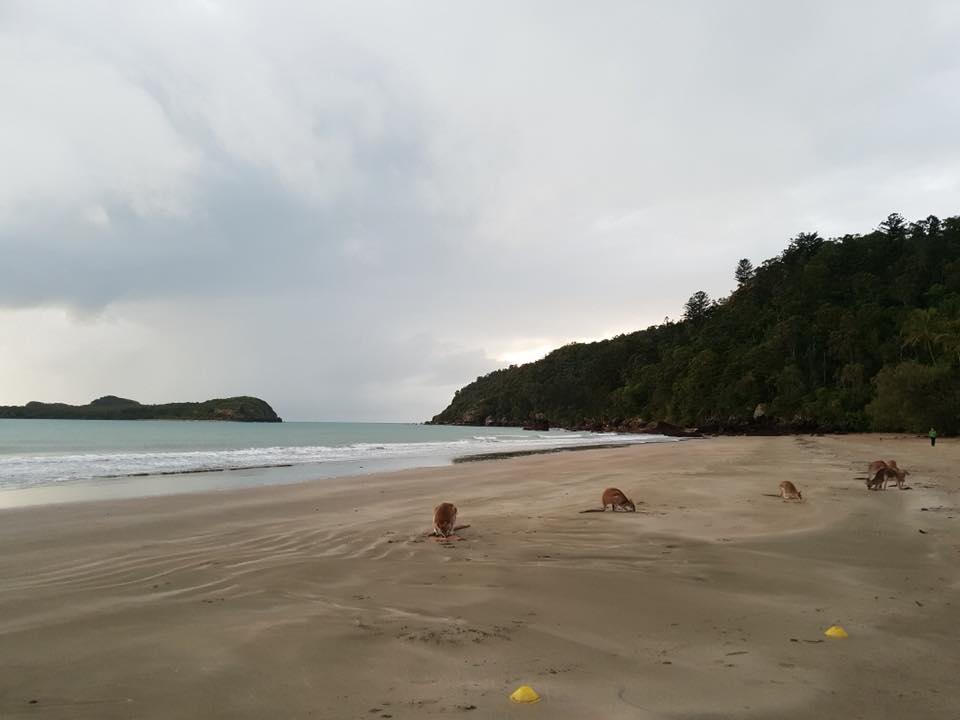 The setting of this beautiful park is spectacular, and this is its saving grace.  The beach is picture perfect!  The surrounding National Park hikes range from an easy stroll up the the lookout to an intense hike up and over the other side of the Cape itself.  There is not much to do, no phone reception even, and this is what I do like about it.  The kids love getting back to nature and the odd kangaroo we do get to see really delights the little ones.  But for the price, well, it's not really worth it for us.
What do you think about Cape Hillsborough Caravan Park?  Let us know in the comments below!  Happy Camping!