Read the DJI Mavic Air Review 2019 Edition to find out if this is the perfect drone for you.
Name: DJI Mavic Air
Website: https://dji.com/djimavicair
Price: $799 US ($1,148AU)
Owners: DJI
Overall Rank: 9.5 out of 10
The DJI Mavic Air Review, Product Overview
The DJI Mavic Air is a state of the art recreational drone that is perfect for UAV enthusiasts, photographers, Topographical land surveyors and anyone who would love to fly drones.
The DJI Mavic Air Drone is the first in the line of the Mavic Air series of recreational drones and probably the best value for money.
These drones take amazing photographs sensational video footage and are just so easy to fly for all levels of drone users.
The DJI Mavic Air quadcopter folds down into the smallest drone on the market for its size and functionality.
This is what makes it the best drone on the market today and the DJI Mavic Air Review will prove it to you.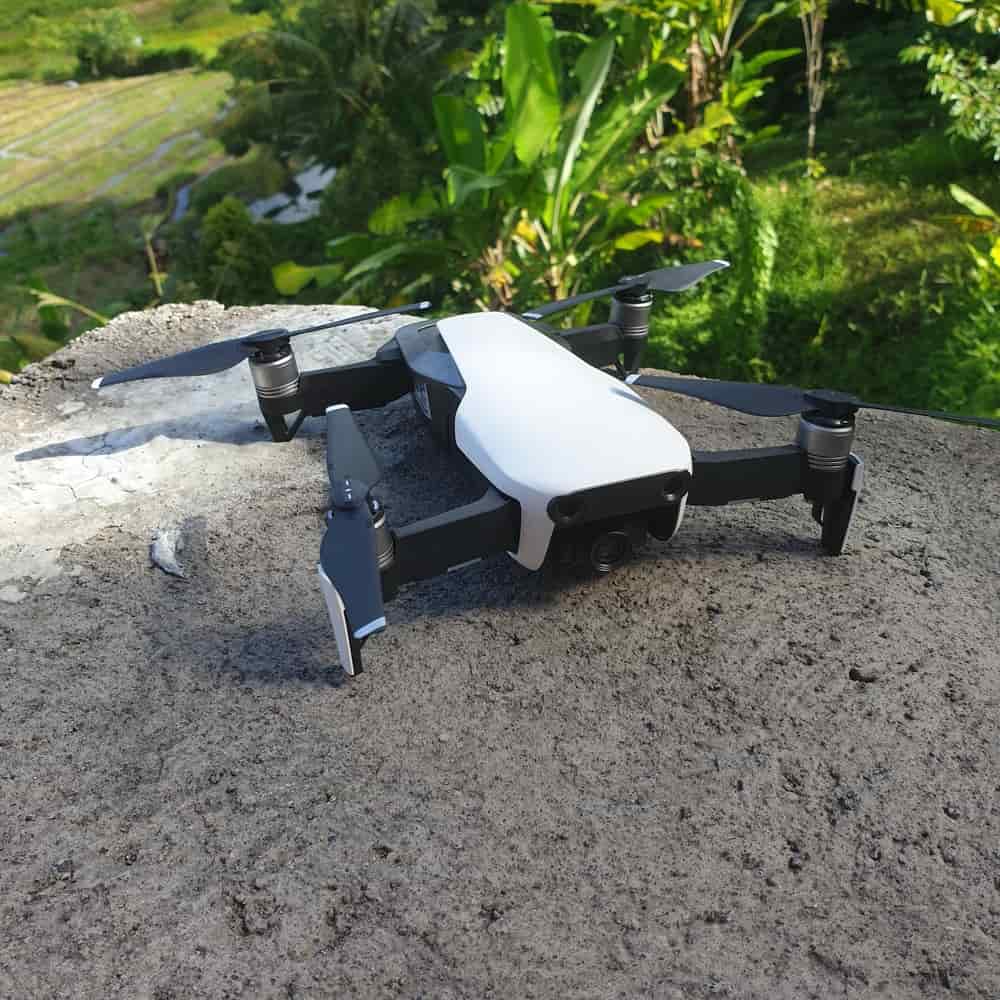 The Good & the Bad of the DJI Mavic Air
The Good:
PRO #1
Foldable and portable, the Mavic Air folds down into one of the smallest drones on the market so you can take it anywhere.
PRO #2
High-end Functions, this small drone has so many advanced features for a little drone of this size.
PRO #3
3 Directional environment sensing to stop you from crashing unexpectantly into objects.  Forward sensor, Backwards sensor and a bottom sensor to avoid those nasty crashes.
PRO #4 
3-Axis directional gimbal & 4K inbuilt camera for smooth video recording at 100Mbps in UHD and high-quality photographs taken in 4K.
PRO #5 
21-minute flight time with a DJI Mavic Air battery under normal flying conditions.  This gives you enough time to capture the magic and return your drone back to your location in time.
PRO #6 
Smart Capture feature, this is where you control your camera by using your hands to control what your Mavic Air does.
PRO #7
Capture 32MP Sphere panoramas for immersive perspective views that will impress your friends.
PRO #8 
Slow Motion Video for capturing high-speed adventure filmed in 1080p 120fps slow motion.
PRO #9
8 Gigabyte of internal storage and an additional Micro SD slot to increase your storage.
PRO #10
DJI Mavic Air Drones are built tough with magnesium alloy brackets to reinforce the seven onboard cameras.  A recessed camera for better protection and rear vents to disperse heat correctly.
PRO #11
Foldable DJI Mavic Air Quadcopter remote controller designed ergonomically to hold your smartphone the convenient way.  Also detachable controller sticks for maximum space.
Watch and capture all your drone action from your phone the smart way.
PRO #12
Intelligent and intuitive technology,  the software onboard the Mavic Air Series is so advanced.  Here are a few of the amazing features included:  
Active Track – allows you to track an object or target while it moves.
Quick Shots has 6 different shots such as – Boomerang, Asteroid, Helix, Circle, Drone and Rocket.  You just don't need to think about your shot as much.
Tap Fly – Lets you fly wherever you tap your screen, backwards, forwards and free.  Also, adjust flight speed in mid-flight to suit your needs.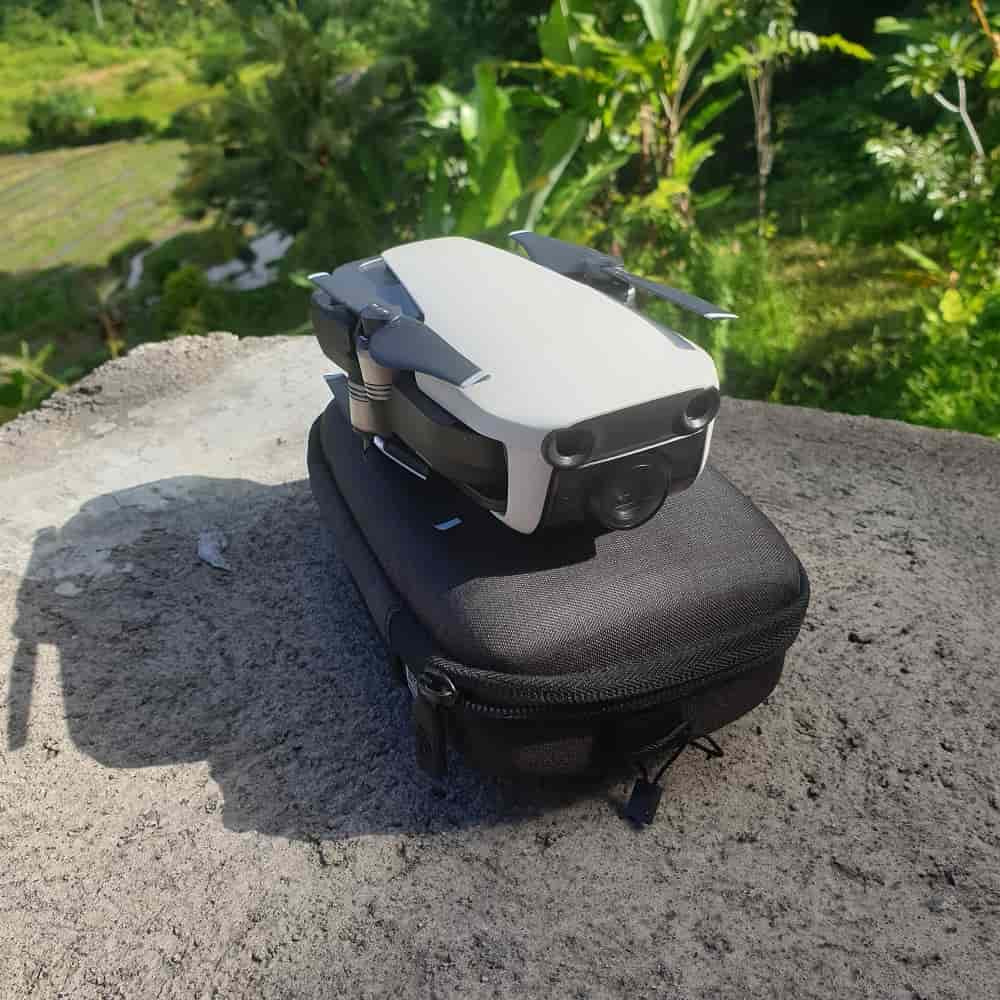 The Bad:
CON #1 
Software Updates, Drones these days are totally reliant on software and I find every time I need to fly DJI want to add another update which can be a little annoying sometimes.
CON #2 
A little noisy especially when you are not trying to cause a scene.  It can attract a bit of attention when taking off and landing the DJI Mavic Air Drone.
CON #3 
It can be a little expensive for some people with a starting price of $799US.  This is why you don't want to crash the DJI Mavic Air Quadcopter.
CON #4
A few more colour options would be great for the main body of the drone, you only have a selection of Arctic White, Flame Red and Onyx Black.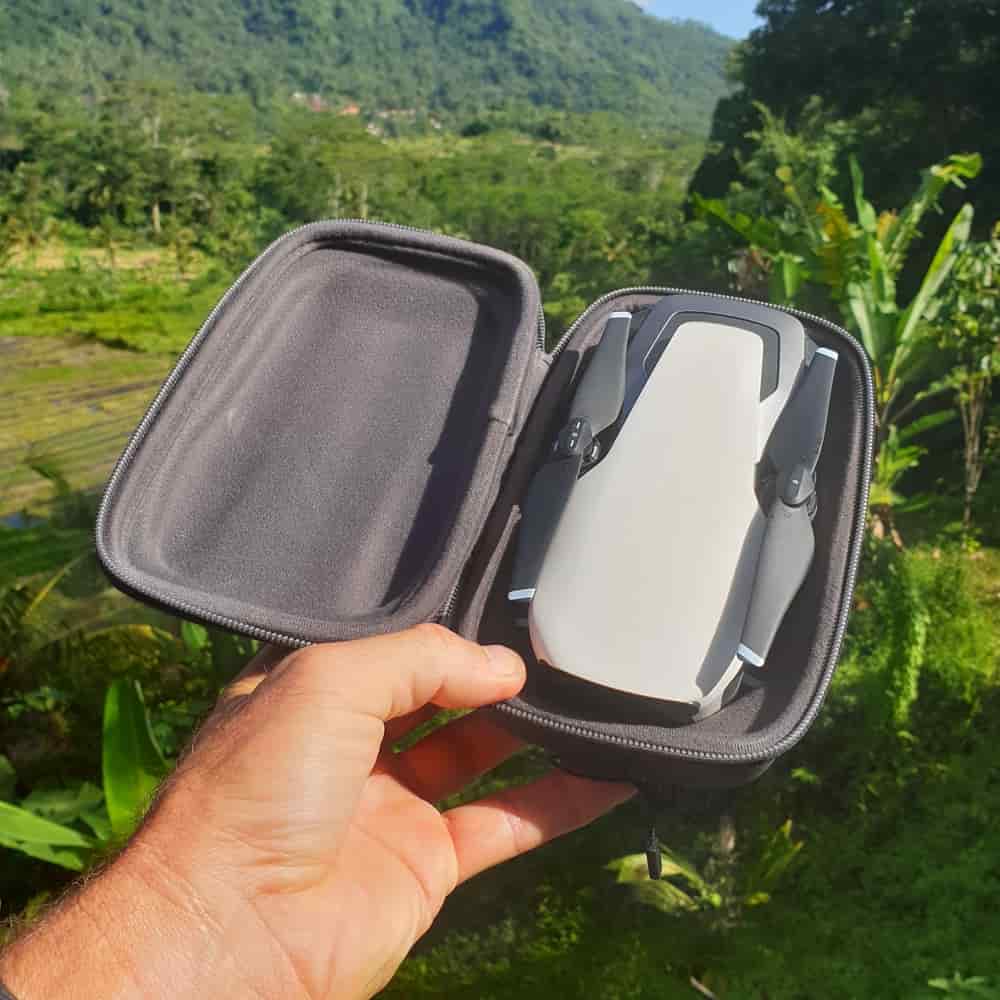 Who is The DJI Mavic Air For?
The DJI Mavic Air drone is suited to aerial photography enthusiasts and people who love taking aerial footage of their adventures and travel.  It is a great all-round drone for photography enthusiasts and would complement their regular cameras.
DJI has developed this product for UAV (Unmanned Aerial Vehicle) enthusiasts and passionate photographers who want the best value for money while capturing the best shots from the air.
Anybody who loves capturing their lives in full action will love the DJI Mavic Air Quadcopter series.
We are traveling the world at the moment and I have captured amazing footage in Bali, Thailand and Cambodia so far.
DJI Mavic Air Tools & Training
DJI provides up to date tutorial videos on their website providing help where it is needed.
Video content includes:
Activating aircraft
Linking remote controller
Updating firmware
Mounting guards
Calibrating
How to use the Mavic Air Drone
Other useful training is available via the DJI Download page where you can download helpful PDF documents such as:
User Manuals
Flight battery safety and guidelines
Safety Guidelines
Software downloads
DJI Product Support
Also, DJI provides product support via their product support page.
Support includes:
Aircraft 
Gimbal and camera
Remote Controller
Image Transmission
Battery
Propulsion
Software
System
Other support from DJI includes:
Online support 
Telephone support for most countries
Email support
Dedicated DJI Forum for users
Facebook Group full of passionate users
We found the support to be amazing and very helpful, DJI has got your back when it comes to getting you into the air.
DJI Mavic Air Price
The DJI Mavic Air price starts at an affordable $799 US ($1,148AU) dollars.  
This price includes the following hardware and DJI Mavic Air accessories:
1 X Aircraft
1 x Remote Controller
1 x Intelligent Flight Battery
1 x Propellers (Pair)
1 x Propeller Guards (Set)
1 x Charger
1 x Power Cable
1 x RC Cables USB connectors
1 x Communication Cable
1 x Carry Case
1 x Gimbal Protector
1 x Cable slider (large)
2 x Cable Slider (small)
All DJI Mavic Air Drone units come fully loaded with the latest firmware which includes all the latest intelligent features.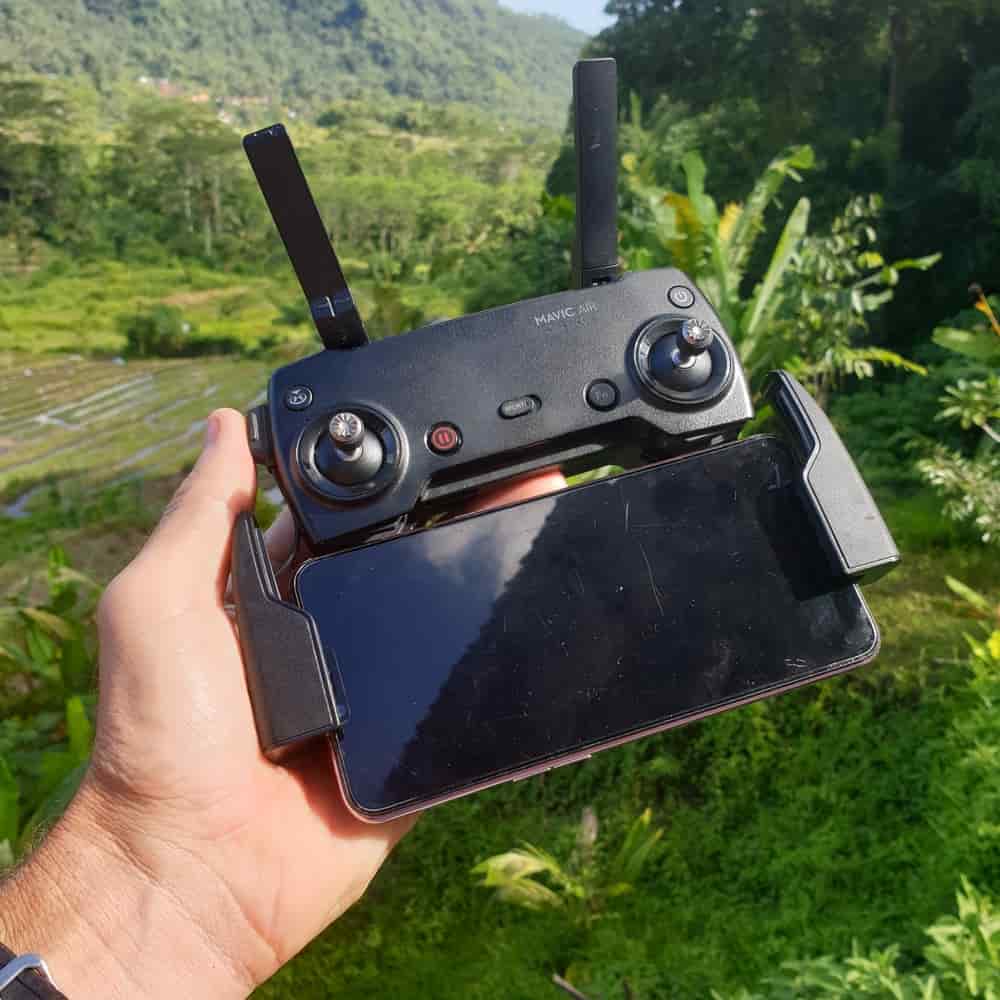 If you are chasing more out of your DJI Mavic Air Quadcopter then DJI provides the DJI Mavic Air Drone Fly More Combo at an extra $200US.
The DJI Mavic Air Drone Fly More Combo includes the regular inclusions plus extra:
3 x Intelligent Flight Batteries
6 x Propellers (Pairs)
1 x Battery Charging Hub
1 x Battery to Power bank adapter
1 x Travel Bag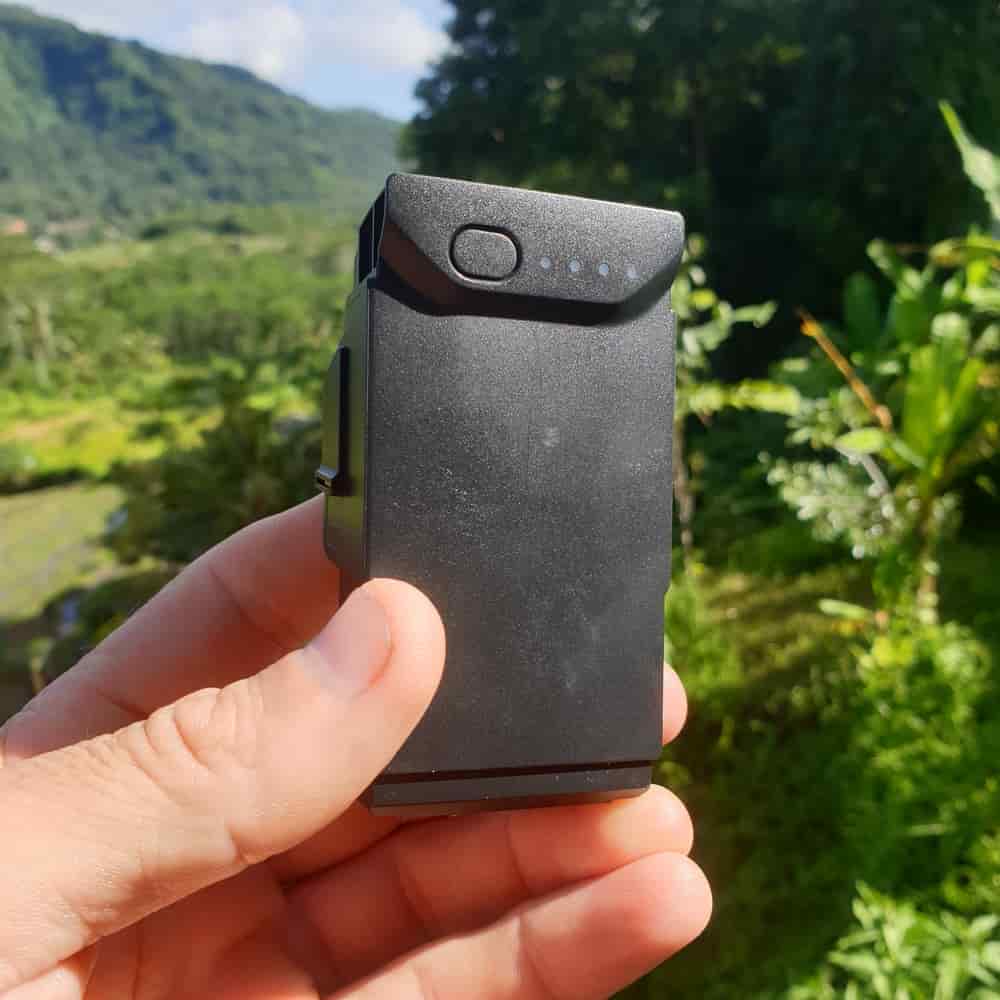 DJI has a few upsell options including:
DJI Mavic Air Drone Fly More Combo ($200US)
Become a DJI Select member ($49US per year) Includes a heap of benefits
DJI Care refresh ($89US) for peace of mind
And if you can't afford to buy a DJI Mavic Air Drone in full right now, they also offer payment plans with Affirm on a 3, 6 or 12-month options.
My Final Opinion of the DJI Mavic Air Quadcopter

I love the DJI Mavic Air Drone because of its size, functionality, versatility and robust construction.
I have used several of DJI's other products such as the DJI Phantom drone series, DJI Inspire drone series and DJI Mavic Pro Quadcopter.
These DJI drones are second to none but for the price the DJI Mavic Air Drone is unbeatable.  Everything you can do on the more expensive models you can achieve on the DJI Mavic Air Quadcopter.
So I recommend buying the DJI Mavic Air Drone for all your drone needs.  Nothing beats DJI and I hope the DJI Mavic Air Review has given you some helpful information!
DJI Mavic Air at a Glance…
Name: DJI Mavic Air
Website: https://dji.com
Owners: DJI
Price: $799 US ($1,148AU)
Overall Product Rank: 9.5 out of 10
VERDICT: THE BEST DRONE ON THE MARKET FOR ANYONE SERIOUS ABOUT DRONES.