Follow this Japan Travel Guide to get from Tokyo Narita Airport into the Heart of Tokyo!
This page may contain affiliate links.  Please see our Disclosure for full info.
If you are about to embark on a trip of a lifetime to Japan, you may want to read this post! In this post, I will cover the easiest way to get from the main airport to your accommodation in Tokyo, which is a must-see city for any traveler.

Most major flights or 50% of flights to Japan land at Tokyo Narita Airport which is approximately 60 kilometers or 37 miles from central Tokyo, and is the 48th busiest airport in the world in terms of passenger traffic.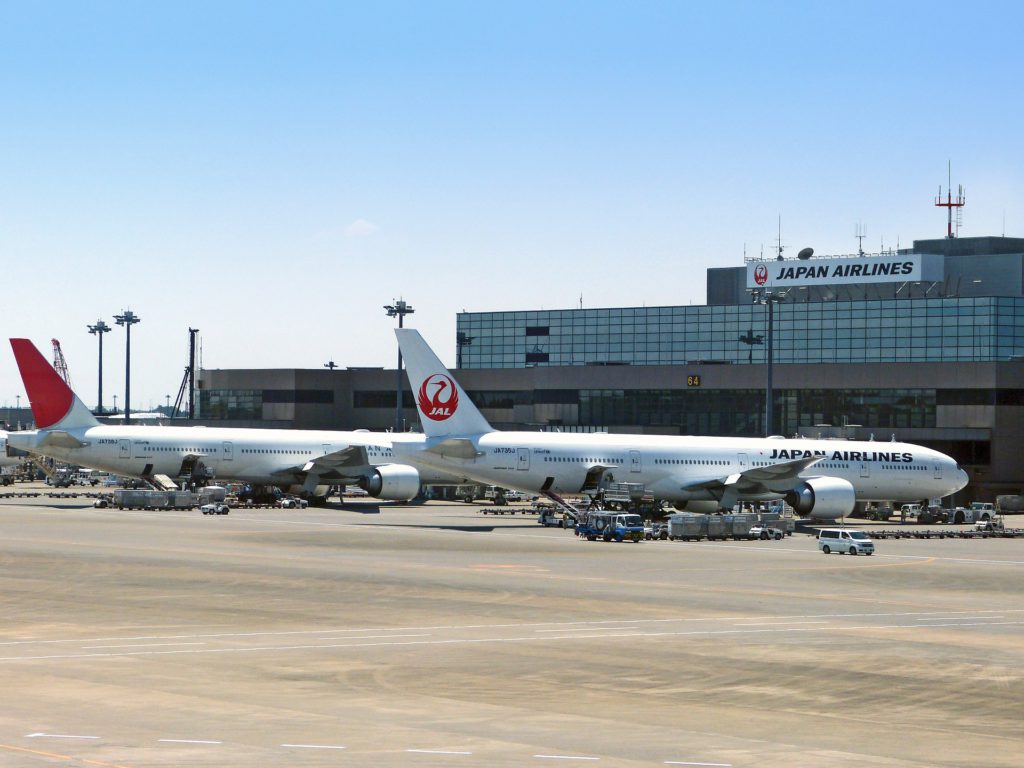 Depending on where you land from depends on which terminal you are in.  There are 3 terminals for passengers, go to this link for a floor map of your terminal 1, 2, or 3 Click Here For Map.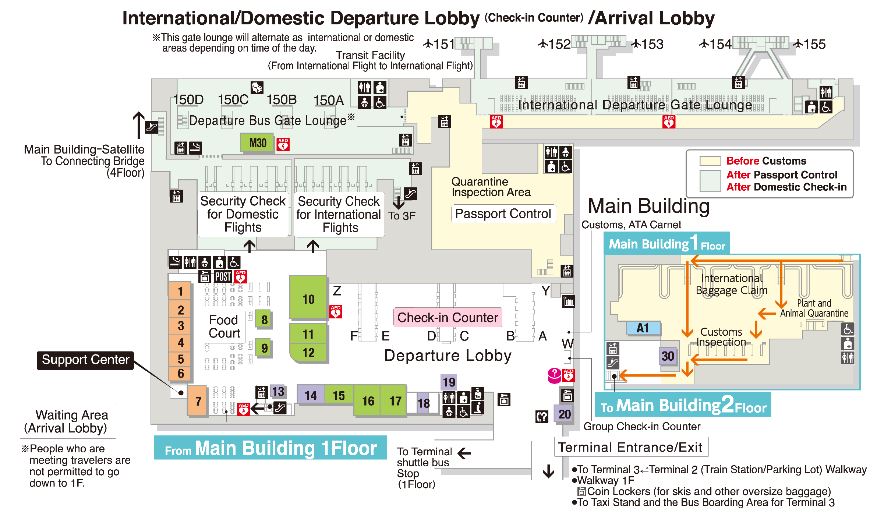 Once you land and find your bags follow these instructions!
Hopefully, your bags arrived safe and sound, and your children are pumped up for the next leg of your journey, make sure they all go to the toilets, which are very cool and really an experience in itself (!) and now you want to get the train into Tokyo!
My personal favorite is catching the Narita Airport Express or N'EX, this is a fast and convenient train that will get you into Tokyo, the train connects Narita Airport Terminals 1, 2 and 3 to urban areas of Tokyo such as Shinagawa, Shibuya, Shinjuku, Ikebukuro, and Yokohama.  The tricky part is finding the railway platform and buying tickets, that's why I have written this helpful little guide for you.
The train leaves from 2 locations, one being Narita Airport Station at Terminal 1 and the other is Airport Terminal 2 Station, so first work out which terminal you are at and go from there.
You are looking for this symbol, and you want to get on the N'EX Narita Airport Express.  

There are a number of ways you can purchase tickets, either directly from the Narita Airport Station, JR ticket offices, Travel Service Centres or Reserved Seat Ticket machines.


Remember, you can't purchase these tickets outside of Japan, buy a ticket after arrival at Narita Airport. 
Watch this small video on how to use a ticket machine in Japan, it can be a bit confusing at first and when the pressure is on you can become very flustered, knowing there are 10 people behind you trying to buy a ticket. Ahhh!!
Here are some helpful diagrams that show you how to read your ticket once you have it, a bit hard if your Japanese is no good!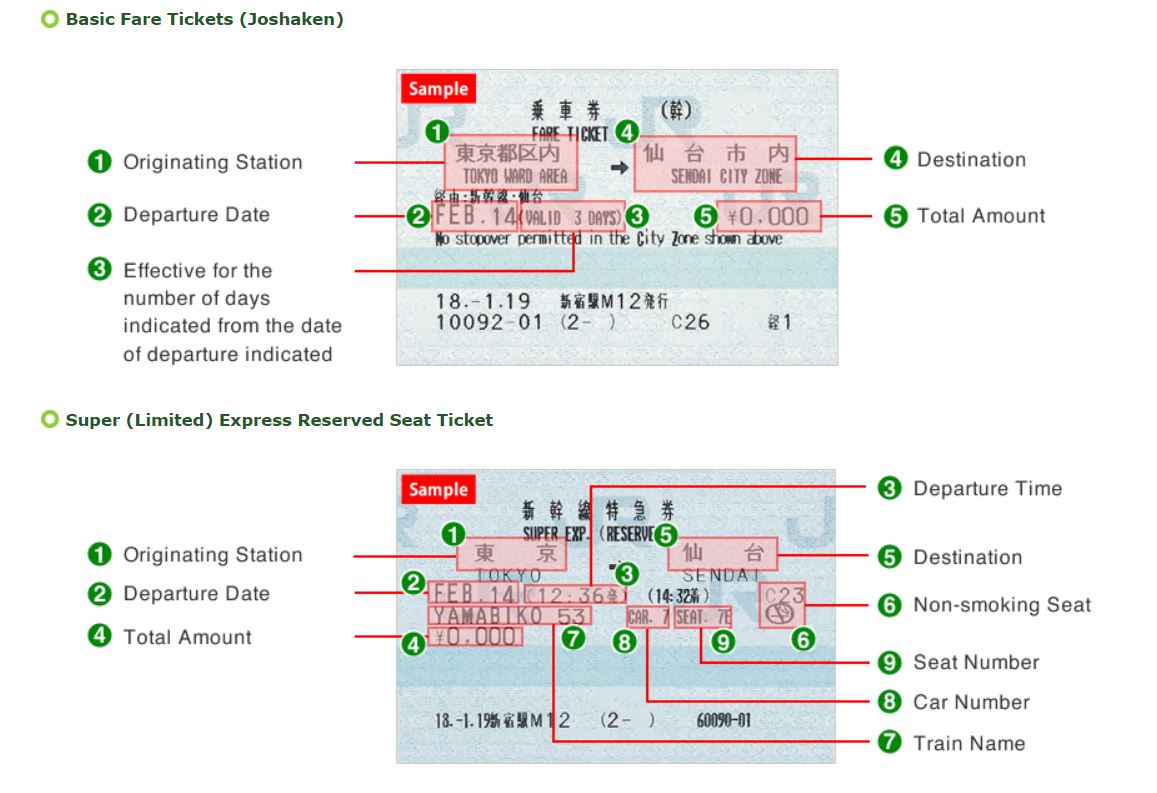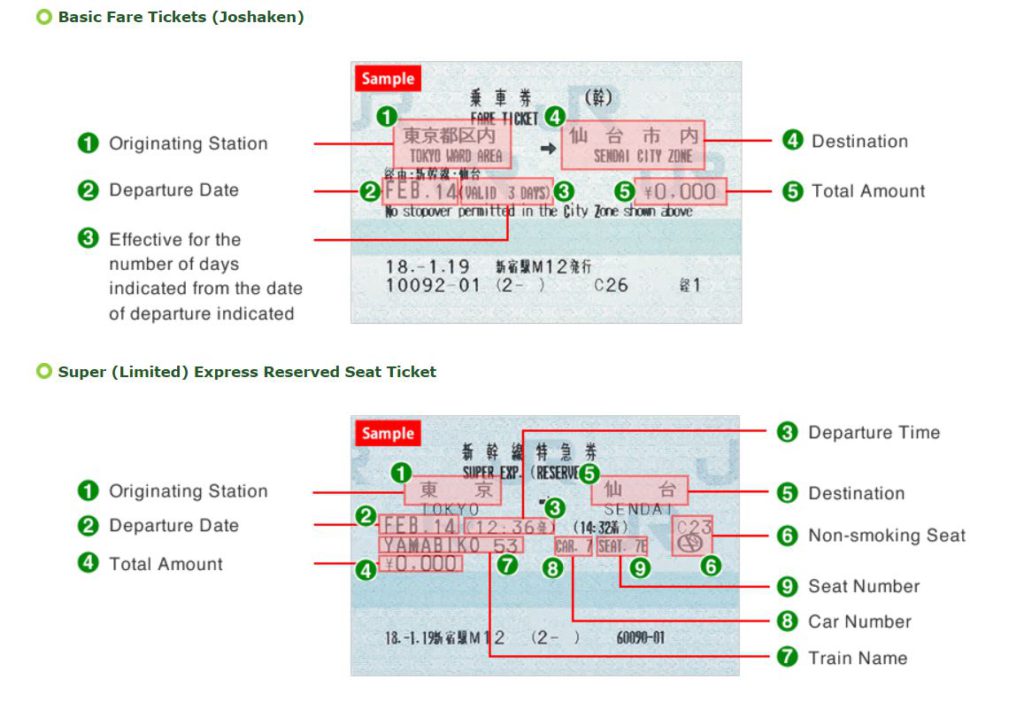 The Best Thing about Leaving the Airport Terminal,
If you have never traveled to Japan before, no worries we have you covered, you are going to love it! The people here are the nicest in the world and everything is clean and so efficient, geez I love Japan.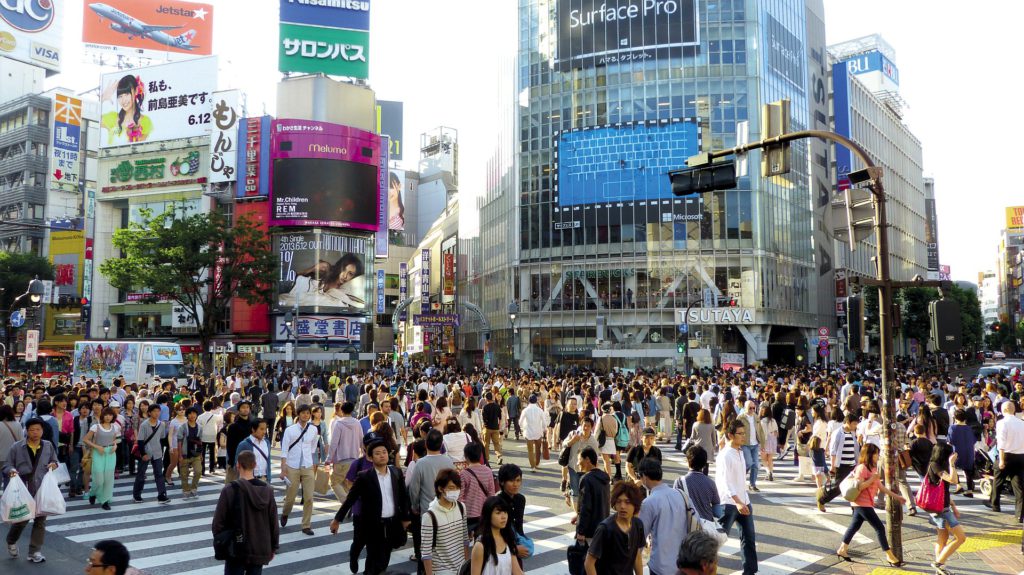 The best thing about leaving the terminal is that you are now technically in Japan, TICK.  Grab a trolley and proceed to the JR East railway station, your kids are probably going nuts right now, stopping and going into every shop along the way, and touching everything.
You are probably having trouble exiting the airport or trouble getting out of the lift with the kids and luggage, we know what it's like.
At the moment the city is gearing up for the Olympics in 2020 so the pathways between the terminals are running track lanes which is really cool.  Another really cool aspect of Japan that you and your kids will love is the vending machines! They are literally everywhere you go, never worry about not having anything to drink, they serve hot/cold coffee in a can, green tea hot or cold, water, weird fruit water, or soft drinks.
Our children wanted to put coins into every machine we passed, costly but fun.  When we arrived last it was winter and really cold so every machine we went passed we just grabbed a hot can that would warm up your hands and your heart.
Make Your Way to Either Terminal 1 Train Station or Terminal 2, 3 Station!
After a bit of trekking to get to the right terminal you should see some signs pointing to the JR East line in green, follow these until you come to the payment ticket machines.  Hopefully, you have all your kids still and you have some money to purchase tickets, don't worry too much if you cant work out the machines, there is usually a ticket man at one of the booths that can help you purchase tickets for the Narita Express Train.
Or just go to the JR service centers to purchase your tickets, they speak pretty good English at times and it can make life easier, especially if you have kids in tow.  And you can pay by credit card or cash.
HOT TIP! WHEN ENTERING THE GATES TO GO TO YOUR TRAIN REMEMBER TO INSERT TICKET INTO SLOT, AND REMEMBER TO COLLECT YOUR TICKET WHEN IT COMES OUT ON THE OTHER SIDE!!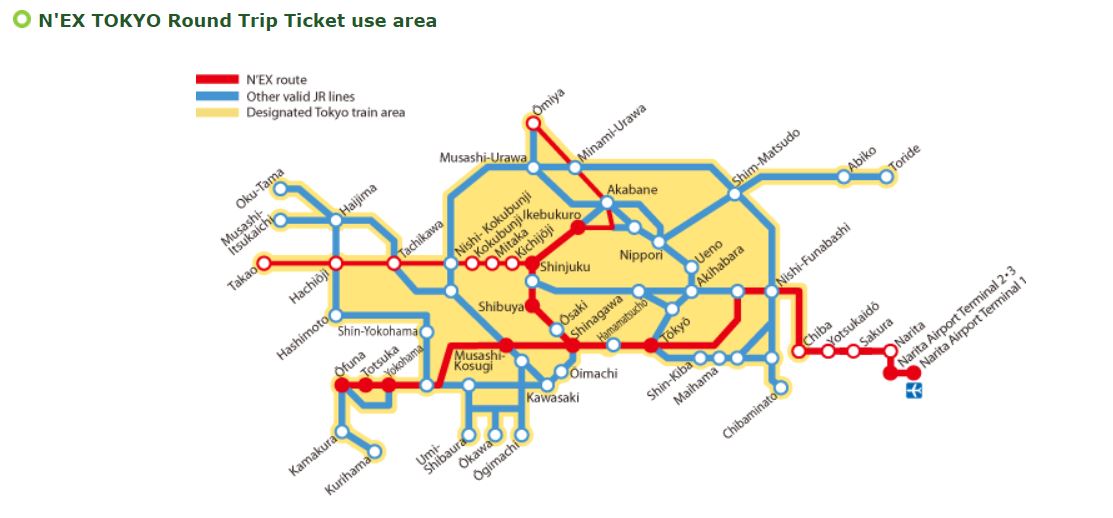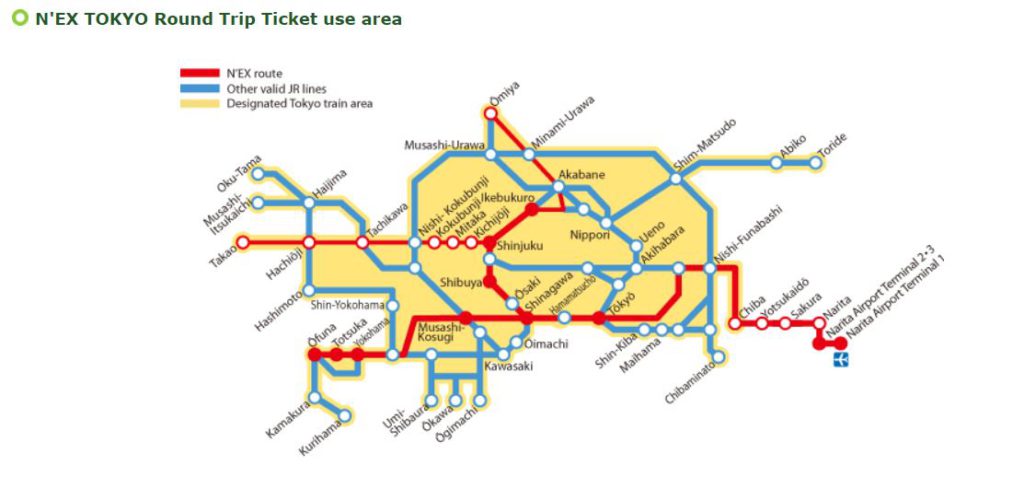 How Much Does it Cost for Train?
The regular round-trip train costs about 6000yen for adults and children over 12 and 3000yen for children aged 6 – 11, they also have discounts regularly so check out this website for further up-to-date information on ticketing and travel service center locations.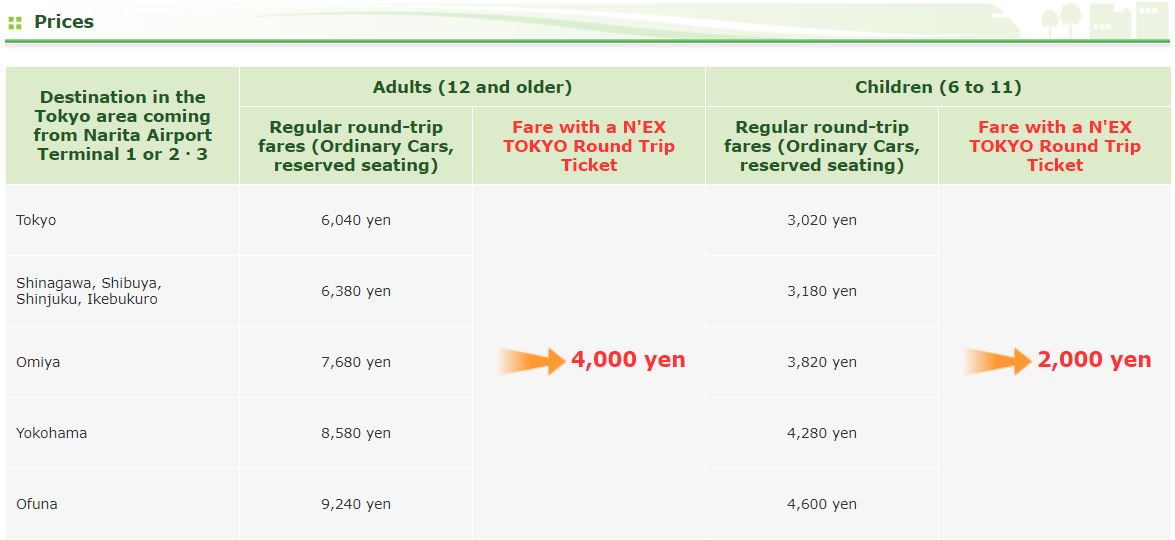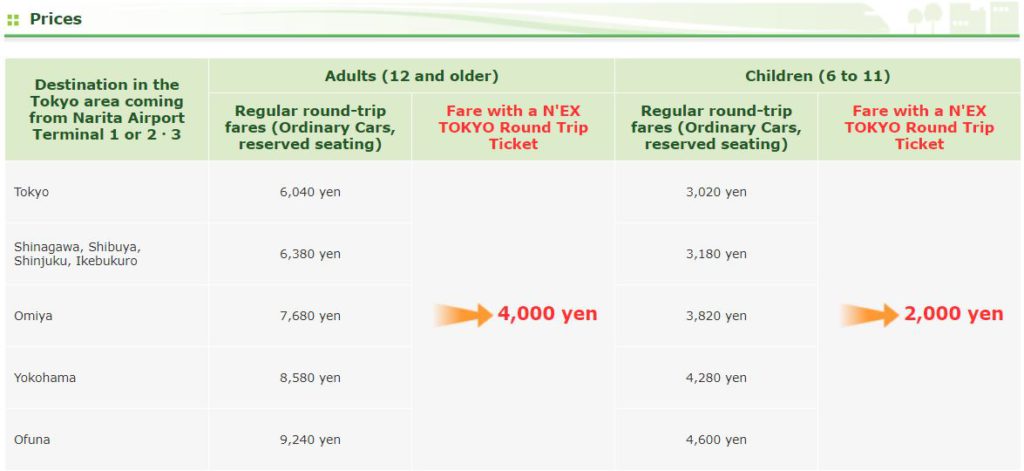 You can also just purchase one-way tickets depending on your plans, but you do save money by buying the return all as one.


Before you board, you do realize that there are little convenience stores everywhere, these sell almost everything, from beer to food and snacks for your train ride. (My personal favorite food from these stores are the little packages of rice, so filling and Asahi beer in a can.  You can't beat this for quick traveling food, and what kid doesn't love rice!!)
Once onboard the train put your bags away and just sit back and enjoy the ride into Tokyo, the most livable city in the world.
How long Does it Take?
Good question! It takes approximately 1 hour and departs the station every 30 to 60 minutes. It is a nice train which includes wifi, so if your little tribe is getting a little rowdy, grab the old iPad and get them to surf the net or play an app while you enjoy your ride!
Remember to keep your ticket! The ticket man will be coming around punching your tickets so don't let your children lose them.
Destination Located at Last!
Once at the correct station grab your bags and your kids and start to explore the amazing city of Tokyo, you will first have to exit the ticket gates by inserting your ticket into the correct slot and merging into the sea of people! Depending on when you arrive.
I hope this is little Japan Travel Guide on how to get from the airport to the city has saved you some time, worry and hopefully money.
Our first time was pretty hectic considering we were from a pretty small town with no real public transport.
Let us know how you get on with your travels, we look forward to hearing about your travel stories down below.