So, school is out for us. Travel is also out, so is work. So we will have to shift our focus onto how to survive these weird times in our self imposed isolation. I have started compiling a great list of free online homeschool resources from both Australia and the world. Schools in Australia are getting their online learning packages sorted out, but we have taken our kids out a week early because we can. Flattening the curve and all that.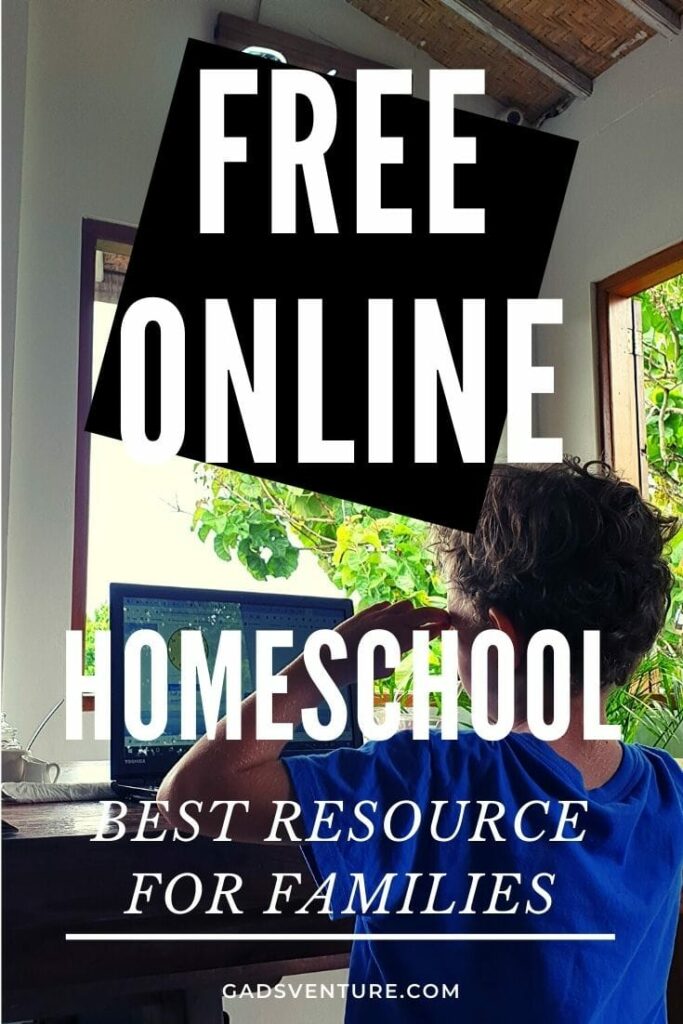 YouTube
This has got to be the most excellent free online homeschool resource out there. You can basically learn everything about everything here. It is important to keep your kids occupied while they are at home in quarantine, and YouTube offers tutorials, information, exercise classes, language lessons and more.
Don't forget to subscribe to our YouTube channel Gadsventure while you are there. Travel will be back up and running eventually, so it is important to be informed and ready! We are regularly uploading videos from our trip around Southeast Asia with our 4 kids last year. Check it out here.

We will also be sharing vlogs on how our family is managing isolation.
It's easy to make your own YouTube channel and share your own blogs too.
Education QLD
Our home state is QLD and they have shared some valuable online resources online for us to use for learning at home. Print out the maths and English worksheets easily from here.
Home Learning with Education QLD
Education NSW
Some great curriculum specific resources here as schools Australia wide move toward online learning.
Maths-Drills
Excellent free online homeschool resources here with downloadable and printable maths sheets.
Scholastic
Learning at home is easy using the resources found here at Scholastic.
This is the company that brings you Book Club at school, and provides some valuable free learning here.
Reading Eggs
We have a paid subscription to this as well because I feel it really supports our 6-year-old learning to read. It's fun and colourful, with great learning from ages 2 – 13. The kids love it too.
They are worth checking out with a free introductory period of at least 2 weeks. And they also provide excellent supportive reading books and activity books to complement learning.
Udemy
Udemy has some amazing paid courses, but right now you can download these awesome ones for totally FREE! Suitable for younger children.
Twinkl
These guys have a dedicated Coronavirus Home Learning Support Page relevant to where ever in the world your closed school is. Check it out:
I just downloaded a cool home learning resource pack from here absolutely free.
Open Culture
Free museum virtual tours, amazing printable masterpieces for colouring in, lectures, language lessons, and talks by famous creators.
ABC Education
Over 4000 videos, games and resources mapped to the Australian curriculum. This is a fun favourite in our home, even when school is in session!
Scootle
This resource has long been a favourite for teachers when developing lesson plans that are curriculum-based. I find it a little bit hard to navigate, but once you get in there, it gets easier to find what you need, if you know what you are looking for.
Australian Children's Television Foundation
Another excellent free online homeschool resource supported by the Australian Government is full of movies, books and apps to assist with home-learning.
Study Ladder
This is totally free during school hours, even at home using the logins we have already set up by our school. For a free membership, you can join and limit 3 activities per day. Or there is a fee for premium. It's a fun and easy to use platform that the kids really enjoy.
Read Theory
Our kids also have a subscription to this thanks to school. They also have some free access.
Maths Online
This was my favourite resource while we travelled and homeschooled the kids in 2019. We had the paid subscription, but there is a free trial as well.
What You Need for Homeschool
Your kid's teachers are going to be on board with this too. Hopefully, they will be sending you emails with work for the kids to complete. Your teachers are another invaluable resource. Ask them questions.
You also need some basic resources to make this easy.
Pencils
Sharpener
Eraser
Colouring pens
Paper
Printer
Printer Ink
Internet Access
Computer or tablet
Scissors
Glue
Craft items (collect your recycling)
You are also going to need to bring a good attitude. Be positive. And if it gets too hard, don't push it. It's a big transition, just relax. I find it helps to have a bit of routine, eat at the same time as you would at school, have a morning routine as usual, and have plenty of breaks.
We are adding a big exercise curriculum in there too, especially now that our gyms have closed too. Our kids usually do Jujitsu, Parkour and Gymnastics during the week, so that is what we will be doing in-home using YouTube classes.
Let me know if you have found more great resources for home learning in the comments below. This list will inevitably grow!
Good luck and stay safe.