This is an Important Post for all Travellers Heading to Japan for the First Time!

Japan is a wonderful place full of many things such as great culture, great food, great temples, great fashion and great activities, but probably the greatest thing about Japan is, it has a great etiquette among its people.

Keep reading to discover how to travel in Japan using good etiquette when experiencing the country's wonders and respecting its people.
This post may contain affiliate links.  Please see our disclosure for full info.
When traveling to other countries you really want to show some respect by following their customs, laws, and way of life.  Don't be one of these tourists that want to compare everything to their country and feel as though because they are on holidays they can just do what they want and how they want.
Nothing ticks me off more than being out on the town minding my own business and trying to blend into society a little when down the road comes some really loud tourists pretending that they are the most important people in the world, ignoring all and oblivious to their surroundings and acting really rude which could be offending the local people.  But we know these guys don't give a @#$% because they go home in 2 weeks.  It's not good enough, especially when traveling to the nicest most polite country in the world Japan.
20 ways to demonstrate Good Etiquette
Here is a list of 20 good etiquette practices while traveling around Japan and interacting with the people,
Greetings – Bowing is a good practice a lot of foreigners forget about, especially when meeting and greeting.  It doesn't need to be a full-on bow, just a slight head bow will suffice for ultimate courtesy.
Gift giving – Offering a small special gift from your home country to say thank you (especially if you are staying with locals), also small gifts for changes in seasons, moving house, or returning from a large trip are greatly appreciated.
Our experience here happened to occur the opposite way, my little 4-year-old girl was crying, (due to the other 2 boys probably) and we were trying to keep her motivated and get her to snap out of her dark place, when all of a sudden an older Japanese woman who was just passing by came up to her reached into her handbag pulled out a cute origami pack, gave it to her and then disappeared, now that is really kind.
Handling gifts – When giving and receiving gifts it is polite and good etiquette to use both your hands.
Shoes off – Shoes off when entering certain buildings, especially if you see rows or shelves of footwear at the entrance to the foyer.  You may just have to wear socks or if slippers are available, wear those.
Entering a home – Always take your shoes off before entering a private building such as a home or temple halls.  Some particular restaurants with straw matting for a floor, certain hostels, and hotels and certain historic sites also require you to remove your shoes before entering.
Eating Food – When using chopsticks do not leave them standing upright in a bowl of rice or noodles, avoid playing with y0ur chopsticks, such as using them to drum, scratch your back, waving people over etc. Eat everything that is presented to you, don't try to modify dishes, if you don't like something just be polite and avoid any type of conflict.
Smoking – Is allowed in some restaurants and cafes, but not everywhere outdoors. It is illegal to light up in certain public places and on certain streets in Japan, so be careful and follow the signs.
Slurping – It is ok to slurp in a Japanese restaurant, everyone else is doing it, so it must be ok!
Drinking – When pouring drinks make sure to pour everyone else a drink and allow someone else to pour your's, it is bad form to pour yourself a drink especially sake! (Japanese wine)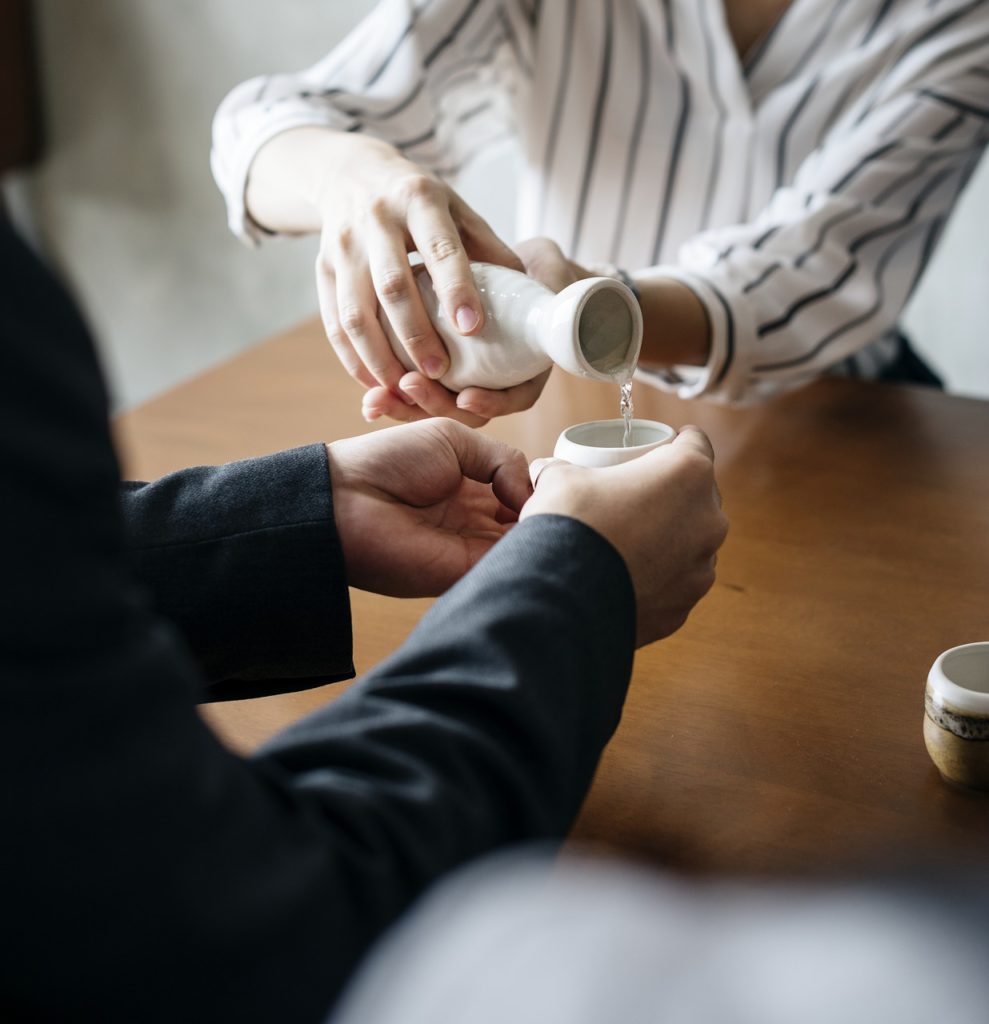 Drinking on the street – Is legal, there are vending machines in parts of Japan where you can grab a cold one and walk along the street without a worry in the world.
Tipping – You do not need to tip in Japan, it is not part of their culture and if you do it, it will embarrass your hosts.
Table manners – It is a sign of good manners to say i-ta-da-ki-mas before a meal (which means I will receive) and say go-chi-so-sa-ma de-shi-ta after a meal (which means you appreciate the meal).
Etiquette for Temples and Shrines – Always speak quietly in temple halls, do not poke your nose behind private curtains and wear appropriate clothing that covers the majority of your skin. (Definitely No bikinis!)
Shrine rituals – When entering most temples you will see a small covered water source area with little ladles resting on top!  This is where you are to rinse your hands and mouth before entering the temple, then followed by spitting on the ground.  Please do not spit water back into the water source.
Use of mobile phones – It is rude to speak on your phone while riding on public transport such as trains and buses, it is encouraged to have your phone on silent as not to disturb others.
Speaking – Try not to talk loudly in public places, as it is considered rude and will disrupt fellow travelers.
Standing in Queue – Never push in and always keep to an organized queue, and be patient and courteous to other commuters.  Always let others exit first before boarding.
Sneezing and coughing – It is considered rude to blow your nose in public or be overly loud when sneezing and coughing, try to conceal or go somewhere more private to let loose.
Public baths – 1. Wash up before you enter, 2. you must be completely nude to enter, 3. don't put your hair or your towel in the water and 4. definitely no washing in the tub.
Cover your tattoos – Try to cover your tattoos a little when traveling in Japan. You may get refused entry or asked to leave certain onsens (public baths) This is mainly due to the meaning of tattoos in Japan are associated with the Japanese Yakuza. (Japanese Mafia)
Try to Travel like a Local, Blend in as Much as You Can!
I hope there are some good wholesome tips in there for you to be aware of when traveling to Japan for the first time! Or maybe your second time! I didn't even know some of these and I have been there twice!
AMAZING TIP!! Did you know that when traveling around Japan it is the law to carry your passport at all times? What! I know, I did not know that!!
Anyway, Japan is a very polite and courteous country that is built on good manners and respect for others no matter the age or social status. This is what makes Japan the best place to take your children so that hopefully some of their culture and good manners rub off onto them and they grow up to be really nice adults someday, all because you treated them to the wonders of Japan.
Don't Be Obnoxious and think just because you are on Holidays everyone is! Everyone isn't, Everyone is just trying to make ends meet and support their little ones just like you!
Travel smart, travel wise and treat the world with respect and kindness for we are all one big family.