Hawaii is super fun.  It's fun for the whole entire family!  No one misses out!  
 [freehtml5map id="0″]
There are a bunch of islands, and they are all worth seeing on their own right.  I recommend picking a couple to focus on, and doing a quick helicopter trip to the ones you miss out on will ensure you see enough.  
We picked Oahu and Maui for our first trip, but we know that we will be back and our boys are dreaming of visiting the Big Island for its volcanoes and lava flows.  Brian is a windsurfer and a surfer and while we missed out on seeing the incredible waves of the North Shore, (we were there in May so it was flat) we timed it perfectly for the windsurfing in Maui which was Brian's dream come true.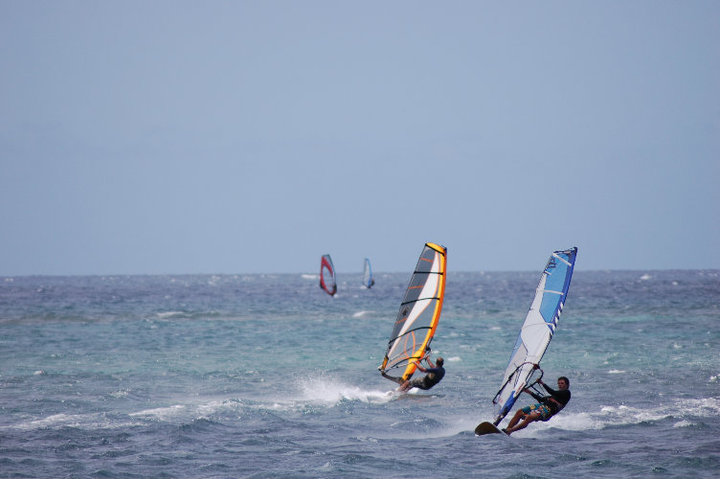 We went there when we had a baby and ever since have been dreaming of going back with the kids.  Here are some things that make Hawaii awesome:
Perfect weather – Sunshine, lollipops and rainbows!  Warm and tropical with a perfectly mild climate year around and swimmable ocean year round too. 
First world – Which means the water is safe to drink, and the place has a high standard of health care and lifestyle.
Friendly locals – Everyone seems really happy and glowing.  Like they feel as if they are the luckiest people on earth to be living in a place such as this.  Add to that the vibe of the tourists who are all grateful to be here, and you have one big happy infectiously joyful place!
Diamond Head – Looking amazing from a distance, you can also climb up the top of Diamond Head for stunning views of Honolulu and beyond.  It's an easy walk up, I did it carrying a big baby!
Starbucks – For me, the Frappucino happy hour daily was a big highlight coming from Australia where Starbucks are few and far between.
Surf's up! – From gentle Mal waves on Waikiki to the massive pipeline on the North Shore, Oahu has a whole range of waves to please every surfer.  And board rental is super easy and cheaper than bringing your own.  Try going a street back from the strip for the cheaper deals.
Shopping – Surf brands have outlets everywhere here and the style is perfect for Hawaii.  The prices are good too!   Hawaii is a paradise for lovers of kitchsy souvenir shops with Trader Joe's dishing up everything from novelty hula girls to nudist chopsticks and funny sarongs.  
Food – A food lover's paradise, try the Shrimp Trucks for seafood so fresh it's almost kicking!
Cocktail Happy Hour – Mai Tai's are flowing often 2 for 1 in every bar along Waikiki.  It's worth checking out the revolving restaurant at the Top of Waikiki for a Blue Hawaii, or a Waikiki Daquiri with happy hour from 5pm daily.
Pearl Harbour – This place is certainly worth the price of admission!  An onshore museum with a boat cruise into the harbour to see the sunken ships that have become literal tombs for the fallen.  A sombre and very well done memorial.
The North Shore – Rent a convertible and drive the lap of Oahu Island checking out the world famous Pipeline and Waimea Bay,  cruising past well recognisable movie locations along the way.
Helicopter Tour, ATV's or Fishing Charters – Hawaii is a tourist's dream and you can do anything touristy that you dream of.  Helicopter tours of the surrounding Islands are a very impressive way to see Hawaii.  A boat cruise and a spot of fishing may be more your style.  Try an ATV tour of Kualoa Ranch up on Oahu's East coast for a prime view of the setting for famous films such as Jurassic Park, Lost and Jumanji.  
The Hana Highway on Maui – Hawaii's best scenic drive takes in a windy coastal narrow scenic road like no other.  It's a beautiful day trip from your condo on Maui and looks even better from a convertible.
Halakalea Volcano – From the lush tropical sugarcane fields at the base to the cold stark moonscape at the top, its an incredible drive to the crater at the top of Maui's Halakalea Volcano.  Take a warm coat!  It's unbelievably cold at the top.
Evening Luau on Waikiki Beach – Every evening the hula dancers take the stage for a beautiful and FREE performance of traditional dance.
The greatest thing about visiting Hawaii is that it is so super easy.  It's the place I recommend to people who have never been overseas because it is such a happy place and it's as relaxed or as action packed as you like.  It is so tourist friendly.  From the moment you get lei-ed as you step off the plane, to your smiling taxi driver and every happy person you see.  It is the happiest place on earth. 
Get there today!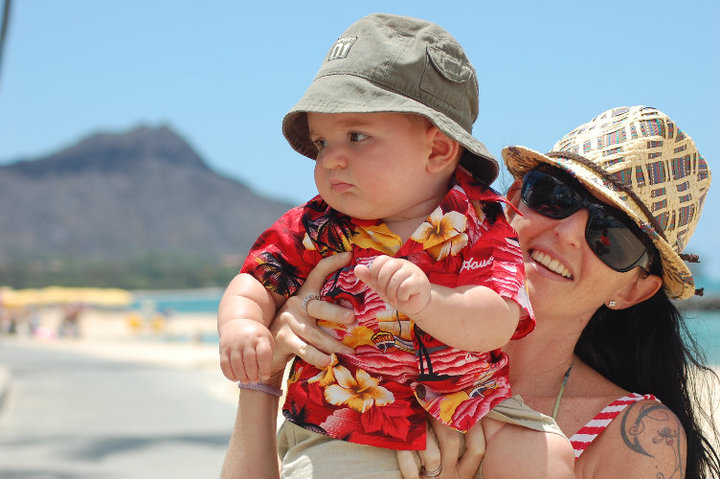 Package deals to Honolulu are a cheap way to see Waikiki Beach and hotels right on the beach front are as cheap and cheerful as $100 per night on Wotif.com.  
No visa required if you are from United States of course as it is one of the States.  Everyone else needs their ESTA Visa, available online here
Learn more tips about travelling with the kids here.