Crowdy Bay National Park lies around 271 km north of Sydney on a rugged strip of NSW's beautiful coastline. Here you will find epic campsites, beach driving, surfing, fishing, exploring, cliffs, rock pools, wildlife and hikes galore. Enough to satisfy the most discerning Aussie explorer!
The entry to the park costs $8 per vehicle per day with camping $12 per person per night extra. If you are planning on visiting a number of NSW National Parks in the next 12 months, we advise getting an annual pass which covers the cost of your vehicle entry to 45 parks throughout the state.
Find out all about the National Parks Pass NSW here.
There is limited mobile phone reception within the park. Smoking and pets are not permitted.
Check out the different campgrounds you can stay at on this map!
Crowdy Bay National Park Australia
Crowdy Bay National Park is open all year round with varying attractions depending on which season you visit. It is accessible with a 2WD vehicle with some good condition unsealed roads. During Winter you may be lucky to spot migrating whales from lookout points and the beach, in Spring wildflowers abound. And Summer is great for all watersports. All year round you can camp here and have fires. There are plenty of koalas and other wildlife that can be spotted during fantastic bushwalks and the fishing is splendid too!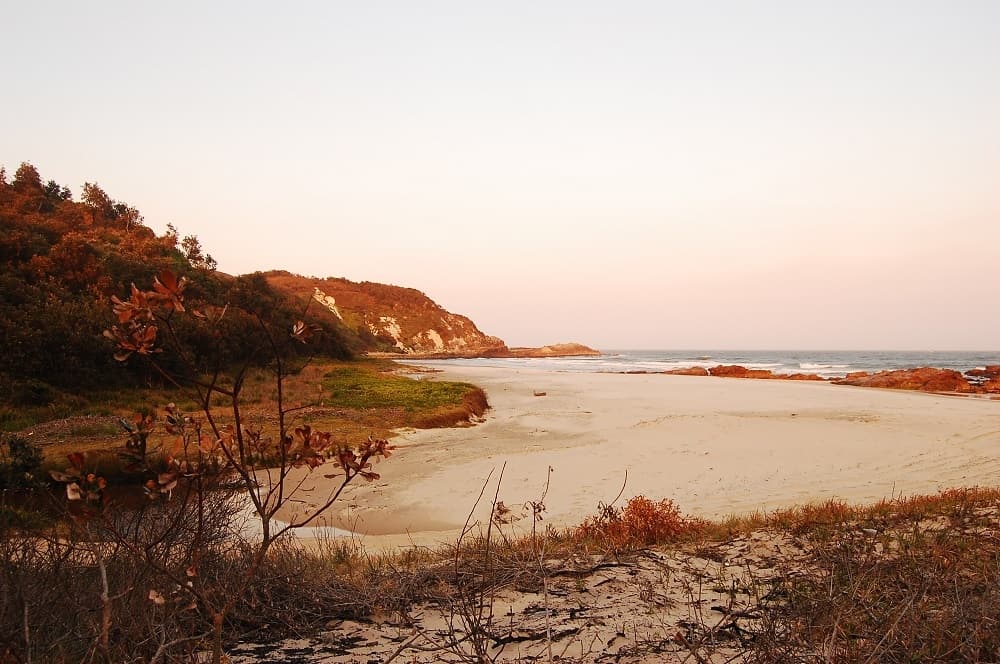 Crowdy Bay National Park Camping
There are 4 camping areas with showers, toilets, BBQs, picnic tables and firepits. You need to bring your own drinking water and firewood though. Site fees are payable in advance and are currently $24 per night including 2 people. There are no powered sites. Pay your camping fees at the Diamond Head Campground NPSW office. Or book online.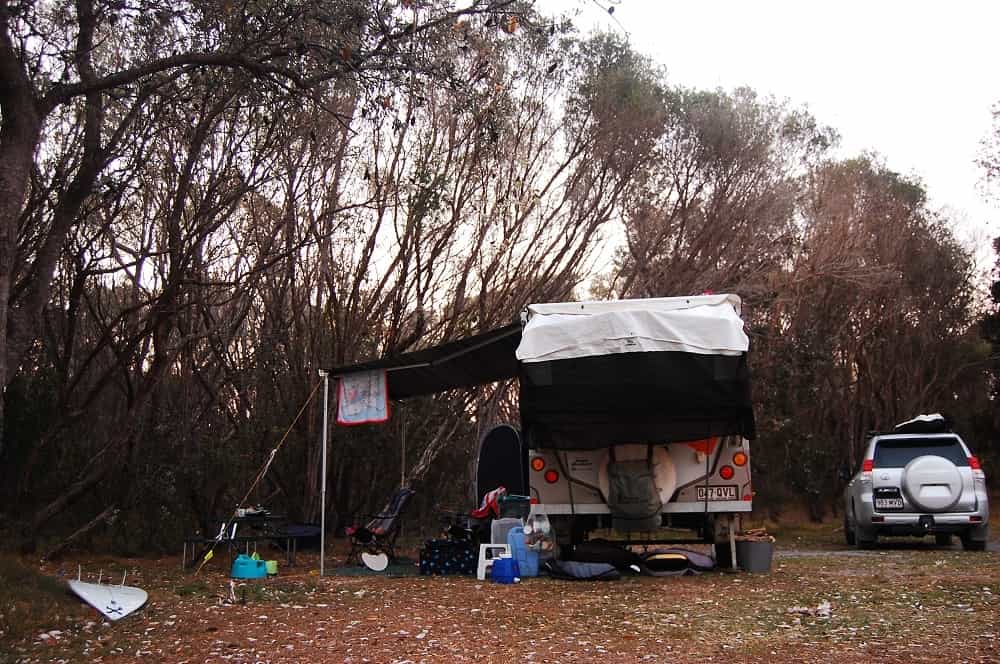 Crowdy Head Campground – The only campsites at the southern end of the park, Crowdy Gap offers grassed shady campsites with a short walk through dune reserve bush to the awesome beach. Book your site online here, or phone 1300 072 757.
Kylie's Beach Campground – Beautiful bushy campground with heaps of koalas, a short walk to the beach.
Diamond Head Campground – The biggest and most popular campsite in Crowdy Bay, Diamond Head has a National Parks and Wildlife office on site. Here you have access to excellent wildflower viewing in the spring, as well as some world-class walking tracks including the 4.8 km Diamond Head Loop Walk. 4WD enthusiasts can enjoy a spectacular beach drive from Diamond Head, but you will need to acquire a Beach Driving Permit from Port Macquarie-Hastings Council first.
Indian Head Campground – Quieter and a bit further to the beach, this is a great option for camping. No bookings required here, first in best dressed and payment can be made at the nearby Diamond Head Office.
Kylie's Beach Campground Crowdy Bay National Park NSW
This is where we camped when we last visited Crowdy Bay National Park. Kylie's Beach is a short walk away from the grassed and shady campground. The beach is great for surfing and the rocks and cliffs at either end absolutely beg to be climbed and explored. From the campsite, head into the forest and seek out the abandoned and somewhat spooky writer's hut. It was here that famed Australian author Kylie Tennant worked after WW2.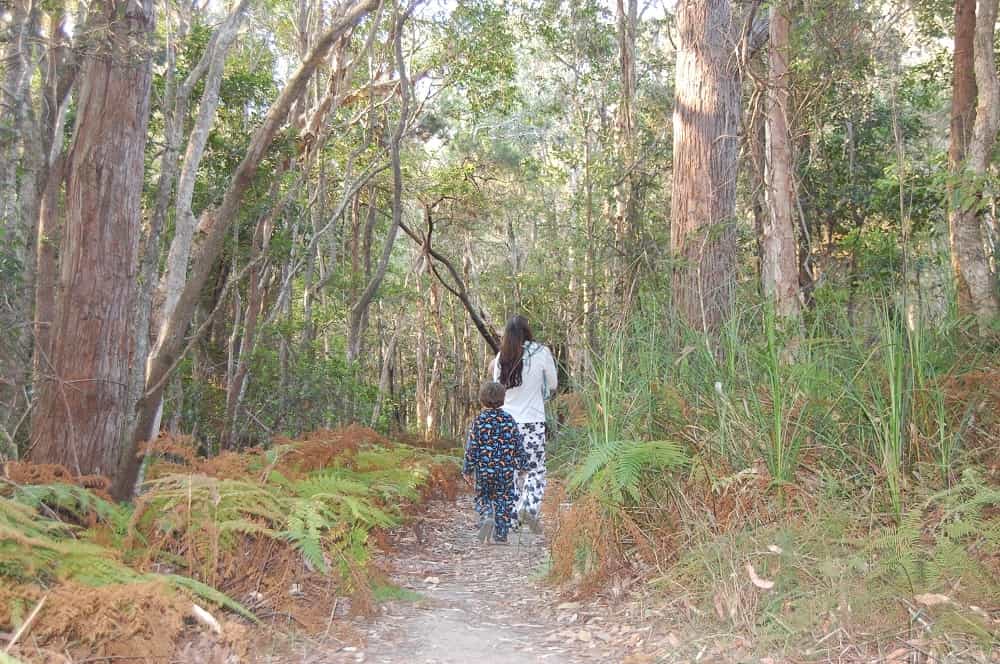 Crowdy Bay National Park Fires?
Fires are permitted in the park, and the use of braziers is encouraged. Firewood (and ice by the way) is available for purchase at the Diamond Head Campsite Office. There are pits with grill plates at many campsites.
Crowdy Bay National Park Weather?
In winter the park is between 10 and 19 degrees Celcius. Perfect campfire weather! During summer enjoy mild temps of 19 – 25 degrees Celcius. February is the wettest month.
Crowdy Head Accommodation
Camping is your best bet here and all folk are catered to from swags and tents to the biggest rigs. There are no powered sites though, remember. The nearest town is Laurieton only 10 km away which offers a variety of clean and cheerful accommodation if camping is not your jam. Harrington, 5 minutes south of the park also provides other accommodation options.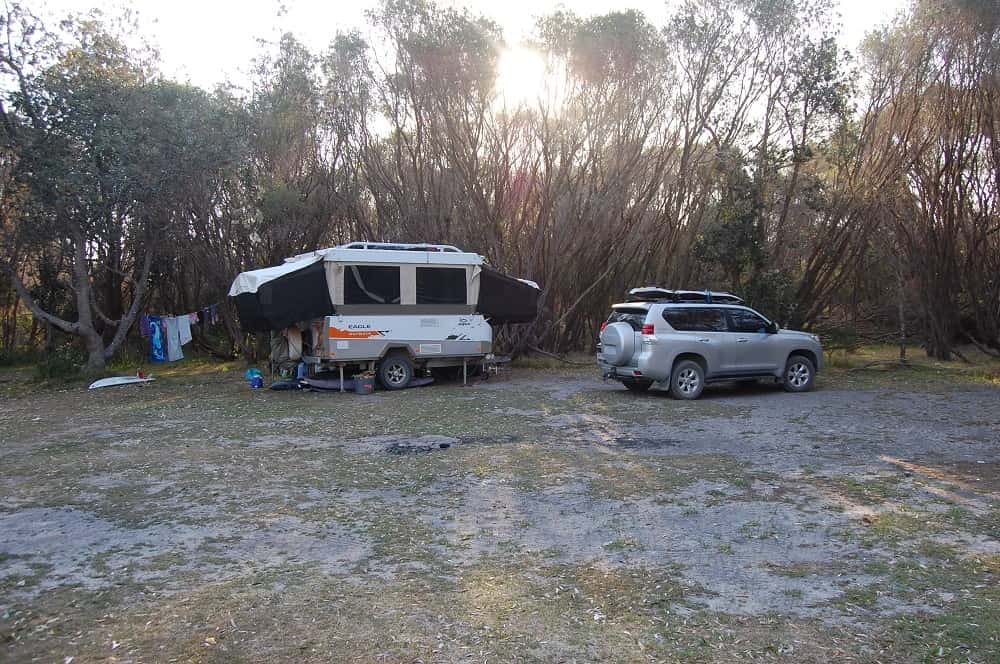 Pet-Friendly
A Wave From it All Beachfront Holiday Home on the Crowdy Bay Road just out of Harrington. This is as close to Crowdy Bay as you can get!
Family Friendly
Budget (under $100 per night)
Mid-Range
Romantic
Luxury
Crowdy Bay National Park – The Verdict
If you need me to give you a reason to pay a visit to Crowdy Bay, here are several. This place is absolutely beautiful! You have a great chance to spot koalas and other stunning wildlife as you stroll amongst the melaleuca forest. The cliffs and rocky foreshore frame majestic white sand beaches which are a magnet for great surf and fishing. We especially love the rustic campgrounds which just gives you that back to basics camping feel of really getting away from it all. It is close enough to Sydney for an easy weekend trip but still feels like you are a million miles from anywhere.
See you there.