Whitsunday Boating Holidays are the best!!
Ever been on a boating holiday in the Whitsundays? If not why not? You are missing out on one of the wonders of the world! 
Boating holidays with the kids are a fun way to explore the islands while still being in a self-contained vessel, either on your own, with another family, or with a hired crew.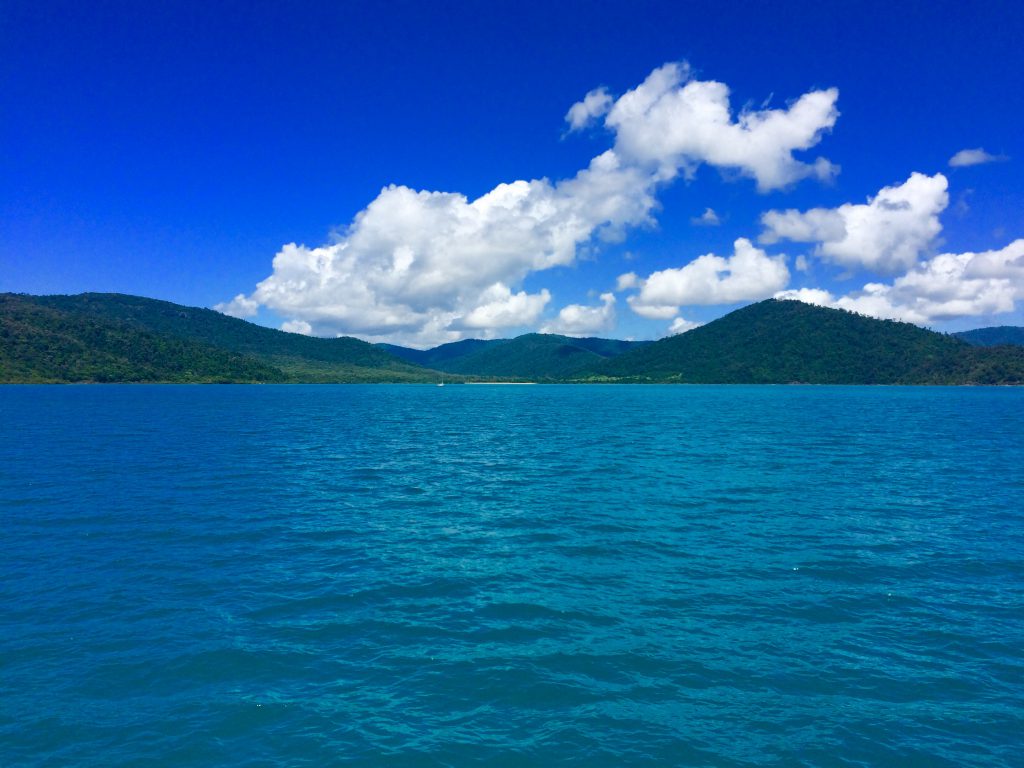 Where Are The Whitsundays Islands?
The Whitsunday Islands lie almost directly in the heart of The Great Barrier Reef and consist of 74 islands that are mostly protected National Parks.
Each island has its own unique character of beauty, ranging from dramatic rock formations, deserted beaches, or lush rainforest backdrops.  All you need to do is find your own island paradise and hook into a holiday of a lifetime!
When taking a boating holiday, you can either:
Charter a boat – heaps of bareboat charter companies operate out of Airlie Beach
Hire a boat with a skipper
Be lucky enough to have a close family member with a suitable boat to take us all out on.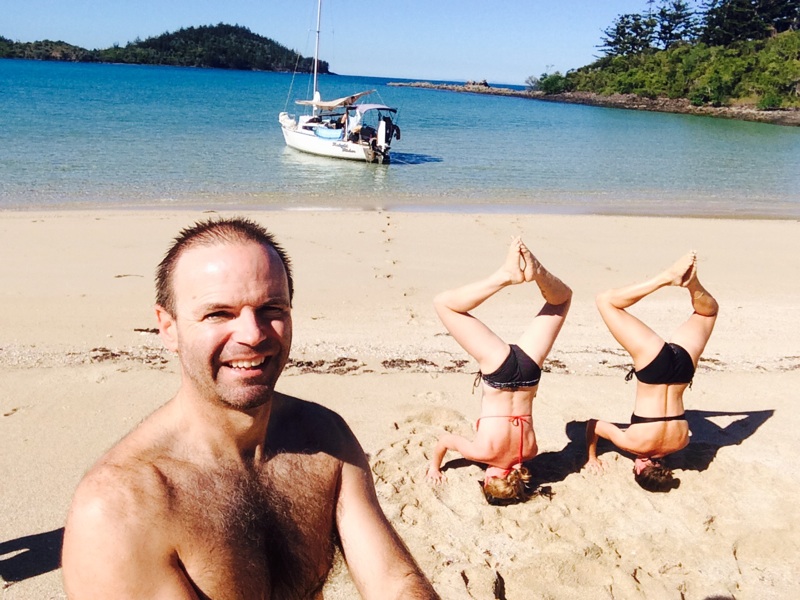 Our Recent Boating Holiday Experience
My family and I just recently returned from an amazing adventure aboard a 9.5m MotorCat style boat in the southern part of the Whitsunday Islands, the Northumberland Group. 
We were not traveling alone, we went with another family consisting of 2 adults and 4 children, so yes in total we were a group of 4 adults and 8 children ranging from 4 months to 8 years old! (Scary let me tell you!)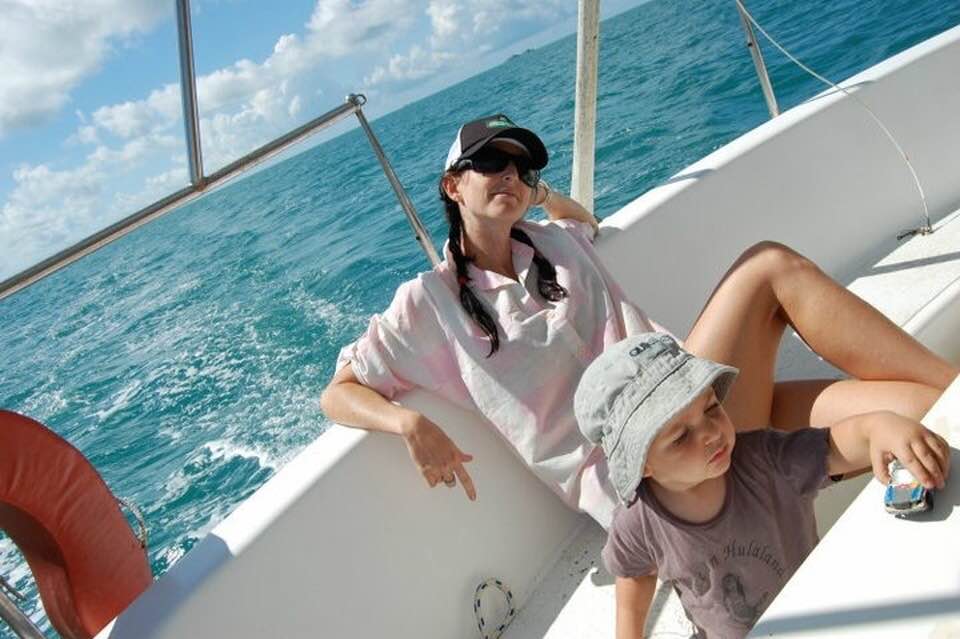 The journey began on a sunny morning in the Mackay Harbour where we had to load the boat with our supplies, which was a fair bit of gear for this many people.  Several trips down the ramps to the boats using small trollies with 8 kids who were full of excitement, just like popcorn about to pop!
After the initial loading and organising of our gang making sure we had every child, beers, fishing rods, kayaks, SUPs, food, snacks, and water we were ready to hit the open ocean.
Kids And Boating Holidays Can be Tricky!
Heading to the outer islands can take a few hours of boat time in which the kids can get a bit frustrated or worse seasick! Our boat was half and a half, sometimes kids can't handle the rocking and start feeling sick and then just become paralyzed and sleep for the trip which is great for adults who just want to relax and enjoy the ride.
Currently, in the Whitsundays, it is winter and the humpback whales are on the move! This is beautiful but can pose a risk to boats as they can pop up from nowhere and take you out.  Also, other dangers on the trip out can be semi-submerged reefs and unpredictable tidal waves that can make small channel crossings rough and scary if not tackled correctly.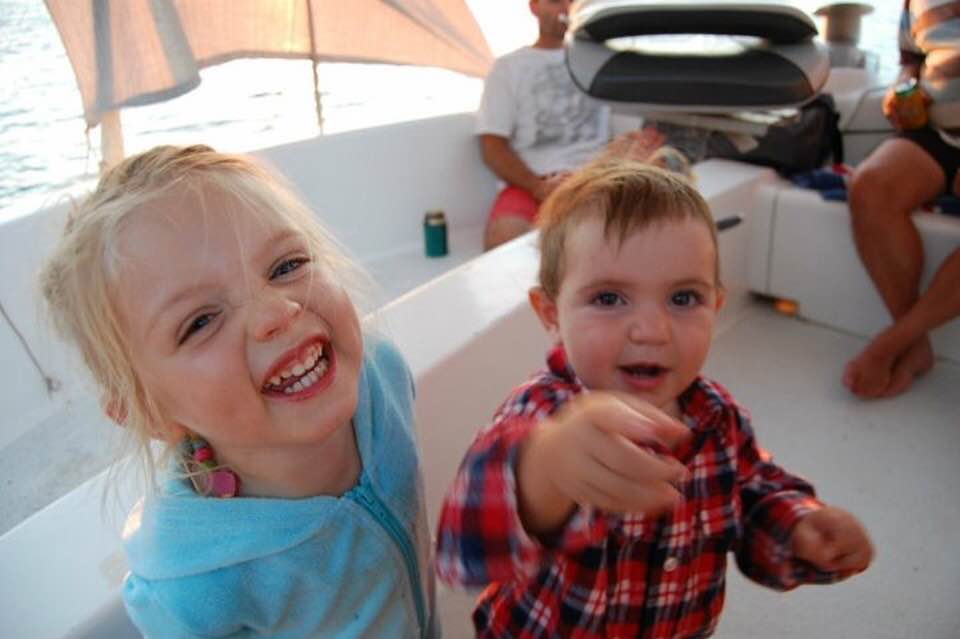 We had none of these obstacles and just breezed out to Thomas Island, most of these uninhabited islands have protected little beaches where you can park your boat in close (depending on the tide) and play the day away, swimming, kayaking, standup paddling, exploring, climbing and anything else you can do on a secluded beach. Most bigger boats have a tender boat so that you can ferry between the boat and the island without getting stuck between tides.
Kids Love Boating Holidays
Kids love this, they can just run wild and free, while the mothers prepare lunch and snacks.  The water out at these particular islands are blue and pristine, all you want to do is dive in and never come out.
In general, an ideal itinerary when traveling among the islands is to have 4 nights up your sleeve to really relax.  A typical day at the island consists of a slow breakfast, preferably bacon and eggs followed up with coffee in the morning, then around 10 am we would find the perfect beach to park at and play for a couple of hours on all our toys, after this we would have lunch, beers and a little quiet time to relax, then mid-afternoon would be a couple of hours of fishing and hopefully catching some fresh dinner, if the fishing failed we would then find a beautiful spot to anchor and have sunset drinks and a further water sport mad hour of fun.(with some more beers included).
This all sounds like paradise, and it is! There is nothing that compares to the Whitsunday Islands anywhere in the world, it is one of the kind and we have been doing it for the last 15 years on and off with different types of vessels and different locations around the islands.
Dangers To Be Aware Of On A Boating Holiday
I have compiled a list of some common dangers that I have encountered on these particular holidays to look out for if you are captaining a boat out in the islands;
Submerged and hidden reefs or rocks – always keep an eye out for obstacles in the water and study your maps or GPS before attacking an island of any kind.
Be aware of the weather reports – always check the weather before heading out to sea to make sure you aren't heading into trouble and stay informed for any sudden changes.
Carry safety equipment – a well-prepared boat should have the right amount of lifejackets per head, EPIRB, radios, and liferafts.  Make sure you are carrying a well equipped first aid kit, especially with kids on board.
Tides – tides out in the islands can vary anywhere from .5 to 6 meters in height so be aware when taking boats near beaches, rocks, and reefs.
Headcounts – make sure you know where all passengers are at all times especially small children they can disappear very quickly if you are not vigilant.
Store loose items in lockable cupboards – this will prevent objects from flying around the cabin without warning.
Here are some safety tips when traveling with small children on a Boating Holiday;
Wear a lifejacket – especially the small kids that can't swim confidently, it could save their life if they go overboard!
Carry a well equipped first aid kit – cuts and bruises are very common on boats and around rocks and reefs. Bandages and Betadine are good choices for preventing infections.
Get children to sit down when moving – boats can be very unstable and sudden waves can crash into the side at any time and cause belongings and people to fly around, so stay seated to avoid injuries.
Carry plenty of drinking water – kids can get really dehydrated out in the ocean, all that salt in the water and air.
Carry suncream 50+ – you will probably spend a lot of time out in the sun so slap it on! (Slip, slop, slap)
Bring protective clothing and shoes – hats, long sleeve shirts, wet shirts, reef walkers or wetsuits will protect your child from the elements.
Supervise your children at all times – this may seem obvious, but when families are on holidays everybody likes to relax, this is when trouble can begin, so keep a look out for your kid's safety.
Our Boating Holiday Trip
We arrived at the island around 11 am and anchored out a bit in the safety of the bay, we then transferred to the tender boat and went exploring the coves and beaches to find the best spot.
We found a cool little spot that was shallow and had some really fun rocks to climb for the kids, we all spent a couple of hours paddling, swimming, and relaxing in our own little piece of paradise.  By this time we were all hungry and thirsty, ready to get back on the mothership have some lunch, and find a good spot for fishing!
Fishing Is Fun On A Boat
We pulled up anchor and headed to some little reefs that should have had fish at them, with our hooks baited with squid and spirits high we cast off the boat into the deep blue sea.
Hoping for some magic edible fish to jump onto our lines, we waited and waited and waited.  Until bang!! we started getting some decent bites on our hooks, it felt like this was going to be our day but whatever was down there was just eating all our bait, we would bait up, lower the line then bring it back up to find no bait again and again.
Then we saw it, a giant batfish, they look awesome but you don't want to catch one.  So we moved on to a different spot to find a better fish, little nibbles, that's all we would get.  The fish are too small for our hooks, this is what I hate about fishing when the fish are just too small to catch but they eat your bait and tease you all day.
By this time the sun was setting and we had enough of catching nothing, looks like it's going to be tacos for dinner! We found an anchorage for the night and watched the sunset over the ocean while drinking a few cold beers, heaven.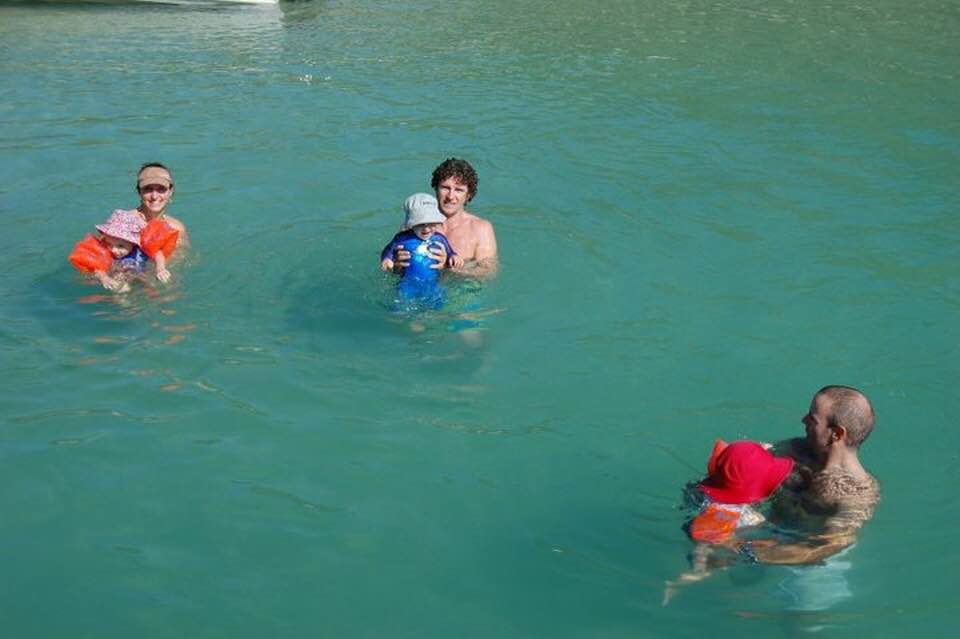 While out at the islands the stargazing can be amazing, due to no cities radiating light.  The only sounds that can be heard are the whistling winds of the boat, water lapping the edge of the boat and if you have children the sounds of little voices yapping and yapping.  The good thing with boat holidays is that your children are generally really tired at the end of the day, so they usually go to bed early, leaving you a couple of hours of peace before you retire.
Due to so many people on our boat, we had a swag set up on the back of the boat (like a tent) to sleep in, which proved to be rather comfortable.  Our children slept all around the boat, on seats, on the floor while the other couple slept in the bow of the boat.
Boating Holidays Take Your Breath Away!
Woken by the sound of the radio forecast, (we must really turn that radio down in future!) we all got up had breakfast and decided to head to a different island closer to home.  The wind had increased overnight which had now made for choppy seas, this was going to be fun!
Going to the toilet in rough seas is really a challenge and should be avoided if possible.
We crossed the channel without too much drama and arrived safely at our next slice of paradise for the day.
This beach was covered in white sand, and beautiful surrounds the kids loved it, even though getting them onto the beach was a mission without falling in.  They found beautiful shells and old coral formations, went rock hopping and explored small secluded waterways that were surrounded by natural forest.  These islands are basically untouched by humans all year round, so expect to feel like you are the only person on the planet.
After exploring and having heaps of fun, it was back to the boat to head back to reality, I transported most of the kids back to the boat with ease and no complaints, so all I had was my daughter who was holding shells in her hands. I was paddling her back to the boat on the stand-up paddleboard, all was going great until disaster struck, I hit the boat nose first which threw me forward and into the water followed by my poor little girl who was fully dressed and she would not let go of the shells.
Also, I just realized my phone was in my pocket which I was carrying to take shots and video so I could share our experience, argh!  Quickly I rescued my little girl and got her back on the boat, followed by dripping me with a new phone that may have just been destroyed by a sudden wrong move, so disappointing.
Heading Home Across the Channel!
After we were all dried and feed we decided to head home, the only problem was the wind had increased and had made the way back rough and uninviting, if I was retired I would stay out at the islands for a week and wait for the wind to disappear but I'm not so off we headed into the unknown.
It was rough, the kids were loving it at first, rocking and waves hitting the bow spraying the entire boat from head to toe. They loved it for about 1 hour, then the sea got the better of them and everyone started falling asleep due to the feeling of seasickness.
Plates and cups were falling off the benches, our few remaining beers in the icebox were smashing, the safety gear was falling out of its position crashing to the ground.
But the worst news of all was while I was watching our little tender getting thrown around in the whitewashing machine it suddenly flipped itself over! This is not good.
Our skipper and owner of the boat quickly jumped overboard to try and rescue the boat by flipping it back over so we could continue getting through the rough passage crossing.  He tried everything he could to turn it over but it would not budge, it looked like all was lost so he climbed back along the rope attached to the main boat for some much-needed rest.
While back on the boat we didn't really know what to do, it may just be a lost cause so we may just have to cut it free and let it sink to the bottom of the ocean.  But wait the little boat wasn't giving up that easy, miraculous it had pointed its nose into the air like it was signaling for help and not to give up on me, there was hope yet!  So with this sign we tried once more to rescue the floundering boat, the skipper jumped in once more while I was controlling the ropes to try and get the boat to flip back to safety, one of the girls was driving the big boat and making sure we were heading into the oncoming swells and keeping the tension to pull the boat back over.
Our skipper would yell an instruction to me, then I would yell an instruction to my wife who would then yell an instruction to the girl skipper.  Back and forth, back in forth it went until it found its own way back upright!  The skipper was tired but he still had to pull himself back to the main boat, he climbed back along the rope and using every last bit of strength climbed into the rocking boat.
Thank god for that! we now kept our course and headed home.  The boat seemed to tow alright from then on, maybe the extra water it was carrying after the ordeal.
We carried on with our journey to the safety of the harbour where we disembarked, unpacked, cleaned up and headed home.
Boating holidays are the best, just be prepared for the worst case scenarios and you will have the best experience ever.