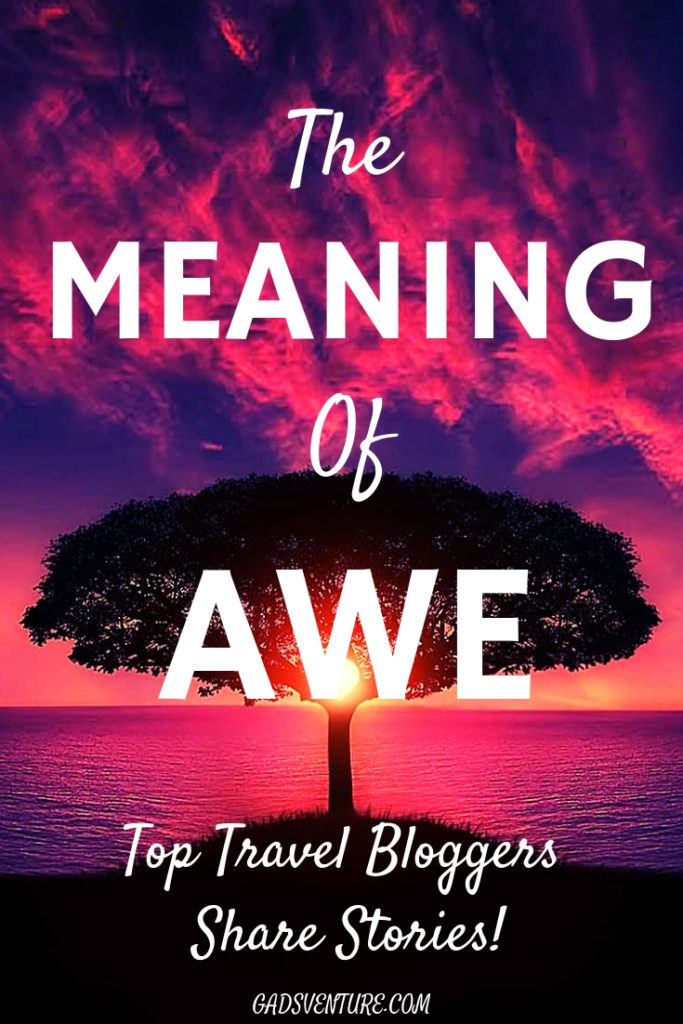 What is awe? The Dictionary gives the meaning of awe as 'a feeling of reverential respect mixed with fear or wonder'. It is something makes us feel humbled. Awe breaks down our arrogance and selfishness and allows us to believe that we are all infinitely part of something bigger. Feeling awe is different to feeling other emotions such as inspiration because it diminishes us. Feeling small is a good thing as it encourages us to make connections.
I recently read an article which explored the meaning of awe and its relation to human connectedness and it inspired me to reach out to some fellow travellers and bloggers to find some amazing stories of awe from around the globe.
Awe can be experienced anywhere! It is not the privilege of travellers alone who stand on the rim of the Grand Canyon to experience. Awe can be as simple as your baby's first smile, or the kindness of a stranger, or a falling star. When you really think about it, it is hard to define just one moment.
But the message is clear: feeling awe is good for the human spirit.
Alyson Long is the creator of World Travel Family – one of the biggest travel blogs in the world. She has been travelling with her kids full time for almost 6 years. She explains awe like this:
Generally speaking, awe makes me cry. 
I blub in the face of awesome constantly.
Awe is the first glimpse of Mount Everest through the clouds as you climb onwards towards Tengboche from Namche Bazaar.
Awe is stepping through the giant wooden doors of the Potala Palace in Lhasa Tibet, knowing the history. Unable to talk about it.
Awe is undersea encounters with manta rays, sharks, turtles or any incredible sea creature.
But especially mantas. Mantas are special.
Awe is seeing my kids achieve their goals and dreams.


You can follow Alyson and her awesome family on Facebook and Instagram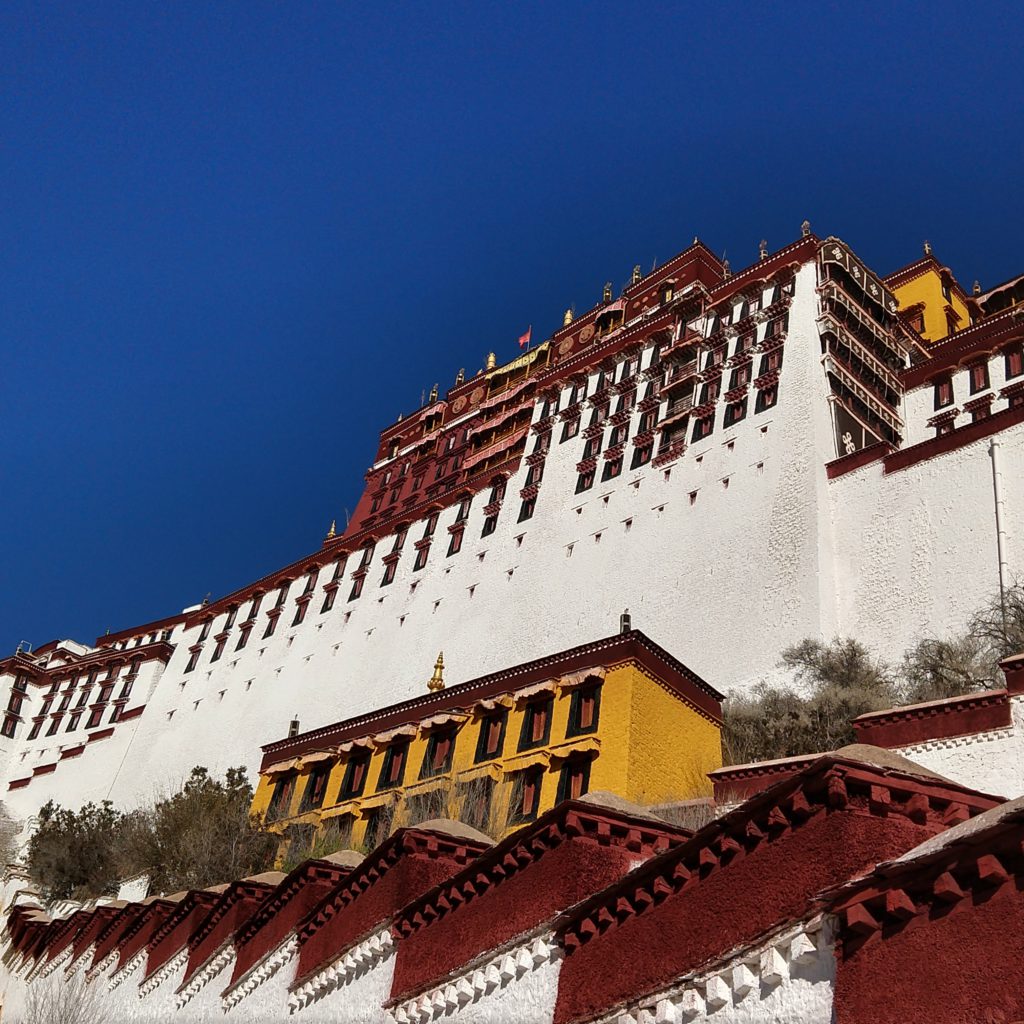 Children
If you are lucky enough to have children, you have so many moments of awe! My heart overflows with awe for my kids constantly and they often bring me to my knees! Those moments when you observe unexpected kindness from one sibling to another, or the way my daughter's eyes light up in awe of every bird or animal she sees. Those are the moments which give you that special feeling.
This particular moment of awe was doubled for us.  As toddlers, our boys had an obsession with bridges.  They loved bridges with all their hearts but we didn't live anywhere near their favourites – the London Tower Bridge, the Golden Gate Bridge, Ponte Vecchio in Florence, Italy. 

We spent that summer in Los Angeles, California so we made a surprise detour.  Instead of flying home from Los Angeles, we drove up to San Francisco so our boys could see the Golden Gate Bridge – and then we flew home from there. 

Watching their little faces as we approached the Golden Gate Bridge and drove over it was simply amazing. They were in total awe – you could see it written all over their faces.  My husband and I watched our boys more than we looked at the bridge.  We too were in awe – in awe of watching our little boys' dream come true! 

Once we crossed the bridge we stopped at this spot where our boys just stood for over an hour, looking out at the bridge.  Again, my husband and I spent most of our time looking at our boys – simply in awe of what it's like to see your children experience something so magical!

Lissa writes for rootswingsandtravelthings.com.  "We focus on teaching our boys that our roots remind us where we are from and our wings show us who we can become!" Find Lissa on Instagram and Facebook for more.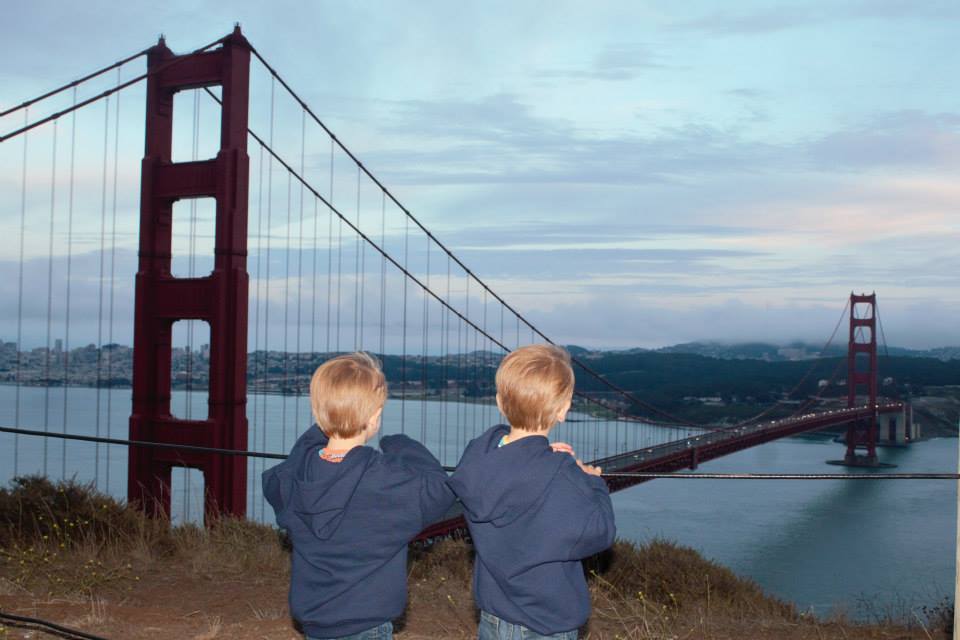 Liana from Insider Families acknowledges her moment of awe in an incredibly magical 'first':
Parenting is hard. Traveling with kids might even be harder. But both have unimaginable rewards. We only get to have "first" experiences once. And, those "first" experience can inspire awe. But as a parent we get the unique privilege of seeing those "firsts" through the eyes of our children.

I feel very lucky to have experienced much of the world. But there is one trip to a small southern beach town in Georgia, St Simons Island, that will forever hold a special place in my heart. It was here that our children experienced the beach for the first time.

The memories that I hold: Their expressions of joy as they splashed in the waves for the first time. The delight in their eyes as they discovered their first seashell. Their hesitant fear as we went to the beach in the dark to search for ghost crabs, and then undulated excitement at discovering one. Their pride as they identified a Sand Piper just like the bird in Disney's short film "Piper."

When I think about the awe that travel has inspired, this is what I think about.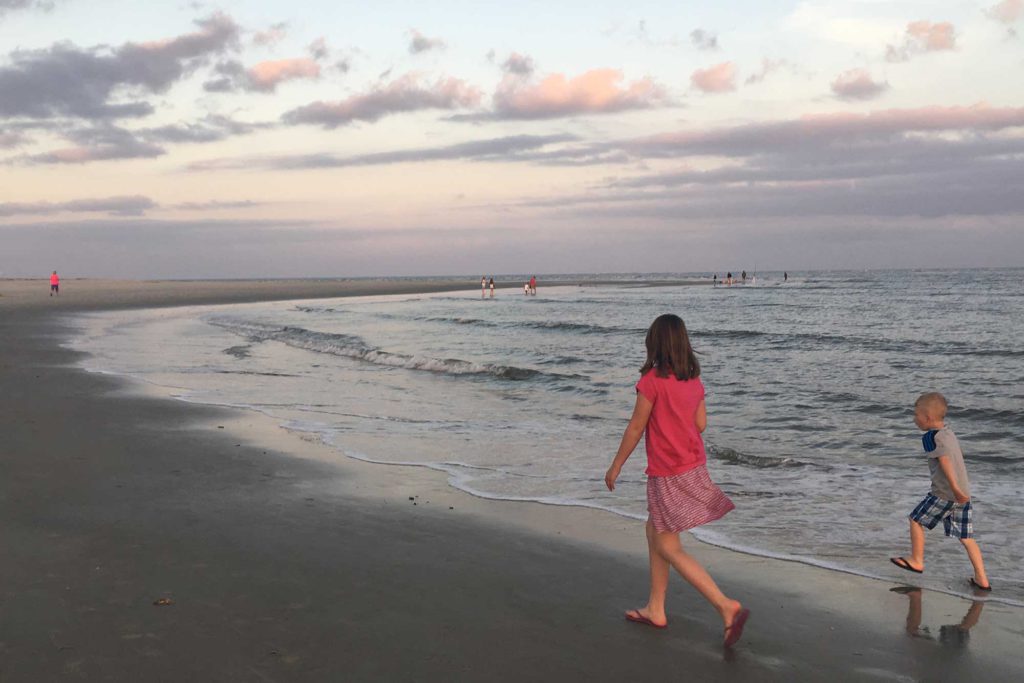 When Regina Kay thinks about awe, it is her 5 children that give her these wonderful moments.
I see awe in the beauty and power of nature. I see it in the ingenuity and kindness of the world's people. But where I see awe the most is through the eyes of my five children. Watching their amazement during a total solar eclipse. Getting their first glimpse of the much anticipated Eiffel Tower. Counting varieties of fish in the Red Sea. Stargazing on a warm night in rural Northern Thailand. This is awe. I'm struck with a loss for words yet filled with wonder and joy. 

Awe is watching my kids see the wonders of the world for the first time. Watching them learn, grow, and move through new places with curiosity. It's being together through monumental experiences not everyone gets to have. It's connection. Giving and receiving love to and from my kids is awe. 

Regina is a worldschooling mother of five, full-time global explorer, and travel writer at fulltimefieldtrip.com where she brings you real-world tips to make your life easier and your travels exceptional.  Follow her Instagram – Facebook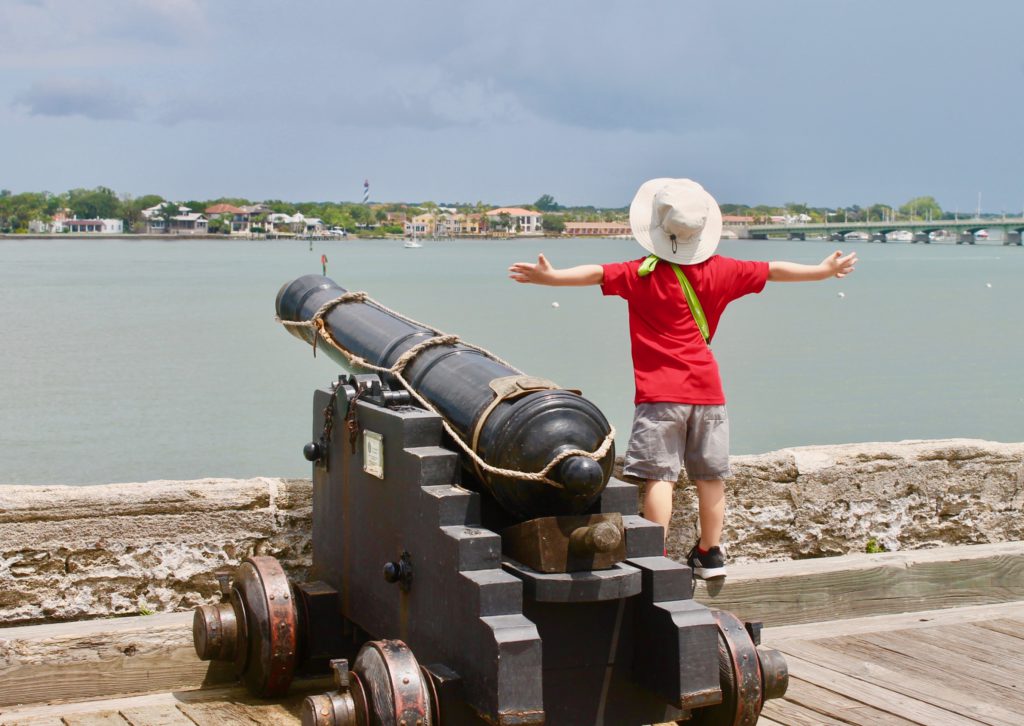 Childhood
Childhood is chock full of wonderment. Kids are so lucky for everything is new to them therefore their experience of awe is more simple. As children you are trying to find your place in a big world so everything makes you feel small!
Emily from Teastained Passports remembers: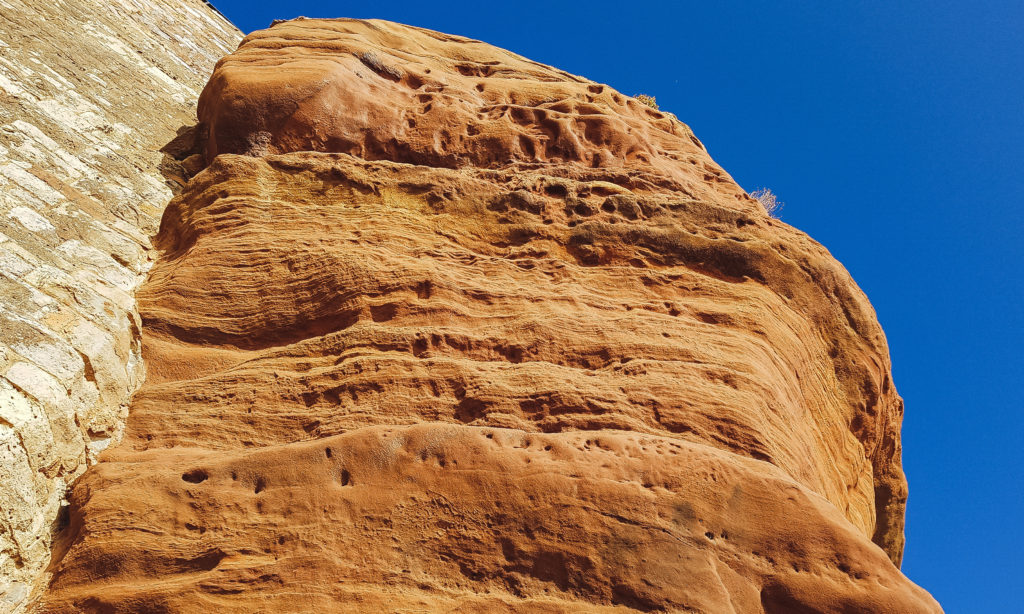 I used to live in a small coastal town, one known for its eroding rock faces and pebble ridden shores. My parents used to take us to the beach on those sun cream stained summer days, down by the cliffs.

As a child, I'd make a point of staring up at them, until my neck ached and sea salt started to crystallise on my sun-soaked skin. All the way along them people had etched into the cliffs their names with sharped rocks, some so deep you could run your finger within the lines. Some of them had been there years, others a mere few days.

It made me feel young and old at the same time, watching those timeless scribbles gradually wearing away day after day.  Back then I didn't realise or know what awe meant. But looking back now, it couldn't have been anything but.

Aspiring travel blogger Emily Goodier has been on the hunt for adventure ever since she can remember. With the need for micro-adventures and a constant flow on caffeine, you can find her sitting in her dressing gown daydreaming about her next expedition.  Follow her on Facebook and Insta for more….

Mountains
Research shows that people consistently rank nature as the best way to experience your own special moments of awe. Getting yourself up high enough for a vast view is certainly one way to make you feel humbled. Just ask Tori, she did it in style!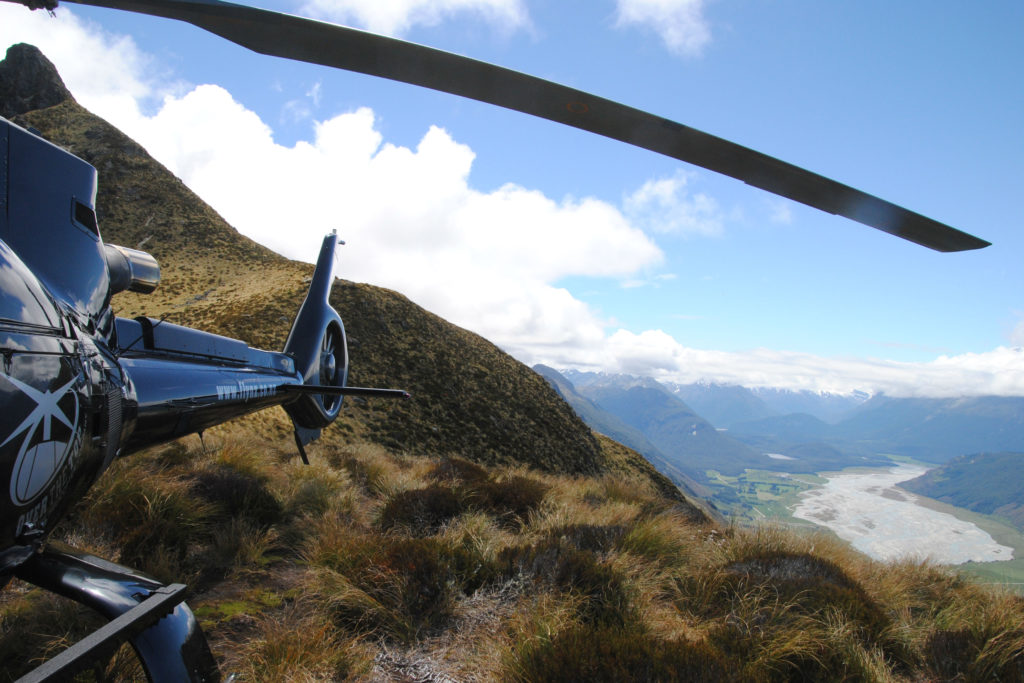 I recently experienced my first helicopter flight on the South Island of New Zealand. Each day on the road had left me in awe of the magnificent countryside, as it changed from rugged coastlines to rolling farmland and up into the towering Southern Alps.  All that magnificence had me falling more and more in love with New Zealand every day, but it wasn't until I was up in the helicopter, deep in Fiordland National Park, when I experienced a profound sense of awe as we rounded the mountain peaks and the Milford Sound stretched out before us. 

Being up in the helicopter opened up a stunning new perspective to an already magnificent landscape that would have been impossible to believe had I not been seeing it with my own two eyes!  I still think about those very moments of awe each day, and it leaves me yearning to return and explore more of that awe-inspiring country.

Hi, I'm Tori.  I find joy in exploring our beautiful planet, and I love to share my travels to encourage others to value experiences over material things. Check out where I've been lately on Instagram and my blog West of Anywhere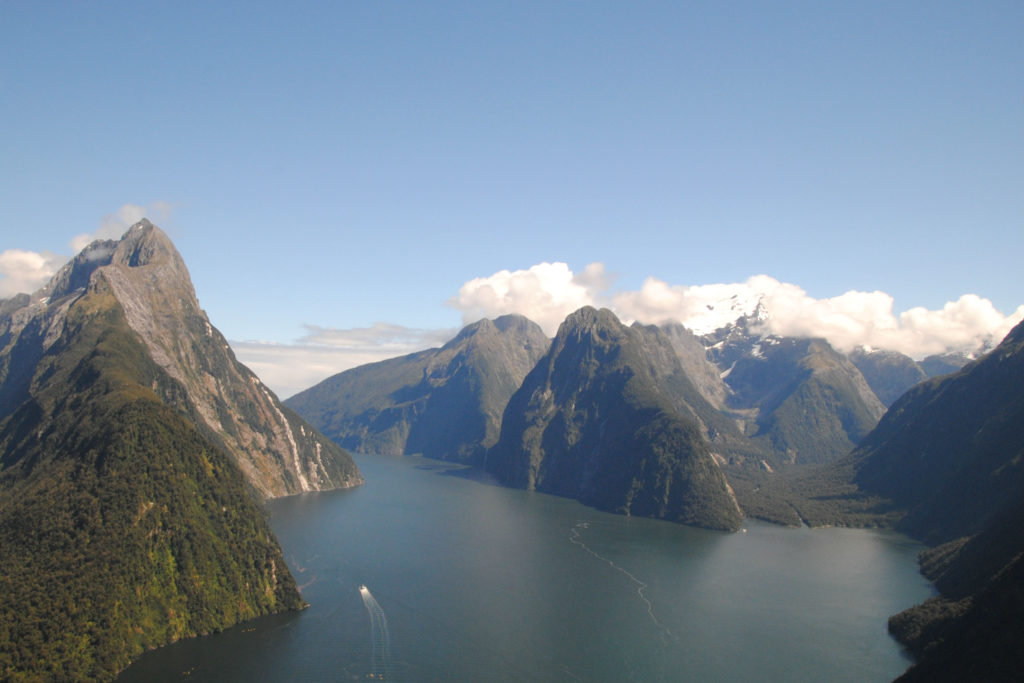 Helicopters are not the only way to travel in New Zealand. Canada's Bailey Busslinger found her awe the hard way:
Standing atop a snowy mountain, out of breath, freezing and sweating at the same time – time stood still as I had one of those "wow moments."  In front of me was Mount Cook, New Zealand's tallest mountain. Emerald green lakes sat at its base and looking down at them made me realize how high up I really was. 

By no means am I a mountain climber, but I do love the mountains and hiking. That day, I decided to hike up to the Mueller Hut in Mount Cook National Park in the middle of winter. Hiking through knee deep snow straight up the side of the mountain proved to be both physically and mentally challenging. But, at the top I couldn't believe how beautiful the scenery was and that I had actually made it!

This moment of awe (or a "wow moment" as I generally call it) happened because I was so proud of myself. Proud that I was travelling in New Zealand, proud that I climbed the mountain, and the incredible view topped it all off! 

Bailey has been travelling the world for more than four years now. She has discovered a passion for having new adventures and learning about other cultures. Bailey, along with her partner Daniel, are both professional travel writers and photographers. You can follow Bailey and Daniel on their blog, Destinationless Travel, or on Facebook and Instagram.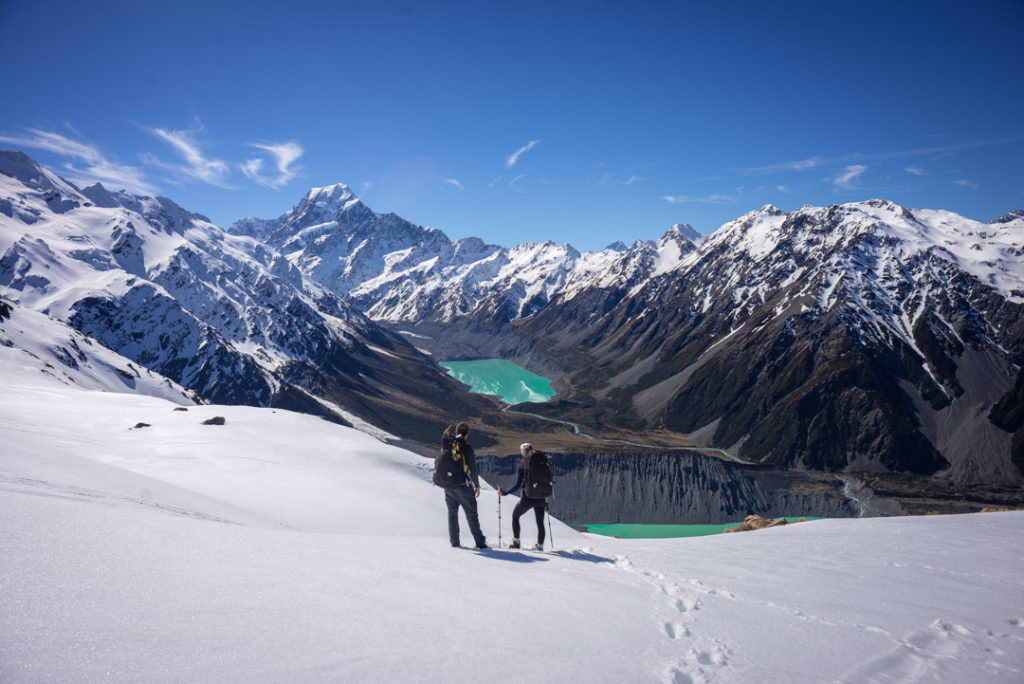 Danielle hiked her way up to her ultimate moment of awe, through absolutely breathtaking scenery, and what a moment. When we visited these same towers in 2008, we got the cloud obscured view.
When I think back to this moment, the first word that always comes to mind is awe. To me, awe is a word to be used when no other word does justice to what I am witnessing. After spending 5 days backpacking The W Trek in Torres del Paine, Patagonia, I was about to reach the famed view of Las Torres/The Towers. My entire time in the park was full of indescribable beauty, and I wasn't sure how The Towers could top it.

Patagonia's weather is unpredictable, and The Towers are often covered in clouds, hiding the beauty you seek. A storm was coming, and I was worried I would miss the view. Despite the 8 hours of hiking my legs had already endured, I practically sprinted up the technical, rocky trail to the "finish line."

And what a finish line it was.

Awe. That was all I felt as I rounded a corner and THIS came into view. Awe at the mystery of how something so beautiful can come to be. Awe at the opportunity and ability to see this, to feel it. Awe at how perfect some moments can be.

Danielle is a Travel Blogger and RN currently living in Minneapolis. She helps others travel by offering honest recommendations, detailed how-to guides, inspiration, and some nurse advice too. You can find her at www.nursetonomad.com, on Facebook and Instagram.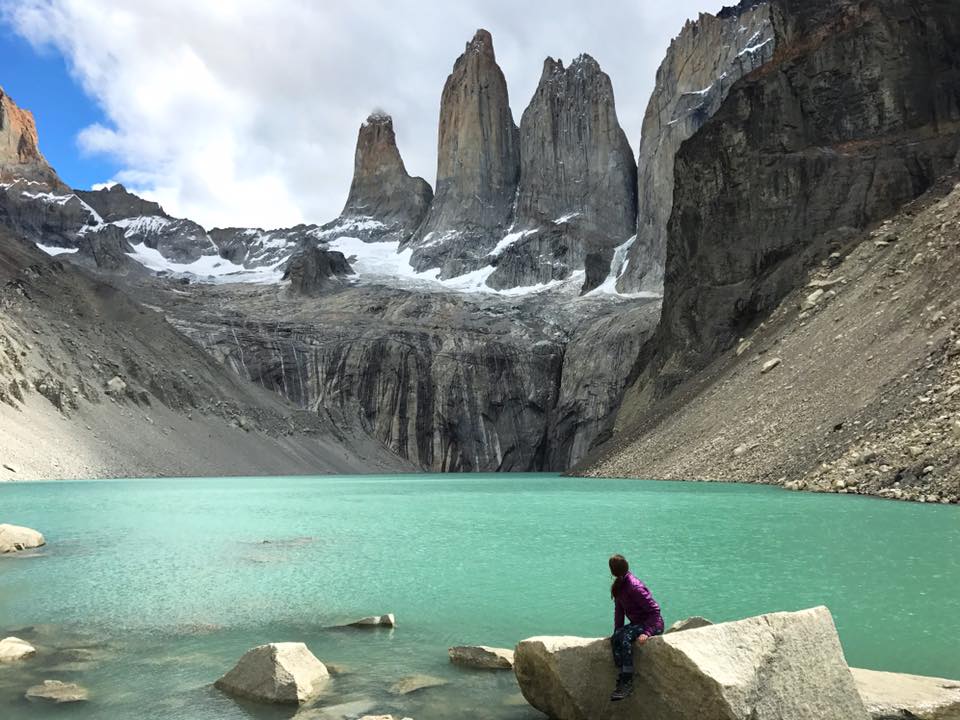 Stephanie Withers writes on her website Stephie on the Road and is a self proclaimed wife, dog mama, and U.S. Road Trip Enthusiast. She enjoys long drives with the windows down and music up, hot coffee, and taking her picture with statues. Her moment of awe shared here is incredibly poignant as it's a moment which probably saved her life: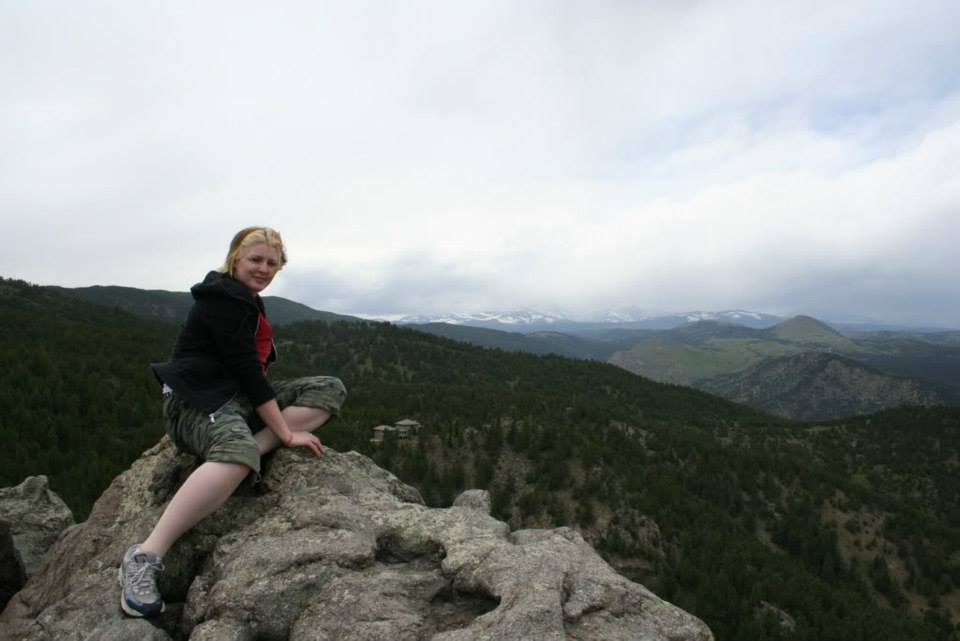 I grew up in an area of Philadelphia made up of apartment buildings and shopping centers. Our idea of getting 'outdoors' were summer trips down the shore to the New Jersey boardwalks.

By 20, I was dealing with a heavy depression and feeling pretty burnt out on life.  A coworker took notice and asked me to accompany her on a trip that summer. She was heading to Minnesota to visit her cousins, but she wanted to make an adventure out of it.

On the second week of our trip, we drove up into the mountains of Boulder, Colorado and hiked out to an area that I now know is called Realization Point.

As I stepped out onto the wide expanse of rock cliff and my eyes scanned the horizon, I was overtaken by emotion. I had never seen anything so strikingly beautiful. Gorgeous snow-capped mountains were periodically veiled by puffy white clouds. When I looked down over the cliff, the tall pine trees looked like a massive army of mossy green toothpicks.

Suddenly, my problems and I felt so incredibly small. That was the moment I realized that I had a lot to live for.

Follow Stephanie on Instagram and Twitter
Casey Snook is a freelance writer and travel blogger from Boston. Her experience of arriving at the top of the alps in a gondola definitely defines awe. What a moment!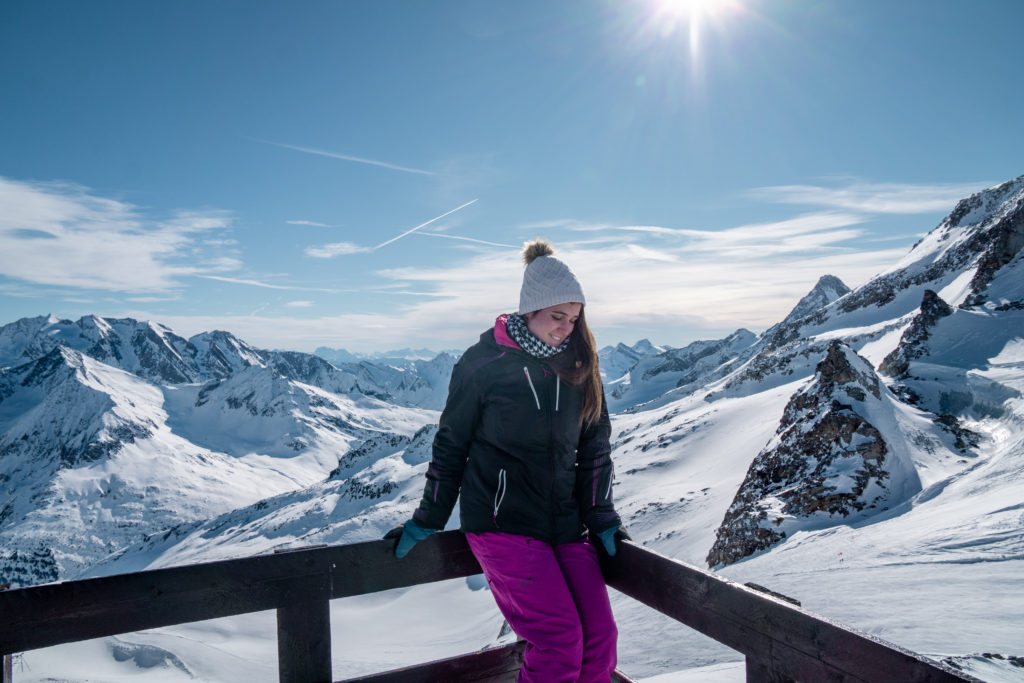 I grew up skiing in New England, USA, but when I got the chance to ski the Austrian Alps, I was wildly unprepared emotionally. I remember being in a groggy haze in the gondola, obliviously nibbling away at my Brötchen when we arrived at the top for the first time. Fumbling with my skis in one hand and unfinished breakfast in the other, I stepped outside into the stiff wind and brilliant sunshine and suddenly, I was wide awake.

My brain almost failed to compute what my eyes were seeing. I squinted to focus the muted yet piercing colour palette surrounding me on all sides. The mountains were so beautiful it was almost painful, with their white spires and rocky grey peaks sticking sharply into the saturated sky. The cool blue ice of the glacier was showing its skin in secret pockets, visible only to the observant eye. The Alps seemed to stretch to infinity in the distance, meeting Italy and France at the horizon line.

This experience will always stay with me – it was the closest to heaven that I've ever been. 



Casey writes for www.carefreecompass.com She is an obsessive travel magnet collector and is on mission to find the best sushi in every city she visits. She fiercely believes that cultural understanding through travel is one of the most powerful tools for peace in our world. Casey is currently living in Berlin. Follow her on Instagram and Facebook for more inspiring stuff.
The Power of Nature
Pete, Keeley and toddler Emerson travel the world documenting their experiences of festivals, raves, carnivals and travels as a family on their blog Vibes Life Us. Emerson has already been to Coachella, Camp Bestival and 6 countries and he's not even 2! One of their memorable experiences of awe however was a view of the raw power of nature at her finest!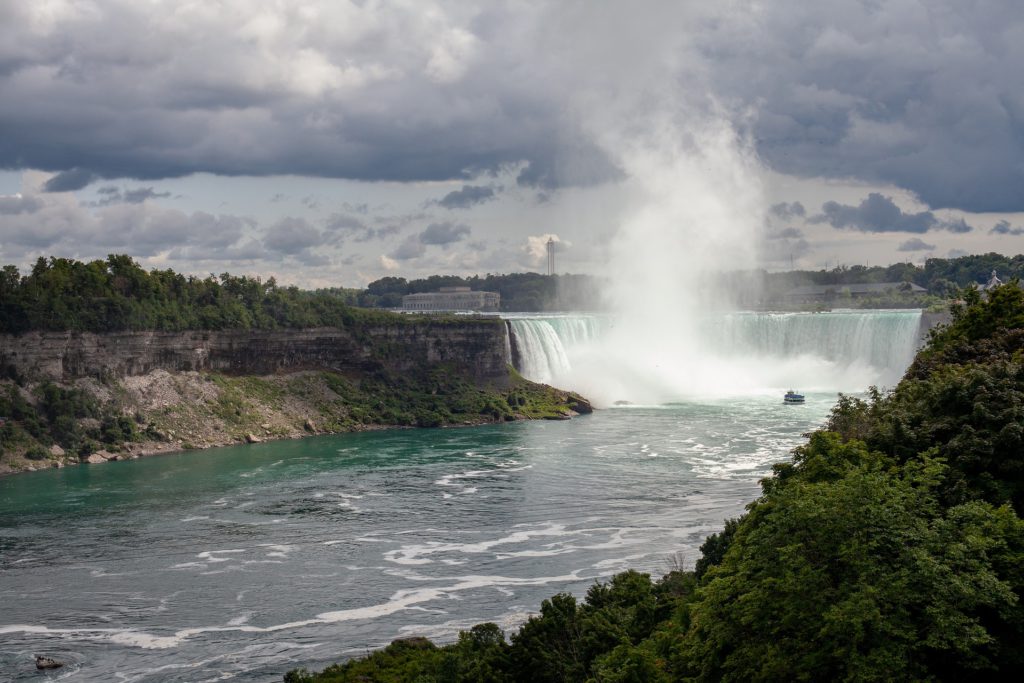 We've been lucky to travel the world  and experience many moments of awe!  We've climbed mountains, watched the sunrise over the Grand Canyon, and abseiled down Lime Stone Cliffs in Thailand.

The beauty of Nature has taken our breath away, and shown us how small we actually are.  The power and vastness of our planet is inspiring and astonishing. 

One occasion  in particular is seeing Niagara Falls' Horseshoe Falls.  An image, we are all familiar with, but nothing can prepare you for seeing, and feeling the power of the falls in the flesh.

We travelled from Hamilton to Niagara by coach, and had a 30 min walk along the Niagara River to get to the falls.  We couldn't see them, but walking up stream you could hear a distant rumble.  As we got closer the constant thundering got increasingly louder.  Amplifying the anticipation of seeing the majestic wonder, we couldn't wait!!  The temperature then dropped and as we came around a slight bend we saw and felt the mist for the first time. The sound of crashing water was deafening. 

There she was, behind the mist.  681,750 gallons of water roaring over  the edge every second.  Then us just standing in Awe contemplating how insignificant we really are,  and how utterly incredible nature is.  We were surrounded by mist and witnessing double rainbows, and a memory we won't ever forget. 


You can see more of Pete, Keeley and Emerson's adventures here: Facebook – Instagram – Pinterest They believe in bringing the good vibes!
Sarah writes at Our Home Sweet World, a blog all about world-schooling and travelling with their daughter, Lena. According to this gorgeous family, awe is everywhere!
Researchers describe awe as "that sense of wonder we feel in the presence of something vast that transcends our understanding of the world."

I remember standing on the dusty floor of this slot canyon in Arizona, watching the light from the hot desert sun bounce throughout the walls on the canyon, turning them purple, orange, red and yellow. I remember the sight and the feel of the 'waves' created by thousands of years of water erosion, by flash floods swishing through and carving out these beautiful, sacred places.

There are just some moments that leave you feeling so small, and so connected to earth around you, and leave you speechless. The amazing thing is that you don't actually have to go very far to be in awe of anything.

Today Lena and I watched in awe as a new monarch butterfly emerged from its chrysalis. We then proceeded to read about the migration of monarchs where we learned that they can live for up to 9 months and often fly more than 3200km during the North American migration.

The world is so full of wonder.


Sarah moved across the world to be with her man Josh. Together with their 6-year-old Lena, they are exploring the globe, one country at a time. You can read more about them on Instagram and Facebook.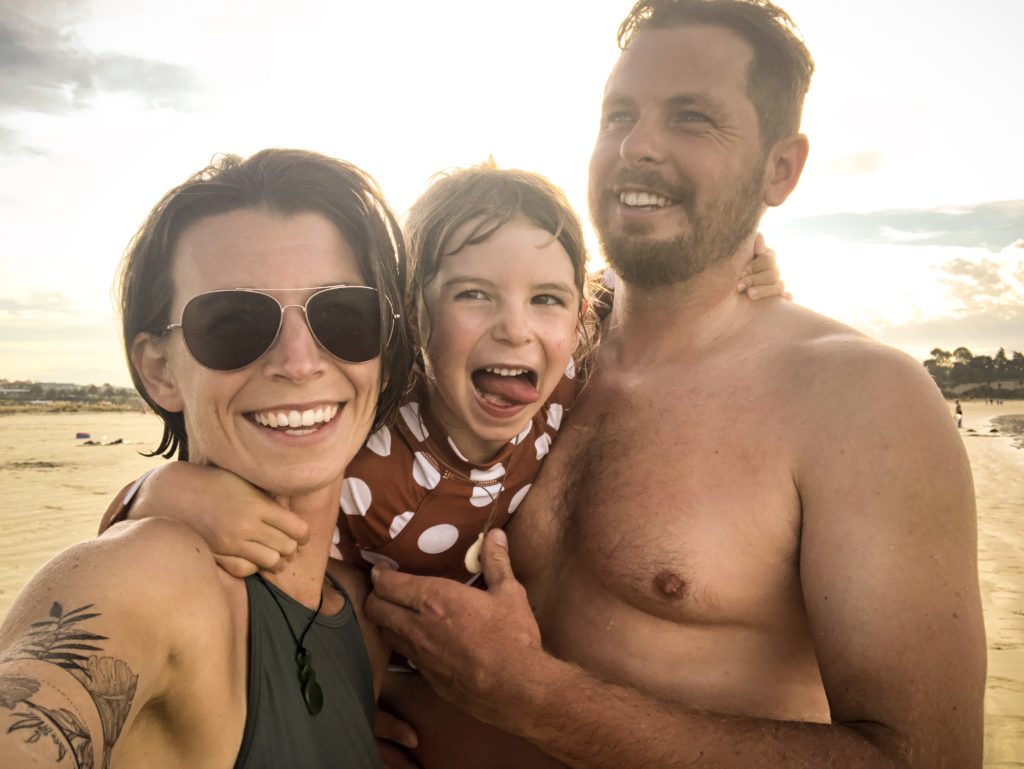 Sunrise and Sunset
Think back to every single sunrise and sunset you have ever been privileged enough to bear witness to. Don't they just make you feel so small!? The way that awe results in that overwhelming sense of tininess is like hitting a reset button. Watching the sunrise on a brand new day, or seeing it set are both great examples of the daily awe-someness of nature.
The sun rising over the Taj Mahal is one of life's very special moments described here by Sally from Our3kidsvtheWorld.com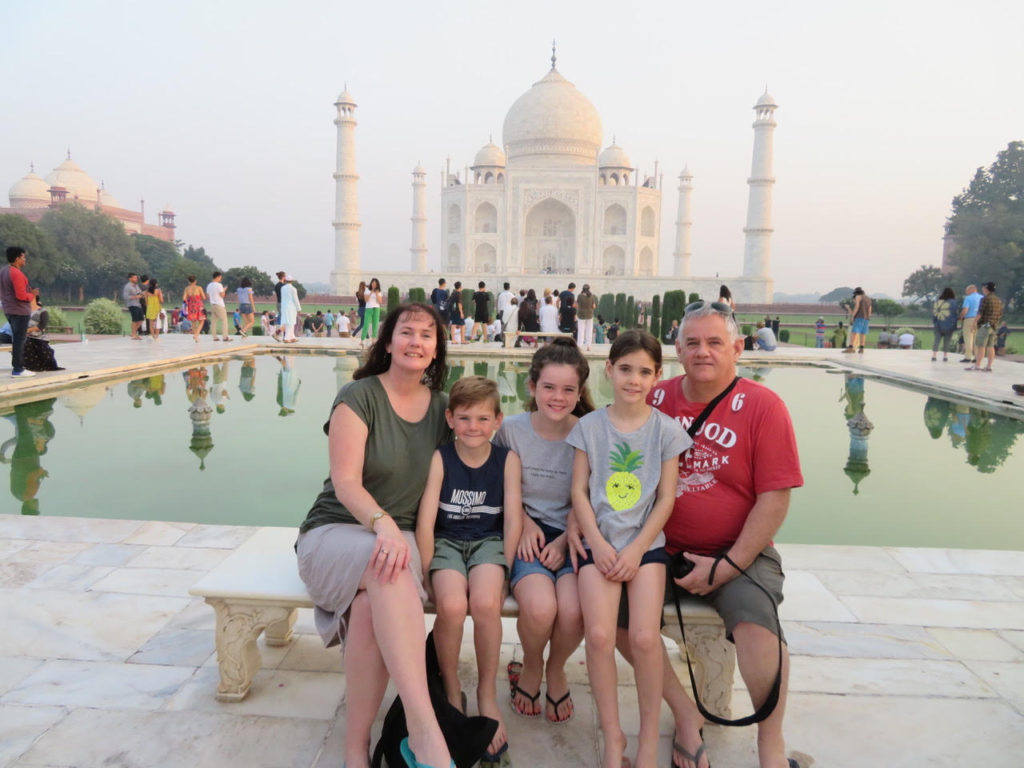 One of our many awe-inspiring travel moments was definitely watching the sunrise over the Taj Mahal. We had a guide that provided us with the background love story about how the structure was built as a mausoleum after the death of Mughal Emperor Shah Jahan's second wife.  Both the Emperor and his wife are laid to rest underneath the Taj Mahal.

Effectively the Taj Mahal is one giant love story. Standing in front of such an enormous structure is awe-inspiring in itself. 


It was lovely to stand in the footsteps of royalty, we stood as a family and had a photo on what is affectionally known as 'Lady Di's Chair' after Princess Diana had her photo alone in front of the Taj Mahal in 1992. We had many people in the background however its one of my favourite travel photos so far.  Her love story is no where near as lovely at Mughal Emperor Shah Jahan's and she was separated a few months after this image was taken.


You can see more of Sally and her beautiful family on Facebook and Instagram.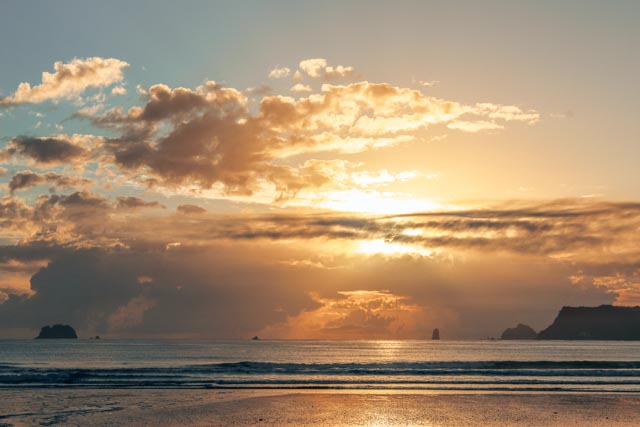 Lori from Wanderlush Travel explains her moment of awe so eloquently here:
Awe is the feeling I would describe as ultimate serenity washing over your body and easing into your  mind as you feel perfectly content in the moment.

There are many times in life I have experienced this emotion, but one that never fails to stop me in my tracks and fill me with complete wonder and serenity is the view of the ocean at sunrise and sunset. There is a quietness that seems to take over as the world prepares to sleep and wake up over the calming waters.  As the light increases and decreases, there is a shift happening as a new era seems to come into existence. Whatever happened in that day becomes swallowed up with the light as preparation for a new beginning sets in.  The colours of the sky can be so wild and breathtaking, I can't help but feel a sense of awe and stillness, appreciating that I got to be so lucky to witness that beautiful moment. It gives me deep gratitude for being where I am in that moment. And for every sunrise and sunset I ever witness over the ocean, another moment of awe becomes embedded in my memory and part of my being.  

Lori Owen is a spontaneous, bubbly adventure seeker from Toronto, Canada who thrives on new experiences, places and really experiencing the beauty of this world. She blogs at wanderlushtravel.com and you can find more on Instagram and Twitter
Trina Baldwin of Worldschool TV knows the feeling too:
I've never been a morning person…I love my sunsets but just don't get up early enough for sunrise. 

How grateful I was to my bladder for waking me on such a perfect morning at Myall Lakes, Queensland, Australia. During the day this place was abuzz with action, water skiing, kayaks, kids splashing in the shallows…beautiful! Yet in complete contrast to the magic I experienced just before sunrise. 

Sitting on the bank of the lake I felt a mystical kind of calm, while I watched the light show of pinks, oranges, blues and purples play around me while the day came to life. It was silent except for the sound of birds, bugs, lizards and wallabies waking up to the day before being scared back to their hiding places once the humans arrived…I was the only awake person around…

Whether it's sunsets or sunrises….blue skies or storms…mountains or deserts…oceans or waterfalls…Mother Nature never fails to ground me and hold me in a complete sense of awe.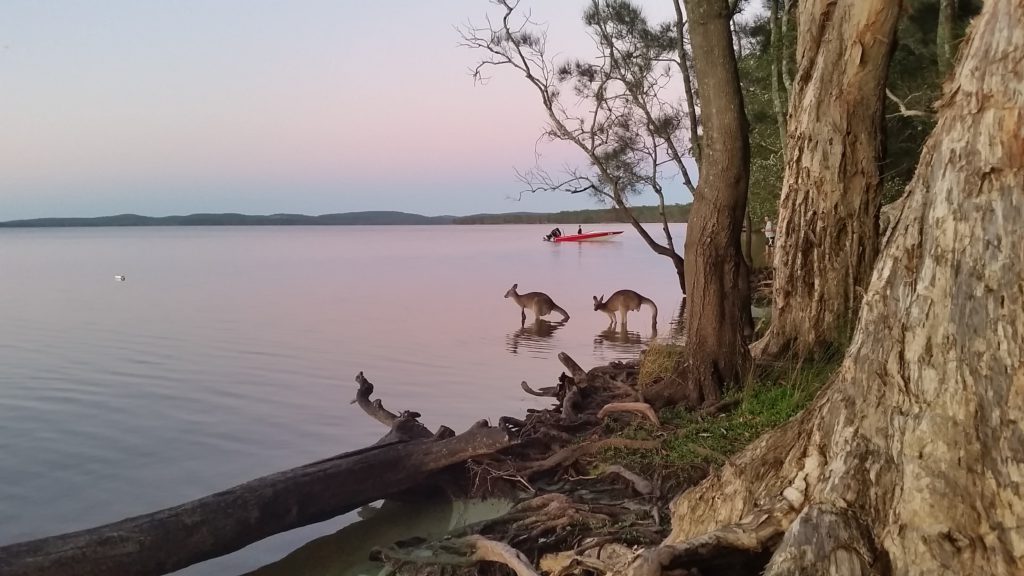 The most awe-inspiring moment for me is a truly memorable one. I was in the beautiful riverside town of Kampot in south Cambodia; a town that I had fallen head-over-heels in love with. It was laid back, with gorgeous countryside right on its doorstep, and plenty of water-related activities to enjoy.

One afternoon, my travel companion and I decided to join a sunset river cruise. We were lulled gently down the river in a longtail boat, past mangroves, wildlife, and children happily playing by the water's edge. It was a tranquil experience.

The sun was almost set when we rowed around a bend and into a clearing, where the river opened up. Before me, the sun was just dipping behind the mountains to create a warm glow beneath the clouds. The sunset reflected off the water, too, and my vision was filled with contrasting blues and oranges. I had never got why some people love sunsets that much, but on this day, I completely understood. I was completely and utterly awe-struck.

Lauren Pears is a travel writer from London. With a passion for backpacking and outdoor travel, she aims to inspire people to get off the beaten path, explore the great outdoors and travel more sustainably. Follow her blog at www.laurenstraveldiary.com  and follow her socials here Instagram – Facebook – Twitter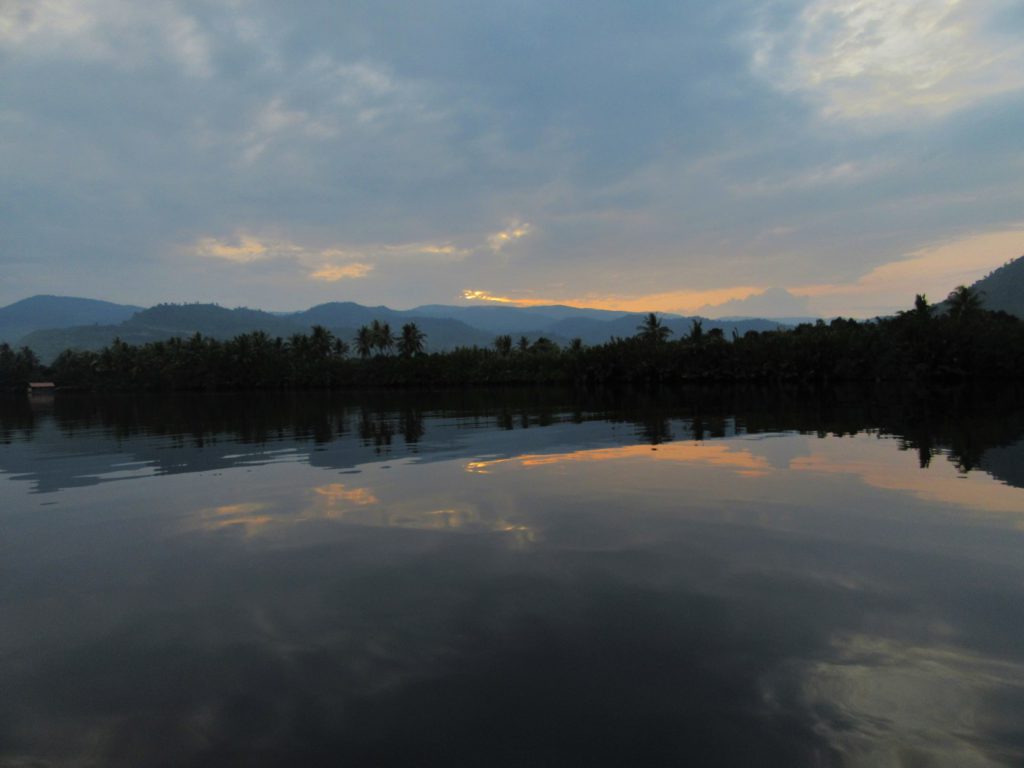 But there is nothing quite like seeing the sunset over the majestic Serengeti National Park like my friend Jim. He's passionate about photography and loves to help people become better travel photographers. Jim experiences awe frequently but managed to pinpoint this one moment for us:

I'm fortunate that my travels have taken me to many moments filled with awe and wonder. I can say without a doubt, though, that the deepest sense of awe I ever experienced was watching the sunset in Serengeti National Park in Tanzania.

The Serengeti encapsulates everything I thought Africa would be: wide open plains, a wide variety of wildlife, and beautiful landscapes. The sunsets each evening really took my breath away.

I took this photo toward the end of our trip. This was right after our last evening game drive on our way back to camp. We stopped for a few minutes just to take in the beauty of the clouds move and the setting of the sun. I thought back on everything we'd seen and done, and I was filled with a great sense of awe at the beauty and complexity of nature.

Jim Jones is an adventurous spirit and has had a desire to travel for as long as he can remember. He has a natural curiosity about life, food, languages and customs of other countries, and that fuels his desire to see the world. Jim's photos and stories can be found at https://travelstoriesandimages.com and you can also see more on Instagram and Twitter.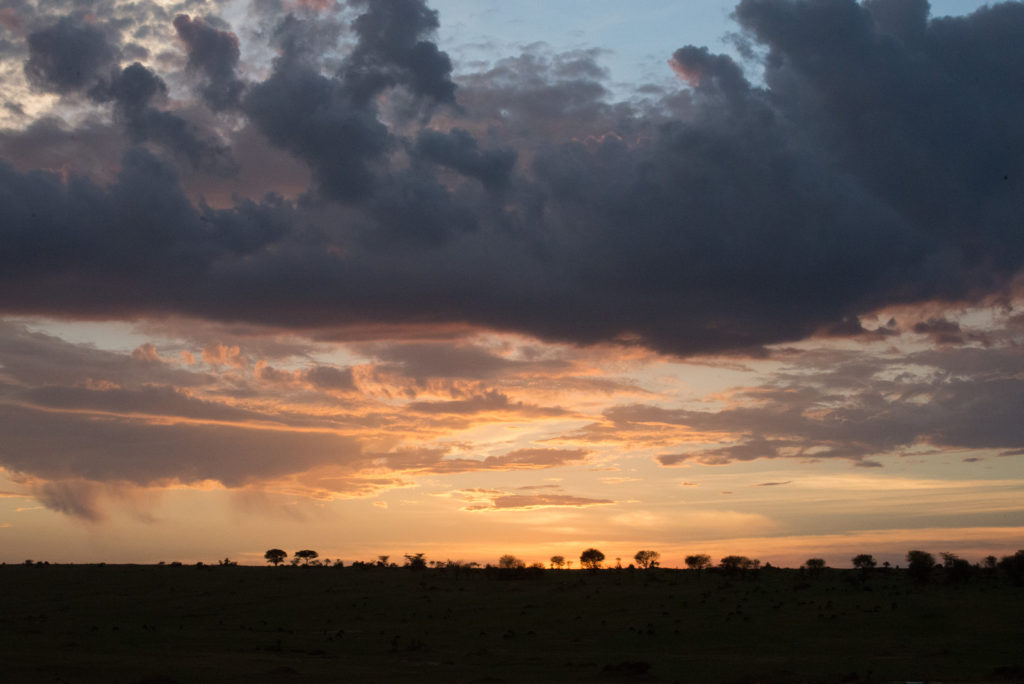 Wildlife
Seeing animals in the wild is one of the most incredible blow-your-mind kind of experiences in this life. Close up encounters continue to elicit awe in many. Martin from Breaking Barriers was so lucky to have this moment of awe: Wow!
Standing in the silence of a jungle in Africa, the only sound being the pitter-patter of raindrops on the leaves, you feel alone and isolated in the world. Off in the distance the silence is broken by a screech, a chimpanzee calling! 

After a few more minutes of silence, you hear the screeching getting louder, and all of a sudden, the bushes in front of you erupt as the ground troops rush towards you! Screeching and full of energy showing you they are not afraid of you and you better stay out of their way. The trees overhead shake as the rest of the group move through the canopy. As they rush past you and look into your eyes you feel the tears of emotion well up. Nothing can prepare you for this moment. 

They run to the trees and as they pass they hit the trunk with a powerful kick in a show of power. They climb and regroup with the rest of their team and relax, looking down at you, eating, playing, and being a family unit.

As they finally move off to another portion of the forest, you are left again feeling alone, but this time with a feeling of being one of the luckiest people in the world to have witnessed these beautiful creatures in their natural habitat. 

Breaking Barriers are a couple who came together even though having many differences. Being from different countries, continents, faiths, race, and culture, we stuck it out and aim to prove that people can be happy together even with many differences between them.  You can see more of them on Instagram and Facebook.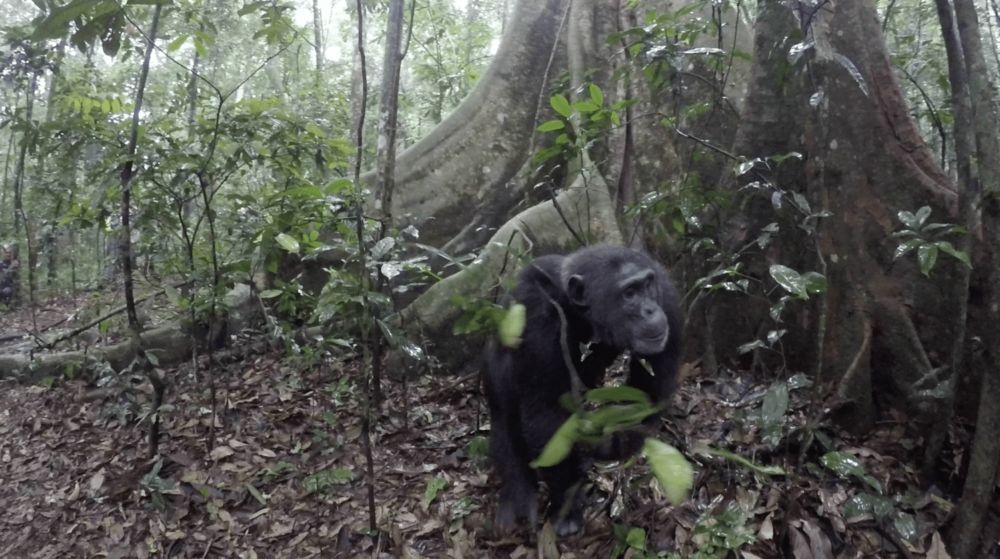 Felicity was blown away too, what an amazing experience at such a young age!
I first took off on my travels at the tender age of 17 and it didn't take long for me to get hit with a moment of awe. I volunteered in an orphanage for a month, which was a real eye opener for my teenage self, before taking off on travels with a friend.

Our first stop was a safari in Tanzania, and to say it was incredible is an understatement. We had decided to do an early morning hot air balloon to get the best views possible of the land, which meant leaving our camp at 5am.

As we were driving along, there was suddenly a lion outside our car window. He was so close, you could lean out and touch him – although we were warned not to as morning was hunting time for them. I was in absolute awe being so close to this amazing animal and taking part in this once-in-a-life time encounter. It truly took my breath away and is a sight I will never forget.

Felicity Frankish is the founder of Babyvine.com.au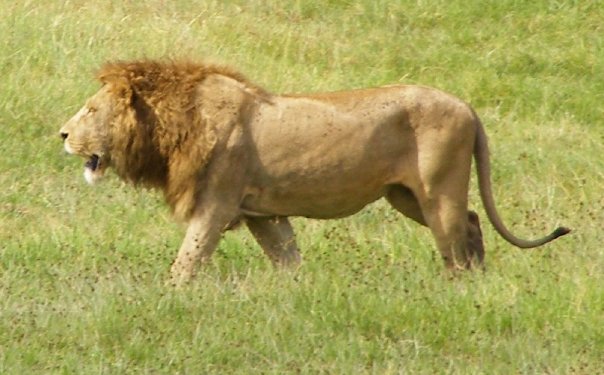 When Nicola from blog site See Nic Wander visited Indonesia's Komodo Islands, jaw dropping awe ensued.
I didn't think I would see her that day. It was getting late in the afternoon and I had been looking over the edge of the boat with my tour-mates for over an hour. There are never any guarantees with wildlife sightings. We all knew that. But secretly, our hearts were set on meeting her. 

After hours of squinting into soft sapphire waves and getting nicely sunburned, she appeared right under the wooden bow. Our guide gestured to get into the water, quietly, and we did. As calmly as we could even though we were tripping over each other in our flippers, ripping snorkels over tangled ponytails. 

Just below the surface, I saw her. A jet black manta ray, much bigger than I expected, flapped her wings gently in the water while little reef fish cleaned her u-shape mouth. She swam in lazy circles while we watched her, stunned and silent and smiling, which is hard to do in a snorkel. 

She lead us in playful circles over the reef through a series of elegant, slow-motion backflips. Before long, another manta joined her. Both of them swam around each other like friends catching up for coffee, wings flapping to wave hello. They swam between us and around us, wondering about the strange tiny humans who decided to come to play with them at the reef today. 

In that moment, I never wanted to leave Komodo. The Komodo Islands of Indonesia are known for the giant venomous lizards that call them home. And while the dragons on Komodo were spectacular (especially for a reptile enthusiast like me!), I was left speechless by the world beneath the ocean's surface. It was all so overwhelming – the reefs, the mantas, the quietness of a world we don't yet understand. And in Komodo, I felt thankful that, for a few minutes, I got to be a part of it.

Nicola Rae is an online English teacher, international house sitter, and digital nomad. She's known for getting lost in new cities, befriending big lizards, and eating impressive quantities of guacamole. You can find our more on Facebook and Instagram.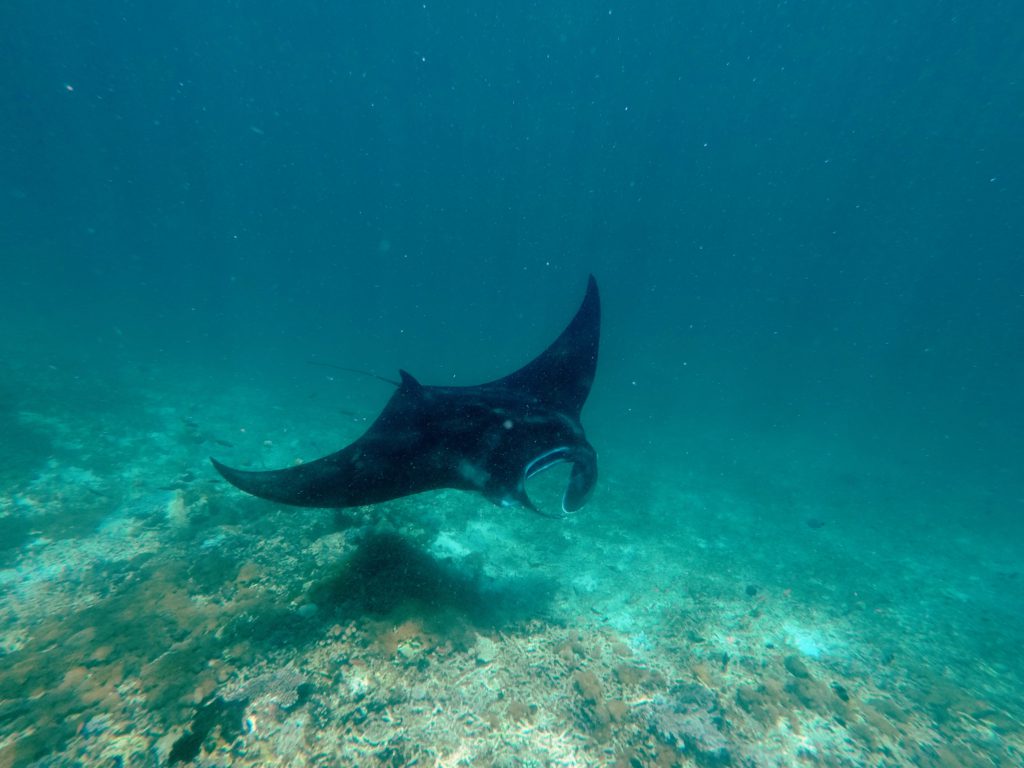 The Lynn Family experienced many awe-inspiring moments during their amazing trip through the heart of Africa! Wow! Just Wow!
Easily the best experience we've had travelling with our kids, has to be our 101 days overlanding Africa in a Land Rover Defender last year. At the time, our boys were just 2 and 4 years old and we had no 4×4 experience whatsoever.

This epic adventure took us from South Africa, through to Mozambique, Malawi, up to Tanzania, and back down through Zambia and Namibia, returning to South Africa. A total of 15000 kilometres and 5 border crossings. We dealt with corrupt officials, impassable roads, once-in-a-generation weather events, and of course the usual toddler tantrums along the way.

But all that pales into insignificance when I think of the seemingly endless nights camping under the African stars, the incredible wildlife experiences, the warm welcome from villages we passed, and the tighter bond we formed as a family. Africa stole our hearts and we will be forever changed by the experience.

Jenny is a family travel writer from the UK and is on a mission to dispel the myth that adventure has to wait until the kids are older. Her two young boys have hiked to 3000m in the Nepalese Himalayas, meditated with monks in Thailand, ridden tuk-tuks across Sri Lanka and traversed sub-Saharan Africa for four months in a Land Rover Defender, with of course a few tantrums and meltdowns along the way. Check out their website here: TraveLynn Family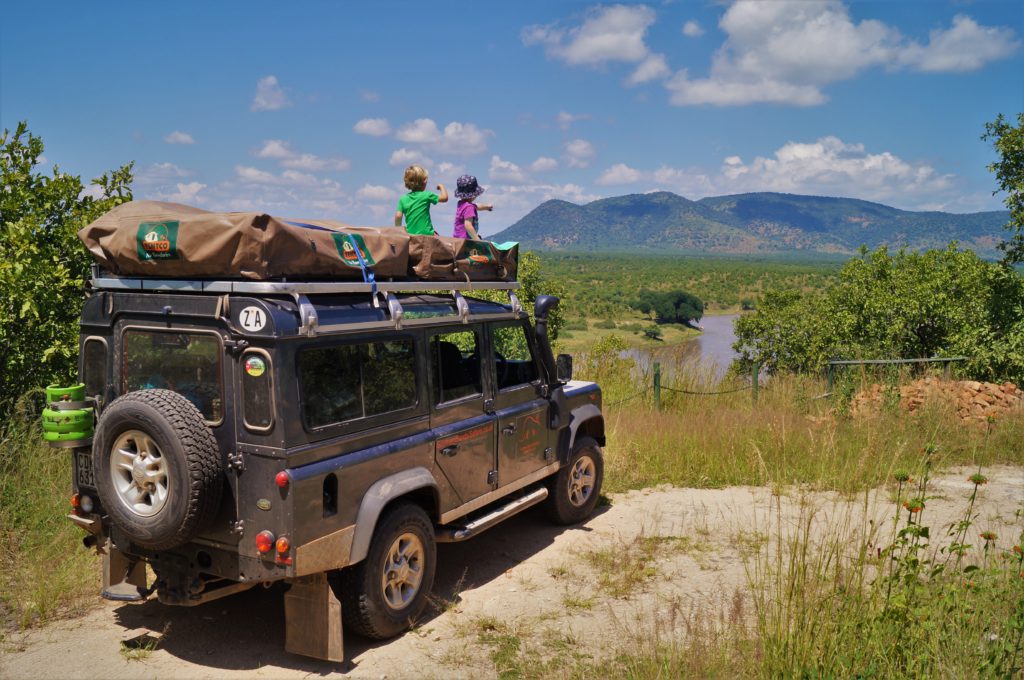 Gardens
There is something about a good garden that really gets your quiet contemplation going. A Wandering Web's Charlotte found an inspiring moment of awe in this picturesque spot: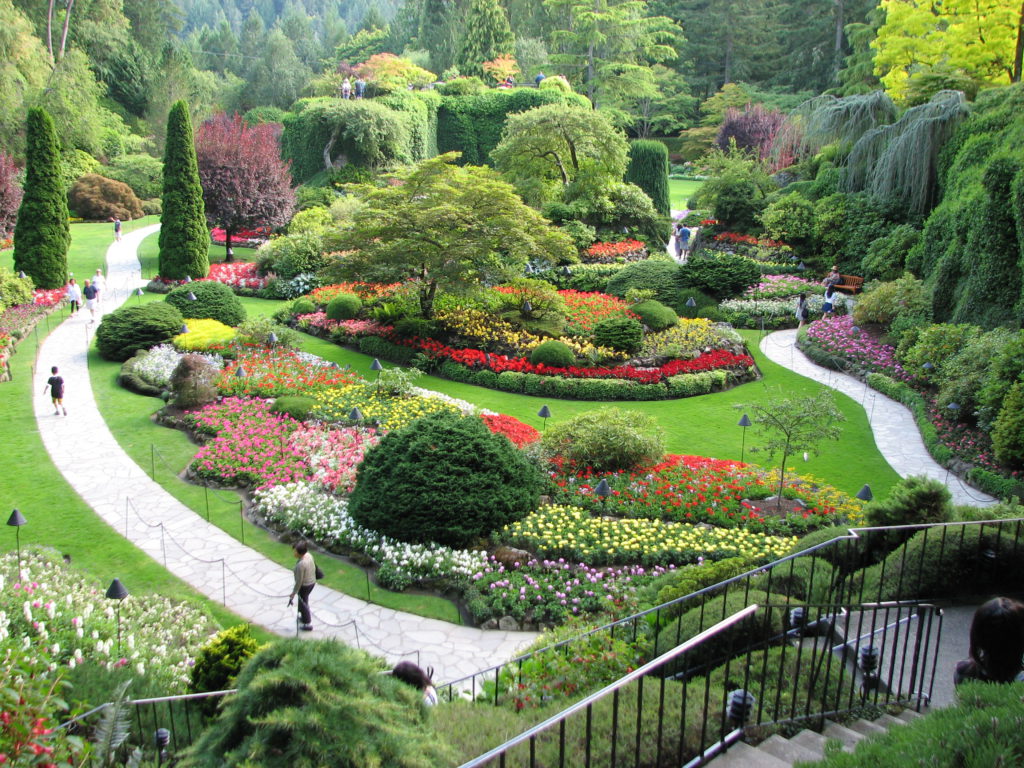 My jaw dropped. I stopped breathing. Goosebumps erupted on my body. No, I wasn't about to expire… this was the first moment that my eyes saw Butchart Gardens in Victoria, British Columbia, Canada. I honestly didn't expect what I was about to experience. I had always heard of people seeing sites that took their breath away. This feeling had alluded me until my visit to Butchart Gardens. The colours, the beautifully manicured lawns, the perfection of the landscape – incredible.  

Butchart Gardens is a former quarry that has been transformed into a 55-acre oasis with 900 bedding plant varieties, 26 greenhouses and 50 full-time gardeners. Even if you are not a garden person, you will be stunned by the sheer magnitude and detail that goes into this attraction in Victoria. Canada is my home country and I am proud to say that my first moment of awe took place in my own backyard. Pun intended! If your attitude is, "Why would I want to see a bunch of flowers?" Get over yourself and make sure you visit Butchart Gardens when you are in Victoria.

Charlotte is the founder of A Wandering Web travel blog that specialises in small-town travel with a focus on food, drink, history and photography. For more see Pinterest and Instagram.
Elyse is a NYC-based actress, teacher, and world traveller.  This was a surprising moment that took her breath away: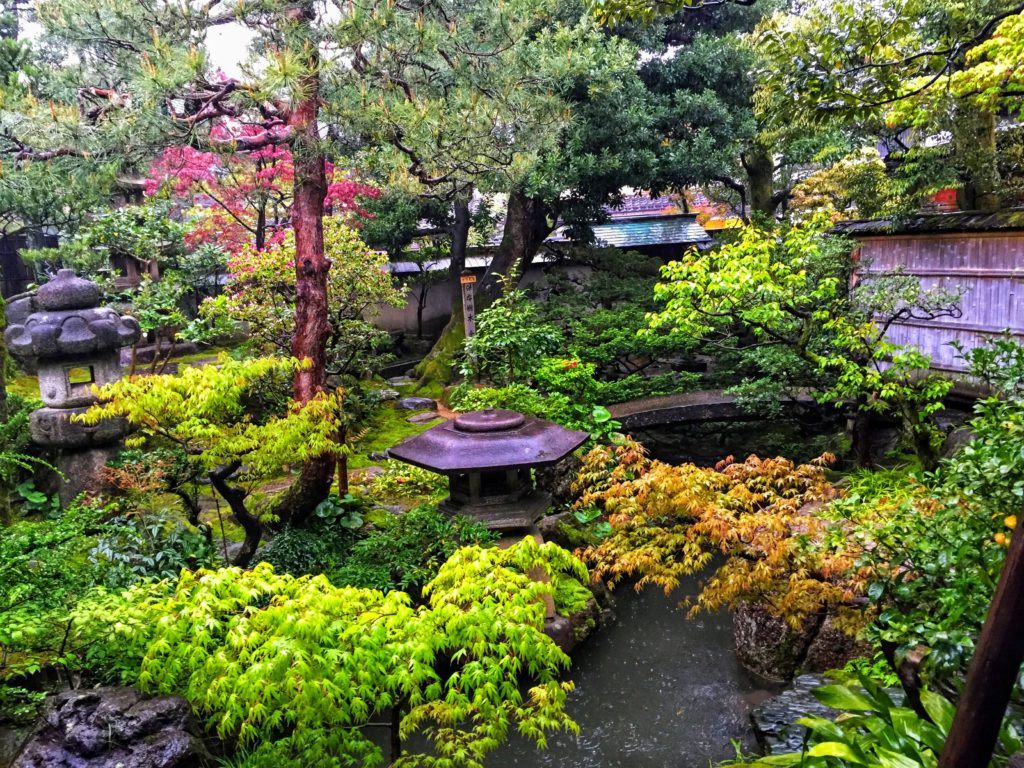 I felt an overwhelming sense of awe in a place I never expected: a small Japanese garden behind an old Samurai house.

Kanazawa's Nomura Samurai House is a little unassuming spot in a little unassuming town.  Most Samurai houses were destroyed in the mid-19th century, but this one was restored and opened to the public, offering a glimpse into the long-gone Samurai era.

I walked through the house, admired the old relics and delicately painted screens, and came to the small back garden.  I was met with a koi-filled pond, a little waterfall, and stone lanterns.  I sat down at the edge of the pond, absorbed the scene, and suddenly noticed that tears were streaming down my face.  I don't know how long I was there, and I don't know when the tears stopped.  All I know is that something in this garden struck some deep, magical chord in me. 

I couldn't explain it then, and I can't explain it now. I live on the other side of the planet from this little garden, but it somehow carved out a special, and strangely emotional, place in my heart.

I think that's pure awe.

When I visit somewhere new, I want to immerse myself in all of the local 
culture, history, and food, all without missing the best of the major 
tourist attractions.  At Elyse Around The World, I want to help you find 
that perfect balance too! Follow Elyse on Insta and Pinterest
Achieving your Goals
It's not just nature that takes one's breath away and leaves you feeling like a little speck. Cities can leave you with fantastic feelings of awe too. Erin had a lifelong dream to visit The Colosseum in Rome. What a powerful emotion it is to reach a goal that you have been dreaming about for so long!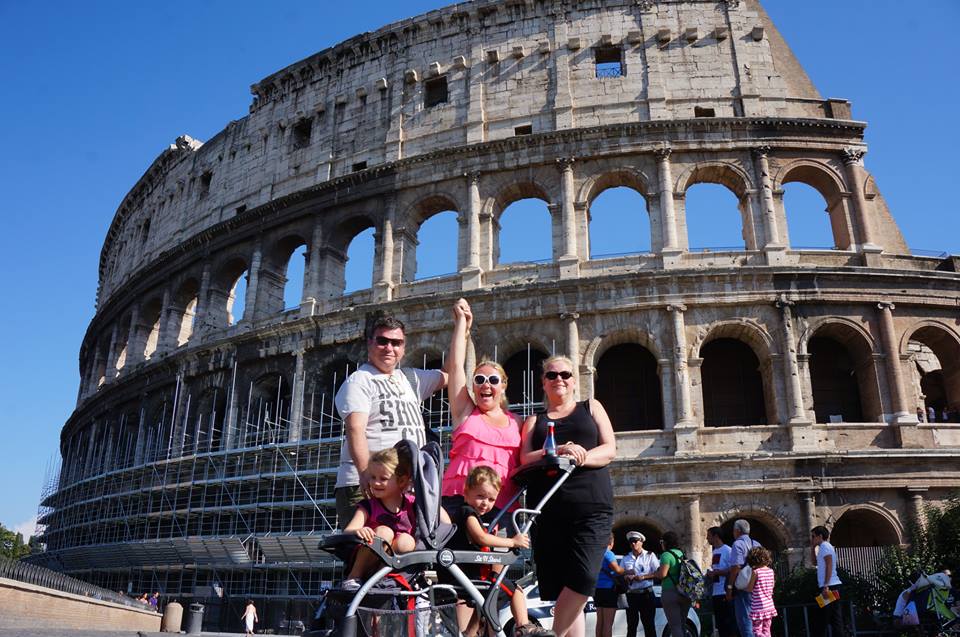 I will never forget the first moment I stepped foot into the Colosseum in Italy. I had been obsessed with Italy ever since my first penpal in year 7 was a beautiful Italian lass named Nicoletta. Combine that with a deep love for a series of books by Francine Rivers known as The Lion Mark Series which were set in the old Roman times when the Colosseum was used for the sacrificing of Christians and gladiator matches.

Walking through the cool shade of the walls, feet getting dusty in the orange sand, finally, the moment came when we entered the arena. I got to stand on the spot where the Emperor would turn his thumb down to end the life of a precious human so callously. And I got shivers. All that had happened, all the lives that were lost, all the fights that were won. I stood in awe, powerfully moved by a powerful history.

Erin Holmes is paving the way with her new lifestyle, food and travel brand Explore with Erin. You can follow her on Facebook and Instagram.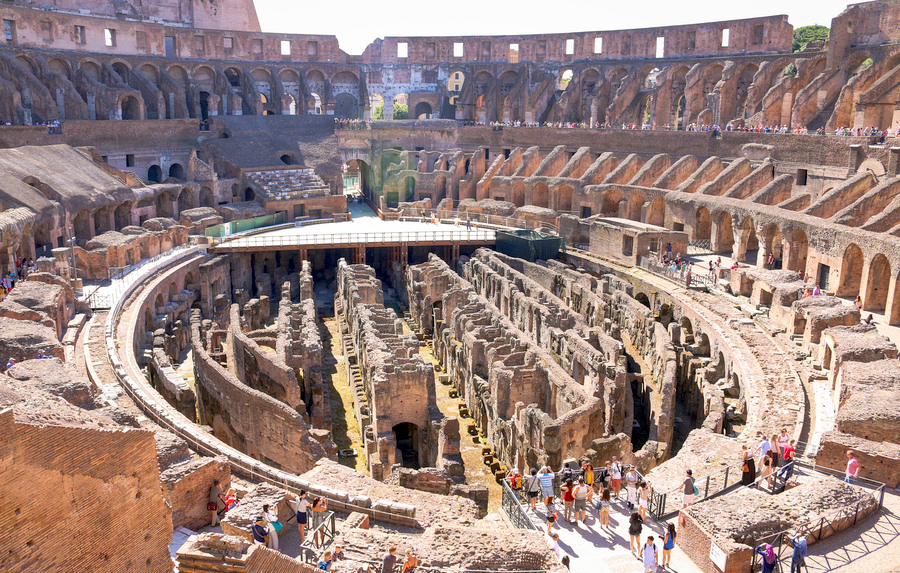 City Scapes
Theresa Ladner who writes at Adventures in Middle Aged