We have been to Bali and not the rest of Indonesia so I can only give you the guide on Bali for now.  
Bali is a stunningly rugged island covered in volcanic sand beaches, pounding surf, rice terraces and jungles interspersed with party towns and beach badungs.  
Where to stay
The tricky part about a holiday in Bali is knowing where to stay.  Here is the breakdown:
Canggu – This is where we like to stay for its family friendly feel.  It has less hustle and bustle than its counterparts while still retaining plenty of trendy eateries and up and coming boutiques.  Canggu is a favourite amongst holidaying families and expats and is only a short drive to the fun of Seminyak.
Seminyak and Legian – if you stay here you are in the thick of Bali excitement with the best shops and restaurants to be found.
Ubud –  beautiful rainforest mountain town with monkey temples and yoga retreats.
Kuta – backpackers unite in Kuta for a good time!
Uluwatu – cliff top villas and awesome surf with temples and white sand.
Jimbaran – seafood restaurants abound.
Nusa Dua – big resort chains and nice beaches.
Nusa Lembongan – Romantic and water views from everywhere.
Lombok – this is like a step back in time to the 'old' Bali.
Dangers and Annoyances
The biggest problem in Bali right now is the continued unpredictability of the Mt Agung volcano.  Its frequent eruptions are causing havoc with the international airport and flights continue to be cancelled as we speak.  This unfortunately has a lot of travellers reconsidering their travel plans or being reluctant to visit in the first place.
The Balinese are the most lovely people on earth and 90% of their industry relies on tourism.  After the Kuta bombing in 2005 it took the society over 10 years to recover some semblance of what it once was.  Although Indonesians are predominately Muslim, the main religion of Bali is actually Hinduism.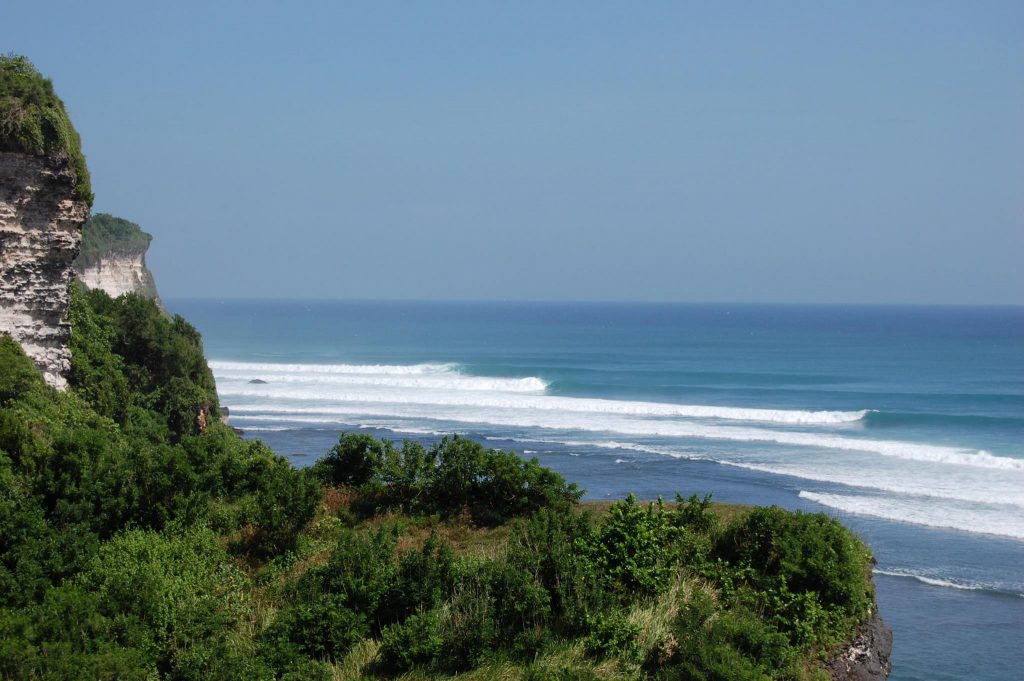 Cool Things to Do
Eating!

Bali Zoo

Waterbom Water Park is great for bigger kids

Canggu Club – A quieter water park that is heaps better for the little ones and it has a trampoline park and bowling alley attached.  

Surf lessons at Kuta beach

In house massages at your very own villa poolside

Market shopping and bargain hunting

Stunning temples

Golf at magnificent coastal courses

Yoga retreat
What You Need to Know
Capital City

Capital of Bali is Denpasar

International Airports

Ngurah Rai International Airport is 13km south of Denpasar

Language

English is widely spoken, but Balinese is the official language.

Hello is 'om suastiastu'

Money
IDR or Indonesian Rupiah.  For the latest exchange rates, check here.
Visa

A Free tourist visa is issued on entry at the airport and is valid for 30 days.  You can purchase a tourist visa alternatively for $35USD which will allow 30 days plus the ability for 30 days extension.

Best Time to Travel

Peak season in Bali is July/August, Easter and Christmas and you will find prices can double in these periods.  Rainy season occurs November to March.  The best months overall are April, May, June and September where you will find less crowds, clearer water and off peak accommodation prices.

Must See

Tanah Lot Temple, Uluwatu, Canggu Club
Click on the pics below for more stories about travel in Bali: