I will never forget landing in India for the first time.
There was so much excitement mingled with apprehension and a little fear.  We had left the safe haven of London where we had been both been temping for a few months and we were ready for the time of our lives in this epic land.  We had spent a pile of money at the travel vaccination clinic – read more about that here – and had our visas stamped into our passport.  Armed with the Lonely Planet, away we went, dodging the cows and the tuk tuks on the way.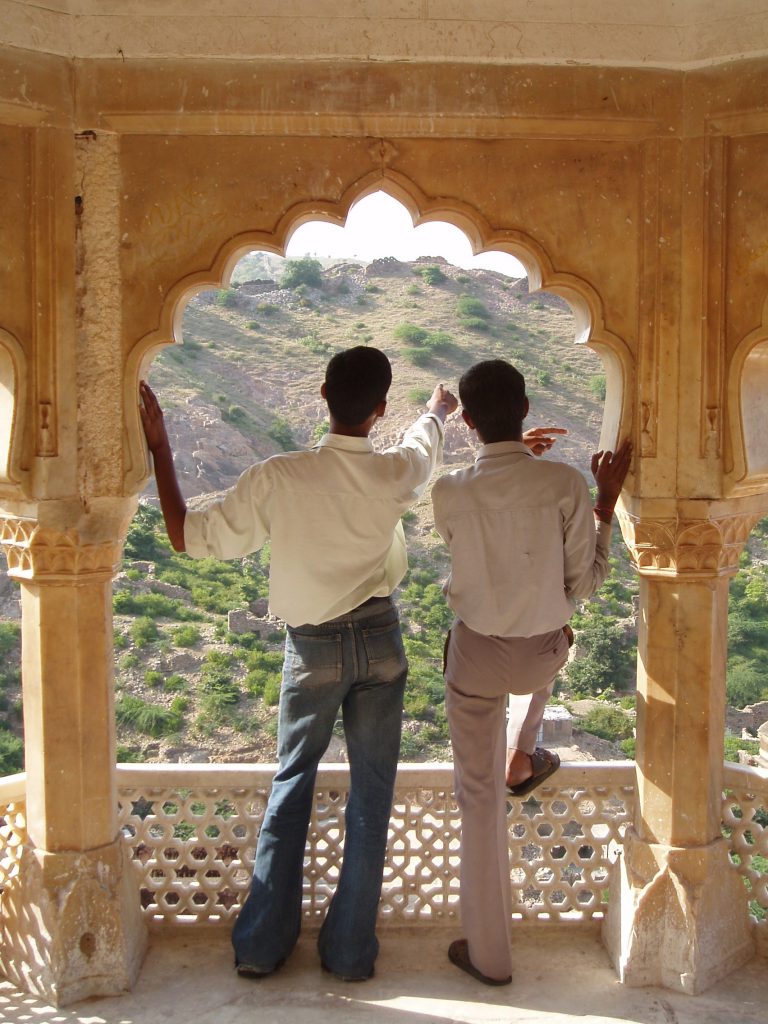 India is such a mix of ancient temples, colourful desert scenes, stunning forts and eye-opening scenes that are so far removed from what we knew before, the place has to be seen to be believed!
We started our India trip in Delhi, flying into Indira Ghandi International Airport, named for the country's inspirational former leader, and spent our time mostly in the North of the country.  
Places to Visit
Delhi – The city is split into Old Delhi, filled with old colonial buildings and atmospheric street scenes, and New Delhi with its Connaught Circles and urban monkeys.  This is a great place to get your bearings and acclimatize to the Indian culture and climate.  We stayed at The Paharganj which is filled with vibrant markets and cheap hotels.
Rajasthan – A tour of Rajasthan and the 'Golden Triangle' is an absolute must!  We hired a private car and driver for as little as $20 per day (airconditioning was extra!) who took us driving out through the desert, visiting the incredible desert forts and lake palaces that this part of India is famous for.  Jaipur, Jasailmer, Udaipur, Ranakhpur and more.  Driving about India was a great way to get the feel for the place.
Agra – The Taj Mahal at sunrise!  Do not miss this!
Varanasi – Not for the faint of heart, spiritual Varanasi sits on the bank of the Ganges River and is the place Hindu's find most sacred.  Death here represents an end to the cycle of reincarnation.  Bodies are cremated at ghats along the river on huge funeral pyres.  Take a boat cruise along the river for an intimate view.
Kolkata – Made famous by Mother Theresa, this is still a great place to volunteer in an orphanage.  
Shimla – This hill station town used to be the refuge for the Colonial British settlers during the steamy summer months.  Sit at an English tea house with a distant view of the Himalayas, ride a Yak and dodge monkeys!
Things you need to know:
Capital City

New Delhi

International Airport

There are 30 altogether, but the main ones are: Indira Ghandi International Airport, Delhi (DEL); Chhatrapati Shijavi International Airport, Mumbai (BOM); and Chennai International Airport (MAA)

Language

Hindi is the most widely spoken, while English is also the offical language in some regions.  There are numerous other official languages which vary from state to state.

Hello and goodbye – 'namaste'

Money
 Indian Rupee IDR.  For the latest exchange rates click here.
Visa

Tourist visas are valid for 6 months from the date of issuance and you must obtain one before you leave home.

Best Time to Travel

October to March is the best with the monsoon affecting the south during summer.

Must See

Do not miss the Taj Mahal at sunrise!
Click on the pics below for more stories about our travels to India: