Before heading off on our massive around Australia big lap I did a lot of research on great Australian surf spots that I could visit and surf, and the one that really caught my attention was this little hidden place called Cactus Beach, supposedly the best surf destination in the world.
Saying this I had to visit and explore what Cactus beach had to offer, so I really looked forward to this secret location that most surfers around don't know about.  It will always stay a quiet spot I think due to its location and remoteness, plus it is great white territory and I know a lot of you surfers out there would not like to end up in the jaws of the great monster of the south!! If you have got the guts then read on and keep exploring the world!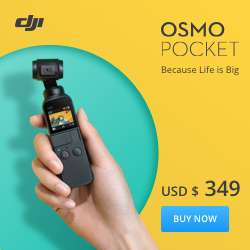 Have you ever heard of Cactus Beach?
Probably not, most people in Australia or the world have never heard of this not so famous beach mainly due to its remote location in South Australia.  Even if you are a surfer you probably haven't heard of the best surf break in Australia believed by some.
Before my family and I toured Australia for a year I did a lot of research on surf spots around our beautiful country and one spot stuck out and caught my interest the most, it was Cactus Beach.
So while touring our great land I couldn't wait to get to the infamous beach and surf in uncrowded perfection at the head of the great Australian bight, even though I knew it was great white territory and I could get eaten on my first wave.
Where exactly is Cactus Beach?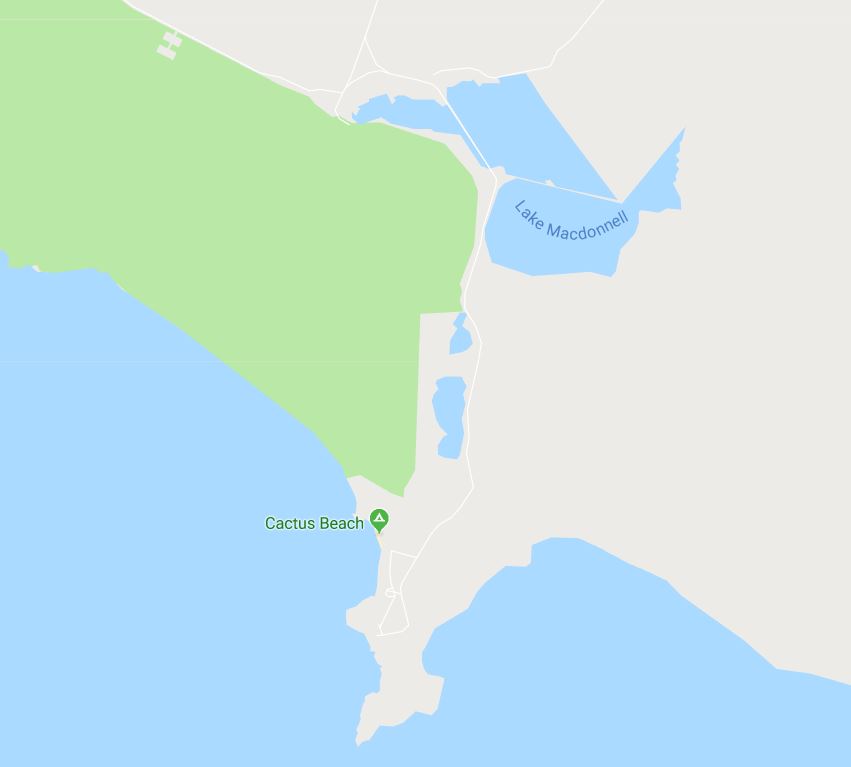 The beach is situated 20km from Penong township and is an easy drive in any type of vehicle, the last section of road that goes on for a few kilometers is mainly salt flats of Lake Mcdonald, the water here can be bright pink at times.
To get to Cactus you only have to follow the signs, hopefully, the locals haven't ripped them down or turned them the wrong way for you, this can be a setback, but neither the less you can't get lost.
Once you arrive at the campground you will feel like you have entered another world, "Am I still in Australia" Yes you are!
The Locals and the Press
A few years ago 7 News had some trouble with the locals in the area due to them not wanting cameras filming the area or sharing pictures on Social media.  I went there after this report and found the locals tend to keep to themselves and no one ever came up to me and told me to put my camera away! Typical media.
But like all areas, if you are coming to visit this area have some respect for the local surfers of the area and just catch your share of waves and leave only footprints in the sand.  I found everyone to be really friendly who stayed here and the vibe in the water was excellent, apart from feeling like a great white could come up and grab you at any time.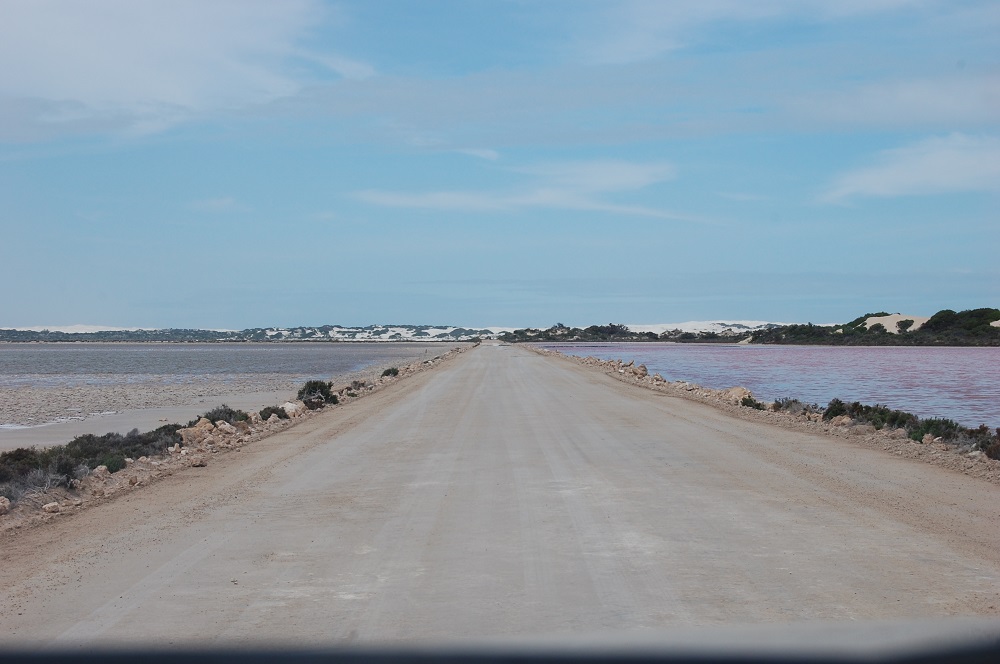 How was the Campground?
Camping at Cactus beach is a very different experience compared with other beachside camps, the entire road and campsites are covered with white quartz stone and divided by low lying green hardy native shrubs, most sites are pretty level and have amazing views of the ocean and surrounds.  The campground is set in a very arid landscape with no trees or shade, so make sure you have an annex or some shade especially in summertime, the setting in the distance is nothing but sand dunes to the west and nothing but the great southern ocean to the south.  It can be a little exposed on certain wind directions which can make it a little unpleasant. If you have traveled the south of Aus you will know what I mean! (Tie your annex down)
The afternoons are simply magical here, you don't have to be a surfer to love this place, it holds it's own breathtaking beauty.
The cost to stay at Cactus Beach was $25 a night for a site which I thought was great value for money because the place is kept really neat and tidy by the caretaker Ronnie who does a terrific job.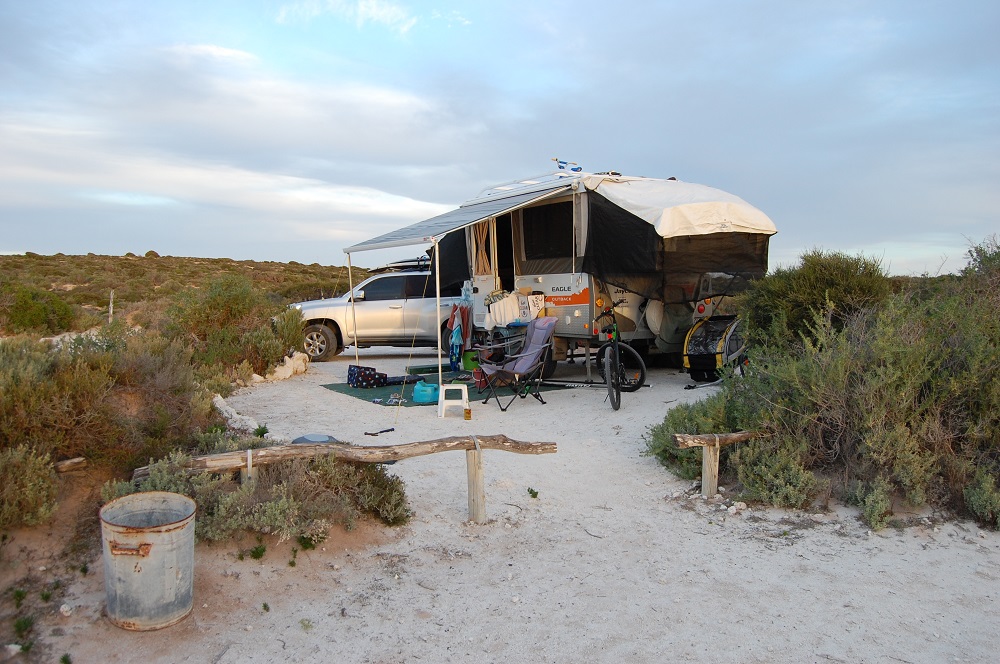 Campground Facilities
For a campground in this remote region, you would expect really crappy facilities! No not here Cactus beach has the best, South American style toilets and shower huts with running hot and cold water, rubbish bins at your site that are emptied daily and a communal kitchen area for those of you who are really traveling light.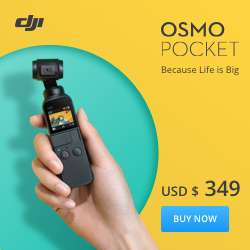 There are timber walkways down to the beach and the whole site feels extremely environmentally friendly and unspoiled by the masses you get in other beachside areas of the country.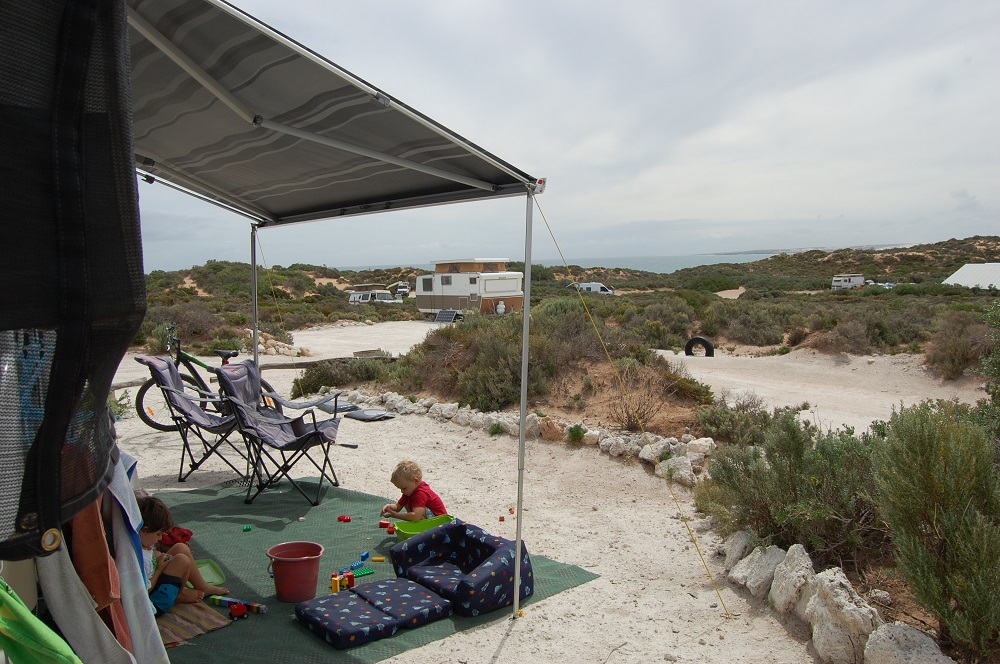 The World Famous Surf Breaks!
Which if you are a surfer you may have heard of this place, I know I hadn't until I traveled the country but I am an explorer and a surfer who hates big crowds so this place suited me perfectly.
I did have a small concern about the dreaded Great white shark down here ( mainly because of 2 reasons, a guy got eaten up the coast a few weeks earlier and a New Zealand man was taken here in 2000 while on his honeymoon at the very spot I wanted to surf!)
So I was considering purchasing a shark repellant device that you could attach to your board for peace of mind, but I was to tight with my cash, so I went the take the risk option! Ha.
As I mentioned earlier the breaks are part of the Point Sinclair national surfing reserve and consist of these breaks:
Main Breaks in the Bay
Cactus Left

Castles Right
Point Sinclair Breaks
Witzigs

Backdoors

Cunns
North Castle Bluff Breaks
Caves

Crushers

Supertubes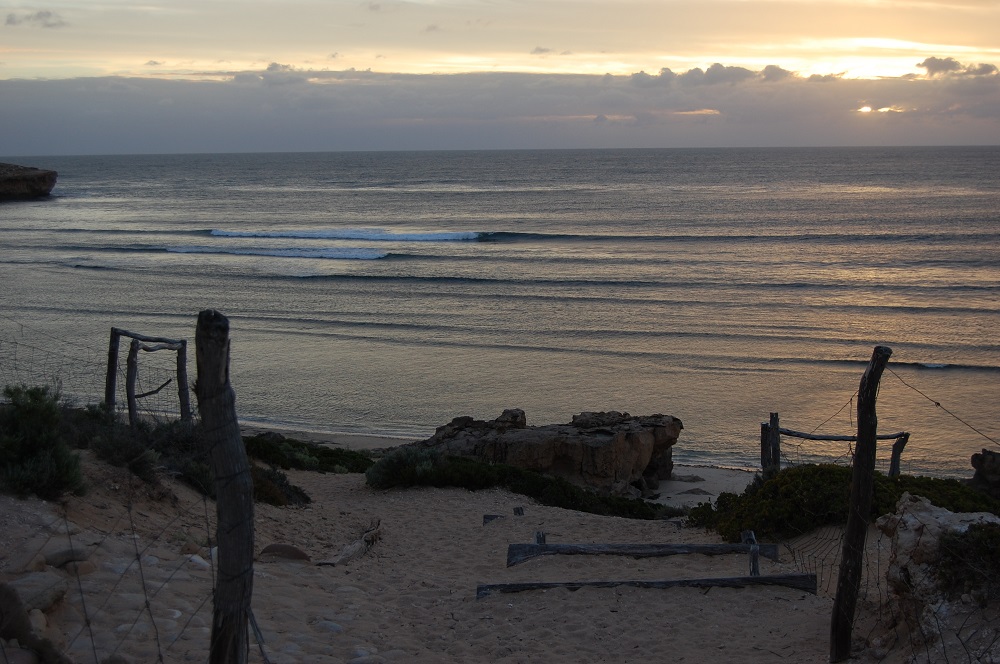 These particular breaks are all facing the West so are semi-protected and provide clean swell to wrap into the bays and produce world class waves for anyone who dares check this amazing spot out.  The waves break over calcarenite reefs that are shaped perfectly for high-class surf, just don't fall head first into it and you will be safe.
Main Activities to do at Cactus
Surfing is the main attraction why most people visit this part of the world, that's why I visited!
Fishing – The Cactus area has some great fishing for you mad keen angulars, beach, rock and boat fishing can all be done here.
Swimming – Swimming here can be a little tricky and dangerous, a few large rips can carry you out and it is generally a bit rocky and sharky for most.  Remember the beaches here are unpatrolled with no lifeguards so swimming is at your own risk!  If you must swim please swim in the safety of the net at Port Le Hunte.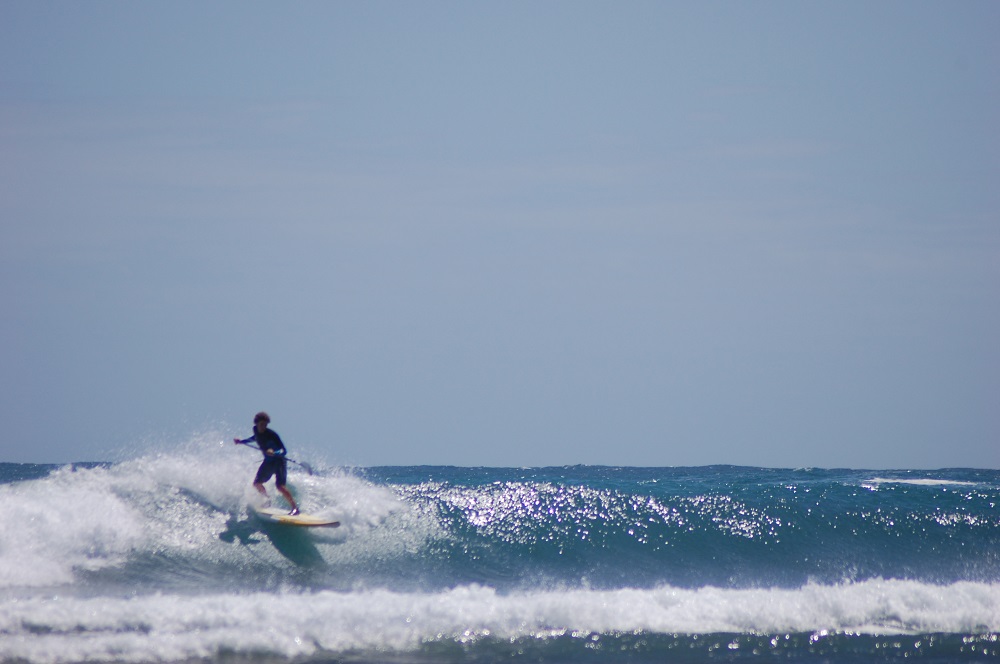 My Honest Review and Recommendation
Just do it! It is a place that must not be missed if you are travelling across the Nullabor, it's one of a kind place to forget about everything and just be one with the planet.  The scenery down here probably hasn't changed in thousands of years so remember that!
If you are a surfer you must definitely visit here, but not if you are an aggressive, selfish surfer you will only give visitors a bad name and ruin the spot for others, so be compassionate and respect locals and others who visit this rare surf destination.
The main break Cactus left is really easy to surf, the waves just peel off the rocky reef and carry you down to the beach where you hop off and paddle out through the channel to gain access to the lineup without having to duck dive once.  Access to the waves was easy just walk along the rocks hop in and you are out the back!
I would surf for one hour at a time, I considered to keep sessions short for shark safety and stay close to the break so I wasn't too far out into the channel, well that was my theory anyway.  The spot can be a little scary with the thoughts of sharks, a few times a dolphin or seal would appear putting your heart into overtime for that split second but having a few surfers out there with you generally puts your mind at ease most of the time. (50/50 ratio risk rating)
I also Standup Paddleboard, so I surfed the break on this also and had loads of fun with nobody out, it is such a perfect spot for all boardriders of intermediate and advanced standards.  The conditions were not favorable for the other spots when I visited but probably fire when everything is aligned.
All in all, I give this spot 9 out of 10 GSTARS!
| Adventure | Fun Score | Surf / Facilities Score |
| --- | --- | --- |
| Cactus Beach | 7 Gstars Ranking | 9 Gstar Ranking |
| Cactus Campground | 8 Gstars Ranking | 10 Gstars Ranking |
| Cactus Experience | 9 Gstars Ranking | 10 Gstars Ranking |
My family loved the area, it was clean, heaps of little coves to explore, interesting rock formations and felt very safe.  The little ones loved playing in the small rock pools and riding around in our bike buggy! Never a dull moment when you are on the road with your family.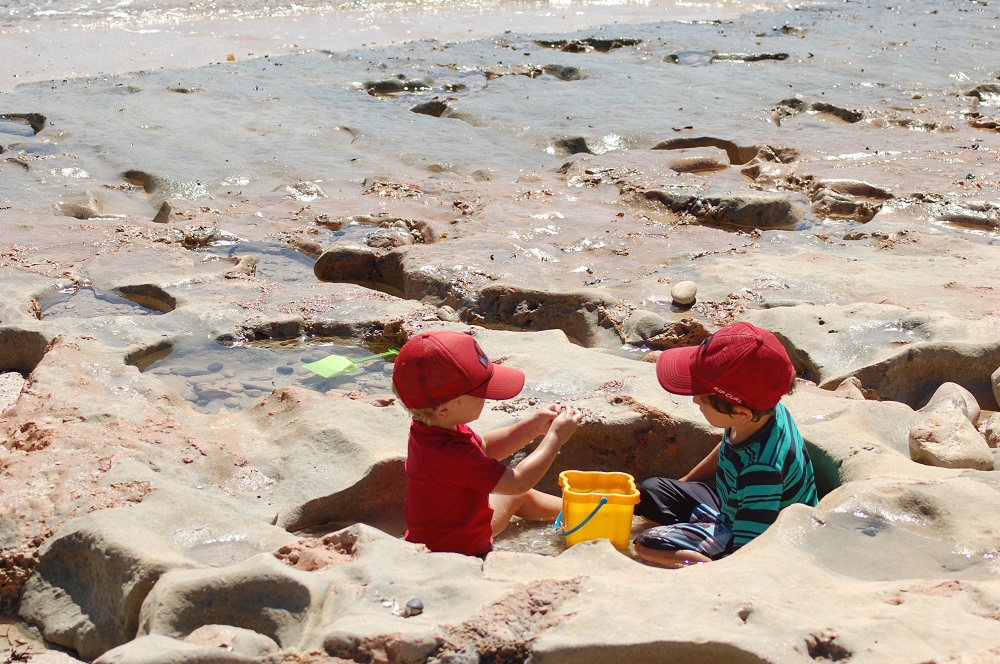 Probably the most magical time here is the afternoon sunsets, grab a beer or wine and head to the cliffs to watch the waves and the sun disappear over the ocean again and again.
The only bad thing at Cactus Beach would have to be when the wind is strong, especially if you are camping in a pop top caravan, it just gets a little blustery and uncomfortable at times but apart from that it is quite sheltered from the prevailing winds.
Next time you're driving along the Nullabor definitely spend a couple of days at the famous Cactus Beach!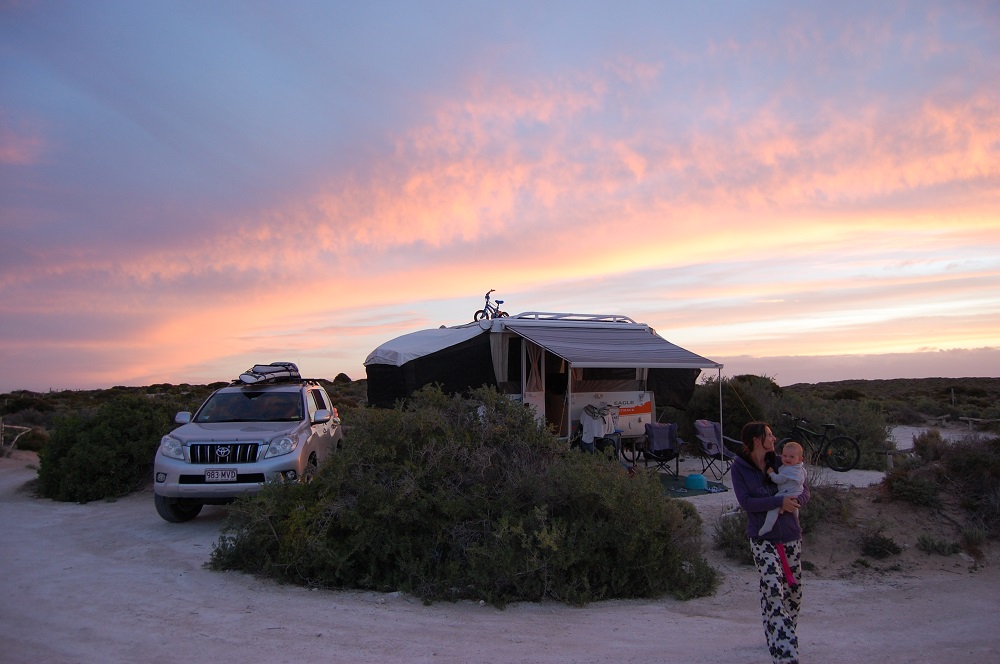 If you loved this post or know someone who would benefit from reading please share! South Australia is one of our favourite destinations with so much hidden wonder and beauty to be discovered.
If you love this spot go check out Red Bluff in Western Australia! It is another amazing destination for adventures! 
PLEASE PIN THIS FOR OTHERS!