Visiting Ba Na Hills Vietnam has been a definite highlight of our trip to Vietnam. We stayed with our family of 6 in Hoi An and decided to visit the Ba Na Hills Mountain Resort for the day. And we are so glad we did. It was a very entertaining day!
Read on to discover our hot tips for visiting, as well as your options for getting there, and how to save money. Use the contents manager to navigate our content to suit your interests.
Have a read of our latest Vietnam content here:
Getting to Ba Na Hills
You have a few different options for visiting Ba Na Hills from either Da Nang or Hoi An. The cable car station and ticket office run by Sunworld is located about 60 km from Hoi An and only 30 km from Da Nang.
1 Self Drive
Hiring a motorbike or car and driving yourself up to Ba Na Hills station is possible. Probably easier from Da Nang as it is only a short distance. Driving in Vietnam is pretty crazy so it is advisable to make sure your travel insurance is up to scratch. There are a lot of trucks along the road thanks to various roadworks, quarries and woodchip operations too.
2 Taxi
Getting a Grab or a taxi to Ba Na hills is the easiest route to take. This will most likely be your cheapest choice too. See prices from Hoi An below. As you exit Ba Na Hills at the end of the day, there are heaps of drivers waiting to take you home.
Grab one-way prices from Hoi An to Ba Na Hills are currently:
179,000 VND for a Grab bike
581,000 VND for Grab car
709,000 VND for a Grab 7-seater car
3 Private Car
This is the option we took. With our bigger family size, our hotel arranged a 7 seater car to take us up to the Ba Na Hills Mountain and back for 1.2 million VND. It was a super comfortable way to travel, but we had some issues at the end of the day finding our driver.
4 Ba Na Hills Tour
An all-inclusive tour from your accommodation in Hoi An or Da Nang which takes you up to Ba Na Hills Mountain Resort is a great easy option and may suit your party.
The tour included pick up and drop off at your hotel, round trip transfers, cable car tickets, exploring Ba Na Hills Mountain Resort at your leisure, Golden Bridge, buffet lunch and tour guide. These tours cost around $71 USD (1.68 million VND) per person and can either be booked online or through your hotel.
Compare prices and book your tour here
What is at Ba Na Hills Vietnam?
Firstly you will find 3 huge cable cars, which take you up the entire 1,497m to the top of Ba Na Hill. The first car route is the most popular, and takes your directly to the famous Golden Bridge. The middle route was closed at the time of our visit, and the third line will take you directly to the heart of the French Village.
Grab a map when you buy your tickets, available in many different languages. Your ticket covers everything listed below, except for the Wax Museum.
The Golden Bridge
This iconic bridge only opened in 2018 but has rapidly become one of Vietnam's top tourist destinations. The gold structure is held aloft by 2 giant hands, which are covered in moss and look like some ancient god. The views across Da Nang from here are absolutely spectacular.
Hot tip: Look at security footage at the bottom cable car station to see how busy it is. Avoiding peak holiday seasons such as Vietnam's June/July summer holidays will keep crowds smaller, and visiting as it first opens at 8 am will eliminate tour groups. Don't visit on a weekend either.
We arrived around 10.30 am during the summer holidays. It was pretty busy, but there are easy gaps among the selfie-taking tourists. The views are amazing! Take a selfie stick, if not, they are available for purchase.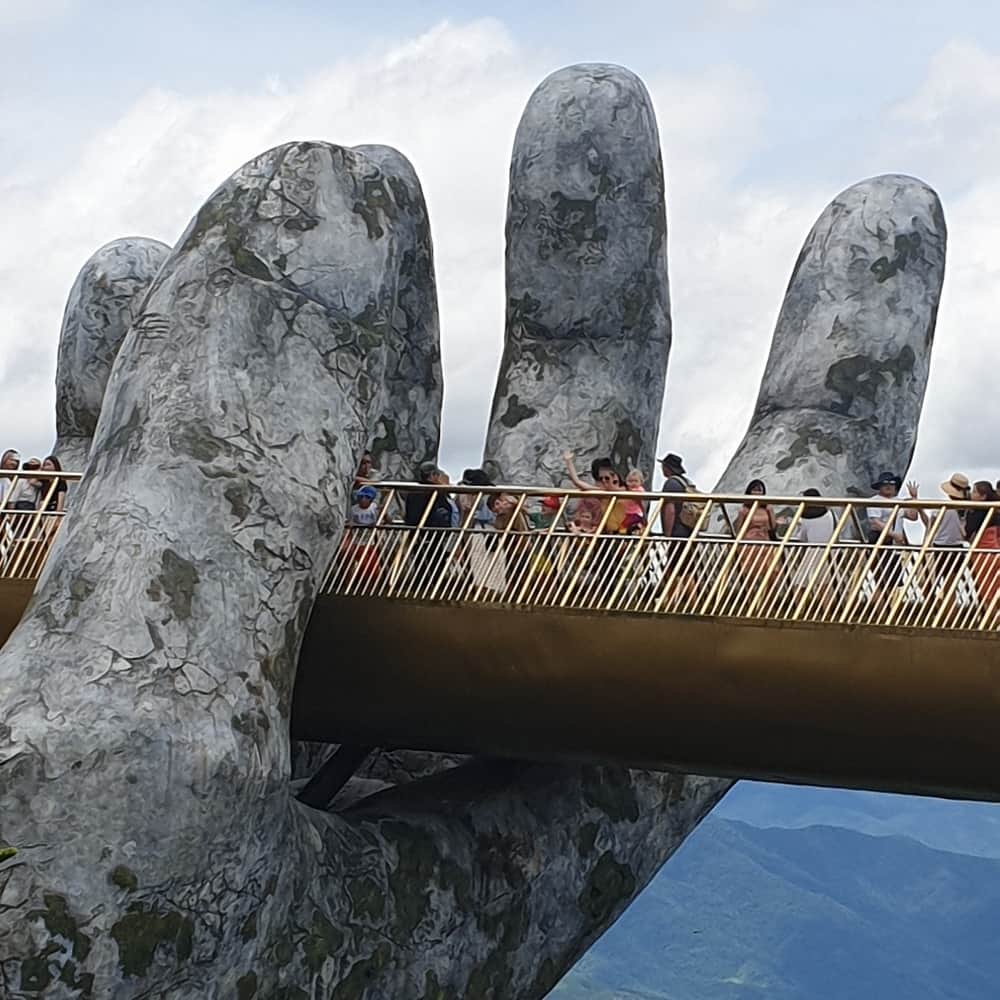 The Garden of Love
This stunning and picturesque Le Jardin d'Amour Flower Garden consists of 9 gardens, each with their own special theme, all overlooking the dramatic view all the way to Da Nang. See the giant peacock with a tail of flowers, the love garden complete with fairies, try the labyrinth if you dare! The beautiful French music playing throughout the Garden of Love only adds to the romantic atmosphere.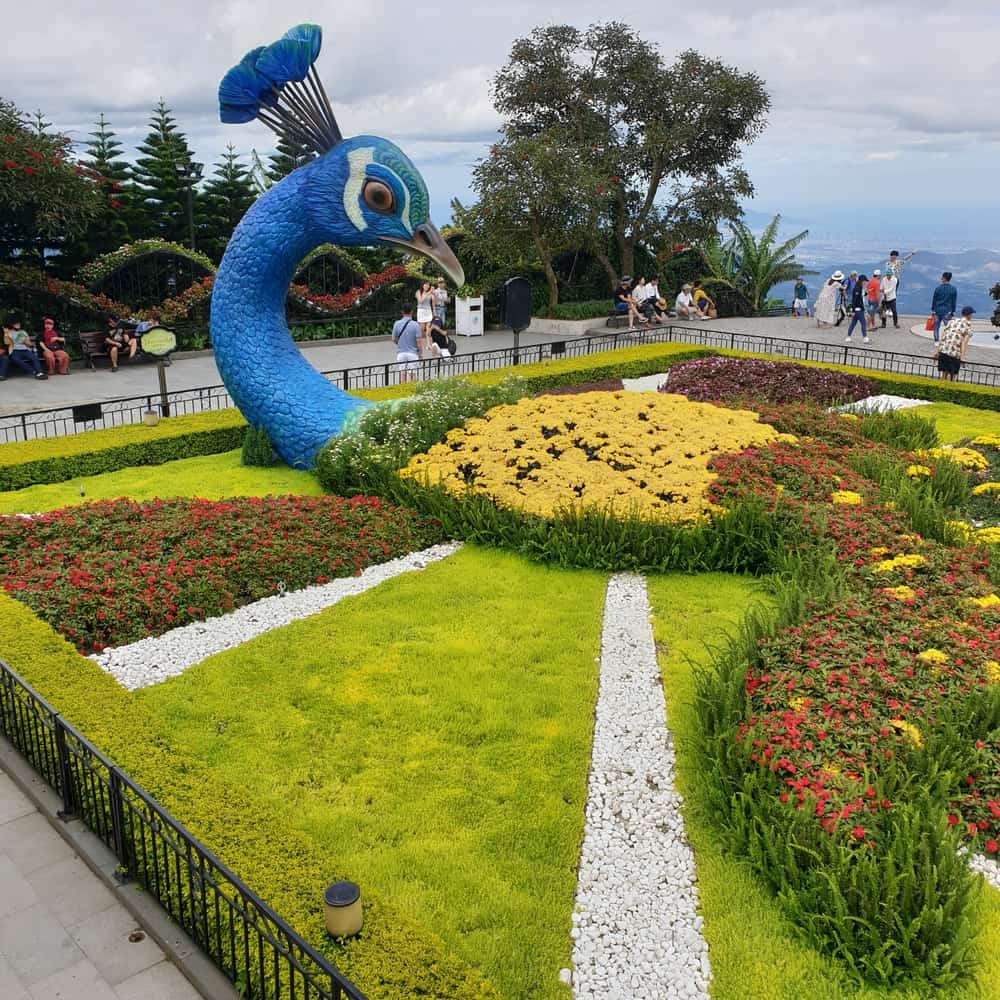 Linh Ung Pagoda
Just past the Love Garden, and next to a giant Buddha statue, is the fantastic and spiritual Linh Ung Pagoda. From here board the funicular back up to the top of the garden.
Debay Wine Cellar
This real cellar was actually built by the French back in 1924 as an ideal place to store their wine. Explore the cellar which delves 100 m into the hillside and ends with a wine bar!
French Village
The village lies atop the mountain. It is reachable via a single cable car from the bottom station and ticket office. Or, travel here via a short cable car trip from the Golden Bridge. Here you find yourself in a European town square, complete with fountains, cobblestones, a cathedral, castles and modern built renaissance architecture.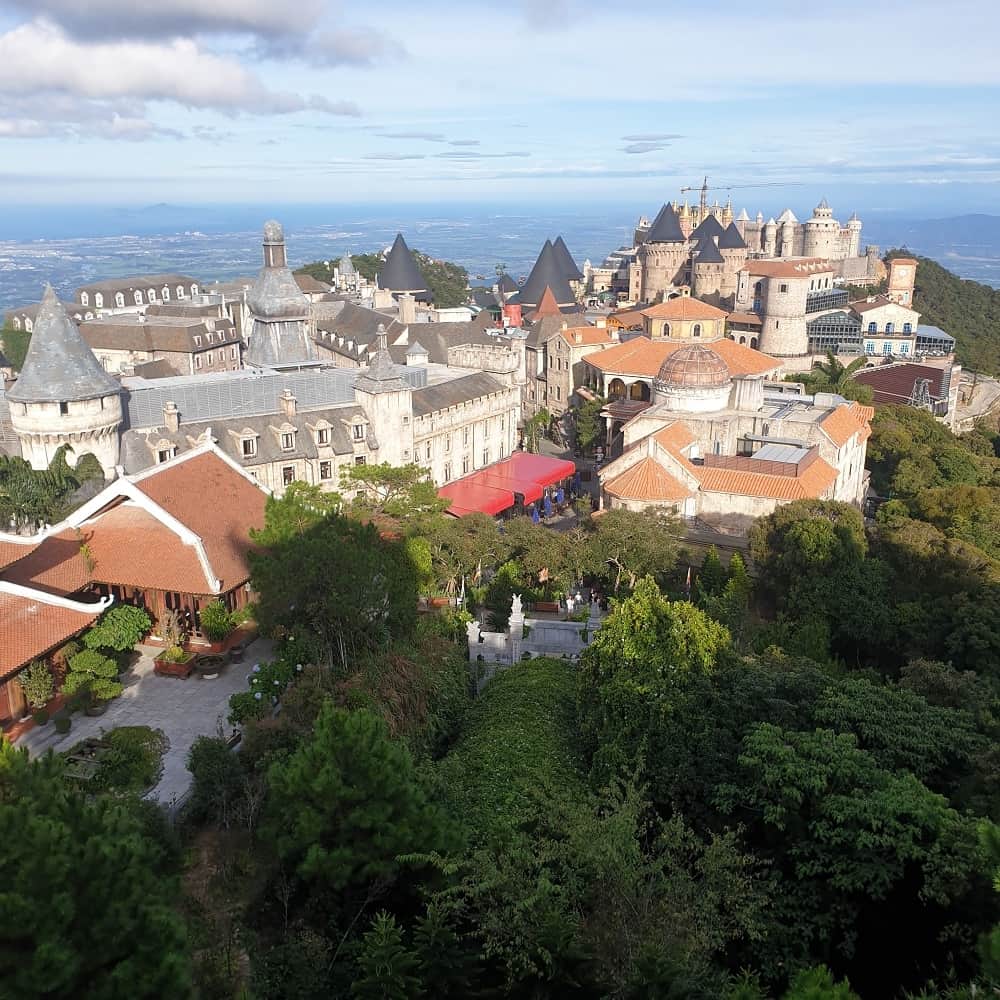 This unique village has so many photo opportunities, and splendid views both to the city of Da Nang, and over to the western mountains as well. It has a definite festival atmosphere and there is regular live entertainment too.
Alpine Coaster
There are 2 alpine coasters which let ride down the hill on your very own sled! Ride single or double, and enjoy the thrill of the track's double helixes! Again, you have to time your visit right to avoid the enormous queues.
Fantasy Park
This was understandably our kids' favourite part of the whole Ba Na Hills Vietnam experience. At Fantasy Park you will find 3 levels of games, rides, and amusements which are all free (except a few games which cost extra). Unfortunately, 2 of the biggest rides were closed for maintenance while we visited. But we got to see the Tower of Terror, the Thriller, Jurassic World and more! There are great rides for little ones over 80 cm (our 2-year-old just made it in), and fun arcade games too. A massive jungle gym playground has pride of place on level 2, along with 4D and 5D cinemas!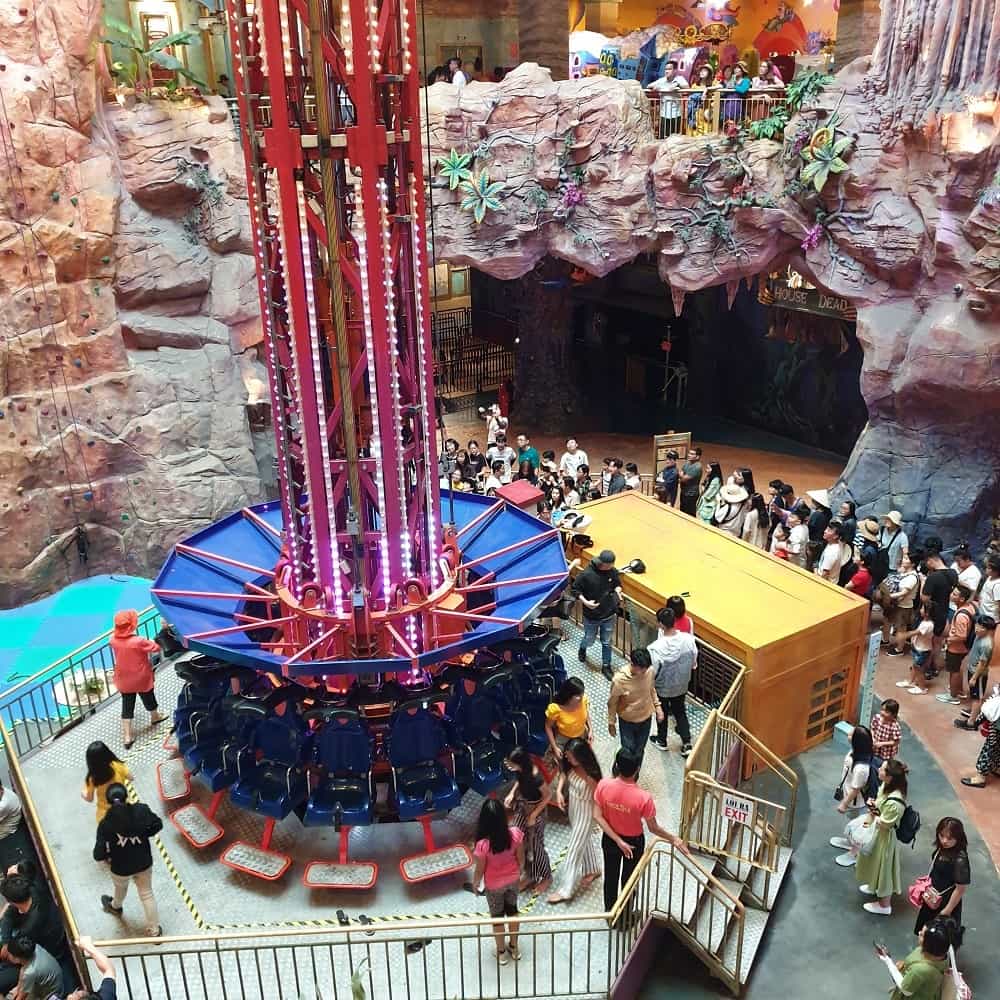 Beer Plaza
Located within the French Village and with amazing views is the spectacular Beer Plaza. A huge reflective glass-domed beer hall serving food and international beers.
What to Eat and Drink at Ba Na Hills Resort
There are many snacks stands all around the park which sell sausages, hot dogs, cakes, ice-cream and drinks. Also, you will find cafes and even Starbucks in 2 locations. The prices were not too terrible. Hot dogs were 35,000 VND and beer 30,000 VND. Ice creams cost 30,000 VND and ice-coffee around 50,000 VND.
Most of the food stalls have shut by 5 pm with only restaurants open.
A buffet lunch is available for purchase for 250,000 VND when you buy your tickets, (115,000 VND kids) and there are a lot of other restaurant options around the place too with buffet and a la carte choices.
Buffet lunch is included in the price of most tours.
Ba Na Hills Ticket Price
Adults and children over 1.4 m 750,000 VND ($32 USD)
Children 1 m to 1.4 m 600,000 VND ($25 USD)
The tickets can be purchased at the bottom of the hill, and the ticket counter is well signposted. Credit cards are accepted, and there are ATMs onsite too.
The tickets include admission plus VAT, all cable cars and funicular, and entry into almost all of the games and attractions in the Fantasy Park.
Not included is Fantasy Park Sports, and Wax Museum (100,000 VND).
Things to Remember When Visiting Ba Na Hills Vietnam
This attraction can have over 15,000 visitors per day so if you don't like crowds, don't come during peak season.
September and October are expected to have slightly smaller numbers however rain will be likely
You are not allowed to take your own food in
The temperature is almost 10 degrees cooler up the top so bring a light jumper
Wear comfortable shoes
Strollers may have trouble on the cobblestone streets unless they have pneumatic tyres
People over 60, pregnant women and those with a heart condition are not allowed onto the mountain
Most visitors and tour groups head straight up to the Golden Bridge first, from Hoi An station, then end up going down from Indochine Station at French Village back to Da Nang Station. To combat this, you could always try the opposite approach, visiting the French Village first with the cable car taking you all the way to the top, and then descend the mountain via the Golden Bridge.
Be aware that the shuttle bus between car parks finishes at 5 pm so you may have to walk the 800 m or so between carparks if you finish after this time. (We Did!)
Can you Stay at Ba Na Hills?
Yes! Many of the buildings up here are actually hotels run by Mercure.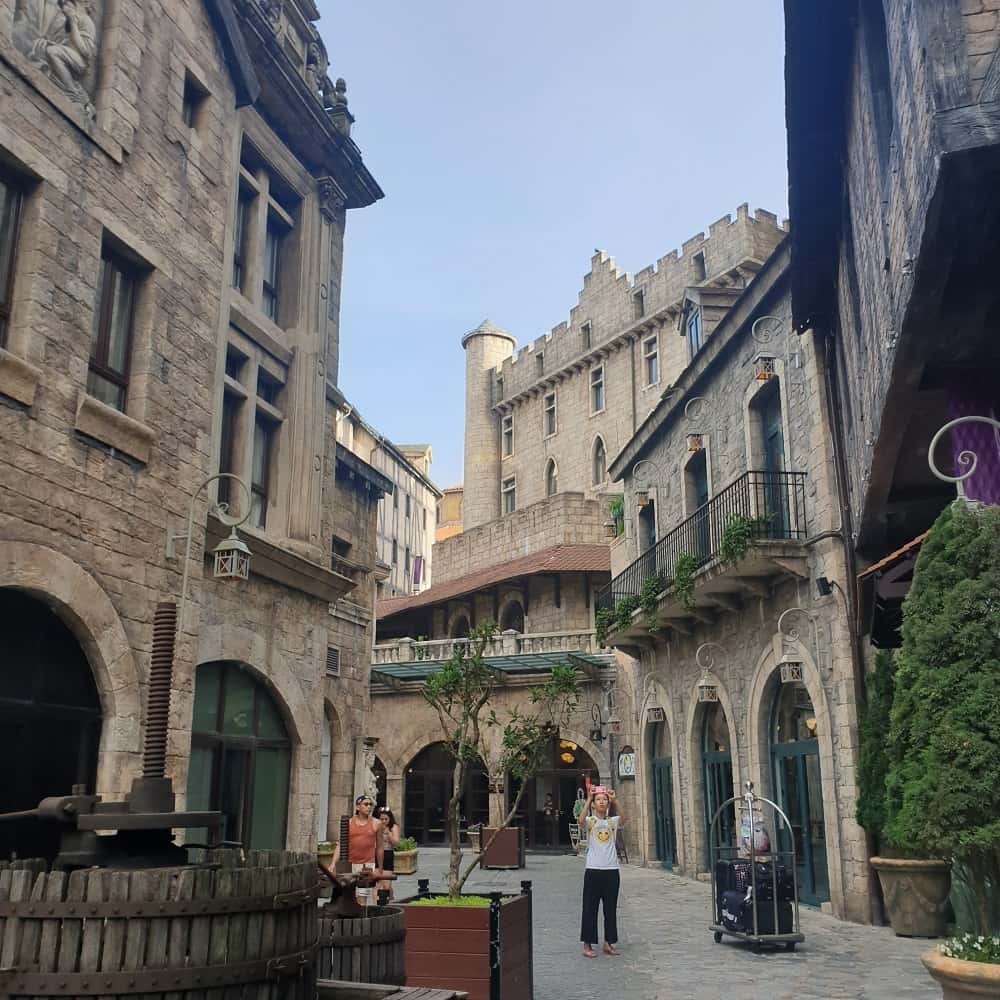 King rooms start at $123 USD including breakfast and there are awesome family rooms available from $187 USD.
Check these beautiful rooms out here!
For more options staying closeby in beautiful beachside Da Nang, check out the map below.
Ba Na Hills Vietnam – The Verdict
For a unique day out from Da Nang or Hoi An you must visit the Ba Na Hills. It is a very unique festival atmosphere with heaps to do for the kids and adults alike. Seeing the Golden Bridge is amazing, and although it can be busy at times, it is worth the price of admission.
Would you go?
Related Articles
Going to Vietnam soon? You will need a visa. The following articles will help you plan your trip: